ACWWB00005-Wiper Blade
Replaces
Wiper Blade ACDelco 8-418 - ACWWB00005
ACWWB00005
Specifications:
Brand New AC Delco All Season Wiper Blade
18"
Fits LH (Driver Side) or RH (Passenger Side) Front
Plastic frame
Original equipment part
Built to strict quality control standards
Warranty
Please inspect this part carefully prior to installation and contact us with any questions BEFORE attempting to install it. Due to the nature of this part, our 60-day warranty covers exchanges only. Parts that have been installed, neglected, or modified in any way are not eligible for this exchange.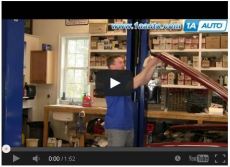 step : Removing the Windshield Wiper Blades (0:47)

Lift the wiper arm up
Lay the wiper flat
Pull the wiper down to release it from the hook
Lay the wiper arm down

step : Installing the Windshield Wiper Blade (1:09)

Lift up the wiper arm
Pull the wiper blade up into the hook
Lay the wiper arm down flat
Tools needed for replacement:
1A - No Tools Needed

No Tools Needed
Vehicle Fit
| Year | Make | Model | Description |
| --- | --- | --- | --- |
| 1978-1997 | Buick | Century | Buick Century Front Wiper Blade Driver or Passenger Side ACDelco 8-418 |
| 1970-1986 | Buick | Electra | Buick Electra Front Wiper Blade Driver or Passenger Side ACDelco 8-418 |
| 2010-2016 | Buick | LaCrosse | Buick LaCrosse Wiper Blade ACDelco 8-418 |
| 1970-1986 | Buick | LeSabre | Buick LeSabre Front Wiper Blade Driver or Passenger Side ACDelco 8-418 |
| 1978-2004 | Buick | Regal | Buick Regal Front Wiper Blade Driver or Passenger Side ACDelco 8-418 |
| 2011-2017 | Buick | Regal | Buick Regal Wiper Blade ACDelco 8-418 |
| 1970-1985 | Buick | Riviera | Buick Riviera Front Wiper Blade Driver or Passenger Side ACDelco 8-418 |
| 1980-1985 | Buick | Skylark | Buick Skylark Front Wiper Blade Driver or Passenger Side ACDelco 8-418 |
| 2013-2018 | Cadillac | ATS | Cadillac ATS Wiper Blade ACDelco 8-418 |
| 1990-1992 | Cadillac | Brougham | Cadillac Brougham Front Wiper Blade Driver or Passenger Side ACDelco 8-418 |
| 1970-1984 | Cadillac | Deville | Cadillac Deville Front Wiper Blade Driver or Passenger Side ACDelco 8-418 |
| 1970-1985 | Cadillac | Eldorado | Cadillac Eldorado Front Wiper Blade Driver or Passenger Side ACDelco 8-418 |
| 1999-2000 | Cadillac | Escalade | Cadillac Escalade Front Wiper Blade Driver or Passenger Side ACDelco 8-418 |
| 1976-1985 | Cadillac | Seville | Cadillac Seville Front Wiper Blade Driver or Passenger Side ACDelco 8-418 |
| 2013-2018 | Cadillac | XTS | Cadillac XTS Wiper Blade ACDelco 8-418 |
| 1985-2005 | Chevy | Astro | Chevy Astro Front Wiper Blade Driver or Passenger Side ACDelco 8-418 |
| 2007-2011 | Chevy | Aveo | Chevy Aveo Front Wiper Blade Driver or Passenger Side ACDelco 8-418 |
| 2009-2011 | Chevy | Aveo 5 | Chevy Aveo 5 Front Wiper Blade Driver or Passenger Side ACDelco 8-418 |
| 1988-1994 | Chevy | Blazer Full Size | Chevy Blazer Full Size Front Wiper Blade Driver or Passenger Side ACDelco 8-418 |
| 1988-1999 | Chevy | C1500 Truck | Chevy C1500 Truck Front Wiper Blade Driver or Passenger Side ACDelco 8-418 |
| 1988-2000 | Chevy | C2500 Truck | Chevy C2500 Truck Front Wiper Blade Driver or Passenger Side ACDelco 8-418 |
| 1988-2000 | Chevy | C3500 Truck | Chevy C3500 Truck Front Wiper Blade Driver or Passenger Side ACDelco 8-418 |
| 1971-1990 | Chevy | Caprice | Chevy Caprice Front Wiper Blade Driver or Passenger Side ACDelco 8-418 |
| 1984-1990 | Chevy | Celebrity | Chevy Celebrity Front Wiper Blade Driver or Passenger Side ACDelco 8-418 |
| 1980-1983 | Chevy | Citation | Chevy Citation Front Wiper Blade Driver or Passenger Side ACDelco 8-418 |
| 2011-2015 | Chevy | Cruze | Chevy Cruze Wiper Blade ACDelco 8-418 |
| 1978-1987 | Chevy | El Camino | Chevy El Camino Front Wiper Blade Driver or Passenger Side ACDelco 8-418 |
| 2006-2011 | Chevy | HHR | Chevy HHR Front Wiper Blade Driver or Passenger Side ACDelco 8-418 |
| 1971-1985 | Chevy | Impala | Chevy Impala Front Wiper Blade Driver or Passenger Side ACDelco 8-418 |
| 1988-1999 | Chevy | K1500 Truck | Chevy K1500 Truck Front Wiper Blade Driver or Passenger Side ACDelco 8-418 |
| 1988-2000 | Chevy | K2500 Truck | Chevy K2500 Truck Front Wiper Blade Driver or Passenger Side ACDelco 8-418 |
| 1988-2000 | Chevy | K3500 Truck | Chevy K3500 Truck Front Wiper Blade Driver or Passenger Side ACDelco 8-418 |
| 1981-1982 | Chevy | LUV Pickup | Chevy LUV Pickup Front Wiper Blade Driver or Passenger Side ACDelco 8-418 |
| 1978-1983 | Chevy | Malibu | Chevy Malibu Front Wiper Blade Driver or Passenger Side ACDelco 8-418 |
| 1978-1988 | Chevy | Monte Carlo | Chevy Monte Carlo Front Wiper Blade Driver or Passenger Side ACDelco 8-418 |
| 2005-2007 | Chevy | Optra | Chevy Optra Front Wiper Blade Driver or Passenger Side ACDelco 8-418 |
| 1998-2002 | Chevy | Prizm | Chevy Prizm Front Wiper Blade Driver or Passenger Side ACDelco 8-418 |
| 1985-1988 | Chevy | Spectrum | Chevy Spectrum Front Wiper Blade Driver or Passenger Side ACDelco 8-418 |
| 1992-1999 | Chevy | Suburban C1500 | Chevy Suburban C1500 Front Wiper Blade Driver or Passenger Side ACDelco 8-418 |
| 1992-1999 | Chevy | Suburban C2500 | Chevy Suburban C2500 Front Wiper Blade Driver or Passenger Side ACDelco 8-418 |
| 1992-1999 | Chevy | Suburban K1500 | Chevy Suburban K1500 Front Wiper Blade Driver or Passenger Side ACDelco 8-418 |
| 1992-1999 | Chevy | Suburban K2500 | Chevy Suburban K2500 Front Wiper Blade Driver or Passenger Side ACDelco 8-418 |
| 1995-1999 | Chevy | Tahoe | Chevy Tahoe Front Wiper Blade Driver or Passenger Side ACDelco 8-418 |
| 1993-1995 | Chevy | Van G-Series | Chevy Van G-Series Front Wiper Blade Driver or Passenger Side ACDelco 8-418 |
| 2004-2007 | Ford | Escape | Ford Escape Front Wiper Blade Driver or Passenger Side ACDelco 8-418 |
| 1981-2002 | Ford | Escort | Ford Escort Front Wiper Blade Driver or Passenger Side ACDelco 8-418 |
| 1991-2003 | Ford | Explorer | Ford Explorer Front Wiper Blade Driver or Passenger Side ACDelco 8-418 |
| 2001-2005 | Ford | Explorer Sport Trac | Ford Explorer Sport Trac Front Wiper Blade Driver or Passenger Side ACDelco 8-418 |
| 1980-1996 | Ford | F150 Truck | Ford F150 Truck Front Wiper Blade Driver or Passenger Side ACDelco 8-418 |
| 1980-1997 | Ford | F250 Truck | Ford F250 Truck Front Wiper Blade Driver or Passenger Side ACDelco 8-418 |
| 1980-1997 | Ford | F350 Truck | Ford F350 Truck Front Wiper Blade Driver or Passenger Side ACDelco 8-418 |
| 1988-1996 | Ford | F450 Truck | Ford F450 Truck Front Wiper Blade Driver or Passenger Side ACDelco 8-418 |
| 1983-2011 | Ford | Ranger | Ford Ranger Front Wiper Blade Driver or Passenger Side ACDelco 8-418 |
| 1996-2003 | Ford | Taurus | Ford Taurus Front Wiper Blade Driver or Passenger Side ACDelco 8-418 |
| 1988-1999 | GMC | C1500 Truck | GMC C1500 Truck Front Wiper Blade Driver or Passenger Side ACDelco 8-418 |
| 1988-2000 | GMC | C2500 Truck | GMC C2500 Truck Front Wiper Blade Driver or Passenger Side ACDelco 8-418 |
| 1988-2000 | GMC | C3500 Truck | GMC C3500 Truck Front Wiper Blade Driver or Passenger Side ACDelco 8-418 |
| 1978-1987 | GMC | Caballero | GMC Caballero Front Wiper Blade Driver or Passenger Side ACDelco 8-418 |
| 1987-1991 | GMC | Jimmy Full Size | GMC Jimmy Full Size Front Wiper Blade Driver or Passenger Side ACDelco 8-418 |
| 1988-1999 | GMC | K1500 Truck | GMC K1500 Truck Front Wiper Blade Driver or Passenger Side ACDelco 8-418 |
| 1988-2000 | GMC | K2500 Truck | GMC K2500 Truck Front Wiper Blade Driver or Passenger Side ACDelco 8-418 |
| 1988-2000 | GMC | K3500 Truck | GMC K3500 Truck Front Wiper Blade Driver or Passenger Side ACDelco 8-418 |
| 1988-1989 | GMC | R2500 Truck | GMC R2500 Truck Front Wiper Blade Driver or Passenger Side ACDelco 8-418 |
| 1988-1991 | GMC | R3500 Truck | GMC R3500 Truck Front Wiper Blade Driver or Passenger Side ACDelco 8-418 |
| 1985-2005 | GMC | Safari | GMC Safari Front Wiper Blade Driver or Passenger Side ACDelco 8-418 |
| 1992-1999 | GMC | Suburban C1500 | GMC Suburban C1500 Front Wiper Blade Driver or Passenger Side ACDelco 8-418 |
| 1992-1999 | GMC | Suburban C2500 | GMC Suburban C2500 Front Wiper Blade Driver or Passenger Side ACDelco 8-418 |
| 1992-1999 | GMC | Suburban K1500 | GMC Suburban K1500 Front Wiper Blade Driver or Passenger Side ACDelco 8-418 |
| 1992-1999 | GMC | Suburban K2500 | GMC Suburban K2500 Front Wiper Blade Driver or Passenger Side ACDelco 8-418 |
| 1993-1999 | GMC | Yukon | GMC Yukon Front Wiper Blade Driver or Passenger Side ACDelco 8-418 |
| 1993-1997 | Geo | Prizm | Geo Prizm Front Wiper Blade Driver or Passenger Side ACDelco 8-418 |
| 2003-2007 | Honda | Accord | Honda Accord Front Wiper Blade Driver or Passenger Side ACDelco 8-418 |
| 1984-2000 | Honda | Civic | Honda Civic Front Wiper Blade Driver or Passenger Side ACDelco 8-418 |
| 2010-2014 | Honda | Insight | Honda Insight Wiper Blade ACDelco 8-418 |
| 1994-1997 | Honda | Passport | Honda Passport Front Wiper Blade Driver or Passenger Side ACDelco 8-418 |
| 1995-2005 | Hyundai | Accent | Hyundai Accent Front Wiper Blade Driver or Passenger Side ACDelco 8-418 |
| 1971-1990 | Oldsmobile | Custom Cruiser | Olds Custom Cruiser Front Wiper Blade Driver or Passenger Side ACDelco 8-418 |
| 1978-1987 | Oldsmobile | Cutlass | Olds Cutlass Front Wiper Blade Driver or Passenger Side ACDelco 8-418 |
| 1978-1984 | Oldsmobile | Cutlass Calais | Olds Cutlass Calais Front Wiper Blade Driver or Passenger Side ACDelco 8-418 |
| 1984-1996 | Oldsmobile | Cutlass Ciera | Olds Cutlass Ciera Front Wiper Blade Driver or Passenger Side ACDelco 8-418 |
| 1978-1983 | Oldsmobile | Cutlass Cruiser | Olds Cutlass Cruiser Front Wiper Blade Driver or Passenger Side ACDelco 8-418 |
| 1978-1988 | Oldsmobile | Cutlass Supreme RWD | Olds Cutlass Supreme RWD Front Wiper Blade Driver or Passenger Side ACDelco 8-418 |
| 1970-1985 | Oldsmobile | Delta 88 | Olds Delta 88 Front Wiper Blade Driver or Passenger Side ACDelco 8-418 |
| 1980-1984 | Oldsmobile | Omega | Olds Omega Front Wiper Blade Driver or Passenger Side ACDelco 8-418 |
| 1970-1985 | Oldsmobile | Toronado | Olds Toronado Front Wiper Blade Driver or Passenger Side ACDelco 8-418 |
| 1989-1995 | Plymouth | Acclaim | Plymouth Acclaim Front Wiper Blade Driver or Passenger Side ACDelco 8-418 |
| 1992-1994 | Plymouth | Colt | Plymouth Colt Front Wiper Blade Driver or Passenger Side ACDelco 8-418 |
| 1974-1978 | Plymouth | Fury | Plymouth Fury Front Wiper Blade Driver or Passenger Side ACDelco 8-418 |
| 1980-1989 | Plymouth | Gran Fury | Plymouth Gran Fury Front Wiper Blade Driver or Passenger Side ACDelco 8-418 |
| 1988-2000 | Plymouth | Grand Voyager | Plymouth Grand Voyager Front Wiper Blade Driver or Passenger Side ACDelco 8-418 |
| 1978-1990 | Plymouth | Horizon | Plymouth Horizon Front Wiper Blade Driver or Passenger Side ACDelco 8-418 |
| 1995-1999 | Plymouth | Neon | Plymouth Neon Front Wiper Blade Driver or Passenger Side ACDelco 8-418 |
| 1974-1981 | Plymouth | Trailduster | Plymouth Trailduster Front Wiper Blade Driver or Passenger Side ACDelco 8-418 |
| 1984-1986 | Plymouth | Turismo | Plymouth Turismo Front Wiper Blade Driver or Passenger Side ACDelco 8-418 |
| 1976-1980 | Plymouth | Volare | Plymouth Volare Front Wiper Blade Driver or Passenger Side ACDelco 8-418 |
| 1984-2000 | Plymouth | Voyager | Plymouth Voyager Front Wiper Blade Driver or Passenger Side ACDelco 8-418 |
| 1984-1991 | Pontiac | 6000 | Pontiac 6000 Front Wiper Blade Driver or Passenger Side ACDelco 8-418 |
| 1970-1986 | Pontiac | Bonneville | Pontiac Bonneville Front Wiper Blade Driver or Passenger Side ACDelco 8-418 |
| 1970-1981 | Pontiac | Catalina | Pontiac Catalina Front Wiper Blade Driver or Passenger Side ACDelco 8-418 |
| 1984-1988 | Pontiac | Fiero | Pontiac Fiero Front Wiper Blade Driver or Passenger Side ACDelco 8-418 |
| 1970-1993 | Pontiac | Firebird | Pontiac Firebird Front Wiper Blade Driver or Passenger Side ACDelco 8-418 |
| 1978-1987 | Pontiac | Grand Prix | Pontiac Grand Prix Front Wiper Blade Driver or Passenger Side ACDelco 8-418 |
| 1978-1993 | Pontiac | LeMans | Pontiac LeMans Front Wiper Blade Driver or Passenger Side ACDelco 8-418 |
| 1980-1984 | Pontiac | Phoenix | Pontiac Phoenix Front Wiper Blade Driver or Passenger Side ACDelco 8-418 |
| 2003-2008 | Pontiac | Vibe | Pontiac Vibe Front Wiper Blade Driver or Passenger Side ACDelco 8-418 |
| 1993-1994 | Saab | 900 | Saab 900 Front Wiper Blade Driver or Passenger Side ACDelco 8-418 |
This part replaces:
ACDelco 8-418
OE # 89001046

Brand #: 8-418