ACWWB00006-Wiper Blade
Replaces
Wiper Blade ACDelco 8-416 - ACWWB00006
ACWWB00006
Specifications:
Brand New AC Delco All Season Wiper Blade
16"
Fits LH (Driver Side) or RH (Passenger Side) Front or Rear
Plastic frame
Original equipment part
Built to strict quality control standards
Item Condition: New

Warranty
Please inspect this part carefully prior to installation and contact us with any questions BEFORE attempting to install it. Due to the nature of this part, our 60-day warranty covers exchanges only. Parts that have been installed, neglected, or modified in any way are not eligible for this exchange.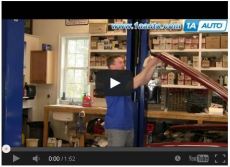 step : Removing the Wiper Blade (0:14)

Lift the wiper arm
Release the wiper blade tab
Pull the wiper blade off the wiper arm

step : Installing the Wiper Blade (0:28)

Slide the wiper blade onto the wiper arm
Clip on the wiper blade tab
Lower the wiper arm
Tools needed for replacement:
1A - No Tools Needed

No Tools Needed
There are no reviews for this item.
Customer Q&A
Ask a question to 1A Auto customers who purchased the product
No questions have been asked about this item.
| Year | Make | Model | Description |
| --- | --- | --- | --- |
| 2004-2005 | Buick | Rainier | Buick Rainier Rear Wiper Blade ACDelco 8-416 |
| 2002-2007 | Buick | Rendezvous | Buick Rendezvous Rear Wiper Blade ACDelco 8-416 |
| 2005-2007 | Buick | Terraza | Buick Terraza Rear Wiper Blade ACDelco 8-416 |
| 2002-2006 | Cadillac | Escalade | Cadillac Escalade Rear Wiper Blade ACDelco 8-416 |
| 1973-1986 | Chevy | C10 Truck | Chevy C10 Truck Front Wiper Blade Driver or Passenger Side ACDelco 8-416 |
| 1973-1986 | Chevy | C20 Truck | Chevy C20 Truck Front Wiper Blade Driver or Passenger Side ACDelco 8-416 |
| 1973-1986 | Chevy | C30 Truck | Chevy C30 Truck Front Wiper Blade Driver or Passenger Side ACDelco 8-416 |
| 1970-1976 | Chevy | Camaro | Chevy Camaro Front Wiper Blade ACDelco 8-416 |
| 2012-2015 | Chevy | Captiva Sport | Chevy Captiva Sport Front Wiper Blade Passenger Side ACDelco 8-416 |
| 1982-1989 | Chevy | Cavalier | Chevy Cavalier Front Wiper Blade ACDelco 8-416 |
| 1970-1977 | Chevy | Chevelle | Chevy Chevelle Front Wiper Blade ACDelco 8-416 |
| 1976-1987 | Chevy | Chevette | Chevy Chevette Rear Wiper Blade ACDelco 8-416 |
| 1970-1982 | Chevy | Corvette | Chevy Corvette Front Wiper Blade Driver or Passenger Side ACDelco 8-416 |
| 1970-1977 | Chevy | El Camino | Chevy El Camino Front Wiper Blade Driver or Passenger Side ACDelco 8-416 |
| 1975-1992 | Chevy | G10 | Chevy G10 Front Wiper Blade Driver or Passenger Side ACDelco 8-416 |
| 1970-1974 | Chevy | G10 Van | Chevy G10 Van Front Wiper Blade Driver or Passenger Side ACDelco 8-416 |
| 1975-1992 | Chevy | G20 | Chevy G20 Front Wiper Blade Driver or Passenger Side ACDelco 8-416 |
| 1970-1974 | Chevy | G20 Van | Chevy G20 Van Front Wiper Blade Driver or Passenger Side ACDelco 8-416 |
| 1974-1992 | Chevy | G30 | Chevy G30 Front Wiper Blade Driver or Passenger Side ACDelco 8-416 |
| 1970-1974 | Chevy | G30 Van | Chevy G30 Van Front Wiper Blade Driver or Passenger Side ACDelco 8-416 |
| 1973-1986 | Chevy | K10 Truck | Chevy K10 Truck Front Wiper Blade Driver or Passenger Side ACDelco 8-416 |
| 1973-1986 | Chevy | K20 Truck | Chevy K20 Truck Front Wiper Blade Driver or Passenger Side ACDelco 8-416 |
| 1973-1986 | Chevy | K30 Truck | Chevy K30 Truck Front Wiper Blade Driver or Passenger Side ACDelco 8-416 |
| 1970-1977 | Chevy | Monte Carlo | Chevy Monte Carlo Front Wiper Blade Driver or Passenger Side ACDelco 8-416 |
| 1970-1979 | Chevy | Nova | Chevy Nova Front Wiper Blade Driver or Passenger Side ACDelco 8-416 |
| 2000-2006 | Chevy | Suburban 1500 | Chevy Suburban 1500 Rear Wiper Blade ACDelco 8-416 |
| 2000-2006 | Chevy | Suburban 2500 | Chevy Suburban 2500 Rear Wiper Blade ACDelco 8-416 |
| 1973-1986 | Chevy | Suburban C10 | Chevy Suburban C10 Front Wiper Blade Driver or Passenger Side ACDelco 8-416 |
| 1973-1986 | Chevy | Suburban C20 | Chevy Suburban C20 Front Wiper Blade Driver or Passenger Side ACDelco 8-416 |
| 1973-1986 | Chevy | Suburban K10 | Chevy Suburban K10 Front Wiper Blade Driver or Passenger Side ACDelco 8-416 |
| 1973-1986 | Chevy | Suburban K20 | Chevy Suburban K20 Front Wiper Blade Driver or Passenger Side ACDelco 8-416 |
| 1987-1988 | Chevy | Suburban R10 | Chevy Suburban R10 Front Wiper Blade Driver or Passenger Side ACDelco 8-416 |
| 1989-1991 | Chevy | Suburban R1500 | Chevy Suburban R1500 Front Wiper Blade Driver or Passenger Side ACDelco 8-416 |
| 1987-1988 | Chevy | Suburban R20 | Chevy Suburban R20 Front Wiper Blade Driver or Passenger Side ACDelco 8-416 |
| 1989-1991 | Chevy | Suburban R2500 | Chevy Suburban R2500 Front Wiper Blade Driver or Passenger Side ACDelco 8-416 |
| 1987-1988 | Chevy | Suburban V10 | Chevy Suburban V10 Front Wiper Blade Driver or Passenger Side ACDelco 8-416 |
| 1989-1991 | Chevy | Suburban V1500 | Chevy Suburban V1500 Front Wiper Blade Driver or Passenger Side ACDelco 8-416 |
| 1987-1988 | Chevy | Suburban V20 | Chevy Suburban V20 Front Wiper Blade Driver or Passenger Side ACDelco 8-416 |
| 1989-1991 | Chevy | Suburban V2500 | Chevy Suburban V2500 Front Wiper Blade Driver or Passenger Side ACDelco 8-416 |
| 2000-2006 | Chevy | Tahoe | Chevy Tahoe Rear Wiper Blade ACDelco 8-416 |
| 2002-2006 | Chevy | Trailblazer | Chevy Trailblazer Rear Wiper Blade ACDelco 8-416 |
| 2002-2006 | Chevy | Trailblazer EXT | Chevy Trailblazer EXT Rear Wiper Blade ACDelco 8-416 |
| 2005-2009 | Chevy | Uplander | Chevy Uplander Rear Wiper Blade ACDelco 8-416 |
| 1997-2005 | Chevy | Venture | Chevy Venture Rear Wiper Blade ACDelco 8-416 |
| 1973-1986 | GMC | C1500 Truck | GMC C1500 Truck Front Wiper Blade Driver or Passenger Side ACDelco 8-416 |
| 1973-1986 | GMC | C2500 Truck | GMC C2500 Truck Front Wiper Blade Driver or Passenger Side ACDelco 8-416 |
| 1973-1986 | GMC | C3500 Truck | GMC C3500 Truck Front Wiper Blade Driver or Passenger Side ACDelco 8-416 |
| 2002-2006 | GMC | Envoy | GMC Envoy Rear Wiper Blade ACDelco 8-416 |
| 2002-2006 | GMC | Envoy XL | GMC Envoy XL Rear Wiper Blade ACDelco 8-416 |
| 1974-1986 | GMC | Jimmy Full Size | GMC Jimmy Full Size Front Wiper Blade Driver or Passenger Side ACDelco 8-416 |
| 1973-1986 | GMC | K1500 Truck | GMC K1500 Truck Front Wiper Blade Driver or Passenger Side ACDelco 8-416 |
| 1973-1986 | GMC | K2500 Truck | GMC K2500 Truck Front Wiper Blade Driver or Passenger Side ACDelco 8-416 |
| 1973-1986 | GMC | K3500 Truck | GMC K3500 Truck Front Wiper Blade Driver or Passenger Side ACDelco 8-416 |
| 1982-1990 | GMC | S-15 Pickup | GMC S-15 Pickup Front Wiper Blade Driver or Passenger Side ACDelco 8-416 |
| 1991-1993 | GMC | S-15 Sonoma | GMC S-15 Sonoma Front Wiper Blade Driver or Passenger Side ACDelco 8-416 |
| 1992-2006 | GMC | Yukon | GMC Yukon Rear Wiper Blade ACDelco 8-416 |
| 2000-2006 | GMC | Yukon XL 1500 | GMC Yukon XL 1500 Rear Wiper Blade ACDelco 8-416 |
| 2000-2006 | GMC | Yukon XL 2500 | GMC Yukon XL 2500 Rear Wiper Blade ACDelco 8-416 |
| 2003-2009 | Hummer | H2 | Hummer H2 Front or Rear Wiper Blade ACDelco 8-416 |
| 2006-2010 | Hummer | H3 | Hummer H3 Front Wiper Blade Passenger Side ACDelco 8-416 |
| 2009-2010 | Hummer | H3T | Hummer H3T Front Wiper Blade Passenger Side ACDelco 8-416 |
| 2003-2006 | Isuzu | Ascender | Isuzu Ascender Rear Wiper Blade ACDelco 8-416 |
| 1991-1994 | Oldsmobile | Bravada | Olds Bravada Front Wiper Blade Driver or Passenger Side ACDelco 8-416 |
| 1996-2004 | Oldsmobile | Bravada | Olds Bravada Rear Wiper Blade ACDelco 8-416 |
| 1971-1989 | Oldsmobile | Custom Cruiser | Olds Custom Cruiser Rear Wiper Blade ACDelco 8-416 |
| 1970-1981 | Oldsmobile | Cutlass | Olds Cutlass Front Wiper Blade Driver or Passenger Side ACDelco 8-416 |
| 1984-1992 | Oldsmobile | Cutlass Ciera | Olds Cutlass Ciera Front Wiper Blade Driver or Passenger Side ACDelco 8-416 |
| 1975-1980 | Oldsmobile | Cutlass Salon | Olds Cutlass Salon Front Wiper Blade Driver or Passenger Side ACDelco 8-416 |
| 1997-2004 | Oldsmobile | Silhouette | Olds Silhouette Rear Wiper Blade ACDelco 8-416 |
| 1975-1980 | Oldsmobile | Starfire | Olds Starfire Front Wiper Blade Driver or Passenger Side ACDelco 8-416 |
| 1970-1976 | Pontiac | Firebird | Pontiac Firebird Front Wiper Blade Driver or Passenger Side ACDelco 8-416 |
| 1973-1975 | Pontiac | Grand Am | Pontiac Grand Am Front Wiper Blade Driver or Passenger Side ACDelco 8-416 |
| 1970-1977 | Pontiac | Grand Prix | Pontiac Grand Prix Front Wiper Blade Driver or Passenger Side ACDelco 8-416 |
| 1999-2005 | Pontiac | Montana | Pontiac Montana Rear Wiper Blade ACDelco 8-416 |
| 2006-2009 | Pontiac | Solstice | Pontiac Solstice Front Wiper Blade Driver Side ACDelco 8-416 |
| 1997-1998 | Pontiac | Trans Sport | Pontiac Trans Sport Rear Wiper Blade ACDelco 8-416 |
| 1987-1993 | Saab | 900 | Saab 900 Front Wiper Blade Driver or Passenger Side ACDelco 8-416 |
| 2005-2007 | Saturn | Relay | Saturn Relay Rear Wiper Blade ACDelco 8-416 |
| 2007-2010 | Saturn | Sky | Saturn Sky Front Wiper Blade Driver Side ACDelco 8-416 |
| 2008-2010 | Saturn | Vue | Saturn Vue Front Wiper Blade Passenger Side ACDelco 8-416 |
Part #: ACWWB00006
Order must be placed by 4pm ET
Get it in: 2 - 4 Business Days
Want it sooner? Choose Next Day Air at Checkout

Brand #: 8-416