1AWWP00003-Windshield Washer Pump
Replaces
Windshield Washer Pump - 1AWWP00003
1AWWP00003
Specifications:
100% electrically and fluid flow tested prior to leaving the factory
Mounts on the windshield washer tank
Item Condition: New

Attention California Customers:
WARNING: This product can expose you to chemicals including Butyl benzyl phthalate (BBP)d, which is known to the State of California to cause birth defects or other reproductive harm. For more information, go to www.P65Warnings.ca.gov.
Lifetime Warranty
This item is backed by a Limited Lifetime Warranty. In the event this item should fail due to manufacturing defects during intended use, we will exchange the part free of charge (excludes shipping charges) for the original purchaser.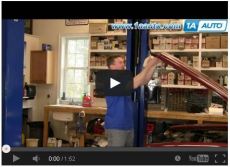 step : Removing the Washer Pump (0:39)

Place a drain pan beneath the washer bottle
Remove the washer pump harness with a flat blade screwdriver
Disconnect the washer hose with a flat blade screwdriver
Promptly plug the hole with your finger
Pry out the washer pump
Cover the hole with your hand

step : Installing the Washer Pump (1:45)

Connect the new washer pump into the washer bottle
Reconnect the washer hose
Connect the washer pump harness
Dispose any excess washer fluid safely
Tools needed for replacement:
Screwdrivers & Related

Flat Blade Screwdriver
Great product!
As usual, 1A Auto delivers on time and great product. This was a direct fit to my 2001 VW Passat. I recommend this product to everyone.
It fit perfect , was easy to install. It arrived with in 5 days . I give it a 5 star
Windshield washer pump- easy DYI
This replacement pump slipped right in. Works perfectly with excellent water pressure.
Washer pump
Works great and what a value. Defiantly an 1aauto customer for lofe
Amazing
Amazing from initial order til the final inspection! My non handy husband installed this part like a dream mechanic! Seriously, he watched your tutorial video, ordered, replaced the windshield washer pump! Start to finish, in like 15 minutes! Most of that time was looking for a screwdriver, did i mention he's not a handyman, a far cry from a mechanic!! Great job 1aauto, fast shipping and tutorials are amazing!!
Great.
Great. Fit. Worked. No problem. No issues. Audi sure made changes this out harder than it should have been. You have to take the under cov wer and the front end off to get to change it out. Silly.
Windshield pump
Very good product and good price And on the website show exactly product to car
Customer Q&A
Ask a question to 1A Auto customers who purchased the product
same as OEM
Brian F
November 21, 2016
Dont understand the question. Theres no power running thru it. Simply snap it in. Nothing electrical.
| Year | Make | Model | Description |
| --- | --- | --- | --- |
| 1998-2010 | Audi | A4 | Audi A4 Windshield Washer Pump (excluding Wagon) |
| 1998-2010 | Audi | A4 Quattro | Audi A4 Quattro Windshield Washer Pump (excluding Wagon) |
| 1998-2010 | Audi | A6 | Audi A6 Sedan Windshield Washer Pump |
| 1998-2010 | Audi | A6 Quattro | Audi A6 Quattro Sedan Windshield Washer Pump |
| 2004-2010 | Audi | A8 Quattro | Audi A8 Quattro Windshield Washer Pump |
| 2007-2008 | Audi | RS4 | Audi RS4 Windshield Washer Pump |
| 2003-2004 | Audi | RS6 | Audi RS6 Windshield Washer Pump |
| 2000-2002 | Audi | S4 | Audi S4 Windshield Washer Pump |
| 2004-2010 | Audi | S4 | Audi S4 Windshield Washer Pump |
| 2007-2010 | Audi | S6 | Audi S6 Windshield Washer Pump |
| 2007-2009 | Audi | S8 | Audi S8 Windshield Washer Pump |
| 2000-2010 | Audi | TT | Audi TT Windshield Washer Pump |
| 2000-2010 | Audi | TT Quattro | Audi TT Quattro Windshield Washer Pump |
| 1997 | BMW | 318i | BMW 318i Windshield Washer Pump (Built After 11/97 Production Date) |
| 1998 | BMW | 318i | BMW 318i Windshield Washer Pump |
| 1997 | BMW | 318iS | BMW 318iS Windshield Washer Pump |
| 1997 | BMW | 318ti | BMW 318ti Windshield Washer Pump (Built After 11/97 Production Date) |
| 1998-1999 | BMW | 318ti | BMW 318ti Windshield Washer Pump |
| 2000 | BMW | 323Ci | BMW 323Ci Windshield Washer Pump |
| 1999-2000 | BMW | 323i | BMW 323i Windshield Washer Pump |
| 1998-1999 | BMW | 323iS | BMW 323iS Windshield Washer Pump |
| 2001-2005 | BMW | 325Ci | BMW 325Ci Windshield Washer Pump |
| 2001-2005 | BMW | 325Xi | BMW 325Xi Windshield Washer Pump |
| 2001-2005 | BMW | 325i | BMW 325i Windshield Washer Pump |
| 2000 | BMW | 328Ci | BMW 328Ci Windshield Washer Pump |
| 1997 | BMW | 328i | BMW 328i Windshield Washer Pump (Built After 11/97 Production Date) |
| 1998-2000 | BMW | 328i | BMW 328i Windshield Washer Pump |
| 1998 | BMW | 328iS | BMW 328iS Windshield Washer Pump (Built After 11/97 Production Date) |
| 1999 | BMW | 328iS | BMW 328iS Windshield Washer Pump |
| 2001-2005 | BMW | 330Ci | BMW 330Ci Windshield Washer Pump |
| 2001-2005 | BMW | 330Xi | BMW 330Xi Windshield Washer Pump |
| 2001-2005 | BMW | 330i | BMW 330i Windshield Washer Pump |
| 1982-1988 | BMW | 528E | BMW 528E Windshield Washer Pump |
| 1983-1984 | BMW | 533i | BMW 533i Windshield Washer Pump |
| 1985-1987 | BMW | 535i | BMW 535i Windshield Washer Pump |
| 1997 | BMW | M3 | BMW M3 Windshield Washer Pump (Built After 11/97 Production Date) |
| 1998-1999 | BMW | M3 | BMW M3 Windshield Washer Pump |
| 2004 | BMW | X3 | BMW X3 Windshield Washer Pump |
| 2000-2003 | BMW | X5 | BMW X5 Windshield Washer Pump |
| 2004 | BMW | X5 | BMW X5 Windshield Washer Pump L6 3.0L |
| 2004 | BMW | X5 | BMW X5 Windshield Washer Pump V8 4.4L |
| 1997-2002 | BMW | Z3 | BMW Z3 Windshield Washer Pump L6 2.8L Models |
| 2003-2005 | BMW | Z4 | BMW Z4 Windshield Washer Pump |
| 1997-2000 | Mercedes Benz | C230 | 1997-00, 2002-05 Mercedes Benz C230 Windshield Washer Pump |
| 2002-2005 | Mercedes Benz | C230 | 1997-00, 2002-05 Mercedes Benz C230 Windshield Washer Pump |
| 2001-2005 | Mercedes Benz | C240 | Mercedes Benz C240 Windshield Washer Pump |
| 1997-2000 | Mercedes Benz | C280 | Mercedes Benz C280 Windshield Washer Pump |
| 2002-2004 | Mercedes Benz | C32 AMG | Mercedes Benz C32 AMG Windshield Washer Pump |
| 2001-2005 | Mercedes Benz | C320 | Mercedes Benz C320 Windshield Washer Pump |
| 1997 | Mercedes Benz | C36 AMG | Mercedes Benz C36 AMG Windshield Washer Pump |
| 1998-2000 | Mercedes Benz | C43 AMG | Mercedes Benz C43 AMG Windshield Washer Pump |
| 1998-2005 | Mercedes Benz | CL500 | Mercedes Benz CL500 Windshield Washer Pump |
| 2001-2005 | Mercedes Benz | CL55 AMG | Mercedes Benz CL55 AMG Windshield Washer Pump |
| 1998-2005 | Mercedes Benz | CL600 | Mercedes Benz CL600 Windshield Washer Pump |
| 1998-2005 | Mercedes Benz | CLK320 | Mercedes Benz CLK320 Windshield Washer Pump |
| 1999-2003 | Mercedes Benz | CLK430 | Mercedes Benz CLK430 Windshield Washer Pump |
| 2003-2005 | Mercedes Benz | CLK500 | Mercedes Benz CLK500 Windshield Washer Pump |
| 2002-2005 | Mercedes Benz | CLS55 AMG | Mercedes Benz CLS55 AMG Windshield Washer Pump |
| 1998-1999 | Mercedes Benz | E300 | Mercedes Benz E300 Windshield Washer Pump |
| 1998-2005 | Mercedes Benz | E320 | Mercedes Benz E320 Sedan Windshield Washer Pump |
| 1998-2002 | Mercedes Benz | E430 | Mercedes Benz E430 Windshield Washer Pump |
| 2003-2005 | Mercedes Benz | E500 | Mercedes Benz E500 Windshield Washer Pump |
| 1999-2005 | Mercedes Benz | E55 AMG | Mercedes Benz E55 AMG Windshield Washer Pump |
| 2002-2005 | Mercedes Benz | G500 | Mercedes Benz G500 Windshield Washer Pump |
| 2003-2004 | Mercedes Benz | G55 AMG | Mercedes Benz G55 AMG Windshield Washer Pump |
| 1998-2003 | Mercedes Benz | ML320 | Mercedes Benz ML320 Windshield Washer Pump |
| 2003-2005 | Mercedes Benz | ML350 | Mercedes Benz ML350 Windshield Washer Pump |
| 1999-2001 | Mercedes Benz | ML430 | Mercedes Benz ML430 Windshield Washer Pump |
| 2002-2005 | Mercedes Benz | ML500 | Mercedes Benz ML500 Windshield Washer Pump |
| 2000-2003 | Mercedes Benz | ML55 AMG | Mercedes Benz ML55 AMG Windshield Washer Pump |
| 1997-1999 | Mercedes Benz | S320 | Mercedes Benz S320 Windshield Washer Pump |
| 1997-1999 | Mercedes Benz | S420 | Mercedes Benz S420 Windshield Washer Pump |
| 2000-2005 | Mercedes Benz | S430 | Mercedes Benz S430 Windshield Washer Pump |
| 1997-2005 | Mercedes Benz | S500 | Mercedes Benz S500 Windshield Washer Pump |
| 2001-2005 | Mercedes Benz | S55 AMG | Mercedes Benz S55 AMG Windshield Washer Pump |
| 1997 | Mercedes Benz | SL320 | Mercedes Benz SL320 Windshield Washer Pump |
| 1997-2005 | Mercedes Benz | SL500 | Mercedes Benz SL500 Windshield Washer Pump |
| 2003-2005 | Mercedes Benz | SL55 AMG | Mercedes Benz SL55 AMG Windshield Washer Pump |
| 1997-2005 | Mercedes Benz | SL600 | Mercedes Benz SL600 Windshield Washer Pump |
| 1998-2004 | Mercedes Benz | SLK230 | Mercedes Benz SLK230 Windshield Washer Pump |
| 2002-2004 | Mercedes Benz | SLK32 AMG | Mercedes Benz SLK32 AMG Windshield Washer Pump |
| 2001-2004 | Mercedes Benz | SLK320 | Mercedes Benz SLK320 Windshield Washer Pump |
| 1993-2005 | Porsche | 911 | Porsche 911 Windshield Washer Pump |
| 1993-1995 | Porsche | 928 | Porsche 928 Windshield Washer Pump |
| 1997-2004 | Porsche | Boxster | Porsche Boxster Windshield Washer Pump |
| 1998-2010 | Volkswagen | Beetle | VW Beetle Windshield Washer Pump |
| 2009-2010 | Volkswagen | CC | VW CC Windshield Washer Pump |
| 2007-2010 | Volkswagen | Eos | VW Eos Windshield Washer Pump |
| 1999 | Volkswagen | Jetta | VW Jetta New Body Style Windshield Washer Pump |
| 2000 | Volkswagen | Jetta | VW Jetta Windshield Washer Pump |
| 2001-2005 | Volkswagen | Jetta | VW Jetta Windshield Washer Pump |
| 1998-2010 | Volkswagen | Passat | VW Passat Sedan Windshield Washer Pump |
| 2004-2006 | Volkswagen | Phaeton | VW Phaeton Windshield Washer Pump |
Part #: 1AWWP00003
Order must be placed by 4pm ET
Get it in: 2 - 4 Business Days
Want it sooner? Choose Next Day Air at Checkout