1AESB00042-Serpentine Belt
Replaces
Serpentine Belt ACDelco 6K935 - 1AESB00042
1AESB00042
AC DELCO 6K935 [SERPENTINE BELT
]
This AC DELCO serpentine belt is a new part. It is the same part that you would receive if you purchased it from your local GM dealer.
This serpentine belt features the following specifications:
Brand New AC Delco part
Replaces dealer part numbers: 4593668AA, 4861850AB, 1R3E 8260 BA, 1R3E8260BA, 1R3E 8620 DA, 1R3E8620DA, D9ZE 8620 AA, D9ZE8620AA, E0ZE 8620 AA, E0ZE8620AA, E8TZ 8620 C, E8TZ8620C, E8TA 8620 BA, E8TA8620BA, E8TA 8620 LA, E8TA8620LA, E8TZ 8620 D, E8TZ8620D, E8TZ 8620 E, E8TZ8620E, F0TA 8620 FA, F0TA8620FA, F0TA 8620 HA, F0TA8620HA, F2TA 8620 UA, F2TA8620UA, F2TA 8620 VA, F2TA8620VA, F2TZ 8620 E, F2TZ8620E, F4TA 8620 AJA, F4TA8620AJA, F77E 8620 PB, F77E8620PB, JK 6940 B, JK6940B, JK 6940 F, JK6940F, XR83 8620 BA, XR838620BA, 10105245, 12551136, 12559616, 12569436, 12576748, 12576748, 12594450, 12590622, 24505380, 24506984, 88932787, XR830447, 0139978792
Built to strict quality control standards
Direct replacement

Rib Number: 6
Top Width: 0.807 Inches
Effective Length: 93.99 Inches
Wear and Tear
This item is backed by a 60-day warranty against defects in materials and workmanship under its intended use. The warranty does not cover normal wear and tear.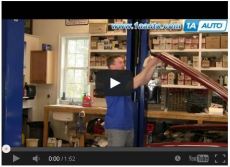 step : Removing the Serpentine Belt (0:43)

Attach a 15mm socket and ratchet to the serpentine belt tensioner
Push the tensioner down to loosen the belt
Pull the belt off by hand
Release the tensioner

step : Installing the Serpentine Belt (1:07)

Familiarize yourself with the route of the serpentine belt
Loop the belt around the power steering pulley
Hold the belt over the alternator pulley
Bring the belt up around the water pump
Bring it down around the crank pulley
Bring it around the belt tensioner
Hold the belt near the idler pulley
Attach a 15mm socket and ratchet to the serpentine belt tensioner
Push the tensioner down to loosen the belt
Push the belt underneath the idler pulley
Release the tensioner
Check that the belt is routed correctly
Tools needed for replacement:
Ratchets & Related

Ratchet

Sockets - Metric

15mm Socket
Vehicle Fit
1997-1998 Buick Park Avenue Serpentine Belt V6 3.8L (8th Vin Digit K) ACDelco 6K935
1997-1998 Buick Park Avenue Serpentine Belt V6 3.8L Supercharged for Accessory Drive ACDelco 6K935
1997 Buick Regal Serpentine Belt V6 3.8L Supercharged for Accessory Drive ACDelco 6K935
1997 Buick Regal Serpentine Belt V6 3.8L (8th Vin Digit K) ACDelco 6K935
2007-2013 Cadillac Escalade Alternator, Power Steering Pump & Water Pump Serpentine Belt V8 6.2L ACDelco 6K935
2007-2013 Cadillac Escalade ESV Serpentine Belt V8 6.2L Alternator, Power Steering Pump & Water Pump ACDelco 6K935
2007-2013 Cadillac Escalade EXT Serpentine Belt V8 6.2L Alternator, Power Steering Pump & Water Pump ACDelco 6K935
2007-2009 Chevy Avalanche 1500 Alternator, Power Steering Pump & Water Pump Serpentine Belt V8 6.0L ACDelco 6K935
2007-2013 Chevy Avalanche 1500 Alternator, Power Steering Pump & Water Pump Serpentine Belt V8 5.3L ACDelco 6K935
1995 Chevy C1500 Truck Serpentine Belt V6 4.3L without Air Conditioning ACDelco 6K935
1995 Chevy C2500 Truck Serpentine Belt V6 4.3L without Air Conditioning ACDelco 6K935
2001-2002 Chevy C3500 Truck Serpentine Belt V8 8.1L with 130 Amp Alternator without Air Conditioning ACDelco 6K935
1991-1992 Chevy Caprice Police & Taxi Models Serpentine Belt V8 5.0L with 120 Amp Alternator ACDelco 6K935
1991-1992 Chevy Caprice Police & Taxi Models Serpentine Belt V8 5.7L with 120 Amp Alternator ACDelco 6K935
1992-1993 Chevy Caprice Serpentine Belt V6 4.3L with 124 Amp Alternator ACDelco 6K935
2009-2012 Chevy Colorado Alternator, Power Steering Pump & Water Pump Serpentine Belt V8 5.3L ACDelco 6K935
2009-2013 Chevy Express 1500 Van Serpentine Belt V8 5.3L & Alternator, Power Steering Pump & Water Pump ACDelco 6K935
2001-2002 Chevy Express 3500 Van Serpentine Belt V8 8.1L with 130 Amp Alternator without Air Conditioning ACDelco 6K935
1995 Chevy K1500 Truck Serpentine Belt V6 4.3L without Air Conditioning ACDelco 6K935
1995 Chevy K2500 Truck Serpentine Belt V6 4.3L without Air Conditioning ACDelco 6K935
2008-2010 Chevy Malibu Serpentine Belt V6 3.6L ACDelco 6K935
2007-2013 Chevy Silverado 1500 Serpentine Belt V8 4.8L Alternator, Power Steering Pump & Water Pump ACDelco 6K935
2007-2013 Chevy Silverado 1500 Serpentine Belt V8 5.3L Alternator, Power Steering Pump & Water Pump ACDelco 6K935
2007-2009 Chevy Silverado 1500 Serpentine Belt V8 6.0L Alternator, Power Steering Pump & Water Pump ACDelco 6K935
2009-2013 Chevy Silverado 1500 Serpentine Belt V8 6.2L Alternator, Power Steering Pump & Water Pump ACDelco 6K935
2007-2013 Chevy Silverado 2500 HD Serpentine Belt V8 6.0L Alternator, Power Steering Pump & Water Pump ACDelco 6K935
2007-2013 Chevy Silverado 3500 Serpentine Belt V8 6.0L Alternator, Power Steering Pump & Water Pump ACDelco 6K935
2007-2013 Chevy Suburban 1500 Alternator, Power Steering Pump & Water Pump Serpentine Belt V8 5.3L ACDelco 6K935
2007-2009 Chevy Suburban 1500 Alternator, Power Steering Pump & Water Pump Serpentine Belt V8 6.0L ACDelco 6K935
2007-2013 Chevy Suburban 2500 Alternator, Power Steering Pump & Water Pump Serpentine Belt V8 6.0L ACDelco 6K935
2007-2013 Chevy Tahoe Alternator, Power Steering Pump & Water Pump Serpentine Belt V8 5.3L ACDelco 6K935
2007-2009 Chevy Tahoe Alternator, Power Steering Pump & Water Pump Serpentine Belt V8 4.8L ACDelco 6K935
2009 Chevy Tahoe Alternator, Power Steering Pump & Water Pump Serpentine Belt V8 6.2L ACDelco 6K935
2006-2009 Chevy Trailblazer Alternator, Power Steering Pump & Water Pump Serpentine Belt V8 6.0L ACDelco 6K935
2004 Chrysler Pacifica Serpentine Belt V6 3.5L (Built After 10/11/03 Production Date) ACDelco 6K935
2005-2006 Chrysler Pacifica Serpentine Belt V6 3.5L ACDelco 6K935
1990-1993 Ford Bronco Over 8500LB GVW Serpentine Belt V8 5.8L ACDelco 6K935
1997-2000 Ford Explorer Serpentine Belt V8 5.0L ACDelco 6K935
1990-1996 Ford F250 Truck Over 8500LB GVW Serpentine Belt V8 5.8L ACDelco 6K935
1990-1996 Ford F350 Truck Serpentine Belt V8 5.8L ACDelco 6K935
1979 Ford Mustang Serpentine Belt V8 5.0L with Air Conditioning ACDelco 6K935
1980 Ford Mustang Serpentine Belt V8 4.8L with Air Conditioning ACDelco 6K935
2000-2004 Ford Mustang Serpentine Belt V8 4.6L ACDelco 6K935
2001 Ford Mustang Cobra Serpentine Belt V8 4.6L ACDelco 6K935
2003-2004 Ford Mustang Mach 1 Serpentine Belt V8 4.6L ACDelco 6K935
1995 GMC C1500 Truck Serpentine Belt V6 4.3L without Air Conditioning ACDelco 6K935
1995 GMC C2500 Truck Serpentine Belt V6 4.3L without Air Conditioning ACDelco 6K935
2001-2002 GMC C3500 Truck Serpentine Belt V8 8.1L with 130 Amp Alternator without Air Conditioning ACDelco 6K935
2009-2010 GMC Canyon Alternator, Power Steering Pump & Water Pump Serpentine Belt V8 5.3L ACDelco 6K935
1995 GMC K1500 Truck Serpentine Belt V6 4.3L without Air Conditioning ACDelco 6K935
2009-2011 GMC Savana 1500 Van Serpentine Belt V8 5.3L & Alternator, Power Steering Pump & Water Pump ACDelco 6K935
2001-2002 GMC Savana 3500 Van Serpentine Belt V8 8.1L with 130 Amp Alternator without Air Conditioning ACDelco 6K935
2007-2013 GMC Sierra 1500 Serpentine Belt V8 5.3L Alternator, Power Steering Pump & Water Pump ACDelco 6K935
2007-2011 GMC Sierra 1500 Alternator, Power Steering Pump & Water Pump Serpentine Belt V8 6.0L ACDelco 6K935
2007-2013 GMC Sierra 1500 Serpentine Belt V8 4.8L Alternator, Power Steering Pump & Water Pump ACDelco 6K935
2009-2013 GMC Sierra 1500 Serpentine Belt V8 6.2L Alternator, Power Steering Pump & Water Pump ACDelco 6K935
2007-2013 GMC Sierra 2500 HD Alternator, Power Steering Pump & Water Pump Serpentine Belt V8 6.0L ACDelco 6K935
2007-2013 GMC Sierra 3500 Alternator, Power Steering Pump & Water Pump Serpentine Belt V8 6.0L ACDelco 6K935
2011-2013 GMC Sierra Denali 2500 HD Alternator, Power Steering Pump & Water Pump Serpentine Belt V8 6.0L ACDelco 6K935
2011-2013 GMC Sierra Denali 3500 HD Alternator, Power Steering Pump & Water Pump Serpentine Belt V8 6.0L ACDelco 6K935
2007-2009 GMC Yukon Alternator, Power Steering Pump & Water Pump Serpentine Belt V8 4.8L ACDelco 6K935
2007-2013 GMC Yukon Alternator, Power Steering Pump & Water Pump Serpentine Belt V8 5.3L ACDelco 6K935
2008-2013 GMC Yukon Alternator, Power Steering Pump & Water Pump Serpentine Belt V8 6.2L ACDelco 6K935
2007-2013 GMC Yukon XL 1500 Alternator, Power Steering Pump & Water Pump Serpentine Belt V8 5.3L ACDelco 6K935
2007-2013 GMC Yukon XL 2500 Alternator, Power Steering Pump & Water Pump Serpentine Belt V8 6.0L ACDelco 6K935
2008-2009 Hummer H2 Alternator, Power Steering Pump & Water Pump Serpentine Belt V8 6.2L ACDelco 6K935
2008-2010 Hummer H3 Alternator, Power Steering Pump & Water Pump Serpentine Belt V8 5.3L ACDelco 6K935
2009-2010 Hummer H3T Alternator, Power Steering Pump & Water Pump Serpentine Belt V8 5.3L ACDelco 6K935
2003-2005 Mercedes Benz ML350 Serpentine Belt V6 3.7L ACDelco 6K935
2003-2005 Mercedes Benz ML500 Serpentine Belt V8 5.0L ACDelco 6K935
1979 Mercury Capri Serpentine Belt V8 5.0L with Air Conditioning ACDelco 6K935
1980 Mercury Capri Serpentine Belt V8 4.8L with Air Conditioning ACDelco 6K935
1997-2001 Mercury Mountaineer Serpentine Belt V8 5.0L ACDelco 6K935
1998-1999 Olds Intrigue Serpentine Belt V6 3.8L ACDelco 6K935
2007-2009 Pontiac G6 Serpentine Belt V6 3.6L ACDelco 6K935
1997-1998 Pontiac Grand Prix Serpentine Belt V6 3.8L (8th Vin Digit K) ACDelco 6K935
1997-1998 Pontiac Grand Prix Serpentine Belt V6 3.8L Accessory Drive for Supercharged ACDelco 6K935
2008-2009 Saab 9-7X Alternator, Power Steering Pump & Water Pump Serpentine Belt V8 6.0L ACDelco 6K935
2007-2009 Saturn Aura Serpentine Belt V6 3.6L ACDelco 6K935

Brand #: 6K935