1AACD00057-Serpentine Belt
Replaces
Serpentine Belt ACDelco 4K378 - 1AACD00057
1AACD00057
AC DELCO 4K378 [SERPENTINE BELT
]
This AC DELCO serpentine belt is a new part. It is the same part that you would receive if you purchased it from your local GM dealer.
This serpentine belt features the following Specifications
Brand New AC Delco part
V-Ribbed Serpentine Belt
Rib Quanity 4
Built to strict quality control standards
Direct replacement
100% factory tested
Item Condition: New

Wear and Tear
This item is backed by a 60-day warranty against defects in materials and workmanship under its intended use. The warranty does not cover normal wear and tear.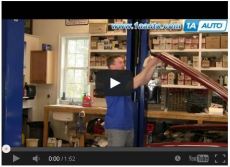 step : Remove the intake assembly and serpentine belt. (1:05)

Use a screwdriver to pry off the intake assembly.
Unclip the radiator hose to move it out of the way.
Use a 15 mm socket and ratchet to loosen the tensioner and remove the serpentine belt.
Make sure you have a diagram of the serpentine belt route handy later for reassembly.

step : Remove the A/C compressor belt (2:30)

Remove the protecting plate underneath the car by removing the 15 mm bolts.
Use a 3/8ths ratchet to release the tension on your A/C compressor belt.
Remove the A/C compressor belt.

step : Install the new A/C compressor belt and reassemble. (4:45)

Using your ratchet put the A/C compressor belt on.
Bolt the protecting plate back on.
Use your 15 mm wrench to release the tension to put your serpentine belt back on.
Put your intake assembly back on and clip the radiator hose back into place.
Tools needed for replacement:
Ratchets & Related

Ratchet

Screwdrivers & Related

Flat Blade Screwdriver

Sockets - Metric

15mm Socket
The correct size belt, perfect fit for my 2001 Chevy Tahoe. Some other parts stores will sell you belts that are close, but when installed, the belt tensioner gauge shows in the worn-belt area. Thank you, A1 Auto.
Excellent!
Everything was excellent all the way from the ordering to the online videos of the installation. This guy who never works on cars anymore was able to do all of it with ease! Great all the way around!
Customer Q&A
Ask a question to 1A Auto customers who purchased the product
No questions have been asked about this item.
| Year | Make | Model | Description |
| --- | --- | --- | --- |
| 1991-1995 | Acura | Legend | Acura Legend V6 3.2L (Engine ID C32A1) Power Steering Pump Serpentine Belt ACDelco 4K378 |
| 1996-1998 | Acura | TL | Acura TL V6 3.2L (Engine ID C32A6) Power Steering Pump Serpentine Belt ACDelco 4K378 |
| 2002-2004 | Cadillac | Escalade | Cadillac Escalade V8 6.0L (8th Vin Digit N) 4 Rib Air Conditioning Serpentine Belt ACDelco 4K378 |
| 2002-2005 | Cadillac | Escalade | Cadillac Escalade V8 5.3L (8th Vin Digit T) 4 Rib Air Conditioning Serpentine Belt ACDelco 4K378 |
| 2006 | Cadillac | Escalade | Cadillac Escalade V8 6.0L (8th Vin Digit N) 4 Rib Air Conditioning Serpentine Belt ACDelco 4K378 |
| 2007-2008 | Cadillac | Escalade | Cadillac Escalade V8 6.2L (8th Vin Digit 8) 4 Rib Air Conditioning Serpentine Belt ACDelco 4K378 |
| 2003-2004 | Cadillac | Escalade ESV | Cadillac Escalade ESV V8 6.0L (8th Vin Digit N) 4 Rib Air Conditioning Serpentine Belt ACDelco 4K378 |
| 2006 | Cadillac | Escalade ESV | Cadillac Escalade ESV V8 6.0L (8th Vin Digit N) 4 Rib Air Conditioning Serpentine Belt ACDelco 4K378 |
| 2007-2008 | Cadillac | Escalade ESV | Cadillac Escalade ESV V8 6.2L (8th Vin Digit 8) 4 Rib Air Conditioning Serpentine Belt ACDelco 4K378 |
| 2002-2004 | Cadillac | Escalade EXT | Cadillac Escalade EXT V8 6.0L (8th Vin Digit N) 4 Rib Air Conditioning Serpentine Belt ACDelco 4K378 |
| 2006 | Cadillac | Escalade EXT | Cadillac Escalade EXT V8 6.0L (8th Vin Digit N) 4 Rib Air Conditioning Serpentine Belt ACDelco 4K378 |
| 2007-2008 | Cadillac | Escalade EXT | Cadillac Escalade EXT V8 6.2L (8th Vin Digit 8) 4 Rib Air Conditioning Serpentine Belt ACDelco 4K378 |
| 2007-2008 | Chevy | Avalanche | Chevy Avalanche V8 6.0L (8th Vin Digit Y) 4 Rib Air Conditioning Serpentine Belt ACDelco 4K378 |
| 2007-2008 | Chevy | Avalanche | Chevy Avalanche V8 5.3L (8th Vin Digit J) 4 Rib Air Conditioning Serpentine Belt ACDelco 4K378 |
| 2007-2008 | Chevy | Avalanche | Chevy Avalanche V8 5.3L (8th Vin Digit 3) 4 Rib Air Conditioning Serpentine Belt ACDelco 4K378 |
| 2007-2008 | Chevy | Avalanche | Chevy Avalanche V8 5.3L (8th Vin Digit 0) 4 Rib Air Conditioning Serpentine Belt ACDelco 4K378 |
| 2002-2005 | Chevy | Avalanche 1500 | Chevy Avalanche 1500 V8 5.3L (8th Vin Digit T) 4 Rib Air Conditioning Serpentine Belt ACDelco 4K378 |
| 2003-2005 | Chevy | Avalanche 1500 | Chevy Avalanche 1500 V8 5.3L (8th Vin Digit Z) 4 Rib Air Conditioning Serpentine Belt ACDelco 4K378 |
| 2006 | Chevy | Avalanche 1500 | Chevy Avalanche 1500 V8 5.3L (8th Vin Digit Z) 4 Rib Air Conditioning Serpentine Belt ACDelco 4K378 |
| 2003-2007 | Chevy | Express 1500 Van | Chevy Express 1500 Van V8 5.3L (8th Vin Digit T) 4 Rib Air Conditioning Serpentine Belt ACDelco 4K378 |
| 2003-2004 | Chevy | Express 1500 Van | Chevy Express 1500 Van V8 5.3L (8th Vin Digit Z) 4 Rib Air Conditioning Serpentine Belt ACDelco 4K378 |
| 2004 | Chevy | Express 1500 Van | Chevy Express 1500 Van V6 4.3L (8th Vin Digit X) 4 Rib Air Conditioning Serpentine Belt ACDelco 4K378 |
| 2007 | Chevy | Express 1500 Van | Chevy Express 1500 Van V8 5.3L (8th Vin Digit Z) 4 Rib Air Conditioning Serpentine Belt ACDelco 4K378 |
| 2008 | Chevy | Express 1500 Van | Chevy Express 1500 Van V8 5.3L (8th Vin Digit 4) 4 Rib Air Conditioning Serpentine Belt ACDelco 4K378 |
| 2003-2007 | Chevy | Express 2500 Van | Chevy Express 2500 Van V8 4.8L (8th Vin Digit V) 4 Rib Air Conditioning Serpentine Belt ACDelco 4K378 |
| 2003-2007 | Chevy | Express 2500 Van | Chevy Express 2500 Van V8 5.3L (8th Vin Digit T) 4 Rib Air Conditioning Serpentine Belt ACDelco 4K378 |
| 2003-2007 | Chevy | Express 2500 Van | Chevy Express 2500 Van (8th Vin Digit U) 4 Rib Air Conditioning Serpentine Belt ACDelco 4K378 |
| 2003-2004 | Chevy | Express 2500 Van | Chevy Express 2500 Van V8 5.3L (8th Vin Digit Z) 4 Rib Air Conditioning Serpentine Belt ACDelco 4K378 |
| 2004 | Chevy | Express 2500 Van | Chevy Express 2500 Van V6 4.3L (8th Vin Digit X) 4 Rib Air Conditioning Serpentine Belt ACDelco 4K378 |
| 2007 | Chevy | Express 2500 Van | Chevy Express 2500 Van V8 5.3L (8th Vin Digit Z) 4 Rib Air Conditioning Serpentine Belt ACDelco 4K378 |
| 2008 | Chevy | Express 2500 Van | Chevy Express 2500 Van V8 6.0L (8th Vin Digit K) 4 Rib Air Conditioning Serpentine Belt ACDelco 4K378 |
| 2008 | Chevy | Express 2500 Van | Chevy Express 2500 Van V8 4.8L (8th Vin Digit C) 4 Rib Air Conditioning Serpentine Belt ACDelco 4K378 |
| 2008 | Chevy | Express 2500 Van | Chevy Express 2500 Van V8 5.3L (8th Vin Digit 4) 4 Rib Air Conditioning Serpentine Belt ACDelco 4K378 |
| 2003-2007 | Chevy | Express 3500 Van | Chevy Express 3500 Van (8th Vin Digit U) 4 Rib Air Conditioning Serpentine Belt ACDelco 4K378 |
| 2003-2007 | Chevy | Express 3500 Van | Chevy Express 3500 Van V8 4.8L (8th Vin Digit V) 4 Rib Air Conditioning Serpentine Belt ACDelco 4K378 |
| 2004 | Chevy | Express 3500 Van | Chevy Express 3500 Van V6 4.3L (8th Vin Digit X) 4 Rib Air Conditioning Serpentine Belt ACDelco 4K378 |
| 2008 | Chevy | Express 3500 Van | Chevy Express 3500 Van V8 6.0L (8th Vin Digit K) 4 Rib Air Conditioning Serpentine Belt ACDelco 4K378 |
| 2008 | Chevy | Express 3500 Van | Chevy Express 3500 Van V8 4.8L (8th Vin Digit C) 4 Rib Air Conditioning Serpentine Belt ACDelco 4K378 |
| 1998-2001 | Chevy | Metro | Chevy Metro L4 1.3L (8th Vin Digit 2) Air Conditioning Compressor & Power Steering Serpentine Belt ACDelco 4K378 |
| 1999-2007 | Chevy | Silverado 1500 | Chevy Silverado 1500 (8th Vin Digit U) 4 Rib Air Conditioning Serpentine Belt ACDelco 4K378 |
| 1999-2007 | Chevy | Silverado 1500 | Chevy Silverado 1500 V8 4.8L (8th Vin Digit V) 4 Rib Air Conditioning Serpentine Belt ACDelco 4K378 |
| 1999-2007 | Chevy | Silverado 1500 | Chevy Silverado 1500 V8 5.3L (8th Vin Digit T) 4 Rib Air Conditioning Serpentine Belt ACDelco 4K378 |
| 2002-2005 | Chevy | Silverado 1500 | Chevy Silverado 1500 (8th Vin Digit U) 4 Rib Air Conditioning Serpentine Belt ACDelco 4K378 |
| 2002-2007 | Chevy | Silverado 1500 | Chevy Silverado 1500 V8 5.3L (8th Vin Digit Z) 4 Rib Air Conditioning Serpentine Belt ACDelco 4K378 |
| 2005-2006 | Chevy | Silverado 1500 | Chevy Silverado 1500 V8 5.3L (8th Vin Digit B) 4 Rib Air Conditioning Serpentine Belt ACDelco 4K378 |
| 2006 | Chevy | Silverado 1500 | Chevy Silverado 1500 V8 6.0L (8th Vin Digit N) 4 Rib Air Conditioning Serpentine Belt ACDelco 4K378 |
| 2007-2008 | Chevy | Silverado 1500 | Chevy Silverado 1500 V8 6.0L (8th Vin Digit K) 4 Rib Air Conditioning Serpentine Belt ACDelco 4K378 |
| 2007-2008 | Chevy | Silverado 1500 | Chevy Silverado 1500 V8 5.3L (8th Vin Digit J) 4 Rib Air Conditioning Serpentine Belt ACDelco 4K378 |
| 2007-2008 | Chevy | Silverado 1500 | Chevy Silverado 1500 V8 4.8L (8th Vin Digit C) 4 Rib Air Conditioning Serpentine Belt ACDelco 4K378 |
| 2007-2008 | Chevy | Silverado 1500 | Chevy Silverado 1500 V8 5.3L (8th Vin Digit M) 4 Rib Air Conditioning Serpentine Belt ACDelco 4K378 |
| 2007-2008 | Chevy | Silverado 1500 | Chevy Silverado 1500 V8 5.3L (8th Vin Digit 0) 4 Rib Air Conditioning Serpentine Belt ACDelco 4K378 |
| 2007-2008 | Chevy | Silverado 1500 | Chevy Silverado 1500 V8 5.3L (8th Vin Digit 3) 4 Rib Air Conditioning Serpentine Belt ACDelco 4K378 |
| 2007-2008 | Chevy | Silverado 1500 | Chevy Silverado 1500 V8 6.0L (8th Vin Digit Y) 4 Rib Air Conditioning Serpentine Belt ACDelco 4K378 |
| 2007 | Chevy | Silverado 1500 Classic | Chevy Silverado 1500 Classic (8th Vin Digit U) 4 Rib Air Conditioning Serpentine Belt ACDelco 4K378 |
| 2007 | Chevy | Silverado 1500 Classic | Chevy Silverado 1500 Classic V8 5.3L (8th Vin Digit T) 4 Rib Air Conditioning Serpentine Belt ACDelco 4K378 |
| 2007 | Chevy | Silverado 1500 Classic | Chevy Silverado 1500 Classic V8 6.0L (8th Vin Digit N) 4 Rib Air Conditioning Serpentine Belt ACDelco 4K378 |
| 2007 | Chevy | Silverado 1500 Classic | Chevy Silverado 1500 Classic V8 5.3L (8th Vin Digit Z) 4 Rib Air Conditioning Serpentine Belt ACDelco 4K378 |
| 2007 | Chevy | Silverado 1500 Classic | Chevy Silverado 1500 Classic V8 4.8L (8th Vin Digit V) 4 Rib Air Conditioning Serpentine Belt ACDelco 4K378 |
| 2007 | Chevy | Silverado 1500 Classic | Chevy Silverado 1500 Classic V8 5.3L (8th Vin Digit B) 4 Rib Air Conditioning Serpentine Belt ACDelco 4K378 |
| 2001-2003 | Chevy | Silverado 1500 HD | Chevy Silverado 1500 HD (8th Vin Digit U) 4 Rib Air Conditioning Serpentine Belt ACDelco 4K378 |
| 2005-2006 | Chevy | Silverado 1500 HD | Chevy Silverado 1500 HD (8th Vin Digit U) 4 Rib Air Conditioning Serpentine Belt ACDelco 4K378 |
| 2007 | Chevy | Silverado 1500 HD Classic | Chevy Silverado 1500 HD Classic (8th Vin Digit U) 4 Rib Air Conditioning Serpentine Belt ACDelco 4K378 |
| 1999-2004 | Chevy | Silverado 2500 | Chevy Silverado 2500 (8th Vin Digit U) 4 Rib Air Conditioning Serpentine Belt ACDelco 4K378 |
| 1999-2000 | Chevy | Silverado 2500 | Chevy Silverado 2500 V8 5.3L (8th Vin Digit T) 4 Rib Air Conditioning Serpentine Belt ACDelco 4K378 |
| 2002-2004 | Chevy | Silverado 2500 | Chevy Silverado 2500 (8th Vin Digit U) 4 Rib Air Conditioning Serpentine Belt ACDelco 4K378 |
| 2001-2006 | Chevy | Silverado 2500 HD | Chevy Silverado 2500 HD (8th Vin Digit U) 4 Rib Air Conditioning Serpentine Belt ACDelco 4K378 |
| 2002-2005 | Chevy | Silverado 2500 HD | Chevy Silverado 2500 HD (8th Vin Digit U) 4 Rib Air Conditioning Serpentine Belt ACDelco 4K378 |
| 2006 | Chevy | Silverado 2500 HD | Chevy Silverado 2500 HD V8 6.0L (8th Vin Digit N) 4 Rib Air Conditioning Serpentine Belt ACDelco 4K378 |
| 2007-2008 | Chevy | Silverado 2500 HD | Chevy Silverado 2500 HD V8 6.0L (8th Vin Digit K) 4 Rib Air Conditioning Serpentine Belt ACDelco 4K378 |
| 2007-2008 | Chevy | Silverado 2500 HD | Chevy Silverado 2500 HD V8 6.0L (8th Vin Digit Y) 4 Rib Air Conditioning Serpentine Belt ACDelco 4K378 |
| 2007 | Chevy | Silverado 2500 HD Classic | Chevy Silverado 2500 HD Classic V8 6.0L (8th Vin Digit N) 4 Rib Air Conditioning Serpentine Belt ACDelco 4K378 |
| 2007 | Chevy | Silverado 2500 HD Classic | Chevy Silverado 2500 HD Classic (8th Vin Digit U) 4 Rib Air Conditioning Serpentine Belt ACDelco 4K378 |
| 2001-2006 | Chevy | Silverado 3500 | Chevy Silverado 3500 (8th Vin Digit U) 4 Rib Air Conditioning Serpentine Belt ACDelco 4K378 |
| 2002-2005 | Chevy | Silverado 3500 | Chevy Silverado 3500 (8th Vin Digit U) 4 Rib Air Conditioning Serpentine Belt ACDelco 4K378 |
| 2006 | Chevy | Silverado 3500 | Chevy Silverado 3500 V8 6.0L (8th Vin Digit N) 4 Rib Air Conditioning Serpentine Belt ACDelco 4K378 |
| 2007 | Chevy | Silverado 3500 Classic | Chevy Silverado 3500 Classic (8th Vin Digit U) 4 Rib Air Conditioning Serpentine Belt ACDelco 4K378 |
| 2007 | Chevy | Silverado 3500 Classic | Chevy Silverado 3500 Classic V8 6.0L (8th Vin Digit N) 4 Rib Air Conditioning Serpentine Belt ACDelco 4K378 |
| 2007-2008 | Chevy | Silverado 3500 HD | Chevy Silverado 3500 HD V8 6.0L (8th Vin Digit Y) 4 Rib Air Conditioning Serpentine Belt ACDelco 4K378 |
| 2007-2008 | Chevy | Silverado 3500 HD | Chevy Silverado 3500 HD V8 6.0L (8th Vin Digit K) 4 Rib Air Conditioning Serpentine Belt ACDelco 4K378 |
| 2000-2005 | Chevy | Suburban 1500 | Chevy Suburban 1500 V8 5.3L (8th Vin Digit T) 4 Rib Air Conditioning Serpentine Belt ACDelco 4K378 |
| 2000-2006 | Chevy | Suburban 1500 | Chevy Suburban 1500 (8th Vin Digit N) (8th Vin Digit U) 4 Rib Air Conditioning Serpentine Belt ACDelco 4K378 |
| 2002-2006 | Chevy | Suburban 1500 | Chevy Suburban 1500 V8 5.3L (8th Vin Digit Z) 4 Rib Air Conditioning Serpentine Belt ACDelco 4K378 |
| 2007-2008 | Chevy | Suburban 1500 | Chevy Suburban 1500 V8 5.3L (8th Vin Digit 0) 4 Rib Air Conditioning Serpentine Belt ACDelco 4K378 |
| 2007-2008 | Chevy | Suburban 1500 | Chevy Suburban 1500 V8 5.3L (8th Vin Digit 3) 4 Rib Air Conditioning Serpentine Belt ACDelco 4K378 |
| 2007-2008 | Chevy | Suburban 1500 | Chevy Suburban 1500 V8 5.3L (8th Vin Digit J) 4 Rib Air Conditioning Serpentine Belt ACDelco 4K378 |
| 2007-2008 | Chevy | Suburban 1500 | Chevy Suburban 1500 V8 6.0L (8th Vin Digit K) 4 Rib Air Conditioning Serpentine Belt ACDelco 4K378 |
| 2007-2008 | Chevy | Suburban 1500 | Chevy Suburban 1500 V8 6.0L (8th Vin Digit Y) 4 Rib Air Conditioning Serpentine Belt ACDelco 4K378 |
| 2000-2006 | Chevy | Suburban 2500 | Chevy Suburban 2500 (8th Vin Digit N) (8th Vin Digit U) 4 Rib Air Conditioning Serpentine Belt ACDelco 4K378 |
| 2007-2008 | Chevy | Suburban 2500 | Chevy Suburban 2500 V8 6.0L (8th Vin Digit K) 4 Rib Air Conditioning Serpentine Belt ACDelco 4K378 |
| 2007-2008 | Chevy | Suburban 2500 | Chevy Suburban 2500 V8 6.0L (8th Vin Digit Y) 4 Rib Air Conditioning Serpentine Belt ACDelco 4K378 |
| 2000-2006 | Chevy | Tahoe | Chevy Tahoe V8 5.3L (8th Vin Digit T) 4 Rib Air Conditioning Serpentine Belt ACDelco 4K378 |
| 2000-2006 | Chevy | Tahoe | Chevy Tahoe V8 4.8L (8th Vin Digit V) 4 Rib Air Conditioning Serpentine Belt ACDelco 4K378 |
| 2002-2006 | Chevy | Tahoe | Chevy Tahoe V8 5.3L (8th Vin Digit Z) 4 Rib Air Conditioning Serpentine Belt ACDelco 4K378 |
| 2007-2008 | Chevy | Tahoe | Chevy Tahoe V8 5.3L (8th Vin Digit 0) 4 Rib Air Conditioning Serpentine Belt ACDelco 4K378 |
| 2007-2008 | Chevy | Tahoe | Chevy Tahoe V8 4.8L (8th Vin Digit C) 4 Rib Air Conditioning Serpentine Belt ACDelco 4K378 |
| 2007-2008 | Chevy | Tahoe | Chevy Tahoe V8 5.3L (8th Vin Digit J) 4 Rib Air Conditioning Serpentine Belt ACDelco 4K378 |
| 2001-2002 | Chevy | Tracker | Chevy Tracker L4 1.6L (8th Vin Digit 6) Air Conditioning Compressor & Power Steering Serpentine Belt ACDelco 4K378 |
| 2008 | Chevy | Trailblazer | Chevy Trailblazer V8 5.3L (8th Vin Digit M) Serpentine Belt ACDelco 4K378 |
| 1994-1995 | Ford | Aspire | Ford Aspire L4 1.3L (8th Vin Digit H) Air Conditioning Compressor & Power Steering Serpentine Belt ACDelco 4K378 |
| 1996-1997 | Ford | Aspire | Ford Aspire L4 1.3L (8th Vin Digit H) Factory Installed Air Condtioning Air Conditioning Compressor & Power Steering Serpentine Belt ACDelco 4K378 |
| 2003-2007 | GMC | Savana 1500 Van | GMC Savana 1500 Van V8 5.3L (8th Vin Digit T) Air Conditioning Serpentine Belt ACDelco 4K378 |
| 2003-2007 | GMC | Savana 1500 Van | GMC Savana 1500 Van V8 5.3L (8th Vin Digit Z) Air Conditioning Serpentine Belt ACDelco 4K378 |
| 2004-2005 | GMC | Savana 1500 Van | GMC Savana 1500 Van V6 4.3L (8th Vin Digit X) Air Conditioning Serpentine Belt ACDelco 4K378 |
| 2008 | GMC | Savana 1500 Van | GMC Savana 1500 Van V8 5.3L (8th Vin Digit 4) Air Conditioning Serpentine Belt ACDelco 4K378 |
| 2003-2007 | GMC | Savana 2500 Van | GMC Savana 2500 Van V8 5.3L (8th Vin Digit T) Air Conditioning Serpentine Belt ACDelco 4K378 |
| 2003-2007 | GMC | Savana 2500 Van | GMC Savana 2500 Van (8th Vin Digit U) Air Conditioning Serpentine Belt ACDelco 4K378 |
| 2003-2007 | GMC | Savana 2500 Van | GMC Savana 2500 Van V8 5.3L (8th Vin Digit Z) Air Conditioning Serpentine Belt ACDelco 4K378 |
| 2003-2007 | GMC | Savana 2500 Van | GMC Savana 2500 Van V8 4.8L (8th Vin Digit V) Air Conditioning Serpentine Belt ACDelco 4K378 |
| 2004-2005 | GMC | Savana 2500 Van | GMC Savana 2500 Van V6 4.3L (8th Vin Digit X) Air Conditioning Serpentine Belt ACDelco 4K378 |
| 2008 | GMC | Savana 2500 Van | GMC Savana 2500 Van V8 6.0L (8th Vin Digit K) Air Conditioning Serpentine Belt ACDelco 4K378 |
| 2008 | GMC | Savana 2500 Van | GMC Savana 2500 Van V8 5.3L (8th Vin Digit 4) Air Conditioning Serpentine Belt ACDelco 4K378 |
| 2008 | GMC | Savana 2500 Van | GMC Savana 2500 Van V8 4.8L (8th Vin Digit C) Air Conditioning Serpentine Belt ACDelco 4K378 |
| 2003-2007 | GMC | Savana 3500 Van | GMC Savana 3500 Van (8th Vin Digit U) Air Conditioning Serpentine Belt ACDelco 4K378 |
| 2003-2007 | GMC | Savana 3500 Van | GMC Savana 3500 Van V8 4.8L (8th Vin Digit V) Air Conditioning Serpentine Belt ACDelco 4K378 |
| 2008 | GMC | Savana 3500 Van | GMC Savana 3500 Van V8 4.8L (8th Vin Digit C) Air Conditioning Serpentine Belt ACDelco 4K378 |
| 2008 | GMC | Savana 3500 Van | GMC Savana 3500 Van V8 6.0L (8th Vin Digit K) Air Conditioning Serpentine Belt ACDelco 4K378 |
| 1999-2006 | GMC | Sierra 1500 | GMC Sierra 1500 V8 4.8L (8th Vin Digit V) Air Conditioning Serpentine Belt ACDelco 4K378 |
| 1999-2006 | GMC | Sierra 1500 | GMC Sierra 1500 V8 5.3L (8th Vin Digit T) Air Conditioning Serpentine Belt ACDelco 4K378 |
| 1999-2006 | GMC | Sierra 1500 | GMC Sierra 1500 (8th Vin Digit U) Air Conditioning Serpentine Belt ACDelco 4K378 |
| 2002-2006 | GMC | Sierra 1500 | GMC Sierra 1500 V8 5.3L (8th Vin Digit Z) Air Conditioning Serpentine Belt ACDelco 4K378 |
| 2005-2006 | GMC | Sierra 1500 | GMC Sierra 1500 V8 6.0L (8th Vin Digit N) Air Conditioning Serpentine Belt ACDelco 4K378 |
| 2005-2006 | GMC | Sierra 1500 | GMC Sierra 1500 V8 5.3L (8th Vin Digit B) Air Conditioning Serpentine Belt ACDelco 4K378 |
| 2007-2008 | GMC | Sierra 1500 | GMC Sierra 1500 V8 5.3L (8th Vin Digit M) Air Conditioning Serpentine Belt ACDelco 4K378 |
| 2007-2008 | GMC | Sierra 1500 | GMC Sierra 1500 V8 5.3L (8th Vin Digit J) Air Conditioning Serpentine Belt ACDelco 4K378 |
| 2007-2008 | GMC | Sierra 1500 | GMC Sierra 1500 V8 5.3L (8th Vin Digit 0) Air Conditioning Serpentine Belt ACDelco 4K378 |
| 2007-2008 | GMC | Sierra 1500 | GMC Sierra 1500 V8 6.0L (8th Vin Digit K) Air Conditioning Serpentine Belt ACDelco 4K378 |
| 2007-2008 | GMC | Sierra 1500 | GMC Sierra 1500 V8 5.3L (8th Vin Digit 3) Air Conditioning Serpentine Belt ACDelco 4K378 |
| 2007-2008 | GMC | Sierra 1500 | GMC Sierra 1500 V8 4.8L (8th Vin Digit C) Air Conditioning Serpentine Belt ACDelco 4K378 |
| 2007-2008 | GMC | Sierra 1500 | GMC Sierra 1500 V8 6.0L (8th Vin Digit Y) Air Conditioning Serpentine Belt ACDelco 4K378 |
| 2007 | GMC | Sierra 1500 Classic | GMC Sierra 1500 Classic V8 4.8L (8th Vin Digit V) Air Conditioning Serpentine Belt ACDelco 4K378 |
| 2007 | GMC | Sierra 1500 Classic | GMC Sierra 1500 Classic (8th Vin Digit U) Air Conditioning Serpentine Belt ACDelco 4K378 |
| 2007 | GMC | Sierra 1500 Classic | GMC Sierra 1500 Classic V8 5.3L (8th Vin Digit T) Air Conditioning Serpentine Belt ACDelco 4K378 |
| 2007 | GMC | Sierra 1500 Classic | GMC Sierra 1500 Classic V8 5.3L (8th Vin Digit Z) Air Conditioning Serpentine Belt ACDelco 4K378 |
| 2007 | GMC | Sierra 1500 Classic | GMC Sierra 1500 Classic V8 6.0L (8th Vin Digit N) Air Conditioning Serpentine Belt ACDelco 4K378 |
| 2007 | GMC | Sierra 1500 Classic | GMC Sierra 1500 Classic V8 5.3L (8th Vin Digit B) Air Conditioning Serpentine Belt ACDelco 4K378 |
| 2001-2003 | GMC | Sierra 1500 HD | GMC Sierra 1500 HD (8th Vin Digit U) Air Conditioning Serpentine Belt ACDelco 4K378 |
| 2005-2006 | GMC | Sierra 1500 HD | GMC Sierra 1500 HD V8 6.0L (8th Vin Digit N) Air Conditioning Serpentine Belt ACDelco 4K378 |
| 2007 | GMC | Sierra 1500 HD Classic | GMC Sierra 1500 HD Classic V8 6.0L (8th Vin Digit N) Air Conditioning Serpentine Belt ACDelco 4K378 |
| 1999-2004 | GMC | Sierra 2500 | GMC Sierra 2500 (8th Vin Digit U) Air Conditioning Serpentine Belt ACDelco 4K378 |
| 2001-2006 | GMC | Sierra 2500 HD | GMC Sierra 2500 HD (8th Vin Digit U) Air Conditioning Serpentine Belt ACDelco 4K378 |
| 2005-2006 | GMC | Sierra 2500 HD | GMC Sierra 2500 HD V8 6.0L (8th Vin Digit N) Air Conditioning Serpentine Belt ACDelco 4K378 |
| 2007-2008 | GMC | Sierra 2500 HD | GMC Sierra 2500 HD V8 6.0L (8th Vin Digit Y) Air Conditioning Serpentine Belt ACDelco 4K378 |
| 2007-2008 | GMC | Sierra 2500 HD | GMC Sierra 2500 HD V8 6.0L (8th Vin Digit K) Air Conditioning Serpentine Belt ACDelco 4K378 |
| 2007 | GMC | Sierra 2500 HD Classic | GMC Sierra 2500 HD Classic V8 6.0L (8th Vin Digit N) Air Conditioning Serpentine Belt ACDelco 4K378 |
| 2007 | GMC | Sierra 2500 HD Classic | GMC Sierra 2500 HD Classic (8th Vin Digit U) Air Conditioning Serpentine Belt ACDelco 4K378 |
| 2001-2006 | GMC | Sierra 3500 | GMC Sierra 3500 (8th Vin Digit U) Air Conditioning Serpentine Belt ACDelco 4K378 |
| 2005-2006 | GMC | Sierra 3500 | GMC Sierra 3500 V8 6.0L (8th Vin Digit N) Air Conditioning Serpentine Belt ACDelco 4K378 |
| 2007 | GMC | Sierra 3500 Classic | GMC Sierra 3500 Classic (8th Vin Digit U) Air Conditioning Serpentine Belt ACDelco 4K378 |
| 2007 | GMC | Sierra 3500 Classic | GMC Sierra 3500 Classic V8 6.0L (8th Vin Digit N) Air Conditioning Serpentine Belt ACDelco 4K378 |
| 2007-2008 | GMC | Sierra 3500 HD | GMC Sierra 3500 HD V8 6.0L (8th Vin Digit K) Air Conditioning Serpentine Belt ACDelco 4K378 |
| 2000-2006 | GMC | Yukon | GMC Yukon V8 5.3L (8th Vin Digit T) Air Conditioning Serpentine Belt ACDelco 4K378 |
| 2000-2006 | GMC | Yukon | GMC Yukon V8 4.8L (8th Vin Digit V) Air Conditioning Serpentine Belt ACDelco 4K378 |
| 2002-2006 | GMC | Yukon | GMC Yukon V8 5.3L (8th Vin Digit Z) Air Conditioning Serpentine Belt ACDelco 4K378 |
| 2007 | GMC | Yukon | GMC Yukon V8 4.8L (8th Vin Digit C) Air Conditioning Serpentine Belt ACDelco 4K378 |
| 2007-2008 | GMC | Yukon | GMC Yukon V8 5.3L (8th Vin Digit 0) Air Conditioning Serpentine Belt ACDelco 4K378 |
| 2007-2008 | GMC | Yukon | GMC Yukon V8 5.3L (8th Vin Digit J) Air Conditioning Serpentine Belt ACDelco 4K378 |
| 2000-2005 | GMC | Yukon XL 1500 | GMC Yukon XL 1500 V8 5.3L (8th Vin Digit T) Air Conditioning Serpentine Belt ACDelco 4K378 |
| 2000-2006 | GMC | Yukon XL 1500 | GMC Yukon XL 1500 Air Conditioning Serpentine Belt ACDelco 4K378 |
| 2002-2006 | GMC | Yukon XL 1500 | GMC Yukon XL 1500 V8 5.3L (8th Vin Digit Z) Air Conditioning Serpentine Belt ACDelco 4K378 |
| 2007-2008 | GMC | Yukon XL 1500 | GMC Yukon XL 1500 V8 5.3L (8th Vin Digit 0) Air Conditioning Serpentine Belt ACDelco 4K378 |
| 2007-2008 | GMC | Yukon XL 1500 | GMC Yukon XL 1500 V8 5.3L (8th Vin Digit 3) Air Conditioning Serpentine Belt ACDelco 4K378 |
| 2007-2008 | GMC | Yukon XL 1500 | GMC Yukon XL 1500 V8 5.3L (8th Vin Digit J) Air Conditioning Serpentine Belt ACDelco 4K378 |
| 2000-2006 | GMC | Yukon XL 2500 | GMC Yukon XL 2500 Air Conditioning Serpentine Belt ACDelco 4K378 |
| 2005 | GMC | Yukon XL 2500 | GMC Yukon XL 2500 V8 6.0L (8th Vin Digit N) Air Conditioning Serpentine Belt ACDelco 4K378 |
| 2007-2008 | GMC | Yukon XL 2500 | GMC Yukon XL 2500 V8 6.0L (8th Vin Digit K) Air Conditioning Serpentine Belt ACDelco 4K378 |
| 2007-2008 | GMC | Yukon XL 2500 | GMC Yukon XL 2500 V8 6.0L (8th Vin Digit Y) Air Conditioning Serpentine Belt ACDelco 4K378 |
| 1995-1997 | Geo | Metro | Geo Metro L4 1.3L (8th Vin Digit 9) Air Conditioning Compressor & Power Steering Serpentine Belt ACDelco 4K378 |
| 1992-1997 | Hyundai | Sonata | Hyundai Sonata L4 2.0L (8th Vin Digit F) Serpentine Belt ACDelco 4K378 |
| 1998 | Hyundai | Sonata | Hyundai Sonata L4 2.0L Serpentine Belt ACDelco 4K378 |
| 1993-1997 | Infiniti | J30 | Infiniti J30 V6 3.0L (Engine ID VG30DE) Air Conditioning Compressor & Idler Pulley Serpentine Belt ACDelco 4K378 |
| 1998 | Kia | Sephia | Kia Sephia L4 1.8L (8th Vin Digit 1) Manual Steering Air Conditioning Compressor Serpentine Belt ACDelco 4K378 |
| 1998-1999 | Kia | Sephia | Kia Sephia L4 1.8L (8th Vin Digit 5) Manual Steering Air Conditioning Compressor Serpentine Belt ACDelco 4K378 |
| 2000 | Kia | Sephia | Kia Sephia L4 1.8L (8th Vin Digit 1) Manual Steering Air Conditioning Compressor Serpentine Belt ACDelco 4K378 |
| 2000-2004 | Kia | Spectra | Kia Spectra L4 1.8L (8th Vin Digit 1) Manual Steering Air Conditioning Compressor Serpentine Belt ACDelco 4K378 |
| 1990-1993 | Mazda | Miata | Mazda Miata L4 1.6L (8th Vin Digit N) Air Conditioning Compressor & Power Steering Serpentine Belt ACDelco 4K378 |
| 2003-2005 | Mazda | Miata | Mazda Miata L4 1.8L (8th Vin Digit N) Air Conditioning Compressor & Power Steering Serpentine Belt ACDelco 4K378 |
| 1994-1995 | Mitsubishi | Diamante | Mitsubishi Diamante Sedan V6 3.0L Air Conditioning Compressor & Idler Pulley Serpentine Belt ACDelco 4K378 |
| 1996 | Mitsubishi | Diamante | Mitsubishi Diamante V6 3.0L Air Conditioning Compressor & Idler Pulley Serpentine Belt ACDelco 4K378 |
| 1994-1998 | Mitsubishi | Galant | Mitsubishi Galant L4 2.4L (Engine ID 4G64) Air Conditioning Compressor & Idler Pulley Serpentine Belt ACDelco 4K378 |
| 1995-1996 | Mitsubishi | Montero | Mitsubishi Montero V6 3.0L (8th Vin Digit H) Idler Pulley & Power Steering Pump Serpentine Belt ACDelco 4K378 |
| 1997-1998 | Mitsubishi | Montero Sport | Mitsubishi Montero Sport V6 3.0L Serpentine Belt ACDelco 4K378 |
| 1989 | Peugeot | 405 | Peugeot 405 L4 1.9L (8th Vin Digit 1) Alternator & Power Steering Pump Serpentine Belt ACDelco 4K378 |
| 1990-1991 | Peugeot | 405 | Peugeot 405 L4 1.9L (8th Vin Digit C) Alternator & Power Steering Pump Serpentine Belt ACDelco 4K378 |
| 1990-1991 | Peugeot | 405 | Peugeot 405 L4 1.9L (8th Vin Digit A) Alternator & Power Steering Pump Serpentine Belt ACDelco 4K378 |
| 1995-1998 | Pontiac | Firefly | Pontiac Firefly L4 1.3L (8th Vin Digit 9) Air Conditioning Compressor & Power Steering Serpentine Belt ACDelco 4K378 |
| 1998-2000 | Pontiac | Firefly | Pontiac Firefly L4 1.3L (8th Vin Digit 2) Air Conditioning Compressor & Power Steering Serpentine Belt ACDelco 4K378 |
| 2008 | Saab | 9-7X | Saab 9-7X V8 5.3L (8th Vin Digit M) Serpentine Belt ACDelco 4K378 |
| 1985-1989 | Subaru | XT | Subaru XT L4 1.8L (8th Vin Digit 7) Serpentine Belt ACDelco 4K378 |
| 1985-1987 | Subaru | XT | Subaru XT L4 1.8L (8th Vin Digit 4) Manual Steering Serpentine Belt ACDelco 4K378 |
| 1985-1989 | Subaru | XT | Subaru XT H4 1.8L (8th Vin Digit 4) without Air Conditioning Serpentine Belt ACDelco 4K378 |
| 1991 | Subaru | XT | Subaru XT H4 1.8L (8th Vin Digit 4) Serpentine Belt ACDelco 4K378 |
| 2006-2008 | Suzuki | Grand Vitara | Suzuki Grand Vitara V6 2.7L (8th Vin Digit N) Serpentine Belt ACDelco 4K378 |
| 1999-2002 | Suzuki | Vitara | Suzuki Vitara L4 1.6L (8th Vin Digit N) Air Conditioning Compressor & Power Steering Serpentine Belt ACDelco 4K378 |
Part #: 1AACD00057
Order must be placed by 4pm ET
Get it in: 2 - 4 Business Days
Want it sooner? Choose Next Day Air at Checkout

Brand #: 4K378