1ATRX00013-Kick Down Cable
Replaces
Kick Down Cable - 1ATRX00013
1ATRX00013
This replacement automatic transmission detent cable, kick down cable, or throttle valve (TV) cable is just what you need to get your vehicle in good running order again! This cable controls shifts points, line pressures, part throttle downshifts and detent downshifts. The cable functions similarly to the combination vacuum modulator/cable systems found on other automatic transmissions. If this cable goes bad, your transmission will not shift correctly and eventually cause transmission failure.
Specifications:
Adjustable
Overall Length: 47.25 inches
Replaces dealer part numbers: 1114208, 262678, 1257126, 1257263, 1260508, 1262678, 1262689, 10066487, 10066501, 10066510, 14102146, 25507544, 25507551, 25507553, 25509561, 25510187, 25513393, 25515163, 25515598, 25516234, 25517313, 25517316, 25519347, 25521266, 25521268
Built to strict quality control standards
Works as detent cable or throttle valve (TV) cable as listed per application
Item Condition: New

Lifetime Warranty
This item is backed by a Limited Lifetime Warranty. In the event this item should fail due to manufacturing defects during intended use, we will exchange the part free of charge (excludes shipping charges) for the original purchaser.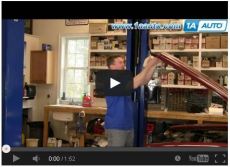 step : remove the air cleaner assembly (1:26)

Untwist the thumb nut
Pull the air cleaner assembly up and away.
Set it aside

step : Disconnect your detent cable. (1:50)

Use a screwdriver to push on the tabs to do this.
Pull the detent cable up and out.

step : Install the new detent cable (3:15)

Take the new cable and feed it down to the transmission.
Underneath the car, unbolt the old cable from the transmission.
Take care, as this area could be hot if the vehicle had been running.
Bolt in the new detent cable
Back up top under the hood, pull the old cable out completely
Clip the new detent cable and connect it.
Replace the air cleaner assembly and screw in the thumb nut.
Tools needed for replacement:
Screwdrivers & Related

Flat Blade Screwdriver

Wrenches - Metric

10mm Wrench
There are no reviews for this item.
Customer Q&A
Ask a question to 1A Auto customers who purchased the product
No questions have been asked about this item.
| Year | Make | Model | Description |
| --- | --- | --- | --- |
| 1978-1979 | Buick | Century | Buick Century Kick Down Cable V6 3.8L (8th Vin Digit A) with Automatic Transmission |
| 1979 | Buick | Century | Buick Century Kick Down Cable V6 3.8L TH200 Automatic Transmission (8th Vin Digit 3) |
| 1979 | Buick | Century | Buick Century Kick Down Cable V6 3.8L (8th Vin Digit 2) TH200 Automatic Transmission |
| 1982-1986 | Buick | Century | Buick Century Kick Down Cable L4 2.5L (8th Vin Digit R) with Automatic Transmission |
| 1984-1985 | Buick | Grand National | Buick Grand National Kick Down Cable V6 3.8L TH200 Automatic Transmission (8th Vin Digit 9) |
| 1978 | Buick | LeSabre | Buick LeSabre Kick Down Cable V6 3.8L (8th Vin Digit A) with Automatic Transmission |
| 1978 | Buick | LeSabre | Buick LeSabre Kick Down Cable V6 3.8L TH200 Automatic Transmission (8th Vin Digit 3) |
| 1978 | Buick | Regal | Buick Regal Kick Down Cable V6 3.8L TH200 Automatic Transmission (8th Vin Digit G) |
| 1978-1979 | Buick | Regal | Buick Regal Kick Down Cable V6 3.8L (8th Vin Digit A) with Automatic Transmission |
| 1978-1979 | Buick | Regal | Buick Regal Kick Down Cable V6 3.8L TH200 Automatic Transmission (8th Vin Digit 3) |
| 1979 | Buick | Regal | Buick Regal Kick Down Cable V6 3.8L (8th Vin Digit 2) TH200 Automatic Transmission |
| 1981 | Buick | Regal | Buick Regal Kick Down Cable V6 3.8L (8th Vin Digit A) with Automatic Transmission |
| 1981 | Buick | Regal | Buick Regal Kick Down Cable V6 3.8L (8th Vin Digit 3) with Automatic Transmission |
| 1982 | Buick | Regal | Buick Regal Kick Down Cable V6 3.8L (8th Vin Digit A) with TH350 Automatic Transmission |
| 1982 | Buick | Regal | Buick Regal Kick Down Cable V6 3.8L (8th Vin Digit 3) with TH350 Automatic Transmission |
| 1983 | Buick | Regal | Buick Regal Kick Down Cable V6 3.8L TH200 Automatic Transmission (8th Vin Digit 8) T-Type |
| 1983-1985 | Buick | Regal | Buick Regal Kick Down Cable V6 3.8L TH200 Automatic Transmission (8th Vin Digit A) |
| 1984-1985 | Buick | Regal | Buick Regal Kick Down Cable V6 3.8L TH200 Automatic Transmission (8th Vin Digit 9) T-Type |
| 1982-1985 | Buick | Skylark | Buick Skylark Kick Down Cable L4 2.5L (8th Vin Digit R) with Automatic Transmission |
| 1979 | Cadillac | Eldorado | Cadillac Eldorado Kick Down Cable (8th Vin Digit N) V8 5.7L with TH325 Automatic Transmission |
| 1979 | Cadillac | Eldorado | Cadillac Eldorado Kick Down Cable (8th Vin Digit B) V8 5.7L with TH325 Automatic Transmission |
| 1986 | Chevy | Astro | Chevy Astro Kick Down Cable with Automatic Transmission V6 4.3L (8th Vin Digit Z) |
| 1987-1990 | Chevy | Astro | Chevy Astro Kick Down Cable V6 4.3L (8th Vin Digit Z) with Automatic Transmission |
| 1990 | Chevy | Astro | Chevy Astro Kick Down Cable V6 4.3L with Automatic Transmission |
| 1982-1989 | Chevy | Blazer Full Size | Chevy Blazer Full Size Kick Down Cable TH700 Automatic Transmission |
| 1990-1991 | Chevy | Blazer Full Size | Chevy Blazer Full Size Kick Down Cable with Automatic Transmission V8 5.7L (8th Vin Digit K) |
| 1992-1993 | Chevy | Blazer Full Size | Chevy Blazer Full Size Kick Down Cable V8 5.7L (8th Vin Digit K) with Automatic Transmission |
| 1988-1992 | Chevy | C1500 Truck | Chevy C1500 Truck Kick Down Cable V8 5.0L (8th Vin Digit G) with Automatic Transmission |
| 1988-1993 | Chevy | C1500 Truck | Chevy C1500 Truck Kick Down Cable V8 5.7L (8th Vin Digit K) with Automatic Transmission |
| 1988-1992 | Chevy | C1500 Truck | Chevy C1500 Truck Kick Down Cable V6 4.3L (8th Vin Digit Z) with Automatic Transmission |
| 1990-1991 | Chevy | C1500 Truck | Chevy C1500 Truck Kick Down Cable with Automatic Transmission V6 4.3L (8th Vin Digit Z) |
| 1990-1991 | Chevy | C1500 Truck | Chevy C1500 Truck Kick Down Cable with Automatic Transmission V8 5.0L (8th Vin Digit H) |
| 1990-1991 | Chevy | C1500 Truck | Chevy C1500 Truck Kick Down Cable with Automatic Transmission V8 5.7L (8th Vin Digit K) |
| 1988-1992 | Chevy | C2500 Truck | Chevy C2500 Truck Kick Down Cable V8 5.0L (8th Vin Digit G) with Automatic Transmission |
| 1988-1992 | Chevy | C2500 Truck | Chevy C2500 Truck Kick Down Cable V6 4.3L (8th Vin Digit Z) with Automatic Transmission |
| 1988-1993 | Chevy | C2500 Truck | Chevy C2500 Truck Kick Down Cable V8 5.7L (8th Vin Digit K) with Automatic Transmission |
| 1990-1991 | Chevy | C2500 Truck | Chevy C2500 Truck Kick Down Cable with Automatic Transmission V8 5.0L (8th Vin Digit H) |
| 1990-1991 | Chevy | C2500 Truck | Chevy C2500 Truck Kick Down Cable with Automatic Transmission V6 4.3L (8th Vin Digit Z) |
| 1990-1991 | Chevy | C2500 Truck | Chevy C2500 Truck Kick Down Cable with Automatic Transmission V8 5.7L (8th Vin Digit K) |
| 1988-1989 | Chevy | C3500 Truck | Chevy C3500 Truck Kick Down Cable V8 7.4L (8th Vin Digit N) with Automatic Transmission |
| 1988-1989 | Chevy | C3500 Truck | Chevy C3500 Truck Kick Down Cable V8 6.2L (8th Vin Digit J) with Automatic Transmission |
| 1988-1993 | Chevy | C3500 Truck | Chevy C3500 Truck Kick Down Cable V8 5.7L (8th Vin Digit K) with Automatic Transmission |
| 1990-1991 | Chevy | C3500 Truck | Chevy C3500 Truck Kick Down Cable with Automatic Transmission V8 5.7L (8th Vin Digit K) |
| 1984-1987 | Chevy | Camaro | Chevy Camaro Kick Down Cable V8 5.0L (8th Vin Digit G) with Automatic Transmission |
| 1985-1989 | Chevy | Camaro | Chevy Camaro Kick Down Cable V6 2.8L (8th Vin Digit S) with Automatic Transmission |
| 1985-1987 | Chevy | Camaro | Chevy Camaro Kick Down Cable V8 5.0L (8th Vin Digit F) with Automatic Transmission |
| 1990-1992 | Chevy | Camaro | Chevy Camaro Kick Down Cable V6 3.1L (8th Vin Digit T) with Automatic Transmission |
| 1982-1988 | Chevy | Caprice | Chevy Caprice Kick Down Cable TH700 Automatic Transmission V8 5.0L (8th Vin Digit H) |
| 1982-1984 | Chevy | Caprice | Chevy Caprice Kick Down Cable (8th Vin Digit N) TH700 Automatic Transmission V8 5.7L |
| 1982 | Chevy | Caprice | Chevy Caprice Kick Down Cable TH700 Automatic Transmission V8 4.4L (8th Vin Digit J) |
| 1983-1984 | Chevy | Caprice | Chevy Caprice Kick Down Cable V6 3.8L (8th Vin Digit A) TH700 Automatic Transmission |
| 1983-1984 | Chevy | Caprice | Chevy Caprice Kick Down Cable (8th Vin Digit 9) V6 3.8L TH700 Automatic Transmission |
| 1985-1989 | Chevy | Caprice | Chevy Caprice Kick Down Cable V6 4.3L (8th Vin Digit Z) TH700 Automatic Transmission |
| 1986-1988 | Chevy | Caprice | Chevy Caprice Kick Down Cable TH700 Automatic Transmission V8 5.0L (8th Vin Digit Y) |
| 1990 | Chevy | Caprice | Chevy Caprice Kick Down Cable with Automatic Transmission V6 4.3L (8th Vin Digit Z) |
| 1992-1993 | Chevy | Caprice | Chevy Caprice Kick Down Cable V6 4.3L (8th Vin Digit Z) with Automatic Transmission |
| 1982-1986 | Chevy | Celebrity | Chevy Celebrity Kick Down Cable L4 2.5L (8th Vin Digit R) with Automatic Transmission |
| 1987 | Chevy | Celebrity | Chevy Celebrity Kick Down Cable V6 2.8L (8th Vin Digit W) with Automatic Transmission |
| 1982-1983 | Chevy | Citation | Chevy Citation Kick Down Cable L4 2.5L (8th Vin Digit R) with Automatic Transmission |
| 1984-1985 | Chevy | Citation II | Chevy Citation II Kick Down Cable L4 2.5L (8th Vin Digit R) with Automatic Transmission |
| 1978-1979 | Chevy | El Camino | Chevy El Camino Kick Down Cable V6 3.8L (8th Vin Digit A) with Automatic Transmission |
| 1979 | Chevy | El Camino | Chevy El Camino Kick Down Cable V6 3.8L (8th Vin Digit 2) TH200 Automatic Transmission |
| 1983-1984 | Chevy | G10 | Chevy G10 Kick Down Cable TH700 Automatic Transmission V8 5.7L (8th Vin Digit L) |
| 1983-1984 | Chevy | G10 | Chevy G10 Kick Down Cable TH700 Automatic Transmission V8 5.0L (8th Vin Digit F) |
| 1983-1984 | Chevy | G10 | Chevy G10 Kick Down Cable TH700 Automatic Transmission V8 5.0L (8th Vin Digit H) |
| 1987-1990 | Chevy | G10 | Chevy G10 Kick Down Cable V8 5.0L (8th Vin Digit G) with Automatic Transmission |
| 1987-1990 | Chevy | G10 | Chevy G10 Kick Down Cable V8 5.7L (8th Vin Digit K) with Automatic Transmission |
| 1987-1990 | Chevy | G10 | Chevy G10 Kick Down Cable V6 4.3L (8th Vin Digit Z) with Automatic Transmission |
| 1982 | Chevy | G20 | Chevy G20 Kick Down Cable V8 5.7L (8th Vin Digit L) with Automatic Transmission |
| 1982 | Chevy | G20 | Chevy G20 Kick Down Cable V8 5.7L (8th Vin Digit M) with Automatic Transmission |
| 1983-1984 | Chevy | G20 | Chevy G20 Kick Down Cable TH700 Automatic Transmission V8 5.0L (8th Vin Digit F) |
| 1983-1984 | Chevy | G20 | Chevy G20 Kick Down Cable TH700 Automatic Transmission V8 5.0L (8th Vin Digit H) |
| 1983-1984 | Chevy | G20 | Chevy G20 Kick Down Cable TH700 Automatic Transmission V8 5.7L (8th Vin Digit L) |
| 1984 | Chevy | G20 | Chevy G20 Kick Down Cable TH700 Automatic Transmission V8 5.7L (8th Vin Digit M) |
| 1987-1990 | Chevy | G20 | Chevy G20 Kick Down Cable V6 4.3L (8th Vin Digit Z) with Automatic Transmission |
| 1987-1990 | Chevy | G20 | Chevy G20 Kick Down Cable V8 5.0L (8th Vin Digit G) with Automatic Transmission |
| 1987-1990 | Chevy | G20 | Chevy G20 Kick Down Cable V8 5.7L (8th Vin Digit K) with Automatic Transmission |
| 1983-1984 | Chevy | G30 | Chevy G30 Kick Down Cable TH700 Automatic Transmission V8 5.7L (8th Vin Digit L) |
| 1983-1984 | Chevy | G30 | Chevy G30 Kick Down Cable TH700 Automatic Transmission V8 5.7L (8th Vin Digit M) |
| 1985 | Chevy | G30 | Chevy G30 Kick Down Cable V8 5.0L (8th Vin Digit F) with Automatic Transmission |
| 1985-1986 | Chevy | G30 | Chevy G30 Kick Down Cable V8 5.7L (8th Vin Digit L) with Automatic Transmission |
| 1985-1988 | Chevy | G30 | Chevy G30 Kick Down Cable V8 5.7L (8th Vin Digit M) with Automatic Transmission |
| 1987-1990 | Chevy | G30 | Chevy G30 Kick Down Cable V8 5.7L (8th Vin Digit K) with Automatic Transmission |
| 1987-1990 | Chevy | G30 | Chevy G30 Kick Down Cable V6 4.3L (8th Vin Digit Z) with Automatic Transmission |
| 1982 | Chevy | Impala | Chevy Impala Kick Down Cable TH700 Automatic Transmission V8 5.7L (8th Vin Digit L) |
| 1982-1984 | Chevy | Impala | Chevy Impala Kick Down Cable (8th Vin Digit N) TH700 Automatic Transmission V8 5.7L |
| 1982 | Chevy | Impala | Chevy Impala Kick Down Cable TH700 Automatic Transmission V8 4.4L (8th Vin Digit J) |
| 1982-1985 | Chevy | Impala | Chevy Impala Kick Down Cable TH700 Automatic Transmission V8 5.0L (8th Vin Digit H) |
| 1983-1984 | Chevy | Impala | Chevy Impala Kick Down Cable TH700 Automatic Transmission V8 5.7L (8th Vin Digit 6) |
| 1983-1984 | Chevy | Impala | Chevy Impala Kick Down Cable (8th Vin Digit 9) V6 3.8L TH700 Automatic Transmission |
| 1983-1984 | Chevy | Impala | Chevy Impala Kick Down Cable V6 3.8L (8th Vin Digit A) TH700 Automatic Transmission |
| 1985 | Chevy | Impala | Chevy Impala Kick Down Cable V6 4.3L (8th Vin Digit Z) TH700 Automatic Transmission |
| 1988-1992 | Chevy | K1500 Truck | Chevy K1500 Truck Kick Down Cable V6 4.3L (8th Vin Digit Z) with Automatic Transmission |
| 1988-1993 | Chevy | K1500 Truck | Chevy K1500 Truck Kick Down Cable V8 5.7L (8th Vin Digit K) with Automatic Transmission |
| 1988-1992 | Chevy | K1500 Truck | Chevy K1500 Truck Kick Down Cable V8 5.0L (8th Vin Digit G) with Automatic Transmission |
| 1990-1991 | Chevy | K1500 Truck | Chevy K1500 Truck Kick Down Cable with Automatic Transmission V6 4.3L (8th Vin Digit Z) |
| 1990-1991 | Chevy | K1500 Truck | Chevy K1500 Truck Kick Down Cable with Automatic Transmission V8 5.7L (8th Vin Digit K) |
| 1990-1991 | Chevy | K1500 Truck | Chevy K1500 Truck Kick Down Cable with Automatic Transmission V8 5.0L (8th Vin Digit H) |
| 1988-1992 | Chevy | K2500 Truck | Chevy K2500 Truck Kick Down Cable V6 4.3L (8th Vin Digit Z) with Automatic Transmission |
| 1988-1993 | Chevy | K2500 Truck | Chevy K2500 Truck Kick Down Cable V8 5.7L (8th Vin Digit K) with Automatic Transmission |
| 1990-1991 | Chevy | K2500 Truck | Chevy K2500 Truck Kick Down Cable with Automatic Transmission V8 5.0L (8th Vin Digit H) |
| 1990-1991 | Chevy | K2500 Truck | Chevy K2500 Truck Kick Down Cable with Automatic Transmission V6 4.3L (8th Vin Digit Z) |
| 1988-1993 | Chevy | K3500 Truck | Chevy K3500 Truck Kick Down Cable V8 5.7L (8th Vin Digit K) with Automatic Transmission |
| 1988-1989 | Chevy | K3500 Truck | Chevy K3500 Truck Kick Down Cable V8 7.4L (8th Vin Digit N) with Automatic Transmission |
| 1990-1991 | Chevy | K3500 Truck | Chevy K3500 Truck Kick Down Cable with Automatic Transmission V8 5.7L (8th Vin Digit K) |
| 1978-1979 | Chevy | Malibu | Chevy Malibu Kick Down Cable V6 3.8L (8th Vin Digit A) with Automatic Transmission |
| 1979 | Chevy | Malibu | Chevy Malibu Kick Down Cable V6 3.8L (8th Vin Digit 2) TH200 Automatic Transmission |
| 1978-1979 | Chevy | Monte Carlo | Chevy Monte Carlo Kick Down Cable V6 3.8L (8th Vin Digit A) with Automatic Transmission |
| 1979 | Chevy | Monte Carlo | Chevy Monte Carlo Kick Down Cable V6 3.8L (8th Vin Digit 2) TH200 Automatic Transmission |
| 1981 | Chevy | Monte Carlo | Chevy Monte Carlo Kick Down Cable V6 3.8L (8th Vin Digit K) with Automatic Transmission |
| 1981 | Chevy | Monte Carlo | Chevy Monte Carlo Kick Down Cable V6 3.8L (8th Vin Digit 3) with Automatic Transmission |
| 1981 | Chevy | Monte Carlo | Chevy Monte Carlo Kick Down Cable V6 3.8L (8th Vin Digit A) with Automatic Transmission |
| 1990-1991 | Chevy | R3500 Truck | Chevy R3500 Truck Kick Down Cable with Automatic Transmission V8 5.7L (8th Vin Digit K) |
| 1992-1993 | Chevy | Suburban C1500 | Chevy Suburban C1500 Kick Down Cable V8 5.7L (8th Vin Digit K) with Automatic Transmission |
| 1992-1993 | Chevy | Suburban C2500 | Chevy Suburban C2500 Kick Down Cable V8 5.7L (8th Vin Digit K) with Automatic Transmission |
| 1992-1993 | Chevy | Suburban K1500 | Chevy Suburban K1500 Kick Down Cable V8 5.7L (8th Vin Digit K) with Automatic Transmission |
| 1992-1993 | Chevy | Suburban K2500 | Chevy Suburban K2500 Kick Down Cable V8 5.7L (8th Vin Digit K) with Automatic Transmission |
| 1990-1991 | Chevy | Suburban R1500 | Chevy Suburban R1500 Kick Down Cable with Automatic Transmission V8 5.7L (8th Vin Digit K) |
| 1990-1991 | Chevy | Suburban R2500 | Chevy Suburban R2500 Kick Down Cable with Automatic Transmission V8 5.7L (8th Vin Digit K) |
| 1990-1991 | Chevy | Suburban V1500 | Chevy Suburban V1500 Kick Down Cable with Automatic Transmission V8 5.7L (8th Vin Digit K) |
| 1990-1991 | Chevy | Suburban V2500 | Chevy Suburban V2500 Kick Down Cable with Automatic Transmission V8 5.7L (8th Vin Digit K) |
| 1990-1991 | Chevy | V3500 Truck | Chevy V3500 Truck Kick Down Cable with Automatic Transmission V8 5.7L (8th Vin Digit K) |
| 1988-1992 | GMC | C1500 Truck | GMC C1500 Truck Kick Down Cable V8 5.0L (8th Vin Digit G) with Automatic Transmission |
| 1988-1993 | GMC | C1500 Truck | GMC C1500 Truck Kick Down Cable V8 5.7L (8th Vin Digit K) with Automatic Transmission |
| 1988-1992 | GMC | C1500 Truck | GMC C1500 Truck Kick Down Cable V6 4.3L (8th Vin Digit Z) with Automatic Transmission |
| 1990-1991 | GMC | C1500 Truck | GMC C1500 Truck Kick Down Cable with Automatic Transmission V6 4.3L (8th Vin Digit Z) |
| 1990-1991 | GMC | C1500 Truck | GMC C1500 Truck Kick Down Cable with Automatic Transmission V8 5.0L (8th Vin Digit H) |
| 1990-1991 | GMC | C1500 Truck | GMC C1500 Truck Kick Down Cable with Automatic Transmission V8 5.7L (8th Vin Digit K) |
| 1988-1993 | GMC | C2500 Truck | GMC C2500 Truck Kick Down Cable V8 5.7L (8th Vin Digit K) with Automatic Transmission |
| 1988-1992 | GMC | C2500 Truck | GMC C2500 Truck Kick Down Cable V6 4.3L (8th Vin Digit Z) with Automatic Transmission |
| 1988-1992 | GMC | C2500 Truck | GMC C2500 Truck Kick Down Cable V8 5.0L (8th Vin Digit G) with Automatic Transmission |
| 1990-1991 | GMC | C2500 Truck | GMC C2500 Truck Kick Down Cable with Automatic Transmission V8 5.7L (8th Vin Digit K) |
| 1990-1991 | GMC | C2500 Truck | GMC C2500 Truck Kick Down Cable with Automatic Transmission V8 5.0L (8th Vin Digit H) |
| 1988-1989 | GMC | C3500 Truck | GMC C3500 Truck Kick Down Cable V8 6.2L (8th Vin Digit J) with Automatic Transmission |
| 1988-1989 | GMC | C3500 Truck | GMC C3500 Truck Kick Down Cable V8 7.4L (8th Vin Digit N) with Automatic Transmission |
| 1988-1993 | GMC | C3500 Truck | GMC C3500 Truck Kick Down Cable V8 5.7L (8th Vin Digit K) with Automatic Transmission |
| 1990-1991 | GMC | C3500 Truck | GMC C3500 Truck Kick Down Cable with Automatic Transmission V8 5.7L (8th Vin Digit K) |
| 1978-1979 | GMC | Caballero | GMC Caballero Kick Down Cable V6 3.8L (8th Vin Digit A) with Automatic Transmission |
| 1979 | GMC | Caballero | GMC Caballero Kick Down Cable V6 3.8L (8th Vin Digit 2) TH200 Automatic Transmission |
| 1990 | GMC | G1500 | GMC G1500 Kick Down Cable V6 4.3L (8th Vin Digit Z) with Automatic Transmission |
| 1990 | GMC | G1500 | GMC G1500 Kick Down Cable V8 5.7L (8th Vin Digit K) with Automatic Transmission |
| 1990 | GMC | G1500 | GMC G1500 Kick Down Cable V8 5.0L (8th Vin Digit G) with Automatic Transmission |
| 1990 | GMC | G2500 | GMC G2500 Kick Down Cable V8 5.7L (8th Vin Digit K) with Automatic Transmission |
| 1990 | GMC | G2500 | GMC G2500 Kick Down Cable V8 5.0L (8th Vin Digit G) with Automatic Transmission |
| 1990 | GMC | G3500 | GMC G3500 Kick Down Cable V8 5.7L (8th Vin Digit K) with Automatic Transmission |
| 1982-1989 | GMC | Jimmy Full Size | GMC Jimmy Full Size Kick Down Cable TH700 Automatic Transmission |
| 1988-1989 | GMC | Jimmy Full Size | GMC Jimmy Full Size Kick Down Cable V8 5.7L (8th Vin Digit K) with Automatic Transmission |
| 1990-1991 | GMC | Jimmy Full Size | GMC Jimmy Full Size Kick Down Cable with Automatic Transmission V8 5.7L (8th Vin Digit K) |
| 1988-1993 | GMC | K1500 Truck | GMC K1500 Truck Kick Down Cable V8 5.7L (8th Vin Digit K) with Automatic Transmission |
| 1988-1992 | GMC | K1500 Truck | GMC K1500 Truck Kick Down Cable V6 4.3L (8th Vin Digit Z) with Automatic Transmission |
| 1988-1992 | GMC | K1500 Truck | GMC K1500 Truck Kick Down Cable V8 5.0L (8th Vin Digit G) with Automatic Transmission |
| 1990-1991 | GMC | K1500 Truck | GMC K1500 Truck Kick Down Cable with Automatic Transmission V8 5.7L (8th Vin Digit K) |
| 1990-1991 | GMC | K1500 Truck | GMC K1500 Truck Kick Down Cable with Automatic Transmission V6 4.3L (8th Vin Digit Z) |
| 1990-1991 | GMC | K1500 Truck | GMC K1500 Truck Kick Down Cable with Automatic Transmission V8 5.0L (8th Vin Digit H) |
| 1988-1992 | GMC | K2500 Truck | GMC K2500 Truck Kick Down Cable V8 5.0L (8th Vin Digit G) with Automatic Transmission |
| 1988-1993 | GMC | K2500 Truck | GMC K2500 Truck Kick Down Cable V8 5.7L (8th Vin Digit K) with Automatic Transmission |
| 1988-1992 | GMC | K2500 Truck | GMC K2500 Truck Kick Down Cable V6 4.3L (8th Vin Digit Z) with Automatic Transmission |
| 1990-1991 | GMC | K2500 Truck | GMC K2500 Truck Kick Down Cable with Automatic Transmission V6 4.3L (8th Vin Digit Z) |
| 1990-1991 | GMC | K2500 Truck | GMC K2500 Truck Kick Down Cable with Automatic Transmission V8 5.0L (8th Vin Digit H) |
| 1990-1991 | GMC | K2500 Truck | GMC K2500 Truck Kick Down Cable with Automatic Transmission V8 5.7L (8th Vin Digit K) |
| 1988-1993 | GMC | K3500 Truck | GMC K3500 Truck Kick Down Cable V8 5.7L (8th Vin Digit K) with Automatic Transmission |
| 1988-1989 | GMC | K3500 Truck | GMC K3500 Truck Kick Down Cable V8 7.4L (8th Vin Digit N) with Automatic Transmission |
| 1990-1991 | GMC | K3500 Truck | GMC K3500 Truck Kick Down Cable with Automatic Transmission V8 5.7L (8th Vin Digit K) |
| 1990-1991 | GMC | R3500 Truck | GMC R3500 Truck Kick Down Cable V8 5.7L (8th Vin Digit K) Automatic Transmission with |
| 1986-1990 | GMC | Safari | GMC Safari Kick Down Cable V6 4.3L (8th Vin Digit Z) with Automatic Transmission |
| 1990 | GMC | Safari | GMC Safari Kick Down Cable V6 4.3L with Automatic Transmission |
| 1992-1993 | GMC | Suburban C1500 | GMC Suburban C1500 Kick Down Cable V8 5.7L (8th Vin Digit K) with Automatic Transmission |
| 1992-1993 | GMC | Suburban C2500 | GMC Suburban C2500 Kick Down Cable V8 5.7L (8th Vin Digit K) with Automatic Transmission |
| 1992-1993 | GMC | Suburban K1500 | GMC Suburban K1500 Kick Down Cable V8 5.7L (8th Vin Digit K) with Automatic Transmission |
| 1992-1993 | GMC | Suburban K2500 | GMC Suburban K2500 Kick Down Cable V8 5.7L (8th Vin Digit K) with Automatic Transmission |
| 1990-1991 | GMC | Suburban R1500 | GMC Suburban R1500 Kick Down Cable with Automatic Transmission V8 5.7L (8th Vin Digit K) |
| 1990-1991 | GMC | Suburban R2500 | GMC Suburban R2500 Kick Down Cable with Automatic Transmission V8 5.7L (8th Vin Digit K) |
| 1990-1991 | GMC | Suburban V1500 | GMC Suburban V1500 Kick Down Cable with Automatic Transmission V8 5.7L (8th Vin Digit K) |
| 1990-1991 | GMC | Suburban V2500 | GMC Suburban V2500 Kick Down Cable with Automatic Transmission V8 5.7L (8th Vin Digit K) |
| 1990-1991 | GMC | V3500 Truck | GMC V3500 Truck Kick Down Cable with Automatic Transmission V8 5.7L (8th Vin Digit K) |
| 1992-1993 | GMC | Yukon | GMC Yukon Kick Down Cable V8 5.7L (8th Vin Digit K) with Automatic Transmission |
| 1978-1979 | Oldsmobile | Cutlass | Olds Cutlass Kick Down Cable V6 3.8L (8th Vin Digit A) with Automatic Transmission |
| 1979 | Oldsmobile | Cutlass | Olds Cutlass Kick Down Cable V6 3.8L (8th Vin Digit 2) TH200 Automatic Transmission |
| 1980 | Oldsmobile | Cutlass | Olds Cutlass Kick Down Cable V6 3.8L TH200 Automatic Transmission (8th Vin Digit A) California Emissions |
| 1978-1979 | Oldsmobile | Cutlass Calais | Olds Cutlass Calais Kick Down Cable V6 3.8L (8th Vin Digit A) with Automatic Transmission |
| 1979 | Oldsmobile | Cutlass Calais | Olds Cutlass Calais Kick Down Cable V6 3.8L (8th Vin Digit 2) TH200 Automatic Transmission |
| 1980 | Oldsmobile | Cutlass Calais | Olds Cutlass Calais Kick Down Cable V6 3.8L TH200 Automatic Transmission (8th Vin Digit A) California Emissions |
| 1982-1986 | Oldsmobile | Cutlass Ciera | Olds Cutlass Ciera Kick Down Cable L4 2.5L (8th Vin Digit R) with Automatic Transmission |
| 1983 | Oldsmobile | Cutlass Ciera | Olds Cutlass Ciera Kick Down Cable L4 2.5L (8th Vin Digit 5) with Automatic Transmission |
| 1987 | Oldsmobile | Cutlass Ciera | Olds Cutlass Ciera Kick Down Cable V6 2.8L (8th Vin Digit W) with Automatic Transmission |
| 1978-1979 | Oldsmobile | Cutlass Cruiser | Olds Cutlass Cruiser Kick Down Cable V6 3.8L (8th Vin Digit A) with Automatic Transmission |
| 1979 | Oldsmobile | Cutlass Cruiser | Olds Cutlass Cruiser Kick Down Cable V6 3.8L (8th Vin Digit 2) TH200 Automatic Transmission for Models with Automatic Transmission |
| 1980 | Oldsmobile | Cutlass Cruiser | Olds Cutlass Cruiser Kick Down Cable V6 3.8L TH200 Automatic Transmission (8th Vin Digit A) California Emissions |
| 1978-1979 | Oldsmobile | Cutlass Salon | Olds Cutlass Salon Kick Down Cable V6 3.8L (8th Vin Digit A) with Automatic Transmission |
| 1979 | Oldsmobile | Cutlass Salon | Olds Cutlass Salon Kick Down Cable V6 3.8L (8th Vin Digit 2) TH200 Automatic Transmission |
| 1980 | Oldsmobile | Cutlass Salon | Olds Cutlass Salon Kick Down Cable V6 3.8L TH200 Automatic Transmission (8th Vin Digit A) California Emissions |
| 1978-1979 | Oldsmobile | Cutlass Supreme | Olds Cutlass Supreme Kick Down Cable V6 3.8L (8th Vin Digit A) with Automatic Transmission |
| 1979 | Oldsmobile | Cutlass Supreme | Olds Cutlass Supreme Kick Down Cable V6 3.8L (8th Vin Digit 2) TH200 Automatic Transmission |
| 1980 | Oldsmobile | Cutlass Supreme | Olds Cutlass Supreme Kick Down Cable V6 3.8L TH200 Automatic Transmission (8th Vin Digit A) California Emissions |
| 1982-1984 | Oldsmobile | Omega | Olds Omega Kick Down Cable L4 2.5L (8th Vin Digit R) with Automatic Transmission |
| 1982 | Oldsmobile | Omega | Olds Omega Kick Down Cable L4 2.5L (8th Vin Digit 5) with Automatic Transmission |
| 1987 | Pontiac | 6000 | Pontiac 6000 Kick Down Cable V6 2.8L (8th Vin Digit W) with Automatic Transmission |
| 1978 | Pontiac | Catalina | Pontiac Catalina Kick Down Cable V6 3.8L (8th Vin Digit A) with Automatic Transmission |
| 1984-1986 | Pontiac | Fiero | Pontiac Fiero Kick Down Cable L4 2.5L (8th Vin Digit R) with Automatic Transmission |
| 1981 | Pontiac | Firebird | Pontiac Firebird Kick Down Cable V8 4.9L (8th Vin Digit W) with TH350 Automatic Transmission |
| 1984-1987 | Pontiac | Firebird | Pontiac Firebird Kick Down Cable V8 5.0L (8th Vin Digit G) with Automatic Transmission |
| 1985-1989 | Pontiac | Firebird | Pontiac Firebird Kick Down Cable V6 2.8L (8th Vin Digit S) with Automatic Transmission |
| 1987 | Pontiac | Firebird | Pontiac Firebird Kick Down Cable V8 5.0L (8th Vin Digit F) with Automatic Transmission |
| 1990-1992 | Pontiac | Firebird | Pontiac Firebird Kick Down Cable V6 3.1L (8th Vin Digit T) with Automatic Transmission |
| 1979 | Pontiac | Grand Am | Pontiac Grand Am Kick Down Cable V6 3.8L (8th Vin Digit A) with Automatic Transmission |
| 1978-1980 | Pontiac | Grand LeMans | Pontiac Grand LeMans Kick Down Cable V6 3.8L (8th Vin Digit A) with Automatic Transmission |
| 1979 | Pontiac | Grand LeMans | Pontiac Grand LeMans Kick Down Cable V6 3.8L (8th Vin Digit 2) TH200 Automatic Transmission |
| 1980 | Pontiac | Grand LeMans | Pontiac Grand LeMans Kick Down Cable V6 3.8L TH200 Automatic Transmission (8th Vin Digit K) |
| 1978-1980 | Pontiac | Grand Prix | Pontiac Grand Prix Kick Down Cable V6 3.8L (8th Vin Digit A) with Automatic Transmission |
| 1979 | Pontiac | Grand Prix | Pontiac Grand Prix Kick Down Cable V6 3.8L (8th Vin Digit 2) TH200 Automatic Transmission |
| 1978-1980 | Pontiac | LeMans | Pontiac LeMans Kick Down Cable V6 3.8L (8th Vin Digit A) with Automatic Transmission |
| 1979 | Pontiac | LeMans | Pontiac LeMans Kick Down Cable V6 3.8L (8th Vin Digit 2) TH200 Automatic Transmission |
| 1980 | Pontiac | LeMans | Pontiac LeMans Kick Down Cable V6 3.8L TH200 Automatic Transmission (8th Vin Digit K) |
| 1983-1986 | Pontiac | Parisienne | Pontiac Parisienne Kick Down Cable TH700 Automatic Transmission V8 5.0L (8th Vin Digit H) |
| 1983 | Pontiac | Parisienne | Pontiac Parisienne Kick Down Cable (8th Vin Digit 9) V6 3.8L TH700 Automatic Transmission |
| 1984 | Pontiac | Parisienne | Pontiac Parisienne Kick Down Cable V6 3.8L (8th Vin Digit A) TH700 Automatic Transmission |
| 1985-1986 | Pontiac | Parisienne | Pontiac Parisienne Kick Down Cable V6 4.3L (8th Vin Digit Z) TH700 Automatic Transmission |
| 1986 | Pontiac | Parisienne | Pontiac Parisienne Kick Down Cable TH700 Automatic Transmission V8 5.0L (8th Vin Digit Y) |
| 1982 | Pontiac | Phoenix | Pontiac Phoenix Kick Down Cable L4 2.5L (8th Vin Digit 5) with Automatic Transmission |
| 1982-1984 | Pontiac | Phoenix | Pontiac Phoenix Kick Down Cable L4 2.5L (8th Vin Digit R) with Automatic Transmission |
Part #: 1ATRX00013
Order must be placed by 4pm ET
Get it in: 2 - 4 Business Days
Want it sooner? Choose Next Day Air at Checkout