1AACD00032-Fuel Filter
Replaces
Fuel Filter ACDelco GF652F - 1AACD00032
1AACD00032
Specifications
Brand New ACDelco Fuel Filter
Direct replacement
Item Condition: New

Wear and Tear
This item is backed by a 60-day warranty against defects in materials and workmanship under its intended use. The warranty does not cover normal wear and tear.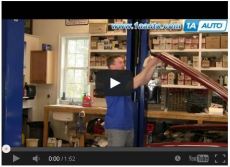 step : Removing the Fuel Filter (0:45)

Start the truck.
Locate the relay to the fuel pump in your fuse box. And remove the relay.
Using a 16mm wrench and an adjustable wrench loosen up each side of the fuel filter.
Pull the front fuel line from the clips.
Pull the fuel filter back and free. Then pull the filter from the bracket and out.

step : Replacing the Fuel Filter (2:27)

Make sure the arrow on the fuel filter is pointing towards the front of the vehicle.
Push the filter back into the bracket and pull it back and insert the front fuel line.
Push the fuel line back into the clips.
Mop up any gas that came out of the filter.
And reconnect the relay for the fuel pump.
Tools needed for replacement:
Pliers, Cutters & misc Wrenches

Adjustable Wrench

Wrenches - Metric

16mm Wrench
hmmm.
Same price as most Auto part stores, but was delivered to my house awesome products.
Easy too install
I have never installed a fuel filter with fuel injection before. After watching some videos on it I learned to pull the fuel pump fuse and run it until it runs the fuel our of the line. This worked great even though they was a little fuel that came out. My truck runs better now.
Customer Q&A
Ask a question to 1A Auto customers who purchased the product
My truck want go over 40mph can it be the fuel filter?
The fuel filter could be clogged, however there are other possibilities. Do you have any check engine light codes appearing on the dash?
What is the code you are getting when you connect a scanner to it?
My truck has a code of a icm put I new one in and still hard to start sometimes and still the same code pops ups any ideas?
What is the code you are getting?
2005 gmc Sierra 1500 4.3 there is no fuel filter underneath y??
It should be on the driver side, by the gas tank. You'll probably have to jack your vehicle up to see it.
Charles B
October 29, 2018
You'll have to jack your vehicle up enough to look underneath it. It will be on the very most inside panel under the driver side door. Somewhere near the fuel tank. Grab a flashlight to help you. It will be held down by brackets that you have to unscrew to turn the fittings on the filter.
Charles B
October 29, 2018
Yes there is it is located on the left side under the frame rail near the fuel tank
Mark Johnson I
October 29, 2018
This item does not include the fuel filter.
| Year | Make | Model | Description |
| --- | --- | --- | --- |
| 1993 | Asuna | SE | Asuna SE Fuel Filter L4 1.6L (8th Vin Digit 6) ACDelco GF652F |
| 1984-1988 | Buick | Century | Buick Century Fuel Filter L4 2.5L (8th Vin Digit R) ACDelco GF652F |
| 1986-1988 | Buick | Century | Buick Century Fuel Filter V6 3.8L (8th Vin Digit 3) ACDelco GF652F |
| 1987-1988 | Buick | Century | Buick Century Fuel Filter V6 2.8L (8th Vin Digit W) ACDelco GF652F |
| 1986 | Buick | Electra | Buick Electra Fuel Filter V6 3.8L (8th Vin Digit B) ACDelco GF652F |
| 1987 | Buick | Electra | Buick Electra Fuel Filter V6 3.8L (8th Vin Digit 3) ACDelco GF652F |
| 1988-1990 | Buick | Electra | Buick Electra Fuel Filter V6 3.8L (8th Vin Digit C) ACDelco GF652F |
| 1986-1988 | Buick | LeSabre | Buick LeSabre Fuel Filter V6 3.8L (8th Vin Digit 3) ACDelco GF652F |
| 1986 | Buick | LeSabre | Buick LeSabre Fuel Filter V6 3.0L (8th Vin Digit L) ACDelco GF652F |
| 1986 | Buick | LeSabre | Buick LeSabre Fuel Filter V6 3.8L (8th Vin Digit B) ACDelco GF652F |
| 1988-1991 | Buick | LeSabre | Buick LeSabre Fuel Filter V6 3.8L (8th Vin Digit C) ACDelco GF652F |
| 1988-1989 | Buick | Reatta | Buick Reatta Fuel Filter V6 3.8L (8th Vin Digit C) ACDelco GF652F |
| 1979-1987 | Buick | Regal | Buick Regal Fuel Filter V6 3.8L (8th Vin Digit 7) ACDelco GF652F |
| 1984-1985 | Buick | Regal | Buick Regal Fuel Filter V6 3.8L (8th Vin Digit 9) ACDelco GF652F |
| 1988-1989 | Buick | Regal | Buick Regal Fuel Filter V6 2.8L (8th Vin Digit W) ACDelco GF652F |
| 1989-1991 | Buick | Regal | Buick Regal Fuel Filter V6 3.1L (8th Vin Digit T) ACDelco GF652F |
| 1990-1991 | Buick | Regal | Buick Regal Fuel Filter V6 3.8L (8th Vin Digit L) ACDelco GF652F |
| 1984-1985 | Buick | Riviera | Buick Riviera Fuel Filter V6 3.8L (8th Vin Digit 9) ACDelco GF652F |
| 1986 | Buick | Riviera | Buick Riviera Fuel Filter V6 3.8L (8th Vin Digit B) ACDelco GF652F |
| 1987 | Buick | Riviera | Buick Riviera Fuel Filter V6 3.8L (8th Vin Digit 3) ACDelco GF652F |
| 1988-1989 | Buick | Riviera | Buick Riviera Fuel Filter V6 3.8L (8th Vin Digit C) ACDelco GF652F |
| 1982-1986 | Buick | Skyhawk | Buick Skyhawk Fuel Filter L4 1.8L (8th Vin Digit 0) ACDelco GF652F |
| 1983-1986 | Buick | Skyhawk | Buick Skyhawk Fuel Filter L4 2.0L (8th Vin Digit P) ACDelco GF652F |
| 1984-1986 | Buick | Skyhawk | Buick Skyhawk Fuel Filter L4 1.8L (8th Vin Digit J) ACDelco GF652F |
| 1987 | Buick | Skyhawk | Buick Skyhawk Fuel Filter L4 2.0L (8th Vin Digit M) ACDelco GF652F |
| 1987-1988 | Buick | Skyhawk | Buick Skyhawk Fuel Filter L4 2.0L (8th Vin Digit K) ACDelco GF652F |
| 1987-1989 | Buick | Skyhawk | Buick Skyhawk Fuel Filter L4 2.0L (8th Vin Digit 1) ACDelco GF652F |
| 1984-1985 | Buick | Skylark | Buick Skylark Fuel Filter L4 2.5L (8th Vin Digit R) ACDelco GF652F |
| 1986-1988 | Buick | Skylark | Buick Skylark Fuel Filter V6 3.0L (8th Vin Digit L) ACDelco GF652F |
| 1986-1991 | Buick | Skylark | Buick Skylark Fuel Filter L4 2.5L (8th Vin Digit U) ACDelco GF652F |
| 1988-1991 | Buick | Skylark | Buick Skylark Fuel Filter L4 2.3L (8th Vin Digit D) ACDelco GF652F |
| 1989-1991 | Buick | Skylark | Buick Skylark Fuel Filter V6 3.3L (8th Vin Digit N) ACDelco GF652F |
| 1985-1987 | Buick | Somerset | Buick Somerset Fuel Filter V6 3.0L (8th Vin Digit L) ACDelco GF652F |
| 1985-1987 | Buick | Somerset | Buick Somerset Fuel Filter L4 2.5L (8th Vin Digit U) ACDelco GF652F |
| 1987-1988 | Cadillac | Allante | Cadillac Allante Fuel Filter V8 4.1L (8th Vin Digit 7) ACDelco GF652F |
| 1989-1992 | Cadillac | Allante | Cadillac Allante Fuel Filter V8 4.5L (8th Vin Digit 8) ACDelco GF652F |
| 1983-1986 | Cadillac | Cimarron | Cadillac Cimarron Fuel Filter L4 2.0L (8th Vin Digit P) ACDelco GF652F |
| 1985-1988 | Cadillac | Cimarron | Cadillac Cimarron Fuel Filter V6 2.8L (8th Vin Digit W) ACDelco GF652F |
| 1986-1987 | Cadillac | Deville | Cadillac Deville Fuel Filter V8 4.1L (8th Vin Digit 8) ACDelco GF652F |
| 1988-1989 | Cadillac | Deville | Cadillac Deville Fuel Filter (8th Vin Digit 5) V8 4.5L ACDelco GF652F |
| 1990 | Cadillac | Deville | Cadillac Deville Fuel Filter V8 4.5L (8th Vin Digit 3) ACDelco GF652F |
| 1986-1987 | Cadillac | Eldorado | Cadillac Eldorado Fuel Filter V8 4.1L (8th Vin Digit 8) ACDelco GF652F |
| 1988-1989 | Cadillac | Eldorado | Cadillac Eldorado Fuel Filter (8th Vin Digit 5) V8 4.5L ACDelco GF652F |
| 2000 | Cadillac | Escalade | Cadillac Escalade Fuel Filter V8 5.7L (8th Vin Digit R) ACDelco GF652F |
| 2002-2003 | Cadillac | Escalade | Cadillac Escalade Fuel Filter V8 6.0L (8th Vin Digit N) ACDelco GF652F |
| 2002-2003 | Cadillac | Escalade | Cadillac Escalade Fuel Filter V8 5.3L (8th Vin Digit T) ACDelco GF652F |
| 2003 | Cadillac | Escalade ESV | Cadillac Escalade ESV Fuel Filter V8 6.0L (8th Vin Digit N) ACDelco GF652F |
| 2002-2003 | Cadillac | Escalade EXT | Cadillac Escalade EXT Fuel Filter V8 6.0L (8th Vin Digit N) ACDelco GF652F |
| 1986-1987 | Cadillac | Fleetwood | Cadillac Fleetwood Fuel Filter V8 4.1L (8th Vin Digit 8) ACDelco GF652F |
| 1988-1989 | Cadillac | Fleetwood | Cadillac Fleetwood Fuel Filter (8th Vin Digit 5) V8 4.5L ACDelco GF652F |
| 1990 | Cadillac | Fleetwood | Cadillac Fleetwood Fuel Filter V8 4.5L (8th Vin Digit 3) ACDelco GF652F |
| 1986-1987 | Cadillac | Seville | Cadillac Seville Fuel Filter V8 4.1L (8th Vin Digit 8) ACDelco GF652F |
| 1988-1989 | Cadillac | Seville | Cadillac Seville Fuel Filter (8th Vin Digit 5) V8 4.5L ACDelco GF652F |
| 1985-1990 | Chevy | Astro | Chevy Astro Fuel Filter L4 2.5L (8th Vin Digit E) ACDelco GF652F |
| 1986-1994 | Chevy | Astro | Chevy Astro Fuel Filter V6 4.3L (8th Vin Digit Z) ACDelco GF652F |
| 1990-1991 | Chevy | Astro | Chevy Astro Fuel Filter (8th Vin Digit B) V6 4.3L ACDelco GF652F |
| 1992-2001 | Chevy | Astro | Chevy Astro Fuel Filter V6 4.3L (8th Vin Digit W) ACDelco GF652F |
| 2002-2005 | Chevy | Astro | Chevy Astro Fuel Filter V6 4.3L (8th Vin Digit X) ACDelco GF652F |
| 2002-2003 | Chevy | Avalanche 1500 | Chevy Avalanche 1500 Fuel Filter V8 5.3L (8th Vin Digit T) ACDelco GF652F |
| 2002-2003 | Chevy | Avalanche 2500 | Chevy Avalanche 2500 Fuel Filter V8 8.1L (8th Vin Digit G) ACDelco GF652F |
| 1987-1989 | Chevy | Beretta | Chevy Beretta Fuel Filter V6 2.8L (8th Vin Digit W) ACDelco GF652F |
| 1987-1989 | Chevy | Beretta | Chevy Beretta Fuel Filter L4 2.0L (8th Vin Digit 1) ACDelco GF652F |
| 1987-1994 | Chevy | Blazer Full Size | Chevy Blazer Full Size Fuel Filter V8 5.7L (8th Vin Digit K) ACDelco GF652F |
| 1987 | Chevy | Blazer Full Size | Chevy Blazer Full Size Fuel Filter V8 5.0L (8th Vin Digit H) ACDelco GF652F |
| 1983-1984 | Chevy | Blazer S10 | Chevy Blazer S10 Fuel Filter L4 2.0L (8th Vin Digit Y) ACDelco GF652F |
| 1985-1988 | Chevy | Blazer S10 | Chevy Blazer S10 Fuel Filter L4 2.5L (8th Vin Digit E) ACDelco GF652F |
| 1988-1994 | Chevy | Blazer S10 | Chevy Blazer S10 Fuel Filter V6 4.3L (8th Vin Digit Z) ACDelco GF652F |
| 1992-1996 | Chevy | Blazer S10 | Chevy Blazer S10 Fuel Filter V6 4.3L (8th Vin Digit W) ACDelco GF652F |
| 1986 | Chevy | C10 Truck | Chevy C10 Truck Fuel Filter V6 4.3L (8th Vin Digit N) ACDelco GF652F |
| 1988-1995 | Chevy | C1500 Truck | Chevy C1500 Truck Fuel Filter V6 4.3L (8th Vin Digit Z) ACDelco GF652F |
| 1988-1995 | Chevy | C1500 Truck | Chevy C1500 Truck Fuel Filter V8 5.7L (8th Vin Digit K) ACDelco GF652F |
| 1988-1995 | Chevy | C1500 Truck | Chevy C1500 Truck Fuel Filter V8 5.0L (8th Vin Digit H) ACDelco GF652F |
| 1990 | Chevy | C1500 Truck | Chevy C1500 Truck Fuel Filter V8 7.4L (8th Vin Digit N) ACDelco GF652F |
| 1991-1993 | Chevy | C1500 Truck | Chevy C1500 Truck Fuel Filter V8 7.4L (8th Vin Digit N) ACDelco GF652F |
| 1996-1999 | Chevy | C1500 Truck | Chevy C1500 Truck Fuel Filter V8 5.0L (8th Vin Digit M) ACDelco GF652F |
| 1996-1999 | Chevy | C1500 Truck | Chevy C1500 Truck Fuel Filter V8 5.7L (8th Vin Digit R) ACDelco GF652F |
| 1996-1998 | Chevy | C1500 Truck | Chevy C1500 Truck Fuel Filter V6 4.3L (8th Vin Digit W) ACDelco GF652F |
| 1986 | Chevy | C20 Truck | Chevy C20 Truck Fuel Filter V6 4.3L (8th Vin Digit N) ACDelco GF652F |
| 1988-1995 | Chevy | C2500 Truck | Chevy C2500 Truck Fuel Filter V6 4.3L (8th Vin Digit Z) ACDelco GF652F |
| 1988-1995 | Chevy | C2500 Truck | Chevy C2500 Truck Fuel Filter V8 5.7L (8th Vin Digit K) ACDelco GF652F |
| 1988-1995 | Chevy | C2500 Truck | Chevy C2500 Truck Fuel Filter V8 5.0L (8th Vin Digit H) ACDelco GF652F |
| 1991-1995 | Chevy | C2500 Truck | Chevy C2500 Truck Fuel Filter V8 7.4L (8th Vin Digit N) ACDelco GF652F |
| 1996-1998 | Chevy | C2500 Truck | Chevy C2500 Truck Fuel Filter V8 5.0L (8th Vin Digit M) ACDelco GF652F |
| 1996-2000 | Chevy | C2500 Truck | Chevy C2500 Truck Fuel Filter V8 7.4L (8th Vin Digit J) ACDelco GF652F |
| 1996-2000 | Chevy | C2500 Truck | Chevy C2500 Truck Fuel Filter V8 5.7L (8th Vin Digit R) ACDelco GF652F |
| 1992-1995 | Chevy | C3500 Truck | Chevy C3500 Truck Fuel Filter V8 5.7L (8th Vin Digit K) ACDelco GF652F |
| 1992-1995 | Chevy | C3500 Truck | Chevy C3500 Truck Fuel Filter V8 7.4L (8th Vin Digit N) ACDelco GF652F |
| 1996-2000 | Chevy | C3500 Truck | Chevy C3500 Truck Fuel Filter V8 5.7L (8th Vin Digit R) ACDelco GF652F |
| 1996-2000 | Chevy | C3500 Truck | Chevy C3500 Truck Fuel Filter V8 7.4L (8th Vin Digit J) ACDelco GF652F |
| 1984-1986 | Chevy | Camaro | Chevy Camaro Fuel Filter L4 2.5L (8th Vin Digit 2) ACDelco GF652F |
| 1985-1992 | Chevy | Camaro | Chevy Camaro Fuel Filter V8 5.0L (8th Vin Digit F) ACDelco GF652F |
| 1985-1989 | Chevy | Camaro | Chevy Camaro Fuel Filter V6 2.8L (8th Vin Digit S) ACDelco GF652F |
| 1987-1992 | Chevy | Camaro | Chevy Camaro Fuel Filter V8 5.7L (8th Vin Digit 8) ACDelco GF652F |
| 1988-1992 | Chevy | Camaro | Chevy Camaro Fuel Filter V8 5.0L (8th Vin Digit E) ACDelco GF652F |
| 1990-1992 | Chevy | Camaro | Chevy Camaro Fuel Filter V6 3.1L (8th Vin Digit T) ACDelco GF652F |
| 1985-1989 | Chevy | Caprice | Chevy Caprice Fuel Filter V6 4.3L (8th Vin Digit Z) ACDelco GF652F |
| 1989 | Chevy | Caprice | Chevy Caprice Fuel Filter (8th Vin Digit 7) V8 5.7L ACDelco GF652F |
| 1989 | Chevy | Caprice | Chevy Caprice Fuel Filter V8 5.0L (8th Vin Digit E) ACDelco GF652F |
| 1983-1986 | Chevy | Cavalier | Chevy Cavalier Fuel Filter L4 2.0L (8th Vin Digit P) ACDelco GF652F |
| 1983-1984 | Chevy | Cavalier | Chevy Cavalier Fuel Filter (8th Vin Digit B) L4 2.0L ACDelco GF652F |
| 1985-1989 | Chevy | Cavalier | Chevy Cavalier Fuel Filter V6 2.8L (8th Vin Digit W) ACDelco GF652F |
| 1987-1989 | Chevy | Cavalier | Chevy Cavalier Fuel Filter L4 2.0L (8th Vin Digit 1) ACDelco GF652F |
| 1990-1991 | Chevy | Cavalier | Chevy Cavalier Fuel Filter V6 3.1L (8th Vin Digit T) ACDelco GF652F |
| 1990-1991 | Chevy | Cavalier | Chevy Cavalier Fuel Filter L4 2.2L (8th Vin Digit G) ACDelco GF652F |
| 1984-1988 | Chevy | Celebrity | Chevy Celebrity Fuel Filter L4 2.5L (8th Vin Digit R) ACDelco GF652F |
| 1986-1988 | Chevy | Celebrity | Chevy Celebrity Fuel Filter V6 2.8L (8th Vin Digit W) ACDelco GF652F |
| 1984-1985 | Chevy | Citation II | Chevy Citation II Fuel Filter L4 2.5L (8th Vin Digit R) ACDelco GF652F |
| 1987-1989 | Chevy | Corsica | Chevy Corsica Fuel Filter V6 2.8L (8th Vin Digit W) ACDelco GF652F |
| 1987-1989 | Chevy | Corsica | Chevy Corsica Fuel Filter L4 2.0L (8th Vin Digit 1) ACDelco GF652F |
| 1985-1991 | Chevy | Corvette | Chevy Corvette Fuel Filter V8 5.7L (8th Vin Digit 8) ACDelco GF652F |
| 1990-1995 | Chevy | Corvette | Chevy Corvette Fuel Filter (8th Vin Digit J) V8 5.7L ACDelco GF652F |
| 1992-1996 | Chevy | Corvette | Chevy Corvette Fuel Filter V8 5.7L (8th Vin Digit P) ACDelco GF652F |
| 1996 | Chevy | Corvette | Chevy Corvette Fuel Filter V8 5.7L (8th Vin Digit 5) ACDelco GF652F |
| 1985-1987 | Chevy | El Camino | Chevy El Camino Fuel Filter V6 4.3L (8th Vin Digit Z) ACDelco GF652F |
| 1996 | Chevy | Express 3500 Van | Chevy Express 3500 Van Fuel Filter V6 4.3L (8th Vin Digit Z) ACDelco GF652F |
| 2003 | Chevy | Express 3500 Van | Chevy Express 3500 Van Fuel Filter V8 6.0L (8th Vin Digit U) ACDelco GF652F |
| 1987-1995 | Chevy | G10 | Chevy G10 Fuel Filter V6 4.3L (8th Vin Digit Z) ACDelco GF652F |
| 1987-1995 | Chevy | G10 | Chevy G10 Fuel Filter V8 5.0L (8th Vin Digit H) ACDelco GF652F |
| 1987-1993 | Chevy | G10 | Chevy G10 Fuel Filter V8 5.7L (8th Vin Digit K) ACDelco GF652F |
| 1987-1995 | Chevy | G20 | Chevy G20 Fuel Filter V8 5.0L (8th Vin Digit H) ACDelco GF652F |
| 1987-1995 | Chevy | G20 | Chevy G20 Fuel Filter V8 5.7L (8th Vin Digit K) ACDelco GF652F |
| 1987-1995 | Chevy | G20 | Chevy G20 Fuel Filter V6 4.3L (8th Vin Digit Z) ACDelco GF652F |
| 1987-1996 | Chevy | G30 | Chevy G30 Fuel Filter V8 5.7L (8th Vin Digit K) ACDelco GF652F |
| 1987-1995 | Chevy | G30 | Chevy G30 Fuel Filter V6 4.3L (8th Vin Digit Z) ACDelco GF652F |
| 1988-1996 | Chevy | G30 | Chevy G30 Fuel Filter V8 7.4L (8th Vin Digit N) ACDelco GF652F |
| 1985 | Chevy | Impala | Chevy Impala Fuel Filter V6 4.3L (8th Vin Digit Z) ACDelco GF652F |
| 1986 | Chevy | K10 Truck | Chevy K10 Truck Fuel Filter V6 4.3L (8th Vin Digit N) ACDelco GF652F |
| 1988-1995 | Chevy | K1500 Truck | Chevy K1500 Truck Fuel Filter V6 4.3L (8th Vin Digit Z) ACDelco GF652F |
| 1988-1995 | Chevy | K1500 Truck | Chevy K1500 Truck Fuel Filter V8 5.0L (8th Vin Digit H) ACDelco GF652F |
| 1988-1995 | Chevy | K1500 Truck | Chevy K1500 Truck Fuel Filter V8 5.7L (8th Vin Digit K) ACDelco GF652F |
| 1996-1999 | Chevy | K1500 Truck | Chevy K1500 Truck Fuel Filter V8 5.7L (8th Vin Digit R) ACDelco GF652F |
| 1996-1999 | Chevy | K1500 Truck | Chevy K1500 Truck Fuel Filter V8 5.0L (8th Vin Digit M) ACDelco GF652F |
| 1996-1998 | Chevy | K1500 Truck | Chevy K1500 Truck Fuel Filter V6 4.3L (8th Vin Digit W) ACDelco GF652F |
| 1988-1995 | Chevy | K2500 Truck | Chevy K2500 Truck Fuel Filter V8 5.7L (8th Vin Digit K) ACDelco GF652F |
| 1988-1995 | Chevy | K2500 Truck | Chevy K2500 Truck Fuel Filter V8 5.0L (8th Vin Digit H) ACDelco GF652F |
| 1988-1995 | Chevy | K2500 Truck | Chevy K2500 Truck Fuel Filter V6 4.3L (8th Vin Digit Z) ACDelco GF652F |
| 1991-1995 | Chevy | K2500 Truck | Chevy K2500 Truck Fuel Filter V8 7.4L (8th Vin Digit N) ACDelco GF652F |
| 1996-2000 | Chevy | K2500 Truck | Chevy K2500 Truck Fuel Filter V8 7.4L (8th Vin Digit J) ACDelco GF652F |
| 1996-2000 | Chevy | K2500 Truck | Chevy K2500 Truck Fuel Filter V8 5.7L (8th Vin Digit R) ACDelco GF652F |
| 1997-1998 | Chevy | K2500 Truck | Chevy K2500 Truck Fuel Filter V8 5.0L (8th Vin Digit M) ACDelco GF652F |
| 1992-1995 | Chevy | K3500 Truck | Chevy K3500 Truck Fuel Filter V8 5.7L (8th Vin Digit K) ACDelco GF652F |
| 1992-1995 | Chevy | K3500 Truck | Chevy K3500 Truck Fuel Filter V8 7.4L (8th Vin Digit N) ACDelco GF652F |
| 1996-2000 | Chevy | K3500 Truck | Chevy K3500 Truck Fuel Filter V8 7.4L (8th Vin Digit J) ACDelco GF652F |
| 1996-2000 | Chevy | K3500 Truck | Chevy K3500 Truck Fuel Filter V8 5.7L (8th Vin Digit R) ACDelco GF652F |
| 1987-1991 | Chevy | LLV (Postal Truck) | Chevy LLV (Postal Truck) Fuel Filter L4 2.5L (8th Vin Digit E) ACDelco GF652F |
| 1991-1993 | Chevy | LLV (Postal Truck) | Chevy LLV (Postal Truck) Fuel Filter (8th Vin Digit A) L4 2.5L ACDelco GF652F |
| 1994-1995 | Chevy | LLV (Postal Truck) | Chevy LLV (Postal Truck) Fuel Filter L4 2.2L (8th Vin Digit 4) ACDelco GF652F |
| 1990-1991 | Chevy | Lumina | Chevy Lumina Fuel Filter V6 3.1L (8th Vin Digit T) ACDelco GF652F |
| 1990-1991 | Chevy | Lumina | Chevy Lumina Fuel Filter L4 2.5L (8th Vin Digit R) ACDelco GF652F |
| 1991 | Chevy | Lumina | Chevy Lumina Fuel Filter V6 3.4L (8th Vin Digit X) ACDelco GF652F |
| 1985-1988 | Chevy | Monte Carlo | Chevy Monte Carlo Fuel Filter V6 4.3L (8th Vin Digit Z) ACDelco GF652F |
| 1987-1989 | Chevy | P20 | Chevy P20 Fuel Filter V8 5.7L (8th Vin Digit K) ACDelco GF652F |
| 1985-1989 | Chevy | P30 | Chevy P30 Fuel Filter V8 6.2L (8th Vin Digit J) ACDelco GF652F |
| 1985-1989 | Chevy | P30 | Chevy P30 Fuel Filter V8 7.4L (8th Vin Digit W) ACDelco GF652F |
| 1985-1989 | Chevy | P30 | Chevy P30 Fuel Filter L6 4.8L (8th Vin Digit T) ACDelco GF652F |
| 1987-1996 | Chevy | P30 | Chevy P30 Fuel Filter V8 5.7L (8th Vin Digit K) ACDelco GF652F |
| 1990-1997 | Chevy | P30 | Chevy P30 Fuel Filter V8 7.4L (8th Vin Digit N) ACDelco GF652F |
| 1990-1995 | Chevy | P30 | Chevy P30 Fuel Filter V6 4.3L (8th Vin Digit Z) ACDelco GF652F |
| 1996-1999 | Chevy | P30 | Chevy P30 Fuel Filter V8 7.4L (8th Vin Digit J) ACDelco GF652F |
| 1996-1999 | Chevy | P30 | Chevy P30 Fuel Filter V8 5.7L (8th Vin Digit R) ACDelco GF652F |
| 1996-1999 | Chevy | P30 | Chevy P30 Fuel Filter V6 4.3L (8th Vin Digit W) ACDelco GF652F |
| 1998-1999 | Chevy | P30 | Chevy P30 Fuel Filter V8 7.4L (8th Vin Digit B) ACDelco GF652F |
| 1987 | Chevy | R1500 Truck | Chevy R1500 Truck Fuel Filter V6 4.3L (8th Vin Digit Z) ACDelco GF652F |
| 1987 | Chevy | R1500 Truck | Chevy R1500 Truck Fuel Filter V8 5.0L (8th Vin Digit H) ACDelco GF652F |
| 1987 | Chevy | R1500 Truck | Chevy R1500 Truck Fuel Filter V8 5.7L (8th Vin Digit K) ACDelco GF652F |
| 1987-1988 | Chevy | R2500 Truck | Chevy R2500 Truck Fuel Filter V8 7.4L (8th Vin Digit N) ACDelco GF652F |
| 1987-1988 | Chevy | R2500 Truck | Chevy R2500 Truck Fuel Filter V8 5.7L (8th Vin Digit K) ACDelco GF652F |
| 1987 | Chevy | R2500 Truck | Chevy R2500 Truck Fuel Filter V8 5.0L (8th Vin Digit H) ACDelco GF652F |
| 1987 | Chevy | R2500 Truck | Chevy R2500 Truck Fuel Filter V6 4.3L (8th Vin Digit Z) ACDelco GF652F |
| 1989 | Chevy | R2500 Truck | Chevy R2500 Truck Fuel Filter V8 7.4L (8th Vin Digit N) ACDelco GF652F |
| 1987-1988 | Chevy | R3500 Truck | Chevy R3500 Truck Fuel Filter V8 5.7L (8th Vin Digit K) ACDelco GF652F |
| 1987-1988 | Chevy | R3500 Truck | Chevy R3500 Truck Fuel Filter V8 7.4L (8th Vin Digit N) ACDelco GF652F |
| 1987 | Chevy | R3500 Truck | Chevy R3500 Truck Fuel Filter V8 7.4L (8th Vin Digit W) ACDelco GF652F |
| 1987 | Chevy | R3500 Truck | Chevy R3500 Truck Fuel Filter V8 5.7L (8th Vin Digit M) ACDelco GF652F |
| 1989 | Chevy | R3500 Truck | Chevy R3500 Truck Fuel Filter V8 7.4L (8th Vin Digit W) ACDelco GF652F |
| 1989-1991 | Chevy | R3500 Truck | Chevy R3500 Truck Fuel Filter V8 5.7L (8th Vin Digit K) ACDelco GF652F |
| 1989-1991 | Chevy | R3500 Truck | Chevy R3500 Truck Fuel Filter V8 7.4L (8th Vin Digit N) ACDelco GF652F |
| 1983-1984 | Chevy | S10 Pickup | Chevy S10 Pickup Fuel Filter L4 2.0L (8th Vin Digit Y) ACDelco GF652F |
| 1985-1991 | Chevy | S10 Pickup | Chevy S10 Pickup Fuel Filter L4 2.5L (8th Vin Digit E) ACDelco GF652F |
| 1988-1995 | Chevy | S10 Pickup | Chevy S10 Pickup Fuel Filter V6 4.3L (8th Vin Digit Z) ACDelco GF652F |
| 1991-1993 | Chevy | S10 Pickup | Chevy S10 Pickup Fuel Filter (8th Vin Digit A) L4 2.5L ACDelco GF652F |
| 1992-1993 | Chevy | S10 Pickup | Chevy S10 Pickup Fuel Filter V6 2.8L (8th Vin Digit R) ACDelco GF652F |
| 1994-1996 | Chevy | S10 Pickup | Chevy S10 Pickup Fuel Filter L4 2.2L (8th Vin Digit 4) ACDelco GF652F |
| 1994-1996 | Chevy | S10 Pickup | Chevy S10 Pickup Fuel Filter V6 4.3L (8th Vin Digit W) ACDelco GF652F |
| 1996 | Chevy | S10 Pickup | Chevy S10 Pickup Fuel Filter V6 4.3L (8th Vin Digit X) ACDelco GF652F |
| 1999-2002 | Chevy | Silverado 1500 | Chevy Silverado 1500 Fuel Filter V6 4.3L (8th Vin Digit W) ACDelco GF652F |
| 1999-2003 | Chevy | Silverado 1500 | Chevy Silverado 1500 Fuel Filter V8 4.8L (8th Vin Digit V) ACDelco GF652F |
| 1999-2003 | Chevy | Silverado 1500 | Chevy Silverado 1500 Fuel Filter V8 5.3L (8th Vin Digit T) ACDelco GF652F |
| 2001-2003 | Chevy | Silverado 1500 | Chevy Silverado 1500 Fuel Filter V8 6.0L (8th Vin Digit U) ACDelco GF652F |
| 2002-2007 | Chevy | Silverado 1500 | Chevy Silverado 1500 Fuel Filter V6 4.3L (8th Vin Digit X) ACDelco GF652F |
| 2003 | Chevy | Silverado 1500 | Chevy Silverado 1500 Fuel Filter V8 6.0L (8th Vin Digit N) ACDelco GF652F |
| 2007 | Chevy | Silverado 1500 Classic | Chevy Silverado 1500 Classic Fuel Filter V6 4.3L (8th Vin Digit X) ACDelco GF652F |
| 2001-2003 | Chevy | Silverado 1500 HD | Chevy Silverado 1500 HD Fuel Filter V8 6.0L (8th Vin Digit U) ACDelco GF652F |
| 2003 | Chevy | Silverado 1500 HD | Chevy Silverado 1500 HD Fuel Filter V8 6.0L (8th Vin Digit N) ACDelco GF652F |
| 1999-2003 | Chevy | Silverado 2500 | Chevy Silverado 2500 Fuel Filter V8 6.0L (8th Vin Digit U) ACDelco GF652F |
| 1999-2000 | Chevy | Silverado 2500 | Chevy Silverado 2500 Fuel Filter V8 5.3L (8th Vin Digit T) ACDelco GF652F |
| 2001-2003 | Chevy | Silverado 2500 | Chevy Silverado 2500 Fuel Filter V8 6.0L (8th Vin Digit U) ACDelco GF652F |
| 2001-2003 | Chevy | Silverado 2500 HD | Chevy Silverado 2500 HD Fuel Filter V8 6.0L (8th Vin Digit U) ACDelco GF652F |
| 2001-2003 | Chevy | Silverado 2500 HD | Chevy Silverado 2500 HD Fuel Filter V8 6.0L (8th Vin Digit U) ACDelco GF652F |
| 2001-2003 | Chevy | Silverado 2500 HD | Chevy Silverado 2500 HD Fuel Filter (8th Vin Digit G) V8 8.1L ACDelco GF652F |
| 2001-2003 | Chevy | Silverado 3500 | Chevy Silverado 3500 Fuel Filter V8 6.0L (8th Vin Digit U) ACDelco GF652F |
| 2001-2003 | Chevy | Silverado 3500 | Chevy Silverado 3500 Fuel Filter V8 8.1L (8th Vin Digit G) ACDelco GF652F |
| 2000-2003 | Chevy | Suburban 1500 | Chevy Suburban 1500 Fuel Filter V8 5.3L (8th Vin Digit T) ACDelco GF652F |
| 2000-2003 | Chevy | Suburban 2500 | Chevy Suburban 2500 Fuel Filter V8 6.0L (8th Vin Digit U) ACDelco GF652F |
| 2001-2003 | Chevy | Suburban 2500 | Chevy Suburban 2500 Fuel Filter (8th Vin Digit G) V8 8.1L ACDelco GF652F |
| 1992-1995 | Chevy | Suburban C1500 | Chevy Suburban C1500 Fuel Filter V8 5.7L (8th Vin Digit K) ACDelco GF652F |
| 1996-1998 | Chevy | Suburban C1500 | Chevy Suburban C1500 Fuel Filter V8 5.7L (8th Vin Digit R) ACDelco GF652F |
| 1992-1995 | Chevy | Suburban C2500 | Chevy Suburban C2500 Fuel Filter V8 5.7L (8th Vin Digit K) ACDelco GF652F |
| 1992-1995 | Chevy | Suburban C2500 | Chevy Suburban C2500 Fuel Filter V8 7.4L (8th Vin Digit N) ACDelco GF652F |
| 1996-1998 | Chevy | Suburban C2500 | Chevy Suburban C2500 Fuel Filter V8 5.7L (8th Vin Digit R) ACDelco GF652F |
| 1996-1998 | Chevy | Suburban C2500 | Chevy Suburban C2500 Fuel Filter V8 7.4L (8th Vin Digit J) ACDelco GF652F |
| 1992-1995 | Chevy | Suburban K1500 | Chevy Suburban K1500 Fuel Filter V8 5.7L (8th Vin Digit K) ACDelco GF652F |
| 1996-1998 | Chevy | Suburban K1500 | Chevy Suburban K1500 Fuel Filter V8 5.7L (8th Vin Digit R) ACDelco GF652F |
| 1992-1995 | Chevy | Suburban K2500 | Chevy Suburban K2500 Fuel Filter V8 5.7L (8th Vin Digit K) ACDelco GF652F |
| 1992-1995 | Chevy | Suburban K2500 | Chevy Suburban K2500 Fuel Filter V8 7.4L (8th Vin Digit N) ACDelco GF652F |
| 1996-1998 | Chevy | Suburban K2500 | Chevy Suburban K2500 Fuel Filter V8 5.7L (8th Vin Digit R) ACDelco GF652F |
| 1996-1998 | Chevy | Suburban K2500 | Chevy Suburban K2500 Fuel Filter V8 7.4L (8th Vin Digit J) ACDelco GF652F |
| 1987 | Chevy | Suburban R10 | Chevy Suburban R10 Fuel Filter V8 5.0L (8th Vin Digit H) ACDelco GF652F |
| 1987-1988 | Chevy | Suburban R10 | Chevy Suburban R10 Fuel Filter V8 5.7L (8th Vin Digit K) ACDelco GF652F |
| 1989-1991 | Chevy | Suburban R1500 | Chevy Suburban R1500 Fuel Filter V8 5.7L (8th Vin Digit K) ACDelco GF652F |
| 1987-1988 | Chevy | Suburban R20 | Chevy Suburban R20 Fuel Filter V8 5.7L (8th Vin Digit K) ACDelco GF652F |
| 1987-1988 | Chevy | Suburban R20 | Chevy Suburban R20 Fuel Filter V8 7.4L (8th Vin Digit N) ACDelco GF652F |
| 1989-1991 | Chevy | Suburban R2500 | Chevy Suburban R2500 Fuel Filter V8 5.7L (8th Vin Digit K) ACDelco GF652F |
| 1989-1991 | Chevy | Suburban R2500 | Chevy Suburban R2500 Fuel Filter V8 7.4L (8th Vin Digit N) ACDelco GF652F |
| 1987-1988 | Chevy | Suburban V10 | Chevy Suburban V10 Fuel Filter V8 5.7L (8th Vin Digit K) ACDelco GF652F |
| 1989-1991 | Chevy | Suburban V1500 | Chevy Suburban V1500 Fuel Filter V8 5.7L (8th Vin Digit K) ACDelco GF652F |
| 1987-1988 | Chevy | Suburban V20 | Chevy Suburban V20 Fuel Filter V8 5.7L (8th Vin Digit K) ACDelco GF652F |
| 1989-1991 | Chevy | Suburban V2500 | Chevy Suburban V2500 Fuel Filter V8 5.7L (8th Vin Digit K) ACDelco GF652F |
| 1990 | Chevy | Suburban V2500 | Chevy Suburban V2500 Fuel Filter V8 7.4L (8th Vin Digit N) ACDelco GF652F |
| 1995 | Chevy | Tahoe | Chevy Tahoe Fuel Filter V8 5.7L (8th Vin Digit K) ACDelco GF652F |
| 1996-2000 | Chevy | Tahoe | Chevy Tahoe Fuel Filter V8 5.7L (8th Vin Digit R) ACDelco GF652F |
| 2000-2003 | Chevy | Tahoe | Chevy Tahoe Fuel Filter V8 4.8L (8th Vin Digit V) ACDelco GF652F |
| 2000-2003 | Chevy | Tahoe | Chevy Tahoe Fuel Filter V8 5.3L (8th Vin Digit T) ACDelco GF652F |
| 1987 | Chevy | V1500 Truck | Chevy V1500 Truck Fuel Filter V8 5.0L (8th Vin Digit H) ACDelco GF652F |
| 1987 | Chevy | V1500 Truck | Chevy V1500 Truck Fuel Filter V8 5.7L (8th Vin Digit K) ACDelco GF652F |
| 1987 | Chevy | V1500 Truck | Chevy V1500 Truck Fuel Filter V6 4.3L (8th Vin Digit Z) ACDelco GF652F |
| 1987 | Chevy | V2500 Truck | Chevy V2500 Truck Fuel Filter V8 5.7L (8th Vin Digit K) ACDelco GF652F |
| 1987 | Chevy | V3500 Truck | Chevy V3500 Truck Fuel Filter V8 5.7L (8th Vin Digit M) ACDelco GF652F |
| 1987 | Chevy | V3500 Truck | Chevy V3500 Truck Fuel Filter V8 7.4L (8th Vin Digit W) ACDelco GF652F |
| 1987-1988 | Chevy | V3500 Truck | Chevy V3500 Truck Fuel Filter V8 5.7L (8th Vin Digit K) ACDelco GF652F |
| 1987-1988 | Chevy | V3500 Truck | Chevy V3500 Truck Fuel Filter V8 7.4L (8th Vin Digit N) ACDelco GF652F |
| 1989-1991 | Chevy | V3500 Truck | Chevy V3500 Truck Fuel Filter V8 7.4L (8th Vin Digit N) ACDelco GF652F |
| 1989-1991 | Chevy | V3500 Truck | Chevy V3500 Truck Fuel Filter V8 5.7L (8th Vin Digit K) ACDelco GF652F |
| 1989 | Chevy | V3500 Truck | Chevy V3500 Truck Fuel Filter V8 7.4L (8th Vin Digit W) ACDelco GF652F |
| 1986 | GMC | C1500 Truck | GMC C1500 Truck Fuel Filter V6 4.3L (8th Vin Digit N) ACDelco GF652F |
| 1988-1995 | GMC | C1500 Truck | GMC C1500 Truck Fuel Filter V6 4.3L (8th Vin Digit Z) ACDelco GF652F |
| 1988-1995 | GMC | C1500 Truck | GMC C1500 Truck Fuel Filter V8 5.0L (8th Vin Digit H) ACDelco GF652F |
| 1988-1995 | GMC | C1500 Truck | GMC C1500 Truck Fuel Filter V8 5.7L (8th Vin Digit K) ACDelco GF652F |
| 1996-1998 | GMC | C1500 Truck | GMC C1500 Truck Fuel Filter V6 4.3L (8th Vin Digit W) ACDelco GF652F |
| 1996-1999 | GMC | C1500 Truck | GMC C1500 Truck Fuel Filter V8 5.7L (8th Vin Digit R) ACDelco GF652F |
| 1996-1999 | GMC | C1500 Truck | GMC C1500 Truck Fuel Filter V8 5.0L (8th Vin Digit M) ACDelco GF652F |
| 1986 | GMC | C2500 Truck | GMC C2500 Truck Fuel Filter V6 4.3L (8th Vin Digit N) ACDelco GF652F |
| 1988-1995 | GMC | C2500 Truck | GMC C2500 Truck Fuel Filter V8 5.7L (8th Vin Digit K) ACDelco GF652F |
| 1988-1995 | GMC | C2500 Truck | GMC C2500 Truck Fuel Filter V6 4.3L (8th Vin Digit Z) ACDelco GF652F |
| 1988-1995 | GMC | C2500 Truck | GMC C2500 Truck Fuel Filter V8 5.0L (8th Vin Digit H) ACDelco GF652F |
| 1991-1995 | GMC | C2500 Truck | GMC C2500 Truck Fuel Filter V8 7.4L (8th Vin Digit N) ACDelco GF652F |
| 1996-2000 | GMC | C2500 Truck | GMC C2500 Truck Fuel Filter V8 5.7L (8th Vin Digit R) ACDelco GF652F |
| 1996-2000 | GMC | C2500 Truck | GMC C2500 Truck Fuel Filter V8 7.4L (8th Vin Digit J) ACDelco GF652F |
| 1996-1998 | GMC | C2500 Truck | GMC C2500 Truck Fuel Filter V8 5.0L (8th Vin Digit M) ACDelco GF652F |
| 1992-1995 | GMC | C3500 Truck | GMC C3500 Truck Fuel Filter V8 5.7L (8th Vin Digit K) ACDelco GF652F |
| 1992-1995 | GMC | C3500 Truck | GMC C3500 Truck Fuel Filter V8 7.4L (8th Vin Digit N) ACDelco GF652F |
| 1996-2000 | GMC | C3500 Truck | GMC C3500 Truck Fuel Filter V8 5.7L (8th Vin Digit R) ACDelco GF652F |
| 1996-2000 | GMC | C3500 Truck | GMC C3500 Truck Fuel Filter V8 7.4L (8th Vin Digit J) ACDelco GF652F |
| 2001-2002 | GMC | C3500 Truck | GMC C3500 Truck Fuel Filter V8 8.1L (8th Vin Digit G) ACDelco GF652F |
| 1985-1987 | GMC | Caballero | GMC Caballero Fuel Filter V6 4.3L (8th Vin Digit Z) ACDelco GF652F |
| 1987-1993 | GMC | G1500 | GMC G1500 Fuel Filter V8 5.7L (8th Vin Digit K) ACDelco GF652F |
| 1987-1995 | GMC | G1500 | GMC G1500 Fuel Filter V8 5.0L (8th Vin Digit H) ACDelco GF652F |
| 1987-1995 | GMC | G1500 | GMC G1500 Fuel Filter V6 4.3L (8th Vin Digit Z) ACDelco GF652F |
| 1987-1995 | GMC | G2500 | GMC G2500 Fuel Filter V8 5.7L (8th Vin Digit K) ACDelco GF652F |
| 1987-1995 | GMC | G2500 | GMC G2500 Fuel Filter V8 5.0L (8th Vin Digit H) ACDelco GF652F |
| 1987-1995 | GMC | G2500 | GMC G2500 Fuel Filter V6 4.3L (8th Vin Digit Z) ACDelco GF652F |
| 1987-1996 | GMC | G3500 | GMC G3500 Fuel Filter V8 5.7L (8th Vin Digit K) ACDelco GF652F |
| 1987-1996 | GMC | G3500 | GMC G3500 Fuel Filter V6 4.3L (8th Vin Digit Z) ACDelco GF652F |
| 1988-1996 | GMC | G3500 | GMC G3500 Fuel Filter V8 7.4L (8th Vin Digit N) ACDelco GF652F |
| 1987 | GMC | Jimmy Full Size | GMC Jimmy Full Size Fuel Filter V8 5.0L (8th Vin Digit H) ACDelco GF652F |
| 1987-1991 | GMC | Jimmy Full Size | GMC Jimmy Full Size Fuel Filter V8 5.7L (8th Vin Digit K) ACDelco GF652F |
| 1983-1984 | GMC | Jimmy S-15 | GMC Jimmy S-15 Fuel Filter L4 2.0L (8th Vin Digit Y) ACDelco GF652F |
| 1985-1988 | GMC | Jimmy S-15 | GMC Jimmy S-15 Fuel Filter L4 2.5L (8th Vin Digit E) ACDelco GF652F |
| 1988-1994 | GMC | Jimmy S-15 | GMC Jimmy S-15 Fuel Filter V6 4.3L (8th Vin Digit Z) ACDelco GF652F |
| 1992-1996 | GMC | Jimmy S-15 | GMC Jimmy S-15 Fuel Filter V6 4.3L (8th Vin Digit W) ACDelco GF652F |
| 1986 | GMC | K1500 Truck | GMC K1500 Truck Fuel Filter V6 4.3L (8th Vin Digit N) ACDelco GF652F |
| 1988-1995 | GMC | K1500 Truck | GMC K1500 Truck Fuel Filter V8 5.7L (8th Vin Digit K) ACDelco GF652F |
| 1988-1995 | GMC | K1500 Truck | GMC K1500 Truck Fuel Filter V6 4.3L (8th Vin Digit Z) ACDelco GF652F |
| 1988-1995 | GMC | K1500 Truck | GMC K1500 Truck Fuel Filter V8 5.0L (8th Vin Digit H) ACDelco GF652F |
| 1996-1998 | GMC | K1500 Truck | GMC K1500 Truck Fuel Filter V6 4.3L (8th Vin Digit W) ACDelco GF652F |
| 1996-1999 | GMC | K1500 Truck | GMC K1500 Truck Fuel Filter V8 5.7L (8th Vin Digit R) ACDelco GF652F |
| 1996-1999 | GMC | K1500 Truck | GMC K1500 Truck Fuel Filter V8 5.0L (8th Vin Digit M) ACDelco GF652F |
| 1988-1995 | GMC | K2500 Truck | GMC K2500 Truck Fuel Filter V8 5.7L (8th Vin Digit K) ACDelco GF652F |
| 1988-1995 | GMC | K2500 Truck | GMC K2500 Truck Fuel Filter V6 4.3L (8th Vin Digit Z) ACDelco GF652F |
| 1988-1995 | GMC | K2500 Truck | GMC K2500 Truck Fuel Filter V8 5.0L (8th Vin Digit H) ACDelco GF652F |
| 1991-1995 | GMC | K2500 Truck | GMC K2500 Truck Fuel Filter V8 7.4L (8th Vin Digit N) ACDelco GF652F |
| 1996-1998 | GMC | K2500 Truck | GMC K2500 Truck Fuel Filter V8 5.0L (8th Vin Digit M) ACDelco GF652F |
| 1996-2000 | GMC | K2500 Truck | GMC K2500 Truck Fuel Filter V8 7.4L (8th Vin Digit J) ACDelco GF652F |
| 1996-2000 | GMC | K2500 Truck | GMC K2500 Truck Fuel Filter V8 5.7L (8th Vin Digit R) ACDelco GF652F |
| 1992-1995 | GMC | K3500 Truck | GMC K3500 Truck Fuel Filter V8 5.7L (8th Vin Digit K) ACDelco GF652F |
| 1992-1995 | GMC | K3500 Truck | GMC K3500 Truck Fuel Filter V8 7.4L (8th Vin Digit N) ACDelco GF652F |
| 1996-2000 | GMC | K3500 Truck | GMC K3500 Truck Fuel Filter V8 7.4L (8th Vin Digit J) ACDelco GF652F |
| 1996-2000 | GMC | K3500 Truck | GMC K3500 Truck Fuel Filter V8 5.7L (8th Vin Digit R) ACDelco GF652F |
| 1987 | GMC | R1500 Truck | GMC R1500 Truck Fuel Filter V8 5.7L (8th Vin Digit K) ACDelco GF652F |
| 1987 | GMC | R1500 Truck | GMC R1500 Truck Fuel Filter V6 4.3L (8th Vin Digit Z) ACDelco GF652F |
| 1987 | GMC | R1500 Truck | GMC R1500 Truck Fuel Filter V8 5.0L (8th Vin Digit H) ACDelco GF652F |
| 1987 | GMC | R2500 Truck | GMC R2500 Truck Fuel Filter V8 5.0L (8th Vin Digit H) ACDelco GF652F |
| 1987-1989 | GMC | R2500 Truck | GMC R2500 Truck Fuel Filter V8 5.7L (8th Vin Digit K) ACDelco GF652F |
| 1987-1989 | GMC | R2500 Truck | GMC R2500 Truck Fuel Filter V8 7.4L (8th Vin Digit N) ACDelco GF652F |
| 1987 | GMC | R2500 Truck | GMC R2500 Truck Fuel Filter V6 4.3L (8th Vin Digit Z) ACDelco GF652F |
| 1987 | GMC | R3500 Truck | GMC R3500 Truck Fuel Filter V8 5.7L (8th Vin Digit M) ACDelco GF652F |
| 1987-1991 | GMC | R3500 Truck | GMC R3500 Truck Fuel Filter V8 5.7L (8th Vin Digit K) ACDelco GF652F |
| 1987-1989 | GMC | R3500 Truck | GMC R3500 Truck Fuel Filter V8 7.4L (8th Vin Digit W) ACDelco GF652F |
| 1987-1991 | GMC | R3500 Truck | GMC R3500 Truck Fuel Filter V8 7.4L (8th Vin Digit N) ACDelco GF652F |
| 1983-1984 | GMC | S-15 Pickup | GMC S-15 Pickup Fuel Filter L4 2.0L (8th Vin Digit Y) ACDelco GF652F |
| 1985-1990 | GMC | S-15 Pickup | GMC S-15 Pickup Fuel Filter L4 2.5L (8th Vin Digit E) ACDelco GF652F |
| 1988-1990 | GMC | S-15 Pickup | GMC S-15 Pickup Fuel Filter V6 4.3L (8th Vin Digit Z) ACDelco GF652F |
| 1991 | GMC | S-15 Sonoma | GMC S-15 Sonoma Fuel Filter L4 2.5L (8th Vin Digit E) ACDelco GF652F |
| 1991-1993 | GMC | S-15 Sonoma | GMC S-15 Sonoma Fuel Filter (8th Vin Digit A) L4 2.5L ACDelco GF652F |
| 1991-1995 | GMC | S-15 Sonoma | GMC S-15 Sonoma Fuel Filter V6 4.3L (8th Vin Digit Z) ACDelco GF652F |
| 1992-1996 | GMC | S-15 Sonoma | GMC S-15 Sonoma Fuel Filter V6 4.3L (8th Vin Digit W) ACDelco GF652F |
| 1992-1993 | GMC | S-15 Sonoma | GMC S-15 Sonoma Fuel Filter V6 2.8L (8th Vin Digit R) ACDelco GF652F |
| 1994-1996 | GMC | S-15 Sonoma | GMC S-15 Sonoma Fuel Filter L4 2.2L (8th Vin Digit 4) ACDelco GF652F |
| 1996 | GMC | S-15 Sonoma | GMC S-15 Sonoma Fuel Filter V6 4.3L (8th Vin Digit X) ACDelco GF652F |
| 1985-1990 | GMC | Safari | GMC Safari Fuel Filter L4 2.5L (8th Vin Digit E) ACDelco GF652F |
| 1986-1994 | GMC | Safari | GMC Safari Fuel Filter V6 4.3L (8th Vin Digit Z) ACDelco GF652F |
| 1990-1991 | GMC | Safari | GMC Safari Fuel Filter (8th Vin Digit B) V6 4.3L ACDelco GF652F |
| 1992-2001 | GMC | Safari | GMC Safari Fuel Filter V6 4.3L (8th Vin Digit W) ACDelco GF652F |
| 2002-2005 | GMC | Safari | GMC Safari Fuel Filter V6 4.3L (8th Vin Digit X) ACDelco GF652F |
| 2003 | GMC | Savana 1500 Van | GMC Savana 1500 Van Fuel Filter V8 5.3L (8th Vin Digit T) ACDelco GF652F |
| 2003-2004 | GMC | Savana 1500 Van | GMC Savana 1500 Van Fuel Filter V6 4.3L (8th Vin Digit X) ACDelco GF652F |
| 2003-2004 | GMC | Savana 2500 Van | GMC Savana 2500 Van Fuel Filter V6 4.3L (8th Vin Digit X) ACDelco GF652F |
| 2003 | GMC | Savana 2500 Van | GMC Savana 2500 Van Fuel Filter V8 4.8L (8th Vin Digit V) ACDelco GF652F |
| 2003 | GMC | Savana 2500 Van | GMC Savana 2500 Van Fuel Filter V8 5.3L (8th Vin Digit T) ACDelco GF652F |
| 2003 | GMC | Savana 2500 Van | GMC Savana 2500 Van Fuel Filter V8 6.0L (8th Vin Digit U) ACDelco GF652F |
| 2003 | GMC | Savana 3500 Van | GMC Savana 3500 Van Fuel Filter V8 6.0L (8th Vin Digit U) ACDelco GF652F |
| 1999-2003 | GMC | Sierra 1500 | GMC Sierra 1500 Fuel Filter V8 4.8L (8th Vin Digit V) ACDelco GF652F |
| 1999-2003 | GMC | Sierra 1500 | GMC Sierra 1500 Fuel Filter V8 5.3L (8th Vin Digit T) ACDelco GF652F |
| 1999-2002 | GMC | Sierra 1500 | GMC Sierra 1500 Fuel Filter V6 4.3L (8th Vin Digit W) ACDelco GF652F |
| 2001 | GMC | Sierra 1500 | GMC Sierra 1500 C3 Fuel Filter V8 6.0L (8th Vin Digit U) ACDelco GF652F |
| 2001-2003 | GMC | Sierra 1500 | GMC Sierra 1500 Fuel Filter V8 6.0L (8th Vin Digit U) ACDelco GF652F |
| 2002-2006 | GMC | Sierra 1500 | GMC Sierra 1500 Fuel Filter V6 4.3L (8th Vin Digit X) ACDelco GF652F |
| 2007 | GMC | Sierra 1500 Classic | GMC Sierra 1500 Classic Fuel Filter V6 4.3L (8th Vin Digit X) ACDelco GF652F |
| 2001 | GMC | Sierra 1500 HD | GMC Sierra 1500 HD C3 Fuel Filter V8 6.0L (8th Vin Digit U) ACDelco GF652F |
| 2001-2003 | GMC | Sierra 1500 HD | GMC Sierra 1500 HD Fuel Filter V8 6.0L (8th Vin Digit U) ACDelco GF652F |
| 1999-2000 | GMC | Sierra 2500 | GMC Sierra 2500 Fuel Filter V8 5.3L (8th Vin Digit T) ACDelco GF652F |
| 1999-2003 | GMC | Sierra 2500 | GMC Sierra 2500 Fuel Filter V8 6.0L (8th Vin Digit U) ACDelco GF652F |
| 2001-2003 | GMC | Sierra 2500 | GMC Sierra 2500 Fuel Filter V8 6.0L (8th Vin Digit U) ACDelco GF652F |
| 2001-2003 | GMC | Sierra 2500 HD | GMC Sierra 2500 HD Fuel Filter V8 6.0L (8th Vin Digit U) ACDelco GF652F |
| 2001-2003 | GMC | Sierra 2500 HD | GMC Sierra 2500 HD Fuel Filter V8 6.0L (8th Vin Digit U) ACDelco GF652F |
| 2001-2003 | GMC | Sierra 2500 HD | GMC Sierra 2500 HD Fuel Filter (8th Vin Digit G) V8 8.1L ACDelco GF652F |
| 2001-2003 | GMC | Sierra 3500 | GMC Sierra 3500 Fuel Filter V8 8.1L (8th Vin Digit G) ACDelco GF652F |
| 2001-2003 | GMC | Sierra 3500 | GMC Sierra 3500 Fuel Filter V8 6.0L (8th Vin Digit U) ACDelco GF652F |
| 1992-1995 | GMC | Suburban C1500 | GMC Suburban C1500 Fuel Filter V8 5.7L (8th Vin Digit K) ACDelco GF652F |
| 1996-1998 | GMC | Suburban C1500 | GMC Suburban C1500 Fuel Filter V8 5.7L (8th Vin Digit R) ACDelco GF652F |
| 1992-1995 | GMC | Suburban C2500 | GMC Suburban C2500 Fuel Filter V8 5.7L (8th Vin Digit K) ACDelco GF652F |
| 1992-1995 | GMC | Suburban C2500 | GMC Suburban C2500 Fuel Filter V8 7.4L (8th Vin Digit N) ACDelco GF652F |
| 1996-1998 | GMC | Suburban C2500 | GMC Suburban C2500 Fuel Filter V8 5.7L (8th Vin Digit R) ACDelco GF652F |
| 1996-1998 | GMC | Suburban C2500 | GMC Suburban C2500 Fuel Filter V8 7.4L (8th Vin Digit J) ACDelco GF652F |
| 1992-1995 | GMC | Suburban K1500 | GMC Suburban K1500 Fuel Filter V8 5.7L (8th Vin Digit K) ACDelco GF652F |
| 1996-1998 | GMC | Suburban K1500 | GMC Suburban K1500 Fuel Filter V8 5.7L (8th Vin Digit R) ACDelco GF652F |
| 1992-1995 | GMC | Suburban K2500 | GMC Suburban K2500 Fuel Filter V8 5.7L (8th Vin Digit K) ACDelco GF652F |
| 1992-1995 | GMC | Suburban K2500 | GMC Suburban K2500 Fuel Filter V8 7.4L (8th Vin Digit N) ACDelco GF652F |
| 1996-1998 | GMC | Suburban K2500 | GMC Suburban K2500 Fuel Filter V8 5.7L (8th Vin Digit R) ACDelco GF652F |
| 1996-1998 | GMC | Suburban K2500 | GMC Suburban K2500 Fuel Filter V8 7.4L (8th Vin Digit J) ACDelco GF652F |
| 1987 | GMC | Suburban R1500 | GMC Suburban R1500 Fuel Filter V8 5.0L (8th Vin Digit H) ACDelco GF652F |
| 1987-1991 | GMC | Suburban R1500 | GMC Suburban R1500 Fuel Filter V8 5.7L (8th Vin Digit K) ACDelco GF652F |
| 1987-1991 | GMC | Suburban V1500 | GMC Suburban V1500 Fuel Filter V8 5.7L (8th Vin Digit K) ACDelco GF652F |
| 1987-1991 | GMC | Suburban V1500 | GMC Suburban V1500 Fuel Filter V8 5.7L (8th Vin Digit K) ACDelco GF652F |
| 1987 | GMC | Suburban V2500 | GMC Suburban V2500 Fuel Filter V8 5.7L (8th Vin Digit K) ACDelco GF652F |
| 1991 | GMC | Syclone | GMC Syclone Fuel Filter V6 4.3L (8th Vin Digit Z) ACDelco GF652F |
| 1992-1993 | GMC | Typhoon | GMC Typhoon Fuel Filter V6 4.3L (8th Vin Digit Z) ACDelco GF652F |
| 1987 | GMC | V1500 Truck | GMC V1500 Truck Fuel Filter V8 5.0L (8th Vin Digit H) ACDelco GF652F |
| 1987 | GMC | V1500 Truck | GMC V1500 Truck Fuel Filter V6 4.3L (8th Vin Digit Z) ACDelco GF652F |
| 1987 | GMC | V1500 Truck | GMC V1500 Truck Fuel Filter V8 5.7L (8th Vin Digit K) ACDelco GF652F |
| 1987-1991 | GMC | V3500 Truck | GMC V3500 Truck Fuel Filter V8 5.7L (8th Vin Digit K) ACDelco GF652F |
| 1987 | GMC | V3500 Truck | GMC V3500 Truck Fuel Filter V8 5.7L (8th Vin Digit M) ACDelco GF652F |
| 1987-1991 | GMC | V3500 Truck | GMC V3500 Truck Fuel Filter V8 7.4L (8th Vin Digit N) ACDelco GF652F |
| 1987-1989 | GMC | V3500 Truck | GMC V3500 Truck Fuel Filter V8 7.4L (8th Vin Digit W) ACDelco GF652F |
| 1992-1995 | GMC | Yukon | GMC Yukon Fuel Filter V8 5.7L (8th Vin Digit K) ACDelco GF652F |
| 1996-2000 | GMC | Yukon | GMC Yukon Fuel Filter V8 5.7L (8th Vin Digit R) ACDelco GF652F |
| 2000-2003 | GMC | Yukon | GMC Yukon Fuel Filter V8 5.3L (8th Vin Digit T) ACDelco GF652F |
| 2000-2003 | GMC | Yukon | GMC Yukon Fuel Filter V8 4.8L (8th Vin Digit V) ACDelco GF652F |
| 2000-2003 | GMC | Yukon XL 1500 | GMC Yukon XL 1500 Fuel Filter V8 5.3L (8th Vin Digit T) ACDelco GF652F |
| 2000-2003 | GMC | Yukon XL 2500 | GMC Yukon XL 2500 Fuel Filter V8 6.0L (8th Vin Digit U) ACDelco GF652F |
| 2001-2003 | GMC | Yukon XL 2500 | GMC Yukon XL 2500 Fuel Filter V8 8.1L (8th Vin Digit G) ACDelco GF652F |
| 1995 | Hummer | H1 | Hummer H1 Fuel Filter V8 5.7L (8th Vin Digit D) ACDelco GF652F |
| 1996-1997 | Isuzu | Hombre | Isuzu Hombre Fuel Filter L4 2.2L (8th Vin Digit 4) ACDelco GF652F |
| 1997 | Isuzu | Hombre | Isuzu Hombre Fuel Filter V6 4.3L (8th Vin Digit X) ACDelco GF652F |
| 1991-1996 | Jaguar | Vanden Plas | Jaguar Vanden Plas Fuel Filter L6 4.0L (8th Vin Digit 7) ACDelco GF652F |
| 1996-1997 | Jaguar | Vanden Plas | Jaguar Vanden Plas Fuel Filter L6 4.0L (8th Vin Digit 2) ACDelco GF652F |
| 1998-1999 | Jaguar | Vanden Plas | Jaguar Vanden Plas Fuel Filter V8 4.0L ACDelco GF652F |
| 2000-2002 | Jaguar | Vanden Plas | Jaguar Vanden Plas Fuel Filter V8 4.0L (8th Vin Digit C) ACDelco GF652F |
| 2000-2002 | Jaguar | Vanden Plas | Jaguar Vanden Plas Fuel Filter (8th Vin Digit B) V8 4.0L ACDelco GF652F |
| 2003 | Jaguar | Vanden Plas | Jaguar Vanden Plas Fuel Filter V8 4.0L (8th Vin Digit 2) ACDelco GF652F |
| 2003 | Jaguar | Vanden Plas | Jaguar Vanden Plas Fuel Filter V8 4.0L (8th Vin Digit 8) ACDelco GF652F |
| 2004-2009 | Jaguar | Vanden Plas | Jaguar Vanden Plas Fuel Filter V8 4.2L ACDelco GF652F |
| 2006-2009 | Jaguar | XJ Super | Jaguar XJ Super Fuel Filter V8 4.2L ACDelco GF652F |
| 1994-1996 | Jaguar | XJ12 | Jaguar XJ12 Fuel Filter V12 6.0L (8th Vin Digit 3) ACDelco GF652F |
| 1991-1996 | Jaguar | XJ6 | Jaguar XJ6 Fuel Filter L6 4.0L (8th Vin Digit 7) ACDelco GF652F |
| 1996-1997 | Jaguar | XJ6 | Jaguar XJ6 Fuel Filter L6 4.0L (8th Vin Digit 2) ACDelco GF652F |
| 1998-2003 | Jaguar | XJ8 | Jaguar XJ8 Fuel Filter V8 4.0L (8th Vin Digit 2) ACDelco GF652F |
| 1999 | Jaguar | XJ8 | Jaguar XJ8 Fuel Filter V8 4.0L ACDelco GF652F |
| 2000-2002 | Jaguar | XJ8 | Jaguar XJ8 Fuel Filter V8 4.0L (8th Vin Digit C) ACDelco GF652F |
| 2004-2009 | Jaguar | XJ8 | Jaguar XJ8 Fuel Filter V8 4.2L ACDelco GF652F |
| 1995-1997 | Jaguar | XJR | Jaguar XJR Fuel Filter L6 4.0L (8th Vin Digit 1) ACDelco GF652F |
| 2000-2002 | Jaguar | XJR | Jaguar XJR Fuel Filter (8th Vin Digit B) V8 4.0L ACDelco GF652F |
| 2003 | Jaguar | XJR | Jaguar XJR Fuel Filter V8 4.0L (8th Vin Digit 8) ACDelco GF652F |
| 2004-2009 | Jaguar | XJR | Jaguar XJR Fuel Filter V8 4.2L ACDelco GF652F |
| 1992 | Jaguar | XJS | Jaguar XJS Fuel Filter L6 4.0L (8th Vin Digit 9) ACDelco GF652F |
| 1993-1995 | Jaguar | XJS | Jaguar XJS Fuel Filter V12 6.0L (8th Vin Digit 3) ACDelco GF652F |
| 1993-1996 | Jaguar | XJS | Jaguar XJS Fuel Filter L6 4.0L (8th Vin Digit 7) ACDelco GF652F |
| 1997 | Jaguar | XK8 | Jaguar XK8 Fuel Filter V8 4.0L (8th Vin Digit 7) ACDelco GF652F |
| 1998 | Jaguar | XK8 | Jaguar XK8 Fuel Filter V8 4.0L (8th Vin Digit 2) ACDelco GF652F |
| 1999 | Jaguar | XK8 | Jaguar XK8 Fuel Filter V8 4.0L ACDelco GF652F |
| 2000-2002 | Jaguar | XK8 | Jaguar XK8 Fuel Filter V8 4.0L (8th Vin Digit C) ACDelco GF652F |
| 2003-2004 | Jaguar | XK8 | Jaguar XK8 Fuel Filter V8 4.2L (8th Vin Digit C) ACDelco GF652F |
| 2006 | Jaguar | XK8 | Jaguar XK8 Fuel Filter V8 4.2L ACDelco GF652F |
| 2000-2002 | Jaguar | XKR | Jaguar XKR Fuel Filter (8th Vin Digit B) V8 4.0L ACDelco GF652F |
| 2003-2004 | Jaguar | XKR | Jaguar XKR Fuel Filter (8th Vin Digit B) V8 4.2L ACDelco GF652F |
| 1993 | Land Rover | Defender 110 | Land Rover Defender 110 Fuel Filter (8th Vin Digit 2) V8 3.9L ACDelco GF652F |
| 1994-1995 | Land Rover | Defender 90 | 1994-95, 1997 Land Rover Defender 90 Fuel Filter (8th Vin Digit 2) V8 3.9L ACDelco GF652F |
| 1995 | Land Rover | Defender 90 | Land Rover Defender 90 Fuel Filter V8 4.0L (8th Vin Digit 2) ACDelco GF652F |
| 1997 | Land Rover | Defender 90 | 1994-95, 1997 Land Rover Defender 90 Fuel Filter (8th Vin Digit 2) V8 3.9L ACDelco GF652F |
| 1994 | Land Rover | Discovery | Land Rover Discovery Fuel Filter (8th Vin Digit 2) V8 3.9L ACDelco GF652F |
| 1995-2002 | Land Rover | Discovery | Land Rover Discovery Fuel Filter V8 4.0L (8th Vin Digit 2) ACDelco GF652F |
| 2001-2002 | Land Rover | Discovery | Land Rover Discovery Fuel Filter V8 4.0L (8th Vin Digit 5) ACDelco GF652F |
| 2003 | Land Rover | Discovery | Land Rover Discovery Fuel Filter V8 4.6L (8th Vin Digit 6) ACDelco GF652F |
| 2004 | Land Rover | Discovery | Land Rover Discovery Fuel Filter V8 4.6L (8th Vin Digit 9) ACDelco GF652F |
| 1991-1994 | Land Rover | Range Rover | Land Rover Range Rover Fuel Filter (8th Vin Digit 2) V8 3.9L ACDelco GF652F |
| 1993-1995 | Land Rover | Range Rover | Land Rover Range Rover Fuel Filter V8 4.3L (8th Vin Digit 3) ACDelco GF652F |
| 1995-1998 | Land Rover | Range Rover | Land Rover Range Rover Fuel Filter V8 4.0L (8th Vin Digit 2) ACDelco GF652F |
| 1996-2002 | Land Rover | Range Rover | Land Rover Range Rover Fuel Filter V8 4.6L (8th Vin Digit 4) ACDelco GF652F |
| 1999-2000 | Land Rover | Range Rover | Land Rover Range Rover Fuel Filter V8 4.6L ACDelco GF652F |
| 1999-2000 | Land Rover | Range Rover | Land Rover Range Rover Fuel Filter V8 4.0L ACDelco GF652F |
| 1991 | Oldsmobile | 88 | Olds 88 Fuel Filter V6 3.8L (8th Vin Digit C) ACDelco GF652F |
| 1986 | Oldsmobile | 98 | Olds 98 Fuel Filter V6 3.8L (8th Vin Digit B) ACDelco GF652F |
| 1987 | Oldsmobile | 98 | Olds 98 Fuel Filter V6 3.8L (8th Vin Digit 3) ACDelco GF652F |
| 1988-1990 | Oldsmobile | 98 | Olds 98 Fuel Filter V6 3.8L (8th Vin Digit C) ACDelco GF652F |
| 1991-1992 | Oldsmobile | Bravada | Olds Bravada Fuel Filter V6 4.3L (8th Vin Digit Z) ACDelco GF652F |
| 1992-1994 | Oldsmobile | Bravada | 1992-94, 1996 Olds Bravada Fuel Filter V6 4.3L (8th Vin Digit W) ACDelco GF652F |
| 1996 | Oldsmobile | Bravada | 1992-94, 1996 Olds Bravada Fuel Filter V6 4.3L (8th Vin Digit W) ACDelco GF652F |
| 1985-1987 | Oldsmobile | Calais | Olds Calais Fuel Filter V6 3.0L (8th Vin Digit L) ACDelco GF652F |
| 1985-1987 | Oldsmobile | Calais | Olds Calais Fuel Filter L4 2.5L (8th Vin Digit U) ACDelco GF652F |
| 1987 | Oldsmobile | Calais | Olds Calais Fuel Filter L4 2.3L (8th Vin Digit D) ACDelco GF652F |
| 1988-1991 | Oldsmobile | Cutlass Calais | Olds Cutlass Calais Fuel Filter L4 2.3L (8th Vin Digit D) ACDelco GF652F |
| 1988 | Oldsmobile | Cutlass Calais | Olds Cutlass Calais Fuel Filter V6 3.0L (8th Vin Digit L) ACDelco GF652F |
| 1988-1991 | Oldsmobile | Cutlass Calais | Olds Cutlass Calais Fuel Filter L4 2.5L (8th Vin Digit U) ACDelco GF652F |
| 1989-1991 | Oldsmobile | Cutlass Calais | Olds Cutlass Calais Fuel Filter L4 2.3L (8th Vin Digit A) ACDelco GF652F |
| 1989-1991 | Oldsmobile | Cutlass Calais | Olds Cutlass Calais Fuel Filter V6 3.3L (8th Vin Digit N) ACDelco GF652F |
| 1984-1988 | Oldsmobile | Cutlass Ciera | Olds Cutlass Ciera Fuel Filter L4 2.5L (8th Vin Digit R) ACDelco GF652F |
| 1986-1988 | Oldsmobile | Cutlass Ciera | Olds Cutlass Ciera Fuel Filter V6 2.8L (8th Vin Digit W) ACDelco GF652F |
| 1986-1988 | Oldsmobile | Cutlass Ciera | Olds Cutlass Ciera Fuel Filter V6 3.8L (8th Vin Digit 3) ACDelco GF652F |
| 1988-1989 | Oldsmobile | Cutlass Supreme | Olds Cutlass Supreme Fuel Filter V6 2.8L (8th Vin Digit W) ACDelco GF652F |
| 1989-1991 | Oldsmobile | Cutlass Supreme | Olds Cutlass Supreme Fuel Filter V6 3.1L (8th Vin Digit T) ACDelco GF652F |
| 1990 | Oldsmobile | Cutlass Supreme | Olds Cutlass Supreme Fuel Filter L4 2.3L (8th Vin Digit A) ACDelco GF652F |
| 1990-1991 | Oldsmobile | Cutlass Supreme | Olds Cutlass Supreme Fuel Filter L4 2.3L (8th Vin Digit D) ACDelco GF652F |
| 1986 | Oldsmobile | Delta 88 | Olds Delta 88 Fuel Filter V6 3.0L (8th Vin Digit L) ACDelco GF652F |
| 1986-1988 | Oldsmobile | Delta 88 | Olds Delta 88 Fuel Filter V6 3.8L (8th Vin Digit 3) ACDelco GF652F |
| 1988-1990 | Oldsmobile | Delta 88 | Olds Delta 88 Fuel Filter V6 3.8L (8th Vin Digit C) ACDelco GF652F |
| 1982-1986 | Oldsmobile | Firenza | Olds Firenza Fuel Filter L4 1.8L (8th Vin Digit 0) ACDelco GF652F |
| 1983-1986 | Oldsmobile | Firenza | Olds Firenza Fuel Filter L4 2.0L (8th Vin Digit P) ACDelco GF652F |
| 1985-1987 | Oldsmobile | Firenza | Olds Firenza Fuel Filter V6 2.8L (8th Vin Digit W) ACDelco GF652F |
| 1987-1988 | Oldsmobile | Firenza | Olds Firenza Fuel Filter L4 2.0L (8th Vin Digit 1) ACDelco GF652F |
| 1987-1988 | Oldsmobile | Firenza | Olds Firenza Fuel Filter L4 2.0L (8th Vin Digit K) ACDelco GF652F |
| 1984 | Oldsmobile | Omega | Olds Omega Fuel Filter L4 2.5L (8th Vin Digit R) ACDelco GF652F |
| 1986 | Oldsmobile | Toronado | Olds Toronado Fuel Filter V6 3.8L (8th Vin Digit B) ACDelco GF652F |
| 1987 | Oldsmobile | Toronado | Olds Toronado Fuel Filter V6 3.8L (8th Vin Digit 3) ACDelco GF652F |
| 1988-1989 | Oldsmobile | Toronado | Olds Toronado Fuel Filter V6 3.8L (8th Vin Digit C) ACDelco GF652F |
| 1984 | Pontiac | 2000 | Pontiac 2000 Fuel Filter L4 2.0L (8th Vin Digit P) ACDelco GF652F |
| 1984 | Pontiac | 2000 | Pontiac 2000 Fuel Filter L4 1.8L (8th Vin Digit J) ACDelco GF652F |
| 1984 | Pontiac | 2000 | Pontiac 2000 Fuel Filter L4 1.8L (8th Vin Digit 0) ACDelco GF652F |
| 1984-1990 | Pontiac | 6000 | Pontiac 6000 Fuel Filter L4 2.5L (8th Vin Digit R) ACDelco GF652F |
| 1986-1989 | Pontiac | 6000 | Pontiac 6000 Fuel Filter V6 2.8L (8th Vin Digit W) ACDelco GF652F |
| 1988-1990 | Pontiac | 6000 | Pontiac 6000 Fuel Filter V6 3.1L (8th Vin Digit T) ACDelco GF652F |
| 1986 | Pontiac | Bonneville | Pontiac Bonneville Fuel Filter V6 4.3L (8th Vin Digit Z) ACDelco GF652F |
| 1987-1988 | Pontiac | Bonneville | Pontiac Bonneville Fuel Filter V6 3.8L (8th Vin Digit 3) ACDelco GF652F |
| 1988-1991 | Pontiac | Bonneville | Pontiac Bonneville Fuel Filter V6 3.8L (8th Vin Digit C) ACDelco GF652F |
| 1984-1988 | Pontiac | Fiero | Pontiac Fiero Fuel Filter L4 2.5L (8th Vin Digit R) ACDelco GF652F |
| 1985-1988 | Pontiac | Fiero | Pontiac Fiero Fuel Filter V6 2.8L (8th Vin Digit 9) ACDelco GF652F |
| 1984-1986 | Pontiac | Firebird | Pontiac Firebird Fuel Filter L4 2.5L (8th Vin Digit 2) ACDelco GF652F |
| 1985-1989 | Pontiac | Firebird | Pontiac Firebird Fuel Filter V6 2.8L (8th Vin Digit S) ACDelco GF652F |
| 1986-1992 | Pontiac | Firebird | Pontiac Firebird Fuel Filter V8 5.0L (8th Vin Digit F) ACDelco GF652F |
| 1988-1992 | Pontiac | Firebird | Pontiac Firebird Fuel Filter V8 5.0L (8th Vin Digit E) ACDelco GF652F |
| 1989-1991 | Pontiac | Firebird | Pontiac Firebird Fuel Filter V8 5.7L (8th Vin Digit 8) ACDelco GF652F |
| 1989 | Pontiac | Firebird | Pontiac Firebird Fuel Filter V6 3.8L (8th Vin Digit 7) ACDelco GF652F |
| 1990-1992 | Pontiac | Firebird | Pontiac Firebird Fuel Filter V6 3.1L (8th Vin Digit T) ACDelco GF652F |
| 1985-1987 | Pontiac | Grand Am | Pontiac Grand Am Fuel Filter V6 3.0L (8th Vin Digit L) ACDelco GF652F |
| 1985-1991 | Pontiac | Grand Am | Pontiac Grand Am Fuel Filter L4 2.5L (8th Vin Digit U) ACDelco GF652F |
| 1987-1989 | Pontiac | Grand Am | Pontiac Grand Am Fuel Filter L4 2.0L (8th Vin Digit M) ACDelco GF652F |
| 1988-1991 | Pontiac | Grand Am | Pontiac Grand Am Fuel Filter L4 2.3L (8th Vin Digit D) ACDelco GF652F |
| 1989-1991 | Pontiac | Grand Am | Pontiac Grand Am Fuel Filter L4 2.3L (8th Vin Digit A) ACDelco GF652F |
| 1986-1987 | Pontiac | Grand Prix | Pontiac Grand Prix Fuel Filter V6 4.3L (8th Vin Digit Z) ACDelco GF652F |
| 1988-1989 | Pontiac | Grand Prix | Pontiac Grand Prix Fuel Filter V6 2.8L (8th Vin Digit W) ACDelco GF652F |
| 1989-1990 | Pontiac | Grand Prix | Pontiac Grand Prix Fuel Filter V6 3.1L (8th Vin Digit V) ACDelco GF652F |
| 1989-1991 | Pontiac | Grand Prix | Pontiac Grand Prix Fuel Filter V6 3.1L (8th Vin Digit T) ACDelco GF652F |
| 1990-1991 | Pontiac | Grand Prix | Pontiac Grand Prix Fuel Filter L4 2.3L (8th Vin Digit D) ACDelco GF652F |
| 1982 | Pontiac | J2000 | Pontiac J2000 Fuel Filter L4 1.8L (8th Vin Digit 0) ACDelco GF652F |
| 1988-1993 | Pontiac | LeMans | Pontiac LeMans Fuel Filter L4 1.6L (8th Vin Digit 6) ACDelco GF652F |
| 1989-1990 | Pontiac | LeMans | Pontiac LeMans Fuel Filter L4 2.0L (8th Vin Digit K) ACDelco GF652F |
| 1985-1986 | Pontiac | Parisienne | Pontiac Parisienne Fuel Filter V6 4.3L (8th Vin Digit Z) ACDelco GF652F |
| 1984 | Pontiac | Phoenix | Pontiac Phoenix Fuel Filter L4 2.5L (8th Vin Digit R) ACDelco GF652F |
| 1985-1986 | Pontiac | Sunbird | Pontiac Sunbird Fuel Filter L4 2.0L (8th Vin Digit P) ACDelco GF652F |
| 1985-1986 | Pontiac | Sunbird | Pontiac Sunbird Fuel Filter L4 1.8L (8th Vin Digit J) ACDelco GF652F |
| 1985-1986 | Pontiac | Sunbird | Pontiac Sunbird Fuel Filter L4 1.8L (8th Vin Digit 0) ACDelco GF652F |
| 1987-1990 | Pontiac | Sunbird | Pontiac Sunbird Fuel Filter L4 2.0L (8th Vin Digit M) ACDelco GF652F |
| 1987-1991 | Pontiac | Sunbird | Pontiac Sunbird Fuel Filter L4 2.0L (8th Vin Digit K) ACDelco GF652F |
| 1991 | Pontiac | Sunbird | Pontiac Sunbird Fuel Filter V6 3.1L (8th Vin Digit T) ACDelco GF652F |

Brand #: GF652F