Can You Drive a Car with Leaking Struts?
Struts can fail for a number of reasons such as road conditions and where a vehicle is driven. Driving on bad struts is a safety hazard. If you have a car with damaged or leaking struts, they should be replaced as soon as possible.
Why Struts Leak Fluid
Inside the MacPherson strut a shock absorber absorbs the force from the impact of the tires hitting the ground. Shock absorbers contain hydraulic fluid and gas, and if it breaks over time, the strut can leak fluid.
What to Do If a Strut Is Leaking
If a strut is leaking fluid, this severely impacts its ability to absorb the wheels impact from the road. This means that the wheels are less likely to stay in contact with the road than if the struts were working properly. As the wheels have less resistance, this makes them more prone to an uncontrollable bounce, which can eventually make driving dangerous and increase the likelihood of an accident, especially during adverse weather.
Replace Them
If the strut has proven to be defective, it should be replaced as soon as possible. For a safe drive and better performance and ride comfort, we recommend replacing the struts in pairs.
If the struts are leaking, damaged, or bad, save on quality struts and strut assemblies from 1A Auto.
Find your year, make, and model in our how-to video library and replace them yourself.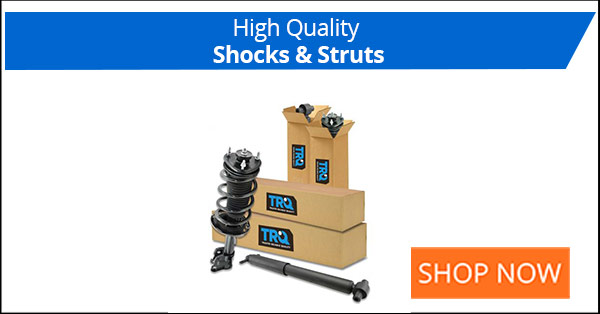 Inspecting the New Struts and Prevention
For proactive prevention, inspecting the struts and bushings every 50,000-75,000 miles or annually for dents, leakage, and corrosion can help you identify a damaged strut early.
Read more about shock absorbers and struts here:
What is the Difference Between Shocks and Struts?
How Many Miles Do Struts Last?
How Do I Know if I Have Shocks or Struts?
When Should Shocks & Struts Be Replaced?
What Are Front Struts?
Bad Shocks & Struts Symptoms
Shocks Vs. Struts