When Should Shocks and Struts Be Replaced?
Although some manufacturers recommend replacing shocks and struts every 50,000-75,000 miles, when exactly you should replace your shocks or struts depends on how hard they have to work.
What Causes Shocks and Struts to Wear?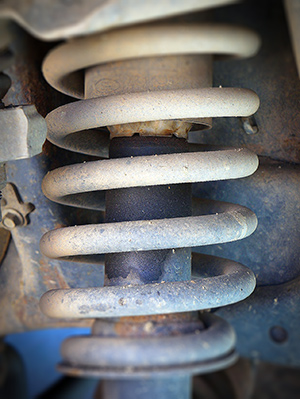 How quickly your shocks or struts wear out will vary depending on a few factors, including your driving conditions, style and where you drive.
If you drive on bad roads or somewhere prone to potholes, go off-roading or carry heavy duty loads, then your vehicle's shocks or struts may need to be replaced sooner.
Shocks and struts can also wear from and be damaged by the elements. They can corrode from moisture and salt and be more prone to rusting in certain climates. Additionally, shocks and struts can be dented by road debris.
Signs It's Time to Replace Shocks or Struts
These symptoms could indicate when your shocks or struts need to be replaced:
Early Signs
Bumpier Ride: Your vehicle feels bouncier or rougher than usual on rough roads and feels like it's floating on highways. If your shocks or struts are to blame, it's because they are no longer effectively controlling the springs' bouncing.
Creaking, Rattling or Clunking: You notice these sounds when you drive on bumpy roads.
More Serious Signs
Leaking Oil: While you don't need to worry if the piston seal is a little damp, there should never be a trail of oil leaking down the absorber.
Excessive Front or Rear End Dipping: You experience one or more of the following because your shocks or struts aren't controlling your vehicle's weight transfer:

Brake dive: When you brake hard, the nose of your vehicle dips low.
Acceleration squat: The rear end dips when you hit the gas.
Body roll: When you turn, your vehicle dips to one side.

Traction Loss: Bad shocks or struts don't keep your tires firmly on the road. As a result, you may experience poor steering control or increased stopping distances.
Uneven Tire Wear: Uneven tire tread wear is the result of a bouncy ride. You may also notice cupped indentations or bald spots on your tires.
You can also visually inspect and bounce test your shocks or struts to confirm if you need to replace them.
Replace Your Shocks and Struts with Quality Parts
If you know you need to replace your shocks or struts, shop our large selection of parts, which includes loaded struts, all-in-one shocks, and struts kits.