How Many Miles Do Struts Last?
Struts are an integral part of the MacPherson suspension system. They support the weight of the vehicle, motion of the wheel, and absorb the impact of the wheels on the road. How long do they last?
Most manufacturers recommend that shocks and struts be replaced every 50,000 to 75,000 miles, but shocks and struts can last longer or shorter depending on driving purpose, location, and road conditions.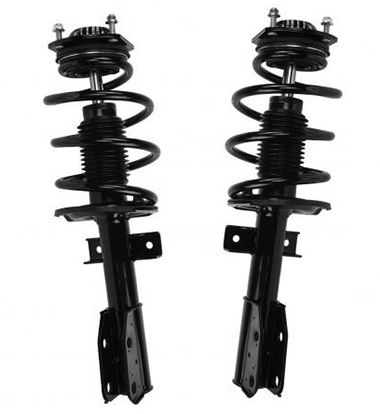 What Wears Out Shocks and Struts?
Driving Purpose: Why the vehicle is driven can affect the life of the struts. If the vehicle is taken off-roading often and experiences rough terrain, or if it frequently carries heavy loads, the struts could wear out faster.
Road Conditions: Rough and bumpy roads, potholes, poor to no pavement, or road debris like road salt can also wear out struts faster through more wear and tear.
Location: Apart from where the vehicle is being driven, such as off-roading in the desert, the elements of the region where the vehicle is frequently driven also matters. If the vehicle mostly drives in New England, for example, and experiences adverse weather such as snow and debris like road salt, the struts may corrode faster.
50,000- to 75,000-Mile Lifespan
To ensure a safe and more comfortable drive, some manufacturers recommend replacing the struts and shocks every 50,000 to 75,000 miles. It is recommended to at least inspect the struts at this interval or annually for dents and leaks.
To determine their strength, perform a bounce test at the front and rear of the vehicle. Excessive nosediving or bouncing before stabilizing indicates that these parts need to be replaced.
Watch this video to learn more:
How To Tell Shocks And Struts Are Worn - Signs And Symptoms
If your struts and shocks are bad, damaged, or leaking, don't wait. Check out what we have in stock for your vehicle and replace it yourself with help from our how-to videos.