What Are the Different Types of Shocks?
Have you been experiencing signs that your vehicle is due for new shocks?
If you're replacing your own and want to learn the best shocks for your vehicle or more about parts that keep your vehicle's drive smooth and comfortable, this article covers the different types of shock absorbers.
Conventional Shocks
Monotube
This kind of shock uses the least amount of parts and has the simplest design because it uses heavier duty components and requires a more precise build process, it also tends to be more expensive than a twin-tube shock absorber.
Monotube shocks typically found in trucks, vans, or vehicles used for hauling or transportation or driven in areas where harsh road conditions are common.
Twin-tube
Twin-tubes, the most common shock found in cars and smaller SUVs have a second cylinder specifically for internal fluid.
Although the inside is different from a monotube cylinder, the outside of a twin-tube shock looks very similar to a monotube, making it hard to tell the two apart by appearance.
Coilover
Used in vehicles with double wishbone or multilink suspension systems, coilover shocks are often confused with struts since a coil spring is mounted around these shock absorbers.
Coilover shocks are available as a towing or performance upgrade in some vehicles.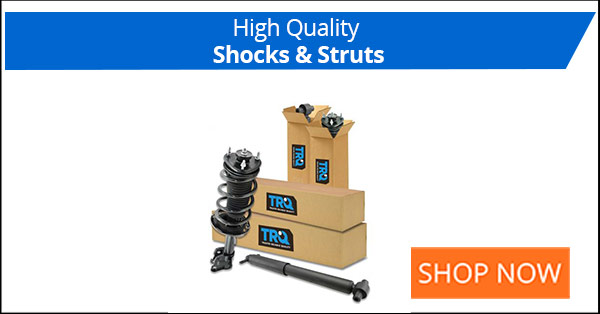 Adjustable Shocks
These shocks allow you to adjust for a stiffer or softer ride, based on your preference and include electronic and air shocks.
That preferred ride is dependent on how much hydraulic fluid can get into a shock. Hydraulic fluid is able to get into the small holes in any shock absorber; bigger holes mean more fluid can get through. More fluid equates to a softer ride.
Active Dampening
This shock's design is similar to a conventional monotube shock, but uses an adjustable valve setup controlled by a vehicle's computer system.
Popular variations include Mercedes' ADS and BMW's EDC systems.
Electronic/Magnetic Ride Control
Electronic shocks are controlled by a switch through a vehicle's computer system. An electromagnet stiffens the shocks, which have iron-containing hydraulic fluid known as ferrofluid.
Other electronic shock systems use electronically-controlled electric conductors called solenoids to increase or decrease the flow of fluid.
Some vehicles allow the driver to select from preset ride modes.
Electronic shocks are commonly found in GM's full-size SUVs, including the Cadillac Escalade, Chevy Suburban, and GMC Yukon.
Air
These shocks are used in vehicles that have air suspension systems, which use rubber air bags filled with air by a compressor in place of or together with a traditional spring. They can also be combined with parts in an active suspension system.
Air shocks provide a smooth ride and allow for ride leveling. For example, if a vehicle's rear end is loaded with cargo, or due to towing, the compressor will pump more air into the rear air springs to raise the rear end.
Self-leveling
On the outside, these shocks look very similar to monotube or twin-tube shocks, but they are able to adjust to driving conditions like air shocks.
The most popular type is Nivomat, which is found in many Volvos, GM full-size SUVs, and Dodge Chargers.
Replace your shocks with our high quality, direct-fit options.