ACWWB00001-Wiper Blade
Replaces
Wiper Blade ACDelco 8-4422 - ACWWB00001
ACWWB00001
Specifications:
Brand New GM Wiper Blade
Fits LH (Driver Side) Front or RH (Passenger Side)
Original equipment part
Built to strict quality control standards
Item Condition: New

Warranty
Please inspect this part carefully prior to installation and contact us with any questions BEFORE attempting to install it. Due to the nature of this part, our 60-day warranty covers exchanges only. Parts that have been installed, neglected, or modified in any way are not eligible for this exchange.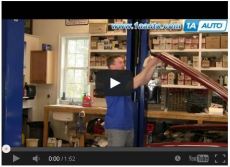 step : Removing the Wiper Blade (0:24)

Lift up the wiper arm
Press up the tab on the blade
Slide the blade down and off

step : Installing the Wiper Blade (0:47)

Pull the blade on the hook
Pull the blade up until it clicks
Tools needed for replacement:
1A - No Tools Needed

No Tools Needed
There are no reviews for this item.
Customer Q&A
Ask a question to 1A Auto customers who purchased the product
No questions have been asked about this item.
| Year | Make | Model | Description |
| --- | --- | --- | --- |
| 2005-2009 | Buick | Allure | Buick Allure Wiper Blade Driver or Passenger Side ACDelco 8-4422 |
| 1997-2005 | Buick | Century | Buick Century Wiper Blade Driver or Passenger Side ACDelco 8-4422 |
| 2005-2009 | Buick | LaCrosse | Buick LaCrosse Wiper Blade Driver or Passenger Side ACDelco 8-4422 |
| 1992-2005 | Buick | LeSabre | Buick LeSabre Wiper Blade Driver or Passenger Side ACDelco 8-4422 |
| 1991-2005 | Buick | Park Avenue | Buick Park Avenue Wiper Blade Driver or Passenger Side ACDelco 8-4422 |
| 2004-2007 | Buick | Rainier | Buick Rainier Wiper Blade Driver or Passenger Side ACDelco 8-4422 |
| 1997-2004 | Buick | Regal | Buick Regal Wiper Blade Driver or Passenger Side ACDelco 8-4422 |
| 2002-2007 | Buick | Rendezvous | Buick Rendezvous Wiper Blade Passenger Side ACDelco 8-4422 |
| 1995-1999 | Buick | Riviera | Buick Riviera Wiper Blade Driver or Passenger Side ACDelco 8-4422 |
| 1991-1996 | Buick | Roadmaster | Buick Roadmaster Wiper Blade Driver or Passenger Side ACDelco 8-4422 |
| 2005-2007 | Buick | Terraza | Buick Terraza Wiper Blade Passenger Side ACDelco 8-4422 |
| 2013-2015 | Cadillac | ATS | Cadillac ATS Wiper Blade Driver Side ACDelco 8-4422 |
| 2003-2015 | Cadillac | CTS | Cadillac CTS Wiper Blade Driver Side ACDelco 8-4422 |
| 1991-2005 | Cadillac | Deville | Cadillac Deville Wiper Blade Driver or Passenger Side ACDelco 8-4422 |
| 1992-2002 | Cadillac | Eldorado | Cadillac Eldorado Wiper Blade Driver or Passenger Side ACDelco 8-4422 |
| 2002-2015 | Cadillac | Escalade | Cadillac Escalade Wiper Blade Driver or Passenger Side ACDelco 8-4422 |
| 2003-2015 | Cadillac | Escalade ESV | Cadillac Escalade ESV Wiper Blade Driver or Passenger Side ACDelco 8-4422 |
| 2002-2013 | Cadillac | Escalade EXT | Cadillac Escalade EXT Wiper Blade Driver or Passenger Side ACDelco 8-4422 |
| 2004-2009 | Cadillac | SRX | Cadillac SRX Wiper Blade Driver Side ACDelco 8-4422 |
| 1992-2004 | Cadillac | Seville | Cadillac Seville Wiper Blade Driver or Passenger Side ACDelco 8-4422 |
| 2007-2013 | Chevy | Avalanche | Chevy Avalanche Wiper Blade Driver or Passenger Side ACDelco 8-4422 |
| 2002-2006 | Chevy | Avalanche 1500 | Chevy Avalanche 1500 Wiper Blade Driver or Passenger Side ACDelco 8-4422 |
| 2002-2006 | Chevy | Avalanche 2500 | Chevy Avalanche 2500 Wiper Blade Driver or Passenger Side ACDelco 8-4422 |
| 2004-2011 | Chevy | Aveo | Chevy Aveo Wiper Blade Driver Side ACDelco 8-4422 |
| 2006-2011 | Chevy | Aveo 5 | Chevy Aveo 5 Wiper Blade Driver Side ACDelco 8-4422 |
| 2003-2009 | Chevy | C4500 Kodiak | Chevy C4500 Kodiak Wiper Blade Driver or Passenger Side ACDelco 8-4422 |
| 2003-2009 | Chevy | C5500 Kodiak | Chevy C5500 Kodiak Wiper Blade Driver or Passenger Side ACDelco 8-4422 |
| 2003-2009 | Chevy | C6500 Kodiak | Chevy C6500 Kodiak Wiper Blade Driver or Passenger Side ACDelco 8-4422 |
| 2003-2009 | Chevy | C7500 Kodiak | Chevy C7500 Kodiak Wiper Blade Driver or Passenger Side ACDelco 8-4422 |
| 1991-1996 | Chevy | Caprice | Chevy Caprice Wiper Blade Driver or Passenger Side ACDelco 8-4422 |
| 1995-2005 | Chevy | Cavalier | Chevy Cavalier Wiper Blade Driver Side ACDelco 8-4422 |
| 2004-2005 | Chevy | Classic | Chevy Classic Wiper Blade Driver Side ACDelco 8-4422 |
| 2005-2010 | Chevy | Cobalt | Chevy Cobalt Wiper Blade Driver Side ACDelco 8-4422 |
| 2004-2012 | Chevy | Colorado | Chevy Colorado Wiper Blade Driver Side ACDelco 8-4422 |
| 1997-2014 | Chevy | Corvette | Chevy Corvette Wiper Blade Driver or Passenger Side ACDelco 8-4422 |
| 1996-2014 | Chevy | Express 1500 Van | Chevy Express 1500 Van Wiper Blade Driver or Passenger Side ACDelco 8-4422 |
| 1996-2014 | Chevy | Express 2500 Van | Chevy Express 2500 Van Wiper Blade Driver or Passenger Side ACDelco 8-4422 |
| 1996-2014 | Chevy | Express 3500 Van | Chevy Express 3500 Van Wiper Blade Driver or Passenger Side ACDelco 8-4422 |
| 1994-1996 | Chevy | Impala | Chevy Impala Wiper Blade Driver or Passenger Side ACDelco 8-4422 |
| 2000-2013 | Chevy | Impala | Chevy Impala Wiper Blade Driver or Passenger Side ACDelco 8-4422 |
| 2014 | Chevy | Impala Limited | Chevy Impala Limited Wiper Blade Driver or Passenger Side ACDelco 8-4422 |
| 1995-2001 | Chevy | Lumina | Chevy Lumina Wiper Blade Driver or Passenger Side ACDelco 8-4422 |
| 1997-2008 | Chevy | Malibu | Chevy Malibu Wiper Blade Driver Side ACDelco 8-4422 |
| 1995-2007 | Chevy | Monte Carlo | Chevy Monte Carlo Wiper Blade Driver or Passenger Side ACDelco 8-4422 |
| 2004-2007 | Chevy | Optra | Chevy Optra Wiper Blade Driver Side ACDelco 8-4422 |
| 1999-2007 | Chevy | Silverado 1500 | Chevy Silverado 1500 Wiper Blade Driver or Passenger Side ACDelco 8-4422 |
| 2007 | Chevy | Silverado 1500 Classic | Chevy Silverado 1500 Classic Wiper Blade Driver or Passenger Side ACDelco 8-4422 |
| 2001-2003 | Chevy | Silverado 1500 HD | Chevy Silverado 1500 HD Wiper Blade Driver or Passenger Side ACDelco 8-4422 |
| 2005-2006 | Chevy | Silverado 1500 HD | Chevy Silverado 1500 HD Wiper Blade Driver or Passenger Side ACDelco 8-4422 |
| 2007 | Chevy | Silverado 1500 HD Classic | Chevy Silverado 1500 HD Classic Wiper Blade Driver or Passenger Side ACDelco 8-4422 |
| 1999-2004 | Chevy | Silverado 2500 | Chevy Silverado 2500 Wiper Blade Driver or Passenger Side ACDelco 8-4422 |
| 2001-2006 | Chevy | Silverado 2500 HD | Chevy Silverado 2500 HD Wiper Blade Driver or Passenger Side ACDelco 8-4422 |
| 2007 | Chevy | Silverado 2500 HD Classic | Chevy Silverado 2500 HD Classic Wiper Blade Driver or Passenger Side ACDelco 8-4422 |
| 2001-2006 | Chevy | Silverado 3500 | Chevy Silverado 3500 Wiper Blade Driver or Passenger Side ACDelco 8-4422 |
| 2007 | Chevy | Silverado 3500 Classic | Chevy Silverado 3500 Classic Wiper Blade Driver or Passenger Side ACDelco 8-4422 |
| 2015 | Chevy | Suburban | Chevy Suburban Wiper Blade Driver or Passenger Side ACDelco 8-4422 |
| 2000-2014 | Chevy | Suburban 1500 | Chevy Suburban 1500 Wiper Blade Driver or Passenger Side ACDelco 8-4422 |
| 2000-2013 | Chevy | Suburban 2500 | Chevy Suburban 2500 Wiper Blade Driver or Passenger Side ACDelco 8-4422 |
| 2002-2015 | Chevy | Tahoe | Chevy Tahoe Wiper Blade Driver Side ACDelco 8-4422 |
| 2002-2009 | Chevy | Trailblazer | Chevy Trailblazer Wiper Blade Driver or Passenger Side ACDelco 8-4422 |
| 2002-2006 | Chevy | Trailblazer EXT | Chevy Trailblazer EXT Wiper Blade Driver or Passenger Side ACDelco 8-4422 |
| 2005-2009 | Chevy | Uplander | Chevy Uplander Wiper Blade Passenger Side ACDelco 8-4422 |
| 2003-2009 | GMC | C4500 Topkick | GMC C4500 Topkick Wiper Blade Driver or Passenger Side ACDelco 8-4422 |
| 2003-2009 | GMC | C5500 Topkick | GMC C5500 Topkick Wiper Blade Driver or Passenger Side ACDelco 8-4422 |
| 2003-2009 | GMC | C6500 Topkick | GMC C6500 Topkick Wiper Blade Driver or Passenger Side ACDelco 8-4422 |
| 2003-2009 | GMC | C7500 Topkick | GMC C7500 Topkick Wiper Blade Driver or Passenger Side ACDelco 8-4422 |
| 2004-2012 | GMC | Canyon | GMC Canyon Wiper Blade Driver Side ACDelco 8-4422 |
| 2002-2009 | GMC | Envoy | GMC Envoy Wiper Blade Driver or Passenger Side ACDelco 8-4422 |
| 2002-2006 | GMC | Envoy XL | GMC Envoy XL Wiper Blade Driver or Passenger Side ACDelco 8-4422 |
| 2004-2005 | GMC | Envoy XUV | GMC Envoy XUV Wiper Blade Driver or Passenger Side ACDelco 8-4422 |
| 1996-2014 | GMC | Savana 1500 Van | GMC Savana 1500 Van Wiper Blade Driver or Passenger Side ACDelco 8-4422 |
| 1996-2014 | GMC | Savana 2500 Van | GMC Savana 2500 Van Wiper Blade Driver or Passenger Side ACDelco 8-4422 |
| 1996-2014 | GMC | Savana 3500 Van | GMC Savana 3500 Van Wiper Blade Driver or Passenger Side ACDelco 8-4422 |
| 1999-2006 | GMC | Sierra 1500 | GMC Sierra 1500 Wiper Blade Driver or Passenger Side ACDelco 8-4422 |
| 2007 | GMC | Sierra 1500 Classic | GMC Sierra 1500 Classic Wiper Blade Driver or Passenger Side ACDelco 8-4422 |
| 2001-2003 | GMC | Sierra 1500 HD | GMC Sierra 1500 HD Wiper Blade Driver or Passenger Side ACDelco 8-4422 |
| 2005-2006 | GMC | Sierra 1500 HD | GMC Sierra 1500 HD Wiper Blade Driver or Passenger Side ACDelco 8-4422 |
| 2007 | GMC | Sierra 1500 HD Classic | GMC Sierra 1500 HD Classic Wiper Blade Driver or Passenger Side ACDelco 8-4422 |
| 1999-2004 | GMC | Sierra 2500 | GMC Sierra 2500 Wiper Blade Driver or Passenger Side ACDelco 8-4422 |
| 2001-2006 | GMC | Sierra 2500 HD | GMC Sierra 2500 HD Wiper Blade Driver or Passenger Side ACDelco 8-4422 |
| 2007 | GMC | Sierra 2500 HD Classic | GMC Sierra 2500 HD Classic Wiper Blade Driver or Passenger Side ACDelco 8-4422 |
| 2001-2006 | GMC | Sierra 3500 | GMC Sierra 3500 Wiper Blade Driver or Passenger Side ACDelco 8-4422 |
| 2007 | GMC | Sierra 3500 Classic | GMC Sierra 3500 Classic Wiper Blade Driver or Passenger Side ACDelco 8-4422 |
| 2000-2015 | GMC | Yukon | GMC Yukon Wiper Blade Driver or Passenger Side ACDelco 8-4422 |
| 2015 | GMC | Yukon XL | GMC Yukon XL Wiper Blade Driver or Passenger Side ACDelco 8-4422 |
| 2000-2014 | GMC | Yukon XL 1500 | GMC Yukon XL 1500 Wiper Blade Driver or Passenger Side ACDelco 8-4422 |
| 2000-2013 | GMC | Yukon XL 2500 | GMC Yukon XL 2500 Wiper Blade Driver or Passenger Side ACDelco 8-4422 |
| 1992-1999 | Oldsmobile | 88 | Olds 88 Wiper Blade Driver or Passenger Side ACDelco 8-4422 |
| 1991-1996 | Oldsmobile | 98 | Olds 98 Wiper Blade Driver or Passenger Side ACDelco 8-4422 |
| 1999-2004 | Oldsmobile | Alero | Olds Alero Wiper Blade Driver Side ACDelco 8-4422 |
| 1995-1999 | Oldsmobile | Aurora | Olds Aurora Wiper Blade Driver or Passenger Side ACDelco 8-4422 |
| 2001-2003 | Oldsmobile | Aurora | Olds Aurora Wiper Blade Driver or Passenger Side ACDelco 8-4422 |
| 2001-2004 | Oldsmobile | Bravada | Olds Bravada Wiper Blade Driver or Passenger Side ACDelco 8-4422 |
| 1991-1992 | Oldsmobile | Custom Cruiser | Olds Custom Cruiser Wiper Blade Driver or Passenger Side ACDelco 8-4422 |
| 1997-1999 | Oldsmobile | Cutlass | Olds Cutlass Wiper Blade Driver Side ACDelco 8-4422 |
| 1998-2002 | Oldsmobile | Intrigue | Olds Intrigue Wiper Blade Driver or Passenger Side ACDelco 8-4422 |
| 1996-1999 | Oldsmobile | LSS | Olds LSS Wiper Blade Driver or Passenger Side ACDelco 8-4422 |
| 1997-1998 | Oldsmobile | Regency | Olds Regency Wiper Blade Driver or Passenger Side ACDelco 8-4422 |
| 1992 | Oldsmobile | Toronado | Olds Toronado Wiper Blade Driver or Passenger Side ACDelco 8-4422 |
| 2002-2005 | Pontiac | Aztek | Pontiac Aztek Wiper Blade Driver or Passenger Side ACDelco 8-4422 |
| 1992-2005 | Pontiac | Bonneville | Pontiac Bonneville Wiper Blade Driver or Passenger Side ACDelco 8-4422 |
| 2009 | Pontiac | G3 | Pontiac G3 Wiper Blade Driver Side ACDelco 8-4422 |
| 2007-2010 | Pontiac | G5 | Pontiac G5 Wiper Blade Driver Side ACDelco 8-4422 |
| 2004-2006 | Pontiac | GTO | Pontiac GTO Wiper Blade Driver Side ACDelco 8-4422 |
| 1999-2005 | Pontiac | Grand Am | Pontiac Grand Am Wiper Blade Driver Side ACDelco 8-4422 |
| 1997-2008 | Pontiac | Grand Prix | Pontiac Grand Prix Wiper Blade Driver or Passenger Side ACDelco 8-4422 |
| 2005-2006 | Pontiac | Pursuit | Pontiac Pursuit Wiper Blade Driver Side ACDelco 8-4422 |
| 2006-2009 | Pontiac | Solstice | Pontiac Solstice Wiper Blade Passenger Side ACDelco 8-4422 |
| 1995-2005 | Pontiac | Sunfire | Pontiac Sunfire Wiper Blade Driver Side ACDelco 8-4422 |
| 2005-2008 | Pontiac | Wave | Pontiac Wave Wiper Blade Driver Side ACDelco 8-4422 |
| 2005-2006 | Saab | 9-2X | Saab 9-2X Wiper Blade Driver Side ACDelco 8-4422 |
| 2003-2007 | Saab | 9-3 | Saab 9-3 Wiper Blade Driver or Passenger Side ACDelco 8-4422 |
| 1999-2007 | Saab | 9-5 | Saab 9-5 Wiper Blade Driver or Passenger Side ACDelco 8-4422 |
| 2005-2009 | Saab | 9-7X | Saab 9-7X Wiper Blade Driver or Passenger Side ACDelco 8-4422 |
| 2003-2007 | Saturn | Ion | Saturn Ion Wiper Blade Driver Side ACDelco 8-4422 |
| 2005-2007 | Saturn | Relay | Saturn Relay Wiper Blade ACDelco 8-4422 |
| 1991-1992 | Saturn | SC | Saturn SC Wiper Blade ACDelco 8-4422 |
| 1991-2002 | Saturn | SL | Saturn SL Wiper Blade ACDelco 8-4422 |
| 1991-2002 | Saturn | SL1 | Saturn SL1 Wiper Blade ACDelco 8-4422 |
| 1991-2002 | Saturn | SL2 | Saturn SL2 Wiper Blade ACDelco 8-4422 |
| 1993-1999 | Saturn | SW1 | Saturn SW1 Wiper Blade ACDelco 8-4422 |
| 1993-2001 | Saturn | SW2 | Saturn SW2 Wiper Blade ACDelco 8-4422 |
| 2007-2010 | Saturn | Sky | Saturn Sky Wiper Blade ACDelco 8-4422 |
Part #: ACWWB00001
Order must be placed by 4pm ET
Get it in: 2 - 4 Business Days
Want it sooner? Choose Next Day Air at Checkout

Brand #: 8-4422