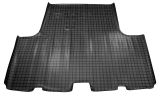 Guaranteed to Fit

Free Same Day Shipping

Thousands of How-to Videos
Trunk Mat at 1A Auto
What is a Trunk Mat and where is it Located?
A trunk mat is the piece of material lines your trunk; it is typically made of vinyl or carpet, but can be made of other materials like rubber or felt as well. Usually there will be a trunk mat on the floor that covers the spare tire, jack and other tools that may have come in your trunk, as well as lining for the sides of your trunk. The trunk mat keeps dirt and moisture from reaching the sheet metal of the trunk, thereby preventing rust and corrosion. It also provides friction to keep your cargo from sliding around in your trunk.
The trunk mat has an aesthetic function, too, of course. A clean trunk mat keeps your car or truck's trunk looking (and smelling) good, while a worn one can look ratty, and one with mildew might smell bad. It gives the trunk a finished look, as looking at sheet metal every time you open up your trunk would be unpleasant. Trunk liners are also available, and these are more rugged covers that go over the carpet or vinyl trunk mats to protect them from getting dirty, wet, stained and/or damaged from spills, dirt, rips, etc.
How do I Know if my Trunk Mat Needs to be Replaced?
The trunk mat takes a lot of abuse over time. Think of all the things you haul back there. From muddy boots to greasy tools, it all leaves its mark (sometimes literally) on your trunk mat. If you have an SUV or a wagon, you might even transport your wet and dirty (albeit still lovable) pets in your cargo area. With all that action, the trunk mat can get dirty, stained, or just plain worn out. Rough treatment can leave your trunk mat worn or frayed. A trunk mat that's seen too much moisture may sag or begin to get mold and mildew, which will give it an unpleasant odor. Whatever the case may be, a new trunk mat can help get your trunk looking like new again.
Can I Replace a Trunk Mat Myself?
Replacing a trunk mat is an easy way to spruce up the trunk of your vehicle. Since trunk mats are often designed to give you access to the spare tire, you can usually replace one by simply pulling it out and putting a new one into place. Our trunk mats are designed to fit your specific model just like the originals, so no cutting or alteration is necessary. They should fit right out of the box.
Need a Replacement Trunk Mat for your Car or Truck?
A nice looking – and fresh smelling - trunk makes a much better impression than an old, smelly, dirty trunk. If your trunk mat has seen better days, have no fear, 1A Auto offers a large selection of replacement trunk mats for many makes and models, and at great prices. At 1A Auto, we sell high quality replacement trunk mats for many cars, at great prices. Our auto trunk mats are made in the same shape and print as the original.
We also make shopping for a replacement trunk liner for your car easy - we're here to help you select the right part for your vehicle! Call our customer service toll free at 888-844-3393 if you have any questions about our trunk floor mats, warranty, compatibility or to purchase, or you can buy online.
Choose the Make of Your Vehicle