What Are the Different Types of Side View Mirrors?
Over the last century, automotive side mirrors have been mounted to the fenders, doors, A-pillars, and even fender-mounted spare tires. During that time, three different styles of side view mirrors existed.

1. Manual Side View Mirrors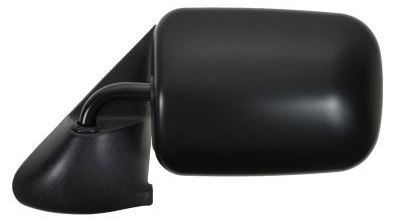 Manual car mirrors are the oldest and simplest design. The manual side view mirror is typically bolted to the body or door of the car, and if it isn't aimed right, it needs to be adjusted by hand. A manual mirror won't have any electrical wires or switches, and is almost always inexpensive and easy to replace.
2. Manual Remote Side View Mirrors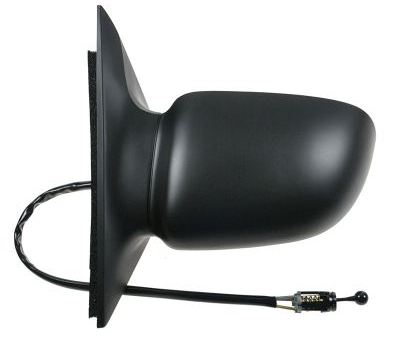 Manual remote side view mirrors were first popular in the early 1960s. While a manual mirror needs to be adjusted by hand, a manual remote mirror can be adjusted from inside the car with your windows up. These mirrors have a non-electric mechanical connection sticking through the body of the vehicle, which is usually in the form of a joystick. Replacing one of these side view mirrors on your car is often as easy as replacing a manual mirror, but with the added step of inserting the joystick through the door.
3. Power Side View Mirrors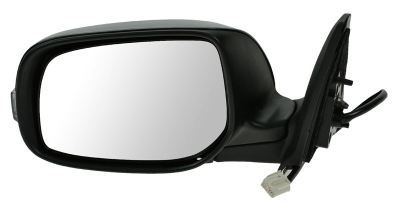 By the mid-1970s, power mirrors were beginning to pop up in all of the automotive production lines. A power mirror is adjusted with electricity. A basic power mirror, without any other options, most likely has just three wires.
Inside your vehicle, you will find a power mirror switch that controls it. It's really a thing of beauty to be able to sit in the climate controlled car or truck and dance your passenger side mirror around like you are the puppet master of automotive mirrors. Replacing a power mirror is one step is more complicated than replacing a manual remote mirror, but still an extremely doable repair for most drivers. The only additional challenge will be plugging the electrical wiring connectors together, and that's easy!
Under the "power mirror" umbrella, you'll also find a selection of options
Heated Mirrors - The most fascinating thing about heated car mirrors is that many drivers don't know if they have them. If your mirror melts snow on it in the winter time, it's heated. If your factory mirror has five wires coming out of it, it's probably power and heated. Heated mirrors also often have a little "heat" symbol on the glass. Unfortunately you can't install a heated mirror in place of a non-heated mirror, or vice versa. It may physically bolt onto the car, but the wiring definitely won't work. You'll end up with blown fuses and be totally stressed out.
Mirrors with Memory - Some of the fancier cars and trucks come with mirrors that have the "memory" option. That means that when you hop into the car, the seat, steering wheel, and electric mirrors adjust to their last known location. The majority of cars that have mirrors with memory also have heat, which often means that they have a six (or more) wire connector.
Signal Mirrors - Typically found on luxury vehicles and large trucks, these mirrors have turn signals / directionals built into the mirror glass or mirror housing. Like the mirrors with memory, these side mirrors typically have six or more wires in the connector.
Towing Mirror Upgrades: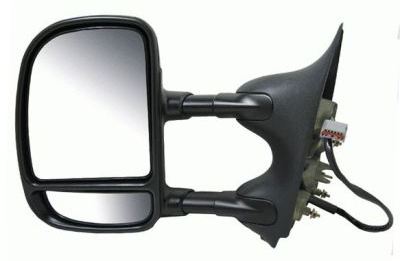 If you have a truck, you likely already know how useful and rugged-looking tow mirrors can be. Some trucks come with power mirrors installed from the factory, and some do not. For trucks that tow large trailers, they're an absolute necessity. For trucks that don't tow things, but want to look awesome, they're a terrific upgrade. They can have almost any variety of options as well, like:
Manual
Power
Heated
Signal / Directional
Memory
Manual-Folding
Power-Folding
Manual-Extending
Power-Extending
Single Glass
Dual Glass
Convex Glass
Universal Clip-on
The options are nearly endless on towing mirrors, so you want to make sure you select the proper option package for your specific truck. We've created a buying guide on towing mirrors to help you, so be sure to check it out, as it goes over all of the different options available in great detail. 1A Auto also has a massive selection of towing mirrors in stock for drivers who do or don't have the factory tow packages. Between having increased rear vision, and making the truck look extremely burly, you can't go wrong with a set of towing mirrors.
Telescoping / Telescopic Mirrors: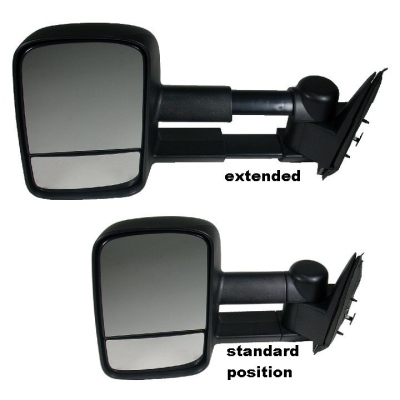 While on the topic of towing mirrors, we'd like to review telescoping mirrors, because the two go hand in hand. Telescoping (also known as "telescopic") mirrors are a type of mirror that can extend out from the sides of the vehicle to increase rearward vision. They're most commonly found on towing applications because they aren't really necessary otherwise. This style of side view mirror can be power or manual telescoping. Powered telescoping mirrors allow you to sit in the comfort of your truck while pushing a button to make the mirrors extend. Manual telescoping mirrors require someone to physically slide the mirror outward, which requires slightly more effort, but is also far more reasonably priced.
Telescopic mirrors can be a nice upgrade if a truck already has towing mirrors but needs just a little more vision for whatever it is towing. They also make a truck appear much bigger and badder, which is always nice.
Additional Mirror Information & Facts:
Sometimes the car mirror industry uses lingo not everyone knows. This quick reference guide should help with some unfamiliar terminology.
"PTM" - Acronym for "Paint to Match". This means that the side view mirror is primed, but it will need to be painted separately to match the car's color if desired.
"Sail Mount" - Mounts in the corner of the door glass, at the front of the side window.
"Fixed" - The mirror doesn't fold back, if, for example, someone bumps into it.
"Matte" Finish - Flat color with no gloss.
"Textured" Finish - The plastic housing has very tiny ripples in it, instead of a perfectly smooth finish. Normally textured mirrors are black, and rarely, if ever, painted the body color.
"Dual Swing" - This type up mirror folds forward and backward if bumped into.
"Swing Lock" - These are typically found on Broncos, Explorers, Rangers, and Ford trucks. They are usually made of a stainless steel metal bar, mount to the door skin, and have a mirror perched on top.
"Manual-Folding" - The mirror will fold by hand or mechanically by joystick.
"Power-Folding" - The mirror will automatically fold by switch.
Almost all passenger side mirrors will have a short message on the bottom that says something like: "Objects in the mirror are closer than they appear". Any exceptions will be called out in the description on the website.
How Do I Know If a Side View Mirror Will Fit My Vehicle?
Now that you know the different kinds of mirrors, the next step is to identify your mirror operation (manual or manual remote). The right replacement mirror for your vehicle will have the exact same options as the original mirror.
In some cases, you may need to know the submodel, trim package, or body type to verify fit. This can be found on the vehicle or in the VIN.
Once you know what options your original mirror has and what your vehicle type is, you can compare them with the specifications found on our product page in the description tab. Our site will verify fitment for your year, make, and model once you add the item to your cart.
How Do I Know If This Mirror Can Be Upgraded?
Upgrading electrical options on side view mirrors can involve custom electrical work. We recommend that you replace a side view mirror option-for-option. Although, some mirrors can be upgraded to certain options if the wiring is already present in the vehicle.
Side view mirrors can also be upgraded to towing mirrors, depending on the vehicle and the current mirror options.
To learn more about upgrading to tow mirrors, read here.

Need a Side Mirror Replacement?
At 1A Auto, we're here to help you get the right side view mirror replacement for your car, truck, SUV or van. You can browse our large selection of
side view mirrors
and shop right here on 1AAuto.com.