Chevy Headlights
< /br>
Let's talk about Chevrolet for a moment
Chevrolet has a long and fascinating history dating back to the early 1900's. It began humbly with a Swiss-born "motorcar" enthusiast named Louis Chevrolet. He combined car building efforts with William Durant (the originator of General Motors) to compete directly against Durant's rival, Henry Ford. Back then, these guys were pushing automotive technology forward by leaps and bounds each year, and thus, changing the world as people knew it.
Over the years "Chevy" became the slang term for Chevrolet, and as much as Chevrolet didn't like the shortened version of their brand name, it stuck with the people that owned them. Whether you call it Chevy or Chevrolet, you know that the brand has been around for over 100 years making some absolutely fantastic cars and trucks. I'll throw a few out there for you to stew on. The Chevy Corvette - It was originally a 6 cylinder, two-seater that evolved into a current day supercharged v8 supercar. The Chevy Suburban is the longest continuous living automotive nameplate in the world. That's right, it started in the 1930's and it still exists today, which is unmatched by any other car maker. The Chevy Pickup Truck is another amazing piece of machinery. Although Chevrolet didn't change the body much from 1973-87, and 88-98, we get it. Why change something that is such a huge success? And of course, how can we talk about Chevy without the legendary Camaro. Sure it took a bit of a hiatus after 2002, but you know what? It's back, and more muscular than ever before. I'd say they are right when they say that Chevy runs deep.
Now, we wouldn't be telling you all of this awesome history without a good reason, right? As you have probably guessed by this point, 1A Auto has thousands of headlights for all Chevy cars and Chevy trucks. Oh fine... we'll call them "Chevrolet" headlights, to keep the tradition alive. We have HID (Xenon) head lights and Halogen headlights for most Chevrolets in stock, and ready to ship. Our aftermarket replacement headlights are the highest quality you will find, because they are exact replacements for your Chevrolet. You won't need to hack up your car or truck to make them fit. Just unbolt the old head lights and install the new head lights. If you need extra help, we also have Chevy-specific (oops!... I mean Chevrolet) installation videos to guide you through the whole repair.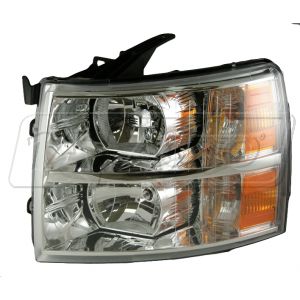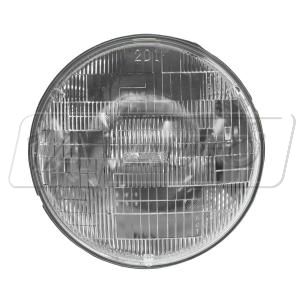 Chevy Headlights Features
DOT (U.S. Dept. of Transportation) and SAE (Society of Automotive Engineers) approved
Direct Replacement
Built to strict quality control standards
How do I know if my headlight or parking light needs to be replaced?
The obvious answer to this question would be "if they are damaged, they need to be replaced". However, there are many other reasons to replace a set of older lights that don't qualify as being "damaged" per se.
Yellowing or Faded Lenses - Over time, plastic lenses tend to glaze over and lose their clarity. This significantly cuts down on the amount of light that shines through them. You don't realize just how much light you are missing until the new set of headlamps is in place.
Moisture - Sometimes old headlights and corner lamps will allow water inside and this moisture is extremely difficult to get rid of. Moisture can shorten the life span of bulbs and make your lights look like fish bowls. Our brand new aftermarket replacement lights are the highest quality and won't allow water inside.
Worn out looks - Old lights make your nice clean car look old and worn out. If you want your car to look its best, you just have to have clean lights.
Can I replace a Front Headlight or Corner Light myself?
Most likely, yes. The majority of vehicles have headlights and parking lamps that can be replaced by a do-it-yourself'er. It usually requires a ratchet set and possibly a phillips or flathead screwdriver. Sometimes the bolts can be hidden, so a repair manual or installation video could always be helpful. Once replaced, it is always a good idea to align the lights. Many owner's manuals have recommendations on how to properly do this. It typically involves aiming the car towards a wall, and measuring the height of, and the distance between the light beams.