Searching for
1944 Pontiac Parts
Narrow The Number Of Models Shown By Telling Us The Year
Choose your Pontiac Model
Origins
In 1893, Edward Murphy founded the Pontiac Buggy Company in Pontiac, Michigan. His company earned a reputation for building quality horse-drawn buggies and carriages, but after 10 years it became apparent that the carriage's role as an everyday vehicle was quietly fading. This might have been due to a new sensation stirring in the depths of Detroit and other parts of the world: the automobile.
The automobile's budding sales soon surpassed those of the carriage, and when Pontiac's chief competitor and cross-town rival, the Pontiac Spring and Wagon Works, formulated plans to develop a motor wagon, Murphy decided to get in on the action. In 1906, engineer Alanson Brush approached Murphy with a two-cylinder engine design that Cadillac had rejected, and the two agreed to partner up in hopes of manufacturing an automobile with the "Oakland" name, which had been previously applied to Murphy's wagons. A year later the business reincorporated as the Oakland Motor Car Company. It's uncertain whether Murphy would have chosen the Pontiac marque, because Pontiac Spring and Wagon Works already chose that name for its motor wagon. Regardless, the two companies later merged in 1908.
Oakland's first car featured Brush's two-cylinder engine designed for counterclockwise crankshaft rotation, which made it safer for right-handed people to hand crank the engine. The car was available as a touring car or a roadster and came with a three-speed transmission. It was not as successful as Murphy had hoped, and after William Durant and his young General Motors holding company showed interest in Oakland, Murphy agreed to sell away half to keep it afloat. GM purchased the remaining stake after Murphy unexpectedly died in the summer of that same year. With full control, the first plan of action was to boost Oakland's reputation and sales. GM swapped out the two-cylinder engine for a four-cylinder, and also changed the division's formal name to the Oakland Motors Division. And with a new name came a new focus: appeal to the average consumer through decent prices compared to the cheaper Chevrolet cars and the higher-end Oldsmobile and Buick cars.
The ranking gaps among GM makes broadened heading into the 1920s, particularly because the prices between each division were too divergent from one another. Cadillac's premium models reigned at the top while Chevrolet offered the best prices of any division. Oakland remained in its spot above Chevy and below Oldsmobile, but as time progressed it became clear that something had to be done to minimize the pricing gaps. GM's executives called for each brand to adopt a companion marque under GM's "Companion Make Program" to manufacture and market. Cadillac produced LaSalle, Buick made Marquette, Oldsmobile released Viking, and Oakland introduced Pontiac.
The Rise of Pontiac
The 1926 Pontiac, marketed as "the Chief of the Sixes," fell into the same price tier as a four-cylinder car despite the fact that it had a six-cylinder engine. This gave it a competitive edge right out of the gate. The Series 6-27 also offered five body styles — ranging from a coupe to a sedan — and came with a 186ci engine with 40 horsepower. With a steady increase in sales year over year, it was obvious that consumers loved it, and soon the brand was poised to assume Oakland's duties. This came in 1931, when GM announced that Pontiac would replace Oakland as a division under GM — a feat accomplished by no other GM companion marque.
In 1933, Oakland officially changed its name from the Oakland Motor Division to the Pontiac Motor Company. Sales were lost with the Great Depression, but luckily GM didn't take as big of a financial hit as other automotive companies. Pontiac tried several strategies to stay relevant, such as developing a new marketing direction, teaming up with Chevrolet to improve production, and releasing a new in-line eight-cylinder engine with 85 horsepower in 1932. Pontiac continued to offer affordable cars, but this time with an upscale look and feel, which helped improve sales. Despite the struggles, Pontiac continued to develop its models. It only offered hardtop metal roofs rather than canvas, leather, or vinyl, and altered its design by featuring silver streaks that ran down the length of the hood, helping Pontiac distinguish itself from other cars.
When the US entered WWII, Pontiac took on several projects for GM in aid of the war effort. Some of these contributions included the Oerlikon 20mm anti-aircraft cannons for the US Navy and automatic field guns for the US Army. Pontiac also worked on front axles for the M5 tank and torpedoes for the Navy.
The post-war Golden Age saw a jump in sales despite Pontiac's unaltered lineup. In order to spruce up its brand, In 1948, Pontiac offered the "Hydramatic" automatic transmission, introduced by Cadillac as the first mass-produced automatic transmission ten years earlier. In 1950, Pontiac revealed the Catalina Coupe as a part of its top-line Chieftain series, as well as a Deluxe version, which helped place Pontiac into the luxury class.
Pontiac's Golden Age
Problems arose once again by the late '50s from a lack of appeal to younger crowds. Pontiac's style fit the perfect mold for the family car but that didn't turn many heads. Aware of the brand's banality, GM considered either merging Pontiac with another division or discontinuing the make altogether. Pontiac tried to spruce up its product lines by adding common amenities like a wraparound windshield and even offered a V8, but it was clear its philosophy needed an overhaul. The company's first move was to put an emphasis on performance by attempting to maximize the horsepower of its V8. Pontiac then entered some of its vehicles into races, and to much surprise, it won many. The success was short-lived, as GM implemented a racing ban, so Pontiac resorted to lending engines and cars to racers. Despite the fact that the brand name name was absent from the cars, many were aware of Pontiac's new direction.
Along with the new focus on performance, Pontiac also needed to change its style. The company decided to lower, widen, and extend the body, manifesting an image that was peculiar to the brand. These types of cars became known as the "Wide-Track Pontiac." Models like the Tempest and its sporty Le Mans trim helped push Pontiac back on track and out of GM's concern of eliminating it. These new styles, along with the growing interest in the muscle car, pushed Pontiac to make the GTO. Despite backlash from GM over concerns of fitting a big engine in a mid-size car, Pontiac went ahead with the project, ending up with 5,000 requests from dealers. GM was willing to put up with the model considering it was only a small sample size, but after its wide success, Pontiac received the green light to manufacture more and work on another sports car, one that went on the define the brand for the next decade-the Firebird.
It can be argued that the Firebird carried Pontiac into the '70s to help it maintain its performance image. The Firebird debuted in 1967 and sold over 82,000 units in its first year. Its top package, the Trans Am, was released two years later for the 1969 model year. At first, as a performance package on the Firebird, the Trans Am and its later "screaming chicken" insignia served as Pontiac's most beloved vehicle for the decade. Unfortunately Pontiac's strength in performance was no longer perceived to be a desirable quality in cars. New emission guidelines and a gas crisis veered the public's attention to smaller and more fuel-efficient cars. Despite this, the Trans Am sold well, offering big engines like a 400ci V8 or a 455 Super Duty that produced almost 400 horsepower. The Trans Am is probably best known for its starring role in the film Smokey and the Bandit.
The sports car was a double-edged sword for Pontiac. It gave the brand life throughout the '60s and '70s, but as emission regulations tightened and automakers had a tough time cranking as much horsepower as possible from what they had to work with, the '80s was not the best decade for a high-performance sports car. The Firebird had a tough time maintaining flight.
The Fiero was a forward thinking design, but ultimately flawed. The car resembled European sports cars by having a mid-mounted engine. The available engines were GM's "Iron Duke" inline four, known for its fuel economy, or a more powerful V6. Unfortunately the car developed a reputation for overheating and engine fires. As Pontiac tried to regain its reputation as a performance car maker, its flaws were on display, leaving its reputation beyond salvaging.
End of an Era
As the public's interest in performance cars waned, Pontiac slowly lost its grasp on the market. Many of its models were either deemed too early for their time, like the Aztec, or too late, like the Solstice. A few high-end, performance-based cars-like the G8-created a buzz, but it did not do enough for GM to see value in Pontiac.
On April 27, 2009, General Motors announced that it would be discontinuing the Pontiac brand by the end of 2010. GM had massive financial problems at the time and decided to restructure, which involved focusing on its four core brands in North America: Chevrolet, Cadillac, Buick, and GMC. The last Pontiac automobiles were built in late 2009, and final dealer franchises expired a year later. Even though the brand may be dead, its knack for manufacturing stylish and performance-based cars has created a strong fan base, including 1A Auto founders Merle, Richard, and Mike Green, that remains dedicated to the brand to this day.
Over 3,000
Installation
Videos
---
Watch the 1A Auto Videos
We're here to help
888-844-3393
hablamos español: 866-401-3393
Customer Feedback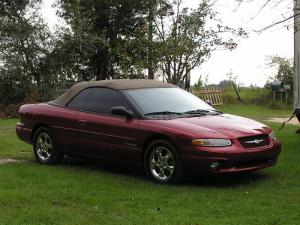 "Thanks for the fast reliable service. Great price, and the headlights were as good as oem or better!!! Keep up the good work..."
- Dwuan M.
---
Read More
Pontiac is a registered trademark of General Motors Company. 1A Auto is not affiliated with or sponsored by Pontiac or General Motors Company.
See all trademarks
.