ACWWS00001-Wiper Blade Pair
Replaces
Wiper Blade Pair ACDelco 8-4422 - ACWWS00001
ACWWS00001
Specifications:
Brand New GM Wiper Blade
Comes as a pair

Fits LH (Driver Side) Front & RH (Passenger Side)

Original equipment part
Built to strict quality control standards
Warranty
Please inspect this part carefully prior to installation and contact us with any questions BEFORE attempting to install it. Due to the nature of this part, our 60-day warranty covers exchanges only. Parts that have been installed, neglected, or modified in any way are not eligible for this exchange.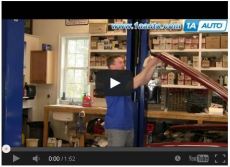 step : Removing the Wiper Blade (0:24)

Lift up the wiper arm
Press up the tab on the blade
Slide the blade down and off

step : Installing the Wiper Blade (0:47)

Pull the blade on the hook
Pull the blade up until it clicks
Tools needed for replacement:
1A - No Tools Needed

No Tools Needed
Browse 2 questions
Browse 2 questions and 2 answers
do these wiper arms come with connection for window washer spray?
Vehicle Fit
| Year | Make | Model | Description |
| --- | --- | --- | --- |
| 2005-2009 | Buick | Allure | Buick Allure Wiper Blade Pair ACDelco 8-4422 |
| 1997-2005 | Buick | Century | Buick Century Wiper Blade Pair ACDelco 8-4422 |
| 2005-2009 | Buick | LaCrosse | Buick LaCrosse Wiper Blade Pair ACDelco 8-4422 |
| 1992-2005 | Buick | LeSabre | Buick LeSabre Wiper Blade Pair ACDelco 8-4422 |
| 1991-2005 | Buick | Park Avenue | Buick Park Avenue Wiper Blade Pair ACDelco 8-4422 |
| 2004-2007 | Buick | Rainier | Buick Rainier Wiper Blade Pair ACDelco 8-4422 |
| 1997-2004 | Buick | Regal | Buick Regal Wiper Blade Pair ACDelco 8-4422 |
| 1995-1999 | Buick | Riviera | Buick Riviera Wiper Blade Pair ACDelco 8-4422 |
| 1991-1996 | Buick | Roadmaster | Buick Roadmaster Wiper Blade Pair ACDelco 8-4422 |
| 1991-2005 | Cadillac | Deville | Cadillac Deville Wiper Blade Pair ACDelco 8-4422 |
| 1992-2002 | Cadillac | Eldorado | Cadillac Eldorado Wiper Blade Pair ACDelco 8-4422 |
| 2002-2015 | Cadillac | Escalade | Cadillac Escalade Wiper Blade Pair ACDelco 8-4422 |
| 2003-2015 | Cadillac | Escalade ESV | Cadillac Escalade ESV Wiper Blade Pair ACDelco 8-4422 |
| 2002-2013 | Cadillac | Escalade EXT | Cadillac Escalade EXT Wiper Blade Pair ACDelco 8-4422 |
| 1992-2004 | Cadillac | Seville | Cadillac Seville Wiper Blade Pair ACDelco 8-4422 |
| 2002-2013 | Chevy | Avalanche 1500 | Chevy Avalanche 1500 Wiper Blade Pair ACDelco 8-4422 |
| 2002-2006 | Chevy | Avalanche 2500 | Chevy Avalanche 2500 Wiper Blade Pair ACDelco 8-4422 |
| 2003-2009 | Chevy | C4500 Kodiak | Chevy C4500 Kodiak Wiper Blade Pair ACDelco 8-4422 |
| 2003-2009 | Chevy | C5500 Kodiak | Chevy C5500 Kodiak Wiper Blade Pair ACDelco 8-4422 |
| 2003-2009 | Chevy | C6500 Kodiak | Chevy C6500 Kodiak Wiper Blade Pair ACDelco 8-4422 |
| 2003-2009 | Chevy | C7500 Kodiak | Chevy C7500 Kodiak Wiper Blade Pair ACDelco 8-4422 |
| 1991-1996 | Chevy | Caprice | Chevy Caprice Wiper Blade Pair ACDelco 8-4422 |
| 1997-2014 | Chevy | Corvette | Chevy Corvette Wiper Blade Pair ACDelco 8-4422 |
| 1996-2014 | Chevy | Express 1500 Van | Chevy Express 1500 Van Wiper Blade Pair ACDelco 8-4422 |
| 1996-2014 | Chevy | Express 2500 Van | Chevy Express 2500 Van Wiper Blade Pair ACDelco 8-4422 |
| 1996-2014 | Chevy | Express 3500 Van | Chevy Express 3500 Van Wiper Blade Pair ACDelco 8-4422 |
| 1994-1996 | Chevy | Impala | Chevy Impala Wiper Blade Pair ACDelco 8-4422 |
| 2000-2013 | Chevy | Impala | Chevy Impala Wiper Blade Pair ACDelco 8-4422 |
| 2014 | Chevy | Impala Limited | Chevy Impala Limited Wiper Blade Pair ACDelco 8-4422 |
| 1995-2001 | Chevy | Lumina | Chevy Lumina Wiper Blade Pair ACDelco 8-4422 |
| 1997-2008 | Chevy | Malibu | Chevy Malibu Wiper Blade Pair ACDelco 8-4422 |
| 1995-2007 | Chevy | Monte Carlo | Chevy Monte Carlo Wiper Blade Pair ACDelco 8-4422 |
| 1999-2007 | Chevy | Silverado 1500 | Chevy Silverado 1500 Wiper Blade Pair ACDelco 8-4422 |
| 2007 | Chevy | Silverado 1500 Classic | Chevy Silverado 1500 Classic Wiper Blade Pair ACDelco 8-4422 |
| 2001-2003 | Chevy | Silverado 1500 HD | Chevy Silverado 1500 HD Wiper Blade Pair ACDelco 8-4422 |
| 2005-2006 | Chevy | Silverado 1500 HD | Chevy Silverado 1500 HD Wiper Blade Pair ACDelco 8-4422 |
| 2007 | Chevy | Silverado 1500 HD Classic | Chevy Silverado 1500 HD Classic Wiper Blade Pair ACDelco 8-4422 |
| 1999-2004 | Chevy | Silverado 2500 | Chevy Silverado 2500 Wiper Blade Pair ACDelco 8-4422 |
| 2001-2006 | Chevy | Silverado 2500 HD | Chevy Silverado 2500 HD Wiper Blade Pair ACDelco 8-4422 |
| 2007 | Chevy | Silverado 2500 HD Classic | Chevy Silverado 2500 HD Classic Wiper Blade Pair ACDelco 8-4422 |
| 2001-2006 | Chevy | Silverado 3500 | Chevy Silverado 3500 Wiper Blade Pair ACDelco 8-4422 |
| 2007 | Chevy | Silverado 3500 Classic | Chevy Silverado 3500 Classic Wiper Blade Pair ACDelco 8-4422 |
| 2015 | Chevy | Suburban | Chevy Suburban Wiper Blade Pair ACDelco 8-4422 |
| 2000-2014 | Chevy | Suburban 1500 | Chevy Suburban 1500 Wiper Blade Pair ACDelco 8-4422 |
| 2000-2013 | Chevy | Suburban 2500 | Chevy Suburban 2500 Wiper Blade Pair ACDelco 8-4422 |
| 2002-2015 | Chevy | Tahoe | Chevy Tahoe Wiper Blade Pair ACDelco 8-4422 |
| 2002-2009 | Chevy | Trailblazer | Chevy Trailblazer Wiper Blade Pair ACDelco 8-4422 |
| 2002-2006 | Chevy | Trailblazer EXT | Chevy Trailblazer EXT Wiper Blade Pair ACDelco 8-4422 |
| 2003-2009 | GMC | C4500 Topkick | GMC C4500 Topkick Wiper Blade Pair ACDelco 8-4422 |
| 2003-2009 | GMC | C5500 Topkick | GMC C5500 Topkick Wiper Blade Pair ACDelco 8-4422 |
| 2003-2009 | GMC | C6500 Topkick | GMC C6500 Topkick Wiper Blade Pair ACDelco 8-4422 |
| 2003-2009 | GMC | C7500 Topkick | GMC C7500 Topkick Wiper Blade Pair ACDelco 8-4422 |
| 2002-2009 | GMC | Envoy | GMC Envoy Wiper Blade Pair ACDelco 8-4422 |
| 2002-2006 | GMC | Envoy XL | GMC Envoy XL Wiper Blade Pair ACDelco 8-4422 |
| 2004-2005 | GMC | Envoy XUV | GMC Envoy XUV Wiper Blade Pair ACDelco 8-4422 |
| 1996-2014 | GMC | Savana 1500 Van | GMC Savana 1500 Van Wiper Blade Pair ACDelco 8-4422 |
| 1996-2014 | GMC | Savana 2500 Van | GMC Savana 2500 Van Wiper Blade Pair ACDelco 8-4422 |
| 1996-2014 | GMC | Savana 3500 Van | GMC Savana 3500 Van Wiper Blade Pair ACDelco 8-4422 |
| 1999-2006 | GMC | Sierra 1500 | GMC Sierra 1500 Wiper Blade Pair ACDelco 8-4422 |
| 2007 | GMC | Sierra 1500 Classic | GMC Sierra 1500 Classic Wiper Blade Pair ACDelco 8-4422 |
| 2001-2003 | GMC | Sierra 1500 HD | GMC Sierra 1500 HD Wiper Blade Pair ACDelco 8-4422 |
| 2005-2006 | GMC | Sierra 1500 HD | GMC Sierra 1500 HD Wiper Blade Pair ACDelco 8-4422 |
| 2007 | GMC | Sierra 1500 HD Classic | GMC Sierra 1500 HD Classic Wiper Blade Pair ACDelco 8-4422 |
| 1999-2004 | GMC | Sierra 2500 | GMC Sierra 2500 Wiper Blade Pair ACDelco 8-4422 |
| 2001-2006 | GMC | Sierra 2500 HD | GMC Sierra 2500 HD Wiper Blade Pair ACDelco 8-4422 |
| 2007 | GMC | Sierra 2500 HD Classic | GMC Sierra 2500 HD Classic Wiper Blade Pair ACDelco 8-4422 |
| 2001-2006 | GMC | Sierra 3500 | GMC Sierra 3500 Wiper Blade Pair ACDelco 8-4422 |
| 2007 | GMC | Sierra 3500 Classic | GMC Sierra 3500 Classic Wiper Blade Pair ACDelco 8-4422 |
| 2000-2015 | GMC | Yukon | GMC Yukon Wiper Blade Pair ACDelco 8-4422 |
| 2015 | GMC | Yukon XL | GMC Yukon XL Wiper Blade Pair ACDelco 8-4422 |
| 2000-2014 | GMC | Yukon XL 1500 | GMC Yukon XL 1500 Wiper Blade Pair ACDelco 8-4422 |
| 2000-2013 | GMC | Yukon XL 2500 | GMC Yukon XL 2500 Wiper Blade Pair ACDelco 8-4422 |
| 1992-1999 | Oldsmobile | 88 | Olds 88 Wiper Blade Pair ACDelco 8-4422 |
| 1991-1996 | Oldsmobile | 98 | Olds 98 Wiper Blade Pair ACDelco 8-4422 |
| 1995-1999 | Oldsmobile | Aurora | Olds Aurora Wiper Blade Pair ACDelco 8-4422 |
| 2001-2003 | Oldsmobile | Aurora | Olds Aurora Wiper Blade Pair ACDelco 8-4422 |
| 2001-2004 | Oldsmobile | Bravada | Olds Bravada Wiper Blade Pair ACDelco 8-4422 |
| 1991-1992 | Oldsmobile | Custom Cruiser | Olds Custom Cruiser Wiper Blade Pair ACDelco 8-4422 |
| 1998-2002 | Oldsmobile | Intrigue | Olds Intrigue Wiper Blade Pair ACDelco 8-4422 |
| 1996-1999 | Oldsmobile | LSS | Olds LSS Wiper Blade Pair ACDelco 8-4422 |
| 1997-1998 | Oldsmobile | Regency | Olds Regency Wiper Blade Pair ACDelco 8-4422 |
| 1992 | Oldsmobile | Toronado | Olds Toronado Wiper Blade Pair ACDelco 8-4422 |
| 1992-2005 | Pontiac | Bonneville | Pontiac Bonneville Wiper Blade Pair ACDelco 8-4422 |
| 1997-2008 | Pontiac | Grand Prix | Pontiac Grand Prix Wiper Blade Pair ACDelco 8-4422 |
| 2003-2007 | Saab | 9-3 | Saab 9-3 Wiper Blade Pair ACDelco 8-4422 |
| 1999-2007 | Saab | 9-5 | Saab 9-5 Wiper Blade Pair ACDelco 8-4422 |
| 2005-2009 | Saab | 9-7X | Saab 9-7X Wiper Blade Pair ACDelco 8-4422 |
| 2003-2007 | Saturn | Ion | Saturn Ion Wiper Blade Pair ACDelco 8-4422 |
| 2005-2007 | Saturn | Relay | Saturn Relay Wiper Blade Pair ACDelco 8-4422 |
| 1991-1992 | Saturn | SC Coupe | Saturn SC Coupe Wiper Blade Pair ACDelco 8-4422 |
| 1991-2002 | Saturn | SL Sedan | Saturn SL Sedan Wiper Blade Pair ACDelco 8-4422 |
| 1993-2001 | Saturn | SW Wagon | Saturn SW Wagon Wiper Blade Pair ACDelco 8-4422 |
| 2007-2010 | Saturn | Sky | Saturn Sky Wiper Blade Pair ACDelco 8-4422 |
This part replaces:
AC Delco 8-4422
OE # 19192673
ACDelco 8-4422
Part #: ACWWS00001
Order must be placed by 4pm ET
Get it in: 2 - 4 Business Days
Want it sooner? Choose Next Day Air at Checkout

Brand #: 8-4422