ACWWP00003-Windshield Washer Pump
Replaces
Windshield Washer Pump ACDelco 8-6722 - ACWWP00003
ACWWP00003
Frequently bought together
AC DELCO Windshield Washer Pump: 8-6722
This washer pump is an original equipment GM replacement part. It is the same piece that you would receive if you purchased it from your local GM dealer.
Specifications
Brand New AC Delco Washer Pump

Direct replacement
Replaces many dealer part numbers including: 89001134
Built to strict quality control standards
Now you can have an OE GM replacement washer pump shipped right to your door!
Item Condition: New

Lifetime Warranty
This item is backed by a Limited Lifetime Warranty. In the event this item should fail due to manufacturing defects during intended use, we will exchange the part free of charge (excludes shipping charges) for the original purchaser.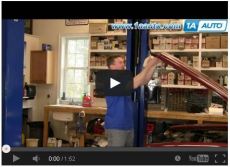 Tools needed for replacement:
General Tools

Drain Pan
Funnel

Materials, Fluids, and Supplies

Paper Towels

Ratchets & Related

Ratchet
Socket Extensions

Screwdrivers & Related

Flat Blade Screwdriver

Sockets - Metric

10mm Socket
Great!
Great service. Fast shipping! Item as describe. Good conditions.
Returned part. No electricity getting to motor. Wating for refund
Customer Q&A
Ask a question to 1A Auto customers who purchased the product
No questions have been asked about this item.
| Year | Make | Model | Description |
| --- | --- | --- | --- |
| 1990-1993 | Acura | Integra | Acura Integra Windshield Washer Pump ACDelco 8-6722 |
| 1986-1993 | Acura | Legend | Acura Legend Windshield Washer Pump ACDelco 8-6722 |
| 2004-2011 | Chevy | Aveo | Chevy Aveo Windshield Washer Pump ACDelco 8-6722 |
| 2004-2011 | Chevy | Aveo 5 | Chevy Aveo 5 Windshield Washer Pump ACDelco 8-6722 |
| 2008-2012 | Chevy | Colorado | Chevy Colorado Windshield Washer Pump ACDelco 8-6722 |
| 1995-1996 | Chrysler | Sebring | Chrysler Sebring Coupe Windshield Washer Pump ACDelco 8-6722 |
| 2001-2005 | Dodge | Stratus | Dodge Stratus Coupe Windshield Washer Pump ACDelco 8-6722 |
| 1989-1994 | Eagle | Summit | Eagle Summit Windshield Washer Pump ACDelco 8-6722 |
| 1990-1998 | Eagle | Talon | Eagle Talon Windshield Washer Pump ACDelco 8-6722 |
| 1995-2000 | Ford | Contour | Ford Contour Windshield Washer Pump ACDelco 8-6722 |
| 2001-2007 | Ford | Escape | Ford Escape Windshield Washer Pump ACDelco 8-6722 |
| 1997-2002 | Ford | Escort | Ford Escort Windshield Washer Pump ACDelco 8-6722 |
| 2003 | Ford | Escort | Ford Escort Windshield Washer Pump ACDelco 8-6722 |
| 1988-1993 | Ford | Festiva | Ford Festiva Windshield Washer Pump ACDelco 8-6722 |
| 2000-2005 | Ford | Focus | Ford Focus Windshield Washer Pump ACDelco 8-6722 |
| 1989-1992 | Ford | Probe | Ford Probe Windshield Washer Pump ACDelco 8-6722 |
| 2010-2016 | Ford | Transit Connect | Ford Transit Connect Windshield Washer Pump ACDelco 8-6722 |
| 2008-2012 | GMC | Canyon | GMC Canyon Windshield Washer Pump ACDelco 8-6722 |
| 1984-1993 | Honda | Accord | Honda Accord Windshield Washer Pump ACDelco 8-6722 |
| 1994-2002 | Honda | Accord | Honda Accord Rear Windshield Washer Pump ACDelco 8-6722 |
| 2005-2006 | Honda | CR-V | Honda CR-V Rear Windshield Washer Pump ACDelco 8-6722 |
| 1984-1987 | Honda | CRX | Honda CRX Windshield Washer Pump ACDelco 8-6722 |
| 1984-2000 | Honda | Civic | Honda Civic Rear Windshield Washer Pump ACDelco 8-6722 |
| 2002 | Honda | Insight | Honda Insight Windshield Washer Pump ACDelco 8-6722 |
| 1999-2004 | Honda | Odyssey | Honda Odyssey Rear Windshield Washer Pump ACDelco 8-6722 |
| 1988-2001 | Honda | Prelude | Honda Prelude Windshield Washer Pump ACDelco 8-6722 |
| 1995-2012 | Hyundai | Accent | Hyundai Accent Windshield Washer Pump ACDelco 8-6722 |
| 2006-2012 | Hyundai | Azera | Hyundai Azera Windshield Washer Pump ACDelco 8-6722 |
| 1992-2016 | Hyundai | Elantra | Hyundai Elantra Windshield Washer Pump ACDelco 8-6722 |
| 2013-2014 | Hyundai | Elantra Coupe | Hyundai Elantra Coupe Windshield Washer Pump ACDelco 8-6722 |
| 1990-1994 | Hyundai | Excel | Hyundai Excel Windshield Washer Pump ACDelco 8-6722 |
| 2010 | Hyundai | Genesis | Hyundai Genesis Windshield Washer Pump ACDelco 8-6722 |
| 2010 | Hyundai | Genesis Coupe | Hyundai Genesis Coupe Windshield Washer Pump ACDelco 8-6722 |
| 2011-2016 | Hyundai | Genesis Coupe | Hyundai Genesis Coupe Windshield Washer Pump ACDelco 8-6722 |
| 2001-2012 | Hyundai | Santa Fe | Hyundai Santa Fe Windshield Washer Pump ACDelco 8-6722 |
| 1991-1995 | Hyundai | Scoupe | Hyundai Scoupe Windshield Washer Pump ACDelco 8-6722 |
| 1989-2012 | Hyundai | Sonata | Hyundai Sonata Windshield Washer Pump ACDelco 8-6722 |
| 1997-2001 | Hyundai | Tiburon | Hyundai Tiburon Windshield Washer Pump ACDelco 8-6722 |
| 2003-2008 | Hyundai | Tiburon | Hyundai Tiburon Windshield Washer Pump ACDelco 8-6722 |
| 2005-2012 | Hyundai | Tucson | Hyundai Tucson Windshield Washer Pump ACDelco 8-6722 |
| 2012-2016 | Hyundai | Veloster | Hyundai Veloster Windshield Washer Pump ACDelco 8-6722 |
| 2001 | Hyundai | XG300 | Hyundai XG300 Windshield Washer Pump ACDelco 8-6722 |
| 2002-2005 | Hyundai | XG350 | Hyundai XG350 Windshield Washer Pump ACDelco 8-6722 |
| 2008 | Isuzu | i-290 | Isuzu i-290 Windshield Washer Pump ACDelco 8-6722 |
| 2008 | Isuzu | i-370 | Isuzu i-370 Windshield Washer Pump ACDelco 8-6722 |
| 2004-2009 | Kia | Amanti | Kia Amanti Windshield Washer Pump ACDelco 8-6722 |
| 2010-2012 | Kia | Forte | Kia Forte Windshield Washer Pump ACDelco 8-6722 |
| 2010-2012 | Kia | Forte Koup | Kia Forte Koup Windshield Washer Pump ACDelco 8-6722 |
| 2001-2010 | Kia | Magentis | Kia Magentis Windshield Washer Pump ACDelco 8-6722 |
| 2001-2012 | Kia | Optima | Kia Optima Windshield Washer Pump ACDelco 8-6722 |
| 2001 | Kia | Rio | Kia Rio Windshield Washer Pump ACDelco 8-6722 |
| 2002-2005 | Kia | Sedona | Kia Sedona Windshield Washer Pump ACDelco 8-6722 |
| 2010-2012 | Kia | Soul | Kia Soul Windshield Washer Pump ACDelco 8-6722 |
| 2005-2009 | Kia | Spectra | Kia Spectra Windshield Washer Pump ACDelco 8-6722 |
| 2011-2012 | Kia | Sportage | Kia Sportage Windshield Washer Pump ACDelco 8-6722 |
| 1990-1991 | Lexus | ES250 | Lexus ES250 Windshield Washer Pump ACDelco 8-6722 |
| 1992-2003 | Lexus | ES300 | Lexus ES300 Windshield Washer Pump ACDelco 8-6722 |
| 2004-2006 | Lexus | ES330 | Lexus ES330 Windshield Washer Pump ACDelco 8-6722 |
| 1993-2005 | Lexus | GS300 | Lexus GS300 Windshield Washer Pump ACDelco 8-6722 |
| 1998-2000 | Lexus | GS400 | Lexus GS400 Windshield Washer Pump ACDelco 8-6722 |
| 2001-2005 | Lexus | GS430 | Lexus GS430 Windshield Washer Pump ACDelco 8-6722 |
| 2001-2005 | Lexus | IS300 | Lexus IS300 Windshield Washer Pump ACDelco 8-6722 |
| 1990-2000 | Lexus | LS400 | Lexus LS400 Windshield Washer Pump ACDelco 8-6722 |
| 2001-2006 | Lexus | LS430 | Lexus LS430 Windshield Washer Pump ACDelco 8-6722 |
| 1996-1997 | Lexus | LX450 | Lexus LX450 Windshield Washer Pump ACDelco 8-6722 |
| 1998-2007 | Lexus | LX470 | Lexus LX470 Windshield Washer Pump ACDelco 8-6722 |
| 1992-2000 | Lexus | SC300 | Lexus SC300 Windshield Washer Pump ACDelco 8-6722 |
| 1992-2000 | Lexus | SC400 | Lexus SC400 Windshield Washer Pump ACDelco 8-6722 |
| 2002-2010 | Lexus | SC430 | Lexus SC430 Windshield Washer Pump ACDelco 8-6722 |
| 2000-2006 | Lincoln | LS | Lincoln LS Windshield Washer Pump ACDelco 8-6722 |
| 1988-1992 | Mazda | 626 | Mazda 626 Windshield Washer Pump ACDelco 8-6722 |
| 1988-1991 | Mazda | 929 | Mazda 929 Windshield Washer Pump ACDelco 8-6722 |
| 1989-1998 | Mazda | MPV | Mazda MPV Windshield Washer Pump ACDelco 8-6722 |
| 1991-1997 | Mazda | Miata | Mazda Miata Windshield Washer Pump ACDelco 8-6722 |
| 2002-2003 | Mazda | Protege | Mazda Protege Windshield Washer Pump ACDelco 8-6722 |
| 2002-2003 | Mazda | Protege5 | Mazda Protege5 Windshield Washer Pump ACDelco 8-6722 |
| 1986-1991 | Mazda | RX-7 | Mazda RX-7 Windshield Washer Pump ACDelco 8-6722 |
| 1993-1995 | Mazda | RX-7 | Mazda RX-7 Rear Windshield Washer Pump ACDelco 8-6722 |
| 2001-2006 | Mazda | Tribute | Mazda Tribute Windshield Washer Pump ACDelco 8-6722 |
| 1999-2002 | Mercury | Cougar | Mercury Cougar Windshield Washer Pump ACDelco 8-6722 |
| 1982-1989 | Mercury | LN7 | Mercury LN7 Rear Windshield Washer Pump ACDelco 8-6722 |
| 1981-1987 | Mercury | Lynx | Mercury Lynx Rear Windshield Washer Pump ACDelco 8-6722 |
| 2005-2007 | Mercury | Mariner | Mercury Mariner Windshield Washer Pump ACDelco 8-6722 |
| 1995-2000 | Mercury | Mystique | Mercury Mystique Windshield Washer Pump ACDelco 8-6722 |
| 1997-1999 | Mercury | Tracer | Mercury Tracer Windshield Washer Pump ACDelco 8-6722 |
| 1993-1999 | Mercury | Villager | Mercury Villager Windshield Washer Pump ACDelco 8-6722 |
| 1988-1989 | Merkur | Scorpio | Merkur Scorpio Rear Windshield Washer Pump ACDelco 8-6722 |
| 1985-1989 | Merkur | XR4Ti | Merkur XR4Ti Rear Windshield Washer Pump ACDelco 8-6722 |
| 1995-2006 | Mitsubishi | Eclipse | Mitsubishi Eclipse Windshield Washer Pump ACDelco 8-6722 |
| 1999-2003 | Mitsubishi | Galant | Mitsubishi Galant Windshield Washer Pump ACDelco 8-6722 |
| 2001-2002 | Mitsubishi | Montero | Mitsubishi Montero Windshield Washer Pump ACDelco 8-6722 |
| 2003-2006 | Mitsubishi | Outlander | Mitsubishi Outlander Windshield Washer Pump ACDelco 8-6722 |
| 1987-1994 | Mitsubishi | Precis | Mitsubishi Precis Rear Windshield Washer Pump ACDelco 8-6722 |
| 1983-1989 | Mitsubishi | Starion | Mitsubishi Starion Windshield Washer Pump ACDelco 8-6722 |
| 2009 | Pontiac | G3 | Pontiac G3 Windshield Washer Pump ACDelco 8-6722 |
| 2009 | Pontiac | G8 | Pontiac G8 Windshield Washer Pump ACDelco 8-6722 |
| 2004-2006 | Pontiac | GTO | Pontiac GTO Windshield Washer Pump ACDelco 8-6722 |
| 2003-2008 | Pontiac | Vibe | Pontiac Vibe Windshield Washer Pump ACDelco 8-6722 |
| 2005-2008 | Pontiac | Wave | Pontiac Wave Windshield Washer Pump ACDelco 8-6722 |
| 1995-1998 | Saab | 900 | Saab 900 Windshield Washer Pump ACDelco 8-6722 |
| 1992-1998 | Saab | 9000 | Saab 9000 Windshield Washer Pump ACDelco 8-6722 |
| 2007-2009 | Saturn | Aura | Saturn Aura Windshield Washer Pump ACDelco 8-6722 |
| 1991-1992 | Saturn | SC | Saturn SC Windshield Washer Pump ACDelco 8-6722 |
| 1993-2002 | Saturn | SC1 | Saturn SC1 Windshield Washer Pump ACDelco 8-6722 |
| 1993-2002 | Saturn | SC2 | Saturn SC2 Windshield Washer Pump ACDelco 8-6722 |
| 1991-2002 | Saturn | SL | Saturn SL Windshield Washer Pump ACDelco 8-6722 |
| 1991-2002 | Saturn | SL1 | Saturn SL1 Windshield Washer Pump ACDelco 8-6722 |
| 1991-2002 | Saturn | SL2 | Saturn SL2 Windshield Washer Pump ACDelco 8-6722 |
| 1993-1999 | Saturn | SW1 | Saturn SW1 Windshield Washer Pump ACDelco 8-6722 |
| 1993-2001 | Saturn | SW2 | Saturn SW2 Windshield Washer Pump ACDelco 8-6722 |
| 2006-2007 | Subaru | B9 Tribeca | Subaru B9 Tribeca Windshield Washer Pump ACDelco 8-6722 |
| 2003-2006 | Subaru | Baja | Subaru Baja Windshield Washer Pump ACDelco 8-6722 |
| 1998-2012 | Subaru | Forester | Subaru Forester Windshield Washer Pump ACDelco 8-6722 |
| 1993-2012 | Subaru | Impreza | Subaru Impreza Windshield Washer Pump ACDelco 8-6722 |
| 1990-2009 | Subaru | Legacy | Subaru Legacy Windshield Washer Pump ACDelco 8-6722 |
| 2000-2012 | Subaru | Outback | Subaru Outback Windshield Washer Pump ACDelco 8-6722 |
| 2008-2014 | Subaru | Tribeca | Subaru Tribeca Windshield Washer Pump ACDelco 8-6722 |
| 2004-2008 | Suzuki | Forenza | Suzuki Forenza Windshield Washer Pump ACDelco 8-6722 |
| 2004-2006 | Suzuki | Verona | Suzuki Verona Windshield Washer Pump ACDelco 8-6722 |
| 1984-2002 | Toyota | 4Runner | Toyota 4Runner Windshield Washer Pump ACDelco 8-6722 |
| 1983-2006 | Toyota | Camry | Toyota Camry Windshield Washer Pump ACDelco 8-6722 |
| 1980-2005 | Toyota | Celica | Toyota Celica Windshield Washer Pump ACDelco 8-6722 |
| 2003-2008 | Toyota | Corolla | Toyota Corolla Windshield Washer Pump ACDelco 8-6722 |
| 1981-1992 | Toyota | Cressida | Toyota Cressida Windshield Washer Pump ACDelco 8-6722 |
| 2000-2005 | Toyota | Echo | Toyota Echo Windshield Washer Pump ACDelco 8-6722 |
| 1979-2007 | Toyota | Land Cruiser | Toyota Land Cruiser Windshield Washer Pump ACDelco 8-6722 |
| 1991-1995 | Toyota | MR2 | Toyota MR2 Windshield Washer Pump ACDelco 8-6722 |
| 2000-2005 | Toyota | MR2 Spyder | Toyota MR2 Spyder Windshield Washer Pump ACDelco 8-6722 |
| 2003-2008 | Toyota | Matrix | Toyota Matrix Windshield Washer Pump ACDelco 8-6722 |
| 1992-1999 | Toyota | Paseo | Toyota Paseo Windshield Washer Pump ACDelco 8-6722 |
| 1980-1991 | Toyota | Pickup | Toyota Pickup Windshield Washer Pump ACDelco 8-6722 |
| 2001-2003 | Toyota | Prius | Toyota Prius Windshield Washer Pump ACDelco 8-6722 |
| 1996-2003 | Toyota | Rav4 | Toyota Rav4 Windshield Washer Pump ACDelco 8-6722 |
| 2001-2007 | Toyota | Sequoia | Toyota Sequoia Windshield Washer Pump ACDelco 8-6722 |
| 1998-2003 | Toyota | Sienna | Toyota Sienna Windshield Washer Pump ACDelco 8-6722 |
| 1999-2008 | Toyota | Solara | Toyota Solara Windshield Washer Pump ACDelco 8-6722 |
| 1986-1998 | Toyota | Supra | Toyota Supra Windshield Washer Pump ACDelco 8-6722 |
| 1993-1998 | Toyota | T100 | Toyota T100 Windshield Washer Pump ACDelco 8-6722 |
| 1980-1998 | Toyota | Tercel | Toyota Tercel Windshield Washer Pump ACDelco 8-6722 |
| 2000-2006 | Toyota | Tundra | Toyota Tundra Windshield Washer Pump ACDelco 8-6722 |
| 1984 | Toyota | Van Wagon | Toyota Van Wagon Windshield Washer Pump ACDelco 8-6722 |
| 1998-2012 | Volvo | C70 | Volvo C70 Windshield Washer Pump ACDelco 8-6722 |
| 2000-2011 | Volvo | S40 | Volvo S40 Windshield Washer Pump ACDelco 8-6722 |
| 2004-2009 | Volvo | S60 | Volvo S60 Windshield Washer Pump ACDelco 8-6722 |
| 2004-2012 | Volvo | S80 | Volvo S80 Windshield Washer Pump ACDelco 8-6722 |
| 2004 | Volvo | V40 | Volvo V40 Windshield Washer Pump ACDelco 8-6722 |
| 1998-2007 | Volvo | V70 | Volvo V70 Windshield Washer Pump ACDelco 8-6722 |
| 2003-2007 | Volvo | XC70 | Volvo XC70 Windshield Washer Pump ACDelco 8-6722 |
| 2003-2007 | Volvo | XC90 | Volvo XC90 Windshield Washer Pump ACDelco 8-6722 |
Part ACWWP00003
In Stock
Order must be placed by 4pm ET
Get it in: 2 - 4 Business Days
Want it sooner? Choose Next Day Air at Checkout

Brand #: 8-6722