ACEMX00013-Vapor Canister Purge Valve
Replaces
Vapor Canister Purge Valve ACDelco 214-1105 - ACEMX00013
ACEMX00013
AC DELCO 214-1105 [VAPOR CANISTER PURGE SOLENOID VALVE
]
This AC DELCO Vapor Canister Purge Solenoid Valve is a new part. It is the same piece that you would receive if you purchased it from your local GM dealer.
It is used to control the flow of vapors from the EVAPORATIVE system to the intake manifold. It is controlled by the vehicles main computer or ECM. When the ECM sends the activation signal, a plunger in the valve will move to seal the vent. The ability to seal the vent is necessary for the on board diagnosis of other evaporative loss system components. This solenoid valve is used only for diagnosis, and usually remains opened. When the vent is closed, under normal purge conditions, the evaporative loss system is depressurized and allows "EVAP Control System (Small Leak)" diagnosis. If this valve is defective, the Check Engine Light will illuminate to Set with Small Leak Diagnosis. Some of the trouble codes associated with this part being defective are: P1456, P1448, P0449, and P0455.
Specifications:
Brand new AC DELCO component with correct connector
Replaces dealer part number: 12581282
Mounts either on engine or near gas tank depending on application
Built to strict quality control standards
Over time and daily use the electronic valve can wear out causing the check engine light to set. If the valve is the problem, replace it now with this great AC DELCO part.
Item Condition: New

Lifetime Warranty
This item is backed by a Limited Lifetime Warranty. In the event this item should fail due to manufacturing defects during intended use, we will exchange the part free of charge (excludes shipping charges) for the original purchaser.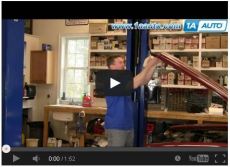 Tools needed for replacement:
Ratchets & Related

Ratchet
Socket Extensions

Screwdrivers & Related

Flat Blade Screwdriver

Sockets - Metric

8mm Socket
Parts
The part I had ordered works great, and I received it in great time
One mans thoughts
Ive never had a problem with any of my orders. They always arrive on time or early most of the time, I guess it just depends on where its being shipped from and your location. Even after having the wrong part shipped to me my last order, the right part was sent out to me immediately. It got to my house within 3 days of calling about it. I would recommend a1auto and do to all my family and friends.
It works great actually everything I buy from you guys fits and works perfect you guys are right on cause you should also use ACDelco anyway the hell with AutoZone
Delivery and Part Quality - No problems!
I have used 1A Auto a couple of time now and they are as advertised. Quality parts - decent delivery times - and competitive costs. This part performs as it is supposed to and is an exact replacement!
Customer Q&A
Ask a question to 1A Auto customers who purchased the product
No questions have been asked about this item.
| Year | Make | Model | Description |
| --- | --- | --- | --- |
| 2005 | Buick | Allure | Buick Allure Vapor Canister Purge Valve V6 3.8L ACDelco 214-1105 |
| 2005 | Buick | LaCrosse | Buick LaCrosse Vapor Canister Purge Valve V6 3.8L ACDelco 214-1105 |
| 2005 | Buick | Terraza | Buick Terraza Vapor Canister Purge Valve ACDelco 214-1105 |
| 2004-2005 | Cadillac | Deville | Cadillac Deville Vapor Canister Purge Valve ACDelco 214-1105 |
| 2004-2006 | Cadillac | Escalade | Cadillac Escalade Vapor Canister Purge Valve ACDelco 214-1105 |
| 2004-2005 | Cadillac | SRX | Cadillac SRX Vapor Canister Purge Valve V8 4.6L ACDelco 214-1105 |
| 2005 | Cadillac | STS | Cadillac STS Vapor Canister Purge Valve V8 4.6L ACDelco 214-1105 |
| 2004 | Cadillac | Seville | Cadillac Seville Vapor Canister Purge Valve ACDelco 214-1105 |
| 2004-2005 | Cadillac | XLR | Cadillac XLR Vapor Canister Purge Valve ACDelco 214-1105 |
| 2004-2006 | Chevy | Avalanche 1500 | Chevy Avalanche 1500 Vapor Canister Purge Valve ACDelco 214-1105 |
| 2004-2006 | Chevy | Avalanche 2500 | Chevy Avalanche 2500 Vapor Canister Purge Valve ACDelco 214-1105 |
| 2005-2007 | Chevy | Equinox | Chevy Equinox Vapor Canister Purge Valve ACDelco 214-1105 |
| 2008-2009 | Chevy | Equinox | Chevy Equinox Vapor Canister Purge Valve V6 3.4L ACDelco 214-1105 |
| 2004-2007 | Chevy | Express 1500 Van | Chevy Express 1500 Van Vapor Canister Purge Valve ACDelco 214-1105 |
| 2004-2005 | Chevy | Express 2500 Van | Chevy Express 2500 Van Vapor Canister Purge Valve ACDelco 214-1105 |
| 2006-2007 | Chevy | Express 2500 Van | Chevy Express 2500 Van Vapor Canister Purge Valve (excluding Diesel Engines) ACDelco 214-1105 |
| 2004-2005 | Chevy | Express 3500 Van | Chevy Express 3500 Van Vapor Canister Purge Valve ACDelco 214-1105 |
| 2006-2007 | Chevy | Express 3500 Van | Chevy Express 3500 Van Vapor Canister Purge Valve (excluding Diesel Engines) ACDelco 214-1105 |
| 2004-2005 | Chevy | Malibu | Chevy Malibu Vapor Canister Purge Valve V6 3.5L ACDelco 214-1105 |
| 2004-2006 | Chevy | Silverado 1500 | Chevy Silverado 1500 Vapor Canister Purge Valve ACDelco 214-1105 |
| 2007 | Chevy | Silverado 1500 Classic | Chevy Silverado 1500 Classic Vapor Canister Purge Valve V8 5.3L Flex Fuel (8th Vin Digit Z) ACDelco 214-1105 |
| 2007 | Chevy | Silverado 1500 Classic | Chevy Silverado 1500 Classic Vapor Canister Purge Valve V8 6.0L (8th Vin Digit N) ACDelco 214-1105 |
| 2007 | Chevy | Silverado 1500 Classic | Chevy Silverado 1500 Classic Vapor Canister Purge Valve V6 4.3L ACDelco 214-1105 |
| 2007 | Chevy | Silverado 1500 Classic | Chevy Silverado 1500 Classic Vapor Canister Purge Valve V8 5.3L (8th Vin Digit T) ACDelco 214-1105 |
| 2007 | Chevy | Silverado 1500 Classic | Chevy Silverado 1500 Classic Vapor Canister Purge Valve V8 5.3L (8th Vin Digit B) ACDelco 214-1105 |
| 2007 | Chevy | Silverado 1500 Classic | Chevy Silverado 1500 Classic Vapor Canister Purge Valve V8 4.8L (8th Vin Digit V) ACDelco 214-1105 |
| 2005-2006 | Chevy | Silverado 1500 HD | Chevy Silverado 1500 HD Vapor Canister Purge Valve ACDelco 214-1105 |
| 2007 | Chevy | Silverado 1500 HD Classic | Chevy Silverado 1500 HD Classic Vapor Canister Purge Valve ACDelco 214-1105 |
| 2004 | Chevy | Silverado 2500 | Chevy Silverado 2500 Vapor Canister Purge Valve (excluding Diesel Engines) ACDelco 214-1105 |
| 2004-2006 | Chevy | Silverado 2500 HD | Chevy Silverado 2500 HD Vapor Canister Purge Valve (excluding Diesel Engines) ACDelco 214-1105 |
| 2007 | Chevy | Silverado 2500 HD Classic | Chevy Silverado 2500 HD Classic Vapor Canister Purge Valve V8 8.1L ACDelco 214-1105 |
| 2007 | Chevy | Silverado 2500 HD Classic | Chevy Silverado 2500 HD Classic Vapor Canister Purge Valve V8 6.0L (8th Vin Digit U) ACDelco 214-1105 |
| 2004-2006 | Chevy | Silverado 3500 | Chevy Silverado 3500 Vapor Canister Purge Valve (excluding Diesel Engines) ACDelco 214-1105 |
| 2007 | Chevy | Silverado 3500 Classic | Chevy Silverado 3500 Classic Vapor Canister Purge Valve V8 6.0L (8th Vin Digit U) ACDelco 214-1105 |
| 2007 | Chevy | Silverado 3500 Classic | Chevy Silverado 3500 Classic Vapor Canister Purge Valve V8 8.1L ACDelco 214-1105 |
| 2004-2006 | Chevy | Suburban 1500 | Chevy Suburban 1500 Vapor Canister Purge Valve ACDelco 214-1105 |
| 2004-2006 | Chevy | Suburban 2500 | Chevy Suburban 2500 Vapor Canister Purge Valve ACDelco 214-1105 |
| 2004-2006 | Chevy | Tahoe | Chevy Tahoe Vapor Canister Purge Valve ACDelco 214-1105 |
| 2005 | Chevy | Uplander | Chevy Uplander Vapor Canister Purge Valve ACDelco 214-1105 |
| 2004-2007 | GMC | Savana 1500 Van | GMC Savana 1500 Van Vapor Canister Purge Valve ACDelco 214-1105 |
| 2004-2005 | GMC | Savana 2500 Van | GMC Savana 2500 Van Vapor Canister Purge Valve ACDelco 214-1105 |
| 2006-2007 | GMC | Savana 2500 Van | GMC Savana 2500 Van Vapor Canister Purge Valve (excluding Diesel Engines) ACDelco 214-1105 |
| 2004-2005 | GMC | Savana 3500 Van | GMC Savana 3500 Van Vapor Canister Purge Valve ACDelco 214-1105 |
| 2006-2007 | GMC | Savana 3500 Van | GMC Savana 3500 Van Vapor Canister Purge Valve (excluding Diesel Engines) ACDelco 214-1105 |
| 2004-2006 | GMC | Sierra 1500 | GMC Sierra 1500 Vapor Canister Purge Valve ACDelco 214-1105 |
| 2007 | GMC | Sierra 1500 Classic | GMC Sierra 1500 Classic Vapor Canister Purge Valve V8 4.8L (8th Vin Digit V) ACDelco 214-1105 |
| 2007 | GMC | Sierra 1500 Classic | GMC Sierra 1500 Classic Vapor Canister Purge Valve V8 6.0L (8th Vin Digit N) ACDelco 214-1105 |
| 2007 | GMC | Sierra 1500 Classic | GMC Sierra 1500 Classic Vapor Canister Purge Valve V8 5.3L Flex Fuel (8th Vin Digit Z) ACDelco 214-1105 |
| 2007 | GMC | Sierra 1500 Classic | GMC Sierra 1500 Classic Vapor Canister Purge Valve V6 4.3L ACDelco 214-1105 |
| 2007 | GMC | Sierra 1500 Classic | GMC Sierra 1500 Classic Vapor Canister Purge Valve V8 5.3L (8th Vin Digit B) ACDelco 214-1105 |
| 2007 | GMC | Sierra 1500 Classic | GMC Sierra 1500 Classic Vapor Canister Purge Valve V8 5.3L (8th Vin Digit T) ACDelco 214-1105 |
| 2005-2006 | GMC | Sierra 1500 HD | GMC Sierra 1500 HD Vapor Canister Purge Valve ACDelco 214-1105 |
| 2007 | GMC | Sierra 1500 HD Classic | GMC Sierra 1500 HD Classic Vapor Canister Purge Valve ACDelco 214-1105 |
| 2004 | GMC | Sierra 2500 | GMC Sierra 2500 Vapor Canister Purge Valve V8 6.0L ACDelco 214-1105 |
| 2004-2006 | GMC | Sierra 2500 HD | GMC Sierra 2500 HD Vapor Canister Purge Valve V8 6.0L ACDelco 214-1105 |
| 2004-2006 | GMC | Sierra 2500 HD | GMC Sierra 2500 HD Vapor Canister Purge Valve V8 8.1L ACDelco 214-1105 |
| 2007 | GMC | Sierra 2500 HD Classic | GMC Sierra 2500 HD Classic Vapor Canister Purge Valve V8 6.0L (8th Vin Digit U) ACDelco 214-1105 |
| 2007 | GMC | Sierra 2500 HD Classic | GMC Sierra 2500 HD Classic Vapor Canister Purge Valve V8 8.1L ACDelco 214-1105 |
| 2004-2006 | GMC | Sierra 3500 | GMC Sierra 3500 Vapor Canister Purge Valve V8 6.0L ACDelco 214-1105 |
| 2004-2006 | GMC | Sierra 3500 | GMC Sierra 3500 Vapor Canister Purge Valve V8 8.1L ACDelco 214-1105 |
| 2007 | GMC | Sierra 3500 Classic | GMC Sierra 3500 Classic Vapor Canister Purge Valve V8 6.0L (8th Vin Digit U) ACDelco 214-1105 |
| 2007 | GMC | Sierra 3500 Classic | GMC Sierra 3500 Classic Vapor Canister Purge Valve V8 8.1L ACDelco 214-1105 |
| 2004-2006 | GMC | Yukon | GMC Yukon Vapor Canister Purge Valve ACDelco 214-1105 |
| 2004-2006 | GMC | Yukon XL 1500 | GMC Yukon XL 1500 Vapor Canister Purge Valve ACDelco 214-1105 |
| 2004-2006 | GMC | Yukon XL 2500 | GMC Yukon XL 2500 Vapor Canister Purge Valve ACDelco 214-1105 |
| 2004-2007 | Hummer | H2 | Hummer H2 Vapor Canister Purge Valve ACDelco 214-1105 |
| 2004-2005 | Pontiac | Bonneville | Pontiac Bonneville GXP Vapor Canister Purge Valve V8 4.6L ACDelco 214-1105 |
| 2005 | Pontiac | G6 | Pontiac G6 Vapor Canister Purge Valve ACDelco 214-1105 |
| 2004-2007 | Pontiac | Grand Prix | Pontiac Grand Prix Vapor Canister Purge Valve ACDelco 214-1105 |
| 2005 | Pontiac | Montana | Pontiac Montana Vapor Canister Purge Valve V6 3.5L ACDelco 214-1105 |
| 2006-2007 | Pontiac | Torrent | Pontiac Torrent Vapor Canister Purge Valve ACDelco 214-1105 |
| 2008-2009 | Pontiac | Torrent | Pontiac Torrent Vapor Canister Purge Valve V6 3.4L ACDelco 214-1105 |
| 2005 | Saturn | Relay | Saturn Relay Vapor Canister Purge Valve ACDelco 214-1105 |
Part #: ACEMX00013
Order must be placed by 4pm ET
Get it in: 2 - 4 Business Days
Want it sooner? Choose Next Day Air at Checkout

Brand #: 214-1105