1ABTH00049-Toyota Sequoia Sienna Liftgate Handle
Replaces
Toyota Sequoia Sienna Liftgate Handle - 1ABTH00049
1ABTH00049
Frequently bought together
Part Details
Color:

  Black

Finish:

  Textured
Unlike the original handle that is made from plastic, this handle has been redesigned and made in metal form to provide a stronger, more durable handle!
Specifications:
Metal construction
Black textured finish
Direct replacement for original plastic version
Built to strict quality control standards
Replaces a broken or damaged lift gate handle
Item Condition: New

Attention California Customers:
WARNING: Cancer and Reproductive Harm - www.P65Warnings.ca.gov.
Lifetime Warranty
This item is backed by a Limited Lifetime Warranty. In the event this item should fail due to manufacturing defects during intended use, we will exchange the part free of charge (excludes shipping charges) for the original purchaser.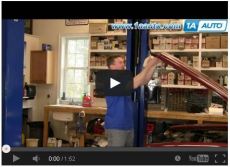 step : Remove the tailgate hatch handle (1:00)

Use a screwdriver to remove the grommet located above the pull.
Remove the three 10 mm bolts.
Pull off the panel.
Unclip the latch handle.
Remove the three 10 mm nuts securing the back panel.
Unscrew the two screws anchoring the handle to the back panel.

step : Install the new handle (4:15)

Screw the handle into the back panel.
Bolt the three 10 mm bolts back in to anchor the back panel to the door.
Clip the latch handle mechanism back into place.
Clip the tailgate panel back on.
Bolt in the three 10 mm bolts and put the grommets back over the bolt cavities.
Tools needed for replacement:
Ratchets & Related

Ratchet

Screwdrivers & Related

Flat Blade Screwdriver

Sockets - Metric

10mm Socket
Great replacement, greate price, great service by 1AAuto!
Extremely satisfied with my purchase of this item from 1AAUTO. Definitely will be a repeat customer for any other spare auto parts needs in the future. The instruction video was extremely helpful and saved me a lot of time and effort. I received the part within 3 days of ordering and it was exactly as described. The metal lift gate handle replacement is definitely going to last a lot longer than the original plastic part. Buying this part (50% off!) cost me much less (at least $400) than what my local Toyota dealer quoted me to replace the part. Here are a few tips for prospective buyers/DIYers specific to replacing the lift gate handle: 1. Each of the two fixed 10mm bolts that are integral to the lift gate handle assembly has a rubber washer. The replacement part doesnt come with the rubber washers but you can take the washers from the broken part and put them on the new part. 2. When taking the panel off the liftgate, be sure to pry it off with a slow and steady force. The panel is attached to the liftgate by a dozen or so white plastic anchors that kind of look like drywall anchors. If you try to pry the panel off the liftgate too forcefully or quickly, you are liable to break the slots in the panel that hold the anchors. 3. When you remove the panel off the liftgate, one or more of the anchors can slip out of their slots in the panel and stay stuck in their holes in the liftgate. You need to pry the ones that come off the panel out of their holes in the lift gate and slip them back into their slots in the panel before you try to put the panel back in place. You definitely dont want to leave them in the door and just try to pound the panel back in place over them. If you try to force the panel back on with some of the anchors still stuck in the door, you will most likely break something. You can use a large flat screwdriver to pry the anchors out of their holes in the liftgate. 4. I had to spray the lever that attaches to the cable with some WD40 to make it move more freely. Out of the box, the lever seemed a little tight and it wasnt as "springy" as the one in the broken original part. Try not to spray too much WD40 though. A quick spritz was enough to do the trick for me. Final grade: A+ for 1AAUTO.COM :)
2002 Toyota Sienna Liftgate Handle
This is the third and final lift gate handle for our Toyota Sienna. The first two replacements were by Toyota, and like the original handle, they were plastic and broke within a year or two of a costly installation by the dealer. I chose this replacement metal handle and have every reason to believe it will be long lasting. I followed the installation video and found it to be a simple D-I-Y job, actually taking less than an hour to complete. I also found 1A Auto to have the best price as well as free shipping.
Great Fit and Easy Repair
Part came quickly, and was better quality than the OEM part. Repair took less than an hour. My local Toyota dealer wanted $1,000 to repair..Unbelievable!!!
Sequoia Liftgate Handel
I ordered one Lift Gate Handle and a Window Motor for the Rear Hatch Door for my 2003 Toyota Sequoia. I received two (2) Lift Gate Handles and no (0) Motor for my Rear Hatch Door.??? So I installed one of the Lift Gate Handles I received and it failed in less than a couple of days. A real inconvenience!!! So Im going to return the broken handle after installing the second one. I need to know where to return the broken handle AND should I be expecting the Motor for the Rear Hatch Door??. Mike Lecourias @ 713-516-1680., Thank you,
Fits well
The original equipment was made of plastic and engineered to last six years depending on use. The installed replacement is metal and fits well. Installation was time consuming as the rear Inside dope molding had to be remove. Toyota parts department wanted in excess of one hundred dollars for the part which was not stocked
Great service
I really enjoyed this product, and I belive its better then the dealers parts.
2003 Toyota Sequoia Lift Gate Handle
Great website, easy purchase, quick delivery, similar to OEM part and felt heavier, hope the weight helps strengthen the latch. Had to modify the lever outside throw sticking out too far to fit into the hole. Cut 1/4" off the end of lever sticking out and completed installation. Very difficult repair with the electric rear window blocking access and view of the handle. I hope the part never breaks because I dont want to make this repair again. Hope this help you and A1 with QC.
Better than original
Got this for my mother in law and she thanks me every time she see me great product would recommend to anyone
Very effective ,lot more precise than two original Toyota handles!!!
Not as easy to install as it sounds
tailgate is harder to open with this handle. The install took a while because the automatic window hardware is right in the way.
Awesome
Quality is outstanding the only thing I would add is to replace the locking mechanism at the same time for a smoother operation
perfect all the way around! Handle was installed and works great! Shipped in a timely manner!
Like a dream!
Requires barely any effort to open the hatch now, super well made, and relatively easy to install with minimal effort. Great product!
Good quality and delivered on time
It was my first time experience and I am glad the part reached on time and there were no shipping charge or sales tax.. Good Job guys
Toyota tail lift gate handle.
This is beautiful. Better then original one. Metal, durable. Perfect fit. Easy installation. 1aauto is good. Not just the price and quality. Also provide video demonstration. Thumbs up all the time.
Your video makes this a simple install
I had absolutely no problems replacing the broken plastic handle after watching your video. Thanks.
on point!
It works just like the original. It closes with a nice solid easy squeeze versus the original that seemed to be a tense more strenuous squeeze. It is also made of more metal versus the plastic original one that broke easy.
A poor fit
The handle looked just like the original. I installed the new handle and found that it did not fit properly. They bent the mounting tabs too high , so when you put the trim back on it stuck up. I had to swap the handle over to my original mounting bracket.
Great improvement over the original
This appears much stronger than the original handle and 1A Auto had a good video for installation - and at a fraction of the price of the OEM piece of junk handle. I love it when aftermarket manufacturers see poorly designed problematic parts and greatly improve on them - then offer it at a price lower than the OEM. Great job!
Rear Door Fixed
The parts worked perfectly and it feels like a very solid repair
Good Value
The handle installed with ease. So far after 4 months or so it is still working fine. It is a little stiffer than the factory one but for the price it is a good deal, especially if it holds up the life of the vehicle. Well see.
This part did not fit. I had to use part of my old part and fit it into the new part. I called your co. and the man I talked with understood . and made a refund. Thank you Dave Wolven
2002 Toyota Sequoia
Back door latch on my sequoia . From 1aauto. Get 3 stars bcz not fit flush, it have a gap between body and part. First I thought I did wrong . Take it apart do it again same thing. The gap still there . But it work ok just a little ugly when u looking straight at the gap.
Sturdy part
This part feels much stronger than the plastic one that broke. Fit perfectly. Product arrived earlier than expected. Highly recommend 1a auto and this product
I received the part. When my mechanic installed, it didnt function right. Cannot open my liftgate. So he bought a new plastic latch and installed it and it work. I sent a message via you contact link that I was to return the part and want a refund. To date I got no answer where to send the part and how to get my refund. Delivery is quick and I was very satisfied but it didnt work when installed.
Please read the title block. I wrong my survey/feedback in there.
Shipping was fast. It fit great and glad its all metal. Bought one a few years ago and part of it was plastic and it did not last long.
Impressed
I received my part promptly. My husband installed with no trouble. Hes impressed. Works like a charm. Thank you 1A AUTO I can once again use the rear door to my van. Life saver.
Yes MOST Metal, some plastic
The hand lever and attachment interface are metal... the lever show on the right hand side of the picture (not the cable lever to the left) .... is the part that breaks.... at least for my vehicle.... is still plastic on this replacement part. So not really ALL metal. Suggest that anyone that replaces this part should lube up cable and door latch well to reduce stress on this plastic component.
2002 Toyota Sequoia liftgate replacement handle
After looking for a replacement handle for our 2002 Toyota Sequoia I decided on this all metal handle instead of the mostly all plastic OEM handle. Upon receiving this handle it appears to be of good quality and stronger than the original. I had no issues with the installation as the fit was accurate. Once installed it felt stronger than OEM part and works very well. Time will tell if this part is better than OEM part but it appears it is and will. Ordering was easy and shipping was standard. I would considering ordering parts again from this business.
Fit perfectly
I only gave 4 stars as I just installed it with no proof of longtime reliability. If it works as the lifetime replacement to the plastic one that lasted for 17 years I will be very satisfied.
Done!
Part fit perfectly and the video was very helpful.
Installation video
Ive watched the video prior to installing the part and it was very helpful. It showed me exactly where the nuts and bolts to remove. Will be sharing this website to family and friends.
Sienna Liftgate Handle
Very sturdy all metal handle. Installation about 30 minutes. Saved about $400! So far works great! Thanks
Great product and service!
Part arrived early in secure package. Part is made of metal, not plastic. Considerably more "heft" than the OEM part that broke. Installation video accurately demonstrated how to install the part. Highly recommend this part and 1aauto!
Liftgste handle
Received my replacement handle quickly and was just as pictured. So glad to have access to my way back in my van again. Thanks so much for providing reasonable replacements for my vehicle.
latch lever bent
The latch arrived earlier than expected and installed easily. Unfortunately, about two days later, the latch was harder to operate and then failed. It appears that a lever inside the latch had bent. I resolved this by using the handle from the new latch and the latch body from the old latch. Adjustment of the latch bail at the bottom of the door opening made operation of the handle much easier. Hopefully it will last.
Works Great
Works great and delivery much faster than expected.
Toyota should be ashamed
FINALLY, a real fix for the plastic junk Toyota used in the hatch. Works perfect. I had replaced the latch with the Toyota plastic junk 6 times.
Sequoia lift gate handle
This handle feels very sturdy, this is the third handle that I have purchased. I would recommend anyone that has a Sequoia to buy this handle, you will not be disappointed!!
Sequoia lift gate Handel
Was $20 cheaper then my local Auto Parts ! Part was delivered 3 days earlier then was told !! Will definitely order from here again !!
Metal lift gate handle
After two Factoty Toyota Plastic replacement lift gate failures, I purchased this metal handle from 1aauto and walla, problem solved! The metal latch now will not break when I have used it over time like the plastic one from the dealer! 5 stars out it 5. I will look for other replacement parts for my Sequoia when it comes to replacement time!
Best replacement ever.
This is a great replacement handle. All metal don't Have to worry about this breaking and not $400 for plastic like the dealership. I would tell anyone to get this handle by far.
Exact fit & sturdy
Sturdy metal handle fit my Toyota Sequoia 2003 perfectly. Better replacement than the previous one I replaced it with which broke when things froze up.
Wow
Item arrived on time and was an easy install Thanks to the video.
Toyota rear latch
Ive been buying these Toyota rear latches from the junkyard as they break from my Toyota Sequoia and they usually last about a year-and-a-half to two years so this time I bought one aftermarket from China thats made of steel not the original Toyota parts that was plastic hopefully this does the trick and I dont have to replace it once every year and a half to two years
All metal product!
The original stock item on my car is the same part (essentially) except the portion of the part that broke was made of plastic. What led me to this website is a repair video on YouTube done by 1A Auto. For less than $30, they sell this part that is made of ALL medal. The video showed how easy it was to replace and install this part in my car and I know that Ill never have to replace it in my cars lifetime. Totally worth it. I would buy this same product from this vendor all over again.
Reliable company
I have never regretted for choosing 1A as my auto parts supplier. They are very reliable and efficient. Their customer service is also exceptional. To order an auto parts from 1A auto is highly recommended and a decision in the right direction.
Easy install
New item fit like OEM. Felt "strange" due to all metal construction but will definitely outlast remaining life of vehicle.
Toyota Sienna lift gate handle
On 2/17/ 2018 I installed the handle on the lift gate. The hardest part was putting the trim panel back on. I had replaced the plastic handle years ago. I still needed to watch the how to video as a refresher. I had done it before and I am so glad I used a little antisieze on the screws and fasteners. That was not on the video that just my own doing. The metal handle is great , everything works well, better than new.
Great part. nice fit.
I am very happy with my order from A1 Auto. They had the option of an all metal part instead of the plastic one that you get from Toyota at three times the price. I highly recommend them.
Nice Upgrade from the Factory Plastic Version
Somewhat of a pain to install, but definitely doable with the video. Saved me a ton of money versus having the dealership replace with the original plastic version which I had done twice previously. I will buy this metal version if it ever breaks again.
Perfect fit!
We ordered this item as a sturdy metal replacement for the weak broken plastic OEM lift gate handle. The construction is BETTER than the OEM original, the price was outstanding and the shipping fast. I recommend this part, and I trust and recommend 1A Auto. I will be buying from them again.
Worked like a charm
Original handle broke and was in need of replacement. Like an idiot I went to amazon and got that was defective (didnt engage cable enough to trigger lock mechanism). Came to 1A auto and ordered a handle which ended up working perfectly.
Sienna rear door handle
The correct part came very quickly and the video helped get the door open and installed. Good Job
Rear Door Handle...
MAN WHEN IT COMES TO PARTS AND PRICE.YOU CANT BEAT QUALITY AND PRICE TOGETHER..1Aauto.com IS MY PLACE..TRY OUT THE COMPANY BECOME A BELIEVER.
Much better than OEM
This lift gate handle solves a very simple issue. Plastic does not hold up over time. The repair was simple DIY with the help of YouTube. Lewis
Great company!
Needed a part quickly and at a great price! You delivered! Definitely recommend
My purchase
I bought Toyota hatch handle. I received it as promised and product actually exceeded my expectations.
High quality part
I've had other versions of this part break during the winter. Twice. This part is a much higher quality metal-body construction than the others I've seen online. And the 1A price was less to boot. This part is highly recommended.
Solid replacement
Highly recommend the metal replacement piece as opposed to the plastic one. The gate handle here is a little stiffer than the stock piece, but that isnt a problem. It fit perfectly. Installation was simple, I just had some complications removing rusted out licence-plate screws but other than that it was not difficult.
Tailgate lift handle fit perfectly
I purchased a tailgate lift handle for my 03 Siemna that was of obvious quality and it fit perfectly. Do the research and don't select the lower priced plastic version from Other online suppliers.
Excellent quality, better than OEM
The part arrived on time and was the correct part. The original is plastuc, which is why I had to replace. New part is metal, amd less than a dealership charges for OEM plastic handle. Looks like 1AAuto has some good prices overall, amd so far, quality is better than OEM
Latch
This product was exactly as described. Love the upgrade! This product is way better than the original plastic piece which broke every year for 3 years. Hoping this one lasts longer.
Great so far
I like the all metal construction. It installed well and is a perfect fit. Time will tel how it holds up but it feels very solid and durable! I would recommend if your Sequoia's rear hatch handle breaks! Fix it quickly before you latch seizes up!
Sequoia rear latch
Glad i found this metal rear latch. This is a quality latch; it fits perfectly and it will not break. Do not waste your money on those plastic latch at the Toyota dealer.
Pretty easy fix
Product is much sturdier than factory made Toyota plastic version which was just replaced 2 years ago by a Toyota Dealer. The only issue I ran across was the how-to video was based on a different model vehicle so I had to consult additional resources to complete the project.
Lift gate handle for a 2004 Sequoia
As most of you know the lift gate handled designed by Toyota is really quite bad. I have replaced it once already and it broke again. They wanted something like $160 at the dealer so I refused to pay so much for a terrible product. I came across 1A Auto and saw that it was a steel reinforced lift gate handle that was much better and cheaper. So I signed up. The price was great, the delivery was quicker then stated and the product works amazing. You can certainly tell the difference in quality for sure. Thanks 1A Auto for providing amazing value.
It works
The part got to us a few days after I ordered it. I am happy that the part works. It was a little difficult to install, so was glad that the tutorial video was available.
Perfect fit
The item was as described and fit perfectly and replaced the cheap handle that was installed last time by lift gate broke. Thanks
Maybe didnt fit right
Maybe garnish was warped/damaged, but the poor fit wasnt there until after installing the replacement handle. The part pushed the top of the stock garnish piece out just slightly. Installing the OE toyota handle took the slight bulge out of the garnish. Holes lined up fine. Cable holder was much tighter than stock, which would eventually sever the cable casing.
Customer Q&A
Ask a question to 1A Auto customers who purchased the product
Is the hook that engages the mechanism metal too?
Everything was metal in this replacement part. Not plastic like the original. It is a little stiffer, takes a little more force to pull, but not a problem.
Yes, the part is all metal. Better than the original part
It is. Mine has been installed for nearly 2 years now and, except for a little WD40 every now and then, is holding up great.
| Year | Make | Model | Description |
| --- | --- | --- | --- |
| 2001-2007 | Toyota | Sequoia | Toyota Sequoia Textured Black Liftgate Handle Metal Reinforced Upgrade |
| 1998-2003 | Toyota | Sienna | Toyota Sienna Textured Black Liftgate Handle Metal Reinforced Upgrade |
Part #: 1ABTH00049
Order must be placed by 4pm ET
Get it in: 2 - 4 Business Days
Want it sooner? Choose Next Day Air at Checkout