1AACD00066-Throttle Position Sensor
Replaces
Throttle Position Sensor ACDelco 213-912 - 1AACD00066
1AACD00066
AC DELCO 213-912 [THROTTLE POSITION SENSOR
]
This AC DELCO throttle position Sensor is a new part. It is the same part that you would receive if you purchased it from your local GM dealer.
This throttle position sensor or TPS switch is a new, aftermarket part. It is mounted to the throttle body and is used to monitor the position of the throttle. Once the position is determined, it sends a signal to the engine control unit (ECU) as an input to its control system. If the TPS switch goes bad this could cause poor/erratic running engine with little or no power. Many times your check engine light might be activated by a bad TPS switch. If a bad throttle position sensor is your problem, why not fix it now with this new replacement.
Throttle position sensor (TPS) switch Specifications
Brand New AC Delco part
Mounts to throttle body
Replaces dealer part number: 17113578, 213-912
Built to strict quality control standards
100% electrically tested prior to leaving the factory
Our electrical and electronic parts are subject to strict quality control testing. Please ensure proper diagnosis of this item before purchasing as the item cannot be returned once installed or plugged in.
Item Condition: New

Lifetime Warranty
This item is backed by a Limited Lifetime Warranty. In the event this item should fail due to manufacturing defects during intended use, we will exchange the part free of charge (excludes shipping charges) for the original purchaser.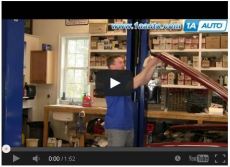 step : Removing the Throttle Position Sensor (0:38)

Release the throttle position sensor harness
Remove the two T25 Torx bolts from the throttle position sensor

step : Installing the New Throttle Position Sensor (1:17)

Insert the throttle position sensor into place
Insert and tighten the two T25 Torx bolts
Connect the throttle position sensor harness
Tools needed for replacement:
Ratchets & Related

Ratchet

Torx Drivers & Sockets

T25 Torx Driver
There are no reviews for this item.
Customer Q&A
Ask a question to 1A Auto customers who purchased the product
i need a video showing how to remove one of these and replace it on a 2001 chevy cavalier throttle position sensor?
what is the other sensor located next to the throttle position sensor?
Iac..idle air control Enter
Thomas H
November 3, 2017
| Year | Make | Model | Description |
| --- | --- | --- | --- |
| 1997-1999 | Buick | Century | Buick Century Throttle Position Sensor V6 3.1L (8th Vin Digit M) ACDelco 213-912 |
| 2000-2005 | Buick | Century | Buick Century Throttle Position Sensor V6 3.1L (8th Vin Digit J) ACDelco 213-912 |
| 2005 | Buick | LaCrosse | Buick LaCrosse Throttle Position Sensor V6 3.6L (8th Vin Digit 7) ACDelco 213-912 |
| 1994-1996 | Buick | Regal | Buick Regal Throttle Position Sensor V6 3.1L (8th Vin Digit M) ACDelco 213-912 |
| 2002-2005 | Buick | Rendezvous | Buick Rendezvous Throttle Position Sensor V6 3.4L (8th Vin Digit E) ACDelco 213-912 |
| 1994-1997 | Buick | Skylark | Buick Skylark Throttle Position Sensor V6 3.1L (8th Vin Digit M) ACDelco 213-912 |
| 1995 | Buick | Skylark | Buick Skylark Throttle Position Sensor L4 2.3L (8th Vin Digit D) ACDelco 213-912 |
| 1996-1997 | Buick | Skylark | Buick Skylark Throttle Position Sensor L4 2.4L (8th Vin Digit T) ACDelco 213-912 |
| 2006 | Cadillac | DTS | Cadillac DTS Throttle Position Sensor V8 4.6L (8th Vin Digit Y) ACDelco 213-912 |
| 2006 | Cadillac | DTS | Cadillac DTS Throttle Position Sensor V8 4.6L (8th Vin Digit 9) ACDelco 213-912 |
| 1996-2005 | Cadillac | Deville | Cadillac Deville Throttle Position Sensor V8 4.6L (8th Vin Digit Y) ACDelco 213-912 |
| 1996-2005 | Cadillac | Deville | Cadillac Deville Throttle Position Sensor V8 4.6L (8th Vin Digit 9) ACDelco 213-912 |
| 1996-2002 | Cadillac | Eldorado | Cadillac Eldorado Throttle Position Sensor V8 4.6L (8th Vin Digit Y) ACDelco 213-912 |
| 1996-2002 | Cadillac | Eldorado | Cadillac Eldorado Throttle Position Sensor V8 4.6L (8th Vin Digit 9) ACDelco 213-912 |
| 1999 | Cadillac | Escalade | Cadillac Escalade Throttle Position Sensor V8 5.7L (8th Vin Digit R) ACDelco 213-912 |
| 2000 | Cadillac | Escalade | Cadillac Escalade Throttle Position Sensor V8 5.7L without Traction Control ACDelco 213-912 |
| 2002 | Cadillac | Escalade | Cadillac Escalade Throttle Position Sensor V8 5.3L without Traction Control ACDelco 213-912 |
| 2002 | Cadillac | Escalade | Cadillac Escalade Throttle Position Sensor V8 6.0L without Traction Control ACDelco 213-912 |
| 2003-2004 | Cadillac | Escalade | Cadillac Escalade Throttle Position Sensor V8 5.3L (8th Vin Digit T) ACDelco 213-912 |
| 2003-2004 | Cadillac | Escalade | Cadillac Escalade Throttle Position Sensor V8 6.0L (8th Vin Digit N) ACDelco 213-912 |
| 2003-2004 | Cadillac | Escalade ESV | Cadillac Escalade ESV Throttle Position Sensor V8 6.0L (8th Vin Digit N) ACDelco 213-912 |
| 2003-2004 | Cadillac | Escalade EXT | Cadillac Escalade EXT Throttle Position Sensor V8 6.0L (8th Vin Digit N) ACDelco 213-912 |
| 1996-2004 | Cadillac | Seville | Cadillac Seville Throttle Position Sensor V8 4.6L (8th Vin Digit Y) ACDelco 213-912 |
| 1996-2003 | Cadillac | Seville | Cadillac Seville Throttle Position Sensor V8 4.6L (8th Vin Digit 9) ACDelco 213-912 |
| 1996-2001 | Chevy | Astro | Chevy Astro Throttle Position Sensor V6 4.3L (8th Vin Digit W) ACDelco 213-912 |
| 2002-2005 | Chevy | Astro | Chevy Astro Throttle Position Sensor V6 4.3L (8th Vin Digit X) ACDelco 213-912 |
| 2002 | Chevy | Avalanche 1500 | Chevy Avalanche 1500 Throttle Position Sensor V8 5.3L without Traction Control ACDelco 213-912 |
| 1994-1996 | Chevy | Beretta | Chevy Beretta Throttle Position Sensor V6 3.1L with Automatic Transmission ACDelco 213-912 |
| 1996-1999 | Chevy | C1500 Truck | Chevy C1500 Truck Throttle Position Sensor V8 5.7L (8th Vin Digit R) ACDelco 213-912 |
| 1996-1999 | Chevy | C1500 Truck | Chevy C1500 Truck Throttle Position Sensor V8 5.0L (8th Vin Digit M) ACDelco 213-912 |
| 1996-1998 | Chevy | C1500 Truck | Chevy C1500 Truck Throttle Position Sensor V6 4.3L (8th Vin Digit W) ACDelco 213-912 |
| 1997 | Chevy | C1500 Truck | Chevy C1500 Truck Throttle Position Sensor V8 6.5L (8th Vin Digit F) ACDelco 213-912 |
| 1996-1998 | Chevy | C2500 Truck | Chevy C2500 Truck Throttle Position Sensor V8 5.0L (8th Vin Digit M) ACDelco 213-912 |
| 1996-2000 | Chevy | C2500 Truck | Chevy C2500 Truck Throttle Position Sensor V8 7.4L (8th Vin Digit J) ACDelco 213-912 |
| 1996-2000 | Chevy | C2500 Truck | Chevy C2500 Truck Throttle Position Sensor V8 5.7L (8th Vin Digit R) ACDelco 213-912 |
| 1997 | Chevy | C2500 Truck | Chevy C2500 Truck Throttle Position Sensor V8 6.5L (8th Vin Digit F) ACDelco 213-912 |
| 1996-2000 | Chevy | C3500 Truck | Chevy C3500 Truck Throttle Position Sensor V8 7.4L (8th Vin Digit J) ACDelco 213-912 |
| 1996-2000 | Chevy | C3500 Truck | Chevy C3500 Truck Throttle Position Sensor V8 5.7L (8th Vin Digit R) ACDelco 213-912 |
| 1997 | Chevy | C3500 Truck | Chevy C3500 Truck Throttle Position Sensor V8 6.5L (8th Vin Digit F) ACDelco 213-912 |
| 1998-2002 | Chevy | Camaro | Chevy Camaro Throttle Position Sensor V8 5.7L (8th Vin Digit G) ACDelco 213-912 |
| 1995 | Chevy | Cavalier | Chevy Cavalier Throttle Position Sensor L4 2.3L (8th Vin Digit D) ACDelco 213-912 |
| 1996-2002 | Chevy | Cavalier | Chevy Cavalier Throttle Position Sensor L4 2.4L (8th Vin Digit T) ACDelco 213-912 |
| 1998-2002 | Chevy | Cavalier | Chevy Cavalier Throttle Position Sensor L4 2.2L (8th Vin Digit 4) ACDelco 213-912 |
| 1994-1996 | Chevy | Corsica | Chevy Corsica Throttle Position Sensor V6 3.1L with Automatic Transmission ACDelco 213-912 |
| 1996-2002 | Chevy | Express 1500 Van | Chevy Express 1500 Van Throttle Position Sensor V6 4.3L (8th Vin Digit W) ACDelco 213-912 |
| 1996-2002 | Chevy | Express 1500 Van | Chevy Express 1500 Van Throttle Position Sensor V8 5.0L (8th Vin Digit M) ACDelco 213-912 |
| 1996-2002 | Chevy | Express 1500 Van | Chevy Express 1500 Van Throttle Position Sensor V8 5.7L (8th Vin Digit R) ACDelco 213-912 |
| 2003-2007 | Chevy | Express 1500 Van | Chevy Express 1500 Van Throttle Position Sensor V6 4.3L (8th Vin Digit X) ACDelco 213-912 |
| 2003-2006 | Chevy | Express 1500 Van | Chevy Express 1500 Van Throttle Position Sensor V8 5.3L (8th Vin Digit T) ACDelco 213-912 |
| 1996-2002 | Chevy | Express 2500 Van | Chevy Express 2500 Van Throttle Position Sensor V6 4.3L (8th Vin Digit W) ACDelco 213-912 |
| 1996-2002 | Chevy | Express 2500 Van | Chevy Express 2500 Van Throttle Position Sensor V8 5.0L (8th Vin Digit M) ACDelco 213-912 |
| 1996-2002 | Chevy | Express 2500 Van | Chevy Express 2500 Van Throttle Position Sensor V8 5.7L (8th Vin Digit R) ACDelco 213-912 |
| 2003-2005 | Chevy | Express 2500 Van | Chevy Express 2500 Van Throttle Position Sensor V6 4.3L (8th Vin Digit X) ACDelco 213-912 |
| 2003-2004 | Chevy | Express 2500 Van | Chevy Express 2500 Van Throttle Position Sensor V8 4.8L (8th Vin Digit V) ACDelco 213-912 |
| 2003-2005 | Chevy | Express 2500 Van | Chevy Express 2500 Van Throttle Position Sensor V8 5.3L (8th Vin Digit T) ACDelco 213-912 |
| 2003 | Chevy | Express 2500 Van | Chevy Express 2500 Van Throttle Position Sensor V8 6.0L (8th Vin Digit U) ACDelco 213-912 |
| 1996-2000 | Chevy | Express 3500 Van | Chevy Express 3500 Van Throttle Position Sensor V8 7.4L (8th Vin Digit J) ACDelco 213-912 |
| 1996-2002 | Chevy | Express 3500 Van | Chevy Express 3500 Van Throttle Position Sensor V8 5.7L (8th Vin Digit R) ACDelco 213-912 |
| 2003 | Chevy | Express 3500 Van | Chevy Express 3500 Van Throttle Position Sensor V8 6.0L (8th Vin Digit U) ACDelco 213-912 |
| 2000-2005 | Chevy | Impala | Chevy Impala Throttle Position Sensor V6 3.4L (8th Vin Digit E) ACDelco 213-912 |
| 1996-1999 | Chevy | K1500 Truck | Chevy K1500 Truck Throttle Position Sensor V8 5.0L (8th Vin Digit M) ACDelco 213-912 |
| 1996-1999 | Chevy | K1500 Truck | Chevy K1500 Truck Throttle Position Sensor V8 5.7L (8th Vin Digit R) ACDelco 213-912 |
| 1996-1998 | Chevy | K1500 Truck | Chevy K1500 Truck Throttle Position Sensor V6 4.3L (8th Vin Digit W) ACDelco 213-912 |
| 1997 | Chevy | K1500 Truck | Chevy K1500 Truck Throttle Position Sensor V8 6.5L (8th Vin Digit F) ACDelco 213-912 |
| 1996-2000 | Chevy | K2500 Truck | Chevy K2500 Truck Throttle Position Sensor V8 5.7L (8th Vin Digit R) ACDelco 213-912 |
| 1996-2000 | Chevy | K2500 Truck | Chevy K2500 Truck Throttle Position Sensor V8 7.4L (8th Vin Digit J) ACDelco 213-912 |
| 1996-1998 | Chevy | K2500 Truck | Chevy K2500 Truck Throttle Position Sensor V8 5.0L (8th Vin Digit M) ACDelco 213-912 |
| 1997 | Chevy | K2500 Truck | Chevy K2500 Truck Throttle Position Sensor V8 6.5L (8th Vin Digit F) ACDelco 213-912 |
| 1996-2000 | Chevy | K3500 Truck | Chevy K3500 Truck Throttle Position Sensor V8 7.4L (8th Vin Digit J) ACDelco 213-912 |
| 1996-2000 | Chevy | K3500 Truck | Chevy K3500 Truck Throttle Position Sensor V8 5.7L (8th Vin Digit R) ACDelco 213-912 |
| 1997 | Chevy | K3500 Truck | Chevy K3500 Truck Throttle Position Sensor V8 6.5L (8th Vin Digit F) ACDelco 213-912 |
| 1995-1998 | Chevy | Lumina | Chevy Lumina Throttle Position Sensor V6 3.1L with Automatic Transmission ACDelco 213-912 |
| 1996-1997 | Chevy | Lumina | Chevy Lumina Throttle Position Sensor V6 3.4L with Automatic Transmission ACDelco 213-912 |
| 1999 | Chevy | Lumina | Chevy Lumina Throttle Position Sensor V6 3.1L (8th Vin Digit M) ACDelco 213-912 |
| 2000-2001 | Chevy | Lumina | Chevy Lumina Throttle Position Sensor V6 3.1L (8th Vin Digit J) ACDelco 213-912 |
| 1996 | Chevy | Lumina APV | Chevy Lumina APV Throttle Position Sensor V6 3.4L (8th Vin Digit E) ACDelco 213-912 |
| 1997-1999 | Chevy | Malibu | Chevy Malibu Throttle Position Sensor V6 3.1L (8th Vin Digit M) ACDelco 213-912 |
| 1997-1999 | Chevy | Malibu | Chevy Malibu Throttle Position Sensor L4 2.4L (8th Vin Digit T) ACDelco 213-912 |
| 1999-2003 | Chevy | Malibu | Chevy Malibu Throttle Position Sensor V6 3.1L (8th Vin Digit J) ACDelco 213-912 |
| 1995-1998 | Chevy | Monte Carlo | Chevy Monte Carlo Throttle Position Sensor V6 3.1L with Automatic Transmission ACDelco 213-912 |
| 1996-1997 | Chevy | Monte Carlo | Chevy Monte Carlo Throttle Position Sensor V6 3.4L with Automatic Transmission ACDelco 213-912 |
| 1999 | Chevy | Monte Carlo | Chevy Monte Carlo Throttle Position Sensor V6 3.1L (8th Vin Digit M) ACDelco 213-912 |
| 2000-2005 | Chevy | Monte Carlo | Chevy Monte Carlo Throttle Position Sensor V6 3.4L (8th Vin Digit E) ACDelco 213-912 |
| 1997-1999 | Chevy | P30 | Chevy P30 Throttle Position Sensor V8 5.7L (8th Vin Digit R) ACDelco 213-912 |
| 1996-2004 | Chevy | S10 Pickup | Chevy S10 Pickup Throttle Position Sensor V6 4.3L (8th Vin Digit X) ACDelco 213-912 |
| 1996-2002 | Chevy | S10 Pickup | Chevy S10 Pickup Throttle Position Sensor V6 4.3L (8th Vin Digit W) ACDelco 213-912 |
| 1998-2000 | Chevy | S10 Pickup | Chevy S10 Pickup Throttle Position Sensor L4 2.2L (8th Vin Digit 4) ACDelco 213-912 |
| 2000-2002 | Chevy | S10 Pickup | Chevy S10 Pickup Throttle Position Sensor (8th Vin Digit 5) L4 2.2L ACDelco 213-912 |
| 2003 | Chevy | S10 Pickup | Chevy S10 Pickup Throttle Position Sensor L4 2.2L (8th Vin Digit H) ACDelco 213-912 |
| 1999-2006 | Chevy | Silverado 1500 | Chevy Silverado 1500 Throttle Position Sensor V8 5.3L (8th Vin Digit T) ACDelco 213-912 |
| 1999-2002 | Chevy | Silverado 1500 | Chevy Silverado 1500 Throttle Position Sensor V6 4.3L (8th Vin Digit W) ACDelco 213-912 |
| 1999-2004 | Chevy | Silverado 1500 | Chevy Silverado 1500 Throttle Position Sensor V8 4.8L (8th Vin Digit V) ACDelco 213-912 |
| 2000-2002 | Chevy | Silverado 1500 | Chevy Silverado 1500 Throttle Position Sensor V8 4.8L without Traction Control ACDelco 213-912 |
| 2000-2002 | Chevy | Silverado 1500 | Chevy Silverado 1500 Throttle Position Sensor V8 5.3L without Traction Control ACDelco 213-912 |
| 2000-2003 | Chevy | Silverado 1500 | Chevy Silverado 1500 Throttle Position Sensor V8 5.3L without Traction Control ACDelco 213-912 |
| 2001-2002 | Chevy | Silverado 1500 | Chevy Silverado 1500 Throttle Position Sensor V8 6.0L (8th Vin Digit U) without Traction Control ACDelco 213-912 |
| 2002-2007 | Chevy | Silverado 1500 | Chevy Silverado 1500 Throttle Position Sensor V6 4.3L (8th Vin Digit X) ACDelco 213-912 |
| 2002-2003 | Chevy | Silverado 1500 | Chevy Silverado 1500 Throttle Position Sensor V8 5.3L without Traction Control ACDelco 213-912 |
| 2002 | Chevy | Silverado 1500 | Chevy Silverado 1500 Throttle Position Sensor V8 5.3L without Traction Control ACDelco 213-912 |
| 2006 | Chevy | Silverado 1500 | Chevy Silverado 1500 Throttle Position Sensor V8 5.3L (8th Vin Digit B) ACDelco 213-912 |
| 2006 | Chevy | Silverado 1500 | Chevy Silverado 1500 Throttle Position Sensor V8 5.3L (8th Vin Digit Z) ACDelco 213-912 |
| 2007 | Chevy | Silverado 1500 Classic | Chevy Silverado 1500 Classic Throttle Position Sensor V6 4.3L (8th Vin Digit X) ACDelco 213-912 |
| 2001-2002 | Chevy | Silverado 1500 HD | Chevy Silverado 1500 HD Throttle Position Sensor V8 6.0L (8th Vin Digit U) without Traction Control ACDelco 213-912 |
| 1999 | Chevy | Silverado 2500 | Chevy Silverado 2500 Throttle Position Sensor V8 5.3L (8th Vin Digit T) ACDelco 213-912 |
| 1999 | Chevy | Silverado 2500 | Chevy Silverado 2500 Throttle Position Sensor V8 6.0L (8th Vin Digit U) ACDelco 213-912 |
| 2000-2002 | Chevy | Silverado 2500 | Chevy Silverado 2500 Throttle Position Sensor V8 6.0L (8th Vin Digit U) without Traction Control ACDelco 213-912 |
| 2000 | Chevy | Silverado 2500 | Chevy Silverado 2500 Throttle Position Sensor V8 5.3L without Traction Control ACDelco 213-912 |
| 2001-2002 | Chevy | Silverado 2500 | Chevy Silverado 2500 Throttle Position Sensor V8 6.0L (8th Vin Digit U) without Traction Control ACDelco 213-912 |
| 2001-2002 | Chevy | Silverado 2500 HD | Chevy Silverado 2500 HD Throttle Position Sensor V8 6.0L (8th Vin Digit U) without Traction Control ACDelco 213-912 |
| 2001-2002 | Chevy | Silverado 2500 HD | Chevy Silverado 2500 HD Throttle Position Sensor V8 6.0L (8th Vin Digit U) without Traction Control ACDelco 213-912 |
| 2001-2002 | Chevy | Silverado 3500 | Chevy Silverado 3500 Throttle Position Sensor V8 6.0L (8th Vin Digit U) without Traction Control ACDelco 213-912 |
| 2000-2002 | Chevy | Suburban 2500 | Chevy Suburban 2500 Throttle Position Sensor V8 6.0L (8th Vin Digit U) without Traction Control ACDelco 213-912 |
| 1996-1999 | Chevy | Suburban C1500 | Chevy Suburban C1500 Throttle Position Sensor V8 5.7L (8th Vin Digit R) ACDelco 213-912 |
| 1996 | Chevy | Suburban C1500 | Chevy Suburban C1500 Throttle Position Sensor V8 6.5L (8th Vin Digit F) ACDelco 213-912 |
| 1996-1999 | Chevy | Suburban C2500 | Chevy Suburban C2500 Throttle Position Sensor V8 5.7L (8th Vin Digit R) ACDelco 213-912 |
| 1996 | Chevy | Suburban C2500 | Chevy Suburban C2500 Throttle Position Sensor V8 6.5L (8th Vin Digit F) ACDelco 213-912 |
| 1996-1999 | Chevy | Suburban C2500 | Chevy Suburban C2500 Throttle Position Sensor V8 7.4L (8th Vin Digit J) ACDelco 213-912 |
| 1996-1999 | Chevy | Suburban K1500 | Chevy Suburban K1500 Throttle Position Sensor V8 5.7L (8th Vin Digit R) ACDelco 213-912 |
| 1996 | Chevy | Suburban K1500 | Chevy Suburban K1500 Throttle Position Sensor V8 6.5L (8th Vin Digit F) ACDelco 213-912 |
| 1996-1999 | Chevy | Suburban K2500 | Chevy Suburban K2500 Throttle Position Sensor V8 5.7L (8th Vin Digit R) ACDelco 213-912 |
| 1996 | Chevy | Suburban K2500 | Chevy Suburban K2500 Throttle Position Sensor V8 6.5L (8th Vin Digit F) ACDelco 213-912 |
| 1996-1999 | Chevy | Suburban K2500 | Chevy Suburban K2500 Throttle Position Sensor V8 7.4L (8th Vin Digit J) ACDelco 213-912 |
| 1996-2000 | Chevy | Tahoe | Chevy Tahoe Throttle Position Sensor V8 5.7L (8th Vin Digit R) ACDelco 213-912 |
| 1996 | Chevy | Tahoe | Chevy Tahoe Throttle Position Sensor V8 6.5L (8th Vin Digit S) ACDelco 213-912 |
| 2000-2003 | Chevy | Tahoe | Chevy Tahoe Throttle Position Sensor V8 5.3L without Traction Control ACDelco 213-912 |
| 2000-2003 | Chevy | Tahoe | Chevy Tahoe Throttle Position Sensor V8 4.8L without Traction Control ACDelco 213-912 |
| 2002 | Chevy | Tahoe | Chevy Tahoe Throttle Position Sensor V8 5.3L without Traction Control ACDelco 213-912 |
| 1997-2005 | Chevy | Venture | Chevy Venture Throttle Position Sensor V6 3.4L (8th Vin Digit E) ACDelco 213-912 |
| 1996 | GMC | C1500 Truck | GMC C1500 Truck Throttle Position Sensor V8 6.5L (8th Vin Digit S) ACDelco 213-912 |
| 1996-1998 | GMC | C1500 Truck | GMC C1500 Truck Throttle Position Sensor V6 4.3L (8th Vin Digit W) ACDelco 213-912 |
| 1996-1999 | GMC | C1500 Truck | GMC C1500 Truck Throttle Position Sensor V8 5.7L (8th Vin Digit R) ACDelco 213-912 |
| 1996-1999 | GMC | C1500 Truck | GMC C1500 Truck Throttle Position Sensor V8 5.0L (8th Vin Digit M) ACDelco 213-912 |
| 1997 | GMC | C1500 Truck | GMC C1500 Truck Throttle Position Sensor V8 6.5L (8th Vin Digit F) ACDelco 213-912 |
| 1996-2000 | GMC | C2500 Truck | GMC C2500 Truck Throttle Position Sensor V8 5.7L (8th Vin Digit R) ACDelco 213-912 |
| 1996-2000 | GMC | C2500 Truck | GMC C2500 Truck Throttle Position Sensor V8 7.4L (8th Vin Digit J) ACDelco 213-912 |
| 1996-1998 | GMC | C2500 Truck | GMC C2500 Truck Throttle Position Sensor V8 5.0L (8th Vin Digit M) ACDelco 213-912 |
| 1996-1998 | GMC | C2500 Truck | GMC C2500 Truck Throttle Position Sensor V8 6.5L (8th Vin Digit S) ACDelco 213-912 |
| 1996-1999 | GMC | C2500 Truck | GMC C2500 Truck Throttle Position Sensor V8 6.5L (8th Vin Digit F) ACDelco 213-912 |
| 1996-2000 | GMC | C3500 Truck | GMC C3500 Truck Throttle Position Sensor V8 5.7L (8th Vin Digit R) ACDelco 213-912 |
| 1996-2000 | GMC | C3500 Truck | GMC C3500 Truck Throttle Position Sensor V8 7.4L (8th Vin Digit J) ACDelco 213-912 |
| 1996-1999 | GMC | C3500 Truck | GMC C3500 Truck Throttle Position Sensor V8 6.5L (8th Vin Digit F) ACDelco 213-912 |
| 1998 | GMC | C3500 Truck | GMC C3500 Truck Throttle Position Sensor V8 6.5L (8th Vin Digit S) ACDelco 213-912 |
| 1996-1998 | GMC | K1500 Truck | GMC K1500 Truck Throttle Position Sensor V8 6.5L (8th Vin Digit S) ACDelco 213-912 |
| 1996-1998 | GMC | K1500 Truck | GMC K1500 Truck Throttle Position Sensor V6 4.3L (8th Vin Digit W) ACDelco 213-912 |
| 1996-1999 | GMC | K1500 Truck | GMC K1500 Truck Throttle Position Sensor V8 5.0L (8th Vin Digit M) ACDelco 213-912 |
| 1996-1999 | GMC | K1500 Truck | GMC K1500 Truck Throttle Position Sensor V8 5.7L (8th Vin Digit R) ACDelco 213-912 |
| 1997 | GMC | K1500 Truck | GMC K1500 Truck Throttle Position Sensor V8 6.5L (8th Vin Digit F) ACDelco 213-912 |
| 1996-1998 | GMC | K2500 Truck | GMC K2500 Truck Throttle Position Sensor V8 6.5L (8th Vin Digit S) ACDelco 213-912 |
| 1996-1998 | GMC | K2500 Truck | GMC K2500 Truck Throttle Position Sensor V8 5.0L (8th Vin Digit M) ACDelco 213-912 |
| 1996-2000 | GMC | K2500 Truck | GMC K2500 Truck Throttle Position Sensor V8 7.4L (8th Vin Digit J) ACDelco 213-912 |
| 1996-2000 | GMC | K2500 Truck | GMC K2500 Truck Throttle Position Sensor V8 5.7L (8th Vin Digit R) ACDelco 213-912 |
| 1996-1999 | GMC | K2500 Truck | GMC K2500 Truck Throttle Position Sensor V8 6.5L (8th Vin Digit F) ACDelco 213-912 |
| 1996-1999 | GMC | K3500 Truck | GMC K3500 Truck Throttle Position Sensor V8 6.5L (8th Vin Digit F) ACDelco 213-912 |
| 1996-2000 | GMC | K3500 Truck | GMC K3500 Truck Throttle Position Sensor V8 7.4L (8th Vin Digit J) ACDelco 213-912 |
| 1996-2000 | GMC | K3500 Truck | GMC K3500 Truck Throttle Position Sensor V8 5.7L (8th Vin Digit R) ACDelco 213-912 |
| 1996-1999 | GMC | P3500 | GMC P3500 Throttle Position Sensor V8 7.4L (8th Vin Digit J) ACDelco 213-912 |
| 1996 | GMC | P3500 | GMC P3500 Throttle Position Sensor V8 5.7L (8th Vin Digit K) ACDelco 213-912 |
| 1996-1999 | GMC | P3500 | GMC P3500 Throttle Position Sensor V8 5.7L (8th Vin Digit R) ACDelco 213-912 |
| 1996-1999 | GMC | P3500 | GMC P3500 Throttle Position Sensor V6 4.3L (8th Vin Digit W) ACDelco 213-912 |
| 1996-2004 | GMC | S-15 Sonoma | GMC S-15 Sonoma Throttle Position Sensor V6 4.3L (8th Vin Digit X) ACDelco 213-912 |
| 1996-2002 | GMC | S-15 Sonoma | GMC S-15 Sonoma Throttle Position Sensor V6 4.3L (8th Vin Digit W) ACDelco 213-912 |
| 1998-2000 | GMC | S-15 Sonoma | GMC S-15 Sonoma Throttle Position Sensor L4 2.2L (8th Vin Digit 4) ACDelco 213-912 |
| 2000-2002 | GMC | S-15 Sonoma | GMC S-15 Sonoma Throttle Position Sensor (8th Vin Digit 5) L4 2.2L ACDelco 213-912 |
| 2003 | GMC | S-15 Sonoma | GMC S-15 Sonoma Throttle Position Sensor L4 2.2L (8th Vin Digit H) ACDelco 213-912 |
| 1996-1997 | GMC | Safari | GMC Safari Throttle Position Sensor V6 4.3L (8th Vin Digit W) ACDelco 213-912 |
| 1998-1999 | GMC | Safari | GMC Safari Throttle Position Sensor V6 4.3L with Automatic Transmission ACDelco 213-912 |
| 2000-2001 | GMC | Safari | GMC Safari Throttle Position Sensor V6 4.3L (8th Vin Digit W) ACDelco 213-912 |
| 2002-2005 | GMC | Safari | GMC Safari Throttle Position Sensor V6 4.3L (8th Vin Digit X) ACDelco 213-912 |
| 1996-1998 | GMC | Savana 1500 Van | GMC Savana 1500 Van Throttle Position Sensor V6 4.3L (8th Vin Digit W) ACDelco 213-912 |
| 1996-2001 | GMC | Savana 1500 Van | GMC Savana 1500 Van Throttle Position Sensor V8 5.0L (8th Vin Digit M) ACDelco 213-912 |
| 1996-2001 | GMC | Savana 1500 Van | GMC Savana 1500 Van Throttle Position Sensor V8 5.7L (8th Vin Digit R) ACDelco 213-912 |
| 2004 | GMC | Savana 1500 Van | GMC Savana 1500 Van Throttle Position Sensor V8 5.3L (8th Vin Digit T) ACDelco 213-912 |
| 2005-2007 | GMC | Savana 1500 Van | GMC Savana 1500 Van Throttle Position Sensor V6 4.3L (8th Vin Digit X) ACDelco 213-912 |
| 1996-1998 | GMC | Savana 2500 Van | GMC Savana 2500 Van Throttle Position Sensor V6 4.3L (8th Vin Digit W) ACDelco 213-912 |
| 1996-2001 | GMC | Savana 2500 Van | GMC Savana 2500 Van Throttle Position Sensor V8 5.0L (8th Vin Digit M) ACDelco 213-912 |
| 1996-2001 | GMC | Savana 2500 Van | GMC Savana 2500 Van Throttle Position Sensor V8 5.7L (8th Vin Digit R) ACDelco 213-912 |
| 2003 | GMC | Savana 2500 Van | GMC Savana 2500 Van Throttle Position Sensor V8 6.0L (8th Vin Digit U) ACDelco 213-912 |
| 2004 | GMC | Savana 2500 Van | GMC Savana 2500 Van Throttle Position Sensor V8 5.3L (8th Vin Digit T) ACDelco 213-912 |
| 2005 | GMC | Savana 2500 Van | GMC Savana 2500 Van Throttle Position Sensor V6 4.3L (8th Vin Digit X) ACDelco 213-912 |
| 1996-2000 | GMC | Savana 3500 Van | GMC Savana 3500 Van Throttle Position Sensor V8 7.4L (8th Vin Digit J) ACDelco 213-912 |
| 1996-2001 | GMC | Savana 3500 Van | GMC Savana 3500 Van Throttle Position Sensor V8 5.7L (8th Vin Digit R) ACDelco 213-912 |
| 2003 | GMC | Savana 3500 Van | GMC Savana 3500 Van Throttle Position Sensor V8 6.0L (8th Vin Digit U) ACDelco 213-912 |
| 1999-2002 | GMC | Sierra 1500 | GMC Sierra 1500 Throttle Position Sensor V6 4.3L (8th Vin Digit W) ACDelco 213-912 |
| 1999-2005 | GMC | Sierra 1500 | GMC Sierra 1500 Throttle Position Sensor V8 5.3L (8th Vin Digit T) ACDelco 213-912 |
| 1999-2005 | GMC | Sierra 1500 | GMC Sierra 1500 Throttle Position Sensor V8 4.8L (8th Vin Digit V) ACDelco 213-912 |
| 2000-2002 | GMC | Sierra 1500 | GMC Sierra 1500 Throttle Position Sensor V8 5.3L without Traction Control ACDelco 213-912 |
| 2000-2002 | GMC | Sierra 1500 | GMC Sierra 1500 Throttle Position Sensor V8 4.8L without Traction Control ACDelco 213-912 |
| 2001 | GMC | Sierra 1500 | GMC Sierra 1500 Throttle Position Sensor V8 6.0L (8th Vin Digit U) without Traction Control ACDelco 213-912 |
| 2001-2002 | GMC | Sierra 1500 | GMC Sierra 1500 Throttle Position Sensor V8 6.0L (8th Vin Digit U) without Traction Control ACDelco 213-912 |
| 2002 | GMC | Sierra 1500 | GMC Sierra 1500 Throttle Position Sensor V8 5.3L without Traction Control ACDelco 213-912 |
| 2002-2006 | GMC | Sierra 1500 | GMC Sierra 1500 Throttle Position Sensor V6 4.3L (8th Vin Digit X) ACDelco 213-912 |
| 2005 | GMC | Sierra 1500 | GMC Sierra 1500 Throttle Position Sensor V8 6.0L (8th Vin Digit U) ACDelco 213-912 |
| 2005 | GMC | Sierra 1500 | GMC Sierra 1500 Throttle Position Sensor V8 5.3L (8th Vin Digit Z) ACDelco 213-912 |
| 2005 | GMC | Sierra 1500 | GMC Sierra 1500 Throttle Position Sensor V8 5.3L (8th Vin Digit B) ACDelco 213-912 |
| 2001-2002 | GMC | Sierra 1500 HD | GMC Sierra 1500 HD Throttle Position Sensor V8 6.0L (8th Vin Digit U) without Traction Control ACDelco 213-912 |
| 2001 | GMC | Sierra 1500 HD | GMC Sierra 1500 HD Throttle Position Sensor V8 6.0L (8th Vin Digit U) without Traction Control ACDelco 213-912 |
| 2005 | GMC | Sierra 1500 HD | GMC Sierra 1500 HD Throttle Position Sensor V8 6.0L (8th Vin Digit U) ACDelco 213-912 |
| 1999 | GMC | Sierra 2500 | GMC Sierra 2500 Throttle Position Sensor V8 5.3L (8th Vin Digit T) ACDelco 213-912 |
| 1999 | GMC | Sierra 2500 | GMC Sierra 2500 Throttle Position Sensor V8 6.0L (8th Vin Digit U) ACDelco 213-912 |
| 2000 | GMC | Sierra 2500 | GMC Sierra 2500 Throttle Position Sensor V8 5.3L without Traction Control ACDelco 213-912 |
| 2000-2002 | GMC | Sierra 2500 | GMC Sierra 2500 Throttle Position Sensor V8 6.0L (8th Vin Digit U) without Traction Control ACDelco 213-912 |
| 2001-2002 | GMC | Sierra 2500 | GMC Sierra 2500 Throttle Position Sensor V8 6.0L (8th Vin Digit U) without Traction Control ACDelco 213-912 |
| 2001-2002 | GMC | Sierra 2500 HD | GMC Sierra 2500 HD Throttle Position Sensor V8 6.0L (8th Vin Digit U) without Traction Control ACDelco 213-912 |
| 2001-2002 | GMC | Sierra 2500 HD | GMC Sierra 2500 HD Throttle Position Sensor V8 6.0L (8th Vin Digit U) without Traction Control ACDelco 213-912 |
| 2005 | GMC | Sierra 2500 HD | GMC Sierra 2500 HD Throttle Position Sensor V8 6.0L (8th Vin Digit U) ACDelco 213-912 |
| 2005 | GMC | Sierra 2500 HD | GMC Sierra 2500 HD Throttle Position Sensor V8 6.6L (8th Vin Digit 2) ACDelco 213-912 |
| 2001-2002 | GMC | Sierra 3500 | GMC Sierra 3500 Throttle Position Sensor V8 6.0L (8th Vin Digit U) without Traction Control ACDelco 213-912 |
| 2005 | GMC | Sierra 3500 | GMC Sierra 3500 Throttle Position Sensor V8 6.0L (8th Vin Digit U) ACDelco 213-912 |
| 2005 | GMC | Sierra 3500 | GMC Sierra 3500 Throttle Position Sensor V8 6.6L (8th Vin Digit 2) ACDelco 213-912 |
| 1996-1999 | GMC | Suburban C1500 | GMC Suburban C1500 Throttle Position Sensor V8 5.7L (8th Vin Digit R) ACDelco 213-912 |
| 1996-1999 | GMC | Suburban C1500 | GMC Suburban C1500 Throttle Position Sensor V8 6.5L (8th Vin Digit F) ACDelco 213-912 |
| 1996-1999 | GMC | Suburban C2500 | GMC Suburban C2500 Throttle Position Sensor V8 5.7L (8th Vin Digit R) ACDelco 213-912 |
| 1996-1999 | GMC | Suburban C2500 | GMC Suburban C2500 Throttle Position Sensor V8 6.5L (8th Vin Digit F) ACDelco 213-912 |
| 1996-1999 | GMC | Suburban C2500 | GMC Suburban C2500 Throttle Position Sensor V8 7.4L (8th Vin Digit J) ACDelco 213-912 |
| 1996-1999 | GMC | Suburban K1500 | GMC Suburban K1500 Throttle Position Sensor V8 5.7L (8th Vin Digit R) ACDelco 213-912 |
| 1996-1999 | GMC | Suburban K1500 | GMC Suburban K1500 Throttle Position Sensor V8 6.5L (8th Vin Digit F) ACDelco 213-912 |
| 1996-1999 | GMC | Suburban K2500 | GMC Suburban K2500 Throttle Position Sensor V8 5.7L (8th Vin Digit R) ACDelco 213-912 |
| 1996-1999 | GMC | Suburban K2500 | GMC Suburban K2500 Throttle Position Sensor V8 6.5L (8th Vin Digit F) ACDelco 213-912 |
| 1996-1999 | GMC | Suburban K2500 | GMC Suburban K2500 Throttle Position Sensor V8 7.4L (8th Vin Digit J) ACDelco 213-912 |
| 1996-2000 | GMC | Yukon | GMC Yukon Throttle Position Sensor V8 5.7L (8th Vin Digit R) ACDelco 213-912 |
| 1996 | GMC | Yukon | GMC Yukon Throttle Position Sensor V8 6.5L (8th Vin Digit S) ACDelco 213-912 |
| 2000-2002 | GMC | Yukon | GMC Yukon Throttle Position Sensor V8 5.3L without Traction Control ACDelco 213-912 |
| 2000-2002 | GMC | Yukon | GMC Yukon Throttle Position Sensor V8 4.8L without Traction Control ACDelco 213-912 |
| 2001-2002 | GMC | Yukon | GMC Yukon Throttle Position Sensor V8 6.0L (8th Vin Digit U) without Traction Control ACDelco 213-912 |
| 2002 | GMC | Yukon | GMC Yukon Throttle Position Sensor V8 5.3L without Traction Control ACDelco 213-912 |
| 2003 | GMC | Yukon | GMC Yukon Throttle Position Sensor V8 6.0L (8th Vin Digit U) ACDelco 213-912 |
| 2004 | GMC | Yukon | GMC Yukon Throttle Position Sensor V8 5.3L (8th Vin Digit Z) ACDelco 213-912 |
| 2004 | GMC | Yukon | GMC Yukon Throttle Position Sensor V8 5.3L (8th Vin Digit T) ACDelco 213-912 |
| 2004 | GMC | Yukon XL 1500 | GMC Yukon XL 1500 Throttle Position Sensor V8 5.3L (8th Vin Digit T) ACDelco 213-912 |
| 2004 | GMC | Yukon XL 1500 | GMC Yukon XL 1500 Throttle Position Sensor V8 5.3L (8th Vin Digit Z) ACDelco 213-912 |
| 2003 | GMC | Yukon XL 2500 | GMC Yukon XL 2500 Throttle Position Sensor V8 6.0L (8th Vin Digit U) ACDelco 213-912 |
| 2003 | GMC | Yukon XL 2500 | GMC Yukon XL 2500 Throttle Position Sensor V8 6.0L (8th Vin Digit U) ACDelco 213-912 |
| 1997-1999 | Isuzu | Hombre | Isuzu Hombre Throttle Position Sensor V6 4.3L (8th Vin Digit X) ACDelco 213-912 |
| 2000 | Isuzu | Hombre | Isuzu Hombre Throttle Position Sensor V6 4.3L (8th Vin Digit W) ACDelco 213-912 |
| 1994-1998 | Oldsmobile | Achieva | Olds Achieva Throttle Position Sensor V6 3.1L (8th Vin Digit M) ACDelco 213-912 |
| 1995 | Oldsmobile | Achieva | Olds Achieva Throttle Position Sensor L4 2.3L (8th Vin Digit D) ACDelco 213-912 |
| 1996-1998 | Oldsmobile | Achieva | Olds Achieva Throttle Position Sensor L4 2.4L (8th Vin Digit T) ACDelco 213-912 |
| 1999-2004 | Oldsmobile | Alero | Olds Alero Throttle Position Sensor V6 3.4L (8th Vin Digit E) ACDelco 213-912 |
| 1999-2001 | Oldsmobile | Alero | Olds Alero Throttle Position Sensor L4 2.4L (8th Vin Digit T) ACDelco 213-912 |
| 1996-1999 | Oldsmobile | Aurora | 1996-99, 2001-03 Olds Aurora Throttle Position Sensor V8 4.0L ACDelco 213-912 |
| 2001-2003 | Oldsmobile | Aurora | 1996-99, 2001-03 Olds Aurora Throttle Position Sensor V8 4.0L ACDelco 213-912 |
| 2001-2002 | Oldsmobile | Aurora | Olds Aurora Throttle Position Sensor (8th Vin Digit H) V6 3.5L ACDelco 213-912 |
| 1996-2001 | Oldsmobile | Bravada | Olds Bravada Throttle Position Sensor V6 4.3L (8th Vin Digit W) ACDelco 213-912 |
| 1997-1999 | Oldsmobile | Cutlass | Olds Cutlass Throttle Position Sensor V6 3.1L (8th Vin Digit M) ACDelco 213-912 |
| 1999 | Oldsmobile | Cutlass | Olds Cutlass Throttle Position Sensor V6 3.1L (8th Vin Digit J) ACDelco 213-912 |
| 1993-1997 | Oldsmobile | Cutlass Supreme | Olds Cutlass Supreme Throttle Position Sensor V6 3.1L (8th Vin Digit M) ACDelco 213-912 |
| 1996 | Oldsmobile | Cutlass Supreme | Olds Cutlass Supreme Throttle Position Sensor V6 3.4L (8th Vin Digit X) ACDelco 213-912 |
| 1999-2002 | Oldsmobile | Intrigue | Olds Intrigue Throttle Position Sensor (8th Vin Digit H) V6 3.5L ACDelco 213-912 |
| 1996-2004 | Oldsmobile | Silhouette | Olds Silhouette Throttle Position Sensor V6 3.4L (8th Vin Digit E) ACDelco 213-912 |
| 2001-2005 | Pontiac | Aztek | Pontiac Aztek Throttle Position Sensor V6 3.4L (8th Vin Digit E) ACDelco 213-912 |
| 2005 | Pontiac | Bonneville | Pontiac Bonneville Throttle Position Sensor V8 4.6L (8th Vin Digit Y) ACDelco 213-912 |
| 1998-2002 | Pontiac | Firebird | Pontiac Firebird Throttle Position Sensor V8 5.7L (8th Vin Digit G) ACDelco 213-912 |
| 2004 | Pontiac | GTO | Pontiac GTO Throttle Position Sensor V8 5.7L (8th Vin Digit 0) ACDelco 213-912 |
| 1994-1998 | Pontiac | Grand Am | Pontiac Grand Am Throttle Position Sensor V6 3.1L (8th Vin Digit M) ACDelco 213-912 |
| 1995 | Pontiac | Grand Am | Pontiac Grand Am Throttle Position Sensor L4 2.3L (8th Vin Digit D) ACDelco 213-912 |
| 1996-2001 | Pontiac | Grand Am | Pontiac Grand Am Throttle Position Sensor L4 2.4L (8th Vin Digit T) ACDelco 213-912 |
| 1999-2005 | Pontiac | Grand Am | Pontiac Grand Am Throttle Position Sensor V6 3.4L (8th Vin Digit E) ACDelco 213-912 |
| 1994-1999 | Pontiac | Grand Prix | Pontiac Grand Prix Throttle Position Sensor V6 3.1L (8th Vin Digit M) ACDelco 213-912 |
| 1996 | Pontiac | Grand Prix | Pontiac Grand Prix Throttle Position Sensor V6 3.4L (8th Vin Digit X) ACDelco 213-912 |
| 2000-2003 | Pontiac | Grand Prix | Pontiac Grand Prix Throttle Position Sensor V6 3.1L (8th Vin Digit J) ACDelco 213-912 |
| 1999-2005 | Pontiac | Montana | Pontiac Montana Throttle Position Sensor V6 3.4L (8th Vin Digit E) ACDelco 213-912 |
| 2005 | Pontiac | Montana | Pontiac Montana Throttle Position Sensor V6 3.5L (8th Vin Digit L) ACDelco 213-912 |
| 1995 | Pontiac | Sunfire | Pontiac Sunfire Throttle Position Sensor L4 2.3L (8th Vin Digit D) ACDelco 213-912 |
| 1996-2002 | Pontiac | Sunfire | Pontiac Sunfire Throttle Position Sensor L4 2.4L (8th Vin Digit T) ACDelco 213-912 |
| 1998-2001 | Pontiac | Sunfire | Pontiac Sunfire Throttle Position Sensor L4 2.2L (8th Vin Digit 4) ACDelco 213-912 |
| 2002 | Pontiac | Sunfire | Pontiac Sunfire Throttle Position Sensor L4 2.2L (8th Vin Digit 4) ACDelco 213-912 |
| 2002 | Pontiac | Sunfire | Pontiac Sunfire Throttle Position Sensor L4 2.2L (8th Vin Digit 4) ACDelco 213-912 |
| 1996-1998 | Pontiac | Trans Sport | Pontiac Trans Sport Throttle Position Sensor V6 3.4L (8th Vin Digit E) ACDelco 213-912 |
Part #: 1AACD00066
Order must be placed by 4pm ET
Get it in: 2 - 4 Business Days
Want it sooner? Choose Next Day Air at Checkout

Brand #: 213-912