1AEMX00299-Thermostat with Housing Assembly
Replaces
Thermostat with Housing Assembly - 1AEMX00299
1AEMX00299
If your car is leaking coolant around the thermostat, or your thermostat housing is broken or cracked, then this could be your solution.
Specifications:
Engine Water Outlet
Aluminum construction
Includes thermostat (stock temperature, 187 degrees)
Direct replacement
Built to strict quality control standards
2.02" (51mm) diameter opening

Not correct for models with 1.88" (48mm) thermostat opening
Over time from thermal expansion and contraction the mating surfaces on the housing can warp or crack. If you are experiencing any of these issues replace your thermostat housing with our direct replacement part.
Item Condition: New

Lifetime Warranty
This item is backed by a Limited Lifetime Warranty. In the event this item should fail due to manufacturing defects during intended use, we will exchange the part free of charge (excludes shipping charges) for the original purchaser.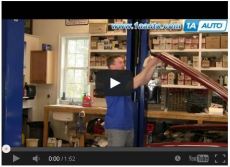 Tools needed for replacement:
Pliers, Cutters & misc Wrenches

Slip-Joint Pliers

Ratchets & Related

Ratchet
Torque Wrench

Screwdrivers & Related

Flat Blade Screwdriver
Pry Bar

Sockets - Metric

10mm Socket
Exact part and on time
I will chose this store first in the future. Used a big box store and they sold me the wrong part that cost me time and a second fluid flush. Entered the same data into A1auto and got the correct part on time and a good price.
Wrong Part
So despite giving 1aauto my VIN number, they still managed to send me the wrong part. Which, of course, I didn't find out until I had everything torn apart. I then had to pay the local auto parts store to deliver the correct part. I should have done that all along. A waste of time and money
Customer Q&A
Ask a question to 1A Auto customers who purchased the product
05 tahoe over heating. But when I Turn on heater the engine temp goes down. Is the thermostat bad??
Will it fit the acdelco water pump and does it come with gasket?
How do I determine if I have the 51mm or 48mm diameter inlet?
I actually watched a couple YouTube videos and found the size there also Google the schematics for the vehicle
Match up the housing/thermostat with your factory one you are replacing. Unless your getting a new water pump it should say what size you need. Bye the thermostat housings are different between the two sizes
8th number/letter of the VIN number
Use calipers Draw and cut out a template , cardboard or paper But both and return the one not needed Use your vin number and search on internet
You should be able to call your local dealer with the VIN number and they will be able to assist you with this information.
Christa R
October 4, 2018
| Year | Make | Model | Description |
| --- | --- | --- | --- |
| 2002-2003 | Cadillac | Escalade | Cadillac Escalade Thermostat with Housing Assembly V8 6.0L (8th Vin Digit N) |
| 2002-2003 | Cadillac | Escalade | Cadillac Escalade Thermostat with Housing Assembly V8 5.3L (8th Vin Digit T) |
| 2003 | Cadillac | Escalade ESV | Cadillac Escalade ESV Thermostat with Housing Assembly V8 6.0L (8th Vin Digit N) |
| 2002-2003 | Cadillac | Escalade EXT | Cadillac Escalade EXT Thermostat with Housing Assembly V8 6.0L (8th Vin Digit N) |
| 2002-2005 | Chevy | Avalanche 1500 | Chevy Avalanche 1500 Thermostat with Housing Assembly V8 5.3L (8th Vin Digit T) |
| 2005 | Chevy | Avalanche 1500 | Chevy Avalanche 1500 Thermostat with Housing Assembly V8 5.3L (8th Vin Digit Z) |
| 1998-2002 | Chevy | Camaro | Chevy Camaro Thermostat with Housing Assembly V8 5.7L (8th Vin Digit G) |
| 1997-2003 | Chevy | Corvette | Chevy Corvette Thermostat with Housing Assembly V8 5.7L (8th Vin Digit G) |
| 2003-2006 | Chevy | Express 1500 Van | Chevy Express 1500 Van Thermostat with Housing Assembly V8 5.3L (8th Vin Digit T) |
| 2003-2006 | Chevy | Express 2500 Van | Chevy Express 2500 Van Thermostat with Housing Assembly V8 6.0L (8th Vin Digit U) |
| 2003-2006 | Chevy | Express 2500 Van | Chevy Express 2500 Van Thermostat with Housing Assembly V8 4.8L (8th Vin Digit V) |
| 2003-2005 | Chevy | Express 2500 Van | Chevy Express 2500 Van Thermostat with Housing Assembly V8 5.3L (8th Vin Digit T) |
| 2003-2006 | Chevy | Express 3500 Van | Chevy Express 3500 Van Thermostat with Housing Assembly V8 6.0L (8th Vin Digit U) |
| 2005-2006 | Chevy | Express 3500 Van | Chevy Express 3500 Van Thermostat with Housing Assembly V8 4.8L (8th Vin Digit V) |
| 2003 | Chevy | SSR | Chevy SSR Thermostat with Housing Assembly V8 5.3L (8th Vin Digit P) |
| 1999-2006 | Chevy | Silverado 1500 | Chevy Silverado 1500 Thermostat with Housing Assembly V8 5.3L (8th Vin Digit T) |
| 1999-2006 | Chevy | Silverado 1500 | Chevy Silverado 1500 Thermostat with Housing Assembly V8 4.8L (8th Vin Digit V) |
| 2002-2006 | Chevy | Silverado 1500 | Chevy Silverado 1500 Thermostat with Housing Assembly V8 5.3L (8th Vin Digit Z) |
| 2003-2006 | Chevy | Silverado 1500 | Chevy Silverado 1500 Thermostat with Housing Assembly V8 6.0L (8th Vin Digit N) |
| 2001-2003 | Chevy | Silverado 1500 HD | Chevy Silverado 1500 HD Thermostat with Housing Assembly V8 6.0L (8th Vin Digit U) |
| 2005-2006 | Chevy | Silverado 1500 HD | Chevy Silverado 1500 HD Thermostat with Housing Assembly V8 6.0L (8th Vin Digit U) |
| 1999-2000 | Chevy | Silverado 2500 | Chevy Silverado 2500 Thermostat with Housing Assembly V8 5.3L (8th Vin Digit T) |
| 1999-2004 | Chevy | Silverado 2500 | Chevy Silverado 2500 Thermostat with Housing Assembly V8 6.0L (8th Vin Digit U) |
| 2001-2006 | Chevy | Silverado 2500 HD | Chevy Silverado 2500 HD Thermostat with Housing Assembly V8 6.0L (8th Vin Digit U) |
| 2001-2006 | Chevy | Silverado 3500 | Chevy Silverado 3500 Thermostat with Housing Assembly V8 6.0L (8th Vin Digit U) |
| 2000-2005 | Chevy | Suburban 1500 | Chevy Suburban 1500 Thermostat with Housing Assembly V8 5.3L (8th Vin Digit T) |
| 2002-2006 | Chevy | Suburban 1500 | Chevy Suburban 1500 Thermostat with Housing Assembly V8 5.3L (8th Vin Digit Z) |
| 2006 | Chevy | Suburban 1500 | Chevy Suburban 1500 Thermostat with Housing Assembly V8 6.0L (8th Vin Digit U) |
| 2000-2006 | Chevy | Suburban 2500 | Chevy Suburban 2500 Thermostat with Housing Assembly V8 6.0L (8th Vin Digit U) |
| 2000-2006 | Chevy | Tahoe | Chevy Tahoe Thermostat with Housing Assembly V8 5.3L (8th Vin Digit T) |
| 2000-2006 | Chevy | Tahoe | Chevy Tahoe Thermostat with Housing Assembly V8 4.8L (8th Vin Digit V) |
| 2002-2006 | Chevy | Tahoe | Chevy Tahoe Thermostat with Housing Assembly V8 5.3L (8th Vin Digit Z) |
| 2003 | Chevy | Trailblazer EXT | Chevy Trailblazer EXT Thermostat with Housing Assembly V8 5.3L (8th Vin Digit P) |
| 2005-2006 | GMC | Envoy | GMC Envoy Thermostat with Housing Assembly V8 5.3L (8th Vin Digit M) |
| 2003-2004 | GMC | Envoy XL | GMC Envoy XL Thermostat with Housing Assembly V8 5.3L (8th Vin Digit P) |
| 2003-2006 | GMC | Savana 1500 Van | GMC Savana 1500 Van Thermostat with Housing Assembly V8 5.3L (8th Vin Digit T) |
| 2003-2006 | GMC | Savana 2500 Van | GMC Savana 2500 Van Thermostat with Housing Assembly V8 6.0L (8th Vin Digit U) |
| 2003-2005 | GMC | Savana 2500 Van | GMC Savana 2500 Van Thermostat with Housing Assembly V8 5.3L (8th Vin Digit T) |
| 2004-2006 | GMC | Savana 2500 Van | GMC Savana 2500 Van Thermostat with Housing Assembly V8 4.8L (8th Vin Digit V) |
| 2003-2006 | GMC | Savana 3500 Van | GMC Savana 3500 Van Thermostat with Housing Assembly V8 6.0L (8th Vin Digit U) |
| 2004-2006 | GMC | Savana 3500 Van | GMC Savana 3500 Van Thermostat with Housing Assembly V8 4.8L (8th Vin Digit V) |
| 1999-2006 | GMC | Sierra 1500 | GMC Sierra 1500 Thermostat with Housing Assembly V8 4.8L (8th Vin Digit V) |
| 1999-2006 | GMC | Sierra 1500 | GMC Sierra 1500 Thermostat with Housing Assembly V8 5.3L (8th Vin Digit T) |
| 2001 | GMC | Sierra 1500 | GMC Sierra 1500 Thermostat with Housing Assembly V8 6.0L (8th Vin Digit U) |
| 2002-2006 | GMC | Sierra 1500 | GMC Sierra 1500 Thermostat with Housing Assembly V8 5.3L (8th Vin Digit Z) |
| 2001-2003 | GMC | Sierra 1500 HD | GMC Sierra 1500 HD Thermostat with Housing Assembly V8 6.0L (8th Vin Digit U) |
| 2005-2006 | GMC | Sierra 1500 HD | GMC Sierra 1500 HD Thermostat with Housing Assembly V8 6.0L (8th Vin Digit U) |
| 1999-2000 | GMC | Sierra 2500 | GMC Sierra 2500 Thermostat with Housing Assembly V8 5.3L (8th Vin Digit T) |
| 1999-2004 | GMC | Sierra 2500 | GMC Sierra 2500 Thermostat with Housing Assembly V8 6.0L (8th Vin Digit U) |
| 2001-2006 | GMC | Sierra 2500 HD | GMC Sierra 2500 HD Thermostat with Housing Assembly V8 6.0L (8th Vin Digit U) |
| 2001-2006 | GMC | Sierra 3500 | GMC Sierra 3500 Thermostat with Housing Assembly V8 6.0L (8th Vin Digit U) |
| 2000-2006 | GMC | Yukon | GMC Yukon Thermostat with Housing Assembly V8 4.8L (8th Vin Digit V) |
| 2000-2006 | GMC | Yukon | GMC Yukon Thermostat with Housing Assembly V8 5.3L (8th Vin Digit T) |
| 2001-2006 | GMC | Yukon | GMC Yukon Thermostat with Housing Assembly V8 6.0L (8th Vin Digit U) |
| 2002-2006 | GMC | Yukon | GMC Yukon Thermostat with Housing Assembly V8 5.3L (8th Vin Digit Z) |
| 2000-2005 | GMC | Yukon XL 1500 | GMC Yukon XL 1500 Thermostat with Housing Assembly V8 5.3L (8th Vin Digit T) |
| 2000-2006 | GMC | Yukon XL 1500 | GMC Yukon XL 1500 Thermostat with Housing Assembly V8 5.3L (8th Vin Digit Z) |
| 2000-2006 | GMC | Yukon XL 2500 | GMC Yukon XL 2500 Thermostat with Housing Assembly V8 6.0L (8th Vin Digit U) |
| 2003-2007 | Hummer | H2 | Hummer H2 Thermostat with Housing Assembly V8 6.0L (8th Vin Digit U) |
| 2003 | Isuzu | Ascender | Isuzu Ascender Thermostat with Housing Assembly V8 5.3L (8th Vin Digit P) |
| 1998-2002 | Pontiac | Firebird | Pontiac Firebird Thermostat with Housing Assembly V8 5.7L (8th Vin Digit G) |
Part #: 1AEMX00299
Order must be placed by 4pm ET
Get it in: 2 - 4 Business Days
Want it sooner? Choose Next Day Air at Checkout