NGETK00022-Spark Plug 8 Piece Set
Replaces
Spark Plug 8 Piece Set NGK 3403 - NGETK00022
NGETK00022
Frequently bought together
Specifications:
NGK G-Power Platinum Spark Plug
Set of 8

Stock #: 3403
Part #: TR55GP
Fine platinum tip reduces required voltage
Trivalent Metal Plating - superior anti-corrosion and anti-seizing properties
Best platinum spark plug at an economical cost
Our electrical and electronic parts are subject to strict quality testing.
Parts cannot be returned after they have been installed. Contact us with any questions before installing the parts.
Item Condition: New

Lifetime Warranty
This item is backed by a Limited Lifetime Warranty. In the event this item should fail due to manufacturing defects during intended use, we will exchange the part free of charge (excludes shipping charges) for the original purchaser.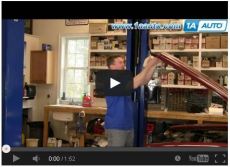 step : Remove the plugs and wires (1:34)

Do one plug at a time to prevent incorrect reassembly.
Unplug the wire
Use your spark plug socket, ratchet and extension to remove the spark plug.
Use an extendable magnet to help retrieve the plug.

step : Replace the plug and wire (3:05)

Plug in a new wire
Check the label on the hood for the plug diode gap.
Use a spark plug socket to put your spark plug in.
Plug in the second end of the spark plug wire to your spark plug.
Repeat with the other plugs and wires one at a time.
Tools needed for replacement:
Ratchets & Related

Ratchet
Socket Extensions

Sockets - SAE

5/8 Inch Spark Plug Socket
Packaging was poor
First time using 1aauto. Dont think Ill be returning though. Products were fine. Price was good. I ordered 3 sets of brake pads and 1 set of 8 spark plugs. When I received the box, All the items were in one box. The box was mangled from the weight of the pads and being tossed around by UPS. All of the spark plugs ended up under the pads, boxes destroyed. 2 of the plugs were cracked, one was completely broken. Porcelain pieces everywhere. Just went down to AutoZone and bought a new set. Not worth the time and trouble of requesting a new set be sent out, etc. Thanks anyways.
Best customer Support Ever
it came intact and all was on point shipped fast !!! i recommend you use this company always
Tiny but hold a lot of power
code readings indicated that I was having misfires in 2, 3, 5, 6, 7 after purchasing these spark plugs and installing them my car runs like a dream. It floats! And its an American made car! 2003 Grand Marquis
Customer Q&A
Ask a question to 1A Auto customers who purchased the product
No questions have been asked about this item.
| Year | Make | Model | Description |
| --- | --- | --- | --- |
| 2006-2011 | Buick | Lucerne | Buick Lucerne Spark Plug 8 Piece Set V8 4.6L NGK 3403 |
| 1994-1996 | Buick | Roadmaster | Buick Roadmaster Spark Plug 8 Piece Set V8 5.7L NGK 3403 |
| 1987-1988 | Cadillac | Allante | Cadillac Allante Spark Plug 8 Piece Set V8 4.1L NGK 3403 |
| 1989-1992 | Cadillac | Allante | Cadillac Allante Spark Plug 8 Piece Set V8 4.5L NGK 3403 |
| 1993 | Cadillac | Allante | Cadillac Allante Spark Plug 8 Piece Set V8 4.6L NGK 3403 |
| 1985-1987 | Cadillac | Commercial Chassis | Cadillac Commercial Chassis Spark Plug 8 Piece Set V8 4.1L NGK 3403 |
| 1988-1990 | Cadillac | Commercial Chassis | Cadillac Commercial Chassis Spark Plug 8 Piece Set V8 4.5L NGK 3403 |
| 1991-1993 | Cadillac | Commercial Chassis | Cadillac Commercial Chassis Spark Plug 8 Piece Set V8 4.9L NGK 3403 |
| 1994-1996 | Cadillac | Commercial Chassis | Cadillac Commercial Chassis Spark Plug 8 Piece Set V8 5.7L NGK 3403 |
| 2006-2011 | Cadillac | DTS | Cadillac DTS Spark Plug 8 Piece Set V8 4.6L NGK 3403 |
| 1982-1987 | Cadillac | Deville | Cadillac Deville Spark Plug 8 Piece Set V8 4.1L NGK 3403 |
| 1988-1990 | Cadillac | Deville | Cadillac Deville Spark Plug 8 Piece Set V8 4.5L NGK 3403 |
| 1991-1995 | Cadillac | Deville | Cadillac Deville Spark Plug 8 Piece Set V8 4.9L NGK 3403 |
| 1994-2005 | Cadillac | Deville | Cadillac Deville Spark Plug 8 Piece Set V8 4.6L NGK 3403 |
| 1982-1987 | Cadillac | Eldorado | Cadillac Eldorado Spark Plug 8 Piece Set V8 4.1L NGK 3403 |
| 1988-1990 | Cadillac | Eldorado | Cadillac Eldorado Spark Plug 8 Piece Set V8 4.5L NGK 3403 |
| 1991-1993 | Cadillac | Eldorado | Cadillac Eldorado Spark Plug 8 Piece Set V8 4.9L NGK 3403 |
| 1993-2002 | Cadillac | Eldorado | Cadillac Eldorado Spark Plug 8 Piece Set V8 4.6L NGK 3403 |
| 1999-2000 | Cadillac | Escalade | Cadillac Escalade Spark Plug 8 Piece Set V8 5.7L NGK 3403 |
| 1982-1987 | Cadillac | Fleetwood | Cadillac Fleetwood Spark Plug 8 Piece Set V8 4.1L NGK 3403 |
| 1988-1990 | Cadillac | Fleetwood | Cadillac Fleetwood Spark Plug 8 Piece Set V8 4.5L NGK 3403 |
| 1991-1992 | Cadillac | Fleetwood | Cadillac Fleetwood Spark Plug 8 Piece Set V8 4.9L NGK 3403 |
| 1994-1996 | Cadillac | Fleetwood | Cadillac Fleetwood Spark Plug 8 Piece Set V8 5.7L NGK 3403 |
| 2007-2009 | Cadillac | SRX | Cadillac SRX Spark Plug 8 Piece Set V8 4.6L NGK 3403 |
| 2007-2010 | Cadillac | STS | Cadillac STS Spark Plug 8 Piece Set V8 4.6L NGK 3403 |
| 1982-1987 | Cadillac | Seville | Cadillac Seville Spark Plug 8 Piece Set V8 4.1L NGK 3403 |
| 1988-1990 | Cadillac | Seville | Cadillac Seville Spark Plug 8 Piece Set V8 4.5L NGK 3403 |
| 1991-1993 | Cadillac | Seville | Cadillac Seville Spark Plug 8 Piece Set V8 4.9L NGK 3403 |
| 1993-2004 | Cadillac | Seville | Cadillac Seville Spark Plug 8 Piece Set V8 4.6L NGK 3403 |
| 2007-2009 | Cadillac | XLR | Cadillac XLR Spark Plug 8 Piece Set V8 4.6L NGK 3403 |
| 2002-2006 | Chevy | Avalanche 2500 | Chevy Avalanche 2500 Spark Plug 8 Piece Set V8 8.1L NGK 3403 |
| 1996-1999 | Chevy | C1500 Truck | Chevy C1500 Truck Spark Plug 8 Piece Set V8 5.0L NGK 3403 |
| 1996-1999 | Chevy | C1500 Truck | Chevy C1500 Truck Spark Plug 8 Piece Set V8 5.7L NGK 3403 |
| 1992-2000 | Chevy | C2500 Truck | Chevy C2500 Truck Spark Plug 8 Piece Set V8 5.7L NGK 3403 |
| 1996-1998 | Chevy | C2500 Truck | Chevy C2500 Truck Spark Plug 8 Piece Set V8 5.0L NGK 3403 |
| 1996-2000 | Chevy | C2500 Truck | Chevy C2500 Truck Spark Plug 8 Piece Set V8 7.4L NGK 3403 |
| 1996-2000 | Chevy | C3500 Truck | Chevy C3500 Truck Spark Plug 8 Piece Set V8 7.4L NGK 3403 |
| 1996-2000 | Chevy | C3500 Truck | Chevy C3500 Truck Spark Plug 8 Piece Set V8 5.7L NGK 3403 |
| 2001-2002 | Chevy | C3500 Truck | Chevy C3500 Truck Spark Plug 8 Piece Set V8 8.1L NGK 3403 |
| 1993-1997 | Chevy | Camaro | Chevy Camaro Spark Plug 8 Piece Set V8 5.7L NGK 3403 |
| 1994-1996 | Chevy | Caprice | Chevy Caprice Spark Plug 8 Piece Set V8 4.3L NGK 3403 |
| 1994-1996 | Chevy | Caprice | Chevy Caprice Spark Plug 8 Piece Set V8 5.7L NGK 3403 |
| 1992-1996 | Chevy | Corvette | Chevy Corvette Spark Plug 8 Piece Set V8 5.7L (excluding ZR1 Models) NGK 3403 |
| 1996-2002 | Chevy | Express 1500 Van | Chevy Express 1500 Van Spark Plug 8 Piece Set V8 5.0L NGK 3403 |
| 1996-2002 | Chevy | Express 1500 Van | Chevy Express 1500 Van Spark Plug 8 Piece Set V8 5.7L NGK 3403 |
| 1996-2002 | Chevy | Express 2500 Van | Chevy Express 2500 Van Spark Plug 8 Piece Set V8 5.7L NGK 3403 |
| 1996-2002 | Chevy | Express 2500 Van | Chevy Express 2500 Van Spark Plug 8 Piece Set V8 5.0L NGK 3403 |
| 1996-2000 | Chevy | Express 3500 Van | Chevy Express 3500 Van Spark Plug 8 Piece Set V8 7.4L NGK 3403 |
| 1996-2002 | Chevy | Express 3500 Van | Chevy Express 3500 Van Spark Plug 8 Piece Set V8 5.7L NGK 3403 |
| 2001-2002 | Chevy | Express 3500 Van | Chevy Express 3500 Van Spark Plug 8 Piece Set V8 8.1L NGK 3403 |
| 1994-1996 | Chevy | Impala | Chevy Impala Spark Plug 8 Piece Set V8 5.7L NGK 3403 |
| 1996-1999 | Chevy | K1500 Truck | Chevy K1500 Truck Spark Plug 8 Piece Set V8 5.7L NGK 3403 |
| 1996-1999 | Chevy | K1500 Truck | Chevy K1500 Truck Spark Plug 8 Piece Set V8 5.0L NGK 3403 |
| 1992-2000 | Chevy | K2500 Truck | Chevy K2500 Truck Spark Plug 8 Piece Set V8 5.7L NGK 3403 |
| 1996-2000 | Chevy | K2500 Truck | Chevy K2500 Truck Spark Plug 8 Piece Set V8 7.4L NGK 3403 |
| 1997-1998 | Chevy | K2500 Truck | Chevy K2500 Truck Spark Plug 8 Piece Set V8 5.0L NGK 3403 |
| 1996-2000 | Chevy | K3500 Truck | Chevy K3500 Truck Spark Plug 8 Piece Set V8 7.4L NGK 3403 |
| 1996-2000 | Chevy | K3500 Truck | Chevy K3500 Truck Spark Plug 8 Piece Set V8 5.7L NGK 3403 |
| 2001-2006 | Chevy | Silverado 2500 HD | Chevy Silverado 2500 HD Spark Plug 8 Piece Set V8 8.1L NGK 3403 |
| 2007 | Chevy | Silverado 2500 HD Classic | Chevy Silverado 2500 HD Classic Spark Plug 8 Piece Set V8 8.1L NGK 3403 |
| 2001-2006 | Chevy | Silverado 3500 | Chevy Silverado 3500 Spark Plug 8 Piece Set V8 8.1L NGK 3403 |
| 2007 | Chevy | Silverado 3500 Classic | Chevy Silverado 3500 Classic Spark Plug 8 Piece Set V8 8.1L NGK 3403 |
| 2001-2006 | Chevy | Suburban 2500 | Chevy Suburban 2500 Spark Plug 8 Piece Set V8 8.1L NGK 3403 |
| 1996-1999 | Chevy | Suburban C1500 | Chevy Suburban C1500 Spark Plug 8 Piece Set V8 5.7L NGK 3403 |
| 1996-1999 | Chevy | Suburban C2500 | Chevy Suburban C2500 Spark Plug 8 Piece Set V8 7.4L NGK 3403 |
| 1996-1999 | Chevy | Suburban C2500 | Chevy Suburban C2500 Spark Plug 8 Piece Set V8 5.7L NGK 3403 |
| 1996-1999 | Chevy | Suburban K1500 | Chevy Suburban K1500 Spark Plug 8 Piece Set V8 5.7L NGK 3403 |
| 1996-1999 | Chevy | Suburban K2500 | Chevy Suburban K2500 Spark Plug 8 Piece Set V8 7.4L NGK 3403 |
| 1996-1999 | Chevy | Suburban K2500 | Chevy Suburban K2500 Spark Plug 8 Piece Set V8 5.7L NGK 3403 |
| 1996-2000 | Chevy | Tahoe | Chevy Tahoe Spark Plug 8 Piece Set V8 5.7L NGK 3403 |
| 1992-2011 | Ford | Crown Victoria | Ford Crown Victoria Spark Plug 8 Piece Set V8 4.6L NGK 3403 |
| 1997-2014 | Ford | E150 Van | Ford E150 Van Spark Plug 8 Piece Set V8 5.4L NGK 3403 |
| 1997-2014 | Ford | E150 Van | Ford E150 Van Spark Plug 8 Piece Set V8 4.6L NGK 3403 |
| 1997-2014 | Ford | E250 Van | Ford E250 Van Spark Plug 8 Piece Set V8 5.4L NGK 3403 |
| 2003-2014 | Ford | E250 Van | Ford E250 Van Spark Plug 8 Piece Set V8 4.6L NGK 3403 |
| 1997-2005 | Ford | E350 Van | Ford E350 Van Spark Plug 8 Piece Set V8 5.4L NGK 3403 |
| 1999-2014 | Ford | E350 Van Super Duty | Ford E350 Van Super Duty Spark Plug 8 Piece Set V8 5.4L NGK 3403 |
| 2001-2014 | Ford | E450 Van | Ford E450 Van Spark Plug 8 Piece Set V8 5.4L NGK 3403 |
| 2000-2005 | Ford | Excursion | Ford Excursion Spark Plug 8 Piece Set V8 5.4L NGK 3403 |
| 1997-2004 | Ford | Expedition | Ford Expedition Spark Plug 8 Piece Set V8 5.4L NGK 3403 |
| 1997-2004 | Ford | Expedition | Ford Expedition Spark Plug 8 Piece Set V8 4.6L NGK 3403 |
| 1996-2001 | Ford | Explorer | Ford Explorer Spark Plug 8 Piece Set V8 5.0L NGK 3403 |
| 2002-2005 | Ford | Explorer | Ford Explorer Spark Plug 8 Piece Set V8 4.6L NGK 3403 |
| 2004 | Ford | F150 Heritage Truck | Ford F150 Heritage Truck Spark Plug 8 Piece Set V8 4.6L NGK 3403 |
| 1997-2003 | Ford | F150 Truck | Ford F150 Truck Spark Plug 8 Piece Set V8 5.4L (excluding Supercharged Models) NGK 3403 |
| 1997-2009 | Ford | F150 Truck | Ford F150 Truck Spark Plug 8 Piece Set V8 4.6L NGK 3403 |
| 1997-1999 | Ford | F250 Light Duty Truck | Ford F250 Light Duty Truck Spark Plug 8 Piece Set V8 5.4L NGK 3403 |
| 1997-1999 | Ford | F250 Light Duty Truck | Ford F250 Light Duty Truck Spark Plug 8 Piece Set V8 4.6L NGK 3403 |
| 1999-2004 | Ford | F250 Super Duty Truck | Ford F250 Super Duty Truck Spark Plug 8 Piece Set V8 5.4L NGK 3403 |
| 1999-2009 | Ford | F350 Super Duty Truck | Ford F350 Super Duty Truck Spark Plug 8 Piece Set V8 5.4L NGK 3403 |
| 1993-1995 | Ford | Mustang | Ford Mustang Spark Plug 8 Piece Set V8 5.0L NGK 3403 |
| 1996-2004 | Ford | Mustang | Ford Mustang Spark Plug 8 Piece Set V8 4.6L (excluding Supercharged Models) NGK 3403 |
| 1994-1997 | Ford | Thunderbird | Ford Thunderbird Spark Plug 8 Piece Set V8 4.6L NGK 3403 |
| 1996-1999 | GMC | C1500 Truck | GMC C1500 Truck Spark Plug 8 Piece Set V8 5.7L NGK 3403 |
| 1996-1999 | GMC | C1500 Truck | GMC C1500 Truck Spark Plug 8 Piece Set V8 5.0L NGK 3403 |
| 1992-2000 | GMC | C2500 Truck | GMC C2500 Truck Spark Plug 8 Piece Set V8 5.7L NGK 3403 |
| 1996-2000 | GMC | C2500 Truck | GMC C2500 Truck Spark Plug 8 Piece Set V8 7.4L NGK 3403 |
| 1996-1998 | GMC | C2500 Truck | GMC C2500 Truck Spark Plug 8 Piece Set V8 5.0L NGK 3403 |
| 1996-2000 | GMC | C3500 Truck | GMC C3500 Truck Spark Plug 8 Piece Set V8 7.4L NGK 3403 |
| 1996-2000 | GMC | C3500 Truck | GMC C3500 Truck Spark Plug 8 Piece Set V8 5.7L NGK 3403 |
| 2001-2002 | GMC | C3500 Truck | GMC C3500 Truck Spark Plug 8 Piece Set V8 8.1L NGK 3403 |
| 1996-1999 | GMC | K1500 Truck | GMC K1500 Truck Spark Plug 8 Piece Set V8 5.0L NGK 3403 |
| 1996-1999 | GMC | K1500 Truck | GMC K1500 Truck Spark Plug 8 Piece Set V8 5.7L NGK 3403 |
| 1992-2000 | GMC | K2500 Truck | GMC K2500 Truck Spark Plug 8 Piece Set V8 5.7L NGK 3403 |
| 1996-2000 | GMC | K2500 Truck | GMC K2500 Truck Spark Plug 8 Piece Set V8 7.4L NGK 3403 |
| 1996-2000 | GMC | K3500 Truck | GMC K3500 Truck Spark Plug 8 Piece Set V8 7.4L NGK 3403 |
| 1996-2000 | GMC | K3500 Truck | GMC K3500 Truck Spark Plug 8 Piece Set V8 5.7L NGK 3403 |
| 1996-2002 | GMC | Savana 1500 Van | GMC Savana 1500 Van Spark Plug 8 Piece Set V8 5.0L NGK 3403 |
| 1996-2002 | GMC | Savana 1500 Van | GMC Savana 1500 Van Spark Plug 8 Piece Set V8 5.7L NGK 3403 |
| 1996-2002 | GMC | Savana 2500 Van | GMC Savana 2500 Van Spark Plug 8 Piece Set V8 5.0L NGK 3403 |
| 1996-2002 | GMC | Savana 2500 Van | GMC Savana 2500 Van Spark Plug 8 Piece Set V8 5.7L NGK 3403 |
| 1996-2002 | GMC | Savana 3500 Van | GMC Savana 3500 Van Spark Plug 8 Piece Set V8 5.7L NGK 3403 |
| 1996-2000 | GMC | Savana 3500 Van | GMC Savana 3500 Van Spark Plug 8 Piece Set V8 7.4L NGK 3403 |
| 2001-2002 | GMC | Savana 3500 Van | GMC Savana 3500 Van Spark Plug 8 Piece Set V8 8.1L NGK 3403 |
| 2001-2006 | GMC | Sierra 2500 HD | GMC Sierra 2500 HD Spark Plug 8 Piece Set V8 8.1L NGK 3403 |
| 2007 | GMC | Sierra 2500 HD Classic | GMC Sierra 2500 HD Classic Spark Plug 8 Piece Set V8 8.1L NGK 3403 |
| 2001-2006 | GMC | Sierra 3500 | GMC Sierra 3500 Spark Plug 8 Piece Set V8 8.1L NGK 3403 |
| 2007 | GMC | Sierra 3500 Classic | GMC Sierra 3500 Classic Spark Plug 8 Piece Set V8 8.1L NGK 3403 |
| 1996-1999 | GMC | Suburban C1500 | GMC Suburban C1500 Spark Plug 8 Piece Set V8 5.7L NGK 3403 |
| 1996-1999 | GMC | Suburban C2500 | GMC Suburban C2500 Spark Plug 8 Piece Set V8 7.4L NGK 3403 |
| 1996-1999 | GMC | Suburban C2500 | GMC Suburban C2500 Spark Plug 8 Piece Set V8 5.7L NGK 3403 |
| 1996-1999 | GMC | Suburban K1500 | GMC Suburban K1500 Spark Plug 8 Piece Set V8 5.7L NGK 3403 |
| 1996-1999 | GMC | Suburban K2500 | GMC Suburban K2500 Spark Plug 8 Piece Set V8 5.7L NGK 3403 |
| 1996-1999 | GMC | Suburban K2500 | GMC Suburban K2500 Spark Plug 8 Piece Set V8 7.4L NGK 3403 |
| 1996-2000 | GMC | Yukon | GMC Yukon Spark Plug 8 Piece Set V8 5.7L NGK 3403 |
| 2001-2006 | GMC | Yukon XL 2500 | GMC Yukon XL 2500 Spark Plug 8 Piece Set V8 8.1L NGK 3403 |
| 2003-2005 | Lincoln | Aviator | Lincoln Aviator Spark Plug 8 Piece Set V8 4.6L NGK 3403 |
| 2002 | Lincoln | Blackwood | Lincoln Blackwood Spark Plug 8 Piece Set V8 5.4L NGK 3403 |
| 1995-2002 | Lincoln | Continental | Lincoln Continental Spark Plug 8 Piece Set V8 4.6L NGK 3403 |
| 1993-1998 | Lincoln | Mark VIII | Lincoln Mark VIII Spark Plug 8 Piece Set V8 4.6L NGK 3403 |
| 1998-2004 | Lincoln | Navigator | Lincoln Navigator Spark Plug 8 Piece Set V8 5.4L NGK 3403 |
| 1991-2008 | Lincoln | Town Car | Lincoln Town Car Spark Plug 8 Piece Set V8 4.6L NGK 3403 |
| 1994-1997 | Mercury | Cougar | Mercury Cougar Spark Plug 8 Piece Set V8 4.6L NGK 3403 |
| 1992-2011 | Mercury | Grand Marquis | Mercury Grand Marquis Spark Plug 8 Piece Set V8 4.6L NGK 3403 |
| 2003-2004 | Mercury | Marauder | Mercury Marauder Spark Plug 8 Piece Set V8 4.6L NGK 3403 |
| 1997-2001 | Mercury | Mountaineer | Mercury Mountaineer Spark Plug 8 Piece Set V8 5.0L NGK 3403 |
| 2002-2005 | Mercury | Mountaineer | Mercury Mountaineer Spark Plug 8 Piece Set V8 4.6L NGK 3403 |
| 1995-1999 | Oldsmobile | Aurora | Olds Aurora Spark Plug 8 Piece Set V8 4.0L NGK 3403 |
| 2004-2005 | Pontiac | Bonneville | Pontiac Bonneville Spark Plug 8 Piece Set V8 4.6L NGK 3403 |
| 1993-1997 | Pontiac | Firebird | Pontiac Firebird Spark Plug 8 Piece Set V8 5.7L NGK 3403 |