1AEIX00001-Serpentine Belt Idler Pulley (Smooth)
Replaces
Serpentine Belt Idler Pulley (Smooth) - 1AEIX00001
1AEIX00001
This replacement Serpentine Belt Idler Pulley is just what you need to get your vehicle in good working order again!
Specifications:
Steel Construction
Outside Diameter: 90mm
Width: 30mm
Smooth (not grooved)

Replaces dealer part numbers: 1L2Z-8678-AB, XW4Z-6B209-AA, 2F2Z-6C348-AC, 6L2Z-6C348-A, E9SZ-8678-A, F5RZ-6C348-B, F7CZ-6C348-AA, XS4Z-6B209-AA, YS4Z-8678-BB, 4536173, 4792112, 10067479, 10141997, 12564505, 12564510, 4792112AD, 12552361, 12580771, 12580773, 15662645, 22521201, 25527750, 4792112AE, 4792410AC, 4792410AD, 2552775, 53002905, 1L2Z8678AB, XW4Z6B209AA, 2F2Z6C348AC, 6L2Z6C348A, E9SZ8678A, F5RZ6C348B, F7CZ6C348AA, XS4Z6B209AA, YS4Z8678BB
Direct replacement
Includes bearing
If you are hearing a whirring noise from the front of your engine or if your belt often screeches you may be in need of a new belt tensioner pulley or idler pulley.
Lifetime Warranty
This item is backed by a Limited Lifetime Warranty. In the event this item should fail due to manufacturing defects during intended use, we will exchange the part free of charge (excludes shipping charges) for the original purchaser. Please keep your invoice for proof of this warranty.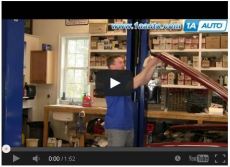 Tools needed for replacement:
Ratchets & Related

Ratchet

Screwdrivers & Related

Flat Blade Screwdriver

Sockets - Metric

10mm Socket
15mm Socket
Browse 1 question
Browse 1 question and 2 answers
what is the proper torque on the two idler pulleys on a 2005 expedition 5.4?
BEST ANSWER:
Through our research, the accessory drive belt idler pulley bolt must be tightened to 18 ft. lbs.
Vehicle Fit
1996-2005 Buick Park Avenue Serpentine Belt Idler Pulley (Smooth) V6 3.8L Supercharged
2004-2007 Buick Rainier Serpentine Belt Idler Pulley (Smooth) V8 5.3L
1998-2004 Buick Reatta Serpentine Belt Idler Pulley (Smooth) V6 3.8L Supercharged
1996-1999 Buick Riviera Serpentine Belt Idler Pulley (Smooth) V6 3.8L Supercharged
1994-1995 Cadillac Deville Serpentine Belt Idler Pulley (Smooth) V8 4.9L
1999 Cadillac Escalade Serpentine Belt Idler Pulley (Smooth) V8 5.7L
2002-2006 Cadillac Escalade Serpentine Belt Idler Pulley (Smooth) V8 6.0L
2002-2005 Cadillac Escalade Serpentine Belt Idler Pulley (Smooth) V8 5.3L
2007-2008 Cadillac Escalade Serpentine Belt Idler Pulley (Smooth) V8 6.2L
2003-2006 Cadillac Escalade ESV Serpentine Belt Idler Pulley (Smooth) V8 6.0L
2003-2005 Cadillac Escalade ESV Serpentine Belt Idler Pulley (Smooth) V8 5.3L
2007-2008 Cadillac Escalade ESV Serpentine Belt Idler Pulley (Smooth) V8 6.2L
2002-2006 Cadillac Escalade EXT Serpentine Belt Idler Pulley (Smooth) V8 6.0L
2002-2005 Cadillac Escalade EXT Serpentine Belt Idler Pulley (Smooth) V8 5.3L
2007-2008 Cadillac Escalade EXT Serpentine Belt Idler Pulley (Smooth) V8 6.2L
1993 Cadillac Fleetwood Serpentine Belt Idler Pulley (Smooth) V8 5.7L
1996-2005 Chevy Astro Serpentine Belt Idler Pulley (Smooth) V6 4.3L
2002-2008 Chevy Avalanche 1500 Serpentine Belt Idler Pulley (Smooth) V8 5.3L
2007-2008 Chevy Avalanche 1500 Serpentine Belt Idler Pulley (Smooth) V8 6.0L
2002-2006 Chevy Avalanche 2500 Serpentine Belt Idler Pulley (Smooth) V8 8.1L
2000-2005 Chevy Blazer S10 Serpentine Belt Idler Pulley (Smooth) V6 4.3L
1990-1999 Chevy C1500 Truck Serpentine Belt Idler Pulley (Smooth) V8 5.7L
1990-1999 Chevy C1500 Truck Serpentine Belt Idler Pulley (Smooth) V8 5.0L
1990-1993 Chevy C1500 Truck Serpentine Belt Idler Pulley (Smooth) V8 7.4L
1990-1999 Chevy C1500 Truck Serpentine Belt Idler Pulley (Smooth) V6 4.3L
1991-1999 Chevy C2500 Truck Serpentine Belt Idler Pulley (Smooth) V8 7.4L
1996-1999 Chevy C2500 Truck Serpentine Belt Idler Pulley (Smooth) V8 5.7L
1996-1998 Chevy C2500 Truck Serpentine Belt Idler Pulley (Smooth) V8 5.0L
1990-1999 Chevy C3500 Truck Serpentine Belt Idler Pulley (Smooth) V8 7.4L
1996-1999 Chevy C3500 Truck Serpentine Belt Idler Pulley (Smooth) V8 5.7L
2001-2002 Chevy C3500 Truck Serpentine Belt Idler Pulley (Smooth) V8 8.1L
1996-2008 Chevy Express 1500 Van Serpentine Belt Idler Pulley (Smooth) V6 4.3L
1996-2002 Chevy Express 1500 Van Serpentine Belt Idler Pulley (Smooth) V8 5.0L
1996-2002 Chevy Express 1500 Van Serpentine Belt Idler Pulley (Smooth) V8 5.7L
2003-2008 Chevy Express 1500 Van Serpentine Belt Idler Pulley (Smooth) V8 5.3L
1996-2005 Chevy Express 2500 Van Serpentine Belt Idler Pulley (Smooth) V6 4.3L
1996-2002 Chevy Express 2500 Van Serpentine Belt Idler Pulley (Smooth) V8 5.0L
1996-2002 Chevy Express 2500 Van Serpentine Belt Idler Pulley (Smooth) V8 5.7L
2003-2005 Chevy Express 2500 Van Serpentine Belt Idler Pulley (Smooth) V8 5.3L
2003-2008 Chevy Express 2500 Van Serpentine Belt Idler Pulley (Smooth) V8 4.8L
2003-2008 Chevy Express 2500 Van Serpentine Belt Idler Pulley (Smooth) V8 6.0L
1997-2002 Chevy Express 3500 Van Serpentine Belt Idler Pulley (Smooth) V8 5.7L
1997-2000 Chevy Express 3500 Van Serpentine Belt Idler Pulley (Smooth) V8 7.4L
2001-2002 Chevy Express 3500 Van Serpentine Belt Idler Pulley (Smooth) V8 8.1L
2005-2008 Chevy Express 3500 Van Serpentine Belt Idler Pulley (Smooth) V8 4.8L
2004-2005 Chevy Impala Serpentine Belt Idler Pulley (Smooth) V6 3.8L Supercharged
1996-1999 Chevy K1500 Truck Serpentine Belt Idler Pulley (Smooth) V8 5.0L
1996-1999 Chevy K1500 Truck Serpentine Belt Idler Pulley (Smooth) V8 5.7L
1991-1999 Chevy K2500 Truck Serpentine Belt Idler Pulley (Smooth) V8 7.4L
1996-1998 Chevy K2500 Truck Serpentine Belt Idler Pulley (Smooth) V8 5.0L
1996-1999 Chevy K2500 Truck Serpentine Belt Idler Pulley (Smooth) V8 5.7L
1990-1999 Chevy K3500 Truck Serpentine Belt Idler Pulley (Smooth) V8 7.4L
1996-1999 Chevy K3500 Truck Serpentine Belt Idler Pulley (Smooth) V8 5.7L
2004-2005 Chevy Monte Carlo Serpentine Belt Idler Pulley (Smooth) V6 3.8L Supercharged
2000-2004 Chevy S10 Pickup Serpentine Belt Idler Pulley (Smooth) V6 4.3L
2003-2004 Chevy SSR Serpentine Belt Idler Pulley (Smooth) V8 5.3L
2005-2006 Chevy SSR Serpentine Belt Idler Pulley (Smooth) V8 6.0L
1999-2008 Chevy Silverado 1500 Serpentine Belt Idler Pulley (Smooth) V8 4.8L
1999-2006 Chevy Silverado 1500 Serpentine Belt Idler Pulley (Smooth) V6 4.3L
1999-2008 Chevy Silverado 1500 Serpentine Belt Idler Pulley (Smooth) V8 5.3L
2001-2008 Chevy Silverado 1500 Serpentine Belt Idler Pulley (Smooth) V8 6.0L
2007 Chevy Silverado 1500 Classic Serpentine Belt Idler Pulley (Smooth) V8 6.0L
2007 Chevy Silverado 1500 Classic Serpentine Belt Idler Pulley (Smooth) V8 5.3L
2007 Chevy Silverado 1500 Classic Serpentine Belt Idler Pulley (Smooth) V8 4.8L
2001-2003 Chevy Silverado 1500 HD Serpentine Belt Idler Pulley (Smooth) V8 6.0L
2005-2006 Chevy Silverado 1500 HD Serpentine Belt Idler Pulley (Smooth)
1999-2000 Chevy Silverado 2500 Serpentine Belt Idler Pulley (Smooth) V8 5.3L
1999-2004 Chevy Silverado 2500 Serpentine Belt Idler Pulley (Smooth) V8 6.0L
2001-2008 Chevy Silverado 2500 HD Serpentine Belt Idler Pulley (Smooth) V8 6.0L
2001-2006 Chevy Silverado 2500 HD Serpentine Belt Idler Pulley (Smooth) V8 8.1L
2007 Chevy Silverado 2500 HD Classic Serpentine Belt Idler Pulley (Smooth) V8 8.1L
2007 Chevy Silverado 2500 HD Classic Serpentine Belt Idler Pulley (Smooth) V8 6.0L
2001-2008 Chevy Silverado 3500 Serpentine Belt Idler Pulley (Smooth) V8 6.0L
2001-2006 Chevy Silverado 3500 Serpentine Belt Idler Pulley (Smooth) V8 8.1L
2007 Chevy Silverado 3500 Classic Serpentine Belt Idler Pulley (Smooth) V8 6.0L
2007 Chevy Silverado 3500 Classic Serpentine Belt Idler Pulley (Smooth) V8 8.1L
2000-2008 Chevy Suburban 1500 Serpentine Belt Idler Pulley (Smooth) V8 5.3L
2001-2008 Chevy Suburban 2500 Serpentine Belt Idler Pulley (Smooth) V8 6.0L
2001-2006 Chevy Suburban 2500 Serpentine Belt Idler Pulley (Smooth) V8 8.1L
1996-1999 Chevy Suburban C1500 Serpentine Belt Idler Pulley (Smooth) V8 5.7L
1992-1999 Chevy Suburban C2500 Serpentine Belt Idler Pulley (Smooth) V8 7.4L
1996-1999 Chevy Suburban C2500 Serpentine Belt Idler Pulley (Smooth) V8 5.7L
1996-1999 Chevy Suburban K1500 Serpentine Belt Idler Pulley (Smooth) V8 5.7L
1992-1999 Chevy Suburban K2500 Serpentine Belt Idler Pulley (Smooth) V8 7.4L
1996-1999 Chevy Suburban K2500 Serpentine Belt Idler Pulley (Smooth) V8 5.7L
1996-1999 Chevy Tahoe Serpentine Belt Idler Pulley (Smooth) V8 5.7L
2000-2008 Chevy Tahoe Serpentine Belt Idler Pulley (Smooth) V8 5.3L
2000-2008 Chevy Tahoe Serpentine Belt Idler Pulley (Smooth) V8 4.8L
2003-2008 Chevy Trailblazer Serpentine Belt Idler Pulley (Smooth) V8 5.3L
2006-2008 Chevy Trailblazer Serpentine Belt Idler Pulley (Smooth) V8 6.0L
2003-2005 Chevy Trailblazer EXT Serpentine Belt Idler Pulley (Smooth) V8 5.3L
1996-1999 Chevy Van - P Series Forward Control Serpentine Belt Idler Pulley (Smooth) V8 7.4L
1996-1999 Chevy Van - P Series Forward Control Serpentine Belt Idler Pulley (Smooth) V8 5.7L
1996-1999 Chevy Van - P Series Forward Control Serpentine Belt Idler Pulley (Smooth) V8 4.3L
1993-1996 Chevy Van G-Series 1500 Serpentine Belt Idler Pulley (Smooth) V8 5.7L
1999-2004 Chrysler 300M Serpentine Belt Idler Pulley (Smooth) V6 3.5L
1995-2000 Chrysler Cirrus Serpentine Belt Idler Pulley (Smooth) V6 2.5L
1995-2000 Chrysler Cirrus Serpentine Belt Idler Pulley (Smooth) L4 2.4L (8th Vin Digit X)
2000 Chrysler Cirrus Serpentine Belt Idler Pulley (Smooth) L4 2.0L
1993-2004 Chrysler Concorde Serpentine Belt Idler Pulley (Smooth) V6 3.5L
1998-2001 Chrysler Concorde Serpentine Belt Idler Pulley (Smooth) V6 3.2L
2000-2004 Chrysler Concorde Serpentine Belt Idler Pulley (Smooth) V6 2.7L
1992 Chrysler Fifth Avenue Serpentine Belt Idler Pulley (Smooth) V6 3.8L
1991 Chrysler Imperial Serpentine Belt Idler Pulley (Smooth) V6 3.3L
1994-2001 Chrysler LHS Serpentine Belt Idler Pulley (Smooth) V6 3.5L
1991-1993 Chrysler New Yorker Serpentine Belt Idler Pulley (Smooth) V6 3.8L
1991-1993 Chrysler New Yorker Serpentine Belt Idler Pulley (Smooth) V6 3.3L
1994-1996 Chrysler New Yorker Serpentine Belt Idler Pulley (Smooth) V6 3.5L
2001-2002 Chrysler Prowler Serpentine Belt Idler Pulley (Smooth) V6 3.5L
1996-1998 Chrysler Sebring Serpentine Belt Idler Pulley (Smooth) L4 2.4L (8th Vin Digit X)
1996-2000 Chrysler Sebring Serpentine Belt Idler Pulley (Smooth) V6 2.5L
1990-2000 Chrysler Town & Country Serpentine Belt Idler Pulley (Smooth) V6 3.3L
1994-2000 Chrysler Town & Country Serpentine Belt Idler Pulley (Smooth) V6 3.8L
2000 Chrysler Voyager Serpentine Belt Idler Pulley (Smooth) V6 3.3L
1990-2000 Dodge Caravan Serpentine Belt Idler Pulley (Smooth) V6 3.3L
1996-1997 Dodge Caravan Serpentine Belt Idler Pulley (Smooth) L4 2.4L
1996-1999 Dodge Caravan Serpentine Belt Idler Pulley (Smooth) V6 3.8L
1990-1991 Dodge Dakota Serpentine Belt Idler Pulley (Smooth) V8 5.2L
1997-2002 Dodge Dakota Serpentine Belt Idler Pulley (Smooth) L4 2.5L
1990-1993 Dodge Dynasty Serpentine Belt Idler Pulley (Smooth) V6 3.3L
1991-2000 Dodge Grand Caravan Serpentine Belt Idler Pulley (Smooth) V6 3.3L
1994-2000 Dodge Grand Caravan Serpentine Belt Idler Pulley (Smooth) V6 3.8L
1996-1997 Dodge Grand Caravan Serpentine Belt Idler Pulley (Smooth) L4 2.4L
1993-2004 Dodge Intrepid Serpentine Belt Idler Pulley (Smooth) V6 3.5L
1998-2001 Dodge Intrepid Serpentine Belt Idler Pulley (Smooth) V6 3.2L
2000-2004 Dodge Intrepid Serpentine Belt Idler Pulley (Smooth) V6 2.7L
1990-1992 Dodge Monaco Serpentine Belt Idler Pulley (Smooth) V6 3.0L
1995-2000 Dodge Stratus Serpentine Belt Idler Pulley (Smooth) V6 2.5L
1995-2000 Dodge Stratus Serpentine Belt Idler Pulley (Smooth) L4 2.0L
1995-2000 Dodge Stratus Serpentine Belt Idler Pulley (Smooth) L4 2.4L (8th Vin Digit X)
1990-1992 Eagle Premier Serpentine Belt Idler Pulley (Smooth) V6 3.0L
1993-1997 Eagle Vision Serpentine Belt Idler Pulley (Smooth) V6 3.5L
1996-1997 Ford Aerostar Serpentine Belt Idler Pulley (Smooth) V6 4.0L
1995-1997 Ford Contour Serpentine Belt Idler Pulley (Smooth) L4 2.0L
2007-2009 Ford Crown Victoria Serpentine Belt Idler Pulley (Smooth) V8 4.6L
2002-2009 Ford E150 Van Serpentine Belt Idler Pulley (Smooth) V8 4.6L
2002-2009 Ford E150 Van Serpentine Belt Idler Pulley (Smooth) V8 5.4L
2002-2009 Ford E250 Van Serpentine Belt Idler Pulley (Smooth) V8 5.4L
2003-2009 Ford E250 Van Serpentine Belt Idler Pulley (Smooth) V8 4.6L
2002-2009 Ford E350 Van Serpentine Belt Idler Pulley (Smooth) V10 6.8L
2002-2009 Ford E350 Van Serpentine Belt Idler Pulley (Smooth) V8 5.4L
2002-2009 Ford E450 Van Serpentine Belt Idler Pulley (Smooth) V10 6.8L
2002-2009 Ford E450 Van Serpentine Belt Idler Pulley (Smooth) V8 5.4L
2003 Ford E550 Van Serpentine Belt Idler Pulley (Smooth) V10 6.8L
1997-2002 Ford Escort Serpentine Belt Idler Pulley (Smooth) L4 2.0L (8th Vin Digit P)
2002-2009 Ford Expedition Serpentine Belt Idler Pulley (Smooth) V8 5.4L
2003-2004 Ford Expedition Serpentine Belt Idler Pulley (Smooth) V8 4.6L
1998-2009 Ford Explorer Serpentine Belt Idler Pulley (Smooth) V6 4.0L (8th Vin Digit E)
2001-2009 Ford Explorer Serpentine Belt Idler Pulley (Smooth) V8 4.6L
2001-2009 Ford Explorer Sport Trac Serpentine Belt Idler Pulley (Smooth) V6 4.0L
2007-2009 Ford Explorer Sport Trac Serpentine Belt Idler Pulley (Smooth) V8 4.6L
2004 Ford F150 Heritage Truck Serpentine Belt Idler Pulley (Smooth) V8 4.6L
2004 Ford F150 Heritage Truck Serpentine Belt Idler Pulley (Smooth) V8 5.4L
2002-2004 Ford F150 Truck Serpentine Belt Idler Pulley (Smooth) V8 5.4L
2002-2008 Ford F150 Truck Serpentine Belt Idler Pulley (Smooth) V8 4.6L
2002-2004 Ford F250 Super Duty Truck Serpentine Belt Idler Pulley (Smooth) V8 5.4L
2002-2004 Ford F250 Super Duty Truck Serpentine Belt Idler Pulley (Smooth) V10 6.8L
2002-2004 Ford F350 Super Duty Truck Serpentine Belt Idler Pulley (Smooth) V8 5.4L
2002-2004 Ford F350 Super Duty Truck Serpentine Belt Idler Pulley (Smooth) V10 6.8L
2002-2004 Ford F450 Truck Serpentine Belt Idler Pulley (Smooth) V10 6.8L
2002-2004 Ford F550 Truck Serpentine Belt Idler Pulley (Smooth) V10 6.8L
2000-2004 Ford Focus Serpentine Belt Idler Pulley (Smooth) L4 2.0L (8th Vin Digit P)
2004-2007 Ford Freestar Serpentine Belt Idler Pulley (Smooth) V6 3.9L
2004-2007 Ford Freestar Serpentine Belt Idler Pulley (Smooth) V6 4.2L
2005-2006 Ford GT Serpentine Belt Idler Pulley (Smooth)
2005-2011 Ford Mustang Serpentine Belt Idler Pulley (Smooth) V6 4.0L
2005-2011 Ford Mustang Serpentine Belt Idler Pulley (Smooth) V8 4.6L
1998-2008 Ford Ranger Serpentine Belt Idler Pulley (Smooth) V6 3.0L
2001-2010 Ford Ranger Serpentine Belt Idler Pulley (Smooth) V6 4.0L
1998-2006 Ford Taurus Serpentine Belt Idler Pulley (Smooth) V6 3.0L (8th Vin Digit 1, 2, or U)
1998-2003 Ford Windstar Serpentine Belt Idler Pulley (Smooth) V6 3.8L
1988-1998 GMC C1500 Truck Serpentine Belt Idler Pulley (Smooth) V6 4.3L
1996-1999 GMC C1500 Truck Serpentine Belt Idler Pulley (Smooth) V8 5.0L
1996-1999 GMC C1500 Truck Serpentine Belt Idler Pulley (Smooth) V8 5.7L
1991-1999 GMC C2500 Truck Serpentine Belt Idler Pulley (Smooth) V8 7.4L
1996-1998 GMC C2500 Truck Serpentine Belt Idler Pulley (Smooth) V8 5.0L
1996-1999 GMC C2500 Truck Serpentine Belt Idler Pulley (Smooth) V8 5.7L
1990-1999 GMC C3500 Truck Serpentine Belt Idler Pulley (Smooth) V8 7.4L
1996-1999 GMC C3500 Truck Serpentine Belt Idler Pulley (Smooth) V8 5.7L
2001-2002 GMC C3500 Truck Serpentine Belt Idler Pulley (Smooth) V8 8.1L
2005-2008 GMC Envoy Serpentine Belt Idler Pulley (Smooth) V8 5.3L
2003-2004 GMC Envoy XL Serpentine Belt Idler Pulley (Smooth) V8 5.3L
2001 GMC Jimmy S-15 Serpentine Belt Idler Pulley (Smooth) V6 4.3L
1996-1998 GMC K1500 Truck Serpentine Belt Idler Pulley (Smooth) V6 4.3L
1996-1999 GMC K1500 Truck Serpentine Belt Idler Pulley (Smooth) V8 5.0L
1996-1999 GMC K1500 Truck Serpentine Belt Idler Pulley (Smooth) V8 5.7L
1991-1999 GMC K2500 Truck Serpentine Belt Idler Pulley (Smooth) V8 7.4L
1996-1998 GMC K2500 Truck Serpentine Belt Idler Pulley (Smooth) V8 5.0L
1996-1999 GMC K2500 Truck Serpentine Belt Idler Pulley (Smooth) V8 5.7L
1990-1999 GMC K3500 Truck Serpentine Belt Idler Pulley (Smooth) V8 7.4L
1996-1999 GMC K3500 Truck Serpentine Belt Idler Pulley (Smooth) V8 5.7L
2000-2004 GMC S-15 Sonoma Serpentine Belt Idler Pulley (Smooth) V6 4.3L
1996-2005 GMC Safari Serpentine Belt Idler Pulley (Smooth) V6 4.3L
1996-2002 GMC Savana 1500 Van Serpentine Belt Idler Pulley (Smooth) V8 5.0L
1996-2008 GMC Savana 1500 Van Serpentine Belt Idler Pulley (Smooth) V6 4.3L
1996-2002 GMC Savana 1500 Van Serpentine Belt Idler Pulley (Smooth) V8 5.7L
2003-2008 GMC Savana 1500 Van Serpentine Belt Idler Pulley (Smooth) V8 5.3L
1996-2005 GMC Savana 2500 Van Serpentine Belt Idler Pulley (Smooth) V6 4.3L
1996-2002 GMC Savana 2500 Van Serpentine Belt Idler Pulley (Smooth) V8 5.0L
1996-2002 GMC Savana 2500 Van Serpentine Belt Idler Pulley (Smooth) V8 5.7L
2003-2008 GMC Savana 2500 Van Serpentine Belt Idler Pulley (Smooth) V8 4.8L
2003-2008 GMC Savana 2500 Van Serpentine Belt Idler Pulley (Smooth) V8 6.0L
2003-2008 GMC Savana 2500 Van Serpentine Belt Idler Pulley (Smooth) V8 5.3L
1996-2002 GMC Savana 3500 Van Serpentine Belt Idler Pulley (Smooth) V8 5.7L
2001-2002 GMC Savana 3500 Van Serpentine Belt Idler Pulley (Smooth) V8 8.1L
2003-2008 GMC Savana 3500 Van Serpentine Belt Idler Pulley (Smooth) V8 6.0L
2005-2008 GMC Savana 3500 Van Serpentine Belt Idler Pulley (Smooth) V8 4.8L
1999-2008 GMC Sierra 1500 Serpentine Belt Idler Pulley (Smooth) V6 4.3L
1999-2008 GMC Sierra 1500 Serpentine Belt Idler Pulley (Smooth) V8 4.8L
1999-2008 GMC Sierra 1500 Serpentine Belt Idler Pulley (Smooth) V8 5.3L
2001-2008 GMC Sierra 1500 Serpentine Belt Idler Pulley (Smooth) V8 6.0L
2007 GMC Sierra 1500 Classic Serpentine Belt Idler Pulley (Smooth) V8 4.8L
2007 GMC Sierra 1500 Classic Serpentine Belt Idler Pulley (Smooth) V8 5.3L
2007 GMC Sierra 1500 Classic Serpentine Belt Idler Pulley (Smooth) V8 6.0L
2007 GMC Sierra 1500 Classic Serpentine Belt Idler Pulley (Smooth) V6 4.3L
2001-2003 GMC Sierra 1500 HD Serpentine Belt Idler Pulley (Smooth) V8 6.0L
2005-2006 GMC Sierra 1500 HD Serpentine Belt Idler Pulley (Smooth)
2007 GMC Sierra 1500 HD Classic Serpentine Belt Idler Pulley (Smooth)
1999-2004 GMC Sierra 2500 Serpentine Belt Idler Pulley (Smooth) V8 6.0L
2001-2008 GMC Sierra 2500 HD Serpentine Belt Idler Pulley (Smooth) V8 6.0L
2001-2006 GMC Sierra 2500 HD Serpentine Belt Idler Pulley (Smooth) V8 8.1L
2007 GMC Sierra 2500 HD Classic Serpentine Belt Idler Pulley (Smooth) V8 6.0L
2007 GMC Sierra 2500 HD Classic Serpentine Belt Idler Pulley (Smooth) V8 8.1L
2001-2008 GMC Sierra 3500 Serpentine Belt Idler Pulley (Smooth) V8 6.0L
2001-2006 GMC Sierra 3500 Serpentine Belt Idler Pulley (Smooth) V8 8.1L
2007 GMC Sierra 3500 Classic Serpentine Belt Idler Pulley (Smooth) V8 6.0L
2007 GMC Sierra 3500 Classic Serpentine Belt Idler Pulley (Smooth) V8 8.1L
1996-1999 GMC Suburban C1500 Serpentine Belt Idler Pulley (Smooth) V8 5.7L
1992-1999 GMC Suburban C2500 Serpentine Belt Idler Pulley (Smooth) V8 7.4L
1996-1999 GMC Suburban C2500 Serpentine Belt Idler Pulley (Smooth) V8 5.7L
1996-1999 GMC Suburban K1500 Serpentine Belt Idler Pulley (Smooth) V8 5.7L
1992-1999 GMC Suburban K2500 Serpentine Belt Idler Pulley (Smooth) V8 7.4L
1996-1999 GMC Suburban K2500 Serpentine Belt Idler Pulley (Smooth) V8 5.7L
1996-1999 GMC Van - P Series Forward Control Serpentine Belt Idler Pulley (Smooth) V8 7.4L
1996-1999 GMC Van - P Series Forward Control Serpentine Belt Idler Pulley (Smooth) V6 4.3L
1996-1999 GMC Van - P Series Forward Control Serpentine Belt Idler Pulley (Smooth) V8 5.7L
1996-1999 GMC Yukon Serpentine Belt Idler Pulley (Smooth) V8 5.7L
2000-2008 GMC Yukon Serpentine Belt Idler Pulley (Smooth) V8 4.8L
2000-2008 GMC Yukon Serpentine Belt Idler Pulley (Smooth) V8 5.3L
2005-2006 GMC Yukon Serpentine Belt Idler Pulley (Smooth) V8 6.0L
2000-2008 GMC Yukon XL 1500 Serpentine Belt Idler Pulley (Smooth) V8 5.3L
2000-2008 GMC Yukon XL 2500 Serpentine Belt Idler Pulley (Smooth) V8 6.0L
2001-2006 GMC Yukon XL 2500 Serpentine Belt Idler Pulley (Smooth) V8 8.1L
2008 Hummer H3 Serpentine Belt Idler Pulley (Smooth) V8 5.3L
1987-2001 Jeep Cherokee Serpentine Belt Idler Pulley (Smooth) L6 4.0L
1987-2000 Jeep Cherokee Serpentine Belt Idler Pulley (Smooth) L4 2.5L
1987-1992 Jeep Comanche (MJ) Serpentine Belt Idler Pulley (Smooth) L6 4.0L
1987-1992 Jeep Comanche (MJ) Serpentine Belt Idler Pulley (Smooth) L4 2.5L
1993-1998 Jeep Grand Cherokee Serpentine Belt Idler Pulley (Smooth) L6 4.0L
1987 Jeep Wagoneer Serpentine Belt Idler Pulley (Smooth) L4 2.5L
1987-1990 Jeep Wagoneer Serpentine Belt Idler Pulley (Smooth) L6 4.0L
1991-1995 Jeep Wrangler Serpentine Belt Idler Pulley (Smooth) L4 2.5L
1991-1995 Jeep Wrangler Serpentine Belt Idler Pulley (Smooth) L6 4.0L
1997-2002 Jeep Wrangler Serpentine Belt Idler Pulley (Smooth) L4 2.5L
1997-1999 Jeep Wrangler Serpentine Belt Idler Pulley (Smooth) L6 4.0L
2003-2005 Lincoln Aviator Serpentine Belt Idler Pulley (Smooth) V8 4.6L
2003-2009 Lincoln Navigator Serpentine Belt Idler Pulley (Smooth) V8 5.4L
2007-2009 Lincoln Town Car Serpentine Belt Idler Pulley (Smooth) V8 4.6L
2007-2009 Mercury Grand Marquis Serpentine Belt Idler Pulley (Smooth) V8 4.6L
1997-2001 Mercury Mountaineer Serpentine Belt Idler Pulley (Smooth) V8 5.0L
1998-2009 Mercury Mountaineer Serpentine Belt Idler Pulley (Smooth) V6 4.0L (8th Vin Digit E)
2002-2009 Mercury Mountaineer Serpentine Belt Idler Pulley (Smooth) V8 4.6L
2004-2007 Mercury Mountaineer Serpentine Belt Idler Pulley (Smooth) V6 4.2L
1995-1997 Mercury Mystique Serpentine Belt Idler Pulley (Smooth) L4 2.0L
1998-2005 Mercury Sable Serpentine Belt Idler Pulley (Smooth) V6 3.0L (8th Vin Digit 1, 2, or U)
1997-1999 Mercury Tracer Serpentine Belt Idler Pulley (Smooth) L4 2.0L (8th Vin Digit P)
1996 Olds 88 Serpentine Belt Idler Pulley (Smooth) V6 3.8L Supercharged
1996 Olds 98-Regency Serpentine Belt Idler Pulley (Smooth) V6 3.8L Supercharged
2000-2001 Olds Bravada Serpentine Belt Idler Pulley (Smooth) V6 4.3L
1996-1999 Olds LSS Serpentine Belt Idler Pulley (Smooth) V6 3.8L Supercharged
1996-2000 Plymouth Breeze Serpentine Belt Idler Pulley (Smooth) L4 2.0L
1997-2000 Plymouth Breeze Serpentine Belt Idler Pulley (Smooth) L4 2.4L (8th Vin Digit X)
1990-2000 Plymouth Grand Voyager Serpentine Belt Idler Pulley (Smooth) V6 3.3L
1994-1999 Plymouth Grand Voyager Serpentine Belt Idler Pulley (Smooth) V6 3.8L
1996-1997 Plymouth Grand Voyager Serpentine Belt Idler Pulley (Smooth) L4 2.4L
1997 Plymouth Prowler Serpentine Belt Idler Pulley (Smooth)
1999-2001 Plymouth Prowler Serpentine Belt Idler Pulley (Smooth)
1991-2000 Plymouth Voyager Serpentine Belt Idler Pulley (Smooth) V6 3.3L
1996-1997 Plymouth Voyager Serpentine Belt Idler Pulley (Smooth) L4 2.4L
1999 Plymouth Voyager Serpentine Belt Idler Pulley (Smooth) V6 3.8L
1996-2003 Pontiac Bonneville Serpentine Belt Idler Pulley (Smooth) V6 3.8L Supercharged
1997-2007 Pontiac Grand Prix Serpentine Belt Idler Pulley (Smooth) V6 3.8L Supercharged
1998-2001 Pontiac Grand Prix Serpentine Belt Idler Pulley (Smooth) V6 3.8L Supercharged
Part #: 1AEIX00001


Ships Same Day for orders placed by 4 P.M. ET