1AACD00060-Serpentine Belt
Replaces
Serpentine Belt ACDelco 6K930 - 1AACD00060
1AACD00060
AC DELCO 6K930 [SERPENTINE BELT
]
This AC DELCO serpentine belt is a new part. It is the same part that you would receive if you purchased it from your local GM dealer.
Specifications
Brand New AC Delco part
Replaces dealer part numbers: 10208364, 12576451, 24505042, 25060930, 8101158390, 25-060930, 8-10115-839-0, 94DA8620AA, 94DA-8620AA, 94DA8620AB, 94DA-8620AB, E5AE8620GA, E5AE-8620GA, E5LY8620A, E5LY-8620A, E5ZE8620BA, E5ZE-8620BA, E6SZ8620A, E6SZ-8620A, JK6936, JK6-936
Built to strict quality control standards
Direct replacement
100% factory tested
Item Condition: New

Wear and Tear
This item is backed by a 60-day warranty against defects in materials and workmanship under its intended use. The warranty does not cover normal wear and tear.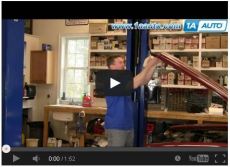 step : Remove the serpentine belt (1:00)

Move the intake hose out of the way by removing the clamps and breaking the seal with your flat blade screwdriver
Unclip the radiator hose
Prepare your serpentine belt routing diagram
Use a 15 mm socket and ratchet on the belt tensioner to release the tension on the serpentine belt
Remove the serpentine belt

step : Install the serpentine belt (2:37)

Use your routing diagram to install the serpentine belt
Relieve tension from the tensioner pulley with your 15 mm socket and ratchet to get the belt on the last pulley (the tensioner pulley)
Replace the intake hose by fastening down the clamps and clip the radiator hose back on.
Tools needed for replacement:
Ratchets & Related

Ratchet

Screwdrivers & Related

Flat Blade Screwdriver

Sockets - Metric

15mm Socket
The correct belt, perfect fit. Thank you, 1A Auto.
Customer Q&A
Ask a question to 1A Auto customers who purchased the product
No questions have been asked about this item.
| Year | Make | Model | Description |
| --- | --- | --- | --- |
| 2005-2008 | Buick | Allure | Buick Allure Serpentine Belt V6 3.6L 145 Amp Alternator ACDelco 6K930 |
| 2005-2008 | Buick | LaCrosse | Buick LaCrosse Serpentine Belt V6 3.6L 145 Amp Alternator ACDelco 6K930 |
| 1997-1998 | Buick | Regal | Buick Regal Serpentine Belt V6 3.8L 145 Amp Alternator ACDelco 6K930 |
| 2004-2006 | Buick | Rendezvous | Buick Rendezvous Serpentine Belt V6 3.6L 145 Amp Alternator ACDelco 6K930 |
| 2002 | Cadillac | Escalade | Cadillac Escalade Serpentine Belt for 130 Amp Alternator ACDelco 6K930 |
| 2003-2005 | Cadillac | Escalade | Cadillac Escalade Serpentine Belt for 145 Amp Alternator ACDelco 6K930 |
| 2002 | Cadillac | Escalade EXT | Cadillac Escalade EXT Serpentine Belt for 130 Amp Alternator ACDelco 6K930 |
| 2003-2005 | Cadillac | Escalade EXT | Cadillac Escalade EXT Serpentine Belt for 145 Amp Alternator ACDelco 6K930 |
| 2002-2004 | Chevy | Avalanche 1500 | Chevy Avalanche 1500 Serpentine Belt for 130 Amp Alternator ACDelco 6K930 |
| 2005-2006 | Chevy | Avalanche 1500 | Chevy Avalanche 1500 Serpentine Belt for 145 Amp Alternator ACDelco 6K930 |
| 1992-1993 | Chevy | Caprice | Chevy Caprice Serpentine Belt V8 5.7L 124 Amp Alternator ACDelco 6K930 |
| 1992-1993 | Chevy | Caprice | Chevy Caprice Serpentine Belt V8 5.0L 124 Amp Alternator ACDelco 6K930 |
| 2008-2009 | Chevy | Equinox | Chevy Equinox Serpentine Belt V6 3.6L 145 Amp Alternator ACDelco 6K930 |
| 2003-2013 | Chevy | Express 1500 Van | Chevy Express 1500 Van Serpentine Belt V8 5.3L 145 Amp Alternator ACDelco 6K930 |
| 2003-2004 | Chevy | Express 2500 Van | Chevy Express 2500 Van Serpentine Belt V8 5.3L 145 Amp Alternator ACDelco 6K930 |
| 2003-2013 | Chevy | Express 2500 Van | Chevy Express 2500 Van Serpentine Belt 145 Amp Alternator ACDelco 6K930 |
| 2003-2013 | Chevy | Express 2500 Van | Chevy Express 2500 Van Serpentine Belt V8 4.8L 145 Amp Alternator ACDelco 6K930 |
| 2001-2002 | Chevy | Express 3500 Van | Chevy Express 3500 Van Serpentine Belt V8 8.1L 145 Amp Alternator ACDelco 6K930 |
| 2003-2013 | Chevy | Express 3500 Van | Chevy Express 3500 Van Serpentine Belt V8 6.0L 145 Amp Alternator ACDelco 6K930 |
| 2005-2013 | Chevy | Express 3500 Van | Chevy Express 3500 Van Serpentine Belt V8 4.8L 145 Amp Alternator ACDelco 6K930 |
| 1999-2007 | Chevy | Silverado 1500 | Chevy Silverado 1500 (excluding Hybrid Models) Serpentine Belt V8 5.3L 145 Amp Alternator ACDelco 6K930 |
| 1999-2007 | Chevy | Silverado 1500 | Chevy Silverado 1500 Serpentine Belt 130 Amp Alternator ACDelco 6K930 |
| 2005-2006 | Chevy | Silverado 1500 | Chevy Silverado 1500 Serpentine Belt V8 6.0L 145 Amp Alternator ACDelco 6K930 |
| 2007 | Chevy | Silverado 1500 Classic | Chevy Silverado 1500 Classic Serpentine Belt V8 6.0L 145 Amp Alternator ACDelco 6K930 |
| 2007 | Chevy | Silverado 1500 Classic | Chevy Silverado 1500 Classic Serpentine Belt V8 5.3L 145 Amp Alternator (excluding Hybrid Models) ACDelco 6K930 |
| 2007 | Chevy | Silverado 1500 Classic | Chevy Silverado 1500 Classic Serpentine Belt 130 Amp Alternator ACDelco 6K930 |
| 2001-2003 | Chevy | Silverado 1500 HD | Chevy Silverado 1500 HD Serpentine Belt V8 6.0L 130 Amp Alternator ACDelco 6K930 |
| 2005-2006 | Chevy | Silverado 1500 HD | Chevy Silverado 1500 HD Serpentine Belt V8 6.0L 145 Amp Alternator ACDelco 6K930 |
| 1999-2000 | Chevy | Silverado 2500 | Chevy Silverado 2500 Serpentine Belt V8 5.3L 130 Amp Alternator ACDelco 6K930 |
| 1999-2002 | Chevy | Silverado 2500 | Chevy Silverado 2500 Serpentine Belt V8 6.0L 130 Amp Alternator ACDelco 6K930 |
| 2003-2004 | Chevy | Silverado 2500 | Chevy Silverado 2500 Serpentine Belt V8 6.0L 145 Amp Alternator ACDelco 6K930 |
| 2001-2002 | Chevy | Silverado 3500 | Chevy Silverado 3500 Serpentine Belt 130 Amp Alternator V8 6.0L ACDelco 6K930 |
| 2003-2006 | Chevy | Silverado 3500 | Chevy Silverado 3500 Serpentine Belt V8 6.0L 145 Amp Alternator ACDelco 6K930 |
| 2007 | Chevy | Silverado 3500 Classic | Chevy Silverado 3500 Classic Serpentine Belt V8 6.0L 145 Amp Alternator ACDelco 6K930 |
| 2000-2002 | Chevy | Suburban 1500 | Chevy Suburban 1500 Serpentine Belt V8 5.3L 130 Amp Alternator ACDelco 6K930 |
| 2003-2006 | Chevy | Suburban 1500 | Chevy Suburban 1500 Serpentine Belt V8 5.3L 145 Amp Alternator ACDelco 6K930 |
| 2006 | Chevy | Suburban 1500 | Chevy Suburban 1500 Serpentine Belt V8 6.0L 145 Amp Alternator ACDelco 6K930 |
| 2000-2002 | Chevy | Suburban 2500 | Chevy Suburban 2500 Serpentine Belt V8 6.0L 130 Amp Alternator ACDelco 6K930 |
| 2003-2006 | Chevy | Suburban 2500 | Chevy Suburban 2500 Serpentine Belt V8 6.0L 145 Amp Alternator ACDelco 6K930 |
| 2000-2002 | Chevy | Tahoe | Chevy Tahoe Serpentine Belt for V8 5.3L 130 Amp Alternator ACDelco 6K930 |
| 2000-2002 | Chevy | Tahoe | Chevy Tahoe Serpentine Belt V8 4.8L 130 Amp Alternator ACDelco 6K930 |
| 2003-2006 | Chevy | Tahoe | Chevy Tahoe Serpentine Belt V8 5.3L 145 Amp Alternator ACDelco 6K930 |
| 2003-2006 | Chevy | Tahoe | Chevy Tahoe Serpentine Belt V8 4.8L 145 Amp Alternator ACDelco 6K930 |
| 1986-1988 | Ford | Thunderbird | Ford Thunderbird Serpentine Belt V8 5.0L for Models with with Air Conditioning ACDelco 6K930 |
| 2003-2013 | GMC | Savana 1500 Van | GMC Savana 1500 Van Serpentine Belt V8 5.3L 145 Amp Alternator ACDelco 6K930 |
| 2003-2004 | GMC | Savana 2500 Van | GMC Savana 2500 Van Serpentine Belt V8 5.3L 145 Amp Alternator ACDelco 6K930 |
| 2003-2013 | GMC | Savana 2500 Van | GMC Savana 2500 Van Serpentine Belt V8 6.0L 145 Amp Alternator ACDelco 6K930 |
| 2003-2013 | GMC | Savana 2500 Van | GMC Savana 2500 Van Serpentine Belt V8 4.8L 145 Amp Alternator ACDelco 6K930 |
| 2001-2002 | GMC | Savana 3500 Van | GMC Savana 3500 Van Serpentine Belt V8 8.1L 145 Amp Alternator ACDelco 6K930 |
| 2003-2013 | GMC | Savana 3500 Van | GMC Savana 3500 Van Serpentine Belt V8 6.0L 145 Amp Alternator ACDelco 6K930 |
| 2005-2013 | GMC | Savana 3500 Van | GMC Savana 3500 Van Serpentine Belt V8 4.8L 145 Amp Alternator ACDelco 6K930 |
| 1999-2006 | GMC | Sierra 1500 | GMC Sierra 1500 Serpentine Belt V8 4.8L 130 Amp Alternator ACDelco 6K930 |
| 1999-2006 | GMC | Sierra 1500 | GMC Sierra 1500 (excluding Hybrid Models) Serpentine Belt V8 5.3L 145 Amp Alternator ACDelco 6K930 |
| 2005-2006 | GMC | Sierra 1500 | GMC Sierra 1500 Serpentine Belt V8 6.0L 145 Amp Alternator ACDelco 6K930 |
| 2007 | GMC | Sierra 1500 Classic | GMC Sierra 1500 Classic Serpentine Belt V8 6.0L 145 Amp Alternator ACDelco 6K930 |
| 2007 | GMC | Sierra 1500 Classic | GMC Sierra 1500 Classic Serpentine Belt V8 5.3L 145 Amp Alternator (excluding Hybrid Models) ACDelco 6K930 |
| 2007 | GMC | Sierra 1500 Classic | GMC Sierra 1500 Classic Serpentine Belt V8 4.8L 130 Amp Alternator ACDelco 6K930 |
| 2001-2003 | GMC | Sierra 1500 HD | GMC Sierra 1500 HD Serpentine Belt V8 6.0L 130 Amp Alternator ACDelco 6K930 |
| 2005-2006 | GMC | Sierra 1500 HD | GMC Sierra 1500 HD Serpentine Belt V8 6.0L 145 Amp Alternator ACDelco 6K930 |
| 2007 | GMC | Sierra 1500 HD Classic | GMC Sierra 1500 HD Classic Serpentine Belt V8 6.0L 145 Amp Alternator ACDelco 6K930 |
| 1999-2000 | GMC | Sierra 2500 | GMC Sierra 2500 Serpentine Belt 130 Amp Alternator V8 5.3L ACDelco 6K930 |
| 1999-2002 | GMC | Sierra 2500 | GMC Sierra 2500 Serpentine Belt V8 6.0L 130 Amp Alternator ACDelco 6K930 |
| 2003-2004 | GMC | Sierra 2500 | GMC Sierra 2500 Serpentine Belt 145 Amp Alternator V8 6.0L ACDelco 6K930 |
| 2001-2002 | GMC | Sierra 2500 HD | GMC Sierra 2500 HD Serpentine Belt V8 6.0L 130 Amp Alternator ACDelco 6K930 |
| 2003-2004 | GMC | Sierra 2500 HD | GMC Sierra 2500 HD Serpentine Belt 145 Amp Alternator V8 6.0L ACDelco 6K930 |
| 2001-2002 | GMC | Sierra 3500 | GMC Sierra 3500 Serpentine Belt V8 6.0L 130 Amp Alternator ACDelco 6K930 |
| 2003-2006 | GMC | Sierra 3500 | GMC Sierra 3500 Serpentine Belt V8 6.0L 145 Amp Alternator ACDelco 6K930 |
| 2007 | GMC | Sierra 3500 Classic | GMC Sierra 3500 Classic Serpentine Belt V8 6.0L 145 Amp Alternator ACDelco 6K930 |
| 2000-2003 | GMC | Yukon | GMC Yukon Serpentine Belt V8 4.8L 130 Amp Alternator ACDelco 6K930 |
| 2000-2003 | GMC | Yukon | GMC Yukon Serpentine Belt V8 5.3L 130 Amp Alternator ACDelco 6K930 |
| 2004-2006 | GMC | Yukon | GMC Yukon Serpentine Belt V8 5.3L 145 Amp Alternator ACDelco 6K930 |
| 2004-2006 | GMC | Yukon | GMC Yukon Serpentine Belt V8 4.8L 145 Amp Alternator ACDelco 6K930 |
| 2000-2003 | GMC | Yukon XL 1500 | GMC Yukon XL 1500 Serpentine Belt V8 5.3L 130 Amp Alternator ACDelco 6K930 |
| 2004-2006 | GMC | Yukon XL 1500 | GMC Yukon XL 1500 Serpentine Belt V8 5.3L 145 Amp Alternator ACDelco 6K930 |
| 2000-2003 | GMC | Yukon XL 2500 | GMC Yukon XL 2500 Serpentine Belt V8 6.0L 130 Amp Alternator ACDelco 6K930 |
| 2001-2002 | GMC | Yukon XL 2500 | GMC Yukon XL 2500 Serpentine Belt V8 8.1L 130 Amp Alternator ACDelco 6K930 |
| 2004-2006 | GMC | Yukon XL 2500 | GMC Yukon XL 2500 Serpentine Belt V8 6.0L 145 Amp Alternator ACDelco 6K930 |
| 2008 | Isuzu | Ascender | Isuzu Ascender Serpentine Belt L6 4.2L ACDelco 6K930 |
| 1990-1991 | Isuzu | Trooper | Isuzu Trooper Serpentine Belt L6 2.8L without Air Conditioning ACDelco 6K930 |
| 1985-1987 | Lincoln | Continental | Lincoln Continental Serpentine Belt V8 5.0L ACDelco 6K930 |
| 1985-1987 | Lincoln | Mark VII | Lincoln Mark VII Serpentine Belt V8 5.0L ACDelco 6K930 |
| 1986-1988 | Mercury | Cougar | Mercury Cougar Serpentine Belt V8 5.0L with Air Conditioning ACDelco 6K930 |
| 1992 | Oldsmobile | Custom Cruiser | Olds Custom Cruiser Serpentine Belt V8 5.0L with Air Conditioning ACDelco 6K930 |
| 1999-2002 | Oldsmobile | Intrigue | Olds Intrigue Serpentine Belt V6 3.5L ACDelco 6K930 |
| 1997-1998 | Pontiac | Grand Prix | Pontiac Grand Prix Serpentine Belt V6 3.8L ACDelco 6K930 |
| 2008-2009 | Pontiac | Torrent | Pontiac Torrent Serpentine Belt V6 3.6L ACDelco 6K930 |
| 2008 | Saab | 9-7X | Saab 9-7X Serpentine Belt L6 4.2L ACDelco 6K930 |
| 2008-2009 | Saturn | Vue | Saturn Vue Serpentine Belt V6 3.6L ACDelco 6K930 |
| 2007-2009 | Suzuki | XL-7 | Suzuki XL-7 Serpentine Belt V6 3.6L ACDelco 6K930 |
Part #: 1AACD00060
Order must be placed by 4pm ET
Get it in: 2 - 4 Business Days
Want it sooner? Choose Next Day Air at Checkout

Brand #: 6K930