1AESB00038-Serpentine Belt
Replaces
Serpentine Belt ACDelco 6K882 - 1AESB00038
1AESB00038
AC DELCO 6K882 [SERPENTINE BELT
]
This AC DELCO serpentine belt is a new part. It is the same part that you would receive if you purchased it from your local GM dealer.
This serpentine belt features the following specifications:
Brand New AC Delco part
Replaces dealer part numbers: 3239593, 3239593, 4854033, 04854033AB, 4854033, 4854033AB, 5135746AA, 53032037ADG00, 53032125AB, 53032125AD, 53032380AD, 6PK2239, 2L5E8620AA, 2L5Z8620AA, 6E5Q6C301AD, 6E5Q6C301AD1, 6E5Z8620B, 6L5Z8620A, 89TY8620AA, F5TZ8620D, F6TZ8620BA, F77E8620NA, F77E8620XA, F77Z8620GA, F77Z8620NA, F77Z8620XA, F87E8620MA, JK6891, XL2E8620AU, XL2E8620DA, XL2Z8620DA, 12583316, 12591059, 12594619, 14055157, 88932775, 92046548, 1F2218381, 1F2218381A, LFG115909B, ZZMG18381, ZZMG18381A, ZZP218381, ZZR218381, 79978292, 109978792, 9008091173, 9091602230, 9091602231, 9091602231D, 9091602231H, 9091602360, 9091602462, 9091602463, 9091602585, 9091602586, 90916A2004, 2L5E 8620 AA, 2L5Z 8620 AA, 6E5Q 6C301 AD, 6E5Q 6C301 AD1, 6E5Z 8620 B, 6L5Z 8620 A, 89TY 8620 AA, F5TZ 8620 D, F6TZ 8620 BA, F77E 8620 NA, F77E 8620 XA, F77Z 8620 GA, F77Z 8620 NA, F77Z 8620 XA, F87E 8620 MA
Effective Length: 88.25'
Thickness: .169'
Top Width: .82"
Built to strict quality control standards
Direct replacement
Number of Ribs: 6
Wear and Tear
This item is backed by a 60-day warranty against defects in materials and workmanship under its intended use. The warranty does not cover normal wear and tear.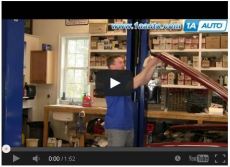 Tools needed for replacement:
Ratchets & Related

3/8 Inch Drive Ratchet
Ratchet
A Piece of Pipe (for leverage)

Screwdrivers & Related

Flat Blade Screwdriver

Sockets - Metric

10mm Socket
15mm Socket

Torx Drivers & Sockets

T25 Torx Driver
Vehicle Fit
| Year | Make | Model | Description |
| --- | --- | --- | --- |
| 1981-1982 | American Motors | Concord | American Motors Concord Serpentine Belt L6 4.2L with 2 BBL Carburetor (8th Vin Digit C) with A/C Compressor & Alternator Manual Steering without 70 Amp Alternator ACDelco 6K882 |
| 1981-1982 | American Motors | Spirit | American Motors Spirit Serpentine Belt L6 4.2L with 2 BBL Carburetor (8th Vin Digit C) Manual Steering with A/C Compressor & Alternator without 70 Amp Alternator ACDelco 6K882 |
| 1984 | Chevy | Corvette | Chevy Corvette Serpentine Belt V8 5.7L (8th Vin Digit 8) ACDelco 6K882 |
| 2004-2006 | Chevy | Malibu | Chevy Malibu Serpentine Belt V6 3.5L (8th Vin Digit 8) ACDelco 6K882 |
| 2004-2006 | Chevy | Malibu Maxx | Chevy Malibu Maxx Serpentine Belt V6 3.5L (8th Vin Digit 8) ACDelco 6K882 |
| 2000-2003 | Dodge | Dakota | Dodge Dakota Serpentine Belt V8 4.7L (8th Vin Digit N) ACDelco 6K882 |
| 2000-2003 | Dodge | Durango | Dodge Durango Serpentine Belt V8 4.7L (8th Vin Digit N) ACDelco 6K882 |
| 2000 | Dodge | Durango | Dodge Durango Serpentine Belt V8 5.9L (8th Vin Digit Z) ACDelco 6K882 |
| 2002-2003 | Dodge | Ram 1500 Truck | Dodge Ram 1500 Truck Serpentine Belt V8 4.7L (8th Vin Digit N) ACDelco 6K882 |
| 2002-2003 | Dodge | Ram 1500 Truck | Dodge Ram 1500 Truck Serpentine Belt V6 3.7L (8th Vin Digit K) ACDelco 6K882 |
| 1997-2000 | Ford | Explorer | Ford Explorer Serpentine Belt V6 4.0L (8th Vin Digit X) ACDelco 6K882 |
| 2006-2009 | Ford | Fusion | Ford Fusion Serpentine Belt L4 2.3L (8th Vin Digit Z) ACDelco 6K882 |
| 1997-2000 | Ford | Ranger | Ford Ranger Serpentine Belt V6 4.0L (8th Vin Digit X) with Air Conditioning ACDelco 6K882 |
| 1997-2006 | Ford | Ranger | Ford Ranger Serpentine Belt V6 3.0L (8th Vin Digit U) with Air Conditioning ACDelco 6K882 |
| 1999-2004 | Ford | Ranger | Ford Ranger Serpentine Belt V6 3.0L (8th Vin Digit V) with Air Conditioning ACDelco 6K882 |
| 1981-1983 | Jeep | CJ5 | Jeep CJ5 Serpentine Belt L6 4.2L with 2 BBL Carburetor (8th Vin Digit C) without Air Conditioning with Manual Steering without 70 Amp Alternator ACDelco 6K882 |
| 1981-1984 | Jeep | CJ7 | Jeep CJ7 Serpentine Belt L6 4.2L with 2 BBL Carburetor (8th Vin Digit C) without Air Conditioning with Manual Steering without 70 Amp Alternator ACDelco 6K882 |
| 1981-1984 | Jeep | CJ8 Scrambler | Jeep CJ8 Scrambler Serpentine Belt L6 4.2L with 2 BBL Carburetor (8th Vin Digit C) without 70 Amp Alternator without Air Conditioning without Air Pump ACDelco 6K882 |
| 1981-1983 | Jeep | Cherokee | Jeep Cherokee Serpentine Belt L6 4.2L with 2 BBL Carburetor (8th Vin Digit C) without Air Conditioning with Manual Steering without 70 Amp Alternator ACDelco 6K882 |
| 1999-2004 | Jeep | Grand Cherokee | Jeep Grand Cherokee Serpentine Belt L6 4.0L (8th Vin Digit S) ACDelco 6K882 |
| 1984 | Jeep | Grand Wagoneer | Jeep Grand Wagoneer Serpentine Belt with 2 BBL Carburetor (8th Vin Digit C) with 78 Amp Alternator L6 4.2L ACDelco 6K882 |
| 1981-1984 | Jeep | J Series Pickup (SJ) | Jeep J Series Pickup (SJ) Serpentine Belt L6 4.2L with 2 BBL Carburetor (8th Vin Digit C) without Air Conditioning with Manual Steering without 70 Amp Alternator ACDelco 6K882 |
| 2010 | Jeep | Liberty | Jeep Liberty Serpentine Belt V6 3.7L (8th Vin Digit K) ACDelco 6K882 |
| 1981-1983 | Jeep | Wagoneer | Jeep Wagoneer Serpentine Belt L6 4.2L with 2 BBL Carburetor (8th Vin Digit C) without Air Conditioning with Manual Steering without 70 Amp Alternator ACDelco 6K882 |
| 2000-2006 | Jeep | Wrangler | Jeep Wrangler Serpentine Belt L6 4.0L (8th Vin Digit S) ACDelco 6K882 |
| 1998-2000 | Lexus | GS400 | Lexus GS400 Serpentine Belt V8 4.0L (Engine ID 1UZFE) ACDelco 6K882 |
| 2001-2005 | Lexus | GS430 | Lexus GS430 Serpentine Belt V8 4.3L (Engine ID 3UZFE) ACDelco 6K882 |
| 2003-2009 | Lexus | GX470 | Lexus GX470 (Engine ID 3UZFE) Serpentine Belt V8 4.7L ACDelco 6K882 |
| 1990-1994 | Lexus | LS400 | Lexus LS400 Serpentine Belt V8 4.0L (Engine ID 1UZFE) ACDelco 6K882 |
| 2001-2006 | Lexus | LS430 | Lexus LS430 Serpentine Belt V8 4.3L (Engine ID 3UZFE) ACDelco 6K882 |
| 1998-2007 | Lexus | LX470 | Lexus LX470 (Engine ID 3UZFE) Serpentine Belt V8 4.7L ACDelco 6K882 |
| 1998-2000 | Lexus | SC400 | Lexus SC400 Serpentine Belt V8 4.0L (Engine ID 1UZFE) ACDelco 6K882 |
| 1997-2006 | Mazda | B3000 Truck | Mazda B3000 Truck Serpentine Belt V6 3.0L (8th Vin Digit U) with Air Conditioning ACDelco 6K882 |
| 1999-2003 | Mazda | B3000 Truck | Mazda B3000 Truck Serpentine Belt V6 3.0L (8th Vin Digit V) with Air Conditioning ACDelco 6K882 |
| 1997-2000 | Mazda | B4000 Truck | Mazda B4000 Truck Serpentine Belt V6 4.0L (8th Vin Digit X) with Air Conditioning ACDelco 6K882 |
| 2002 | Mazda | B4000 Truck | Mazda B4000 Truck Serpentine Belt V6 4.0L (8th Vin Digit E) ACDelco 6K882 |
| 2006-2008 | Mazda | Miata MX-5 | Mazda Miata MX-5 Serpentine Belt L4 2.0L with Air Conditioning ACDelco 6K882 |
| 1996 | Mercedes Benz | C280 | Mercedes Benz C280 Serpentine Belt L6 2.8L ACDelco 6K882 |
| 1996 | Mercedes Benz | C36 AMG | Mercedes Benz C36 AMG Serpentine Belt ACDelco 6K882 |
| 1997 | Mercedes Benz | C36 AMG | Mercedes Benz C36 AMG Serpentine Belt ACDelco 6K882 |
| 2006-2008 | Mercury | Milan | Mercury Milan Serpentine Belt L4 2.3L (8th Vin Digit Z) ACDelco 6K882 |
| 2005-2006 | Pontiac | G6 | Pontiac G6 Serpentine Belt V6 3.5L (8th Vin Digit 8) ACDelco 6K882 |
| 2003-2009 | Toyota | 4Runner | Toyota 4Runner Serpentine Belt V8 4.7L (8th Vin Digit 2) ACDelco 6K882 |
| 1998-2007 | Toyota | Land Cruiser | Toyota Land Cruiser Serpentine Belt V8 4.7L (8th Vin Digit 2) ACDelco 6K882 |
| 2001-2008 | Toyota | Sequoia | Toyota Sequoia Serpentine Belt V8 4.7L (8th Vin Digit 2) ACDelco 6K882 |
| 2000-2002 | Toyota | Tundra | Toyota Tundra Serpentine Belt V8 4.7L without Air Conditioning ACDelco 6K882 |
Part #: 1AESB00038
Order must be placed by 4pm ET
Get it in: 2 - 4 Business Days
Want it sooner? Choose Next Day Air at Checkout

Brand #: 6K882