1AESB00026-Serpentine Belt
Replaces
Serpentine Belt ACDelco 6K1025 - 1AESB00026
1AESB00026
AC DELCO 6K1025 [SERPENTINE BELT
]
This AC DELCO serpentine belt is a new part. It is the same part that you would receive if you purchased it from your local GM dealer.
This serpentine belt features the following specifications:
Brand New AC Delco part
Replaces dealer part numbers: 53002899, 2C2E 8620 JA, 2C2E8620JA, 6L2Z 8620 CA, 6L2Z8620CA, 9L3E 8620 EA, 9L3E8620EA, 9L3Z 8620 A, 9L3Z8620A, 2C2Z 8620 JA, 2C2Z8620JA, 5L3Z 8620 BA, 5L3Z8620BA, 5L3Z 8620 CA, 5L3Z8620CA, F2UZ 8620 D, F2UZ8620D, F3UA 8620 AAA, F3UA8620AAA, F3UZ 8620 E, F3UZ8620E, F4UA 8620 AAA, F4UA8620AAA, F6UE 8620 JA, F6UE8620JA, F7UE 8620 KA, F7UE8620KA, F7UZ 8620 KA, F7UZ8620KA, JK 61031 B, JK61031B, JK 61031 F, JK61031F, 10230725, 12559619, 12569439, 14103110, 24504258, 24504258A, 25532180, 88932809
Built to strict quality control standards
Direct replacement

Rib Number: 6
Top Width: 0.807 Inches
Effective Length: 102.97 Inches
Wear and Tear
This item is backed by a 60-day warranty against defects in materials and workmanship under its intended use. The warranty does not cover normal wear and tear.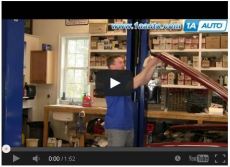 Tools needed for replacement:
Ratchets & Related

1/2 Inch Ratchet
A Piece of Pipe (for leverage)

Screwdrivers & Related

Flat Blade Screwdriver
Vehicle Fit
| Year | Make | Model | Description |
| --- | --- | --- | --- |
| 1988-1990 | Buick | Electra | Buick Electra Serpentine Belt V6 3.8L ACDelco 6K1025 |
| 1988-1995 | Buick | LeSabre | Buick LeSabre Serpentine Belt V6 3.8L ACDelco 6K1025 |
| 1991-1994 | Buick | Park Avenue | Buick Park Avenue Serpentine Belt V6 3.8L ACDelco 6K1025 |
| 1988-1991 | Buick | Reatta | Buick Reatta Serpentine Belt V6 3.8L ACDelco 6K1025 |
| 1990-1995 | Buick | Regal | Buick Regal Serpentine Belt V6 3.8L ACDelco 6K1025 |
| 1986-1993 | Buick | Riviera | Buick Riviera Serpentine Belt V6 3.8L ACDelco 6K1025 |
| 1990-1993 | Chevy | C1500 Truck | Chevy C1500 Truck SS Serpentine Belt V8 7.4L A/C Compressor & Air Pump ACDelco 6K1025 |
| 1991-1993 | Chevy | C2500 Truck | Chevy C2500 Truck A/C Compressor & Air Pump Serpentine Belt V8 7.4L ACDelco 6K1025 |
| 1988-1993 | Chevy | C3500 Truck | Chevy C3500 Truck A/C Compressor & Air Pump Serpentine Belt V8 7.4L ACDelco 6K1025 |
| 2001-2002 | Chevy | C3500 Truck | Chevy C3500 Truck A/C Compressor & Alternator Serpentine Belt V8 8.1L 105 Amp Alternator ACDelco 6K1025 |
| 2001-2002 | Chevy | Express 3500 Van | Chevy Express 3500 Van Serpentine Belt V8 8.1L A/C Compressor & Alternator 105 Amp Alternator ACDelco 6K1025 |
| 1991-1993 | Chevy | K2500 Truck | Chevy K2500 Truck A/C Compressor & Air Pump Serpentine Belt V8 7.4L ACDelco 6K1025 |
| 1988-1993 | Chevy | K3500 Truck | Chevy K3500 Truck A/C Compressor & Air Pump Serpentine Belt V8 7.4L ACDelco 6K1025 |
| 1993-1995 | Chevy | Lumina APV | Chevy Lumina APV Serpentine Belt V6 3.8L with 105 Amp Alternator ACDelco 6K1025 |
| 1992-1993 | Chevy | Suburban C2500 | Chevy Suburban C2500 A/C Compressor & Air Pump Serpentine Belt V8 7.4L ACDelco 6K1025 |
| 1992-1993 | Chevy | Suburban K2500 | Chevy Suburban K2500 A/C Compressor & Air Pump Serpentine Belt V8 7.4L ACDelco 6K1025 |
| 1989-1991 | Chevy | Suburban R2500 | Chevy Suburban R2500 A/C Compressor & Air Pump Serpentine Belt V8 7.4L ACDelco 6K1025 |
| 1989-1991 | Chevy | Suburban V2500 | Chevy Suburban V2500 A/C Compressor & Air Pump Serpentine Belt V8 7.4L ACDelco 6K1025 |
| 1993-1996 | Ford | E150 Van | Ford E150 Van Serpentine Belt V8 5.8L with Air Conditioning ACDelco 6K1025 |
| 1997-2003 | Ford | E150 Van | Ford E150 Van Serpentine Belt V6 4.2L with Air Conditioning ACDelco 6K1025 |
| 1993-1996 | Ford | E250 Van | Ford E250 Van Serpentine Belt V8 5.8L with Air Conditioning ACDelco 6K1025 |
| 1997-2003 | Ford | E250 Van | Ford E250 Van Serpentine Belt V6 4.2L ACDelco 6K1025 |
| 1993-1996 | Ford | E350 Van | Ford E350 Van Serpentine Belt V8 5.8L ACDelco 6K1025 |
| 2009-2014 | Ford | Expedition | Ford Expedition Serpentine Belt V8 5.4L ACDelco 6K1025 |
| 2006-2010 | Ford | Explorer | Ford Explorer Serpentine Belt V8 4.6L ACDelco 6K1025 |
| 2007-2010 | Ford | Explorer Sport Trac | Ford Explorer Sport Trac Serpentine Belt V8 4.6L ACDelco 6K1025 |
| 2005-2006 | Ford | F150 Truck | Ford F150 Truck Serpentine Belt V6 4.2L with Air Conditioning ACDelco 6K1025 |
| 2005-2010 | Ford | F150 Truck | Ford F150 Truck Serpentine Belt V8 5.4L ACDelco 6K1025 |
| 2005-2010 | Ford | F150 Truck | Ford F150 Truck Serpentine Belt V8 4.6L ACDelco 6K1025 |
| 2005-2006 | Ford | F350 Super Duty Truck | Ford F350 Super Duty Truck Serpentine Belt V8 5.4L ACDelco 6K1025 |
| 2009 | Ford | F350 Super Duty Truck | Ford F350 Super Duty Truck Serpentine Belt V8 5.4L ACDelco 6K1025 |
| 1991-1993 | GMC | C2500 Truck | GMC C2500 Truck A/C Compressor & Air Pump Serpentine Belt V8 7.4L ACDelco 6K1025 |
| 1988-1993 | GMC | C3500 Truck | GMC C3500 Truck A/C Compressor & Air Pump Serpentine Belt V8 7.4L ACDelco 6K1025 |
| 2001-2002 | GMC | C3500 Truck | GMC C3500 Truck A/C Compressor & Alternator Serpentine Belt V8 8.1L 105 Amp Alternator ACDelco 6K1025 |
| 1991-1993 | GMC | K2500 Truck | GMC K2500 Truck A/C Compressor & Air Pump Serpentine Belt V8 7.4L ACDelco 6K1025 |
| 1988-1993 | GMC | K3500 Truck | GMC K3500 Truck A/C Compressor & Air Pump Serpentine Belt V8 7.4L ACDelco 6K1025 |
| 2001-2002 | GMC | Savana 3500 Van | GMC Savana 3500 Van A/C Compressor & Alternator Serpentine Belt V8 8.1L 105 Amp Alternator ACDelco 6K1025 |
| 1992-1993 | GMC | Suburban C2500 | GMC Suburban C2500 A/C Compressor & Air Pump Serpentine Belt V8 7.4L ACDelco 6K1025 |
| 1992-1993 | GMC | Suburban K2500 | GMC Suburban K2500 A/C Compressor & Air Pump Serpentine Belt V8 7.4L ACDelco 6K1025 |
| 1989-1991 | GMC | Suburban R2500 | GMC Suburban R2500 A/C Compressor & Air Pump Serpentine Belt V8 7.4L ACDelco 6K1025 |
| 1989-1991 | GMC | Suburban V2500 | GMC Suburban V2500 A/C Compressor & Air Pump Serpentine Belt V8 7.4L ACDelco 6K1025 |
| 1987-1990 | Jeep | Cherokee | Jeep Cherokee Serpentine Belt L6 4.0L ACDelco 6K1025 |
| 1987-1990 | Jeep | Comanche (MJ) | Jeep Comanche (MJ) Serpentine Belt L6 4.0L ACDelco 6K1025 |
| 1987-1990 | Jeep | Wagoneer | Jeep Wagoneer Serpentine Belt L6 4.0L ACDelco 6K1025 |
| 2006 | Lincoln | Mark LT | Lincoln Mark LT Serpentine Belt V8 5.4L with Air Conditioning ACDelco 6K1025 |
| 2010 | Lincoln | Navigator | Lincoln Navigator Serpentine Belt V8 5.4L ACDelco 6K1025 |
| 2006-2010 | Mercury | Mountaineer | Mercury Mountaineer Serpentine Belt V8 4.6L ACDelco 6K1025 |
| 1986-1994 | Oldsmobile | 98 | Olds 98 Serpentine Belt V6 3.8L with Air Conditioning ACDelco 6K1025 |
| 1986-1988 | Oldsmobile | Cutlass Ciera | Olds Cutlass Ciera Serpentine Belt V6 3.8L with Air Conditioning ACDelco 6K1025 |
| 1986 | Oldsmobile | Delta 88 | Olds Delta 88 Serpentine Belt V6 3.8L with Air Conditioning ACDelco 6K1025 |
| 1988-1990 | Oldsmobile | Delta 88 | Olds Delta 88 Serpentine Belt V6 3.8L with Air Conditioning ACDelco 6K1025 |
| 1991-1994 | Oldsmobile | Delta 88-Royale | Olds Delta 88-Royale Serpentine Belt V6 3.8L with Air Conditioning ACDelco 6K1025 |
| 1993-1995 | Oldsmobile | Silhouette | Olds Silhouette Serpentine Belt V6 3.8L with 105 Amp Alternator ACDelco 6K1025 |
| 1986 | Oldsmobile | Toronado | Olds Toronado Serpentine Belt V6 3.8L with Air Conditioning ACDelco 6K1025 |
| 1988-1992 | Oldsmobile | Toronado | Olds Toronado Serpentine Belt V6 3.8L with Air Conditioning ACDelco 6K1025 |
| 1988-1994 | Pontiac | Bonneville | Pontiac Bonneville Serpentine Belt V6 3.8L for Accessory Drive ACDelco 6K1025 |
| 1993-1995 | Pontiac | Trans Sport | Pontiac Trans Sport Serpentine Belt V6 3.8L with 105 Amp Alternator ACDelco 6K1025 |
Part #: 1AESB00026
Order must be placed by 4pm ET
Get it in: 2 - 4 Business Days
Want it sooner? Choose Next Day Air at Checkout

Brand #: 6K1025