1AESB00021-Serpentine Belt
Replaces
Serpentine Belt ACDelco 5K435 - 1AESB00021
1AESB00021
AC DELCO 5K435 [SERPENTINE BELT
]
This AC DELCO serpentine belt is a new part. It is the same part that you would receive if you purchased it from your local GM dealer.
This serpentine belt features the following specifications:
Brand New AC Delco part
Replaces dealer part numbers: 5K 4350, 5K4350, E1EE 8620 SA, E1EE8620SA, E1FZ 8620 R, E1FZ8620R, E1FZ 8620 T, E1FZ8620T, E2EE 8620 HA, E2EE8620HA, 10223910, 14088983, 88932598, 31110PR7A01, 31110PR7A011, 31110PR7A011M1, 31110PR7A12, 38920PT0003, 38920PT00030, 38920PT00031, 38920PT00032, 38920PT00033, 38920PT0004, 38920PT00041, 38920PT0041, 5717038000, 9008091049, 9008091099, 9091601126A, 9091602116, 9091602197, 9091602256, 9091602257, 9091602259, 9091602260, 9091602339A, 9185011109, 9936501110, 9936521100, 9936551110, 9936551111, 9936561110, 9936571110, 9936571110, 9936581110
Built to strict quality control standards
Direct replacement

Rib Number: 5
Top Width: 0.667 Inches
Effective Length: 43.62 Inches
Item Condition: New

Wear and Tear
This item is backed by a 60-day warranty against defects in materials and workmanship under its intended use. The warranty does not cover normal wear and tear.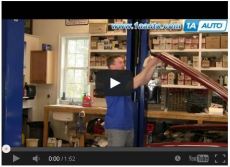 step : Removing the Serpentine Belt (0:41)

Loosen the 14mm bolt that mounts the alternator to the engine
Loosen the 12mm bolt underneath the adjusting screw
Turn the adjusting screw counterclockwise to drop the belt
Familiarize yourself with the route of the serpentine belt
Pull the belt off the alternator
Release the tensioner
Pull the belt off by hand

step : Installing the Serpentine Belt (2:41)

Loop the belt around the crank pulley
Bring it under the A/C compressor
Pull the belt over the alternator
Loosen the adjustor if needed
Tighten the 12mm adjustor bolt clockwise
Tighten the 12mm bolt beneath the adjustor bolt
Tighten the 14mm bolt that mounts the alternator to the engine
Start the vehicle and listen for slipping or squeaking
Tools needed for replacement:
Ratchets & Related

Ratchet
Socket Extensions

Sockets - Metric

14mm Socket
12mm Socket
There are no reviews for this item.
Customer Q&A
Ask a question to 1A Auto customers who purchased the product
No questions have been asked about this item.
| Year | Make | Model | Description |
| --- | --- | --- | --- |
| 1991-2005 | Acura | NSX | Acura NSX Alternator Serpentine Belt for V6 3.0L ACDelco 5K435 |
| 1997-2001 | Acura | NSX | Acura NSX Alternator Serpentine Belt for V6 3.2L ACDelco 5K435 |
| 2005-2006 | Audi | A6 | Audi A6 Serpentine Belt for V6 4.2L ACDelco 5K435 |
| 2005-2006 | Audi | A6 Quattro | Audi A6 Quattro Serpentine Belt for V6 4.2L ACDelco 5K435 |
| 1985-1987 | Buick | Regal | Buick Regal Alternator Serpentine Belt for V8 5.0L Carbureted ACDelco 5K435 |
| 1986 | Chevy | Astro | Chevy Astro Alternator & Fan Serpentine Belt V6 4.3L ACDelco 5K435 |
| 1986-1987 | Chevy | Blazer Full Size | Chevy Blazer Full Size Rear Wheel Drive Alternator & Fan Serpentine Belt V8 5.7L ACDelco 5K435 |
| 1986-1987 | Chevy | Blazer Full Size | Chevy Blazer Full Size Rear Wheel Drive Alternator & Fan Serpentine Belt V8 5.0L ACDelco 5K435 |
| 1988 | Chevy | Blazer Full Size | Chevy Blazer Full Size 4 Wheel Drive Alternator & Fan Serpentine Belt V8 5.7L ACDelco 5K435 |
| 1985-1986 | Chevy | C10 Truck | Chevy C10 Truck Alternator & Fan Serpentine Belt V8 5.7L ACDelco 5K435 |
| 1985-1986 | Chevy | C10 Truck | Chevy C10 Truck Alternator & Fan Serpentine Belt V6 4.3L ACDelco 5K435 |
| 1985-1986 | Chevy | C10 Truck | Chevy C10 Truck Alternator & Fan Serpentine Belt V8 5.0L ACDelco 5K435 |
| 1985-1986 | Chevy | C20 Truck | Chevy C20 Truck Alternator & Fan Serpentine Belt V8 5.0L ACDelco 5K435 |
| 1985-1986 | Chevy | C20 Truck | Chevy C20 Truck Alternator & Fan Serpentine Belt V8 5.7L ACDelco 5K435 |
| 1985-1986 | Chevy | C20 Truck | Chevy C20 Truck Alternator & Fan Serpentine Belt V6 4.3L ACDelco 5K435 |
| 1985-1986 | Chevy | C30 Truck | Chevy C30 Truck Alternator & Fan Serpentine Belt V8 5.7L ACDelco 5K435 |
| 1986 | Chevy | C30 Truck | Chevy C30 Truck Alternator & Fan Serpentine Belt V8 5.0L ACDelco 5K435 |
| 1986 | Chevy | Camaro | Chevy Camaro Alternator & Water Pump Serpentine Belt and for V8 5.0L Carbureted ACDelco 5K435 |
| 1985-1988 | Chevy | Caprice | Chevy Caprice Alternator & Fan Serpentine Belt V8 5.7L ACDelco 5K435 |
| 1985-1988 | Chevy | Caprice | Chevy Caprice Alternator & Fan Serpentine Belt V8 5.0L ACDelco 5K435 |
| 1985-1987 | Chevy | El Camino | Chevy El Camino Alternator & Fan Serpentine Belt V8 5.0L ACDelco 5K435 |
| 1985-1987 | Chevy | El Camino | Chevy El Camino Alternator & Fan Serpentine Belt V6 4.3L ACDelco 5K435 |
| 1985 | Chevy | Impala | Chevy Impala Alternator & Fan Serpentine Belt V8 5.0L ACDelco 5K435 |
| 1985 | Chevy | Impala | Chevy Impala Alternator & Fan Serpentine Belt V6 4.3L ACDelco 5K435 |
| 1985 | Chevy | Impala | Chevy Impala Alternator & Fan Serpentine Belt V8 5.0L Gas Engine ACDelco 5K435 |
| 1985-1986 | Chevy | K10 Truck | Chevy K10 Truck Alternator & Fan Serpentine Belt V6 4.3L ACDelco 5K435 |
| 1985-1986 | Chevy | K10 Truck | Chevy K10 Truck Alternator & Fan Serpentine Belt V8 5.0L ACDelco 5K435 |
| 1985-1986 | Chevy | K10 Truck | Chevy K10 Truck Alternator & Fan Serpentine Belt V8 5.7L ACDelco 5K435 |
| 1985 | Chevy | K20 Truck | Chevy K20 Truck Alternator & Fan Serpentine Belt V8 5.0L ACDelco 5K435 |
| 1985 | Chevy | K20 Truck | Chevy K20 Truck Alternator & Fan Serpentine Belt V6 4.3L ACDelco 5K435 |
| 1985-1986 | Chevy | K20 Truck | Chevy K20 Truck Alternator & Fan Serpentine Belt V8 5.7L ACDelco 5K435 |
| 1985-1988 | Chevy | Monte Carlo | Chevy Monte Carlo Alternator & Fan Serpentine Belt V6 4.3L ACDelco 5K435 |
| 1985-1988 | Chevy | Monte Carlo | Chevy Monte Carlo Alternator & Fan Serpentine Belt V8 5.0L ACDelco 5K435 |
| 1986-1989 | Chevy | P20 | Chevy P20 2500 Alternator & Fan Serpentine Belt V8 5.7L ACDelco 5K435 |
| 1986-1989 | Chevy | P30 | Chevy P30 2500 Alternator & Fan Serpentine Belt V8 5.7L ACDelco 5K435 |
| 1987 | Chevy | R1500 Truck | Chevy R1500 Truck Alternator & Fan Serpentine Belt V6 4.3L ACDelco 5K435 |
| 1987 | Chevy | R1500 Truck | Chevy R1500 Truck Alternator & Fan Serpentine Belt V8 5.0L ACDelco 5K435 |
| 1987 | Chevy | R1500 Truck | Chevy R1500 Truck Alternator & Fan Serpentine Belt V8 5.7L ACDelco 5K435 |
| 1987 | Chevy | R2500 Truck | Chevy R2500 Truck Alternator & Fan Serpentine Belt V8 5.0L ACDelco 5K435 |
| 1987 | Chevy | R2500 Truck | Chevy R2500 Truck Alternator & Fan Serpentine Belt V6 4.3L ACDelco 5K435 |
| 1987 | Chevy | R2500 Truck | Chevy R2500 Truck Alternator & Fan Serpentine Belt V8 5.7L ACDelco 5K435 |
| 1987-1991 | Chevy | R3500 Truck | Chevy R3500 Truck Alternator & Fan Serpentine Belt V8 5.7L ACDelco 5K435 |
| 1985-1986 | Chevy | Suburban C10 | Chevy Suburban C10 Alternator & Fan Serpentine Belt V8 5.0L ACDelco 5K435 |
| 1985-1986 | Chevy | Suburban C10 | Chevy Suburban C10 Alternator & Fan Serpentine Belt V8 5.7L ACDelco 5K435 |
| 1985-1986 | Chevy | Suburban C20 | Chevy Suburban C20 Alternator & Fan Serpentine Belt V8 5.0L ACDelco 5K435 |
| 1985-1986 | Chevy | Suburban C20 | Chevy Suburban C20 Alternator & Fan Serpentine Belt V8 5.7L ACDelco 5K435 |
| 1985-1986 | Chevy | Suburban C20 | Chevy Suburban C20 Alternator & Fan Serpentine Belt V8 5.0L ACDelco 5K435 |
| 1985-1986 | Chevy | Suburban C20 | Chevy Suburban C20 Alternator & Fan Serpentine Belt V8 5.7L ACDelco 5K435 |
| 1985-1986 | Chevy | Suburban K10 | Chevy Suburban K10 Alternator & Fan Serpentine Belt V8 5.0L ACDelco 5K435 |
| 1985-1986 | Chevy | Suburban K10 | Chevy Suburban K10 Alternator & Fan Serpentine Belt V8 5.7L ACDelco 5K435 |
| 1985-1986 | Chevy | Suburban K20 | Chevy Suburban K20 Alternator & Fan Serpentine Belt V8 5.7L ACDelco 5K435 |
| 1985-1986 | Chevy | Suburban K20 | Chevy Suburban K20 Alternator & Fan Serpentine Belt V8 5.0L ACDelco 5K435 |
| 1985-1986 | Chevy | Suburban K20 | Chevy Suburban K20 Alternator & Fan Serpentine Belt V8 5.7L ACDelco 5K435 |
| 1987-1988 | Chevy | Suburban R10 | Chevy Suburban R10 Alternator & Fan Serpentine Belt V8 5.0L ACDelco 5K435 |
| 1987-1988 | Chevy | Suburban R10 | Chevy Suburban R10 Alternator & Fan Serpentine Belt V8 5.7L ACDelco 5K435 |
| 1987-1988 | Chevy | Suburban R20 | Chevy Suburban R20 Alternator & Fan Serpentine Belt V8 5.7L ACDelco 5K435 |
| 1987-1988 | Chevy | Suburban R20 | Chevy Suburban R20 Alternator & Fan Serpentine Belt V8 5.7L ACDelco 5K435 |
| 1987-1988 | Chevy | Suburban V10 | Chevy Suburban V10 Alternator & Fan Serpentine Belt V8 5.7L ACDelco 5K435 |
| 1987-1988 | Chevy | Suburban V20 | Chevy Suburban V20 Alternator & Fan Serpentine Belt V8 5.7L ACDelco 5K435 |
| 1987-1988 | Chevy | Suburban V20 | Chevy Suburban V20 Alternator & Fan Serpentine Belt V8 5.7L ACDelco 5K435 |
| 1987 | Chevy | V1500 Truck | Chevy V1500 Truck Alternator & Fan Serpentine Belt V8 5.7L ACDelco 5K435 |
| 1987 | Chevy | V1500 Truck | Chevy V1500 Truck Alternator & Fan Serpentine Belt V8 5.0L ACDelco 5K435 |
| 1987 | Chevy | V1500 Truck | Chevy V1500 Truck Alternator & Fan Serpentine Belt V6 4.3L ACDelco 5K435 |
| 1987 | Chevy | V2500 Truck | Chevy V2500 Truck Alternator & Fan Serpentine Belt V8 5.0L ACDelco 5K435 |
| 1987-1991 | Chevy | V3500 Truck | Chevy V3500 Truck Alternator & Fan Serpentine Belt V8 5.7L ACDelco 5K435 |
| 1982-1983 | Ford | EXP | Ford EXP A/C Compressor & Alternator Serpentine Belt L4 1.6L with Factory Installed Air Condtioning ACDelco 5K435 |
| 1981-1983 | Ford | Escort | Ford Escort A/C Compressor & Alternator Serpentine Belt L4 1.6L with Factory Installed Air Condtioning ACDelco 5K435 |
| 1985-1986 | GMC | C1500 Truck | GMC C1500 Truck Alternator & Fan Serpentine Belt V6 4.3L ACDelco 5K435 |
| 1985-1986 | GMC | C1500 Truck | GMC C1500 Truck Alternator & Fan Serpentine Belt V8 5.0L ACDelco 5K435 |
| 1985-1986 | GMC | C1500 Truck | GMC C1500 Truck Alternator & Fan Serpentine Belt V8 5.7L ACDelco 5K435 |
| 1985-1986 | GMC | C2500 Truck | GMC C2500 Truck Alternator & Fan Serpentine Belt V6 4.3L ACDelco 5K435 |
| 1985-1986 | GMC | C2500 Truck | GMC C2500 Truck Alternator & Fan Serpentine Belt V8 5.0L ACDelco 5K435 |
| 1985-1986 | GMC | C2500 Truck | GMC C2500 Truck Alternator & Fan Serpentine Belt V8 5.7L ACDelco 5K435 |
| 1985-1986 | GMC | C3500 Truck | GMC C3500 Truck Alternator & Fan Serpentine Belt V8 5.7L ACDelco 5K435 |
| 1986 | GMC | C3500 Truck | GMC C3500 Truck Alternator & Fan Serpentine Belt V8 5.0L ACDelco 5K435 |
| 1985-1987 | GMC | Caballero | GMC Caballero Alternator & Fan Serpentine Belt V8 5.0L ACDelco 5K435 |
| 1985-1987 | GMC | Caballero | GMC Caballero Alternator & Fan Serpentine Belt V6 4.3L ACDelco 5K435 |
| 1986 | GMC | G1500 | GMC G1500 Alternator & Fan Serpentine Belt V8 5.7L ACDelco 5K435 |
| 1986 | GMC | G1500 | GMC G1500 Alternator & Fan Serpentine Belt V8 5.0L ACDelco 5K435 |
| 1986 | GMC | G1500 | GMC G1500 Alternator & Fan Serpentine Belt V6 4.3L ACDelco 5K435 |
| 1986 | GMC | G2500 | GMC G2500 Alternator & Fan Serpentine Belt V6 4.3L ACDelco 5K435 |
| 1986 | GMC | G2500 | GMC G2500 Alternator & Fan Serpentine Belt V8 5.7L ACDelco 5K435 |
| 1986 | GMC | G2500 | GMC G2500 Alternator & Fan Serpentine Belt V8 5.0L ACDelco 5K435 |
| 1986-1988 | GMC | G3500 | GMC G3500 Alternator & Fan Serpentine Belt V8 5.7L ACDelco 5K435 |
| 1986 | GMC | G3500 | GMC G3500 Alternator & Fan Serpentine Belt V6 4.3L ACDelco 5K435 |
| 1986-1988 | GMC | Jimmy Full Size | GMC Jimmy Full Size Alternator & Fan Serpentine Belt V8 5.7L ACDelco 5K435 |
| 1986-1987 | GMC | Jimmy Full Size | GMC Jimmy Full Size Alternator & Fan Serpentine Belt V8 5.0L ACDelco 5K435 |
| 1985-1986 | GMC | K1500 Truck | GMC K1500 Truck Alternator & Fan Serpentine Belt V6 4.3L ACDelco 5K435 |
| 1985-1986 | GMC | K1500 Truck | GMC K1500 Truck Alternator & Fan Serpentine Belt V8 5.0L ACDelco 5K435 |
| 1985-1986 | GMC | K1500 Truck | GMC K1500 Truck Alternator & Fan Serpentine Belt V8 5.7L ACDelco 5K435 |
| 1985-1986 | GMC | K2500 Truck | GMC K2500 Truck Alternator & Fan Serpentine Belt V6 4.3L ACDelco 5K435 |
| 1985-1986 | GMC | K2500 Truck | GMC K2500 Truck Alternator & Fan Serpentine Belt V8 5.0L ACDelco 5K435 |
| 1985-1986 | GMC | K2500 Truck | GMC K2500 Truck Alternator & Fan Serpentine Belt V8 5.7L ACDelco 5K435 |
| 1985-1986 | GMC | K3500 Truck | GMC K3500 Truck Alternator & Fan Serpentine Belt V8 5.7L ACDelco 5K435 |
| 1986-1989 | GMC | P2500 | GMC P2500 3500 Alternator & Fan Serpentine Belt V8 5.7L ACDelco 5K435 |
| 1986-1989 | GMC | P2500 | GMC P2500 2500 Alternator & Fan Serpentine Belt V8 5.7L ACDelco 5K435 |
| 1986-1989 | GMC | P3500 | GMC P3500 2500 Alternator & Fan Serpentine Belt V8 5.7L ACDelco 5K435 |
| 1986-1996 | GMC | P3500 | GMC P3500 3500 Alternator & Fan Serpentine Belt V8 5.7L ACDelco 5K435 |
| 1990-1995 | GMC | P3500 | GMC P3500 3500 Alternator & Fan Serpentine Belt V6 4.3L ACDelco 5K435 |
| 1987 | GMC | R1500 Truck | GMC R1500 Truck Alternator & Fan Serpentine Belt V8 5.7L ACDelco 5K435 |
| 1987 | GMC | R1500 Truck | GMC R1500 Truck Alternator & Fan Serpentine Belt V8 5.0L ACDelco 5K435 |
| 1987 | GMC | R1500 Truck | GMC R1500 Truck Alternator & Fan Serpentine Belt V6 4.3L ACDelco 5K435 |
| 1987-1989 | GMC | R2500 Truck | GMC R2500 Truck Alternator & Fan Serpentine Belt V8 5.0L ACDelco 5K435 |
| 1987 | GMC | R2500 Truck | GMC R2500 Truck Alternator & Fan Serpentine Belt V6 4.3L ACDelco 5K435 |
| 1987 | GMC | R2500 Truck | GMC R2500 Truck Alternator & Fan Serpentine Belt V8 5.7L ACDelco 5K435 |
| 1987-1991 | GMC | R3500 Truck | GMC R3500 Truck Alternator & Fan Serpentine Belt V8 5.7L ACDelco 5K435 |
| 1986 | GMC | Safari | GMC Safari Alternator & Fan Serpentine Belt V6 4.3L ACDelco 5K435 |
| 1985-1986 | GMC | Suburban C1500 | GMC Suburban C1500 Alternator & Fan Serpentine Belt V8 5.0L ACDelco 5K435 |
| 1985-1986 | GMC | Suburban C1500 | GMC Suburban C1500 Alternator & Fan Serpentine Belt V8 5.7L ACDelco 5K435 |
| 1985-1986 | GMC | Suburban C1500 | GMC Suburban C1500 Alternator & Fan Serpentine Belt V8 5.7L ACDelco 5K435 |
| 1985-1986 | GMC | Suburban C2500 | GMC Suburban C2500 Alternator & Fan Serpentine Belt V8 5.7L ACDelco 5K435 |
| 1985-1986 | GMC | Suburban C2500 | GMC Suburban C2500 Alternator & Fan Serpentine Belt V8 5.7L ACDelco 5K435 |
| 1985-1986 | GMC | Suburban K1500 | GMC Suburban K1500 Alternator & Fan Serpentine Belt V8 5.0L ACDelco 5K435 |
| 1985-1986 | GMC | Suburban K1500 | GMC Suburban K1500 Alternator & Fan Serpentine Belt V8 5.7L ACDelco 5K435 |
| 1985-1986 | GMC | Suburban K2500 | GMC Suburban K2500 Alternator & Fan Serpentine Belt V8 5.7L ACDelco 5K435 |
| 1985-1986 | GMC | Suburban K2500 | GMC Suburban K2500 Alternator & Fan Serpentine Belt V8 5.7L ACDelco 5K435 |
| 1987-1988 | GMC | Suburban R1500 | GMC Suburban R1500 Alternator & Fan Serpentine Belt V8 5.0L ACDelco 5K435 |
| 1987-1988 | GMC | Suburban R1500 | GMC Suburban R1500 Alternator & Fan Serpentine Belt V8 5.7L ACDelco 5K435 |
| 1987-1988 | GMC | Suburban R1500 | GMC Suburban R1500 Alternator & Fan Serpentine Belt V8 5.7L ACDelco 5K435 |
| 1987-1988 | GMC | Suburban R2500 | GMC Suburban R2500 Alternator & Fan Serpentine Belt V8 5.7L ACDelco 5K435 |
| 1987-1988 | GMC | Suburban R2500 | GMC Suburban R2500 Alternator & Fan Serpentine Belt V8 5.7L ACDelco 5K435 |
| 1987-1988 | GMC | Suburban V1500 | GMC Suburban V1500 Alternator & Fan Serpentine Belt V8 5.0L ACDelco 5K435 |
| 1987-1988 | GMC | Suburban V1500 | GMC Suburban V1500 Alternator & Fan Serpentine Belt V8 5.7L ACDelco 5K435 |
| 1987-1988 | GMC | Suburban V1500 | GMC Suburban V1500 Alternator & Fan Serpentine Belt V8 5.7L ACDelco 5K435 |
| 1987-1988 | GMC | Suburban V2500 | GMC Suburban V2500 Alternator & Fan Serpentine Belt V8 5.7L ACDelco 5K435 |
| 1987-1988 | GMC | Suburban V2500 | GMC Suburban V2500 Alternator & Fan Serpentine Belt V8 5.7L ACDelco 5K435 |
| 1987 | GMC | V1500 Truck | GMC V1500 Truck Alternator & Fan Serpentine Belt V8 5.7L ACDelco 5K435 |
| 1987 | GMC | V1500 Truck | GMC V1500 Truck Alternator & Fan Serpentine Belt V8 5.0L ACDelco 5K435 |
| 1987 | GMC | V1500 Truck | GMC V1500 Truck Alternator & Fan Serpentine Belt V6 4.3L ACDelco 5K435 |
| 1987-1989 | GMC | V2500 Truck | GMC V2500 Truck Alternator & Fan Serpentine Belt V8 5.0L ACDelco 5K435 |
| 1987 | GMC | V2500 Truck | GMC V2500 Truck Alternator & Fan Serpentine Belt V8 5.7L ACDelco 5K435 |
| 1987 | GMC | V2500 Truck | GMC V2500 Truck Alternator & Fan Serpentine Belt V6 4.3L ACDelco 5K435 |
| 1990-1993 | Honda | Accord | Honda Accord A/C Compressor & Alternator Serpentine Belt L4 2.2L ACDelco 5K435 |
| 2001-2006 | Hyundai | Santa Fe | Hyundai Santa Fe Serpentine Belt Power Steering Pump L4 2.4L without Air Conditioning ACDelco 5K435 |
| 1999-2003 | Hyundai | Sonata | Hyundai Sonata Serpentine Belt Power Steering Pump L4 2.4L without Air Conditioning ACDelco 5K435 |
| 2001-2006 | Kia | Magentis | Kia Magentis Serpentine Belt Power Steering Pump L4 2.4L without Air Conditioning ACDelco 5K435 |
| 2001-2006 | Kia | Optima | Kia Optima Serpentine Belt Power Steering Pump L4 2.4L without Air Conditioning ACDelco 5K435 |
| 1982-1983 | Mercury | LN7 | Mercury LN7 A/C Compressor & Alternator Serpentine Belt L4 1.6L with Factory Installed Air Condtioning ACDelco 5K435 |
| 1981-1983 | Mercury | Lynx | Mercury Lynx A/C Compressor & Alternator Serpentine Belt L4 1.6L with Factory Installed Air Condtioning ACDelco 5K435 |
| 1986-1987 | Oldsmobile | Cutlass | Olds Cutlass (Canada Built Models (1st VIN Digit 2)) Alternator & Fan Serpentine Belt V8 5.0L ACDelco 5K435 |
| 1987 | Oldsmobile | Cutlass | Olds Cutlass Alternator & Fan Serpentine Belt V8 5.0L ACDelco 5K435 |
| 1986-1987 | Oldsmobile | Cutlass Salon | Olds Cutlass Salon (Canada Built Models (1st VIN Digit 2)) Alternator & Fan Serpentine Belt V8 5.0L ACDelco 5K435 |
| 1987 | Oldsmobile | Cutlass Salon | Olds Cutlass Salon Alternator & Fan Serpentine Belt V8 5.0L ACDelco 5K435 |
| 1986-1987 | Oldsmobile | Cutlass Supreme | Olds Cutlass Supreme (Canada Built Models (1st VIN Digit 2)) Alternator & Fan Serpentine Belt V8 5.0L ACDelco 5K435 |
| 1985-1986 | Pontiac | Bonneville | Pontiac Bonneville Alternator & Fan Serpentine Belt V8 5.0L ACDelco 5K435 |
| 1986 | Pontiac | Bonneville | Pontiac Bonneville Alternator & Fan Serpentine Belt V6 4.3L ACDelco 5K435 |
| 1986 | Pontiac | Firebird | Pontiac Firebird Alternator & Fan Serpentine Belt V8 5.0L Carbureted ACDelco 5K435 |
| 1985-1987 | Pontiac | Grand Prix | Pontiac Grand Prix Alternator & Fan Serpentine Belt V8 5.0L ACDelco 5K435 |
| 1986-1987 | Pontiac | Grand Prix | Pontiac Grand Prix Alternator & Fan Serpentine Belt V6 4.3L ACDelco 5K435 |
| 1985-1986 | Pontiac | Parisienne | Pontiac Parisienne Alternator & Fan Serpentine Belt V8 5.7L ACDelco 5K435 |
| 1985-1986 | Pontiac | Parisienne | Pontiac Parisienne Alternator & Fan Serpentine Belt V6 4.3L ACDelco 5K435 |
| 1983-1991 | Toyota | Camry | Toyota Camry A/C Compressor & Alternator Serpentine Belt L4 2.0L ACDelco 5K435 |
| 1992-1998 | Toyota | Camry | Toyota Camry A/C Compressor & Alternator Serpentine Belt L4 2.2L ACDelco 5K435 |
| 1986-1989 | Toyota | Celica | Toyota Celica A/C Compressor & Alternator Serpentine Belt L4 2.0L ACDelco 5K435 |
| 1988-1993 | Toyota | Celica | Toyota Celica A/C Compressor & Alternator Serpentine Belt L4 2.0L Turbo ACDelco 5K435 |
| 1990-1999 | Toyota | Celica | Toyota Celica A/C Compressor & Alternator Serpentine Belt L4 2.2L ACDelco 5K435 |
| 1996-1998 | Toyota | Rav4 | Toyota Rav4 A/C Compressor & Alternator Serpentine Belt L4 2.0L ACDelco 5K435 |
| 1989-1990 | Toyota | Tercel | Toyota Tercel A/C Compressor & Power Steering Pump Serpentine Belt L4 1.5L ACDelco 5K435 |
Part #: 1AESB00021
Order must be placed by 4pm ET
Get it in: 2 - 4 Business Days
Want it sooner? Choose Next Day Air at Checkout

Brand #: 5K435