1ARFC00001-Heavy Duty Radiator Fan Clutch
Replaces
Heavy Duty Radiator Fan Clutch - 1ARFC00001
1ARFC00001
Frequently bought together
Part Details
Product Grade:

  Heavy Duty
If your car is running hot a bad fan clutch can cure the problem. This clutch engages when under hood temperatures warm to draw more air through your radiator. It disengages at speed so it does not rob horsepower. Requires a 5 to 8 blade clutching fan. This part can not be attached to a non clutch or flex fan blade.
Brand New Fan Clutch
New, not rebuilt
Replaces original assemblies that are melted or worn out
Item Condition: New

Attention California Customers:
WARNING: Cancer and Reproductive Harm - www.P65Warnings.ca.gov.
Lifetime Warranty
This item is backed by a Limited Lifetime Warranty. In the event this item should fail due to manufacturing defects during intended use, we will exchange the part free of charge (excludes shipping charges) for the original purchaser.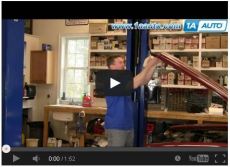 step : Removing the Radiator Fan Clutch (0:59)

Disconnect the negative battery cable.
Remove the four nuts on the radiator fan.
Pull the fan up and out.
Remove the four bolts securing the fan clutch to the radiator fan.
Pry the fan off.

step : Replacing the Radiator Fan Clutch (4:29)

Push the clutch into the fan.
Replace the four bolts.
Replace the fan.
Replace the four nuts that secure the fan.
Tools needed for replacement:
Wrenches - SAE

1/2 Inch Wrench
There are no reviews for this item.
Customer Q&A
Ask a question to 1A Auto customers who purchased the product
If I have a spacer in place and looking to replace with this clutch how well will it fit?
All of are parts are made to OE spec and are meant to be used in factory applications only.
| Year | Make | Model | Description |
| --- | --- | --- | --- |
| 1980 | Buick | Century | Buick Century Heavy Duty Radiator Fan Clutch |
| 1970-1983 | Buick | Estate Wagon | Buick Estate Wagon Heavy Duty Radiator Fan Clutch |
| 1969-1990 | Buick | LeSabre | Buick LeSabre Heavy Duty Radiator Fan Clutch |
| 1976-1987 | Buick | Regal | Buick Regal Heavy Duty Radiator Fan Clutch |
| 1977-1985 | Buick | Riviera | Buick Riviera Heavy Duty Radiator Fan Clutch |
| 1994-1996 | Buick | Roadmaster | Buick Roadmaster Heavy Duty Radiator Fan Clutch |
| 1976-1979 | Buick | Skylark | Buick Skylark Heavy Duty Radiator Fan Clutch |
| 1965-1996 | Cadillac | Deville | Cadillac Deville Heavy Duty Radiator Fan Clutch |
| 1965-1985 | Cadillac | Eldorado | Cadillac Eldorado Heavy Duty Radiator Fan Clutch |
| 1985-1996 | Cadillac | Fleetwood | Cadillac Fleetwood Heavy Duty Radiator Fan Clutch |
| 1982-1985 | Cadillac | Seville | Cadillac Seville Heavy Duty Radiator Fan Clutch |
| 1985-1986 | Chevy | Astro | Chevy Astro Heavy Duty Radiator Fan Clutch |
| 1973-1991 | Chevy | Blazer Full Size | Chevy Blazer Full Size Heavy Duty Radiator Fan Clutch (excluding Diesel Engines) |
| 1973-1986 | Chevy | C10 Truck | Chevy C10 Truck Heavy Duty Radiator Fan Clutch (excluding Diesel Engines) |
| 1973-1986 | Chevy | C20 Truck | Chevy C20 Truck Heavy Duty Radiator Fan Clutch (excluding Diesel Engines) |
| 1973-1986 | Chevy | C30 Truck | Chevy C30 Truck Heavy Duty Radiator Fan Clutch (excluding Diesel Engines) |
| 1967-1985 | Chevy | Camaro | Chevy Camaro Heavy Duty Radiator Fan Clutch |
| 1970-1996 | Chevy | Caprice | Chevy Caprice Heavy Duty Radiator Fan Clutch |
| 1970-1972 | Chevy | Chevelle | Chevy Chevelle Heavy Duty Radiator Fan Clutch |
| 1970-1987 | Chevy | El Camino | Chevy El Camino Heavy Duty Radiator Fan Clutch |
| 1975-1988 | Chevy | G10 | Chevy G10 Heavy Duty Radiator Fan Clutch |
| 1973-1974 | Chevy | G10 Van | Chevy G10 Van Heavy Duty Radiator Fan Clutch |
| 1975-1988 | Chevy | G20 | Chevy G20 Heavy Duty Radiator Fan Clutch |
| 1973-1974 | Chevy | G20 Van | Chevy G20 Van Heavy Duty Radiator Fan Clutch |
| 1974-1988 | Chevy | G30 | Chevy G30 Heavy Duty Radiator Fan Clutch |
| 1973-1974 | Chevy | G30 Van | Chevy G30 Van Heavy Duty Radiator Fan Clutch |
| 1970-1985 | Chevy | Impala | Chevy Impala Heavy Duty Radiator Fan Clutch |
| 1973-1986 | Chevy | K10 Truck | Chevy K10 Truck Heavy Duty Radiator Fan Clutch (excluding Diesel Engines) |
| 1973-1986 | Chevy | K20 Truck | Chevy K20 Truck Heavy Duty Radiator Fan Clutch (excluding Diesel Engines) |
| 1973-1986 | Chevy | K30 Truck | Chevy K30 Truck Heavy Duty Radiator Fan Clutch (excluding Diesel Engines) |
| 1970-1988 | Chevy | Monte Carlo | Chevy Monte Carlo Heavy Duty Radiator Fan Clutch |
| 1987 | Chevy | R1500 Truck | Chevy R1500 Truck Heavy Duty Radiator Fan Clutch |
| 1987-1989 | Chevy | R2500 Truck | Chevy R2500 Truck Heavy Duty Radiator Fan Clutch |
| 1987-1991 | Chevy | R3500 Truck | Chevy R3500 Truck Heavy Duty Radiator Fan Clutch (excluding Diesel Engines) |
| 1973-1986 | Chevy | Suburban C10 | Chevy Suburban C10 Heavy Duty Radiator Fan Clutch (excluding Diesel Engines) |
| 1973-1986 | Chevy | Suburban C20 | Chevy Suburban C20 Heavy Duty Radiator Fan Clutch (excluding Diesel Engines) |
| 1973-1986 | Chevy | Suburban K10 | Chevy Suburban K10 Heavy Duty Radiator Fan Clutch (excluding Diesel Engines) |
| 1973-1986 | Chevy | Suburban K20 | Chevy Suburban K20 Heavy Duty Radiator Fan Clutch (excluding Diesel Engines) |
| 1987-1988 | Chevy | Suburban R10 | Chevy Suburban R10 Heavy Duty Radiator Fan Clutch (excluding Diesel Engines) |
| 1989-1991 | Chevy | Suburban R1500 | Chevy Suburban R1500 Heavy Duty Radiator Fan Clutch (excluding Diesel Engines) |
| 1987-1988 | Chevy | Suburban R20 | Chevy Suburban R20 Heavy Duty Radiator Fan Clutch (excluding Diesel Engines) |
| 1989-1991 | Chevy | Suburban R2500 | Chevy Suburban R2500 Heavy Duty Radiator Fan Clutch (excluding Diesel Engines) |
| 1987-1988 | Chevy | Suburban V10 | Chevy Suburban V10 Heavy Duty Radiator Fan Clutch (excluding Diesel Engines) |
| 1989-1991 | Chevy | Suburban V1500 | Chevy Suburban V1500 Heavy Duty Radiator Fan Clutch (excluding Diesel Engines) |
| 1987-1988 | Chevy | Suburban V20 | Chevy Suburban V20 Heavy Duty Radiator Fan Clutch (excluding Diesel Engines) |
| 1989-1991 | Chevy | Suburban V2500 | Chevy Suburban V2500 Heavy Duty Radiator Fan Clutch (excluding Diesel Engines) |
| 1987 | Chevy | V1500 Truck | Chevy V1500 Truck Heavy Duty Radiator Fan Clutch (excluding Diesel Engines) |
| 1987-1989 | Chevy | V2500 Truck | Chevy V2500 Truck Heavy Duty Radiator Fan Clutch (excluding Diesel Engines) |
| 1987-1991 | Chevy | V3500 Truck | Chevy V3500 Truck Heavy Duty Radiator Fan Clutch (excluding Diesel Engines) |
| 1968-1971 | Chrysler | 300 | Chrysler 300 Heavy Duty Radiator Fan Clutch |
| 1975-1983 | Chrysler | Cordoba | Chrysler Cordoba Heavy Duty Radiator Fan Clutch |
| 1984-1989 | Chrysler | Fifth Avenue | Chrysler Fifth Avenue Heavy Duty Radiator Fan Clutch |
| 1965-1982 | Chrysler | New Yorker | Chrysler New Yorker Heavy Duty Radiator Fan Clutch |
| 1968-1981 | Chrysler | Newport | Chrysler Newport Heavy Duty Radiator Fan Clutch |
| 1967-1979 | Chrysler | Town & Country | Chrysler Town & Country Heavy Duty Radiator Fan Clutch |
| 1976-1980 | Dodge | Aspen | Dodge Aspen Heavy Duty Radiator Fan Clutch |
| 1981-1993 | Dodge | B150 | Dodge B150 Heavy Duty Radiator Fan Clutch |
| 1981-1993 | Dodge | B250 | Dodge B250 Heavy Duty Radiator Fan Clutch |
| 1981-1993 | Dodge | B350 | Dodge B350 Heavy Duty Radiator Fan Clutch |
| 1970-1974 | Dodge | Challenger | Dodge Challenger Heavy Duty Radiator Fan Clutch |
| 1968-1977 | Dodge | Charger | Dodge Charger Heavy Duty Radiator Fan Clutch |
| 1968-1976 | Dodge | Coronet | Dodge Coronet Heavy Duty Radiator Fan Clutch |
| 1973-1989 | Dodge | D100 Truck | Dodge D100 Truck Heavy Duty Radiator Fan Clutch (excluding Diesel Engines) |
| 1977-1993 | Dodge | D150 Truck | Dodge D150 Truck Heavy Duty Radiator Fan Clutch (excluding Diesel Engines) |
| 1973-1980 | Dodge | D200 Truck | Dodge D200 Truck Heavy Duty Radiator Fan Clutch (excluding Diesel Engines) |
| 1973-1980 | Dodge | D300 Truck | Dodge D300 Truck Heavy Duty Radiator Fan Clutch (excluding Diesel Engines) |
| 1968-1976 | Dodge | Dart | Dodge Dart Heavy Duty Radiator Fan Clutch |
| 1977-1989 | Dodge | Diplomat | Dodge Diplomat Heavy Duty Radiator Fan Clutch |
| 1980-1983 | Dodge | Mirada | Dodge Mirada Heavy Duty Radiator Fan Clutch |
| 1966-1978 | Dodge | Monaco | Dodge Monaco Heavy Duty Radiator Fan Clutch |
| 1965-1973 | Dodge | Polara | Dodge Polara Heavy Duty Radiator Fan Clutch |
| 1973-1993 | Dodge | Power Wagon | Dodge Power Wagon Heavy Duty Radiator Fan Clutch |
| 1974-1993 | Dodge | Ramcharger | Dodge Ramcharger Heavy Duty Radiator Fan Clutch |
| 1979-1981 | Dodge | St Regis | Dodge St Regis Heavy Duty Radiator Fan Clutch |
| 1974-1980 | Dodge | Van - Full Size | Dodge Van Heavy Duty Radiator Fan Clutch |
| 1973-1989 | Dodge | W100 Truck | Dodge W100 Truck Heavy Duty Radiator Fan Clutch (excluding Diesel Engines) |
| 1977-1993 | Dodge | W150 Truck | Dodge W150 Truck Heavy Duty Radiator Fan Clutch (excluding Diesel Engines) |
| 1973-1980 | Dodge | W200 Truck | Dodge W200 Truck Heavy Duty Radiator Fan Clutch (excluding Diesel Engines) |
| 1973-1980 | Dodge | W300 Truck | Dodge W300 Truck Heavy Duty Radiator Fan Clutch (excluding Diesel Engines) |
| 1970-1987 | Ford | Bronco | Ford Bronco Heavy Duty Radiator Fan Clutch |
| 1985-1987 | Ford | E150 Van | Ford E150 Van Heavy Duty Radiator Fan Clutch |
| 1985-1987 | Ford | E250 Van | Ford E250 Van Heavy Duty Radiator Fan Clutch (excluding Diesel Engines) |
| 1985-1987 | Ford | E350 Van | Ford E350 Van Heavy Duty Radiator Fan Clutch (excluding Diesel Engines) |
| 1970-1984 | Ford | F100 Truck | Ford F100 Truck Heavy Duty Radiator Fan Clutch |
| 1975-1987 | Ford | F150 Truck | Ford F150 Truck Heavy Duty Radiator Fan Clutch |
| 1970-1987 | Ford | F250 Truck | Ford F250 Truck Heavy Duty Radiator Fan Clutch (excluding Diesel Engines) |
| 1970-1987 | Ford | F350 Truck | Ford F350 Truck Heavy Duty Radiator Fan Clutch (excluding Diesel Engines) |
| 1973-1986 | GMC | C1500 Truck | GMC C1500 Truck Heavy Duty Radiator Fan Clutch (excluding Diesel Engines) |
| 1973-1986 | GMC | C2500 Truck | GMC C2500 Truck Heavy Duty Radiator Fan Clutch (excluding Diesel Engines) |
| 1973-1986 | GMC | C3500 Truck | GMC C3500 Truck Heavy Duty Radiator Fan Clutch (excluding Diesel Engines) |
| 1978-1985 | GMC | Caballero | GMC Caballero Heavy Duty Radiator Fan Clutch |
| 1973-1978 | GMC | G15 | GMC G15 Heavy Duty Radiator Fan Clutch (excluding Diesel Engines) |
| 1973-1974 | GMC | G1500 | 1973-74, 1979-88 GMC G1500 Heavy Duty Radiator Fan Clutch (excluding Diesel Engines) |
| 1979-1988 | GMC | G1500 | 1973-74, 1979-88 GMC G1500 Heavy Duty Radiator Fan Clutch (excluding Diesel Engines) |
| 1973-1978 | GMC | G25 | GMC G25 Heavy Duty Radiator Fan Clutch (excluding Diesel Engines) |
| 1973-1974 | GMC | G2500 | 1973-74, 1979-88 GMC G2500 Heavy Duty Radiator Fan Clutch (excluding Diesel Engines) |
| 1979-1988 | GMC | G2500 | 1973-74, 1979-88 GMC G2500 Heavy Duty Radiator Fan Clutch (excluding Diesel Engines) |
| 1973-1978 | GMC | G35 | GMC G35 Heavy Duty Radiator Fan Clutch (excluding Diesel Engines) |
| 1973-1974 | GMC | G3500 | 1973-74, 1979-88 GMC G3500 Heavy Duty Radiator Fan Clutch (excluding Diesel Engines) |
| 1979-1988 | GMC | G3500 | 1973-74, 1979-88 GMC G3500 Heavy Duty Radiator Fan Clutch (excluding Diesel Engines) |
| 1973-1991 | GMC | Jimmy Full Size | GMC Jimmy Full Size Heavy Duty Radiator Fan Clutch (excluding Diesel Engines) |
| 1986 | GMC | Jimmy S-15 | GMC Jimmy S-15 Heavy Duty Radiator Fan Clutch |
| 1973-1986 | GMC | K1500 Truck | GMC K1500 Truck Heavy Duty Radiator Fan Clutch (excluding Diesel Engines) |
| 1973-1986 | GMC | K2500 Truck | GMC K2500 Truck Heavy Duty Radiator Fan Clutch (excluding Diesel Engines) |
| 1973-1986 | GMC | K3500 Truck | GMC K3500 Truck Heavy Duty Radiator Fan Clutch (excluding Diesel Engines) |
| 1987 | GMC | R1500 Truck | GMC R1500 Truck Heavy Duty Radiator Fan Clutch (excluding Diesel Engines) |
| 1987-1989 | GMC | R2500 Truck | GMC R2500 Truck Heavy Duty Radiator Fan Clutch (excluding Diesel Engines) |
| 1987-1991 | GMC | R3500 Truck | GMC R3500 Truck Heavy Duty Radiator Fan Clutch (excluding Diesel Engines) |
| 1986 | GMC | S-15 Pickup | GMC S-15 Pickup Heavy Duty Radiator Fan Clutch |
| 1985-1986 | GMC | Safari | GMC Safari Heavy Duty Radiator Fan Clutch |
| 1973-1986 | GMC | Suburban C1500 | GMC Suburban C1500 Heavy Duty Radiator Fan Clutch (excluding Diesel Engines) |
| 1973-1986 | GMC | Suburban C2500 | GMC Suburban C2500 Heavy Duty Radiator Fan Clutch (excluding Diesel Engines) |
| 1973-1986 | GMC | Suburban K1500 | GMC Suburban K1500 Heavy Duty Radiator Fan Clutch (excluding Diesel Engines) |
| 1973-1986 | GMC | Suburban K2500 | GMC Suburban K2500 Heavy Duty Radiator Fan Clutch (excluding Diesel Engines) |
| 1987-1991 | GMC | Suburban R1500 | GMC Suburban R1500 Heavy Duty Radiator Fan Clutch (excluding Diesel Engines) |
| 1987-1991 | GMC | Suburban R2500 | GMC Suburban R2500 Heavy Duty Radiator Fan Clutch (excluding Diesel Engines) |
| 1987-1991 | GMC | Suburban V1500 | GMC Suburban V1500 Heavy Duty Radiator Fan Clutch (excluding Diesel Engines) |
| 1987-1991 | GMC | Suburban V2500 | GMC Suburban V2500 Heavy Duty Radiator Fan Clutch (excluding Diesel Engines) |
| 1987 | GMC | V1500 Truck | GMC V1500 Truck Heavy Duty Radiator Fan Clutch (excluding Diesel Engines) |
| 1987-1989 | GMC | V2500 Truck | GMC V2500 Truck Heavy Duty Radiator Fan Clutch (excluding Diesel Engines) |
| 1987-1991 | GMC | V3500 Truck | GMC V3500 Truck Heavy Duty Radiator Fan Clutch (excluding Diesel Engines) |
| 1977-1984 | Oldsmobile | 98 | Olds 98 Heavy Duty Radiator Fan Clutch |
| 1973-1987 | Oldsmobile | Custom Cruiser | Olds Custom Cruiser Heavy Duty Radiator Fan Clutch |
| 1980-1981 | Oldsmobile | Cutlass | Olds Cutlass Heavy Duty Radiator Fan Clutch |
| 1980 | Oldsmobile | Cutlass Salon | Olds Cutlass Salon Heavy Duty Radiator Fan Clutch |
| 1982-1988 | Oldsmobile | Cutlass Supreme | Olds Cutlass Supreme Heavy Duty Radiator Fan Clutch |
| 1968-1985 | Oldsmobile | Delta 88 | Olds Delta 88 Heavy Duty Radiator Fan Clutch |
| 1979-1985 | Oldsmobile | Toronado | Olds Toronado Heavy Duty Radiator Fan Clutch |
| 1968-1974 | Plymouth | Barracuda | Plymouth Barracuda Heavy Duty Radiator Fan Clutch |
| 1965-1970 | Plymouth | Belvedere | Plymouth Belvedere Heavy Duty Radiator Fan Clutch |
| 1970-1976 | Plymouth | Duster | Plymouth Duster Heavy Duty Radiator Fan Clutch |
| 1968-1978 | Plymouth | Fury | Plymouth Fury Heavy Duty Radiator Fan Clutch |
| 1967 | Plymouth | GTX | Plymouth GTX Heavy Duty Radiator Fan Clutch |
| 1975-1977 | Plymouth | Gran Fury | 1975-77, 1980-89 Plymouth Gran Fury Heavy Duty Radiator Fan Clutch |
| 1980-1989 | Plymouth | Gran Fury | 1975-77, 1980-89 Plymouth Gran Fury Heavy Duty Radiator Fan Clutch |
| 1968-1974 | Plymouth | Road Runner | Plymouth Road Runner Heavy Duty Radiator Fan Clutch |
| 1965-1974 | Plymouth | Satellite | Plymouth Satellite Heavy Duty Radiator Fan Clutch |
| 1974-1978 | Plymouth | Trailduster | Plymouth Trailduster Heavy Duty Radiator Fan Clutch |
| 1967 | Plymouth | VIP | Plymouth VIP Heavy Duty Radiator Fan Clutch |
| 1971-1976 | Plymouth | Valiant | Plymouth Valiant Heavy Duty Radiator Fan Clutch |
| 1976-1977 | Plymouth | Van - Full Size | Plymouth Van - Full Size Heavy Duty Radiator Fan Clutch |
| 1978 | Plymouth | Voyager | Plymouth Voyager Heavy Duty Radiator Fan Clutch |
| 1959-1986 | Pontiac | Bonneville | Pontiac Bonneville Heavy Duty Radiator Fan Clutch |
| 1959-1981 | Pontiac | Catalina | Pontiac Catalina Heavy Duty Radiator Fan Clutch |
| 1965-1971 | Pontiac | Executive | Pontiac Executive Heavy Duty Radiator Fan Clutch |
| 1967-1992 | Pontiac | Firebird | Pontiac Firebird Heavy Duty Radiator Fan Clutch |
| 1964-1973 | Pontiac | GTO | Pontiac GTO Heavy Duty Radiator Fan Clutch |
| 1973-1980 | Pontiac | Grand Am | Pontiac Grand Am Heavy Duty Radiator Fan Clutch |
| 1975-1982 | Pontiac | Grand LeMans | Pontiac Grand LeMans Heavy Duty Radiator Fan Clutch |
| 1962-1986 | Pontiac | Grand Prix | Pontiac Grand Prix Heavy Duty Radiator Fan Clutch |
| 1971-1976 | Pontiac | Grand Safari | Pontiac Grand Safari Heavy Duty Radiator Fan Clutch |
| 1971-1975 | Pontiac | Grandville | Pontiac Grandville Heavy Duty Radiator Fan Clutch |
| 1963-1981 | Pontiac | LeMans | Pontiac LeMans Heavy Duty Radiator Fan Clutch |
| 1983-1985 | Pontiac | Parisienne | Pontiac Parisienne Heavy Duty Radiator Fan Clutch |
| 1977-1981 | Pontiac | Phoenix | Pontiac Phoenix Heavy Duty Radiator Fan Clutch |
| 1959-1970 | Pontiac | Safari | 1959-70, 1976 Pontiac Safari Heavy Duty Radiator Fan Clutch |
| 1976 | Pontiac | Safari | 1959-70, 1976 Pontiac Safari Heavy Duty Radiator Fan Clutch |
| 1959-1964 | Pontiac | Star Chief | Pontiac Star Chief Heavy Duty Radiator Fan Clutch |
| 1977-1980 | Pontiac | Sunbird | Pontiac Sunbird Heavy Duty Radiator Fan Clutch |
| 1961-1970 | Pontiac | Tempest | Pontiac Tempest Heavy Duty Radiator Fan Clutch |
| 1960 | Pontiac | Ventura | Pontiac Ventura Heavy Duty Radiator Fan Clutch |
| 1973-1976 | Pontiac | Ventura | Pontiac Ventura Heavy Duty Radiator Fan Clutch |
Part 1ARFC00001
In Stock
Order must be placed by 4pm ET
Get it in: 2 - 4 Business Days
Want it sooner? Choose Next Day Air at Checkout