1AACD00054-Radiator Cap
Replaces
Radiator Cap ACDelco RC27 - 1AACD00054
1AACD00054
Frequently bought together
AC DELCO RC27 [RADIATOR FILLER CAP
]
This AC DELCO radiator filler cap is a new part. It is the same piece that you would receive if you purchased it from your local GM dealer.
This radiator cap features the following Specifications
Brand New AC Delco part
Replaces dealer part number: 10409635, 25060216, RC27
Built to strict quality control standards
Direct replacement
100% factory tested
15 LB Rating
Left Hand Drive Note:
"All of our auto parts are intended for Left Hand Drive USDM vehicles and might not have been tested on Right Hand Drive platforms. If your vehicle is Right Hand Drive, please do your research prior to making a purchase to ensure the part is correct for your specific vehicle."
Item Condition: New

Lifetime Warranty
This item is backed by a Limited Lifetime Warranty. In the event this item should fail due to manufacturing defects during intended use, we will exchange the part free of charge (excludes shipping charges) for the original purchaser.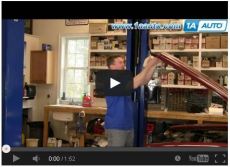 Be sure your vehicle is not hot when performing this procedure

step : Removing and Installing the Radiator Cap (0:19)

Press the cap firmly and rotate two clicks counterclockwise
Press the cap firmly and rotate it two clicks clockwise
Tools needed for replacement:
1A - No Tools Needed

No Tools Needed
Basic part, HUGE difference.
Had an overheating issue with my Camaro. Looked online, and the suggestion was to replace the Rad cap. Went to a national retailer, and bought a after market cap. Fitment was loose, and issue was not solved. Went to the dealer, didnt have an AC Delco cap in stock, and was $$$$, and was 3-5 days out. Checked 1a, in stock, cheap as hell, and had it in 2 days! (and didnt pay for express shipping). Problem solved!
Customer Q&A
Ask a question to 1A Auto customers who purchased the product
No questions have been asked about this item.
| Year | Make | Model | Description |
| --- | --- | --- | --- |
| 1977 | Buick | Century | Buick Century Radiator Cap (8th Vin Digit H) V8 5.7L with 2 BBL Carburetor ACDelco RC27 |
| 1977 | Buick | Century | Buick Century Radiator Cap V8 5.7L (8th Vin Digit J) with 4 BBL Carburetor ACDelco RC27 |
| 1977 | Buick | Century | Buick Century Radiator Cap (8th Vin Digit R) V8 5.7L with 4 BBL Carburetor ACDelco RC27 |
| 1977 | Buick | Century | Buick Century Radiator Cap V8 6.6L (8th Vin Digit K) with 4 BBL Carburetor ACDelco RC27 |
| 1977-1978 | Buick | Century | Buick Century Radiator Cap V8 5.0L (8th Vin Digit U) with 2 BBL Carburetor ACDelco RC27 |
| 1977-1979 | Buick | Century | Buick Century Radiator Cap (8th Vin Digit L) V8 5.7L with 4 BBL Carburetor ACDelco RC27 |
| 1977 | Buick | Century | Buick Century Radiator Cap V6 3.8L (8th Vin Digit C) with 2 BBL Carburetor ACDelco RC27 |
| 1978-1979 | Buick | Century | Buick Century Radiator Cap V6 3.2L (8th Vin Digit C) with 2 BBL Carburetor ACDelco RC27 |
| 1978-1981 | Buick | Century | Buick Century Radiator Cap V8 5.0L (8th Vin Digit H) ACDelco RC27 |
| 1978-1981 | Buick | Century | Buick Century Radiator Cap (8th Vin Digit A) V6 3.8L with 2 BBL Carburetor ACDelco RC27 |
| 1979 | Buick | Century | Buick Century Radiator Cap (8th Vin Digit 2) V6 3.8L with 2 BBL Carburetor ACDelco RC27 |
| 1979-1980 | Buick | Century | Buick Century Radiator Cap V8 5.0L (8th Vin Digit H) with 4 BBL Carburetor ACDelco RC27 |
| 1979 | Buick | Century | Buick Century Radiator Cap (8th Vin Digit Y) V8 4.9L with 2 BBL Carburetor ACDelco RC27 |
| 1979-1980 | Buick | Century | Buick Century Radiator Cap V8 4.9L (8th Vin Digit W) with 4 BBL Carburetor ACDelco RC27 |
| 1979-1980 | Buick | Century | Buick Century Radiator Cap V6 3.8L with 4 BBL Carburetor (8th Vin Digit 3) ACDelco RC27 |
| 1980-1981 | Buick | Century | Buick Century Radiator Cap V8 4.3L (8th Vin Digit S) with 2 BBL Carburetor ACDelco RC27 |
| 1981 | Buick | Century | Buick Century Radiator Cap V8 4.4L (8th Vin Digit J) ACDelco RC27 |
| 1981 | Buick | Century | Buick Century Radiator Cap V8 5.7L (8th Vin Digit N) ACDelco RC27 |
| 1982-1985 | Buick | Century | Buick Century Radiator Cap V6 3.0L (8th Vin Digit E) with 2 BBL Carburetor ACDelco RC27 |
| 1982-1985 | Buick | Century | Buick Century Radiator Cap V6 4.3L (8th Vin Digit T) ACDelco RC27 |
| 1982-1986 | Buick | Century | Buick Century Radiator Cap V6 2.8L (8th Vin Digit X) with 2 BBL Carburetor ACDelco RC27 |
| 1982-1992 | Buick | Century | Buick Century Radiator Cap L4 2.5L (8th Vin Digit R) ACDelco RC27 |
| 1982 | Buick | Century | Buick Century Radiator Cap L4 2.5L (8th Vin Digit 5) with 2 BBL Carburetor ACDelco RC27 |
| 1983 | Buick | Century | Buick Century Radiator Cap L4 2.5L (8th Vin Digit 5) ACDelco RC27 |
| 1984-1988 | Buick | Century | Buick Century Radiator Cap V6 3.8L (8th Vin Digit 3) ACDelco RC27 |
| 1987-1989 | Buick | Century | Buick Century Radiator Cap V6 2.8L (8th Vin Digit W) ACDelco RC27 |
| 1989-1993 | Buick | Century | Buick Century Radiator Cap V6 3.3L (8th Vin Digit N) ACDelco RC27 |
| 1993-1996 | Buick | Century | Buick Century Radiator Cap L4 2.2L (8th Vin Digit 4) ACDelco RC27 |
| 1994-1999 | Buick | Century | Buick Century Radiator Cap V6 3.1L (8th Vin Digit M) ACDelco RC27 |
| 2000-2002 | Buick | Century | Buick Century Radiator Cap V6 3.1L (8th Vin Digit J) ACDelco RC27 |
| 1975-1976 | Buick | Electra | Buick Electra Radiator Cap V8 7.5L (8th Vin Digit T) with 4 BBL Carburetor ACDelco RC27 |
| 1977 | Buick | Electra | Buick Electra Radiator Cap V8 5.7L (8th Vin Digit J) with 4 BBL Carburetor ACDelco RC27 |
| 1977-1980 | Buick | Electra | Buick Electra Radiator Cap (8th Vin Digit R) V8 5.7L with 4 BBL Carburetor ACDelco RC27 |
| 1977-1979 | Buick | Electra | Buick Electra Radiator Cap V8 6.6L (8th Vin Digit K) with 4 BBL Carburetor ACDelco RC27 |
| 1977 | Buick | Electra | Buick Electra Radiator Cap (8th Vin Digit H) V8 5.7L ACDelco RC27 |
| 1978-1980 | Buick | Electra | Buick Electra Radiator Cap V8 5.7L (8th Vin Digit X) with 4 BBL Carburetor ACDelco RC27 |
| 1980-1984 | Buick | Electra | Buick Electra Radiator Cap V8 5.7L (8th Vin Digit N) ACDelco RC27 |
| 1980-1984 | Buick | Electra | Buick Electra Radiator Cap (8th Vin Digit 4) V6 4.1L with 4 BBL Carburetor ACDelco RC27 |
| 1980 | Buick | Electra | Buick Electra Radiator Cap V8 4.9L (8th Vin Digit W) ACDelco RC27 |
| 1981 | Buick | Electra | Buick Electra Radiator Cap (8th Vin Digit B) V8 5.7L ACDelco RC27 |
| 1981-1984 | Buick | Electra | Buick Electra Radiator Cap V8 5.0L (8th Vin Digit Y) with 4 BBL Carburetor ACDelco RC27 |
| 1985 | Buick | Electra | Buick Electra Radiator Cap V6 3.0L (8th Vin Digit E) with 2 BBL Carburetor ACDelco RC27 |
| 1985 | Buick | Electra | Buick Electra Radiator Cap V6 4.3L (8th Vin Digit T) ACDelco RC27 |
| 1985-1987 | Buick | Electra | Buick Electra Radiator Cap V6 3.8L (8th Vin Digit 3) ACDelco RC27 |
| 1986 | Buick | Electra | Buick Electra Radiator Cap V6 3.8L (8th Vin Digit B) ACDelco RC27 |
| 1988-1990 | Buick | Electra | Buick Electra Radiator Cap V6 3.8L (8th Vin Digit C) ACDelco RC27 |
| 1977-1979 | Buick | Estate Wagon | Buick Estate Wagon Radiator Cap V8 6.6L (8th Vin Digit K) ACDelco RC27 |
| 1977-1979 | Buick | Estate Wagon | Buick Estate Wagon Radiator Cap V8 5.7L (8th Vin Digit R) ACDelco RC27 |
| 1978-1979 | Buick | Estate Wagon | Buick Estate Wagon Radiator Cap V8 5.7L (8th Vin Digit X) ACDelco RC27 |
| 1985 | Buick | Estate Wagon | Buick Estate Wagon Radiator Cap V8 5.7L (8th Vin Digit N) ACDelco RC27 |
| 1985-1990 | Buick | Estate Wagon | Buick Estate Wagon Radiator Cap V8 5.0L (8th Vin Digit Y) with 4 BBL Carburetor ACDelco RC27 |
| 1977-1980 | Buick | LeSabre | Buick LeSabre Radiator Cap (8th Vin Digit R) V8 5.7L with 4 BBL Carburetor ACDelco RC27 |
| 1977-1978 | Buick | LeSabre | Buick LeSabre Radiator Cap V8 6.6L (8th Vin Digit K) with 4 BBL Carburetor ACDelco RC27 |
| 1977 | Buick | LeSabre | Buick LeSabre Radiator Cap (8th Vin Digit H) V8 5.7L ACDelco RC27 |
| 1977 | Buick | LeSabre | Buick LeSabre Radiator Cap V6 3.8L (8th Vin Digit C) with 2 BBL Carburetor ACDelco RC27 |
| 1977-1979 | Buick | LeSabre | Buick LeSabre Radiator Cap (8th Vin Digit Y) V8 4.9L with 2 BBL Carburetor ACDelco RC27 |
| 1977-1985 | Buick | LeSabre | Buick LeSabre Radiator Cap (8th Vin Digit A) V6 3.8L with 2 BBL Carburetor ACDelco RC27 |
| 1977 | Buick | LeSabre | Buick LeSabre Radiator Cap V8 5.7L (8th Vin Digit J) with 4 BBL Carburetor ACDelco RC27 |
| 1978 | Buick | LeSabre | Buick LeSabre Radiator Cap V8 5.0L (8th Vin Digit U) with 2 BBL Carburetor ACDelco RC27 |
| 1978-1980 | Buick | LeSabre | Buick LeSabre Radiator Cap V8 5.7L (8th Vin Digit X) with 4 BBL Carburetor ACDelco RC27 |
| 1978-1980 | Buick | LeSabre | Buick LeSabre Radiator Cap V6 3.8L with 4 BBL Carburetor (8th Vin Digit 3) ACDelco RC27 |
| 1980-1984 | Buick | LeSabre | Buick LeSabre Radiator Cap (8th Vin Digit 4) V6 4.1L with 4 BBL Carburetor ACDelco RC27 |
| 1980 | Buick | LeSabre | Buick LeSabre Radiator Cap V8 4.9L (8th Vin Digit W) with 4 BBL Carburetor ACDelco RC27 |
| 1980-1985 | Buick | LeSabre | Buick LeSabre Radiator Cap V8 5.7L (8th Vin Digit N) ACDelco RC27 |
| 1981-1985 | Buick | LeSabre | Buick LeSabre Radiator Cap V8 5.0L (8th Vin Digit Y) with 4 BBL Carburetor ACDelco RC27 |
| 1982 | Buick | LeSabre | Buick LeSabre Radiator Cap V8 4.4L (8th Vin Digit J) ACDelco RC27 |
| 1986 | Buick | LeSabre | Buick LeSabre Radiator Cap V6 3.0L (8th Vin Digit L) ACDelco RC27 |
| 1986-1988 | Buick | LeSabre | Buick LeSabre Radiator Cap V6 3.8L (8th Vin Digit 3) ACDelco RC27 |
| 1986 | Buick | LeSabre | Buick LeSabre Radiator Cap V6 3.8L (8th Vin Digit B) ACDelco RC27 |
| 1988-1991 | Buick | LeSabre | Buick LeSabre Radiator Cap V6 3.8L (8th Vin Digit C) ACDelco RC27 |
| 1992-1995 | Buick | LeSabre | Buick LeSabre Radiator Cap V6 3.8L (8th Vin Digit L) ACDelco RC27 |
| 1996-2001 | Buick | LeSabre | Buick LeSabre Radiator Cap V6 3.8L (8th Vin Digit K) ACDelco RC27 |
| 1991-1994 | Buick | Park Avenue | Buick Park Avenue Radiator Cap V6 3.8L (8th Vin Digit L) ACDelco RC27 |
| 1995-2001 | Buick | Park Avenue | Buick Park Avenue Radiator Cap V6 3.8L (8th Vin Digit K) ACDelco RC27 |
| 1999-2001 | Buick | Park Avenue | Buick Park Avenue Radiator Cap V6 3.8L (8th Vin Digit 1) ACDelco RC27 |
| 1988-1990 | Buick | Reatta | Buick Reatta Radiator Cap V6 3.8L (8th Vin Digit C) ACDelco RC27 |
| 1991 | Buick | Reatta | Buick Reatta Radiator Cap V6 3.8L (8th Vin Digit L) ACDelco RC27 |
| 1977 | Buick | Regal | Buick Regal Radiator Cap V6 3.8L (8th Vin Digit C) with 2 BBL Carburetor ACDelco RC27 |
| 1977-1978 | Buick | Regal | Buick Regal Radiator Cap V8 5.0L (8th Vin Digit U) with 2 BBL Carburetor ACDelco RC27 |
| 1977 | Buick | Regal | Buick Regal Radiator Cap (8th Vin Digit L) V8 5.7L with 4 BBL Carburetor ACDelco RC27 |
| 1977 | Buick | Regal | Buick Regal Radiator Cap (8th Vin Digit R) V8 5.7L with 4 BBL Carburetor ACDelco RC27 |
| 1977 | Buick | Regal | Buick Regal Radiator Cap V8 5.7L (8th Vin Digit J) with 4 BBL Carburetor ACDelco RC27 |
| 1977 | Buick | Regal | Buick Regal Radiator Cap (8th Vin Digit H) V8 5.7L with 2 BBL Carburetor ACDelco RC27 |
| 1978 | Buick | Regal | Buick Regal Radiator Cap V6 3.8L (8th Vin Digit G) with 2 BBL Carburetor ACDelco RC27 |
| 1978-1980 | Buick | Regal | Buick Regal Radiator Cap V8 5.0L (8th Vin Digit H) with 4 BBL Carburetor ACDelco RC27 |
| 1978-1979 | Buick | Regal | Buick Regal Radiator Cap V6 3.2L (8th Vin Digit C) with 2 BBL Carburetor ACDelco RC27 |
| 1978-1987 | Buick | Regal | Buick Regal Radiator Cap (8th Vin Digit A) V6 3.8L with 2 BBL Carburetor ACDelco RC27 |
| 1978-1982 | Buick | Regal | Buick Regal Radiator Cap V6 3.8L with 4 BBL Carburetor (8th Vin Digit 3) ACDelco RC27 |
| 1979-1980 | Buick | Regal | Buick Regal Radiator Cap V8 4.9L (8th Vin Digit W) with 4 BBL Carburetor ACDelco RC27 |
| 1979 | Buick | Regal | Buick Regal Radiator Cap (8th Vin Digit Y) V8 4.9L with 2 BBL Carburetor ACDelco RC27 |
| 1979 | Buick | Regal | Buick Regal Radiator Cap (8th Vin Digit 2) V6 3.8L with 2 BBL Carburetor ACDelco RC27 |
| 1980-1981 | Buick | Regal | Buick Regal Radiator Cap V8 4.3L (8th Vin Digit S) with 2 BBL Carburetor ACDelco RC27 |
| 1981-1982 | Buick | Regal | Buick Regal Radiator Cap V8 4.4L (8th Vin Digit J) ACDelco RC27 |
| 1982-1984 | Buick | Regal | Buick Regal Radiator Cap (8th Vin Digit 4) V6 4.1L with 4 BBL Carburetor ACDelco RC27 |
| 1982-1985 | Buick | Regal | Buick Regal Radiator Cap V8 5.7L (8th Vin Digit N) ACDelco RC27 |
| 1982-1987 | Buick | Regal | Buick Regal Radiator Cap V8 5.0L (8th Vin Digit H) ACDelco RC27 |
| 1982-1984 | Buick | Regal | Buick Regal Radiator Cap V6 4.3L (8th Vin Digit V) ACDelco RC27 |
| 1983 | Buick | Regal | Buick Regal Radiator Cap V6 3.8L (8th Vin Digit 8) with 4 BBL Carburetor ACDelco RC27 |
| 1984-1985 | Buick | Regal | Buick Regal Radiator Cap V6 3.8L (8th Vin Digit 9) ACDelco RC27 |
| 1986-1987 | Buick | Regal | Buick Regal Radiator Cap V8 5.0L (8th Vin Digit Y) with 4 BBL Carburetor ACDelco RC27 |
| 1986-1987 | Buick | Regal | Buick Regal Radiator Cap V6 3.8L (8th Vin Digit 7) ACDelco RC27 |
| 1988-1989 | Buick | Regal | Buick Regal Radiator Cap V6 2.8L (8th Vin Digit W) ACDelco RC27 |
| 1989-1993 | Buick | Regal | Buick Regal Radiator Cap V6 3.1L (8th Vin Digit T) ACDelco RC27 |
| 1990-1995 | Buick | Regal | Buick Regal Radiator Cap V6 3.8L (8th Vin Digit L) ACDelco RC27 |
| 1994-1996 | Buick | Regal | Buick Regal Radiator Cap V6 3.1L (8th Vin Digit M) ACDelco RC27 |
| 1996-2002 | Buick | Regal | Buick Regal Radiator Cap V6 3.8L (8th Vin Digit K) ACDelco RC27 |
| 1997-2002 | Buick | Regal | Buick Regal Radiator Cap V6 3.8L (8th Vin Digit 1) ACDelco RC27 |
| 2002 | Buick | Rendezvous | Buick Rendezvous Radiator Cap V6 3.4L (8th Vin Digit E) ACDelco RC27 |
| 1977-1980 | Buick | Riviera | Buick Riviera Radiator Cap (8th Vin Digit R) V8 5.7L with 4 BBL Carburetor ACDelco RC27 |
| 1977 | Buick | Riviera | Buick Riviera Radiator Cap V8 5.7L (8th Vin Digit J) with 4 BBL Carburetor ACDelco RC27 |
| 1977-1978 | Buick | Riviera | Buick Riviera Radiator Cap V8 6.6L (8th Vin Digit K) with 4 BBL Carburetor ACDelco RC27 |
| 1978 | Buick | Riviera | Buick Riviera Radiator Cap V8 5.7L (8th Vin Digit X) with 4 BBL Carburetor ACDelco RC27 |
| 1980-1982 | Buick | Riviera | Buick Riviera Radiator Cap V6 3.8L with 4 BBL Carburetor (8th Vin Digit 3) ACDelco RC27 |
| 1980 | Buick | Riviera | Buick Riviera Radiator Cap V8 5.0L (8th Vin Digit Y) ACDelco RC27 |
| 1981-1985 | Buick | Riviera | Buick Riviera Radiator Cap V8 5.7L (8th Vin Digit N) ACDelco RC27 |
| 1981-1985 | Buick | Riviera | Buick Riviera Radiator Cap V8 5.0L (8th Vin Digit Y) with 4 BBL Carburetor ACDelco RC27 |
| 1981-1984 | Buick | Riviera | Buick Riviera Radiator Cap (8th Vin Digit 4) V6 4.1L with 4 BBL Carburetor ACDelco RC27 |
| 1983 | Buick | Riviera | Buick Riviera Radiator Cap V6 3.8L (8th Vin Digit 8) with 4 BBL Carburetor ACDelco RC27 |
| 1984-1985 | Buick | Riviera | Buick Riviera Radiator Cap V6 3.8L (8th Vin Digit 9) ACDelco RC27 |
| 1986 | Buick | Riviera | Buick Riviera Radiator Cap V6 3.8L (8th Vin Digit B) ACDelco RC27 |
| 1987 | Buick | Riviera | Buick Riviera Radiator Cap V6 3.8L (8th Vin Digit 3) ACDelco RC27 |
| 1988-1990 | Buick | Riviera | Buick Riviera Radiator Cap V6 3.8L (8th Vin Digit C) ACDelco RC27 |
| 1991-1993 | Buick | Riviera | Buick Riviera Radiator Cap V6 3.8L (8th Vin Digit L) ACDelco RC27 |
| 1995-1999 | Buick | Riviera | Buick Riviera Radiator Cap V6 3.8L (8th Vin Digit 1) ACDelco RC27 |
| 1995-1997 | Buick | Riviera | Buick Riviera Radiator Cap V6 3.8L (8th Vin Digit K) ACDelco RC27 |
| 1991 | Buick | Roadmaster | Buick Roadmaster Radiator Cap V8 5.0L (8th Vin Digit E) ACDelco RC27 |
| 1992-1993 | Buick | Roadmaster | Buick Roadmaster Radiator Cap (8th Vin Digit 7) V8 5.7L ACDelco RC27 |
| 1976-1977 | Buick | Skyhawk | Buick Skyhawk Radiator Cap V6 3.8L (8th Vin Digit C) with 2 BBL Carburetor ACDelco RC27 |
| 1978-1980 | Buick | Skyhawk | Buick Skyhawk Radiator Cap (8th Vin Digit A) V6 3.8L with 2 BBL Carburetor ACDelco RC27 |
| 1978 | Buick | Skyhawk | Buick Skyhawk Radiator Cap (8th Vin Digit 2) V6 3.8L with 2 BBL Carburetor ACDelco RC27 |
| 1982 | Buick | Skyhawk | Buick Skyhawk Radiator Cap L4 1.8L (8th Vin Digit G) with 2 BBL Carburetor ACDelco RC27 |
| 1982-1986 | Buick | Skyhawk | Buick Skyhawk Radiator Cap L4 1.8L (8th Vin Digit 0) ACDelco RC27 |
| 1983-1984 | Buick | Skyhawk | Buick Skyhawk Radiator Cap (8th Vin Digit B) L4 2.0L ACDelco RC27 |
| 1983-1986 | Buick | Skyhawk | Buick Skyhawk Radiator Cap L4 2.0L (8th Vin Digit P) ACDelco RC27 |
| 1985-1986 | Buick | Skyhawk | Buick Skyhawk Radiator Cap L4 1.8L (8th Vin Digit J) ACDelco RC27 |
| 1987-1989 | Buick | Skyhawk | Buick Skyhawk Radiator Cap L4 2.0L (8th Vin Digit 1) ACDelco RC27 |
| 1987-1988 | Buick | Skyhawk | Buick Skyhawk Radiator Cap L4 2.0L (8th Vin Digit K) ACDelco RC27 |
| 1987 | Buick | Skyhawk | Buick Skyhawk Radiator Cap L4 2.0L (8th Vin Digit M) ACDelco RC27 |
| 1977 | Buick | Skylark | Buick Skylark Radiator Cap (8th Vin Digit R) V8 5.7L with 4 BBL Carburetor ACDelco RC27 |
| 1977-1979 | Buick | Skylark | Buick Skylark Radiator Cap (8th Vin Digit L) V8 5.7L with 4 BBL Carburetor ACDelco RC27 |
| 1977-1978 | Buick | Skylark | Buick Skylark Radiator Cap V8 5.0L (8th Vin Digit U) with 2 BBL Carburetor ACDelco RC27 |
| 1977 | Buick | Skylark | Buick Skylark Radiator Cap (8th Vin Digit Y) V8 4.9L with 2 BBL Carburetor ACDelco RC27 |
| 1977 | Buick | Skylark | Buick Skylark Radiator Cap V6 3.8L (8th Vin Digit C) with 2 BBL Carburetor ACDelco RC27 |
| 1978-1979 | Buick | Skylark | Buick Skylark Radiator Cap (8th Vin Digit A) V6 3.8L with 2 BBL Carburetor ACDelco RC27 |
| 1979 | Buick | Skylark | Buick Skylark Radiator Cap V8 5.0L (8th Vin Digit G) with 2 BBL Carburetor ACDelco RC27 |
| 1980 | Buick | Skylark | Buick Skylark Radiator Cap V6 2.8L (8th Vin Digit 7) with 2 BBL Carburetor ACDelco RC27 |
| 1980-1981 | Buick | Skylark | Buick Skylark Radiator Cap L4 2.5L (8th Vin Digit 5) with 2 BBL Carburetor ACDelco RC27 |
| 1981-1985 | Buick | Skylark | Buick Skylark Radiator Cap V6 2.8L (8th Vin Digit X) with 2 BBL Carburetor ACDelco RC27 |
| 1982 | Buick | Skylark | Buick Skylark Radiator Cap V6 2.8L (8th Vin Digit Z) ACDelco RC27 |
| 1982-1983 | Buick | Skylark | Buick Skylark Radiator Cap L4 2.5L (8th Vin Digit 5) ACDelco RC27 |
| 1982-1985 | Buick | Skylark | Buick Skylark Radiator Cap L4 2.5L (8th Vin Digit R) ACDelco RC27 |
| 1983-1984 | Buick | Skylark | Buick Skylark Radiator Cap V6 2.8L (8th Vin Digit Z) with 2 BBL Carburetor ACDelco RC27 |
| 1985 | Buick | Skylark | Buick Skylark Radiator Cap V6 2.8L (8th Vin Digit W) ACDelco RC27 |
| 1986-1988 | Buick | Skylark | Buick Skylark Radiator Cap V6 3.0L (8th Vin Digit L) ACDelco RC27 |
| 1986-1988 | Buick | Skylark | Buick Skylark Radiator Cap L4 2.5L (8th Vin Digit U) ACDelco RC27 |
| 1988 | Buick | Skylark | Buick Skylark Radiator Cap L4 2.3L (8th Vin Digit D) ACDelco RC27 |
| 1985-1987 | Buick | Somerset | Buick Somerset Radiator Cap V6 3.0L (8th Vin Digit L) ACDelco RC27 |
| 1985-1987 | Buick | Somerset | Buick Somerset Radiator Cap L4 2.5L (8th Vin Digit U) ACDelco RC27 |
| 1987-1988 | Cadillac | Allante | Cadillac Allante Radiator Cap V8 4.1L (8th Vin Digit 7) ACDelco RC27 |
| 1989-1992 | Cadillac | Allante | Cadillac Allante Radiator Cap V8 4.5L (8th Vin Digit 8) ACDelco RC27 |
| 1969 | Cadillac | Brougham | Cadillac Brougham Radiator Cap V8 7.7L with 4 BBL Carburetor (8th Vin Digit 9) ACDelco RC27 |
| 1970 | Cadillac | Brougham | Cadillac Brougham Radiator Cap V8 7.7L with 4 BBL Carburetor (8th Vin Digit 1) ACDelco RC27 |
| 1971 | Cadillac | Brougham | Cadillac Brougham Radiator Cap V8 7.7L with 4 BBL Carburetor (8th Vin Digit 3) ACDelco RC27 |
| 1972-1974 | Cadillac | Brougham | Cadillac Brougham Radiator Cap V8 7.7L with 4 BBL Carburetor (8th Vin Digit R) ACDelco RC27 |
| 1974-1976 | Cadillac | Brougham | Cadillac Brougham Radiator Cap (8th Vin Digit S) V8 8.2L ACDelco RC27 |
| 1975-1976 | Cadillac | Brougham | Cadillac Brougham Radiator Cap V8 8.2L with 4 BBL Carburetor (8th Vin Digit S) ACDelco RC27 |
| 1977-1979 | Cadillac | Brougham | Cadillac Brougham Radiator Cap V8 7.0L (8th Vin Digit T) ACDelco RC27 |
| 1977-1979 | Cadillac | Brougham | Cadillac Brougham Radiator Cap V8 7.0L with 4 BBL Carburetor (8th Vin Digit S) ACDelco RC27 |
| 1979-1984 | Cadillac | Brougham | Cadillac Brougham Radiator Cap V8 5.7L (8th Vin Digit N) ACDelco RC27 |
| 1980 | Cadillac | Brougham | Cadillac Brougham Radiator Cap V8 6.0L (8th Vin Digit 6) with 4 BBL Carburetor ACDelco RC27 |
| 1980-1982 | Cadillac | Brougham | Cadillac Brougham Radiator Cap (8th Vin Digit 4) V6 4.1L with 4 BBL Carburetor ACDelco RC27 |
| 1981-1983 | Cadillac | Brougham | Cadillac Brougham Radiator Cap V8 6.0L (8th Vin Digit 9) ACDelco RC27 |
| 1982-1984 | Cadillac | Brougham | Cadillac Brougham Radiator Cap V8 4.1L (8th Vin Digit 8) ACDelco RC27 |
| 1990 | Cadillac | Brougham | Cadillac Brougham Radiator Cap V8 5.0L (8th Vin Digit 9) with 4 BBL Carburetor ACDelco RC27 |
| 1990-1992 | Cadillac | Brougham | Cadillac Brougham Radiator Cap (8th Vin Digit 7) V8 5.7L ACDelco RC27 |
| 1991-1992 | Cadillac | Brougham | Cadillac Brougham Radiator Cap V8 5.0L (8th Vin Digit E) ACDelco RC27 |
| 1969 | Cadillac | Calais | Cadillac Calais Radiator Cap V8 7.7L with 4 BBL Carburetor (8th Vin Digit 9) ACDelco RC27 |
| 1970 | Cadillac | Calais | Cadillac Calais Radiator Cap V8 7.7L with 4 BBL Carburetor (8th Vin Digit 1) ACDelco RC27 |
| 1971 | Cadillac | Calais | Cadillac Calais Radiator Cap V8 7.7L with 4 BBL Carburetor (8th Vin Digit 3) ACDelco RC27 |
| 1972-1974 | Cadillac | Calais | Cadillac Calais Radiator Cap V8 7.7L with 4 BBL Carburetor (8th Vin Digit R) ACDelco RC27 |
| 1975-1976 | Cadillac | Calais | Cadillac Calais Radiator Cap V8 8.2L with 4 BBL Carburetor (8th Vin Digit S) ACDelco RC27 |
| 1976 | Cadillac | Calais | Cadillac Calais Radiator Cap (8th Vin Digit S) V8 8.2L ACDelco RC27 |
| 1982 | Cadillac | Cimarron | Cadillac Cimarron Radiator Cap L4 1.8L (8th Vin Digit G) with 2 BBL Carburetor ACDelco RC27 |
| 1983-1984 | Cadillac | Cimarron | Cadillac Cimarron Radiator Cap L4 2.0L (8th Vin Digit P) ACDelco RC27 |
| 1985-1988 | Cadillac | Cimarron | Cadillac Cimarron Radiator Cap V6 2.8L (8th Vin Digit W) ACDelco RC27 |
| 1969 | Cadillac | Deville | Cadillac Deville Radiator Cap V8 7.7L with 4 BBL Carburetor (8th Vin Digit 9) ACDelco RC27 |
| 1970 | Cadillac | Deville | Cadillac Deville Radiator Cap V8 7.7L with 4 BBL Carburetor (8th Vin Digit 1) ACDelco RC27 |
| 1971 | Cadillac | Deville | Cadillac Deville Radiator Cap V8 7.7L with 4 BBL Carburetor (8th Vin Digit 3) ACDelco RC27 |
| 1972-1974 | Cadillac | Deville | Cadillac Deville Radiator Cap V8 7.7L with 4 BBL Carburetor (8th Vin Digit R) ACDelco RC27 |
| 1974-1976 | Cadillac | Deville | Cadillac Deville Radiator Cap V8 8.2L with 4 BBL Carburetor (8th Vin Digit S) ACDelco RC27 |
| 1976 | Cadillac | Deville | Cadillac Deville Radiator Cap (8th Vin Digit S) V8 8.2L ACDelco RC27 |
| 1977-1979 | Cadillac | Deville | Cadillac Deville Radiator Cap V8 7.0L (8th Vin Digit T) ACDelco RC27 |
| 1977-1979 | Cadillac | Deville | Cadillac Deville Radiator Cap V8 7.0L with 4 BBL Carburetor (8th Vin Digit S) ACDelco RC27 |
| 1979-1984 | Cadillac | Deville | Cadillac Deville Radiator Cap V8 5.7L (8th Vin Digit N) ACDelco RC27 |
| 1980-1982 | Cadillac | Deville | Cadillac Deville Radiator Cap (8th Vin Digit 4) V6 4.1L with 4 BBL Carburetor ACDelco RC27 |
| 1980 | Cadillac | Deville | Cadillac Deville Radiator Cap V8 6.0L (8th Vin Digit 6) with 4 BBL Carburetor ACDelco RC27 |
| 1981 | Cadillac | Deville | Cadillac Deville Radiator Cap V8 6.0L (8th Vin Digit 9) ACDelco RC27 |
| 1982-1987 | Cadillac | Deville | Cadillac Deville Radiator Cap V8 4.1L (8th Vin Digit 8) ACDelco RC27 |
| 1985 | Cadillac | Deville | Cadillac Deville Radiator Cap V6 4.3L (8th Vin Digit T) ACDelco RC27 |
| 1988-1989 | Cadillac | Deville | Cadillac Deville Radiator Cap (8th Vin Digit 5) V8 4.5L ACDelco RC27 |
| 1990 | Cadillac | Deville | Cadillac Deville Radiator Cap V8 4.5L (8th Vin Digit 3) ACDelco RC27 |
| 1991-1995 | Cadillac | Deville | Cadillac Deville Radiator Cap (8th Vin Digit B) V8 4.9L ACDelco RC27 |
| 1969 | Cadillac | Eldorado | Cadillac Eldorado Radiator Cap V8 7.7L with 4 BBL Carburetor (8th Vin Digit 9) ACDelco RC27 |
| 1970-1971 | Cadillac | Eldorado | Cadillac Eldorado Radiator Cap V8 8.2L (8th Vin Digit 4) with 4 BBL Carburetor ACDelco RC27 |
| 1972-1976 | Cadillac | Eldorado | Cadillac Eldorado Radiator Cap V8 8.2L with 4 BBL Carburetor (8th Vin Digit S) ACDelco RC27 |
| 1976 | Cadillac | Eldorado | Cadillac Eldorado Radiator Cap (8th Vin Digit S) V8 8.2L ACDelco RC27 |
| 1977-1978 | Cadillac | Eldorado | Cadillac Eldorado Radiator Cap V8 7.0L with 4 BBL Carburetor (8th Vin Digit S) ACDelco RC27 |
| 1977-1978 | Cadillac | Eldorado | Cadillac Eldorado Radiator Cap V8 7.0L (8th Vin Digit T) ACDelco RC27 |
| 1979-1985 | Cadillac | Eldorado | Cadillac Eldorado Radiator Cap V8 5.7L (8th Vin Digit N) ACDelco RC27 |
| 1979 | Cadillac | Eldorado | Cadillac Eldorado Radiator Cap (8th Vin Digit B) V8 5.7L ACDelco RC27 |
| 1980-1981 | Cadillac | Eldorado | Cadillac Eldorado Radiator Cap V8 6.0L (8th Vin Digit 9) ACDelco RC27 |
| 1980 | Cadillac | Eldorado | Cadillac Eldorado Radiator Cap V8 5.7L (8th Vin Digit 8) ACDelco RC27 |
| 1981 | Cadillac | Eldorado | Cadillac Eldorado Radiator Cap (8th Vin Digit 4) V6 4.1L with 4 BBL Carburetor ACDelco RC27 |
| 1983-1987 | Cadillac | Eldorado | Cadillac Eldorado Radiator Cap V8 4.1L (8th Vin Digit 8) ACDelco RC27 |
| 1988-1989 | Cadillac | Eldorado | Cadillac Eldorado Radiator Cap (8th Vin Digit 5) V8 4.5L ACDelco RC27 |
| 1990 | Cadillac | Eldorado | Cadillac Eldorado Radiator Cap V8 4.5L (8th Vin Digit 3) ACDelco RC27 |
| 1991-1993 | Cadillac | Eldorado | Cadillac Eldorado Radiator Cap (8th Vin Digit B) V8 4.9L ACDelco RC27 |
| 1993 | Cadillac | Eldorado | Cadillac Eldorado Radiator Cap V8 4.6L (8th Vin Digit Y) ACDelco RC27 |
| 1993 | Cadillac | Eldorado | Cadillac Eldorado Radiator Cap V8 4.6L (8th Vin Digit 9) ACDelco RC27 |
| 1999 | Cadillac | Escalade | Cadillac Escalade Radiator Cap V8 5.7L (8th Vin Digit R) ACDelco RC27 |
| 1983-1984 | Cadillac | Fleetwood | Cadillac Fleetwood Radiator Cap V8 6.0L (8th Vin Digit 6) with 4 BBL Carburetor ACDelco RC27 |
| 1984 | Cadillac | Fleetwood | Cadillac Fleetwood Radiator Cap V8 6.0L (8th Vin Digit 9) ACDelco RC27 |
| 1985 | Cadillac | Fleetwood | Cadillac Fleetwood Radiator Cap V8 5.7L (8th Vin Digit N) ACDelco RC27 |
| 1985 | Cadillac | Fleetwood | Cadillac Fleetwood Radiator Cap V6 4.3L (8th Vin Digit T) ACDelco RC27 |
| 1985-1987 | Cadillac | Fleetwood | Cadillac Fleetwood Radiator Cap V8 4.1L (8th Vin Digit 8) ACDelco RC27 |
| 1986-1990 | Cadillac | Fleetwood | Cadillac Fleetwood Radiator Cap V8 5.0L (8th Vin Digit Y) with 4 BBL Carburetor ACDelco RC27 |
| 1987-1989 | Cadillac | Fleetwood | Cadillac Fleetwood Radiator Cap V8 5.0L (8th Vin Digit 9) with 4 BBL Carburetor ACDelco RC27 |
| 1988-1989 | Cadillac | Fleetwood | Cadillac Fleetwood Radiator Cap (8th Vin Digit 5) V8 4.5L ACDelco RC27 |
| 1990 | Cadillac | Fleetwood | Cadillac Fleetwood Radiator Cap V8 4.5L (8th Vin Digit 3) ACDelco RC27 |
| 1991-1992 | Cadillac | Fleetwood | Cadillac Fleetwood Radiator Cap (8th Vin Digit B) V8 4.9L ACDelco RC27 |
| 1993 | Cadillac | Fleetwood | Cadillac Fleetwood Radiator Cap (8th Vin Digit 7) V8 5.7L ACDelco RC27 |
| 1976-1977 | Cadillac | Seville | Cadillac Seville Radiator Cap V8 5.7L (8th Vin Digit R) ACDelco RC27 |
| 1978-1985 | Cadillac | Seville | Cadillac Seville Radiator Cap V8 5.7L (8th Vin Digit N) ACDelco RC27 |
| 1978-1979 | Cadillac | Seville | Cadillac Seville Radiator Cap (8th Vin Digit B) V8 5.7L ACDelco RC27 |
| 1980-1981 | Cadillac | Seville | Cadillac Seville Radiator Cap V8 6.0L (8th Vin Digit 9) ACDelco RC27 |
| 1980 | Cadillac | Seville | Cadillac Seville Radiator Cap V8 5.7L (8th Vin Digit 8) ACDelco RC27 |
| 1981 | Cadillac | Seville | Cadillac Seville Radiator Cap (8th Vin Digit 4) V6 4.1L with 4 BBL Carburetor ACDelco RC27 |
| 1983-1987 | Cadillac | Seville | Cadillac Seville Radiator Cap V8 4.1L (8th Vin Digit 8) ACDelco RC27 |
| 1988-1989 | Cadillac | Seville | Cadillac Seville Radiator Cap (8th Vin Digit 5) V8 4.5L ACDelco RC27 |
| 1990 | Cadillac | Seville | Cadillac Seville Radiator Cap V8 4.5L (8th Vin Digit 3) ACDelco RC27 |
| 1991-1993 | Cadillac | Seville | Cadillac Seville Radiator Cap (8th Vin Digit B) V8 4.9L ACDelco RC27 |
| 1993 | Cadillac | Seville | Cadillac Seville Radiator Cap V8 4.6L (8th Vin Digit 9) ACDelco RC27 |
| 1985 | Chevy | Astro | Chevy Astro Radiator Cap V6 4.3L (8th Vin Digit N) with 4 BBL Carburetor ACDelco RC27 |
| 1985-1990 | Chevy | Astro | Chevy Astro Radiator Cap L4 2.5L (8th Vin Digit E) ACDelco RC27 |
| 1986-1994 | Chevy | Astro | Chevy Astro Radiator Cap V6 4.3L (8th Vin Digit Z) ACDelco RC27 |
| 1990-1991 | Chevy | Astro | Chevy Astro Radiator Cap (8th Vin Digit B) V6 4.3L ACDelco RC27 |
| 1992-1999 | Chevy | Astro | Chevy Astro Radiator Cap V6 4.3L (8th Vin Digit W) ACDelco RC27 |
| 1981 | Chevy | Bel-Air | Chevy Bel-Air Radiator Cap V8 4.4L (8th Vin Digit J) ACDelco RC27 |
| 1981 | Chevy | Bel-Air | Chevy Bel-Air Radiator Cap V8 5.0L (8th Vin Digit H) ACDelco RC27 |
| 1987-1989 | Chevy | Beretta | Chevy Beretta Radiator Cap V6 2.8L (8th Vin Digit W) ACDelco RC27 |
| 1987-1989 | Chevy | Beretta | Chevy Beretta Radiator Cap L4 2.0L (8th Vin Digit 1) ACDelco RC27 |
| 1990-1991 | Chevy | Beretta | Chevy Beretta Radiator Cap L4 2.3L (8th Vin Digit A) ACDelco RC27 |
| 1990-1991 | Chevy | Beretta | Chevy Beretta Radiator Cap V6 3.1L (8th Vin Digit T) ACDelco RC27 |
| 1990-1991 | Chevy | Beretta | Chevy Beretta Radiator Cap L4 2.2L (8th Vin Digit G) ACDelco RC27 |
| 1978-1979 | Chevy | Blazer Full Size | Chevy Blazer Full Size Radiator Cap (8th Vin Digit R) V8 6.6L with 4 BBL Carburetor ACDelco RC27 |
| 1978 | Chevy | Blazer Full Size | Chevy Blazer Full Size Radiator Cap V8 7.4L (8th Vin Digit S) ACDelco RC27 |
| 1978 | Chevy | Blazer Full Size | Chevy Blazer Full Size Radiator Cap (8th Vin Digit D) L6 4.1L with 1 BBL Carburetor ACDelco RC27 |
| 1978-1986 | Chevy | Blazer Full Size | Chevy Blazer Full Size Radiator Cap (8th Vin Digit L) V8 5.7L with 4 BBL Carburetor ACDelco RC27 |
| 1978-1979 | Chevy | Blazer Full Size | Chevy Blazer Full Size Radiator Cap V8 5.0L (8th Vin Digit U) with 2 BBL Carburetor ACDelco RC27 |
| 1979-1982 | Chevy | Blazer Full Size | Chevy Blazer Full Size Radiator Cap (8th Vin Digit D) L6 4.1L with 2 BBL Carburetor ACDelco RC27 |
| 1980-1981 | Chevy | Blazer Full Size | Chevy Blazer Full Size Radiator Cap V8 5.0L (8th Vin Digit G) with 2 BBL Carburetor ACDelco RC27 |
| 1981-1982 | Chevy | Blazer Full Size | Chevy Blazer Full Size Radiator Cap V8 5.0L (8th Vin Digit F) with 4 BBL Carburetor ACDelco RC27 |
| 1981-1986 | Chevy | Blazer Full Size | Chevy Blazer Full Size Radiator Cap V8 5.0L (8th Vin Digit H) with 4 BBL Carburetor ACDelco RC27 |
| 1982-1991 | Chevy | Blazer Full Size | Chevy Blazer Full Size Radiator Cap V8 6.2L (8th Vin Digit C) ACDelco RC27 |
| 1987 | Chevy | Blazer Full Size | Chevy Blazer Full Size Radiator Cap V8 5.0L (8th Vin Digit H) ACDelco RC27 |
| 1987-1994 | Chevy | Blazer Full Size | Chevy Blazer Full Size Radiator Cap V8 5.7L (8th Vin Digit K) ACDelco RC27 |
| 1994 | Chevy | Blazer Full Size | Chevy Blazer Full Size Radiator Cap V8 6.5L (8th Vin Digit S) ACDelco RC27 |
| 1983-1984 | Chevy | Blazer S10 | Chevy Blazer S10 Radiator Cap (8th Vin Digit A) L4 1.9L with 2 BBL Carburetor ACDelco RC27 |
| 1983-1985 | Chevy | Blazer S10 | Chevy Blazer S10 Radiator Cap V6 2.8L (8th Vin Digit B) with 2 BBL Carburetor ACDelco RC27 |
| 1983-1984 | Chevy | Blazer S10 | Chevy Blazer S10 Radiator Cap L4 2.0L (8th Vin Digit Y) with 2 BBL Carburetor ACDelco RC27 |
| 1984 | Chevy | Blazer S10 | Chevy Blazer S10 Radiator Cap L4 2.2L (8th Vin Digit S) ACDelco RC27 |
| 1985-1988 | Chevy | Blazer S10 | Chevy Blazer S10 Radiator Cap L4 2.5L (8th Vin Digit E) ACDelco RC27 |
| 1986-1990 | Chevy | Blazer S10 | Chevy Blazer S10 Radiator Cap V6 2.8L (8th Vin Digit R) ACDelco RC27 |
| 1988-1994 | Chevy | Blazer S10 | Chevy Blazer S10 Radiator Cap V6 4.3L (8th Vin Digit Z) ACDelco RC27 |
| 1992-1994 | Chevy | Blazer S10 | Chevy Blazer S10 Radiator Cap V6 4.3L (8th Vin Digit W) ACDelco RC27 |
| 1978-1980 | Chevy | C10 Truck | Chevy C10 Truck Radiator Cap V8 7.4L (8th Vin Digit S) with 4 BBL Carburetor ACDelco RC27 |
| 1978-1980 | Chevy | C10 Truck | Chevy C10 Truck Radiator Cap (8th Vin Digit T) L6 4.8L with 1 BBL Carburetor ACDelco RC27 |
| 1978-1981 | Chevy | C10 Truck | Chevy C10 Truck Radiator Cap V8 5.7L (8th Vin Digit Z) ACDelco RC27 |
| 1978-1986 | Chevy | C10 Truck | Chevy C10 Truck Radiator Cap (8th Vin Digit L) V8 5.7L with 4 BBL Carburetor ACDelco RC27 |
| 1978-1979 | Chevy | C10 Truck | Chevy C10 Truck Radiator Cap (8th Vin Digit R) V8 6.6L with 4 BBL Carburetor ACDelco RC27 |
| 1978-1979 | Chevy | C10 Truck | Chevy C10 Truck Radiator Cap V8 5.0L (8th Vin Digit U) with 2 BBL Carburetor ACDelco RC27 |
| 1978 | Chevy | C10 Truck | Chevy C10 Truck Radiator Cap (8th Vin Digit D) L6 4.1L with 1 BBL Carburetor ACDelco RC27 |
| 1979-1984 | Chevy | C10 Truck | Chevy C10 Truck Radiator Cap (8th Vin Digit D) L6 4.1L with 2 BBL Carburetor ACDelco RC27 |
| 1980 | Chevy | C10 Truck | Chevy C10 Truck Radiator Cap (8th Vin Digit W) V8 7.4L with 4 BBL Carburetor ACDelco RC27 |
| 1980 | Chevy | C10 Truck | Chevy C10 Truck Radiator Cap V8 5.7L (8th Vin Digit P) with 2 BBL Carburetor ACDelco RC27 |
| 1980 | Chevy | C10 Truck | Chevy C10 Truck Radiator Cap (8th Vin Digit X) V8 6.6L with 4 BBL Carburetor ACDelco RC27 |
| 1980-1981 | Chevy | C10 Truck | Chevy C10 Truck Radiator Cap V8 5.0L (8th Vin Digit G) with 2 BBL Carburetor ACDelco RC27 |
| 1980-1986 | Chevy | C10 Truck | Chevy C10 Truck Radiator Cap (8th Vin Digit M) V8 5.7L with 4 BBL Carburetor ACDelco RC27 |
| 1981-1986 | Chevy | C10 Truck | Chevy C10 Truck Radiator Cap V8 5.0L (8th Vin Digit F) with 4 BBL Carburetor ACDelco RC27 |
| 1981-1986 | Chevy | C10 Truck | Chevy C10 Truck Radiator Cap V8 5.0L (8th Vin Digit H) with 4 BBL Carburetor ACDelco RC27 |
| 1982-1985 | Chevy | C10 Truck | Chevy C10 Truck Radiator Cap V8 6.2L (8th Vin Digit J) ACDelco RC27 |
| 1982-1986 | Chevy | C10 Truck | Chevy C10 Truck Radiator Cap V8 6.2L (8th Vin Digit C) ACDelco RC27 |
| 1985-1986 | Chevy | C10 Truck | Chevy C10 Truck Radiator Cap V6 4.3L (8th Vin Digit N) with 4 BBL Carburetor ACDelco RC27 |
| 1988-1995 | Chevy | C1500 Truck | Chevy C1500 Truck Radiator Cap V6 4.3L (8th Vin Digit Z) ACDelco RC27 |
| 1988-1995 | Chevy | C1500 Truck | Chevy C1500 Truck Radiator Cap V8 5.0L (8th Vin Digit H) ACDelco RC27 |
| 1988-1995 | Chevy | C1500 Truck | Chevy C1500 Truck Radiator Cap V8 5.7L (8th Vin Digit K) ACDelco RC27 |
| 1988-1993 | Chevy | C1500 Truck | Chevy C1500 Truck Radiator Cap V8 6.2L (8th Vin Digit C) ACDelco RC27 |
| 1990 | Chevy | C1500 Truck | Chevy C1500 Truck Radiator Cap V8 7.4L (8th Vin Digit N) ACDelco RC27 |
| 1991-1993 | Chevy | C1500 Truck | Chevy C1500 Truck Radiator Cap V8 7.4L (8th Vin Digit N) ACDelco RC27 |
| 1994-1996 | Chevy | C1500 Truck | Chevy C1500 Truck Radiator Cap V8 6.5L (8th Vin Digit S) ACDelco RC27 |
| 1994-1995 | Chevy | C1500 Truck | Chevy C1500 Truck Radiator Cap V8 6.5L (8th Vin Digit P) ACDelco RC27 |
| 1996-1998 | Chevy | C1500 Truck | Chevy C1500 Truck Radiator Cap V8 5.0L (8th Vin Digit M) ACDelco RC27 |
| 1996-1998 | Chevy | C1500 Truck | Chevy C1500 Truck Radiator Cap V8 5.7L (8th Vin Digit R) ACDelco RC27 |
| 1996-1998 | Chevy | C1500 Truck | Chevy C1500 Truck Radiator Cap V6 4.3L (8th Vin Digit W) ACDelco RC27 |
| 1997-1998 | Chevy | C1500 Truck | Chevy C1500 Truck Radiator Cap V8 6.5L (8th Vin Digit F) ACDelco RC27 |
| 1978-1980 | Chevy | C20 Truck | Chevy C20 Truck Radiator Cap V8 7.4L (8th Vin Digit S) with 4 BBL Carburetor ACDelco RC27 |
| 1978-1986 | Chevy | C20 Truck | Chevy C20 Truck Radiator Cap (8th Vin Digit T) L6 4.8L with 1 BBL Carburetor ACDelco RC27 |
| 1978-1986 | Chevy | C20 Truck | Chevy C20 Truck Radiator Cap (8th Vin Digit L) V8 5.7L with 4 BBL Carburetor ACDelco RC27 |
| 1978-1979 | Chevy | C20 Truck | Chevy C20 Truck Radiator Cap (8th Vin Digit R) V8 6.6L with 4 BBL Carburetor ACDelco RC27 |
| 1978-1979 | Chevy | C20 Truck | Chevy C20 Truck Radiator Cap V8 5.0L (8th Vin Digit U) with 2 BBL Carburetor ACDelco RC27 |
| 1978 | Chevy | C20 Truck | Chevy C20 Truck Radiator Cap (8th Vin Digit D) L6 4.1L with 1 BBL Carburetor ACDelco RC27 |
| 1979-1984 | Chevy | C20 Truck | Chevy C20 Truck Radiator Cap (8th Vin Digit D) L6 4.1L with 2 BBL Carburetor ACDelco RC27 |
| 1980 | Chevy | C20 Truck | Chevy C20 Truck Radiator Cap (8th Vin Digit X) V8 6.6L with 4 BBL Carburetor ACDelco RC27 |
| 1980 | Chevy | C20 Truck | Chevy C20 Truck Radiator Cap V8 5.7L (8th Vin Digit P) with 2 BBL Carburetor ACDelco RC27 |
| 1980 | Chevy | C20 Truck | Chevy C20 Truck Radiator Cap V8 5.0L (8th Vin Digit G) with 2 BBL Carburetor ACDelco RC27 |
| 1980-1986 | Chevy | C20 Truck | Chevy C20 Truck Radiator Cap (8th Vin Digit W) V8 7.4L with 4 BBL Carburetor ACDelco RC27 |
| 1980-1986 | Chevy | C20 Truck | Chevy C20 Truck Radiator Cap (8th Vin Digit M) V8 5.7L with 4 BBL Carburetor ACDelco RC27 |
| 1981-1986 | Chevy | C20 Truck | Chevy C20 Truck Radiator Cap V8 5.0L (8th Vin Digit H) with 4 BBL Carburetor ACDelco RC27 |
| 1982-1986 | Chevy | C20 Truck | Chevy C20 Truck Radiator Cap V8 6.2L (8th Vin Digit C) ACDelco RC27 |
| 1982-1986 | Chevy | C20 Truck | Chevy C20 Truck Radiator Cap V8 6.2L (8th Vin Digit J) ACDelco RC27 |
| 1985-1986 | Chevy | C20 Truck | Chevy C20 Truck Radiator Cap V6 4.3L (8th Vin Digit N) with 4 BBL Carburetor ACDelco RC27 |
| 1988-1993 | Chevy | C2500 Truck | Chevy C2500 Truck Radiator Cap V8 6.2L (8th Vin Digit C) ACDelco RC27 |
| 1988-1995 | Chevy | C2500 Truck | Chevy C2500 Truck Radiator Cap V8 5.0L (8th Vin Digit H) ACDelco RC27 |
| 1988-1995 | Chevy | C2500 Truck | Chevy C2500 Truck Radiator Cap V6 4.3L (8th Vin Digit Z) ACDelco RC27 |
| 1988-1995 | Chevy | C2500 Truck | Chevy C2500 Truck Radiator Cap V8 5.7L (8th Vin Digit K) ACDelco RC27 |
| 1989-1993 | Chevy | C2500 Truck | Chevy C2500 Truck Radiator Cap V8 6.2L (8th Vin Digit J) ACDelco RC27 |
| 1991-1995 | Chevy | C2500 Truck | Chevy C2500 Truck Radiator Cap V8 7.4L (8th Vin Digit N) ACDelco RC27 |
| 1992-1999 | Chevy | C2500 Truck | Chevy C2500 Truck Radiator Cap V8 6.5L (8th Vin Digit F) ACDelco RC27 |
| 1994-1998 | Chevy | C2500 Truck | Chevy C2500 Truck Radiator Cap V8 6.5L (8th Vin Digit S) ACDelco RC27 |
| 1994-1995 | Chevy | C2500 Truck | Chevy C2500 Truck Radiator Cap V8 6.5L (8th Vin Digit P) ACDelco RC27 |
| 1996-1999 | Chevy | C2500 Truck | Chevy C2500 Truck Radiator Cap V8 7.4L (8th Vin Digit J) ACDelco RC27 |
| 1996-1999 | Chevy | C2500 Truck | Chevy C2500 Truck Radiator Cap V8 5.7L (8th Vin Digit R) ACDelco RC27 |
| 1996-1998 | Chevy | C2500 Truck | Chevy C2500 Truck Radiator Cap V8 5.0L (8th Vin Digit M) ACDelco RC27 |
| 1978-1980 | Chevy | C30 Truck | Chevy C30 Truck Radiator Cap V8 7.4L (8th Vin Digit S) with 4 BBL Carburetor ACDelco RC27 |
| 1978-1983 | Chevy | C30 Truck | Chevy C30 Truck Radiator Cap (8th Vin Digit L) V8 5.7L with 4 BBL Carburetor ACDelco RC27 |
| 1978-1986 | Chevy | C30 Truck | Chevy C30 Truck Radiator Cap (8th Vin Digit T) L6 4.8L with 1 BBL Carburetor ACDelco RC27 |
| 1978-1979 | Chevy | C30 Truck | Chevy C30 Truck Radiator Cap (8th Vin Digit R) V8 6.6L with 4 BBL Carburetor ACDelco RC27 |
| 1978-1979 | Chevy | C30 Truck | Chevy C30 Truck Radiator Cap V8 5.0L (8th Vin Digit U) with 2 BBL Carburetor ACDelco RC27 |
| 1978 | Chevy | C30 Truck | Chevy C30 Truck Radiator Cap (8th Vin Digit D) L6 4.1L with 1 BBL Carburetor ACDelco RC27 |
| 1978 | Chevy | C30 Truck | Chevy C30 Truck Radiator Cap V8 5.7L (8th Vin Digit Z) ACDelco RC27 |
| 1979-1980 | Chevy | C30 Truck | Chevy C30 Truck Radiator Cap (8th Vin Digit D) L6 4.1L with 2 BBL Carburetor ACDelco RC27 |
| 1980-1986 | Chevy | C30 Truck | Chevy C30 Truck Radiator Cap (8th Vin Digit W) V8 7.4L with 4 BBL Carburetor ACDelco RC27 |
| 1980-1986 | Chevy | C30 Truck | Chevy C30 Truck Radiator Cap (8th Vin Digit M) V8 5.7L with 4 BBL Carburetor ACDelco RC27 |
| 1982-1986 | Chevy | C30 Truck | Chevy C30 Truck Radiator Cap V8 6.2L (8th Vin Digit J) ACDelco RC27 |
| 1986 | Chevy | C30 Truck | Chevy C30 Truck Radiator Cap V8 5.0L (8th Vin Digit H) ACDelco RC27 |
| 1992-1999 | Chevy | C3500 Truck | Chevy C3500 Truck Radiator Cap V8 6.5L (8th Vin Digit F) ACDelco RC27 |
| 1992-1995 | Chevy | C3500 Truck | Chevy C3500 Truck Radiator Cap V8 5.7L (8th Vin Digit K) ACDelco RC27 |
| 1992-1995 | Chevy | C3500 Truck | Chevy C3500 Truck Radiator Cap V8 7.4L (8th Vin Digit N) ACDelco RC27 |
| 1992-1993 | Chevy | C3500 Truck | Chevy C3500 Truck Radiator Cap V8 6.2L (8th Vin Digit J) ACDelco RC27 |
| 1996-1999 | Chevy | C3500 Truck | Chevy C3500 Truck Radiator Cap V8 7.4L (8th Vin Digit J) ACDelco RC27 |
| 1996-1999 | Chevy | C3500 Truck | Chevy C3500 Truck Radiator Cap V8 5.7L (8th Vin Digit R) ACDelco RC27 |
| 1977-1979 | Chevy | Camaro | Chevy Camaro Radiator Cap (8th Vin Digit D) L6 4.1L with 1 BBL Carburetor ACDelco RC27 |
| 1977-1978 | Chevy | Camaro | Chevy Camaro Radiator Cap V8 5.0L (8th Vin Digit U) with 2 BBL Carburetor ACDelco RC27 |
| 1977-1981 | Chevy | Camaro | Chevy Camaro Radiator Cap (8th Vin Digit L) V8 5.7L with 4 BBL Carburetor ACDelco RC27 |
| 1979 | Chevy | Camaro | Chevy Camaro Radiator Cap V8 5.0L (8th Vin Digit G) with 2 BBL Carburetor ACDelco RC27 |
| 1980-1981 | Chevy | Camaro | Chevy Camaro Radiator Cap V6 3.8L (8th Vin Digit K) with 2 BBL Carburetor ACDelco RC27 |
| 1980-1981 | Chevy | Camaro | Chevy Camaro Radiator Cap V8 4.4L (8th Vin Digit J) with 2 BBL Carburetor ACDelco RC27 |
| 1980-1987 | Chevy | Camaro | Chevy Camaro Radiator Cap V8 5.0L (8th Vin Digit H) with 4 BBL Carburetor ACDelco RC27 |
| 1980-1981 | Chevy | Camaro | Chevy Camaro Radiator Cap (8th Vin Digit A) V6 3.8L with 2 BBL Carburetor ACDelco RC27 |
| 1982-1983 | Chevy | Camaro | Chevy Camaro Radiator Cap L4 2.5L (8th Vin Digit F) ACDelco RC27 |
| 1982-1984 | Chevy | Camaro | Chevy Camaro Radiator Cap V6 2.8L (8th Vin Digit 1) with 2 BBL Carburetor ACDelco RC27 |
| 1982-1983 | Chevy | Camaro | Chevy Camaro Radiator Cap V8 5.0L (8th Vin Digit 7) ACDelco RC27 |
| 1982-1986 | Chevy | Camaro | Chevy Camaro Radiator Cap L4 2.5L (8th Vin Digit 2) ACDelco RC27 |
| 1983 | Chevy | Camaro | Chevy Camaro Radiator Cap V8 5.0L (8th Vin Digit S) ACDelco RC27 |
| 1984-1986 | Chevy | Camaro | Chevy Camaro Radiator Cap V8 5.0L with 4 BBL Carburetor (8th Vin Digit G) ACDelco RC27 |
| 1985-1992 | Chevy | Camaro | Chevy Camaro Radiator Cap V8 5.0L (8th Vin Digit F) ACDelco RC27 |
| 1985-1989 | Chevy | Camaro | Chevy Camaro Radiator Cap V6 2.8L (8th Vin Digit S) ACDelco RC27 |
| 1987-1992 | Chevy | Camaro | Chevy Camaro Radiator Cap V8 5.7L (8th Vin Digit 8) ACDelco RC27 |
| 1988-1992 | Chevy | Camaro | Chevy Camaro Radiator Cap V8 5.0L (8th Vin Digit E) ACDelco RC27 |
| 1990-1992 | Chevy | Camaro | Chevy Camaro Radiator Cap V6 3.1L (8th Vin Digit T) ACDelco RC27 |
| 1980-1985 | Chevy | Caprice | Chevy Caprice Radiator Cap V8 5.7L (8th Vin Digit N) ACDelco RC27 |
| 1980-1984 | Chevy | Caprice | Chevy Caprice Radiator Cap (8th Vin Digit A) V6 3.8L with 2 BBL Carburetor ACDelco RC27 |
| 1980-1988 | Chevy | Caprice | Chevy Caprice Radiator Cap V8 5.0L (8th Vin Digit H) with 4 BBL Carburetor ACDelco RC27 |
| 1980-1981 | Chevy | Caprice | Chevy Caprice Radiator Cap (8th Vin Digit L) V8 5.7L with 4 BBL Carburetor ACDelco RC27 |
| 1980-1982 | Chevy | Caprice | Chevy Caprice Radiator Cap V8 4.4L (8th Vin Digit J) with 2 BBL Carburetor ACDelco RC27 |
| 1980-1982 | Chevy | Caprice | Chevy Caprice Radiator Cap V6 3.8L (8th Vin Digit K) with 2 BBL Carburetor ACDelco RC27 |
| 1983-1984 | Chevy | Caprice | Chevy Caprice Radiator Cap V6 3.8L (8th Vin Digit 9) with 2 BBL Carburetor ACDelco RC27 |
| 1985 | Chevy | Caprice | Chevy Caprice Radiator Cap V6 3.8L (8th Vin Digit A) ACDelco RC27 |
| 1985-1993 | Chevy | Caprice | Chevy Caprice Radiator Cap V6 4.3L (8th Vin Digit Z) ACDelco RC27 |
| 1985-1988 | Chevy | Caprice | Chevy Caprice Radiator Cap V8 5.7L (8th Vin Digit 6) with 4 BBL Carburetor ACDelco RC27 |
| 1986-1990 | Chevy | Caprice | Chevy Caprice Radiator Cap V8 5.0L (8th Vin Digit Y) with 4 BBL Carburetor ACDelco RC27 |
| 1989-1993 | Chevy | Caprice | Chevy Caprice Radiator Cap V8 5.0L (8th Vin Digit E) ACDelco RC27 |
| 1989-1993 | Chevy | Caprice | Chevy Caprice Radiator Cap (8th Vin Digit 7) V8 5.7L ACDelco RC27 |
| 1982 | Chevy | Cavalier | Chevy Cavalier Radiator Cap L4 1.8L (8th Vin Digit G) with 2 BBL Carburetor ACDelco RC27 |
| 1983 | Chevy | Cavalier | Chevy Cavalier Radiator Cap L4 2.0L (8th Vin Digit B) with 2 BBL Carburetor ACDelco RC27 |
| 1983-1986 | Chevy | Cavalier | Chevy Cavalier Radiator Cap L4 2.0L (8th Vin Digit P) ACDelco RC27 |
| 1984 | Chevy | Cavalier | Chevy Cavalier Radiator Cap (8th Vin Digit B) L4 2.0L ACDelco RC27 |
| 1985-1989 | Chevy | Cavalier | Chevy Cavalier Radiator Cap V6 2.8L (8th Vin Digit W) ACDelco RC27 |
| 1987-1989 | Chevy | Cavalier | Chevy Cavalier Radiator Cap L4 2.0L (8th Vin Digit 1) ACDelco RC27 |
| 1990-1991 | Chevy | Cavalier | Chevy Cavalier Radiator Cap L4 2.2L (8th Vin Digit G) ACDelco RC27 |
| 1990-1994 | Chevy | Cavalier | Chevy Cavalier Radiator Cap V6 3.1L (8th Vin Digit T) ACDelco RC27 |
| 1992-1994 | Chevy | Cavalier | Chevy Cavalier Radiator Cap L4 2.2L (8th Vin Digit 4) ACDelco RC27 |
| 1982-1986 | Chevy | Celebrity | Chevy Celebrity Radiator Cap V6 2.8L (8th Vin Digit X) with 2 BBL Carburetor ACDelco RC27 |
| 1982-1990 | Chevy | Celebrity | Chevy Celebrity Radiator Cap L4 2.5L (8th Vin Digit R) ACDelco RC27 |
| 1982-1983 | Chevy | Celebrity | Chevy Celebrity Radiator Cap L4 2.5L (8th Vin Digit 5) ACDelco RC27 |
| 1982-1985 | Chevy | Celebrity | Chevy Celebrity Radiator Cap V6 4.3L (8th Vin Digit T) ACDelco RC27 |
| 1984 | Chevy | Celebrity | Chevy Celebrity Radiator Cap V6 2.8L (8th Vin Digit Z) ACDelco RC27 |
| 1985-1989 | Chevy | Celebrity | Chevy Celebrity Radiator Cap V6 2.8L (8th Vin Digit W) ACDelco RC27 |
| 1990 | Chevy | Celebrity | Chevy Celebrity Radiator Cap V6 3.1L (8th Vin Digit T) ACDelco RC27 |
| 1977 | Chevy | Chevelle | Chevy Chevelle Radiator Cap (8th Vin Digit D) L6 4.1L with 1 BBL Carburetor ACDelco RC27 |
| 1977 | Chevy | Chevelle | Chevy Chevelle Radiator Cap (8th Vin Digit L) V8 5.7L with 4 BBL Carburetor ACDelco RC27 |
| 1977 | Chevy | Chevelle | Chevy Chevelle Radiator Cap V8 5.0L (8th Vin Digit U) with 2 BBL Carburetor ACDelco RC27 |
| 1976-1977 | Chevy | Chevette | Chevy Chevette Radiator Cap L4 1.6L (8th Vin Digit E) with 1 BBL Carburetor ACDelco RC27 |
| 1976-1977 | Chevy | Chevette | Chevy Chevette Radiator Cap L4 1.4L with 1 BBL Carburetor (8th Vin Digit 1) ACDelco RC27 |
| 1978 | Chevy | Chevette | Chevy Chevette Radiator Cap L4 1.6L (8th Vin Digit E) with 2 BBL Carburetor ACDelco RC27 |
| 1978 | Chevy | Chevette | Chevy Chevette Radiator Cap L4 1.6L with 2 BBL Carburetor (8th Vin Digit J) ACDelco RC27 |
| 1979 | Chevy | Chevette | Chevy Chevette Radiator Cap L4 1.6L (8th Vin Digit E) ACDelco RC27 |
| 1979-1980 | Chevy | Chevette | Chevy Chevette Radiator Cap L4 1.6L with 2 BBL Carburetor (8th Vin Digit 0) ACDelco RC27 |
| 1980-1981 | Chevy | Chevette | Chevy Chevette Radiator Cap L4 1.6L with 2 BBL Carburetor (8th Vin Digit 9) ACDelco RC27 |
| 1981-1986 | Chevy | Chevette | Chevy Chevette Radiator Cap L4 1.8L (8th Vin Digit D) ACDelco RC27 |
| 1982-1987 | Chevy | Chevette | Chevy Chevette Radiator Cap L4 1.6L with 2 BBL Carburetor (8th Vin Digit C) ACDelco RC27 |
| 1980 | Chevy | Citation | Chevy Citation Radiator Cap V6 2.8L (8th Vin Digit 7) with 2 BBL Carburetor ACDelco RC27 |
| 1980-1981 | Chevy | Citation | Chevy Citation Radiator Cap L4 2.5L (8th Vin Digit 5) with 2 BBL Carburetor ACDelco RC27 |
| 1981-1984 | Chevy | Citation | Chevy Citation Radiator Cap V6 2.8L (8th Vin Digit Z) ACDelco RC27 |
| 1981-1983 | Chevy | Citation | Chevy Citation Radiator Cap V6 2.8L (8th Vin Digit X) with 2 BBL Carburetor ACDelco RC27 |
| 1982-1983 | Chevy | Citation | Chevy Citation Radiator Cap L4 2.5L (8th Vin Digit R) ACDelco RC27 |
| 1982-1983 | Chevy | Citation | Chevy Citation Radiator Cap L4 2.5L (8th Vin Digit 5) ACDelco RC27 |
| 1984-1985 | Chevy | Citation II | Chevy Citation II Radiator Cap L4 2.5L (8th Vin Digit R) ACDelco RC27 |
| 1984-1985 | Chevy | Citation II | Chevy Citation II Radiator Cap V6 2.8L (8th Vin Digit X) with 2 BBL Carburetor ACDelco RC27 |
| 1985 | Chevy | Citation II | Chevy Citation II Radiator Cap V6 2.8L (8th Vin Digit W) ACDelco RC27 |
| 1987-1989 | Chevy | Corsica | Chevy Corsica Radiator Cap V6 2.8L (8th Vin Digit W) ACDelco RC27 |
| 1987-1989 | Chevy | Corsica | Chevy Corsica Radiator Cap L4 2.0L (8th Vin Digit 1) ACDelco RC27 |
| 1990-1991 | Chevy | Corsica | Chevy Corsica Radiator Cap L4 2.2L (8th Vin Digit G) ACDelco RC27 |
| 1990-1991 | Chevy | Corsica | Chevy Corsica Radiator Cap V6 3.1L (8th Vin Digit T) ACDelco RC27 |
| 1977-1979 | Chevy | Corvette | Chevy Corvette Radiator Cap (8th Vin Digit L) V8 5.7L with 4 BBL Carburetor ACDelco RC27 |
| 1977 | Chevy | Corvette | Chevy Corvette Radiator Cap V8 5.7L (8th Vin Digit X) with 4 BBL Carburetor ACDelco RC27 |
| 1978 | Chevy | Corvette | Chevy Corvette Radiator Cap V8 5.7L with 4 BBL Carburetor (8th Vin Digit H) ACDelco RC27 |
| 1979 | Chevy | Corvette | Chevy Corvette Radiator Cap V8 5.7L (8th Vin Digit 4) with 4 BBL Carburetor ACDelco RC27 |
| 1979-1980 | Chevy | Corvette | Chevy Corvette Radiator Cap V8 5.7L (8th Vin Digit 8) with 4 BBL Carburetor ACDelco RC27 |
| 1980 | Chevy | Corvette | Chevy Corvette Radiator Cap V8 5.0L (8th Vin Digit H) with 4 BBL Carburetor ACDelco RC27 |
| 1980-1981 | Chevy | Corvette | Chevy Corvette Radiator Cap V8 5.7L (8th Vin Digit 6) with 4 BBL Carburetor ACDelco RC27 |
| 1984-1991 | Chevy | Corvette | Chevy Corvette Radiator Cap V8 5.7L (8th Vin Digit 8) ACDelco RC27 |
| 1991-1995 | Chevy | Corvette | Chevy Corvette Radiator Cap (8th Vin Digit J) V8 5.7L ACDelco RC27 |
| 1992-1996 | Chevy | Corvette | Chevy Corvette Radiator Cap V8 5.7L (8th Vin Digit P) ACDelco RC27 |
| 1996 | Chevy | Corvette | Chevy Corvette Radiator Cap V8 5.7L (8th Vin Digit 5) ACDelco RC27 |
| 1978-1979 | Chevy | El Camino | Chevy El Camino Radiator Cap (8th Vin Digit L) V8 5.7L with 4 BBL Carburetor ACDelco RC27 |
| 1978 | Chevy | El Camino | Chevy El Camino Radiator Cap V8 5.0L (8th Vin Digit U) with 2 BBL Carburetor ACDelco RC27 |
| 1978-1984 | Chevy | El Camino | Chevy El Camino Radiator Cap (8th Vin Digit A) V6 3.8L with 2 BBL Carburetor ACDelco RC27 |
| 1978-1979 | Chevy | El Camino | Chevy El Camino Radiator Cap V6 3.3L (8th Vin Digit M) with 2 BBL Carburetor ACDelco RC27 |
| 1979-1987 | Chevy | El Camino | Chevy El Camino Radiator Cap V8 5.0L (8th Vin Digit H) with 4 BBL Carburetor ACDelco RC27 |
| 1979-1982 | Chevy | El Camino | Chevy El Camino Radiator Cap V8 4.4L (8th Vin Digit J) with 2 BBL Carburetor ACDelco RC27 |
| 1979 | Chevy | El Camino | Chevy El Camino Radiator Cap (8th Vin Digit 2) V6 3.8L with 2 BBL Carburetor ACDelco RC27 |
| 1980-1982 | Chevy | El Camino | Chevy El Camino Radiator Cap V6 3.8L (8th Vin Digit K) with 2 BBL Carburetor ACDelco RC27 |
| 1983-1984 | Chevy | El Camino | Chevy El Camino Radiator Cap V6 3.8L (8th Vin Digit 9) with 2 BBL Carburetor ACDelco RC27 |
| 1983-1984 | Chevy | El Camino | Chevy El Camino Radiator Cap V8 5.7L (8th Vin Digit N) ACDelco RC27 |
| 1985-1987 | Chevy | El Camino | Chevy El Camino Radiator Cap V6 4.3L (8th Vin Digit Z) ACDelco RC27 |
| 1996-1999 | Chevy | Express 1500 Van | Chevy Express 1500 Van Radiator Cap ACDelco RC27 |
| 1996-1999 | Chevy | Express 2500 Van | Chevy Express 2500 Van Radiator Cap ACDelco RC27 |
| 1996-1999 | Chevy | Express 3500 Van | Chevy Express 3500 Van Radiator Cap ACDelco RC27 |
| 1977-1979 | Chevy | Impala | Chevy Impala Radiator Cap (8th Vin Digit D) L6 4.1L with 1 BBL Carburetor ACDelco RC27 |
| 1977-1982 | Chevy | Impala | Chevy Impala Radiator Cap (8th Vin Digit L) V8 5.7L with 4 BBL Carburetor ACDelco RC27 |
| 1977-1978 | Chevy | Impala | Chevy Impala Radiator Cap V8 5.0L (8th Vin Digit U) with 2 BBL Carburetor ACDelco RC27 |
| 1979 | Chevy | Impala | Chevy Impala Radiator Cap V8 5.0L (8th Vin Digit G) with 2 BBL Carburetor ACDelco RC27 |
| 1980-1985 | Chevy | Impala | Chevy Impala Radiator Cap V8 5.7L (8th Vin Digit N) ACDelco RC27 |
| 1980 | Chevy | Impala | Chevy Impala Radiator Cap V8 5.7L (8th Vin Digit L) ACDelco RC27 |
| 1980-1982 | Chevy | Impala | Chevy Impala Radiator Cap V6 3.8L (8th Vin Digit K) with 2 BBL Carburetor ACDelco RC27 |
| 1980-1982 | Chevy | Impala | Chevy Impala Radiator Cap V8 4.4L (8th Vin Digit J) with 2 BBL Carburetor ACDelco RC27 |
| 1980-1985 | Chevy | Impala | Chevy Impala Radiator Cap V8 5.0L (8th Vin Digit H) with 4 BBL Carburetor ACDelco RC27 |
| 1980-1984 | Chevy | Impala | Chevy Impala Radiator Cap (8th Vin Digit A) V6 3.8L with 2 BBL Carburetor ACDelco RC27 |
| 1983-1984 | Chevy | Impala | Chevy Impala Radiator Cap V8 5.7L (8th Vin Digit 6) with 4 BBL Carburetor ACDelco RC27 |
| 1983-1984 | Chevy | Impala | Chevy Impala Radiator Cap V6 3.8L (8th Vin Digit 9) with 2 BBL Carburetor ACDelco RC27 |
| 1985 | Chevy | Impala | Chevy Impala Radiator Cap V8 5.7L (8th Vin Digit 6) ACDelco RC27 |
| 1985 | Chevy | Impala | Chevy Impala Radiator Cap V6 4.3L (8th Vin Digit Z) ACDelco RC27 |
| 1985 | Chevy | Impala | Chevy Impala Radiator Cap V6 3.8L (8th Vin Digit A) ACDelco RC27 |
| 2000-2002 | Chevy | Impala | Chevy Impala Radiator Cap V6 3.8L (8th Vin Digit K) ACDelco RC27 |
| 2000-2002 | Chevy | Impala | Chevy Impala Radiator Cap V6 3.4L (8th Vin Digit E) ACDelco RC27 |
| 1978-1986 | Chevy | K10 Truck | Chevy K10 Truck Radiator Cap (8th Vin Digit L) V8 5.7L with 4 BBL Carburetor ACDelco RC27 |
| 1978-1979 | Chevy | K10 Truck | Chevy K10 Truck Radiator Cap (8th Vin Digit R) V8 6.6L with 4 BBL Carburetor ACDelco RC27 |
| 1978-1979 | Chevy | K10 Truck | Chevy K10 Truck Radiator Cap V8 5.0L (8th Vin Digit U) with 2 BBL Carburetor ACDelco RC27 |
| 1978 | Chevy | K10 Truck | Chevy K10 Truck Radiator Cap (8th Vin Digit D) L6 4.1L with 1 BBL Carburetor ACDelco RC27 |
| 1979-1980 | Chevy | K10 Truck | Chevy K10 Truck Radiator Cap V8 7.4L (8th Vin Digit S) with 4 BBL Carburetor ACDelco RC27 |
| 1979-1980 | Chevy | K10 Truck | Chevy K10 Truck Radiator Cap (8th Vin Digit T) L6 4.8L with 1 BBL Carburetor ACDelco RC27 |
| 1979-1984 | Chevy | K10 Truck | Chevy K10 Truck Radiator Cap (8th Vin Digit D) L6 4.1L with 2 BBL Carburetor ACDelco RC27 |
| 1980 | Chevy | K10 Truck | Chevy K10 Truck Radiator Cap (8th Vin Digit X) V8 6.6L ACDelco RC27 |
| 1980-1986 | Chevy | K10 Truck | Chevy K10 Truck Radiator Cap (8th Vin Digit M) V8 5.7L with 4 BBL Carburetor ACDelco RC27 |
| 1981-1986 | Chevy | K10 Truck | Chevy K10 Truck Radiator Cap V8 5.0L (8th Vin Digit H) with 4 BBL Carburetor ACDelco RC27 |
| 1982-1986 | Chevy | K10 Truck | Chevy K10 Truck Radiator Cap V8 6.2L (8th Vin Digit C) ACDelco RC27 |
| 1985-1986 | Chevy | K10 Truck | Chevy K10 Truck Radiator Cap V6 4.3L (8th Vin Digit N) with 4 BBL Carburetor ACDelco RC27 |
| 1988-1993 | Chevy | K1500 Truck | Chevy K1500 Truck Radiator Cap V8 6.2L (8th Vin Digit C) ACDelco RC27 |
| 1988-1995 | Chevy | K1500 Truck | Chevy K1500 Truck Radiator Cap V8 5.0L (8th Vin Digit H) ACDelco RC27 |
| 1988-1995 | Chevy | K1500 Truck | Chevy K1500 Truck Radiator Cap V8 5.7L (8th Vin Digit K) ACDelco RC27 |
| 1988-1995 | Chevy | K1500 Truck | Chevy K1500 Truck Radiator Cap V6 4.3L (8th Vin Digit Z) ACDelco RC27 |
| 1994-1998 | Chevy | K1500 Truck | Chevy K1500 Truck Radiator Cap V8 6.5L (8th Vin Digit S) ACDelco RC27 |
| 1994-1995 | Chevy | K1500 Truck | Chevy K1500 Truck Radiator Cap V8 6.5L (8th Vin Digit P) ACDelco RC27 |
| 1996-1998 | Chevy | K1500 Truck | Chevy K1500 Truck Radiator Cap V8 5.7L (8th Vin Digit R) ACDelco RC27 |
| 1996-1998 | Chevy | K1500 Truck | Chevy K1500 Truck Radiator Cap V6 4.3L (8th Vin Digit W) ACDelco RC27 |
| 1996-1998 | Chevy | K1500 Truck | Chevy K1500 Truck Radiator Cap V8 5.0L (8th Vin Digit M) ACDelco RC27 |
| 1997-1998 | Chevy | K1500 Truck | Chevy K1500 Truck Radiator Cap V8 6.5L (8th Vin Digit F) ACDelco RC27 |
| 1978-1986 | Chevy | K20 Truck | Chevy K20 Truck Radiator Cap (8th Vin Digit L) V8 5.7L with 4 BBL Carburetor ACDelco RC27 |
| 1978-1986 | Chevy | K20 Truck | Chevy K20 Truck Radiator Cap (8th Vin Digit T) L6 4.8L with 1 BBL Carburetor ACDelco RC27 |
| 1978-1980 | Chevy | K20 Truck | Chevy K20 Truck Radiator Cap V8 7.4L (8th Vin Digit S) with 4 BBL Carburetor ACDelco RC27 |
| 1978-1979 | Chevy | K20 Truck | Chevy K20 Truck Radiator Cap (8th Vin Digit R) V8 6.6L with 4 BBL Carburetor ACDelco RC27 |
| 1978 | Chevy | K20 Truck | Chevy K20 Truck Radiator Cap (8th Vin Digit D) L6 4.1L with 1 BBL Carburetor ACDelco RC27 |
| 1978 | Chevy | K20 Truck | Chevy K20 Truck Radiator Cap V8 5.0L (8th Vin Digit U) with 2 BBL Carburetor ACDelco RC27 |
| 1979-1980 | Chevy | K20 Truck | Chevy K20 Truck Radiator Cap (8th Vin Digit D) L6 4.1L with 2 BBL Carburetor ACDelco RC27 |
| 1980-1986 | Chevy | K20 Truck | Chevy K20 Truck Radiator Cap (8th Vin Digit M) V8 5.7L with 4 BBL Carburetor ACDelco RC27 |
| 1980 | Chevy | K20 Truck | Chevy K20 Truck Radiator Cap (8th Vin Digit X) V8 6.6L with 4 BBL Carburetor ACDelco RC27 |
| 1980 | Chevy | K20 Truck | Chevy K20 Truck Radiator Cap V8 5.0L (8th Vin Digit G) with 2 BBL Carburetor ACDelco RC27 |
| 1982-1986 | Chevy | K20 Truck | Chevy K20 Truck Radiator Cap V8 6.2L (8th Vin Digit C) ACDelco RC27 |
| 1982-1986 | Chevy | K20 Truck | Chevy K20 Truck Radiator Cap V8 6.2L (8th Vin Digit J) ACDelco RC27 |
| 1985 | Chevy | K20 Truck | Chevy K20 Truck Radiator Cap V8 5.0L (8th Vin Digit H) with 4 BBL Carburetor ACDelco RC27 |
| 1985 | Chevy | K20 Truck | Chevy K20 Truck Radiator Cap V6 4.3L (8th Vin Digit N) with 4 BBL Carburetor ACDelco RC27 |
| 1988-1993 | Chevy | K2500 Truck | Chevy K2500 Truck Radiator Cap V8 6.2L (8th Vin Digit C) ACDelco RC27 |
| 1988-1995 | Chevy | K2500 Truck | Chevy K2500 Truck Radiator Cap V8 5.0L (8th Vin Digit H) ACDelco RC27 |
| 1988-1995 | Chevy | K2500 Truck | Chevy K2500 Truck Radiator Cap V6 4.3L (8th Vin Digit Z) ACDelco RC27 |
| 1988-1995 | Chevy | K2500 Truck | Chevy K2500 Truck Radiator Cap V8 5.7L (8th Vin Digit K) ACDelco RC27 |
| 1989-1993 | Chevy | K2500 Truck | Chevy K2500 Truck Radiator Cap V8 6.2L (8th Vin Digit J) ACDelco RC27 |
| 1991-1995 | Chevy | K2500 Truck | Chevy K2500 Truck Radiator Cap V8 7.4L (8th Vin Digit N) ACDelco RC27 |
| 1992-1999 | Chevy | K2500 Truck | Chevy K2500 Truck Radiator Cap V8 6.5L (8th Vin Digit F) ACDelco RC27 |
| 1994-1998 | Chevy | K2500 Truck | Chevy K2500 Truck Radiator Cap V8 6.5L (8th Vin Digit S) ACDelco RC27 |
| 1994-1995 | Chevy | K2500 Truck | Chevy K2500 Truck Radiator Cap V8 6.5L (8th Vin Digit P) ACDelco RC27 |
| 1996-1999 | Chevy | K2500 Truck | Chevy K2500 Truck Radiator Cap V8 5.7L (8th Vin Digit R) ACDelco RC27 |
| 1996 | Chevy | K2500 Truck | Chevy K2500 Truck Radiator Cap V8 7.4L with 4 BBL Carburetor (8th Vin Digit J) ACDelco RC27 |
| 1997-1999 | Chevy | K2500 Truck | Chevy K2500 Truck Radiator Cap V8 7.4L (8th Vin Digit J) ACDelco RC27 |
| 1997-1998 | Chevy | K2500 Truck | Chevy K2500 Truck Radiator Cap V8 5.0L (8th Vin Digit M) ACDelco RC27 |
| 1978-1986 | Chevy | K30 Truck | Chevy K30 Truck Radiator Cap (8th Vin Digit T) L6 4.8L with 1 BBL Carburetor ACDelco RC27 |
| 1978-1980 | Chevy | K30 Truck | Chevy K30 Truck Radiator Cap (8th Vin Digit R) V8 6.6L with 4 BBL Carburetor ACDelco RC27 |
| 1978-1985 | Chevy | K30 Truck | Chevy K30 Truck Radiator Cap (8th Vin Digit L) V8 5.7L with 4 BBL Carburetor ACDelco RC27 |
| 1980-1986 | Chevy | K30 Truck | Chevy K30 Truck Radiator Cap (8th Vin Digit M) V8 5.7L with 4 BBL Carburetor ACDelco RC27 |
| 1980 | Chevy | K30 Truck | Chevy K30 Truck Radiator Cap V8 7.4L (8th Vin Digit S) with 4 BBL Carburetor ACDelco RC27 |
| 1981-1986 | Chevy | K30 Truck | Chevy K30 Truck Radiator Cap (8th Vin Digit W) V8 7.4L with 4 BBL Carburetor ACDelco RC27 |
| 1982-1986 | Chevy | K30 Truck | Chevy K30 Truck Radiator Cap V8 6.2L (8th Vin Digit J) ACDelco RC27 |
| 1988-1993 | Chevy | K3500 Truck | Chevy K3500 Truck Radiator Cap V8 6.2L (8th Vin Digit J) ACDelco RC27 |
| 1988-1995 | Chevy | K3500 Truck | Chevy K3500 Truck Radiator Cap V8 7.4L (8th Vin Digit N) ACDelco RC27 |
| 1988-1995 | Chevy | K3500 Truck | Chevy K3500 Truck Radiator Cap V8 5.7L (8th Vin Digit K) ACDelco RC27 |
| 1992-1999 | Chevy | K3500 Truck | Chevy K3500 Truck Radiator Cap V8 6.5L (8th Vin Digit F) ACDelco RC27 |
| 1996-1999 | Chevy | K3500 Truck | Chevy K3500 Truck Radiator Cap V8 7.4L (8th Vin Digit J) ACDelco RC27 |
| 1996-1999 | Chevy | K3500 Truck | Chevy K3500 Truck Radiator Cap V8 5.7L (8th Vin Digit R) ACDelco RC27 |
| 1990-1992 | Chevy | Lumina | Chevy Lumina Radiator Cap L4 2.5L (8th Vin Digit R) ACDelco RC27 |
| 1990-1994 | Chevy | Lumina | Chevy Lumina Radiator Cap V6 3.1L (8th Vin Digit T) ACDelco RC27 |
| 1991-1997 | Chevy | Lumina | Chevy Lumina Radiator Cap V6 3.4L (8th Vin Digit X) ACDelco RC27 |
| 1993 | Chevy | Lumina | Chevy Lumina Radiator Cap L4 2.2L (8th Vin Digit 4) ACDelco RC27 |
| 1993 | Chevy | Lumina | Chevy Lumina Radiator Cap V6 3.1L (8th Vin Digit W) ACDelco RC27 |
| 1995-1999 | Chevy | Lumina | Chevy Lumina Radiator Cap V6 3.1L (8th Vin Digit M) ACDelco RC27 |
| 1998-1999 | Chevy | Lumina | Chevy Lumina Radiator Cap V6 3.8L (8th Vin Digit K) ACDelco RC27 |
| 2000-2001 | Chevy | Lumina | Chevy Lumina Radiator Cap V6 3.1L (8th Vin Digit J) ACDelco RC27 |
| 1990-1995 | Chevy | Lumina APV | Chevy Lumina APV Radiator Cap (8th Vin Digit D) V6 3.1L ACDelco RC27 |
| 1992-1995 | Chevy | Lumina APV | Chevy Lumina APV Radiator Cap V6 3.8L (8th Vin Digit L) ACDelco RC27 |
| 1996 | Chevy | Lumina APV | Chevy Lumina APV Radiator Cap V6 3.4L (8th Vin Digit E) ACDelco RC27 |
| 1978 | Chevy | Malibu | Chevy Malibu Radiator Cap V8 5.0L (8th Vin Digit U) with 2 BBL Carburetor ACDelco RC27 |
| 1978-1981 | Chevy | Malibu | Chevy Malibu Radiator Cap (8th Vin Digit L) V8 5.7L with 4 BBL Carburetor ACDelco RC27 |
| 1978-1979 | Chevy | Malibu | Chevy Malibu Radiator Cap V6 3.3L (8th Vin Digit M) with 2 BBL Carburetor ACDelco RC27 |
| 1978-1981 | Chevy | Malibu | Chevy Malibu Radiator Cap (8th Vin Digit A) V6 3.8L with 2 BBL Carburetor ACDelco RC27 |
| 1979-1981 | Chevy | Malibu | Chevy Malibu Radiator Cap V8 4.4L (8th Vin Digit J) with 2 BBL Carburetor ACDelco RC27 |
| 1979-1981 | Chevy | Malibu | Chevy Malibu Radiator Cap V8 5.0L (8th Vin Digit H) with 4 BBL Carburetor ACDelco RC27 |
| 1979 | Chevy | Malibu | Chevy Malibu Radiator Cap (8th Vin Digit 2) V6 3.8L with 2 BBL Carburetor ACDelco RC27 |
| 1980-1981 | Chevy | Malibu | Chevy Malibu Radiator Cap V6 3.8L (8th Vin Digit K) with 2 BBL Carburetor ACDelco RC27 |
| 1980 | Chevy | Malibu | Chevy Malibu Radiator Cap V8 5.7L (8th Vin Digit L) ACDelco RC27 |
| 1977-1978 | Chevy | Monte Carlo | Chevy Monte Carlo Radiator Cap V8 5.0L (8th Vin Digit U) with 2 BBL Carburetor ACDelco RC27 |
| 1977-1981 | Chevy | Monte Carlo | Chevy Monte Carlo Radiator Cap (8th Vin Digit L) V8 5.7L with 4 BBL Carburetor ACDelco RC27 |
| 1978-1984 | Chevy | Monte Carlo | Chevy Monte Carlo Radiator Cap (8th Vin Digit A) V6 3.8L with 2 BBL Carburetor ACDelco RC27 |
| 1978-1979 | Chevy | Monte Carlo | Chevy Monte Carlo Radiator Cap V6 3.3L (8th Vin Digit M) with 2 BBL Carburetor ACDelco RC27 |
| 1979 | Chevy | Monte Carlo | Chevy Monte Carlo Radiator Cap (8th Vin Digit 2) V6 3.8L with 2 BBL Carburetor ACDelco RC27 |
| 1979-1988 | Chevy | Monte Carlo | Chevy Monte Carlo Radiator Cap V8 5.0L (8th Vin Digit H) with 4 BBL Carburetor ACDelco RC27 |
| 1979-1982 | Chevy | Monte Carlo | Chevy Monte Carlo Radiator Cap V8 4.4L (8th Vin Digit J) with 2 BBL Carburetor ACDelco RC27 |
| 1980-1981 | Chevy | Monte Carlo | Chevy Monte Carlo Radiator Cap V6 3.8L with 4 BBL Carburetor (8th Vin Digit 3) ACDelco RC27 |
| 1980-1982 | Chevy | Monte Carlo | Chevy Monte Carlo Radiator Cap V6 3.8L (8th Vin Digit K) with 2 BBL Carburetor ACDelco RC27 |
| 1982-1983 | Chevy | Monte Carlo | Chevy Monte Carlo Radiator Cap V6 4.3L (8th Vin Digit V) ACDelco RC27 |
| 1982-1984 | Chevy | Monte Carlo | Chevy Monte Carlo Radiator Cap V8 5.7L (8th Vin Digit N) ACDelco RC27 |
| 1983-1984 | Chevy | Monte Carlo | Chevy Monte Carlo Radiator Cap V6 3.8L (8th Vin Digit 9) with 2 BBL Carburetor ACDelco RC27 |
| 1984 | Chevy | Monte Carlo | Chevy Monte Carlo Radiator Cap V8 5.0L (8th Vin Digit G) ACDelco RC27 |
| 1985-1988 | Chevy | Monte Carlo | Chevy Monte Carlo Radiator Cap V6 4.3L (8th Vin Digit Z) ACDelco RC27 |
| 1985-1987 | Chevy | Monte Carlo | Chevy Monte Carlo Radiator Cap V6 3.8L (8th Vin Digit A) ACDelco RC27 |
| 1985-1988 | Chevy | Monte Carlo | Chevy Monte Carlo Radiator Cap V8 5.0L with 4 BBL Carburetor (8th Vin Digit G) ACDelco RC27 |
| 1987 | Chevy | Monte Carlo | Chevy Monte Carlo Radiator Cap V8 5.0L (8th Vin Digit H) ACDelco RC27 |
| 1995-1997 | Chevy | Monte Carlo | Chevy Monte Carlo Radiator Cap V6 3.4L (8th Vin Digit X) ACDelco RC27 |
| 1995-1999 | Chevy | Monte Carlo | Chevy Monte Carlo Radiator Cap V6 3.1L (8th Vin Digit M) ACDelco RC27 |
| 1998-2002 | Chevy | Monte Carlo | Chevy Monte Carlo Radiator Cap V6 3.8L (8th Vin Digit K) ACDelco RC27 |
| 2000-2002 | Chevy | Monte Carlo | Chevy Monte Carlo Radiator Cap V6 3.4L (8th Vin Digit E) ACDelco RC27 |
| 1976-1977 | Chevy | Monza | Chevy Monza Radiator Cap L4 2.3L (8th Vin Digit B) with 2 BBL Carburetor ACDelco RC27 |
| 1976 | Chevy | Monza | Chevy Monza Radiator Cap L4 2.3L (8th Vin Digit A) with 1 BBL Carburetor ACDelco RC27 |
| 1976 | Chevy | Monza | Chevy Monza Radiator Cap V8 4.3L (8th Vin Digit G) with 2 BBL Carburetor ACDelco RC27 |
| 1976 | Chevy | Monza | Chevy Monza Radiator Cap V8 5.0L (8th Vin Digit Q) with 2 BBL Carburetor ACDelco RC27 |
| 1977-1978 | Chevy | Monza | Chevy Monza Radiator Cap V8 5.0L (8th Vin Digit U) with 2 BBL Carburetor ACDelco RC27 |
| 1978-1979 | Chevy | Monza | Chevy Monza Radiator Cap V6 3.2L (8th Vin Digit C) with 2 BBL Carburetor ACDelco RC27 |
| 1978-1980 | Chevy | Monza | Chevy Monza Radiator Cap (8th Vin Digit A) V6 3.8L with 2 BBL Carburetor ACDelco RC27 |
| 1978-1980 | Chevy | Monza | Chevy Monza Radiator Cap L4 2.5L (8th Vin Digit V) with 2 BBL Carburetor ACDelco RC27 |
| 1978-1979 | Chevy | Monza | Chevy Monza Radiator Cap L4 2.5L (8th Vin Digit 1) with 2 BBL Carburetor ACDelco RC27 |
| 1979 | Chevy | Monza | Chevy Monza Radiator Cap (8th Vin Digit 2) V6 3.8L with 2 BBL Carburetor ACDelco RC27 |
| 1979 | Chevy | Monza | Chevy Monza Radiator Cap L4 2.5L (8th Vin Digit 9) with 2 BBL Carburetor ACDelco RC27 |
| 1979 | Chevy | Monza | Chevy Monza Radiator Cap V8 5.0L (8th Vin Digit G) with 2 BBL Carburetor ACDelco RC27 |
| 1977-1979 | Chevy | Nova | Chevy Nova Radiator Cap (8th Vin Digit D) L6 4.1L with 1 BBL Carburetor ACDelco RC27 |
| 1977-1979 | Chevy | Nova | Chevy Nova Radiator Cap (8th Vin Digit L) V8 5.7L with 4 BBL Carburetor ACDelco RC27 |
| 1977-1978 | Chevy | Nova | Chevy Nova Radiator Cap V8 5.0L (8th Vin Digit U) with 2 BBL Carburetor ACDelco RC27 |
| 1979 | Chevy | Nova | Chevy Nova Radiator Cap V8 5.0L (8th Vin Digit G) with 2 BBL Carburetor ACDelco RC27 |
| 1978 | Chevy | P10 | Chevy P10 Radiator Cap V8 5.7L (8th Vin Digit L) ACDelco RC27 |
| 1978-1980 | Chevy | P10 | Chevy P10 Radiator Cap L6 4.8L (8th Vin Digit T) ACDelco RC27 |
| 1979 | Chevy | P10 | Chevy P10 Radiator Cap V8 5.0L (8th Vin Digit U) ACDelco RC27 |
| 1978-1979 | Chevy | P20 | Chevy P20 Radiator Cap V8 5.7L (8th Vin Digit L) ACDelco RC27 |
| 1978-1989 | Chevy | P20 | Chevy P20 Radiator Cap L6 4.8L (8th Vin Digit T) ACDelco RC27 |
| 1979 | Chevy | P20 | Chevy P20 Radiator Cap V8 7.4L (8th Vin Digit S) ACDelco RC27 |
| 1980-1987 | Chevy | P20 | Chevy P20 Radiator Cap V8 5.7L (8th Vin Digit M) ACDelco RC27 |
| 1982-1989 | Chevy | P20 | Chevy P20 Radiator Cap V8 6.2L (8th Vin Digit J) ACDelco RC27 |
| 1987-1989 | Chevy | P20 | Chevy P20 Radiator Cap V8 5.7L (8th Vin Digit K) ACDelco RC27 |
| 1978-1980 | Chevy | P30 | Chevy P30 Radiator Cap V8 7.4L (8th Vin Digit S) ACDelco RC27 |
| 1978-1980 | Chevy | P30 | Chevy P30 Radiator Cap V8 5.7L (8th Vin Digit L) ACDelco RC27 |
| 1978-1989 | Chevy | P30 | Chevy P30 Radiator Cap L6 4.8L (8th Vin Digit T) ACDelco RC27 |
| 1979 | Chevy | P30 | Chevy P30 Radiator Cap L6 4.1L (8th Vin Digit D) ACDelco RC27 |
| 1980-1989 | Chevy | P30 | Chevy P30 Radiator Cap V8 7.4L (8th Vin Digit W) ACDelco RC27 |
| 1980-1988 | Chevy | P30 | Chevy P30 Radiator Cap V8 5.7L (8th Vin Digit M) ACDelco RC27 |
| 1982-1993 | Chevy | P30 | Chevy P30 Radiator Cap V8 6.2L (8th Vin Digit J) ACDelco RC27 |
| 1987-1993 | Chevy | P30 | Chevy P30 Radiator Cap V8 5.7L (8th Vin Digit K) ACDelco RC27 |
| 1989-1991 | Chevy | P30 | Chevy P30 Radiator Cap (8th Vin Digit L) L4 3.9L ACDelco RC27 |
| 1990-1993 | Chevy | P30 | Chevy P30 Radiator Cap V8 7.4L (8th Vin Digit N) ACDelco RC27 |
| 1990-1993 | Chevy | P30 | Chevy P30 Radiator Cap V6 4.3L (8th Vin Digit Z) ACDelco RC27 |
| 1987 | Chevy | R1500 Truck | Chevy R1500 Truck Radiator Cap V8 5.0L (8th Vin Digit H) ACDelco RC27 |
| 1987 | Chevy | R1500 Truck | Chevy R1500 Truck Radiator Cap V6 4.3L (8th Vin Digit Z) ACDelco RC27 |
| 1987 | Chevy | R1500 Truck | Chevy R1500 Truck Radiator Cap V8 6.2L (8th Vin Digit C) ACDelco RC27 |
| 1987 | Chevy | R1500 Truck | Chevy R1500 Truck Radiator Cap V8 5.7L (8th Vin Digit K) ACDelco RC27 |
| 1987-1988 | Chevy | R2500 Truck | Chevy R2500 Truck Radiator Cap V8 5.7L (8th Vin Digit K) ACDelco RC27 |
| 1987-1988 | Chevy | R2500 Truck | Chevy R2500 Truck Radiator Cap V8 6.2L (8th Vin Digit J) ACDelco RC27 |
| 1987-1988 | Chevy | R2500 Truck | Chevy R2500 Truck Radiator Cap V8 7.4L (8th Vin Digit N) ACDelco RC27 |
| 1987 | Chevy | R2500 Truck | Chevy R2500 Truck Radiator Cap L6 4.8L (8th Vin Digit T) ACDelco RC27 |
| 1987 | Chevy | R2500 Truck | Chevy R2500 Truck Radiator Cap V6 4.3L (8th Vin Digit Z) ACDelco RC27 |
| 1987 | Chevy | R2500 Truck | Chevy R2500 Truck Radiator Cap V8 5.0L (8th Vin Digit H) ACDelco RC27 |
| 1987 | Chevy | R2500 Truck | Chevy R2500 Truck Radiator Cap V8 6.2L (8th Vin Digit C) ACDelco RC27 |
| 1988 | Chevy | R2500 Truck | Chevy R2500 Truck Radiator Cap (8th Vin Digit T) L6 4.8L with 1 BBL Carburetor ACDelco RC27 |
| 1989 | Chevy | R2500 Truck | Chevy R2500 Truck Radiator Cap V8 7.4L (8th Vin Digit N) ACDelco RC27 |
| 1989 | Chevy | R2500 Truck | Chevy R2500 Truck Radiator Cap V8 6.2L (8th Vin Digit J) ACDelco RC27 |
| 1987-1988 | Chevy | R3500 Truck | Chevy R3500 Truck Radiator Cap V8 5.7L (8th Vin Digit K) ACDelco RC27 |
| 1987-1988 | Chevy | R3500 Truck | Chevy R3500 Truck Radiator Cap V8 6.2L (8th Vin Digit J) ACDelco RC27 |
| 1987-1988 | Chevy | R3500 Truck | Chevy R3500 Truck Radiator Cap (8th Vin Digit M) V8 5.7L with 4 BBL Carburetor ACDelco RC27 |
| 1987-1988 | Chevy | R3500 Truck | Chevy R3500 Truck Radiator Cap V8 7.4L (8th Vin Digit N) ACDelco RC27 |
| 1987 | Chevy | R3500 Truck | Chevy R3500 Truck Radiator Cap V8 7.4L (8th Vin Digit W) ACDelco RC27 |
| 1987 | Chevy | R3500 Truck | Chevy R3500 Truck Radiator Cap L6 4.8L (8th Vin Digit T) ACDelco RC27 |
| 1988 | Chevy | R3500 Truck | Chevy R3500 Truck Radiator Cap (8th Vin Digit T) L6 4.8L with 1 BBL Carburetor ACDelco RC27 |
| 1988 | Chevy | R3500 Truck | Chevy R3500 Truck Radiator Cap (8th Vin Digit W) V8 7.4L with 4 BBL Carburetor ACDelco RC27 |
| 1989 | Chevy | R3500 Truck | Chevy R3500 Truck Radiator Cap V8 7.4L (8th Vin Digit W) ACDelco RC27 |
| 1989-1991 | Chevy | R3500 Truck | Chevy R3500 Truck Radiator Cap V8 6.2L (8th Vin Digit J) ACDelco RC27 |
| 1989-1991 | Chevy | R3500 Truck | Chevy R3500 Truck Radiator Cap V8 7.4L (8th Vin Digit N) ACDelco RC27 |
| 1989-1991 | Chevy | R3500 Truck | Chevy R3500 Truck Radiator Cap V8 5.7L (8th Vin Digit K) ACDelco RC27 |
| 1982-1985 | Chevy | S10 Pickup | Chevy S10 Pickup Radiator Cap V6 2.8L (8th Vin Digit B) with 2 BBL Carburetor ACDelco RC27 |
| 1982-1985 | Chevy | S10 Pickup | Chevy S10 Pickup Radiator Cap (8th Vin Digit A) L4 1.9L with 2 BBL Carburetor ACDelco RC27 |
| 1983 | Chevy | S10 Pickup | Chevy S10 Pickup Radiator Cap L4 2.2L (8th Vin Digit S) ACDelco RC27 |
| 1983-1984 | Chevy | S10 Pickup | Chevy S10 Pickup Radiator Cap L4 2.0L (8th Vin Digit Y) with 2 BBL Carburetor ACDelco RC27 |
| 1984-1985 | Chevy | S10 Pickup | Chevy S10 Pickup Radiator Cap L4 2.2L (8th Vin Digit S) ACDelco RC27 |
| 1985-1991 | Chevy | S10 Pickup | Chevy S10 Pickup Radiator Cap L4 2.5L (8th Vin Digit E) ACDelco RC27 |
| 1986-1993 | Chevy | S10 Pickup | Chevy S10 Pickup Radiator Cap V6 2.8L (8th Vin Digit R) ACDelco RC27 |
| 1988-1994 | Chevy | S10 Pickup | Chevy S10 Pickup Radiator Cap V6 4.3L (8th Vin Digit Z) ACDelco RC27 |
| 1991-1993 | Chevy | S10 Pickup | Chevy S10 Pickup Radiator Cap (8th Vin Digit A) L4 2.5L ACDelco RC27 |
| 1994 | Chevy | S10 Pickup | Chevy S10 Pickup Radiator Cap L4 2.2L (8th Vin Digit 4) ACDelco RC27 |
| 1994 | Chevy | S10 Pickup | Chevy S10 Pickup Radiator Cap V6 4.3L (8th Vin Digit W) ACDelco RC27 |
| 1978-1979 | Chevy | Suburban C10 | Chevy Suburban C10 Radiator Cap V8 5.0L (8th Vin Digit U) with 2 BBL Carburetor ACDelco RC27 |
| 1978-1986 | Chevy | Suburban C10 | Chevy Suburban C10 Radiator Cap (8th Vin Digit L) V8 5.7L with 4 BBL Carburetor ACDelco RC27 |
| 1978 | Chevy | Suburban C10 | Chevy Suburban C10 Radiator Cap (8th Vin Digit D) L6 4.1L with 1 BBL Carburetor ACDelco RC27 |
| 1978-1980 | Chevy | Suburban C10 | Chevy Suburban C10 Radiator Cap V8 7.4L (8th Vin Digit S) with 4 BBL Carburetor ACDelco RC27 |
| 1978-1980 | Chevy | Suburban C10 | Chevy Suburban C10 Radiator Cap (8th Vin Digit Z) V8 5.7L ACDelco RC27 |
| 1979 | Chevy | Suburban C10 | Chevy Suburban C10 Radiator Cap (8th Vin Digit D) L6 4.1L with 2 BBL Carburetor ACDelco RC27 |
| 1980 | Chevy | Suburban C10 | Chevy Suburban C10 Radiator Cap V8 5.0L (8th Vin Digit G) ACDelco RC27 |
| 1980-1986 | Chevy | Suburban C10 | Chevy Suburban C10 Radiator Cap (8th Vin Digit M) V8 5.7L with 4 BBL Carburetor ACDelco RC27 |
| 1980 | Chevy | Suburban C10 | Chevy Suburban C10 Radiator Cap (8th Vin Digit W) V8 7.4L with 4 BBL Carburetor ACDelco RC27 |
| 1980 | Chevy | Suburban C10 | Chevy Suburban C10 Radiator Cap (8th Vin Digit D) L6 4.1L ACDelco RC27 |
| 1981-1986 | Chevy | Suburban C10 | Chevy Suburban C10 Radiator Cap V8 5.0L (8th Vin Digit H) with 4 BBL Carburetor ACDelco RC27 |
| 1981 | Chevy | Suburban C10 | Chevy Suburban C10 Radiator Cap V8 5.0L (8th Vin Digit G) with 2 BBL Carburetor ACDelco RC27 |
| 1982-1986 | Chevy | Suburban C10 | Chevy Suburban C10 Radiator Cap V8 6.2L (8th Vin Digit C) ACDelco RC27 |
| 1982-1985 | Chevy | Suburban C10 | Chevy Suburban C10 Radiator Cap V8 5.0L (8th Vin Digit F) with 4 BBL Carburetor ACDelco RC27 |
| 1986 | Chevy | Suburban C10 | Chevy Suburban C10 Radiator Cap V8 5.0L (8th Vin Digit F) ACDelco RC27 |
| 1992-1995 | Chevy | Suburban C1500 | Chevy Suburban C1500 Radiator Cap V8 5.7L (8th Vin Digit K) ACDelco RC27 |
| 1995-1999 | Chevy | Suburban C1500 | Chevy Suburban C1500 Radiator Cap V8 6.5L (8th Vin Digit F) ACDelco RC27 |
| 1996-1999 | Chevy | Suburban C1500 | Chevy Suburban C1500 Radiator Cap V8 5.7L (8th Vin Digit R) ACDelco RC27 |
| 1978-1979 | Chevy | Suburban C20 | Chevy Suburban C20 Radiator Cap V8 5.0L (8th Vin Digit U) with 2 BBL Carburetor ACDelco RC27 |
| 1978-1986 | Chevy | Suburban C20 | Chevy Suburban C20 Radiator Cap (8th Vin Digit L) V8 5.7L with 4 BBL Carburetor ACDelco RC27 |
| 1978-1979 | Chevy | Suburban C20 | Chevy Suburban C20 Radiator Cap (8th Vin Digit R) V8 6.6L with 4 BBL Carburetor ACDelco RC27 |
| 1978-1980 | Chevy | Suburban C20 | Chevy Suburban C20 Radiator Cap V8 7.4L (8th Vin Digit S) with 4 BBL Carburetor ACDelco RC27 |
| 1978-1979 | Chevy | Suburban C20 | Chevy Suburban C20 Radiator Cap (8th Vin Digit T) L6 4.8L with 1 BBL Carburetor ACDelco RC27 |
| 1980-1982 | Chevy | Suburban C20 | Chevy Suburban C20 Radiator Cap L6 4.8L (8th Vin Digit T) ACDelco RC27 |
| 1980 | Chevy | Suburban C20 | Chevy Suburban C20 Radiator Cap V8 5.0L (8th Vin Digit G) ACDelco RC27 |
| 1980-1986 | Chevy | Suburban C20 | Chevy Suburban C20 Radiator Cap (8th Vin Digit M) V8 5.7L with 4 BBL Carburetor ACDelco RC27 |
| 1980 | Chevy | Suburban C20 | Chevy Suburban C20 Radiator Cap (8th Vin Digit X) with 4 BBL Carburetor V8 6.6L ACDelco RC27 |
| 1980-1986 | Chevy | Suburban C20 | Chevy Suburban C20 Radiator Cap (8th Vin Digit W) V8 7.4L with 4 BBL Carburetor ACDelco RC27 |
| 1981-1986 | Chevy | Suburban C20 | Chevy Suburban C20 Radiator Cap V8 5.0L (8th Vin Digit H) with 4 BBL Carburetor ACDelco RC27 |
| 1982-1986 | Chevy | Suburban C20 | Chevy Suburban C20 Radiator Cap V8 6.2L (8th Vin Digit J) ACDelco RC27 |
| 1992-1995 | Chevy | Suburban C2500 | Chevy Suburban C2500 Radiator Cap V8 5.7L (8th Vin Digit K) ACDelco RC27 |
| 1992-1995 | Chevy | Suburban C2500 | Chevy Suburban C2500 Radiator Cap V8 7.4L (8th Vin Digit N) ACDelco RC27 |
| 1994-1999 | Chevy | Suburban C2500 | Chevy Suburban C2500 Radiator Cap V8 6.5L (8th Vin Digit F) ACDelco RC27 |
| 1996-1999 | Chevy | Suburban C2500 | Chevy Suburban C2500 Radiator Cap V8 5.7L (8th Vin Digit R) ACDelco RC27 |
| 1996-1999 | Chevy | Suburban C2500 | Chevy Suburban C2500 Radiator Cap V8 7.4L (8th Vin Digit J) ACDelco RC27 |
| 1978-1979 | Chevy | Suburban K10 | Chevy Suburban K10 Radiator Cap V8 5.0L (8th Vin Digit U) with 2 BBL Carburetor ACDelco RC27 |
| 1978-1986 | Chevy | Suburban K10 | Chevy Suburban K10 Radiator Cap (8th Vin Digit L) V8 5.7L with 4 BBL Carburetor ACDelco RC27 |
| 1978 | Chevy | Suburban K10 | Chevy Suburban K10 Radiator Cap (8th Vin Digit D) L6 4.1L with 1 BBL Carburetor ACDelco RC27 |
| 1978-1979 | Chevy | Suburban K10 | Chevy Suburban K10 Radiator Cap (8th Vin Digit R) V8 6.6L with 4 BBL Carburetor ACDelco RC27 |
| 1979 | Chevy | Suburban K10 | Chevy Suburban K10 Radiator Cap (8th Vin Digit D) L6 4.1L with 2 BBL Carburetor ACDelco RC27 |
| 1980-1986 | Chevy | Suburban K10 | Chevy Suburban K10 Radiator Cap (8th Vin Digit M) V8 5.7L with 4 BBL Carburetor ACDelco RC27 |
| 1980 | Chevy | Suburban K10 | Chevy Suburban K10 Radiator Cap (8th Vin Digit D) L6 4.1L ACDelco RC27 |
| 1980 | Chevy | Suburban K10 | Chevy Suburban K10 Radiator Cap V8 5.0L (8th Vin Digit G) ACDelco RC27 |
| 1981-1986 | Chevy | Suburban K10 | Chevy Suburban K10 Radiator Cap V8 5.0L (8th Vin Digit H) with 4 BBL Carburetor ACDelco RC27 |
| 1981 | Chevy | Suburban K10 | Chevy Suburban K10 Radiator Cap V8 5.0L (8th Vin Digit G) with 2 BBL Carburetor ACDelco RC27 |
| 1982-1985 | Chevy | Suburban K10 | Chevy Suburban K10 Radiator Cap V8 5.0L (8th Vin Digit F) with 4 BBL Carburetor ACDelco RC27 |
| 1982-1986 | Chevy | Suburban K10 | Chevy Suburban K10 Radiator Cap V8 6.2L (8th Vin Digit C) ACDelco RC27 |
| 1992-1995 | Chevy | Suburban K1500 | Chevy Suburban K1500 Radiator Cap V8 5.7L (8th Vin Digit K) ACDelco RC27 |
| 1995-1999 | Chevy | Suburban K1500 | Chevy Suburban K1500 Radiator Cap V8 6.5L (8th Vin Digit F) ACDelco RC27 |
| 1996-1999 | Chevy | Suburban K1500 | Chevy Suburban K1500 Radiator Cap V8 5.7L (8th Vin Digit R) ACDelco RC27 |
| 1978 | Chevy | Suburban K20 | Chevy Suburban K20 Radiator Cap V8 5.0L (8th Vin Digit U) with 2 BBL Carburetor ACDelco RC27 |
| 1978-1986 | Chevy | Suburban K20 | Chevy Suburban K20 Radiator Cap (8th Vin Digit L) V8 5.7L with 4 BBL Carburetor ACDelco RC27 |
| 1978-1980 | Chevy | Suburban K20 | Chevy Suburban K20 Radiator Cap (8th Vin Digit R) V8 6.6L with 4 BBL Carburetor ACDelco RC27 |
| 1978-1979 | Chevy | Suburban K20 | Chevy Suburban K20 Radiator Cap (8th Vin Digit T) L6 4.8L with 1 BBL Carburetor ACDelco RC27 |
| 1980-1982 | Chevy | Suburban K20 | Chevy Suburban K20 Radiator Cap L6 4.8L (8th Vin Digit T) ACDelco RC27 |
| 1980 | Chevy | Suburban K20 | Chevy Suburban K20 Radiator Cap (8th Vin Digit P) V8 5.7L ACDelco RC27 |
| 1980-1986 | Chevy | Suburban K20 | Chevy Suburban K20 Radiator Cap (8th Vin Digit M) V8 5.7L with 4 BBL Carburetor ACDelco RC27 |
| 1982-1986 | Chevy | Suburban K20 | Chevy Suburban K20 Radiator Cap V8 6.2L (8th Vin Digit J) ACDelco RC27 |
| 1985-1986 | Chevy | Suburban K20 | Chevy Suburban K20 Radiator Cap V8 5.0L (8th Vin Digit H) with 4 BBL Carburetor ACDelco RC27 |
| 1985 | Chevy | Suburban K20 | Chevy Suburban K20 Radiator Cap (8th Vin Digit W) V8 7.4L with 4 BBL Carburetor ACDelco RC27 |
| 1992-1995 | Chevy | Suburban K2500 | Chevy Suburban K2500 Radiator Cap V8 5.7L (8th Vin Digit K) ACDelco RC27 |
| 1992-1995 | Chevy | Suburban K2500 | Chevy Suburban K2500 Radiator Cap V8 7.4L (8th Vin Digit N) ACDelco RC27 |
| 1994-1999 | Chevy | Suburban K2500 | Chevy Suburban K2500 Radiator Cap V8 6.5L (8th Vin Digit F) ACDelco RC27 |
| 1996-1999 | Chevy | Suburban K2500 | Chevy Suburban K2500 Radiator Cap V8 5.7L (8th Vin Digit R) ACDelco RC27 |
| 1996-1999 | Chevy | Suburban K2500 | Chevy Suburban K2500 Radiator Cap V8 7.4L (8th Vin Digit J) ACDelco RC27 |
| 1987 | Chevy | Suburban R10 | Chevy Suburban R10 Radiator Cap V8 5.0L (8th Vin Digit H) ACDelco RC27 |
| 1987-1988 | Chevy | Suburban R10 | Chevy Suburban R10 Radiator Cap V8 5.7L (8th Vin Digit K) ACDelco RC27 |
| 1987-1988 | Chevy | Suburban R10 | Chevy Suburban R10 Radiator Cap V8 6.2L (8th Vin Digit C) ACDelco RC27 |
| 1989-1991 | Chevy | Suburban R1500 | Chevy Suburban R1500 Radiator Cap V8 5.7L (8th Vin Digit K) ACDelco RC27 |
| 1989-1991 | Chevy | Suburban R1500 | Chevy Suburban R1500 Radiator Cap V8 6.2L (8th Vin Digit C) ACDelco RC27 |
| 1987-1988 | Chevy | Suburban R20 | Chevy Suburban R20 Radiator Cap V8 5.7L (8th Vin Digit K) ACDelco RC27 |
| 1987-1988 | Chevy | Suburban R20 | Chevy Suburban R20 Radiator Cap V8 6.2L (8th Vin Digit J) ACDelco RC27 |
| 1987-1988 | Chevy | Suburban R20 | Chevy Suburban R20 Radiator Cap V8 7.4L (8th Vin Digit N) ACDelco RC27 |
| 1989-1991 | Chevy | Suburban R2500 | Chevy Suburban R2500 Radiator Cap V8 5.7L (8th Vin Digit K) ACDelco RC27 |
| 1989-1991 | Chevy | Suburban R2500 | Chevy Suburban R2500 Radiator Cap V8 6.2L (8th Vin Digit J) ACDelco RC27 |
| 1989-1991 | Chevy | Suburban R2500 | Chevy Suburban R2500 Radiator Cap V8 7.4L (8th Vin Digit N) ACDelco RC27 |
| 1987-1988 | Chevy | Suburban V10 | Chevy Suburban V10 Radiator Cap V8 5.7L (8th Vin Digit K) ACDelco RC27 |
| 1987-1988 | Chevy | Suburban V10 | Chevy Suburban V10 Radiator Cap V8 6.2L (8th Vin Digit C) ACDelco RC27 |
| 1989-1991 | Chevy | Suburban V1500 | Chevy Suburban V1500 Radiator Cap V8 5.7L (8th Vin Digit K) ACDelco RC27 |
| 1989-1991 | Chevy | Suburban V1500 | Chevy Suburban V1500 Radiator Cap V8 6.2L (8th Vin Digit C) ACDelco RC27 |
| 1987-1988 | Chevy | Suburban V20 | Chevy Suburban V20 Radiator Cap V8 5.7L (8th Vin Digit K) ACDelco RC27 |
| 1987-1988 | Chevy | Suburban V20 | Chevy Suburban V20 Radiator Cap V8 6.2L (8th Vin Digit J) ACDelco RC27 |
| 1987-1988 | Chevy | Suburban V20 | Chevy Suburban V20 Radiator Cap V8 7.4L (8th Vin Digit N) ACDelco RC27 |
| 1989-1991 | Chevy | Suburban V2500 | Chevy Suburban V2500 Radiator Cap V8 5.7L (8th Vin Digit K) ACDelco RC27 |
| 1989-1991 | Chevy | Suburban V2500 | Chevy Suburban V2500 Radiator Cap V8 6.2L (8th Vin Digit J) ACDelco RC27 |
| 1990 | Chevy | Suburban V2500 | Chevy Suburban V2500 Radiator Cap V8 7.4L (8th Vin Digit N) ACDelco RC27 |
| 1995 | Chevy | Tahoe | Chevy Tahoe Radiator Cap V8 5.7L (8th Vin Digit K) ACDelco RC27 |
| 1995-1998 | Chevy | Tahoe | Chevy Tahoe Radiator Cap V8 6.5L (8th Vin Digit S) ACDelco RC27 |
| 1996-1999 | Chevy | Tahoe | Chevy Tahoe Radiator Cap V8 5.7L (8th Vin Digit R) ACDelco RC27 |
| 1987 | Chevy | V1500 Truck | Chevy V1500 Truck Radiator Cap V8 5.7L (8th Vin Digit K) ACDelco RC27 |
| 1987 | Chevy | V1500 Truck | Chevy V1500 Truck Radiator Cap V8 5.0L (8th Vin Digit H) ACDelco RC27 |
| 1987 | Chevy | V1500 Truck | Chevy V1500 Truck Radiator Cap V8 6.2L (8th Vin Digit C) ACDelco RC27 |
| 1987 | Chevy | V1500 Truck | Chevy V1500 Truck Radiator Cap V6 4.3L (8th Vin Digit Z) ACDelco RC27 |
| 1987 | Chevy | V2500 Truck | Chevy V2500 Truck Radiator Cap V8 5.7L (8th Vin Digit K) ACDelco RC27 |
| 1987 | Chevy | V2500 Truck | Chevy V2500 Truck Radiator Cap L6 4.8L (8th Vin Digit T) ACDelco RC27 |
| 1987 | Chevy | V2500 Truck | Chevy V2500 Truck Radiator Cap V8 6.2L (8th Vin Digit C) ACDelco RC27 |
| 1987 | Chevy | V2500 Truck | Chevy V2500 Truck Radiator Cap V8 6.2L (8th Vin Digit J) ACDelco RC27 |
| 1987 | Chevy | V3500 Truck | Chevy V3500 Truck Radiator Cap V8 7.4L (8th Vin Digit W) ACDelco RC27 |
| 1987 | Chevy | V3500 Truck | Chevy V3500 Truck Radiator Cap L6 4.8L (8th Vin Digit T) ACDelco RC27 |
| 1987-1988 | Chevy | V3500 Truck | Chevy V3500 Truck Radiator Cap V8 6.2L (8th Vin Digit J) ACDelco RC27 |
| 1987-1988 | Chevy | V3500 Truck | Chevy V3500 Truck Radiator Cap V8 7.4L (8th Vin Digit N) ACDelco RC27 |
| 1987-1988 | Chevy | V3500 Truck | Chevy V3500 Truck Radiator Cap V8 5.7L (8th Vin Digit K) ACDelco RC27 |
| 1987-1988 | Chevy | V3500 Truck | Chevy V3500 Truck Radiator Cap (8th Vin Digit M) V8 5.7L with 4 BBL Carburetor ACDelco RC27 |
| 1988 | Chevy | V3500 Truck | Chevy V3500 Truck Radiator Cap (8th Vin Digit W) V8 7.4L with 4 BBL Carburetor ACDelco RC27 |
| 1988 | Chevy | V3500 Truck | Chevy V3500 Truck Radiator Cap (8th Vin Digit T) L6 4.8L with 1 BBL Carburetor ACDelco RC27 |
| 1989-1991 | Chevy | V3500 Truck | Chevy V3500 Truck Radiator Cap V8 7.4L (8th Vin Digit N) ACDelco RC27 |
| 1989-1991 | Chevy | V3500 Truck | Chevy V3500 Truck Radiator Cap V8 6.2L (8th Vin Digit J) ACDelco RC27 |
| 1989-1991 | Chevy | V3500 Truck | Chevy V3500 Truck Radiator Cap V8 5.7L (8th Vin Digit K) ACDelco RC27 |
| 1989 | Chevy | V3500 Truck | Chevy V3500 Truck Radiator Cap V8 7.4L (8th Vin Digit W) ACDelco RC27 |
| 1971 | Chevy | Vega | Chevy Vega Radiator Cap L4 2.3L (8th Vin Digit H) with 1 BBL Carburetor ACDelco RC27 |
| 1971 | Chevy | Vega | Chevy Vega Radiator Cap L4 2.3L (8th Vin Digit H) with 2 BBL Carburetor ACDelco RC27 |
| 1972-1977 | Chevy | Vega | Chevy Vega Radiator Cap L4 2.3L (8th Vin Digit B) with 2 BBL Carburetor ACDelco RC27 |
| 1972-1976 | Chevy | Vega | Chevy Vega Radiator Cap L4 2.3L (8th Vin Digit A) with 1 BBL Carburetor ACDelco RC27 |
| 1975-1976 | Chevy | Vega | Chevy Vega Radiator Cap L4 2.0L (8th Vin Digit 0) ACDelco RC27 |
| 1997-2001 | Chevy | Venture | Chevy Venture Radiator Cap V6 3.4L (8th Vin Digit E) ACDelco RC27 |
| 1971 | Chrysler | 300 | Chrysler 300 Radiator Cap V8 7.2L (8th Vin Digit T) ACDelco RC27 |
| 1995-1997 | Chrysler | Cirrus | Chrysler Cirrus Radiator Cap L4 2.4L (8th Vin Digit X) ACDelco RC27 |
| 1995-1999 | Chrysler | Cirrus | Chrysler Cirrus Radiator Cap V6 2.5L (8th Vin Digit H) ACDelco RC27 |
| 1998 | Chrysler | Cirrus | Chrysler Cirrus Radiator Cap V6 2.5L (8th Vin Digit H) ACDelco RC27 |
| 1975-1979 | Chrysler | Cordoba | Chrysler Cordoba Radiator Cap V8 5.9L (8th Vin Digit J) with 4 BBL Carburetor ACDelco RC27 |
| 1975-1980 | Chrysler | Cordoba | Chrysler Cordoba Radiator Cap V8 5.2L (8th Vin Digit G) with 2 BBL Carburetor ACDelco RC27 |
| 1975-1976 | Chrysler | Cordoba | Chrysler Cordoba Radiator Cap V8 6.6L (8th Vin Digit P) ACDelco RC27 |
| 1975-1979 | Chrysler | Cordoba | Chrysler Cordoba Radiator Cap V8 5.9L (8th Vin Digit K) with 2 BBL Carburetor ACDelco RC27 |
| 1975-1978 | Chrysler | Cordoba | Chrysler Cordoba Radiator Cap V8 6.6L (8th Vin Digit N) with 4 BBL Carburetor ACDelco RC27 |
| 1975-1976 | Chrysler | Cordoba | Chrysler Cordoba Radiator Cap V8 6.6L (8th Vin Digit M) with 2 BBL Carburetor ACDelco RC27 |
| 1978-1980 | Chrysler | Cordoba | Chrysler Cordoba Radiator Cap V8 5.2L (8th Vin Digit H) with 4 BBL Carburetor ACDelco RC27 |
| 1978 | Chrysler | Cordoba | Chrysler Cordoba Radiator Cap V8 5.9L (8th Vin Digit L) ACDelco RC27 |
| 1978 | Chrysler | Cordoba | Chrysler Cordoba Radiator Cap V8 6.6L with 4 BBL Carburetor (8th Vin Digit P) ACDelco RC27 |
| 1979 | Chrysler | Cordoba | Chrysler Cordoba Radiator Cap V8 5.9L (8th Vin Digit L) with 4 BBL Carburetor ACDelco RC27 |
| 1980 | Chrysler | Cordoba | Chrysler Cordoba Radiator Cap (8th Vin Digit D) L6 3.7L with 2 BBL Carburetor ACDelco RC27 |
| 1980 | Chrysler | Cordoba | Chrysler Cordoba Radiator Cap (8th Vin Digit C) L6 3.7L with 1 BBL Carburetor ACDelco RC27 |
| 1981-1982 | Chrysler | Cordoba | Chrysler Cordoba Radiator Cap V8 5.2L with 4 BBL Carburetor (8th Vin Digit M) ACDelco RC27 |
| 1981 | Chrysler | Cordoba | Chrysler Cordoba Radiator Cap (8th Vin Digit G) L6 3.7L ACDelco RC27 |
| 1981-1982 | Chrysler | Cordoba | Chrysler Cordoba Radiator Cap (8th Vin Digit E) L6 3.7L with 1 BBL Carburetor ACDelco RC27 |
| 1981-1982 | Chrysler | Cordoba | Chrysler Cordoba Radiator Cap V8 5.2L (8th Vin Digit K) with 2 BBL Carburetor ACDelco RC27 |
| 1983 | Chrysler | Cordoba | Chrysler Cordoba Radiator Cap V8 5.2L (8th Vin Digit P) with 2 BBL Carburetor ACDelco RC27 |
| 1983 | Chrysler | Cordoba | Chrysler Cordoba Radiator Cap L6 3.7L (8th Vin Digit H) with 1 BBL Carburetor ACDelco RC27 |
| 1983 | Chrysler | Cordoba | Chrysler Cordoba Radiator Cap L6 3.7L (8th Vin Digit K) ACDelco RC27 |
| 1986-1988 | Chrysler | Daytona | Chrysler Daytona Radiator Cap L4 2.2L (8th Vin Digit E) ACDelco RC27 |
| 1987-1993 | Chrysler | Daytona | Chrysler Daytona Radiator Cap L4 2.5L (8th Vin Digit K) ACDelco RC27 |
| 1988-1993 | Chrysler | Daytona | Chrysler Daytona Radiator Cap (8th Vin Digit A) L4 2.2L ACDelco RC27 |
| 1989-1992 | Chrysler | Daytona | Chrysler Daytona Radiator Cap L4 2.5L (8th Vin Digit J) ACDelco RC27 |
| 1990-1993 | Chrysler | Daytona | Chrysler Daytona Radiator Cap V6 3.0L (8th Vin Digit 3) ACDelco RC27 |
| 1983-1984 | Chrysler | E Class | Chrysler E Class Radiator Cap L4 2.6L (8th Vin Digit G) with 2 BBL Carburetor ACDelco RC27 |
| 1983 | Chrysler | E Class | Chrysler E Class Radiator Cap L4 2.2L (8th Vin Digit C) with 2 BBL Carburetor ACDelco RC27 |
| 1984 | Chrysler | E Class | Chrysler E Class Radiator Cap L4 2.2L (8th Vin Digit E) ACDelco RC27 |
| 1984 | Chrysler | E Class | Chrysler E Class Radiator Cap L4 2.2L (8th Vin Digit D) ACDelco RC27 |
| 1983-1984 | Chrysler | Executive Sedan | Chrysler Executive Sedan Radiator Cap L4 2.6L (8th Vin Digit G) ACDelco RC27 |
| 1983 | Chrysler | Fifth Avenue | Chrysler Fifth Avenue Radiator Cap L6 3.7L (8th Vin Digit K) ACDelco RC27 |
| 1984-1989 | Chrysler | Fifth Avenue | Chrysler Fifth Avenue Radiator Cap V8 5.2L (8th Vin Digit P) with 2 BBL Carburetor ACDelco RC27 |
| 1992 | Chrysler | Fifth Avenue | Chrysler Fifth Avenue Radiator Cap V6 3.8L (8th Vin Digit L) ACDelco RC27 |
| 1971-1975 | Chrysler | Imperial | Chrysler Imperial Radiator Cap V8 7.2L with 4 BBL Carburetor (8th Vin Digit T) ACDelco RC27 |
| 1981-1982 | Chrysler | Imperial | Chrysler Imperial Radiator Cap V8 5.2L (8th Vin Digit J) ACDelco RC27 |
| 1983 | Chrysler | Imperial | Chrysler Imperial Radiator Cap V8 5.2L (8th Vin Digit N) ACDelco RC27 |
| 1990-1991 | Chrysler | Imperial | Chrysler Imperial Radiator Cap V6 3.3L (8th Vin Digit R) ACDelco RC27 |
| 1991-1993 | Chrysler | Imperial | Chrysler Imperial Radiator Cap V6 3.8L (8th Vin Digit L) ACDelco RC27 |
| 1984-1986 | Chrysler | Laser | Chrysler Laser Radiator Cap L4 2.2L (8th Vin Digit E) ACDelco RC27 |
| 1984-1986 | Chrysler | Laser | Chrysler Laser Radiator Cap L4 2.2L (8th Vin Digit D) ACDelco RC27 |
| 1986 | Chrysler | Laser | Chrysler Laser Radiator Cap L4 2.5L (8th Vin Digit K) ACDelco RC27 |
| 1977-1980 | Chrysler | Lebaron | Chrysler Lebaron Radiator Cap V8 5.2L (8th Vin Digit G) with 2 BBL Carburetor ACDelco RC27 |
| 1978-1979 | Chrysler | Lebaron | Chrysler Lebaron Radiator Cap V8 5.9L (8th Vin Digit L) with 4 BBL Carburetor ACDelco RC27 |
| 1978-1979 | Chrysler | Lebaron | Chrysler Lebaron Radiator Cap V8 5.9L (8th Vin Digit K) with 2 BBL Carburetor ACDelco RC27 |
| 1978-1979 | Chrysler | Lebaron | Chrysler Lebaron Radiator Cap V8 5.9L (8th Vin Digit J) with 4 BBL Carburetor ACDelco RC27 |
| 1978-1980 | Chrysler | Lebaron | Chrysler Lebaron Radiator Cap V8 5.2L (8th Vin Digit H) with 4 BBL Carburetor ACDelco RC27 |
| 1978-1980 | Chrysler | Lebaron | Chrysler Lebaron Radiator Cap (8th Vin Digit C) L6 3.7L with 1 BBL Carburetor ACDelco RC27 |
| 1978-1980 | Chrysler | Lebaron | Chrysler Lebaron Radiator Cap (8th Vin Digit D) L6 3.7L with 2 BBL Carburetor ACDelco RC27 |
| 1981 | Chrysler | Lebaron | Chrysler Lebaron Radiator Cap V8 5.2L (8th Vin Digit L) with 2 BBL Carburetor ACDelco RC27 |
| 1981 | Chrysler | Lebaron | Chrysler Lebaron Radiator Cap V8 5.2L (8th Vin Digit N) with 4 BBL Carburetor ACDelco RC27 |
| 1981 | Chrysler | Lebaron | Chrysler Lebaron Radiator Cap L6 3.7L (8th Vin Digit F) with 1 BBL Carburetor ACDelco RC27 |
| 1981 | Chrysler | Lebaron | Chrysler Lebaron Radiator Cap V8 5.2L with 4 BBL Carburetor (8th Vin Digit M) ACDelco RC27 |
| 1981 | Chrysler | Lebaron | Chrysler Lebaron Radiator Cap V8 5.2L (8th Vin Digit K) with 2 BBL Carburetor ACDelco RC27 |
| 1981 | Chrysler | Lebaron | Chrysler Lebaron Radiator Cap (8th Vin Digit E) L6 3.7L with 1 BBL Carburetor ACDelco RC27 |
| 1981 | Chrysler | Lebaron | Chrysler Lebaron Radiator Cap (8th Vin Digit G) L6 3.7L ACDelco RC27 |
| 1982 | Chrysler | Lebaron | Chrysler Lebaron Radiator Cap L4 2.6L (8th Vin Digit D) with 2 BBL Carburetor ACDelco RC27 |
| 1982 | Chrysler | Lebaron | Chrysler Lebaron Radiator Cap L4 2.2L (8th Vin Digit B) with 2 BBL Carburetor ACDelco RC27 |
| 1983-1984 | Chrysler | Lebaron | Chrysler Lebaron Radiator Cap L4 2.2L (8th Vin Digit C) with 2 BBL Carburetor ACDelco RC27 |
| 1983-1985 | Chrysler | Lebaron | Chrysler Lebaron Radiator Cap L4 2.6L (8th Vin Digit G) with 2 BBL Carburetor ACDelco RC27 |
| 1984-1989 | Chrysler | Lebaron | Chrysler Lebaron Radiator Cap L4 2.2L (8th Vin Digit E) ACDelco RC27 |
| 1984-1989 | Chrysler | Lebaron | Chrysler Lebaron Radiator Cap L4 2.2L (8th Vin Digit D) ACDelco RC27 |
| 1986-1993 | Chrysler | Lebaron | Chrysler Lebaron Radiator Cap L4 2.5L (8th Vin Digit K) ACDelco RC27 |
| 1989 | Chrysler | Lebaron | Chrysler Lebaron Radiator Cap L4 2.5L (8th Vin Digit J) ACDelco RC27 |
| 1989 | Chrysler | Lebaron | Chrysler Lebaron Radiator Cap (8th Vin Digit A) L4 2.2L ACDelco RC27 |
| 1990-1992 | Chrysler | Lebaron | Chrysler Lebaron Radiator Cap L4 2.5L (8th Vin Digit J) ACDelco RC27 |
| 1990-1995 | Chrysler | Lebaron | Chrysler Lebaron Radiator Cap V6 3.0L (8th Vin Digit 3) ACDelco RC27 |
| 1971-1977 | Chrysler | New Yorker | Chrysler New Yorker Radiator Cap V8 7.2L with 4 BBL Carburetor (8th Vin Digit T) ACDelco RC27 |
| 1975-1976 | Chrysler | New Yorker | Chrysler New Yorker Radiator Cap V8 6.6L (8th Vin Digit M) with 2 BBL Carburetor ACDelco RC27 |
| 1975-1977 | Chrysler | New Yorker | Chrysler New Yorker Radiator Cap V8 6.6L (8th Vin Digit N) with 4 BBL Carburetor ACDelco RC27 |
| 1977-1979 | Chrysler | New Yorker | Chrysler New Yorker Radiator Cap (8th Vin Digit J) V8 5.9L ACDelco RC27 |
| 1978 | Chrysler | New Yorker | Chrysler New Yorker Radiator Cap V8 5.9L (8th Vin Digit J) with 4 BBL Carburetor ACDelco RC27 |
| 1979-1980 | Chrysler | New Yorker | Chrysler New Yorker Radiator Cap V8 5.9L (8th Vin Digit K) with 2 BBL Carburetor ACDelco RC27 |
| 1979 | Chrysler | New Yorker | Chrysler New Yorker Radiator Cap V8 5.9L (8th Vin Digit L) with 4 BBL Carburetor ACDelco RC27 |
| 1979-1980 | Chrysler | New Yorker | Chrysler New Yorker Radiator Cap V8 5.2L (8th Vin Digit G) with 2 BBL Carburetor ACDelco RC27 |
| 1980 | Chrysler | New Yorker | Chrysler New Yorker Radiator Cap V8 5.2L (8th Vin Digit H) with 4 BBL Carburetor ACDelco RC27 |
| 1981-1982 | Chrysler | New Yorker | Chrysler New Yorker Radiator Cap V8 5.2L (8th Vin Digit K) with 2 BBL Carburetor ACDelco RC27 |
| 1981-1982 | Chrysler | New Yorker | Chrysler New Yorker Radiator Cap V8 5.2L with 4 BBL Carburetor (8th Vin Digit M) ACDelco RC27 |
| 1982 | Chrysler | New Yorker | Chrysler New Yorker Radiator Cap (8th Vin Digit E) L6 3.7L with 1 BBL Carburetor ACDelco RC27 |
| 1982 | Chrysler | New Yorker | Chrysler New Yorker Radiator Cap (8th Vin Digit G) L6 3.7L ACDelco RC27 |
| 1983 | Chrysler | New Yorker | Chrysler New Yorker Radiator Cap L4 2.2L (8th Vin Digit C) with 2 BBL Carburetor ACDelco RC27 |
| 1983-1985 | Chrysler | New Yorker | Chrysler New Yorker Radiator Cap L4 2.6L (8th Vin Digit G) with 2 BBL Carburetor ACDelco RC27 |
| 1983 | Chrysler | New Yorker | Chrysler New Yorker Radiator Cap V8 5.2L (8th Vin Digit P) with 2 BBL Carburetor ACDelco RC27 |
| 1983 | Chrysler | New Yorker | Chrysler New Yorker Radiator Cap L6 3.7L (8th Vin Digit H) with 1 BBL Carburetor ACDelco RC27 |
| 1984 | Chrysler | New Yorker | Chrysler New Yorker Radiator Cap L4 2.2L (8th Vin Digit D) ACDelco RC27 |
| 1984-1988 | Chrysler | New Yorker | Chrysler New Yorker Radiator Cap L4 2.2L (8th Vin Digit E) ACDelco RC27 |
| 1986-1987 | Chrysler | New Yorker | Chrysler New Yorker Radiator Cap L4 2.5L (8th Vin Digit K) ACDelco RC27 |
| 1988-1989 | Chrysler | New Yorker | Chrysler New Yorker Radiator Cap V6 3.0L (8th Vin Digit 3) ACDelco RC27 |
| 1990-1993 | Chrysler | New Yorker | Chrysler New Yorker Radiator Cap V6 3.3L (8th Vin Digit R) ACDelco RC27 |
| 1991-1993 | Chrysler | New Yorker | Chrysler New Yorker Radiator Cap V6 3.8L (8th Vin Digit L) ACDelco RC27 |
| 1971-1975 | Chrysler | Newport | Chrysler Newport Radiator Cap V8 7.2L with 4 BBL Carburetor (8th Vin Digit U) ACDelco RC27 |
| 1971 | Chrysler | Newport | Chrysler Newport Radiator Cap (8th Vin Digit N) with 4 BBL Carburetor ACDelco RC27 |
| 1971 | Chrysler | Newport | Chrysler Newport Radiator Cap (8th Vin Digit L) with 2 BBL Carburetor ACDelco RC27 |
| 1971 | Chrysler | Newport | Chrysler Newport Radiator Cap V8 5.9L (8th Vin Digit K) ACDelco RC27 |
| 1972-1980 | Chrysler | Newport | Chrysler Newport Radiator Cap V8 5.9L (8th Vin Digit K) with 2 BBL Carburetor ACDelco RC27 |
| 1972-1976 | Chrysler | Newport | Chrysler Newport Radiator Cap V8 6.6L (8th Vin Digit M) with 2 BBL Carburetor ACDelco RC27 |
| 1972-1978 | Chrysler | Newport | Chrysler Newport Radiator Cap V8 7.2L with 4 BBL Carburetor (8th Vin Digit T) ACDelco RC27 |
| 1974-1979 | Chrysler | Newport | Chrysler Newport Radiator Cap V8 5.9L (8th Vin Digit J) with 4 BBL Carburetor ACDelco RC27 |
| 1974-1978 | Chrysler | Newport | Chrysler Newport Radiator Cap V8 6.6L (8th Vin Digit N) with 4 BBL Carburetor ACDelco RC27 |
| 1974 | Chrysler | Newport | Chrysler Newport Radiator Cap V8 7.2L (8th Vin Digit U) ACDelco RC27 |
| 1979 | Chrysler | Newport | Chrysler Newport Radiator Cap V8 5.9L (8th Vin Digit L) with 4 BBL Carburetor ACDelco RC27 |
| 1979-1980 | Chrysler | Newport | Chrysler Newport Radiator Cap V8 5.2L (8th Vin Digit H) with 4 BBL Carburetor ACDelco RC27 |
| 1979 | Chrysler | Newport | Chrysler Newport Radiator Cap (8th Vin Digit D) L6 3.7L with 2 BBL Carburetor ACDelco RC27 |
| 1979-1980 | Chrysler | Newport | Chrysler Newport Radiator Cap V8 5.2L (8th Vin Digit G) with 2 BBL Carburetor ACDelco RC27 |
| 1980 | Chrysler | Newport | Chrysler Newport Radiator Cap (8th Vin Digit C) L6 3.7L with 1 BBL Carburetor ACDelco RC27 |
| 1981 | Chrysler | Newport | Chrysler Newport Radiator Cap V8 5.2L (8th Vin Digit K) with 2 BBL Carburetor ACDelco RC27 |
| 1981 | Chrysler | Newport | Chrysler Newport Radiator Cap V8 5.2L with 4 BBL Carburetor (8th Vin Digit M) ACDelco RC27 |
| 1981 | Chrysler | Newport | Chrysler Newport Radiator Cap (8th Vin Digit E) L6 3.7L with 1 BBL Carburetor ACDelco RC27 |
| 1981 | Chrysler | Newport | Chrysler Newport Radiator Cap (8th Vin Digit G) L6 3.7L ACDelco RC27 |
| 1981 | Chrysler | Newport | Chrysler Newport Radiator Cap V8 5.2L (8th Vin Digit L) with 2 BBL Carburetor ACDelco RC27 |
| 1996-1997 | Chrysler | Sebring | Chrysler Sebring Radiator Cap L4 2.4L (8th Vin Digit X) ACDelco RC27 |
| 1996-1998 | Chrysler | Sebring | Chrysler Sebring Radiator Cap L4 2.0L (8th Vin Digit Y) ACDelco RC27 |
| 1996-1997 | Chrysler | Sebring | Chrysler Sebring Radiator Cap V6 2.5L (8th Vin Digit H) ACDelco RC27 |
| 1996-1999 | Chrysler | Sebring | Chrysler Sebring Radiator Cap V6 2.5L (8th Vin Digit N) ACDelco RC27 |
| 1998 | Chrysler | Sebring | Chrysler Sebring Radiator Cap V6 2.5L (8th Vin Digit H) ACDelco RC27 |
| 1998 | Chrysler | Sebring | Chrysler Sebring Radiator Cap L4 2.4L (8th Vin Digit X) ACDelco RC27 |
| 1989-1990 | Chrysler | TC Maserati | Chrysler TC Maserati Radiator Cap L4 2.2L (8th Vin Digit R) ACDelco RC27 |
| 1989 | Chrysler | TC Maserati | Chrysler TC Maserati Radiator Cap L4 2.2L (8th Vin Digit P) ACDelco RC27 |
| 1990 | Chrysler | TC Maserati | Chrysler TC Maserati Radiator Cap V6 3.0L (8th Vin Digit S) ACDelco RC27 |
| 1971-1977 | Chrysler | Town & Country | Chrysler Town & Country Radiator Cap V8 7.2L with 4 BBL Carburetor (8th Vin Digit T) ACDelco RC27 |
| 1971 | Chrysler | Town & Country | Chrysler Town & Country Radiator Cap (8th Vin Digit L) with 2 BBL Carburetor ACDelco RC27 |
| 1971 | Chrysler | Town & Country | Chrysler Town & Country Radiator Cap (8th Vin Digit N) with 4 BBL Carburetor ACDelco RC27 |
| 1972-1976 | Chrysler | Town & Country | Chrysler Town & Country Radiator Cap V8 6.6L (8th Vin Digit M) ACDelco RC27 |
| 1976 | Chrysler | Town & Country | Chrysler Town & Country Radiator Cap V8 6.6L (8th Vin Digit N) with 4 BBL Carburetor ACDelco RC27 |
| 1977 | Chrysler | Town & Country | Chrysler Town & Country Radiator Cap V8 6.6L (8th Vin Digit N) ACDelco RC27 |
| 1990-1999 | Chrysler | Town & Country | Chrysler Town & Country Radiator Cap V6 3.3L (8th Vin Digit R) ACDelco RC27 |
| 1994-1999 | Chrysler | Town & Country | Chrysler Town & Country Radiator Cap V6 3.8L (8th Vin Digit L) ACDelco RC27 |
| 1998-1999 | Chrysler | Town & Country | Chrysler Town & Country Radiator Cap V6 3.3L (8th Vin Digit G) ACDelco RC27 |
| 1982 | Dodge | 400 | Dodge 400 Radiator Cap L4 2.6L (8th Vin Digit D) with 2 BBL Carburetor ACDelco RC27 |
| 1982 | Dodge | 400 | Dodge 400 Radiator Cap L4 2.2L (8th Vin Digit B) with 2 BBL Carburetor ACDelco RC27 |
| 1983 | Dodge | 400 | Dodge 400 Radiator Cap L4 2.2L (8th Vin Digit C) with 2 BBL Carburetor ACDelco RC27 |
| 1983 | Dodge | 400 | Dodge 400 Radiator Cap L4 2.6L (8th Vin Digit G) with 2 BBL Carburetor ACDelco RC27 |
| 1983-1985 | Dodge | 600 | Dodge 600 Radiator Cap L4 2.6L (8th Vin Digit G) with 2 BBL Carburetor ACDelco RC27 |
| 1983-1984 | Dodge | 600 | Dodge 600 Radiator Cap L4 2.2L (8th Vin Digit C) with 2 BBL Carburetor ACDelco RC27 |
| 1984-1988 | Dodge | 600 | Dodge 600 Radiator Cap L4 2.2L (8th Vin Digit E) ACDelco RC27 |
| 1984-1988 | Dodge | 600 | Dodge 600 Radiator Cap L4 2.2L (8th Vin Digit D) ACDelco RC27 |
| 1986-1988 | Dodge | 600 | Dodge 600 Radiator Cap L4 2.5L (8th Vin Digit K) ACDelco RC27 |
| 1981-1982 | Dodge | Aries | Dodge Aries Radiator Cap L4 2.2L (8th Vin Digit B) with 2 BBL Carburetor ACDelco RC27 |
| 1981-1982 | Dodge | Aries | Dodge Aries Radiator Cap L4 2.6L (8th Vin Digit D) with 2 BBL Carburetor ACDelco RC27 |
| 1983-1985 | Dodge | Aries | Dodge Aries Radiator Cap L4 2.2L (8th Vin Digit C) with 2 BBL Carburetor ACDelco RC27 |
| 1983-1985 | Dodge | Aries | Dodge Aries Radiator Cap L4 2.6L (8th Vin Digit G) with 2 BBL Carburetor ACDelco RC27 |
| 1985-1989 | Dodge | Aries | Dodge Aries Radiator Cap L4 2.2L (8th Vin Digit D) ACDelco RC27 |
| 1986-1989 | Dodge | Aries | Dodge Aries Radiator Cap L4 2.5L (8th Vin Digit K) ACDelco RC27 |
| 1976-1980 | Dodge | Aspen | Dodge Aspen Radiator Cap (8th Vin Digit C) L6 3.7L with 1 BBL Carburetor ACDelco RC27 |
| 1976-1980 | Dodge | Aspen | Dodge Aspen Radiator Cap V8 5.2L (8th Vin Digit G) with 2 BBL Carburetor ACDelco RC27 |
| 1976-1978 | Dodge | Aspen | Dodge Aspen Radiator Cap V8 5.9L (8th Vin Digit K) with 2 BBL Carburetor ACDelco RC27 |
| 1977-1980 | Dodge | Aspen | Dodge Aspen Radiator Cap (8th Vin Digit D) L6 3.7L with 2 BBL Carburetor ACDelco RC27 |
| 1977-1979 | Dodge | Aspen | Dodge Aspen Radiator Cap V8 5.9L (8th Vin Digit L) with 4 BBL Carburetor ACDelco RC27 |
| 1978-1980 | Dodge | Aspen | Dodge Aspen Radiator Cap V8 5.2L (8th Vin Digit H) with 4 BBL Carburetor ACDelco RC27 |
| 1980 | Dodge | Aspen | Dodge Aspen Radiator Cap V8 5.9L (8th Vin Digit L) ACDelco RC27 |
| 1981-1982 | Dodge | B150 | Dodge B150 Radiator Cap (8th Vin Digit E) L6 3.7L with 1 BBL Carburetor ACDelco RC27 |
| 1981-1982 | Dodge | B150 | Dodge B150 Radiator Cap V8 5.2L (8th Vin Digit P) with 2 BBL Carburetor ACDelco RC27 |
| 1981-1982 | Dodge | B150 | Dodge B150 Radiator Cap V8 5.2L (8th Vin Digit R) with 4 BBL Carburetor ACDelco RC27 |
| 1983-1987 | Dodge | B150 | Dodge B150 Radiator Cap L6 3.7L (8th Vin Digit H) with 1 BBL Carburetor ACDelco RC27 |
| 1983-1987 | Dodge | B150 | Dodge B150 Radiator Cap V8 5.2L (8th Vin Digit T) with 2 BBL Carburetor ACDelco RC27 |
| 1988-1994 | Dodge | B150 | Dodge B150 Radiator Cap V6 3.9L (8th Vin Digit X) ACDelco RC27 |
| 1988-1994 | Dodge | B150 | Dodge B150 Radiator Cap V8 5.2L (8th Vin Digit Y) ACDelco RC27 |
| 1995-1996 | Dodge | B1500 | Dodge B1500 Radiator Cap V8 5.2L (8th Vin Digit T) ACDelco RC27 |
| 1995-1997 | Dodge | B1500 | Dodge B1500 Radiator Cap V6 3.9L (8th Vin Digit X) ACDelco RC27 |
| 1995-1997 | Dodge | B1500 | Dodge B1500 Radiator Cap V8 5.2L (8th Vin Digit Y) ACDelco RC27 |
| 1995-1997 | Dodge | B1500 | Dodge B1500 Radiator Cap V6 3.9L (8th Vin Digit X) ACDelco RC27 |
| 1995-1997 | Dodge | B1500 | Dodge B1500 Radiator Cap V8 5.2L (8th Vin Digit T) ACDelco RC27 |
| 1995-1997 | Dodge | B1500 | Dodge B1500 Radiator Cap V8 5.9L (8th Vin Digit Z) ACDelco RC27 |
| 1995-1997 | Dodge | B1500 | Dodge B1500 Radiator Cap V8 5.2L (8th Vin Digit Y) ACDelco RC27 |
| 1995-1997 | Dodge | B1500 | Dodge B1500 Radiator Cap V8 5.9L (8th Vin Digit Z) ACDelco RC27 |
| 1995-1997 | Dodge | B1500 | Dodge B1500 Radiator Cap V8 5.2L (8th Vin Digit Y) ACDelco RC27 |
| 1981-1982 | Dodge | B250 | Dodge B250 Radiator Cap V8 5.2L (8th Vin Digit P) with 2 BBL Carburetor ACDelco RC27 |
| 1981-1982 | Dodge | B250 | Dodge B250 Radiator Cap (8th Vin Digit E) L6 3.7L with 1 BBL Carburetor ACDelco RC27 |
| 1981 | Dodge | B250 | Dodge B250 Radiator Cap (8th Vin Digit T) V8 5.9L with 4 BBL Carburetor ACDelco RC27 |
| 1981-1982 | Dodge | B250 | Dodge B250 Radiator Cap V8 5.2L (8th Vin Digit R) with 4 BBL Carburetor ACDelco RC27 |
| 1983-1987 | Dodge | B250 | Dodge B250 Radiator Cap L6 3.7L (8th Vin Digit H) with 1 BBL Carburetor ACDelco RC27 |
| 1983-1987 | Dodge | B250 | Dodge B250 Radiator Cap V8 5.2L (8th Vin Digit T) with 2 BBL Carburetor ACDelco RC27 |
| 1983 | Dodge | B250 | Dodge B250 Radiator Cap V8 5.2L with 4 BBL Carburetor (8th Vin Digit U) ACDelco RC27 |
| 1984-1988 | Dodge | B250 | Dodge B250 Radiator Cap V8 5.9L with 4 BBL Carburetor (8th Vin Digit W) ACDelco RC27 |
| 1984 | Dodge | B250 | Dodge B250 Radiator Cap V8 5.9L with 4 BBL Carburetor (8th Vin Digit 1) ACDelco RC27 |
| 1988-1994 | Dodge | B250 | Dodge B250 Radiator Cap V8 5.2L (8th Vin Digit Y) ACDelco RC27 |
| 1988-1994 | Dodge | B250 | Dodge B250 Radiator Cap V6 3.9L (8th Vin Digit X) ACDelco RC27 |
| 1989-1994 | Dodge | B250 | Dodge B250 Radiator Cap V8 5.9L (8th Vin Digit Z) ACDelco RC27 |
| 1995-1996 | Dodge | B2500 | Dodge B2500 Radiator Cap V8 5.2L (8th Vin Digit T) ACDelco RC27 |
| 1995-1997 | Dodge | B2500 | Dodge B2500 Radiator Cap V6 3.9L (8th Vin Digit X) ACDelco RC27 |
| 1995-1997 | Dodge | B2500 | Dodge B2500 Radiator Cap V8 5.2L (8th Vin Digit Y) ACDelco RC27 |
| 1995-1997 | Dodge | B2500 | Dodge B2500 Radiator Cap V6 3.9L (8th Vin Digit X) ACDelco RC27 |
| 1995-1997 | Dodge | B2500 | Dodge B2500 Radiator Cap V8 5.2L (8th Vin Digit T) ACDelco RC27 |
| 1995-1997 | Dodge | B2500 | Dodge B2500 Radiator Cap V8 5.9L (8th Vin Digit Z) ACDelco RC27 |
| 1995-1997 | Dodge | B2500 | Dodge B2500 Radiator Cap V8 5.2L (8th Vin Digit Y) ACDelco RC27 |
| 1995-1997 | Dodge | B2500 | Dodge B2500 Radiator Cap V8 5.9L (8th Vin Digit Z) ACDelco RC27 |
| 1995-1997 | Dodge | B2500 | Dodge B2500 Radiator Cap V8 5.2L (8th Vin Digit Y) ACDelco RC27 |
| 1981-1982 | Dodge | B350 | Dodge B350 Radiator Cap V8 5.2L (8th Vin Digit P) with 2 BBL Carburetor ACDelco RC27 |
| 1981-1982 | Dodge | B350 | Dodge B350 Radiator Cap (8th Vin Digit T) V8 5.9L with 4 BBL Carburetor ACDelco RC27 |
| 1981-1982 | Dodge | B350 | Dodge B350 Radiator Cap V8 5.2L (8th Vin Digit R) with 4 BBL Carburetor ACDelco RC27 |
| 1981-1982 | Dodge | B350 | Dodge B350 Radiator Cap V8 5.9L (8th Vin Digit S) with 2 BBL Carburetor ACDelco RC27 |
| 1982 | Dodge | B350 | Dodge B350 Radiator Cap V8 5.9L with 4 BBL Carburetor (8th Vin Digit U) ACDelco RC27 |
| 1983-1987 | Dodge | B350 | Dodge B350 Radiator Cap V8 5.2L (8th Vin Digit T) with 2 BBL Carburetor ACDelco RC27 |
| 1983-1987 | Dodge | B350 | Dodge B350 Radiator Cap (8th Vin Digit 1) V8 5.9L ACDelco RC27 |
| 1983 | Dodge | B350 | Dodge B350 Radiator Cap V8 5.2L with 4 BBL Carburetor (8th Vin Digit U) ACDelco RC27 |
| 1983-1988 | Dodge | B350 | Dodge B350 Radiator Cap V8 5.9L with 4 BBL Carburetor (8th Vin Digit W) ACDelco RC27 |
| 1984-1988 | Dodge | B350 | Dodge B350 Radiator Cap V8 5.9L with 4 BBL Carburetor (8th Vin Digit 1) ACDelco RC27 |
| 1988-1994 | Dodge | B350 | Dodge B350 Radiator Cap V8 5.2L (8th Vin Digit Y) ACDelco RC27 |
| 1989-1994 | Dodge | B350 | Dodge B350 Radiator Cap V8 5.9L (8th Vin Digit Z) ACDelco RC27 |
| 1995-1996 | Dodge | B3500 | Dodge B3500 Radiator Cap V8 5.2L (8th Vin Digit T) ACDelco RC27 |
| 1995-1997 | Dodge | B3500 | Dodge B3500 Radiator Cap V8 5.2L (8th Vin Digit Y) ACDelco RC27 |
| 1995-1997 | Dodge | B3500 | Dodge B3500 Radiator Cap V8 5.2L (8th Vin Digit T) ACDelco RC27 |
| 1995-1997 | Dodge | B3500 | Dodge B3500 Radiator Cap V8 5.9L (8th Vin Digit Z) ACDelco RC27 |
| 1995-1997 | Dodge | B3500 | Dodge B3500 Radiator Cap V8 5.2L (8th Vin Digit Y) ACDelco RC27 |
| 1995-1997 | Dodge | B3500 | Dodge B3500 Radiator Cap V8 5.9L (8th Vin Digit Z) ACDelco RC27 |
| 1995-1997 | Dodge | B3500 | Dodge B3500 Radiator Cap V8 5.2L (8th Vin Digit Y) ACDelco RC27 |
| 1984-1987 | Dodge | Caravan | Dodge Caravan Radiator Cap L4 2.6L (8th Vin Digit G) with 2 BBL Carburetor ACDelco RC27 |
| 1984-1987 | Dodge | Caravan | Dodge Caravan Radiator Cap L4 2.2L (8th Vin Digit C) with 2 BBL Carburetor ACDelco RC27 |
| 1987-1998 | Dodge | Caravan | Dodge Caravan Radiator Cap V6 3.0L (8th Vin Digit 3) ACDelco RC27 |
| 1988-1995 | Dodge | Caravan | Dodge Caravan Radiator Cap L4 2.5L (8th Vin Digit K) ACDelco RC27 |
| 1989-1990 | Dodge | Caravan | Dodge Caravan Radiator Cap L4 2.5L (8th Vin Digit J) ACDelco RC27 |
| 1990-1999 | Dodge | Caravan | Dodge Caravan Radiator Cap V6 3.3L (8th Vin Digit R) ACDelco RC27 |
| 1994-1995 | Dodge | Caravan | Dodge Caravan Radiator Cap V6 3.3L (8th Vin Digit J) ACDelco RC27 |
| 1996-1998 | Dodge | Caravan | Dodge Caravan Radiator Cap L4 2.4L (8th Vin Digit B) ACDelco RC27 |
| 1996-1999 | Dodge | Caravan | Dodge Caravan Radiator Cap V6 3.8L (8th Vin Digit L) ACDelco RC27 |
| 1998-1999 | Dodge | Caravan | Dodge Caravan Radiator Cap V6 3.3L (8th Vin Digit G) ACDelco RC27 |
| 1999 | Dodge | Caravan | Dodge Caravan Radiator Cap L4 2.4L (8th Vin Digit B) ACDelco RC27 |
| 1999 | Dodge | Caravan | Dodge Caravan Radiator Cap V6 3.0L (8th Vin Digit 3) ACDelco RC27 |
| 1970-1971 | Dodge | Challenger | Dodge Challenger Radiator Cap V8 5.6L (8th Vin Digit J) with 2 BBL Carburetor ACDelco RC27 |
| 1970 | Dodge | Challenger | Dodge Challenger Radiator Cap V8 7.0L with 4 BBL Carburetor (8th Vin Digit R) ACDelco RC27 |
| 1970-1971 | Dodge | Challenger | Dodge Challenger Radiator Cap V8 7.2L (8th Vin Digit V) with 2 BBL Carburetor ACDelco RC27 |
| 1970-1971 | Dodge | Challenger | Dodge Challenger Radiator Cap L6 3.2L (8th Vin Digit B) with 1 BBL Carburetor ACDelco RC27 |
| 1970 | Dodge | Challenger | Dodge Challenger Radiator Cap V8 7.2L with 4 BBL Carburetor (8th Vin Digit U) ACDelco RC27 |
| 1970-1973 | Dodge | Challenger | Dodge Challenger Radiator Cap V8 5.6L with 4 BBL Carburetor (8th Vin Digit H) ACDelco RC27 |
| 1970-1971 | Dodge | Challenger | Dodge Challenger Radiator Cap (8th Vin Digit L) with 2 BBL Carburetor ACDelco RC27 |
| 1970-1971 | Dodge | Challenger | Dodge Challenger Radiator Cap (8th Vin Digit N) with 4 BBL Carburetor ACDelco RC27 |
| 1970-1972 | Dodge | Challenger | Dodge Challenger Radiator Cap (8th Vin Digit C) L6 3.7L with 1 BBL Carburetor ACDelco RC27 |
| 1970-1974 | Dodge | Challenger | Dodge Challenger Radiator Cap V8 5.2L (8th Vin Digit G) with 2 BBL Carburetor ACDelco RC27 |
| 1970 | Dodge | Challenger | Dodge Challenger Radiator Cap V8 7.0L (8th Vin Digit J) ACDelco RC27 |
| 1971 | Dodge | Challenger | Dodge Challenger Radiator Cap V8 7.0L (8th Vin Digit R) ACDelco RC27 |
| 1974 | Dodge | Challenger | Dodge Challenger Radiator Cap V8 5.9L (8th Vin Digit L) ACDelco RC27 |
| 1967 | Dodge | Charger | Dodge Charger Radiator Cap V8 7.0L with 4 BBL Carburetor (8th Vin Digit R) ACDelco RC27 |
| 1967-1969 | Dodge | Charger | Dodge Charger Radiator Cap 383ci with 4 BBL Carburetor (8th Vin Digit H) ACDelco RC27 |
| 1967-1969 | Dodge | Charger | Dodge Charger Radiator Cap 383ci (8th Vin Digit G) with 2 BBL Carburetor ACDelco RC27 |
| 1967-1969 | Dodge | Charger | Dodge Charger Radiator Cap V8 5.2L (8th Vin Digit F) with 2 BBL Carburetor ACDelco RC27 |
| 1967-1969 | Dodge | Charger | Dodge Charger Radiator Cap V8 7.2L with 4 BBL Carburetor (8th Vin Digit L) ACDelco RC27 |
| 1967 | Dodge | Charger | Dodge Charger Radiator Cap V8 7.0L (8th Vin Digit J) ACDelco RC27 |
| 1967 | Dodge | Charger | Dodge Charger Radiator Cap V8 7.2L (8th Vin Digit K) ACDelco RC27 |
| 1968 | Dodge | Charger | Dodge Charger Radiator Cap V8 7.2L with 4 BBL Carburetor (8th Vin Digit K) ACDelco RC27 |
| 1968-1969 | Dodge | Charger | Dodge Charger Radiator Cap V8 7.0L with 4 BBL Carburetor (8th Vin Digit J) ACDelco RC27 |
| 1968 | Dodge | Charger | Dodge Charger Radiator Cap (8th Vin Digit B) L6 3.7L ACDelco RC27 |
| 1969 | Dodge | Charger | Dodge Charger Radiator Cap (8th Vin Digit B) L6 3.7L with 1 BBL Carburetor ACDelco RC27 |
| 1970 | Dodge | Charger | Dodge Charger Radiator Cap V8 7.2L with 4 BBL Carburetor (8th Vin Digit T) ACDelco RC27 |
| 1970-1971 | Dodge | Charger | Dodge Charger Radiator Cap (8th Vin Digit N) with 4 BBL Carburetor ACDelco RC27 |
| 1970-1971 | Dodge | Charger | Dodge Charger Radiator Cap (8th Vin Digit L) with 2 BBL Carburetor ACDelco RC27 |
| 1970-1974 | Dodge | Charger | Dodge Charger Radiator Cap V8 7.2L with 4 BBL Carburetor (8th Vin Digit U) ACDelco RC27 |
| 1970-1972 | Dodge | Charger | Dodge Charger Radiator Cap V8 7.2L (8th Vin Digit V) with 2 BBL Carburetor ACDelco RC27 |
| 1970-1978 | Dodge | Charger | Dodge Charger Radiator Cap V8 5.2L (8th Vin Digit G) with 2 BBL Carburetor ACDelco RC27 |
| 1970-1971 | Dodge | Charger | Dodge Charger Radiator Cap V8 7.0L (8th Vin Digit R) ACDelco RC27 |
| 1970-1976 | Dodge | Charger | Dodge Charger Radiator Cap (8th Vin Digit C) L6 3.7L with 1 BBL Carburetor ACDelco RC27 |
| 1971-1973 | Dodge | Charger | Dodge Charger Radiator Cap V8 5.6L with 4 BBL Carburetor (8th Vin Digit H) ACDelco RC27 |
| 1972-1978 | Dodge | Charger | Dodge Charger Radiator Cap V8 6.6L with 4 BBL Carburetor (8th Vin Digit P) ACDelco RC27 |
| 1972-1976 | Dodge | Charger | Dodge Charger Radiator Cap V8 6.6L (8th Vin Digit M) with 2 BBL Carburetor ACDelco RC27 |
| 1974-1978 | Dodge | Charger | Dodge Charger Radiator Cap V8 6.6L (8th Vin Digit N) with 4 BBL Carburetor ACDelco RC27 |
| 1974-1978 | Dodge | Charger | Dodge Charger Radiator Cap V8 5.9L (8th Vin Digit J) with 4 BBL Carburetor ACDelco RC27 |
| 1974-1978 | Dodge | Charger | Dodge Charger Radiator Cap V8 5.9L (8th Vin Digit K) with 2 BBL Carburetor ACDelco RC27 |
| 1974 | Dodge | Charger | Dodge Charger Radiator Cap V8 5.9L (8th Vin Digit L) ACDelco RC27 |
| 1975-1976 | Dodge | Charger | Dodge Charger Radiator Cap V8 6.6L (8th Vin Digit P) ACDelco RC27 |
| 1978 | Dodge | Charger | Dodge Charger Radiator Cap V8 5.9L (8th Vin Digit L) with 4 BBL Carburetor ACDelco RC27 |
| 1978 | Dodge | Charger | Dodge Charger Radiator Cap V8 5.2L (8th Vin Digit H) with 4 BBL Carburetor ACDelco RC27 |
| 1983-1986 | Dodge | Charger | Dodge Charger Radiator Cap L4 2.2L (8th Vin Digit 8) ACDelco RC27 |
| 1984 | Dodge | Charger | Dodge Charger Radiator Cap L4 1.6L (8th Vin Digit A) with 2 BBL Carburetor ACDelco RC27 |
| 1984-1985 | Dodge | Charger | Dodge Charger Radiator Cap L4 2.2L (8th Vin Digit 8) with 2 BBL Carburetor ACDelco RC27 |
| 1984-1986 | Dodge | Charger | Dodge Charger Radiator Cap L4 2.2L (8th Vin Digit C) with 2 BBL Carburetor ACDelco RC27 |
| 1985-1987 | Dodge | Charger | Dodge Charger Radiator Cap L4 2.2L (8th Vin Digit E) ACDelco RC27 |
| 1967 | Dodge | Coronet | Dodge Coronet Radiator Cap V8 7.0L with 4 BBL Carburetor (8th Vin Digit J) ACDelco RC27 |
| 1967-1969 | Dodge | Coronet | Dodge Coronet Radiator Cap 383ci with 4 BBL Carburetor (8th Vin Digit H) ACDelco RC27 |
| 1967-1969 | Dodge | Coronet | Dodge Coronet Radiator Cap 383ci (8th Vin Digit G) with 2 BBL Carburetor ACDelco RC27 |
| 1967-1969 | Dodge | Coronet | Dodge Coronet Radiator Cap V8 5.2L (8th Vin Digit F) with 2 BBL Carburetor ACDelco RC27 |
| 1967-1969 | Dodge | Coronet | Dodge Coronet Radiator Cap (8th Vin Digit B) L6 3.7L with 1 BBL Carburetor ACDelco RC27 |
| 1967 | Dodge | Coronet | Dodge Coronet Radiator Cap V8 4.5L ACDelco RC27 |
| 1967 | Dodge | Coronet | Dodge Coronet Radiator Cap V8 7.2L with 4 BBL Carburetor (8th Vin Digit L) ACDelco RC27 |
| 1968-1969 | Dodge | Coronet | Dodge Coronet Radiator Cap V8 7.0L (8th Vin Digit J) ACDelco RC27 |
| 1968 | Dodge | Coronet | Dodge Coronet Radiator Cap V8 4.5L (8th Vin Digit D) ACDelco RC27 |
| 1968-1969 | Dodge | Coronet | Dodge Coronet Radiator Cap (8th Vin Digit L) V8 7.2L ACDelco RC27 |
| 1970 | Dodge | Coronet | Dodge Coronet Radiator Cap V8 7.0L (8th Vin Digit R) ACDelco RC27 |
| 1970-1976 | Dodge | Coronet | Dodge Coronet Radiator Cap V8 5.2L (8th Vin Digit G) with 2 BBL Carburetor ACDelco RC27 |
| 1970-1976 | Dodge | Coronet | Dodge Coronet Radiator Cap (8th Vin Digit C) L6 3.7L with 1 BBL Carburetor ACDelco RC27 |
| 1970 | Dodge | Coronet | Dodge Coronet Radiator Cap V8 7.2L with 4 BBL Carburetor (8th Vin Digit T) ACDelco RC27 |
| 1970 | Dodge | Coronet | Dodge Coronet Radiator Cap (8th Vin Digit L) with 2 BBL Carburetor ACDelco RC27 |
| 1970-1976 | Dodge | Coronet | Dodge Coronet Radiator Cap V8 7.2L with 4 BBL Carburetor (8th Vin Digit U) ACDelco RC27 |
| 1970 | Dodge | Coronet | Dodge Coronet Radiator Cap (8th Vin Digit N) with 4 BBL Carburetor ACDelco RC27 |
| 1971 | Dodge | Coronet | Dodge Coronet Radiator Cap 383ci with 4 BBL Carburetor (8th Vin Digit L) ACDelco RC27 |
| 1971 | Dodge | Coronet | Dodge Coronet Radiator Cap 383ci (8th Vin Digit N) with 2 BBL Carburetor ACDelco RC27 |
| 1972-1976 | Dodge | Coronet | Dodge Coronet Radiator Cap V8 6.6L (8th Vin Digit M) with 2 BBL Carburetor ACDelco RC27 |
| 1972-1976 | Dodge | Coronet | Dodge Coronet Radiator Cap V8 6.6L with 4 BBL Carburetor (8th Vin Digit P) ACDelco RC27 |
| 1972-1973 | Dodge | Coronet | Dodge Coronet Radiator Cap V8 5.6L with 4 BBL Carburetor (8th Vin Digit H) ACDelco RC27 |
| 1973-1976 | Dodge | Coronet | Dodge Coronet Radiator Cap V8 5.9L (8th Vin Digit K) with 2 BBL Carburetor ACDelco RC27 |
| 1973-1976 | Dodge | Coronet | Dodge Coronet Radiator Cap V8 6.6L (8th Vin Digit N) with 4 BBL Carburetor ACDelco RC27 |
| 1974-1976 | Dodge | Coronet | Dodge Coronet Radiator Cap V8 5.9L (8th Vin Digit J) with 4 BBL Carburetor ACDelco RC27 |
| 1975-1976 | Dodge | Coronet | Dodge Coronet Radiator Cap V8 5.9L (8th Vin Digit L) ACDelco RC27 |
| 1975 | Dodge | Coronet | Dodge Coronet Radiator Cap V8 6.6L (8th Vin Digit P) ACDelco RC27 |
| 1974-1977 | Dodge | D100 Truck | Dodge D100 Truck Radiator Cap (8th Vin Digit B) L6 3.7L with 1 BBL Carburetor ACDelco RC27 |
| 1974-1980 | Dodge | D100 Truck | Dodge D100 Truck Radiator Cap V8 5.2L (8th Vin Digit E) with 2 BBL Carburetor ACDelco RC27 |
| 1974-1979 | Dodge | D100 Truck | Dodge D100 Truck Radiator Cap (8th Vin Digit F) V8 5.9L with 2 BBL Carburetor ACDelco RC27 |
| 1974-1980 | Dodge | D100 Truck | Dodge D100 Truck Radiator Cap (8th Vin Digit T) V8 5.9L with 4 BBL Carburetor ACDelco RC27 |
| 1974-1976 | Dodge | D100 Truck | Dodge D100 Truck Radiator Cap V8 6.6L (8th Vin Digit J) with 2 BBL Carburetor ACDelco RC27 |
| 1974-1978 | Dodge | D100 Truck | Dodge D100 Truck Radiator Cap (8th Vin Digit D) V8 7.2L with 4 BBL Carburetor ACDelco RC27 |
| 1977-1979 | Dodge | D100 Truck | Dodge D100 Truck Radiator Cap (8th Vin Digit B) L6 3.7L with 2 BBL Carburetor ACDelco RC27 |
| 1977-1978 | Dodge | D100 Truck | Dodge D100 Truck Radiator Cap V8 6.6L (8th Vin Digit J) ACDelco RC27 |
| 1978-1979 | Dodge | D100 Truck | Dodge D100 Truck Radiator Cap L6 4.0L (8th Vin Digit H) ACDelco RC27 |
| 1979-1980 | Dodge | D100 Truck | Dodge D100 Truck Radiator Cap (8th Vin Digit N) L6 3.7L with 1 BBL Carburetor ACDelco RC27 |
| 1979-1980 | Dodge | D100 Truck | Dodge D100 Truck Radiator Cap V8 5.2L (8th Vin Digit P) with 4 BBL Carburetor ACDelco RC27 |
| 1986-1987 | Dodge | D100 Truck | Dodge D100 Truck Radiator Cap L6 3.7L (8th Vin Digit H) ACDelco RC27 |
| 1986-1987 | Dodge | D100 Truck | Dodge D100 Truck Radiator Cap V8 5.2L (8th Vin Digit T) ACDelco RC27 |
| 1986-1988 | Dodge | D100 Truck | Dodge D100 Truck Radiator Cap (8th Vin Digit W) V8 5.9L ACDelco RC27 |
| 1988-1989 | Dodge | D100 Truck | Dodge D100 Truck Radiator Cap V6 3.9L (8th Vin Digit X) ACDelco RC27 |
| 1988-1989 | Dodge | D100 Truck | Dodge D100 Truck Radiator Cap V8 5.2L (8th Vin Digit Y) ACDelco RC27 |
| 1977-1978 | Dodge | D150 Truck | Dodge D150 Truck Radiator Cap V8 5.2L (8th Vin Digit E) ACDelco RC27 |
| 1977-1978 | Dodge | D150 Truck | Dodge D150 Truck Radiator Cap (8th Vin Digit F) V8 5.9L ACDelco RC27 |
| 1977-1978 | Dodge | D150 Truck | Dodge D150 Truck Radiator Cap V8 6.6L (8th Vin Digit J) ACDelco RC27 |
| 1978 | Dodge | D150 Truck | Dodge D150 Truck Radiator Cap (8th Vin Digit E) L6 3.7L ACDelco RC27 |
| 1978 | Dodge | D150 Truck | Dodge D150 Truck Radiator Cap (8th Vin Digit B) L6 3.7L ACDelco RC27 |
| 1978 | Dodge | D150 Truck | Dodge D150 Truck Radiator Cap (8th Vin Digit D) V8 7.2L ACDelco RC27 |
| 1978-1980 | Dodge | D150 Truck | Dodge D150 Truck Radiator Cap L6 4.0L (8th Vin Digit H) ACDelco RC27 |
| 1979 | Dodge | D150 Truck | Dodge D150 Truck Radiator Cap (8th Vin Digit N) L6 3.7L with 1 BBL Carburetor ACDelco RC27 |
| 1979 | Dodge | D150 Truck | Dodge D150 Truck Radiator Cap (8th Vin Digit B) L6 3.7L with 2 BBL Carburetor ACDelco RC27 |
| 1979 | Dodge | D150 Truck | Dodge D150 Truck Radiator Cap V8 5.2L (8th Vin Digit P) with 4 BBL Carburetor ACDelco RC27 |
| 1979 | Dodge | D150 Truck | Dodge D150 Truck Radiator Cap V8 5.2L (8th Vin Digit E) with 2 BBL Carburetor ACDelco RC27 |
| 1979 | Dodge | D150 Truck | Dodge D150 Truck Radiator Cap (8th Vin Digit F) V8 5.9L with 2 BBL Carburetor ACDelco RC27 |
| 1979-1982 | Dodge | D150 Truck | Dodge D150 Truck Radiator Cap (8th Vin Digit T) V8 5.9L with 4 BBL Carburetor ACDelco RC27 |
| 1979 | Dodge | D150 Truck | Dodge D150 Truck Radiator Cap V8 5.9L with 4 BBL Carburetor (8th Vin Digit S) ACDelco RC27 |
| 1980 | Dodge | D150 Truck | Dodge D150 Truck Radiator Cap V8 5.9L (8th Vin Digit S) ACDelco RC27 |
| 1981-1982 | Dodge | D150 Truck | Dodge D150 Truck Radiator Cap V8 5.2L (8th Vin Digit P) with 2 BBL Carburetor ACDelco RC27 |
| 1981-1982 | Dodge | D150 Truck | Dodge D150 Truck Radiator Cap (8th Vin Digit E) L6 3.7L with 1 BBL Carburetor ACDelco RC27 |
| 1981 | Dodge | D150 Truck | Dodge D150 Truck Radiator Cap V8 5.9L (8th Vin Digit S) with 2 BBL Carburetor ACDelco RC27 |
| 1981-1982 | Dodge | D150 Truck | Dodge D150 Truck Radiator Cap V8 5.2L (8th Vin Digit R) with 4 BBL Carburetor ACDelco RC27 |
| 1982 | Dodge | D150 Truck | Dodge D150 Truck Radiator Cap L6 3.7L (8th Vin Digit W) ACDelco RC27 |
| 1983-1987 | Dodge | D150 Truck | Dodge D150 Truck Radiator Cap L6 3.7L (8th Vin Digit H) with 1 BBL Carburetor ACDelco RC27 |
| 1983 | Dodge | D150 Truck | Dodge D150 Truck Radiator Cap L6 3.7L (8th Vin Digit M) ACDelco RC27 |
| 1983 | Dodge | D150 Truck | Dodge D150 Truck Radiator Cap V8 5.2L with 4 BBL Carburetor (8th Vin Digit U) ACDelco RC27 |
| 1983-1987 | Dodge | D150 Truck | Dodge D150 Truck Radiator Cap V8 5.2L (8th Vin Digit T) with 2 BBL Carburetor ACDelco RC27 |
| 1984-1988 | Dodge | D150 Truck | Dodge D150 Truck Radiator Cap V8 5.9L with 4 BBL Carburetor (8th Vin Digit W) ACDelco RC27 |
| 1987 | Dodge | D150 Truck | Dodge D150 Truck Radiator Cap (8th Vin Digit 1) V8 5.9L ACDelco RC27 |
| 1988-1993 | Dodge | D150 Truck | Dodge D150 Truck Radiator Cap V8 5.2L (8th Vin Digit Y) ACDelco RC27 |
| 1988-1993 | Dodge | D150 Truck | Dodge D150 Truck Radiator Cap V6 3.9L (8th Vin Digit X) ACDelco RC27 |
| 1989-1993 | Dodge | D150 Truck | Dodge D150 Truck Radiator Cap V8 5.9L (8th Vin Digit Z) ACDelco RC27 |
| 1974-1977 | Dodge | D200 Truck | Dodge D200 Truck Radiator Cap (8th Vin Digit B) L6 3.7L with 1 BBL Carburetor ACDelco RC27 |
| 1974-1979 | Dodge | D200 Truck | Dodge D200 Truck Radiator Cap (8th Vin Digit F) V8 5.9L with 2 BBL Carburetor ACDelco RC27 |
| 1974-1980 | Dodge | D200 Truck | Dodge D200 Truck Radiator Cap (8th Vin Digit T) V8 5.9L with 4 BBL Carburetor ACDelco RC27 |
| 1974-1980 | Dodge | D200 Truck | Dodge D200 Truck Radiator Cap V8 5.2L (8th Vin Digit E) with 2 BBL Carburetor ACDelco RC27 |
| 1974-1978 | Dodge | D200 Truck | Dodge D200 Truck Radiator Cap (8th Vin Digit D) V8 7.2L with 4 BBL Carburetor ACDelco RC27 |
| 1974-1976 | Dodge | D200 Truck | Dodge D200 Truck Radiator Cap V8 6.6L (8th Vin Digit J) with 2 BBL Carburetor ACDelco RC27 |
| 1977-1978 | Dodge | D200 Truck | Dodge D200 Truck Radiator Cap V8 6.6L (8th Vin Digit J) ACDelco RC27 |
| 1978-1979 | Dodge | D200 Truck | Dodge D200 Truck Radiator Cap (8th Vin Digit B) L6 3.7L with 2 BBL Carburetor ACDelco RC27 |
| 1978-1980 | Dodge | D200 Truck | Dodge D200 Truck Radiator Cap L6 4.0L (8th Vin Digit H) ACDelco RC27 |
| 1979-1980 | Dodge | D200 Truck | Dodge D200 Truck Radiator Cap V8 5.2L (8th Vin Digit P) with 4 BBL Carburetor ACDelco RC27 |
| 1979-1980 | Dodge | D200 Truck | Dodge D200 Truck Radiator Cap (8th Vin Digit N) L6 3.7L with 1 BBL Carburetor ACDelco RC27 |
| 1979-1980 | Dodge | D200 Truck | Dodge D200 Truck Radiator Cap V8 5.9L with 4 BBL Carburetor (8th Vin Digit S) ACDelco RC27 |
| 1981-1982 | Dodge | D250 Truck | Dodge D250 Truck Radiator Cap V8 5.2L (8th Vin Digit P) with 2 BBL Carburetor ACDelco RC27 |
| 1981-1982 | Dodge | D250 Truck | Dodge D250 Truck Radiator Cap (8th Vin Digit E) L6 3.7L with 1 BBL Carburetor ACDelco RC27 |
| 1981-1982 | Dodge | D250 Truck | Dodge D250 Truck Radiator Cap V8 5.2L (8th Vin Digit R) with 4 BBL Carburetor ACDelco RC27 |
| 1981-1982 | Dodge | D250 Truck | Dodge D250 Truck Radiator Cap (8th Vin Digit T) V8 5.9L with 4 BBL Carburetor ACDelco RC27 |
| 1981 | Dodge | D250 Truck | Dodge D250 Truck Radiator Cap V8 5.9L (8th Vin Digit S) with 2 BBL Carburetor ACDelco RC27 |
| 1982 | Dodge | D250 Truck | Dodge D250 Truck Radiator Cap V8 5.9L with 4 BBL Carburetor (8th Vin Digit U) ACDelco RC27 |
| 1983-1987 | Dodge | D250 Truck | Dodge D250 Truck Radiator Cap L6 3.7L (8th Vin Digit H) with 1 BBL Carburetor ACDelco RC27 |
| 1983-1987 | Dodge | D250 Truck | Dodge D250 Truck Radiator Cap V8 5.2L (8th Vin Digit T) with 2 BBL Carburetor ACDelco RC27 |
| 1983 | Dodge | D250 Truck | Dodge D250 Truck Radiator Cap V8 5.2L with 4 BBL Carburetor (8th Vin Digit U) ACDelco RC27 |
| 1984-1988 | Dodge | D250 Truck | Dodge D250 Truck Radiator Cap V8 5.9L with 4 BBL Carburetor (8th Vin Digit W) ACDelco RC27 |
| 1986 | Dodge | D250 Truck | Dodge D250 Truck Radiator Cap (8th Vin Digit 1) V8 5.9L ACDelco RC27 |
| 1987-1993 | Dodge | D250 Truck | Dodge D250 Truck Radiator Cap V8 5.9L (8th Vin Digit 5) ACDelco RC27 |
| 1988-1993 | Dodge | D250 Truck | Dodge D250 Truck Radiator Cap V6 3.9L (8th Vin Digit X) ACDelco RC27 |
| 1988-1993 | Dodge | D250 Truck | Dodge D250 Truck Radiator Cap V8 5.2L (8th Vin Digit Y) ACDelco RC27 |
| 1988 | Dodge | D250 Truck | Dodge D250 Truck Radiator Cap V8 5.9L with 4 BBL Carburetor (8th Vin Digit 1) ACDelco RC27 |
| 1989-1993 | Dodge | D250 Truck | Dodge D250 Truck Radiator Cap V8 5.9L (8th Vin Digit Z) ACDelco RC27 |
| 1989-1991 | Dodge | D250 Truck | Dodge D250 Truck Radiator Cap L6 5.9L (8th Vin Digit 8) ACDelco RC27 |
| 1991-1993 | Dodge | D250 Truck | Dodge D250 Truck Radiator Cap L6 5.9L (8th Vin Digit C) ACDelco RC27 |
| 1974-1980 | Dodge | D300 Truck | Dodge D300 Truck Radiator Cap V8 5.2L (8th Vin Digit E) with 2 BBL Carburetor ACDelco RC27 |
| 1974-1977 | Dodge | D300 Truck | Dodge D300 Truck Radiator Cap (8th Vin Digit B) L6 3.7L with 1 BBL Carburetor ACDelco RC27 |
| 1974-1976 | Dodge | D300 Truck | Dodge D300 Truck Radiator Cap V8 6.6L (8th Vin Digit J) with 2 BBL Carburetor ACDelco RC27 |
| 1974-1978 | Dodge | D300 Truck | Dodge D300 Truck Radiator Cap (8th Vin Digit D) V8 7.2L with 4 BBL Carburetor ACDelco RC27 |
| 1974-1979 | Dodge | D300 Truck | Dodge D300 Truck Radiator Cap (8th Vin Digit F) V8 5.9L with 2 BBL Carburetor ACDelco RC27 |
| 1977 | Dodge | D300 Truck | Dodge D300 Truck Radiator Cap L6 3.7L (8th Vin Digit C) ACDelco RC27 |
| 1977-1978 | Dodge | D300 Truck | Dodge D300 Truck Radiator Cap V8 6.6L (8th Vin Digit J) ACDelco RC27 |
| 1978 | Dodge | D300 Truck | Dodge D300 Truck Radiator Cap (8th Vin Digit B) L6 3.7L with 2 BBL Carburetor ACDelco RC27 |
| 1979-1980 | Dodge | D300 Truck | Dodge D300 Truck Radiator Cap (8th Vin Digit T) V8 5.9L with 4 BBL Carburetor ACDelco RC27 |
| 1980 | Dodge | D300 Truck | Dodge D300 Truck Radiator Cap V8 5.9L with 4 BBL Carburetor (8th Vin Digit S) ACDelco RC27 |
| 1980 | Dodge | D300 Truck | Dodge D300 Truck Radiator Cap V8 5.2L (8th Vin Digit P) with 4 BBL Carburetor ACDelco RC27 |
| 1981-1982 | Dodge | D350 Truck | Dodge D350 Truck Radiator Cap (8th Vin Digit T) V8 5.9L with 4 BBL Carburetor ACDelco RC27 |
| 1981-1982 | Dodge | D350 Truck | Dodge D350 Truck Radiator Cap V8 5.2L (8th Vin Digit R) with 4 BBL Carburetor ACDelco RC27 |
| 1982 | Dodge | D350 Truck | Dodge D350 Truck Radiator Cap V8 5.2L (8th Vin Digit P) with 2 BBL Carburetor ACDelco RC27 |
| 1983 | Dodge | D350 Truck | Dodge D350 Truck Radiator Cap V8 5.2L with 4 BBL Carburetor (8th Vin Digit U) ACDelco RC27 |
| 1983-1987 | Dodge | D350 Truck | Dodge D350 Truck Radiator Cap (8th Vin Digit 1) V8 5.9L ACDelco RC27 |
| 1983-1987 | Dodge | D350 Truck | Dodge D350 Truck Radiator Cap V8 5.9L with 4 BBL Carburetor (8th Vin Digit W) ACDelco RC27 |
| 1985 | Dodge | D350 Truck | Dodge D350 Truck Radiator Cap V8 5.9L with 4 BBL Carburetor (8th Vin Digit 1) ACDelco RC27 |
| 1987-1993 | Dodge | D350 Truck | Dodge D350 Truck Radiator Cap V8 5.9L (8th Vin Digit 5) ACDelco RC27 |
| 1988 | Dodge | D350 Truck | Dodge D350 Truck Radiator Cap V8 5.9L with 4 BBL Carburetor (8th Vin Digit 1) ACDelco RC27 |
| 1988 | Dodge | D350 Truck | Dodge D350 Truck Radiator Cap V8 5.9L with 4 BBL Carburetor (8th Vin Digit 5) ACDelco RC27 |
| 1989-1993 | Dodge | D350 Truck | Dodge D350 Truck Radiator Cap V8 5.9L (8th Vin Digit Z) ACDelco RC27 |
| 1989-1991 | Dodge | D350 Truck | Dodge D350 Truck Radiator Cap L6 5.9L (8th Vin Digit 8) ACDelco RC27 |
| 1991-1993 | Dodge | D350 Truck | Dodge D350 Truck Radiator Cap L6 5.9L (8th Vin Digit C) ACDelco RC27 |
| 1979-1981 | Dodge | D400 Truck | Dodge D400 Truck Radiator Cap V8 5.9L (8th Vin Digit T) ACDelco RC27 |
| 1979-1981 | Dodge | D450 Truck | Dodge D450 Truck Radiator Cap V8 5.9L (8th Vin Digit T) ACDelco RC27 |
| 1987 | Dodge | Dakota | Dodge Dakota Radiator Cap V6 3.9L (8th Vin Digit M) with 2 BBL Carburetor ACDelco RC27 |
| 1987-1988 | Dodge | Dakota | Dodge Dakota Radiator Cap L4 2.2L (8th Vin Digit C) with 2 BBL Carburetor ACDelco RC27 |
| 1988-1999 | Dodge | Dakota | Dodge Dakota Radiator Cap V6 3.9L (8th Vin Digit X) ACDelco RC27 |
| 1989-1995 | Dodge | Dakota | Dodge Dakota Radiator Cap L4 2.5L (8th Vin Digit G) ACDelco RC27 |
| 1989-1999 | Dodge | Dakota | Dodge Dakota Radiator Cap V8 5.2L (8th Vin Digit Y) ACDelco RC27 |
| 1995-1996 | Dodge | Dakota | Dodge Dakota Radiator Cap V8 5.2L (8th Vin Digit T) ACDelco RC27 |
| 1996-1998 | Dodge | Dakota | Dodge Dakota Radiator Cap L4 2.5L (8th Vin Digit P) ACDelco RC27 |
| 1998-1999 | Dodge | Dakota | Dodge Dakota Radiator Cap V8 5.9L (8th Vin Digit Z) ACDelco RC27 |
| 1999 | Dodge | Dakota | Dodge Dakota Radiator Cap L4 2.5L (8th Vin Digit P) ACDelco RC27 |
| 1967-1969 | Dodge | Dart | Dodge Dart Radiator Cap (8th Vin Digit B) L6 3.7L with 1 BBL Carburetor ACDelco RC27 |
| 1967-1969 | Dodge | Dart | Dodge Dart Radiator Cap V8 4.5L (8th Vin Digit D) with 2 BBL Carburetor ACDelco RC27 |
| 1967-1969 | Dodge | Dart | Dodge Dart Radiator Cap L6 2.8L (8th Vin Digit A) with 1 BBL Carburetor ACDelco RC27 |
| 1967 | Dodge | Dart | Dodge Dart Radiator Cap V8 6.3L ACDelco RC27 |
| 1968 | Dodge | Dart | Dodge Dart Radiator Cap 383ci (8th Vin Digit G) ACDelco RC27 |
| 1968-1969 | Dodge | Dart | Dodge Dart Radiator Cap 383ci with 4 BBL Carburetor (8th Vin Digit H) ACDelco RC27 |
| 1968-1969 | Dodge | Dart | Dodge Dart Radiator Cap V8 5.2L (8th Vin Digit F) with 2 BBL Carburetor ACDelco RC27 |
| 1968-1969 | Dodge | Dart | Dodge Dart Radiator Cap V8 5.6L with 4 BBL Carburetor (8th Vin Digit P) ACDelco RC27 |
| 1970-1973 | Dodge | Dart | Dodge Dart Radiator Cap V8 5.6L with 4 BBL Carburetor (8th Vin Digit H) ACDelco RC27 |
| 1970-1974 | Dodge | Dart | Dodge Dart Radiator Cap L6 3.2L (8th Vin Digit B) with 1 BBL Carburetor ACDelco RC27 |
| 1970-1976 | Dodge | Dart | Dodge Dart Radiator Cap V8 5.2L (8th Vin Digit G) with 2 BBL Carburetor ACDelco RC27 |
| 1970-1976 | Dodge | Dart | Dodge Dart Radiator Cap (8th Vin Digit C) L6 3.7L with 1 BBL Carburetor ACDelco RC27 |
| 1974-1976 | Dodge | Dart | Dodge Dart Radiator Cap V8 5.9L (8th Vin Digit L) ACDelco RC27 |
| 1984-1986 | Dodge | Daytona | Dodge Daytona Radiator Cap L4 2.2L (8th Vin Digit D) ACDelco RC27 |
| 1984-1988 | Dodge | Daytona | Dodge Daytona Radiator Cap L4 2.2L (8th Vin Digit E) ACDelco RC27 |
| 1986-1993 | Dodge | Daytona | Dodge Daytona Radiator Cap L4 2.5L (8th Vin Digit K) ACDelco RC27 |
| 1987-1993 | Dodge | Daytona | Dodge Daytona Radiator Cap (8th Vin Digit A) L4 2.2L ACDelco RC27 |
| 1989-1992 | Dodge | Daytona | Dodge Daytona Radiator Cap L4 2.5L (8th Vin Digit J) ACDelco RC27 |
| 1990 | Dodge | Daytona | Dodge Daytona Radiator Cap L4 2.2L (8th Vin Digit C) ACDelco RC27 |
| 1990-1993 | Dodge | Daytona | Dodge Daytona Radiator Cap V6 3.0L (8th Vin Digit 3) ACDelco RC27 |
| 1977-1980 | Dodge | Diplomat | Dodge Diplomat Radiator Cap V8 5.2L (8th Vin Digit G) with 2 BBL Carburetor ACDelco RC27 |
| 1978-1980 | Dodge | Diplomat | Dodge Diplomat Radiator Cap (8th Vin Digit D) L6 3.7L with 2 BBL Carburetor ACDelco RC27 |
| 1978-1980 | Dodge | Diplomat | Dodge Diplomat Radiator Cap (8th Vin Digit C) L6 3.7L with 1 BBL Carburetor ACDelco RC27 |
| 1978-1979 | Dodge | Diplomat | Dodge Diplomat Radiator Cap V8 5.9L (8th Vin Digit J) with 4 BBL Carburetor ACDelco RC27 |
| 1978-1979 | Dodge | Diplomat | Dodge Diplomat Radiator Cap V8 5.9L (8th Vin Digit K) with 2 BBL Carburetor ACDelco RC27 |
| 1978-1979 | Dodge | Diplomat | Dodge Diplomat Radiator Cap V8 5.9L (8th Vin Digit L) with 4 BBL Carburetor ACDelco RC27 |
| 1978-1980 | Dodge | Diplomat | Dodge Diplomat Radiator Cap V8 5.2L (8th Vin Digit H) with 4 BBL Carburetor ACDelco RC27 |
| 1981 | Dodge | Diplomat | Dodge Diplomat Radiator Cap (8th Vin Digit G) L6 3.7L ACDelco RC27 |
| 1981-1982 | Dodge | Diplomat | Dodge Diplomat Radiator Cap (8th Vin Digit E) L6 3.7L with 1 BBL Carburetor ACDelco RC27 |
| 1981-1982 | Dodge | Diplomat | Dodge Diplomat Radiator Cap L6 3.7L (8th Vin Digit F) with 1 BBL Carburetor ACDelco RC27 |
| 1981-1982 | Dodge | Diplomat | Dodge Diplomat Radiator Cap V8 5.2L (8th Vin Digit K) with 2 BBL Carburetor ACDelco RC27 |
| 1981-1982 | Dodge | Diplomat | Dodge Diplomat Radiator Cap V8 5.2L with 4 BBL Carburetor (8th Vin Digit M) ACDelco RC27 |
| 1981-1982 | Dodge | Diplomat | Dodge Diplomat Radiator Cap V8 5.2L (8th Vin Digit L) with 2 BBL Carburetor ACDelco RC27 |
| 1981-1982 | Dodge | Diplomat | Dodge Diplomat Radiator Cap V8 5.2L (8th Vin Digit N) with 4 BBL Carburetor ACDelco RC27 |
| 1983 | Dodge | Diplomat | Dodge Diplomat Radiator Cap L6 3.7L (8th Vin Digit K) ACDelco RC27 |
| 1983 | Dodge | Diplomat | Dodge Diplomat Radiator Cap L6 3.7L (8th Vin Digit H) with 1 BBL Carburetor ACDelco RC27 |
| 1983-1989 | Dodge | Diplomat | Dodge Diplomat Radiator Cap V8 5.2L (8th Vin Digit P) with 2 BBL Carburetor ACDelco RC27 |
| 1983 | Dodge | Diplomat | Dodge Diplomat Radiator Cap V8 5.2L (8th Vin Digit Z) ACDelco RC27 |
| 1983 | Dodge | Diplomat | Dodge Diplomat Radiator Cap L6 3.7L (8th Vin Digit J) ACDelco RC27 |
| 1983-1985 | Dodge | Diplomat | Dodge Diplomat Radiator Cap V8 5.2L (8th Vin Digit R) with 4 BBL Carburetor ACDelco RC27 |
| 1983-1988 | Dodge | Diplomat | Dodge Diplomat Radiator Cap V8 5.2L (8th Vin Digit 4) ACDelco RC27 |
| 1983-1989 | Dodge | Diplomat | Dodge Diplomat Radiator Cap V8 5.2L with 4 BBL Carburetor (8th Vin Digit S) ACDelco RC27 |
| 1984 | Dodge | Diplomat | Dodge Diplomat Radiator Cap V8 5.2L (8th Vin Digit 4) with 4 BBL Carburetor ACDelco RC27 |
| 1985-1989 | Dodge | Diplomat | Dodge Diplomat Radiator Cap V8 5.2L (8th Vin Digit 4) with 2 BBL Carburetor ACDelco RC27 |
| 1988-1993 | Dodge | Dynasty | Dodge Dynasty Radiator Cap V6 3.0L (8th Vin Digit 3) ACDelco RC27 |
| 1988-1993 | Dodge | Dynasty | Dodge Dynasty Radiator Cap L4 2.5L (8th Vin Digit K) ACDelco RC27 |
| 1990-1993 | Dodge | Dynasty | Dodge Dynasty Radiator Cap V6 3.3L (8th Vin Digit R) ACDelco RC27 |
| 1988-1998 | Dodge | Grand Caravan | Dodge Grand Caravan Radiator Cap V6 3.0L (8th Vin Digit 3) ACDelco RC27 |
| 1988 | Dodge | Grand Caravan | Dodge Grand Caravan Radiator Cap L4 2.5L (8th Vin Digit K) ACDelco RC27 |
| 1990-1999 | Dodge | Grand Caravan | Dodge Grand Caravan Radiator Cap V6 3.3L (8th Vin Digit R) ACDelco RC27 |
| 1994-1999 | Dodge | Grand Caravan | Dodge Grand Caravan Radiator Cap V6 3.8L (8th Vin Digit L) ACDelco RC27 |
| 1995-1999 | Dodge | Grand Caravan | Dodge Grand Caravan Radiator Cap V6 3.0L (8th Vin Digit 3) ACDelco RC27 |
| 1996-1997 | Dodge | Grand Caravan | Dodge Grand Caravan Radiator Cap L4 2.4L (8th Vin Digit B) ACDelco RC27 |
| 1996 | Dodge | Grand Caravan | Dodge Grand Caravan Radiator Cap V6 3.3L (8th Vin Digit J) ACDelco RC27 |
| 1998-1999 | Dodge | Grand Caravan | Dodge Grand Caravan Radiator Cap V6 3.3L (8th Vin Digit G) ACDelco RC27 |
| 1985-1988 | Dodge | Lancer | Dodge Lancer Radiator Cap L4 2.2L (8th Vin Digit E) ACDelco RC27 |
| 1985-1989 | Dodge | Lancer | Dodge Lancer Radiator Cap L4 2.2L (8th Vin Digit D) ACDelco RC27 |
| 1986-1989 | Dodge | Lancer | Dodge Lancer Radiator Cap L4 2.5L (8th Vin Digit K) ACDelco RC27 |
| 1988-1989 | Dodge | Lancer | Dodge Lancer Radiator Cap (8th Vin Digit A) L4 2.2L ACDelco RC27 |
| 1989 | Dodge | Lancer | Dodge Lancer Radiator Cap L4 2.5L (8th Vin Digit J) ACDelco RC27 |
| 1978-1979 | Dodge | Magnum | Dodge Magnum Radiator Cap V8 5.9L (8th Vin Digit J) with 4 BBL Carburetor ACDelco RC27 |
| 1978-1979 | Dodge | Magnum | Dodge Magnum Radiator Cap V8 5.2L (8th Vin Digit H) with 4 BBL Carburetor ACDelco RC27 |
| 1978-1979 | Dodge | Magnum | Dodge Magnum Radiator Cap V8 5.9L (8th Vin Digit L) with 4 BBL Carburetor ACDelco RC27 |
| 1978-1979 | Dodge | Magnum | Dodge Magnum Radiator Cap V8 5.9L (8th Vin Digit K) with 2 BBL Carburetor ACDelco RC27 |
| 1978-1979 | Dodge | Magnum | Dodge Magnum Radiator Cap V8 5.2L (8th Vin Digit G) with 2 BBL Carburetor ACDelco RC27 |
| 1978 | Dodge | Magnum | Dodge Magnum Radiator Cap V8 6.6L with 4 BBL Carburetor (8th Vin Digit P) ACDelco RC27 |
| 1978 | Dodge | Magnum | Dodge Magnum Radiator Cap V8 6.6L (8th Vin Digit N) with 4 BBL Carburetor ACDelco RC27 |
| 1984-1985 | Dodge | Mini Ram | Dodge Mini Ram Radiator Cap L4 2.2L (8th Vin Digit C) ACDelco RC27 |
| 1984-1985 | Dodge | Mini Ram | Dodge Mini Ram Radiator Cap L4 2.6L (8th Vin Digit G) ACDelco RC27 |
| 1986-1987 | Dodge | Mini Ram | Dodge Mini Ram Radiator Cap L4 2.6L (8th Vin Digit G) with 2 BBL Carburetor ACDelco RC27 |
| 1986-1987 | Dodge | Mini Ram | Dodge Mini Ram Radiator Cap L4 2.2L (8th Vin Digit C) with 2 BBL Carburetor ACDelco RC27 |
| 1987-1988 | Dodge | Mini Ram | Dodge Mini Ram Radiator Cap V6 3.0L (8th Vin Digit 3) ACDelco RC27 |
| 1987-1988 | Dodge | Mini Ram | Dodge Mini Ram Radiator Cap L4 2.5L (8th Vin Digit K) ACDelco RC27 |
| 1980 | Dodge | Mirada | Dodge Mirada Radiator Cap (8th Vin Digit D) L6 3.7L with 2 BBL Carburetor ACDelco RC27 |
| 1980 | Dodge | Mirada | Dodge Mirada Radiator Cap (8th Vin Digit C) L6 3.7L with 1 BBL Carburetor ACDelco RC27 |
| 1980 | Dodge | Mirada | Dodge Mirada Radiator Cap V8 5.2L (8th Vin Digit G) with 2 BBL Carburetor ACDelco RC27 |
| 1980 | Dodge | Mirada | Dodge Mirada Radiator Cap V8 5.2L (8th Vin Digit H) with 4 BBL Carburetor ACDelco RC27 |
| 1980 | Dodge | Mirada | Dodge Mirada Radiator Cap V8 5.9L (8th Vin Digit L) with 4 BBL Carburetor ACDelco RC27 |
| 1981-1982 | Dodge | Mirada | Dodge Mirada Radiator Cap (8th Vin Digit E) L6 3.7L with 1 BBL Carburetor ACDelco RC27 |
| 1981-1982 | Dodge | Mirada | Dodge Mirada Radiator Cap V8 5.2L (8th Vin Digit K) with 2 BBL Carburetor ACDelco RC27 |
| 1981-1982 | Dodge | Mirada | Dodge Mirada Radiator Cap V8 5.2L with 4 BBL Carburetor (8th Vin Digit M) ACDelco RC27 |
| 1981 | Dodge | Mirada | Dodge Mirada Radiator Cap (8th Vin Digit G) L6 3.7L ACDelco RC27 |
| 1983 | Dodge | Mirada | Dodge Mirada Radiator Cap V8 5.2L (8th Vin Digit P) with 2 BBL Carburetor ACDelco RC27 |
| 1983 | Dodge | Mirada | Dodge Mirada Radiator Cap L6 3.7L (8th Vin Digit H) with 1 BBL Carburetor ACDelco RC27 |
| 1983 | Dodge | Mirada | Dodge Mirada Radiator Cap L6 3.7L (8th Vin Digit K) ACDelco RC27 |
| 1967-1969 | Dodge | Monaco | Dodge Monaco Radiator Cap 383ci (8th Vin Digit G) with 2 BBL Carburetor ACDelco RC27 |
| 1967-1969 | Dodge | Monaco | Dodge Monaco Radiator Cap V8 7.2L with 4 BBL Carburetor (8th Vin Digit K) ACDelco RC27 |
| 1967-1969 | Dodge | Monaco | Dodge Monaco Radiator Cap 383ci with 4 BBL Carburetor (8th Vin Digit H) ACDelco RC27 |
| 1968-1969 | Dodge | Monaco | Dodge Monaco Radiator Cap V8 5.2L (8th Vin Digit F) ACDelco RC27 |
| 1968 | Dodge | Monaco | Dodge Monaco Radiator Cap V8 7.2L with 4 BBL Carburetor (8th Vin Digit L) ACDelco RC27 |
| 1970-1977 | Dodge | Monaco | Dodge Monaco Radiator Cap V8 7.2L with 4 BBL Carburetor (8th Vin Digit T) ACDelco RC27 |
| 1970-1977 | Dodge | Monaco | Dodge Monaco Radiator Cap V8 5.2L (8th Vin Digit G) ACDelco RC27 |
| 1970-1971 | Dodge | Monaco | Dodge Monaco Radiator Cap (8th Vin Digit N) with 4 BBL Carburetor ACDelco RC27 |
| 1970-1971 | Dodge | Monaco | Dodge Monaco Radiator Cap (8th Vin Digit L) with 2 BBL Carburetor ACDelco RC27 |
| 1971-1977 | Dodge | Monaco | Dodge Monaco Radiator Cap V8 5.9L (8th Vin Digit K) with 2 BBL Carburetor ACDelco RC27 |
| 1972-1978 | Dodge | Monaco | Dodge Monaco Radiator Cap V8 6.6L with 4 BBL Carburetor (8th Vin Digit P) ACDelco RC27 |
| 1972-1976 | Dodge | Monaco | Dodge Monaco Radiator Cap V8 6.6L (8th Vin Digit M) with 2 BBL Carburetor ACDelco RC27 |
| 1974-1977 | Dodge | Monaco | Dodge Monaco Radiator Cap V8 6.6L (8th Vin Digit P) ACDelco RC27 |
| 1974-1978 | Dodge | Monaco | Dodge Monaco Radiator Cap V8 6.6L (8th Vin Digit N) with 4 BBL Carburetor ACDelco RC27 |
| 1974-1978 | Dodge | Monaco | Dodge Monaco Radiator Cap V8 5.9L (8th Vin Digit J) with 4 BBL Carburetor ACDelco RC27 |
| 1974-1978 | Dodge | Monaco | Dodge Monaco Radiator Cap V8 7.2L with 4 BBL Carburetor (8th Vin Digit U) ACDelco RC27 |
| 1975-1978 | Dodge | Monaco | Dodge Monaco Radiator Cap V8 5.2L (8th Vin Digit G) with 2 BBL Carburetor ACDelco RC27 |
| 1975-1977 | Dodge | Monaco | Dodge Monaco Radiator Cap V8 6.6L (8th Vin Digit N) ACDelco RC27 |
| 1975-1976 | Dodge | Monaco | Dodge Monaco Radiator Cap V8 7.2L (8th Vin Digit T) ACDelco RC27 |
| 1975-1976 | Dodge | Monaco | Dodge Monaco Radiator Cap V8 6.6L (8th Vin Digit M) ACDelco RC27 |
| 1975 | Dodge | Monaco | Dodge Monaco Radiator Cap V8 5.9L (8th Vin Digit L) ACDelco RC27 |
| 1975-1977 | Dodge | Monaco | Dodge Monaco Radiator Cap V8 7.2L (8th Vin Digit U) ACDelco RC27 |
| 1975-1978 | Dodge | Monaco | Dodge Monaco Radiator Cap V8 5.9L (8th Vin Digit K) ACDelco RC27 |
| 1975-1977 | Dodge | Monaco | Dodge Monaco Radiator Cap (8th Vin Digit J) V8 5.9L ACDelco RC27 |
| 1977-1978 | Dodge | Monaco | Dodge Monaco Radiator Cap (8th Vin Digit D) L6 3.7L with 2 BBL Carburetor ACDelco RC27 |
| 1977-1978 | Dodge | Monaco | Dodge Monaco Radiator Cap (8th Vin Digit C) L6 3.7L with 1 BBL Carburetor ACDelco RC27 |
| 1977-1978 | Dodge | Monaco | Dodge Monaco Radiator Cap V8 5.9L (8th Vin Digit L) with 4 BBL Carburetor ACDelco RC27 |
| 1978 | Dodge | Monaco | Dodge Monaco Radiator Cap V8 5.2L (8th Vin Digit H) with 4 BBL Carburetor ACDelco RC27 |
| 1995-1996 | Dodge | Neon | Dodge Neon Radiator Cap L4 2.0L (8th Vin Digit C) ACDelco RC27 |
| 1995-1996 | Dodge | Neon | Dodge Neon Radiator Cap L4 2.0L (8th Vin Digit Y) ACDelco RC27 |
| 1978-1981 | Dodge | Omni | Dodge Omni Radiator Cap L4 1.7L (8th Vin Digit A) with 2 BBL Carburetor ACDelco RC27 |
| 1981-1982 | Dodge | Omni | Dodge Omni Radiator Cap L4 2.2L (8th Vin Digit B) with 2 BBL Carburetor ACDelco RC27 |
| 1982 | Dodge | Omni | Dodge Omni Radiator Cap (8th Vin Digit A) L4 1.7L with 2 BBL Carburetor ACDelco RC27 |
| 1983-1986 | Dodge | Omni | Dodge Omni Radiator Cap L4 1.6L (8th Vin Digit A) with 2 BBL Carburetor ACDelco RC27 |
| 1983-1987 | Dodge | Omni | Dodge Omni Radiator Cap L4 2.2L (8th Vin Digit C) with 2 BBL Carburetor ACDelco RC27 |
| 1983 | Dodge | Omni | Dodge Omni Radiator Cap L4 1.7L (8th Vin Digit B) with 2 BBL Carburetor ACDelco RC27 |
| 1984 | Dodge | Omni | Dodge Omni Radiator Cap L4 2.2L (8th Vin Digit 8) ACDelco RC27 |
| 1985-1987 | Dodge | Omni | Dodge Omni Radiator Cap L4 2.2L (8th Vin Digit 8) with 2 BBL Carburetor ACDelco RC27 |
| 1985-1986 | Dodge | Omni | Dodge Omni Radiator Cap L4 2.2L (8th Vin Digit E) ACDelco RC27 |
| 1988-1990 | Dodge | Omni | Dodge Omni Radiator Cap L4 2.2L (8th Vin Digit D) ACDelco RC27 |
| 1967 | Dodge | Polara | Dodge Polara Radiator Cap V8 7.0L ACDelco RC27 |
| 1967 | Dodge | Polara | Dodge Polara Radiator Cap V8 5.2L ACDelco RC27 |
| 1967 | Dodge | Polara | Dodge Polara Radiator Cap V8 4.5L ACDelco RC27 |
| 1967-1969 | Dodge | Polara | Dodge Polara Radiator Cap V8 7.2L with 4 BBL Carburetor (8th Vin Digit K) ACDelco RC27 |
| 1967-1969 | Dodge | Polara | Dodge Polara Radiator Cap 383ci (8th Vin Digit G) with 2 BBL Carburetor ACDelco RC27 |
| 1968 | Dodge | Polara | Dodge Polara Radiator Cap V8 7.2L with 4 BBL Carburetor (8th Vin Digit L) ACDelco RC27 |
| 1968-1969 | Dodge | Polara | Dodge Polara Radiator Cap V8 5.2L (8th Vin Digit F) with 2 BBL Carburetor ACDelco RC27 |
| 1968-1969 | Dodge | Polara | Dodge Polara Radiator Cap 383ci with 4 BBL Carburetor (8th Vin Digit H) ACDelco RC27 |
| 1970-1973 | Dodge | Polara | Dodge Polara Radiator Cap V8 5.2L (8th Vin Digit G) with 2 BBL Carburetor ACDelco RC27 |
| 1970-1971 | Dodge | Polara | Dodge Polara Radiator Cap (8th Vin Digit L) with 2 BBL Carburetor ACDelco RC27 |
| 1970-1973 | Dodge | Polara | Dodge Polara Radiator Cap V8 7.2L with 4 BBL Carburetor (8th Vin Digit T) ACDelco RC27 |
| 1970-1971 | Dodge | Polara | Dodge Polara Radiator Cap (8th Vin Digit N) with 4 BBL Carburetor ACDelco RC27 |
| 1970-1971 | Dodge | Polara | Dodge Polara Radiator Cap (8th Vin Digit C) L6 3.7L ACDelco RC27 |
| 1971-1973 | Dodge | Polara | Dodge Polara Radiator Cap V8 5.9L (8th Vin Digit K) with 2 BBL Carburetor ACDelco RC27 |
| 1972-1973 | Dodge | Polara | Dodge Polara Radiator Cap V8 6.6L with 4 BBL Carburetor (8th Vin Digit P) ACDelco RC27 |
| 1972-1973 | Dodge | Polara | Dodge Polara Radiator Cap V8 6.6L (8th Vin Digit M) with 2 BBL Carburetor ACDelco RC27 |
| 1999 | Dodge | Ram 1500 Van | Dodge Ram 1500 Van Radiator Cap V8 5.9L (8th Vin Digit Z) ACDelco RC27 |
| 1999 | Dodge | Ram 1500 Van | Dodge Ram 1500 Van Radiator Cap V8 5.2L (8th Vin Digit Y) ACDelco RC27 |
| 1999 | Dodge | Ram 1500 Van | Dodge Ram 1500 Van Radiator Cap V6 3.9L (8th Vin Digit X) ACDelco RC27 |
| 1983 | Dodge | Ram 50 Truck | Dodge Ram 50 Truck Radiator Cap L4 2.3L (8th Vin Digit 9) ACDelco RC27 |
| 1983 | Dodge | Ram 50 Truck | Dodge Ram 50 Truck Radiator Cap L4 2.6L with 2 BBL Carburetor (8th Vin Digit 7) ACDelco RC27 |
| 1983 | Dodge | Ram 50 Truck | Dodge Ram 50 Truck Radiator Cap L4 2.0L with 2 BBL Carburetor (8th Vin Digit 5) ACDelco RC27 |
| 1984-1985 | Dodge | Ram 50 Truck | Dodge Ram 50 Truck Radiator Cap L4 2.3L (8th Vin Digit J) ACDelco RC27 |
| 1984-1989 | Dodge | Ram 50 Truck | Dodge Ram 50 Truck Radiator Cap L4 2.0L (8th Vin Digit D) with 2 BBL Carburetor ACDelco RC27 |
| 1984-1989 | Dodge | Ram 50 Truck | Dodge Ram 50 Truck Radiator Cap L4 2.6L (8th Vin Digit E) with 2 BBL Carburetor ACDelco RC27 |
| 1990-1991 | Dodge | Ram 50 Truck | Dodge Ram 50 Truck Radiator Cap L4 2.4L (8th Vin Digit W) ACDelco RC27 |
| 1990-1991 | Dodge | Ram 50 Truck | Dodge Ram 50 Truck Radiator Cap V6 3.0L (8th Vin Digit S) ACDelco RC27 |
| 1974-1980 | Dodge | Ramcharger | Dodge Ramcharger Radiator Cap V8 5.2L (8th Vin Digit E) with 2 BBL Carburetor ACDelco RC27 |
| 1974-1979 | Dodge | Ramcharger | Dodge Ramcharger Radiator Cap (8th Vin Digit F) V8 5.9L with 2 BBL Carburetor ACDelco RC27 |
| 1974-1978 | Dodge | Ramcharger | Dodge Ramcharger Radiator Cap (8th Vin Digit D) V8 7.2L with 4 BBL Carburetor ACDelco RC27 |
| 1974-1978 | Dodge | Ramcharger | Dodge Ramcharger Radiator Cap (8th Vin Digit B) L6 3.7L with 1 BBL Carburetor ACDelco RC27 |
| 1974 | Dodge | Ramcharger | Dodge Ramcharger Radiator Cap V8 5.9L (8th Vin Digit T) ACDelco RC27 |
| 1976-1978 | Dodge | Ramcharger | Dodge Ramcharger Radiator Cap V8 6.6L (8th Vin Digit J) with 2 BBL Carburetor ACDelco RC27 |
| 1979 | Dodge | Ramcharger | Dodge Ramcharger Radiator Cap V8 5.2L (8th Vin Digit P) with 4 BBL Carburetor ACDelco RC27 |
| 1979-1981 | Dodge | Ramcharger | Dodge Ramcharger Radiator Cap (8th Vin Digit T) V8 5.9L with 4 BBL Carburetor ACDelco RC27 |
| 1979-1980 | Dodge | Ramcharger | Dodge Ramcharger Radiator Cap (8th Vin Digit N) L6 3.7L with 1 BBL Carburetor ACDelco RC27 |
| 1981-1982 | Dodge | Ramcharger | Dodge Ramcharger Radiator Cap V8 5.2L (8th Vin Digit R) with 4 BBL Carburetor ACDelco RC27 |
| 1981-1982 | Dodge | Ramcharger | Dodge Ramcharger Radiator Cap V8 5.2L (8th Vin Digit P) with 2 BBL Carburetor ACDelco RC27 |
| 1983-1987 | Dodge | Ramcharger | Dodge Ramcharger Radiator Cap V8 5.2L (8th Vin Digit T) with 2 BBL Carburetor ACDelco RC27 |
| 1983 | Dodge | Ramcharger | Dodge Ramcharger Radiator Cap V8 5.2L with 4 BBL Carburetor (8th Vin Digit U) ACDelco RC27 |
| 1984-1988 | Dodge | Ramcharger | Dodge Ramcharger Radiator Cap V8 5.9L with 4 BBL Carburetor (8th Vin Digit W) ACDelco RC27 |
| 1988-1993 | Dodge | Ramcharger | Dodge Ramcharger Radiator Cap V8 5.2L (8th Vin Digit Y) ACDelco RC27 |
| 1989-1993 | Dodge | Ramcharger | Dodge Ramcharger Radiator Cap V8 5.9L (8th Vin Digit Z) ACDelco RC27 |
| 1982 | Dodge | Rampage | Dodge Rampage Radiator Cap L4 2.2L (8th Vin Digit B) with 2 BBL Carburetor ACDelco RC27 |
| 1983-1984 | Dodge | Rampage | Dodge Rampage Radiator Cap L4 2.2L (8th Vin Digit C) with 2 BBL Carburetor ACDelco RC27 |
| 1984-1987 | Dodge | Royal | Dodge Royal Radiator Cap L4 2.2L (8th Vin Digit C) ACDelco RC27 |
| 1984-1985 | Dodge | Royal | Dodge Royal Radiator Cap L4 2.6L (8th Vin Digit G) ACDelco RC27 |
| 1986-1987 | Dodge | Royal | Dodge Royal Radiator Cap L4 2.6L (8th Vin Digit G) ACDelco RC27 |
| 1987 | Dodge | Royal | Dodge Royal Radiator Cap V6 3.0L (8th Vin Digit 3) ACDelco RC27 |
| 1987-1988 | Dodge | Shadow | Dodge Shadow Radiator Cap L4 2.2L (8th Vin Digit E) ACDelco RC27 |
| 1987-1994 | Dodge | Shadow | Dodge Shadow Radiator Cap L4 2.2L (8th Vin Digit D) ACDelco RC27 |
| 1988-1994 | Dodge | Shadow | Dodge Shadow Radiator Cap L4 2.5L (8th Vin Digit K) ACDelco RC27 |
| 1989-1992 | Dodge | Shadow | Dodge Shadow Radiator Cap L4 2.5L (8th Vin Digit J) ACDelco RC27 |
| 1989 | Dodge | Shadow | Dodge Shadow Radiator Cap (8th Vin Digit A) L4 2.2L ACDelco RC27 |
| 1990 | Dodge | Shadow | Dodge Shadow Radiator Cap L4 2.2L (8th Vin Digit C) ACDelco RC27 |
| 1992-1994 | Dodge | Shadow | Dodge Shadow Radiator Cap V6 3.0L (8th Vin Digit 3) ACDelco RC27 |
| 1989-1995 | Dodge | Spirit | Dodge Spirit Radiator Cap L4 2.5L (8th Vin Digit K) ACDelco RC27 |
| 1989-1992 | Dodge | Spirit | Dodge Spirit Radiator Cap L4 2.5L (8th Vin Digit J) ACDelco RC27 |
| 1989-1995 | Dodge | Spirit | Dodge Spirit Radiator Cap V6 3.0L (8th Vin Digit 3) ACDelco RC27 |
| 1991-1992 | Dodge | Spirit | Dodge Spirit Radiator Cap (8th Vin Digit A) L4 2.2L ACDelco RC27 |
| 1993-1994 | Dodge | Spirit | Dodge Spirit Radiator Cap L4 2.5L (8th Vin Digit V) ACDelco RC27 |
| 1979-1980 | Dodge | St Regis | Dodge St Regis Radiator Cap V8 5.2L (8th Vin Digit H) with 4 BBL Carburetor ACDelco RC27 |
| 1979-1980 | Dodge | St Regis | Dodge St Regis Radiator Cap V8 5.2L (8th Vin Digit G) with 2 BBL Carburetor ACDelco RC27 |
| 1979-1980 | Dodge | St Regis | Dodge St Regis Radiator Cap V8 5.9L (8th Vin Digit K) with 2 BBL Carburetor ACDelco RC27 |
| 1979 | Dodge | St Regis | Dodge St Regis Radiator Cap V8 5.9L (8th Vin Digit J) with 4 BBL Carburetor ACDelco RC27 |
| 1979-1980 | Dodge | St Regis | Dodge St Regis Radiator Cap V8 5.9L (8th Vin Digit L) with 4 BBL Carburetor ACDelco RC27 |
| 1979 | Dodge | St Regis | Dodge St Regis Radiator Cap (8th Vin Digit D) L6 3.7L with 2 BBL Carburetor ACDelco RC27 |
| 1980 | Dodge | St Regis | Dodge St Regis Radiator Cap (8th Vin Digit C) L6 3.7L with 1 BBL Carburetor ACDelco RC27 |
| 1981 | Dodge | St Regis | Dodge St Regis Radiator Cap V8 5.2L (8th Vin Digit N) with 4 BBL Carburetor ACDelco RC27 |
| 1981 | Dodge | St Regis | Dodge St Regis Radiator Cap (8th Vin Digit G) L6 3.7L ACDelco RC27 |
| 1981 | Dodge | St Regis | Dodge St Regis Radiator Cap V8 5.2L with 4 BBL Carburetor (8th Vin Digit M) ACDelco RC27 |
| 1981 | Dodge | St Regis | Dodge St Regis Radiator Cap V8 5.2L (8th Vin Digit K) with 2 BBL Carburetor ACDelco RC27 |
| 1981 | Dodge | St Regis | Dodge St Regis Radiator Cap V8 5.2L (8th Vin Digit L) with 2 BBL Carburetor ACDelco RC27 |
| 1981 | Dodge | St Regis | Dodge St Regis Radiator Cap L6 3.7L (8th Vin Digit F) with 1 BBL Carburetor ACDelco RC27 |
| 1981 | Dodge | St Regis | Dodge St Regis Radiator Cap (8th Vin Digit E) L6 3.7L with 1 BBL Carburetor ACDelco RC27 |
| 1995-1998 | Dodge | Stratus | Dodge Stratus Radiator Cap L4 2.4L (8th Vin Digit X) ACDelco RC27 |
| 1995-1999 | Dodge | Stratus | Dodge Stratus Radiator Cap V6 2.5L (8th Vin Digit H) ACDelco RC27 |
| 1995-1999 | Dodge | Stratus | Dodge Stratus Radiator Cap L4 2.0L (8th Vin Digit C) ACDelco RC27 |
| 1999 | Dodge | Stratus | Dodge Stratus Radiator Cap L4 2.4L (8th Vin Digit X) ACDelco RC27 |
| 1969 | Dodge | Super Bee | Dodge Super Bee Radiator Cap V8 7.2L (8th Vin Digit M) with 2 BBL Carburetor ACDelco RC27 |
| 1970 | Dodge | Super Bee | Dodge Super Bee Radiator Cap V8 7.2L (8th Vin Digit V) with 2 BBL Carburetor ACDelco RC27 |
| 1971-1977 | Dodge | Van - Full Size | Dodge Van B100 Radiator Cap (8th Vin Digit B) L6 3.7L with 1 BBL Carburetor ACDelco RC27 |
| 1971-1977 | Dodge | Van - Full Size | Dodge Van B200 Radiator Cap (8th Vin Digit B) L6 3.7L with 1 BBL Carburetor ACDelco RC27 |
| 1971-1980 | Dodge | Van - Full Size | Dodge Van B200 Radiator Cap V8 5.2L (8th Vin Digit E) with 2 BBL Carburetor ACDelco RC27 |
| 1971-1980 | Dodge | Van - Full Size | Dodge Van B100 Radiator Cap V8 5.2L (8th Vin Digit E) with 2 BBL Carburetor ACDelco RC27 |
| 1971-1973 | Dodge | Van - Full Size | Dodge Van B300 Radiator Cap (8th Vin Digit B) L6 3.7L with 1 BBL Carburetor ACDelco RC27 |
| 1971-1980 | Dodge | Van - Full Size | Dodge Van B300 Radiator Cap V8 5.2L (8th Vin Digit E) with 2 BBL Carburetor ACDelco RC27 |
| 1972-1979 | Dodge | Van - Full Size | Dodge Van B200 Radiator Cap (8th Vin Digit F) V8 5.9L with 2 BBL Carburetor ACDelco RC27 |
| 1972-1978 | Dodge | Van - Full Size | Dodge Van B100 Radiator Cap (8th Vin Digit F) V8 5.9L with 2 BBL Carburetor ACDelco RC27 |
| 1972-1979 | Dodge | Van - Full Size | Dodge Van B300 Radiator Cap (8th Vin Digit F) V8 5.9L with 2 BBL Carburetor ACDelco RC27 |
| 1974 | Dodge | Van - Full Size | Dodge Van B100 Radiator Cap (8th Vin Digit T) V8 5.9L with 4 BBL Carburetor ACDelco RC27 |
| 1974-1980 | Dodge | Van - Full Size | Dodge Van B200 Radiator Cap (8th Vin Digit T) V8 5.9L with 4 BBL Carburetor ACDelco RC27 |
| 1974-1980 | Dodge | Van - Full Size | Dodge Van B300 Radiator Cap (8th Vin Digit T) V8 5.9L with 4 BBL Carburetor ACDelco RC27 |
| 1976-1978 | Dodge | Van - Full Size | Dodge Van B200 Radiator Cap (8th Vin Digit D) V8 7.2L with 4 BBL Carburetor ACDelco RC27 |
| 1976 | Dodge | Van - Full Size | Dodge Van B200 Radiator Cap V8 6.6L (8th Vin Digit J) with 2 BBL Carburetor ACDelco RC27 |
| 1976-1978 | Dodge | Van - Full Size | Dodge Van B300 Radiator Cap (8th Vin Digit D) V8 7.2L with 4 BBL Carburetor ACDelco RC27 |
| 1977 | Dodge | Van - Full Size | Dodge Van B200 Radiator Cap (8th Vin Digit D) V8 7.2L ACDelco RC27 |
| 1977-1978 | Dodge | Van - Full Size | Dodge Van B200 Radiator Cap V8 6.6L (8th Vin Digit J) ACDelco RC27 |
| 1977-1978 | Dodge | Van - Full Size | Dodge Van B300 Radiator Cap V8 6.6L (8th Vin Digit J) ACDelco RC27 |
| 1977 | Dodge | Van - Full Size | Dodge Van B300 Radiator Cap (8th Vin Digit D) V8 7.2L ACDelco RC27 |
| 1978-1979 | Dodge | Van - Full Size | Dodge Van B100 Radiator Cap (8th Vin Digit B) L6 3.7L with 2 BBL Carburetor ACDelco RC27 |
| 1978-1979 | Dodge | Van - Full Size | Dodge Van B200 Radiator Cap (8th Vin Digit B) L6 3.7L with 2 BBL Carburetor ACDelco RC27 |
| 1979-1980 | Dodge | Van - Full Size | Dodge Van B100 Radiator Cap (8th Vin Digit N) L6 3.7L with 1 BBL Carburetor ACDelco RC27 |
| 1979-1980 | Dodge | Van - Full Size | Dodge Van B200 Radiator Cap (8th Vin Digit N) L6 3.7L with 1 BBL Carburetor ACDelco RC27 |
| 1979-1980 | Dodge | Van - Full Size | Dodge Van B200 Radiator Cap V8 5.2L (8th Vin Digit P) with 4 BBL Carburetor ACDelco RC27 |
| 1979-1980 | Dodge | Van - Full Size | Dodge Van B100 Radiator Cap V8 5.2L (8th Vin Digit P) with 4 BBL Carburetor ACDelco RC27 |
| 1979 | Dodge | Van - Full Size | Dodge Van B200 Radiator Cap V8 5.9L with 4 BBL Carburetor (8th Vin Digit S) ACDelco RC27 |
| 1979 | Dodge | Van - Full Size | Dodge Van Radiator Cap V8 5.2L (8th Vin Digit E) ACDelco RC27 |
| 1979 | Dodge | Van - Full Size | Dodge Van Radiator Cap (8th Vin Digit N) L6 3.7L ACDelco RC27 |
| 1979-1980 | Dodge | Van - Full Size | Dodge Van Radiator Cap V8 5.2L (8th Vin Digit P) ACDelco RC27 |
| 1979 | Dodge | Van - Full Size | Dodge Van Radiator Cap (8th Vin Digit F) V8 5.9L ACDelco RC27 |
| 1979-1980 | Dodge | Van - Full Size | Dodge Van Radiator Cap V8 5.9L (8th Vin Digit T) ACDelco RC27 |
| 1979 | Dodge | Van - Full Size | Dodge Van Radiator Cap (8th Vin Digit D) V8 7.2L ACDelco RC27 |
| 1979 | Dodge | Van - Full Size | Dodge Van B300 Radiator Cap V8 5.9L with 4 BBL Carburetor (8th Vin Digit S) ACDelco RC27 |
| 1979-1980 | Dodge | Van - Full Size | Dodge Van B300 Radiator Cap V8 5.2L (8th Vin Digit P) with 4 BBL Carburetor ACDelco RC27 |
| 1979 | Dodge | Van - Full Size | Dodge Van B300 Radiator Cap (8th Vin Digit B) L6 3.7L with 2 BBL Carburetor ACDelco RC27 |
| 1979-1980 | Dodge | Van - Full Size | Dodge Van B300 Radiator Cap (8th Vin Digit N) L6 3.7L with 1 BBL Carburetor ACDelco RC27 |
| 1980 | Dodge | Van - Full Size | Dodge Van Radiator Cap V8 5.9L (8th Vin Digit K) ACDelco RC27 |
| 1992-1996 | Dodge | Viper | Dodge Viper Radiator Cap (8th Vin Digit E) V10 8.0L ACDelco RC27 |
| 1971-1977 | Dodge | W100 Truck | Dodge W100 Truck Radiator Cap V8 6.6L (8th Vin Digit J) ACDelco RC27 |
| 1971 | Dodge | W100 Truck | Dodge W100 Truck Radiator Cap L6 3.7L (8th Vin Digit X) with 2 BBL Carburetor ACDelco RC27 |
| 1971 | Dodge | W100 Truck | Dodge W100 Truck Radiator Cap 383ci (8th Vin Digit J) with 2 BBL Carburetor ACDelco RC27 |
| 1971-1977 | Dodge | W100 Truck | Dodge W100 Truck Radiator Cap (8th Vin Digit B) L6 3.7L with 1 BBL Carburetor ACDelco RC27 |
| 1971-1980 | Dodge | W100 Truck | Dodge W100 Truck Radiator Cap V8 5.2L (8th Vin Digit E) with 2 BBL Carburetor ACDelco RC27 |
| 1972-1978 | Dodge | W100 Truck | Dodge W100 Truck Radiator Cap (8th Vin Digit F) V8 5.9L with 2 BBL Carburetor ACDelco RC27 |
| 1974-1976 | Dodge | W100 Truck | Dodge W100 Truck Radiator Cap V8 6.6L (8th Vin Digit J) with 2 BBL Carburetor ACDelco RC27 |
| 1974-1978 | Dodge | W100 Truck | Dodge W100 Truck Radiator Cap (8th Vin Digit D) V8 7.2L with 4 BBL Carburetor ACDelco RC27 |
| 1974-1980 | Dodge | W100 Truck | Dodge W100 Truck Radiator Cap (8th Vin Digit T) V8 5.9L with 4 BBL Carburetor ACDelco RC27 |
| 1980 | Dodge | W100 Truck | Dodge W100 Truck Radiator Cap V8 5.2L (8th Vin Digit P) with 4 BBL Carburetor ACDelco RC27 |
| 1980 | Dodge | W100 Truck | Dodge W100 Truck Radiator Cap (8th Vin Digit N) L6 3.7L with 1 BBL Carburetor ACDelco RC27 |
| 1981 | Dodge | W100 Truck | Dodge W100 Truck Radiator Cap V8 5.2L (8th Vin Digit P) with 2 BBL Carburetor ACDelco RC27 |
| 1981 | Dodge | W100 Truck | Dodge W100 Truck Radiator Cap (8th Vin Digit E) L6 3.7L with 1 BBL Carburetor ACDelco RC27 |
| 1986-1988 | Dodge | W100 Truck | Dodge W100 Truck Radiator Cap (8th Vin Digit W) V8 5.9L ACDelco RC27 |
| 1986-1987 | Dodge | W100 Truck | Dodge W100 Truck Radiator Cap L6 3.7L (8th Vin Digit H) ACDelco RC27 |
| 1986-1987 | Dodge | W100 Truck | Dodge W100 Truck Radiator Cap V8 5.2L (8th Vin Digit T) ACDelco RC27 |
| 1988-1989 | Dodge | W100 Truck | Dodge W100 Truck Radiator Cap V8 5.2L (8th Vin Digit Y) ACDelco RC27 |
| 1989 | Dodge | W100 Truck | Dodge W100 Truck Radiator Cap V6 3.9L (8th Vin Digit X) ACDelco RC27 |
| 1978 | Dodge | W150 Truck | Dodge W150 Truck Radiator Cap V8 6.6L (8th Vin Digit J) ACDelco RC27 |
| 1978-1979 | Dodge | W150 Truck | Dodge W150 Truck Radiator Cap L6 4.0L (8th Vin Digit H) ACDelco RC27 |
| 1979 | Dodge | W150 Truck | Dodge W150 Truck Radiator Cap V8 5.9L with 4 BBL Carburetor (8th Vin Digit S) ACDelco RC27 |
| 1979-1981 | Dodge | W150 Truck | Dodge W150 Truck Radiator Cap (8th Vin Digit T) V8 5.9L with 4 BBL Carburetor ACDelco RC27 |
| 1979 | Dodge | W150 Truck | Dodge W150 Truck Radiator Cap (8th Vin Digit F) V8 5.9L with 2 BBL Carburetor ACDelco RC27 |
| 1979 | Dodge | W150 Truck | Dodge W150 Truck Radiator Cap V8 5.2L (8th Vin Digit P) with 4 BBL Carburetor ACDelco RC27 |
| 1979 | Dodge | W150 Truck | Dodge W150 Truck Radiator Cap V8 5.2L (8th Vin Digit E) with 2 BBL Carburetor ACDelco RC27 |
| 1979 | Dodge | W150 Truck | Dodge W150 Truck Radiator Cap (8th Vin Digit N) L6 3.7L with 1 BBL Carburetor ACDelco RC27 |
| 1979 | Dodge | W150 Truck | Dodge W150 Truck Radiator Cap (8th Vin Digit B) L6 3.7L with 2 BBL Carburetor ACDelco RC27 |
| 1981 | Dodge | W150 Truck | Dodge W150 Truck Radiator Cap V8 5.9L (8th Vin Digit S) with 2 BBL Carburetor ACDelco RC27 |
| 1981-1982 | Dodge | W150 Truck | Dodge W150 Truck Radiator Cap V8 5.2L (8th Vin Digit R) with 4 BBL Carburetor ACDelco RC27 |
| 1982 | Dodge | W150 Truck | Dodge W150 Truck Radiator Cap V8 5.2L (8th Vin Digit P) with 2 BBL Carburetor ACDelco RC27 |
| 1982 | Dodge | W150 Truck | Dodge W150 Truck Radiator Cap (8th Vin Digit E) L6 3.7L with 1 BBL Carburetor ACDelco RC27 |
| 1983-1987 | Dodge | W150 Truck | Dodge W150 Truck Radiator Cap V8 5.2L (8th Vin Digit T) with 2 BBL Carburetor ACDelco RC27 |
| 1983 | Dodge | W150 Truck | Dodge W150 Truck Radiator Cap V8 5.2L with 4 BBL Carburetor (8th Vin Digit U) ACDelco RC27 |
| 1983-1987 | Dodge | W150 Truck | Dodge W150 Truck Radiator Cap L6 3.7L (8th Vin Digit H) with 1 BBL Carburetor ACDelco RC27 |
| 1984-1988 | Dodge | W150 Truck | Dodge W150 Truck Radiator Cap V8 5.9L with 4 BBL Carburetor (8th Vin Digit W) ACDelco RC27 |
| 1988-1991 | Dodge | W150 Truck | Dodge W150 Truck Radiator Cap V8 5.2L (8th Vin Digit Y) ACDelco RC27 |
| 1989-1991 | Dodge | W150 Truck | Dodge W150 Truck Radiator Cap V8 5.9L (8th Vin Digit Z) ACDelco RC27 |
| 1989-1991 | Dodge | W150 Truck | Dodge W150 Truck Radiator Cap V6 3.9L (8th Vin Digit X) ACDelco RC27 |
| 1974-1978 | Dodge | W200 Truck | Dodge W200 Truck Radiator Cap (8th Vin Digit D) V8 7.2L with 4 BBL Carburetor ACDelco RC27 |
| 1974-1976 | Dodge | W200 Truck | Dodge W200 Truck Radiator Cap V8 6.6L (8th Vin Digit J) with 2 BBL Carburetor ACDelco RC27 |
| 1974-1979 | Dodge | W200 Truck | Dodge W200 Truck Radiator Cap (8th Vin Digit F) V8 5.9L with 2 BBL Carburetor ACDelco RC27 |
| 1974-1980 | Dodge | W200 Truck | Dodge W200 Truck Radiator Cap V8 5.2L (8th Vin Digit E) with 2 BBL Carburetor ACDelco RC27 |
| 1974-1977 | Dodge | W200 Truck | Dodge W200 Truck Radiator Cap (8th Vin Digit B) L6 3.7L with 1 BBL Carburetor ACDelco RC27 |
| 1975 | Dodge | W200 Truck | Dodge W200 Truck Radiator Cap V8 5.2L (8th Vin Digit G) ACDelco RC27 |
| 1977-1978 | Dodge | W200 Truck | Dodge W200 Truck Radiator Cap V8 6.6L (8th Vin Digit J) ACDelco RC27 |
| 1978-1979 | Dodge | W200 Truck | Dodge W200 Truck Radiator Cap L6 4.0L (8th Vin Digit H) ACDelco RC27 |
| 1978-1979 | Dodge | W200 Truck | Dodge W200 Truck Radiator Cap (8th Vin Digit B) L6 3.7L with 2 BBL Carburetor ACDelco RC27 |
| 1979 | Dodge | W200 Truck | Dodge W200 Truck Radiator Cap V8 5.9L with 4 BBL Carburetor (8th Vin Digit S) ACDelco RC27 |
| 1979-1980 | Dodge | W200 Truck | Dodge W200 Truck Radiator Cap (8th Vin Digit T) V8 5.9L with 4 BBL Carburetor ACDelco RC27 |
| 1979-1980 | Dodge | W200 Truck | Dodge W200 Truck Radiator Cap V8 5.2L (8th Vin Digit P) with 4 BBL Carburetor ACDelco RC27 |
| 1980 | Dodge | W200 Truck | Dodge W200 Truck Radiator Cap (8th Vin Digit N) L6 3.7L with 1 BBL Carburetor ACDelco RC27 |
| 1981-1982 | Dodge | W250 Truck | Dodge W250 Truck Radiator Cap V8 5.2L (8th Vin Digit P) with 2 BBL Carburetor ACDelco RC27 |
| 1981-1982 | Dodge | W250 Truck | Dodge W250 Truck Radiator Cap V8 5.2L (8th Vin Digit R) with 4 BBL Carburetor ACDelco RC27 |
| 1981-1982 | Dodge | W250 Truck | Dodge W250 Truck Radiator Cap (8th Vin Digit T) V8 5.9L with 4 BBL Carburetor ACDelco RC27 |
| 1983-1987 | Dodge | W250 Truck | Dodge W250 Truck Radiator Cap V8 5.2L (8th Vin Digit T) with 2 BBL Carburetor ACDelco RC27 |
| 1983 | Dodge | W250 Truck | Dodge W250 Truck Radiator Cap V8 5.2L with 4 BBL Carburetor (8th Vin Digit U) ACDelco RC27 |
| 1984-1988 | Dodge | W250 Truck | Dodge W250 Truck Radiator Cap V8 5.9L with 4 BBL Carburetor (8th Vin Digit W) ACDelco RC27 |
| 1985-1988 | Dodge | W250 Truck | Dodge W250 Truck Radiator Cap V8 5.9L with 4 BBL Carburetor (8th Vin Digit 1) ACDelco RC27 |
| 1986-1987 | Dodge | W250 Truck | Dodge W250 Truck Radiator Cap (8th Vin Digit 1) V8 5.9L ACDelco RC27 |
| 1987-1993 | Dodge | W250 Truck | Dodge W250 Truck Radiator Cap V8 5.9L (8th Vin Digit 5) ACDelco RC27 |
| 1988-1993 | Dodge | W250 Truck | Dodge W250 Truck Radiator Cap V8 5.2L (8th Vin Digit Y) ACDelco RC27 |
| 1989-1993 | Dodge | W250 Truck | Dodge W250 Truck Radiator Cap V8 5.9L (8th Vin Digit Z) ACDelco RC27 |
| 1989-1991 | Dodge | W250 Truck | Dodge W250 Truck Radiator Cap L6 5.9L (8th Vin Digit 8) ACDelco RC27 |
| 1992-1993 | Dodge | W250 Truck | Dodge W250 Truck Radiator Cap L6 5.9L (8th Vin Digit C) ACDelco RC27 |
| 1974-1978 | Dodge | W300 Truck | Dodge W300 Truck Radiator Cap (8th Vin Digit F) V8 5.9L with 2 BBL Carburetor ACDelco RC27 |
| 1974-1976 | Dodge | W300 Truck | Dodge W300 Truck Radiator Cap (8th Vin Digit B) L6 3.7L with 1 BBL Carburetor ACDelco RC27 |
| 1974-1980 | Dodge | W300 Truck | Dodge W300 Truck Radiator Cap V8 5.2L (8th Vin Digit E) with 2 BBL Carburetor ACDelco RC27 |
| 1975-1978 | Dodge | W300 Truck | Dodge W300 Truck Radiator Cap (8th Vin Digit D) V8 7.2L with 4 BBL Carburetor ACDelco RC27 |
| 1976 | Dodge | W300 Truck | Dodge W300 Truck Radiator Cap V8 6.6L (8th Vin Digit J) with 2 BBL Carburetor ACDelco RC27 |
| 1977-1978 | Dodge | W300 Truck | Dodge W300 Truck Radiator Cap V8 6.6L (8th Vin Digit J) ACDelco RC27 |
| 1977-1978 | Dodge | W300 Truck | Dodge W300 Truck Radiator Cap (8th Vin Digit B) L6 3.7L with 2 BBL Carburetor ACDelco RC27 |
| 1979-1980 | Dodge | W300 Truck | Dodge W300 Truck Radiator Cap (8th Vin Digit T) V8 5.9L with 4 BBL Carburetor ACDelco RC27 |
| 1981-1982 | Dodge | W350 Truck | Dodge W350 Truck Radiator Cap (8th Vin Digit T) V8 5.9L with 4 BBL Carburetor ACDelco RC27 |
| 1982 | Dodge | W350 Truck | Dodge W350 Truck Radiator Cap V8 5.2L (8th Vin Digit P) with 2 BBL Carburetor ACDelco RC27 |
| 1982 | Dodge | W350 Truck | Dodge W350 Truck Radiator Cap V8 5.2L (8th Vin Digit R) with 4 BBL Carburetor ACDelco RC27 |
| 1982 | Dodge | W350 Truck | Dodge W350 Truck Radiator Cap V8 5.9L with 4 BBL Carburetor (8th Vin Digit U) ACDelco RC27 |
| 1983-1987 | Dodge | W350 Truck | Dodge W350 Truck Radiator Cap V8 5.9L with 4 BBL Carburetor (8th Vin Digit W) ACDelco RC27 |
| 1983-1987 | Dodge | W350 Truck | Dodge W350 Truck Radiator Cap (8th Vin Digit 1) V8 5.9L ACDelco RC27 |
| 1983 | Dodge | W350 Truck | Dodge W350 Truck Radiator Cap V8 5.2L with 4 BBL Carburetor (8th Vin Digit U) ACDelco RC27 |
| 1984 | Dodge | W350 Truck | Dodge W350 Truck Radiator Cap V8 5.9L (8th Vin Digit 1) with 2 BBL Carburetor ACDelco RC27 |
| 1985-1988 | Dodge | W350 Truck | Dodge W350 Truck Radiator Cap V8 5.9L with 4 BBL Carburetor (8th Vin Digit 1) ACDelco RC27 |
| 1987-1993 | Dodge | W350 Truck | Dodge W350 Truck Radiator Cap V8 5.9L (8th Vin Digit 5) ACDelco RC27 |
| 1988 | Dodge | W350 Truck | Dodge W350 Truck Radiator Cap V8 5.9L with 4 BBL Carburetor (8th Vin Digit 5) ACDelco RC27 |
| 1989-1993 | Dodge | W350 Truck | Dodge W350 Truck Radiator Cap V8 5.9L (8th Vin Digit Z) ACDelco RC27 |
| 1989-1991 | Dodge | W350 Truck | Dodge W350 Truck Radiator Cap L6 5.9L (8th Vin Digit 8) ACDelco RC27 |
| 1992-1993 | Dodge | W350 Truck | Dodge W350 Truck Radiator Cap L6 5.9L (8th Vin Digit C) ACDelco RC27 |
| 1987-1991 | Ford | Country Squire | Ford Country Squire Radiator Cap V8 5.0L (8th Vin Digit F) ACDelco RC27 |
| 1986-1991 | Ford | Crown Victoria | Ford Crown Victoria Radiator Cap V8 5.0L (8th Vin Digit F) ACDelco RC27 |
| 1986 | Ford | EXP | Ford EXP Radiator Cap L4 1.9L (8th Vin Digit 9) with 2 BBL Carburetor ACDelco RC27 |
| 1986-1987 | Ford | EXP | Ford EXP Radiator Cap L4 1.9L (8th Vin Digit J) ACDelco RC27 |
| 1987-1988 | Ford | EXP | Ford EXP Radiator Cap L4 1.9L (8th Vin Digit 9) ACDelco RC27 |
| 1986 | Ford | Escort | Ford Escort Radiator Cap L4 1.9L (8th Vin Digit 9) with 2 BBL Carburetor ACDelco RC27 |
| 1986-1987 | Ford | Escort | Ford Escort Radiator Cap L4 2.0L (8th Vin Digit H) ACDelco RC27 |
| 1986-1990 | Ford | Escort | Ford Escort Radiator Cap L4 1.9L (8th Vin Digit J) ACDelco RC27 |
| 1987-1990 | Ford | Escort | Ford Escort Radiator Cap L4 1.9L (8th Vin Digit 9) ACDelco RC27 |
| 1986 | Ford | LTD | Ford LTD Radiator Cap V8 5.8L (8th Vin Digit G) ACDelco RC27 |
| 1986 | Ford | LTD | Ford LTD Radiator Cap L4 2.3L (8th Vin Digit A) with 1 BBL Carburetor ACDelco RC27 |
| 1986 | Ford | LTD | Ford LTD Radiator Cap V6 3.8L (8th Vin Digit 3) ACDelco RC27 |
| 1986 | Ford | Mustang | Ford Mustang Radiator Cap L4 2.3L (8th Vin Digit A) with 1 BBL Carburetor ACDelco RC27 |
| 1986 | Ford | Mustang | Ford Mustang Radiator Cap L4 2.3L (8th Vin Digit T) ACDelco RC27 |
| 1986 | Ford | Mustang | Ford Mustang Radiator Cap V8 5.0L (8th Vin Digit M) ACDelco RC27 |
| 1986 | Ford | Mustang | Ford Mustang Radiator Cap V6 3.8L (8th Vin Digit 3) ACDelco RC27 |
| 1987-1993 | Ford | Mustang | Ford Mustang Radiator Cap V8 5.0L (8th Vin Digit E) ACDelco RC27 |
| 1987-1988 | Ford | Mustang | Ford Mustang Radiator Cap L4 2.3L (8th Vin Digit A) ACDelco RC27 |
| 1991-1993 | Ford | Mustang | Ford Mustang Radiator Cap L4 2.3L (8th Vin Digit M) ACDelco RC27 |
| 1993-1995 | Ford | Mustang | Ford Mustang Radiator Cap V8 5.0L (8th Vin Digit D) ACDelco RC27 |
| 1994-1995 | Ford | Mustang | Ford Mustang Radiator Cap V8 5.0L (8th Vin Digit T) ACDelco RC27 |
| 1994-1995 | Ford | Mustang | Ford Mustang Radiator Cap V6 3.8L (8th Vin Digit 4) ACDelco RC27 |
| 1995 | Ford | Mustang | Ford Mustang Radiator Cap V8 5.8L (8th Vin Digit C) ACDelco RC27 |
| 1986-1991 | Ford | Tempo | Ford Tempo Radiator Cap L4 2.3L (8th Vin Digit X) ACDelco RC27 |
| 1986-1991 | Ford | Tempo | Ford Tempo Radiator Cap L4 2.3L (8th Vin Digit S) ACDelco RC27 |
| 1986 | Ford | Tempo | Ford Tempo Radiator Cap L4 2.0L (8th Vin Digit H) ACDelco RC27 |
| 1986-1987 | Ford | Tempo | Ford Tempo Radiator Cap L4 2.3L (8th Vin Digit R) ACDelco RC27 |
| 1986-1988 | Ford | Thunderbird | Ford Thunderbird Radiator Cap V8 5.0L (8th Vin Digit F) ACDelco RC27 |
| 1986-1987 | Ford | Thunderbird | Ford Thunderbird Radiator Cap L4 2.3L (8th Vin Digit W) ACDelco RC27 |
| 1986-1987 | Ford | Thunderbird | Ford Thunderbird Radiator Cap V6 3.8L (8th Vin Digit 3) ACDelco RC27 |
| 1988 | Ford | Thunderbird | Ford Thunderbird Radiator Cap V6 3.8L (8th Vin Digit 4) ACDelco RC27 |
| 1988 | Ford | Thunderbird | Ford Thunderbird Radiator Cap L4 2.3L (8th Vin Digit T) ACDelco RC27 |
| 1978 | GMC | C1500 Truck | GMC C1500 Truck Radiator Cap (8th Vin Digit D) L6 4.1L with 1 BBL Carburetor ACDelco RC27 |
| 1978-1979 | GMC | C1500 Truck | GMC C1500 Truck Radiator Cap V8 5.0L (8th Vin Digit U) with 2 BBL Carburetor ACDelco RC27 |
| 1978-1979 | GMC | C1500 Truck | GMC C1500 Truck Radiator Cap (8th Vin Digit R) V8 6.6L with 4 BBL Carburetor ACDelco RC27 |
| 1978-1980 | GMC | C1500 Truck | GMC C1500 Truck Radiator Cap V8 7.4L (8th Vin Digit S) with 4 BBL Carburetor ACDelco RC27 |
| 1978-1980 | GMC | C1500 Truck | GMC C1500 Truck Radiator Cap (8th Vin Digit T) L6 4.8L with 1 BBL Carburetor ACDelco RC27 |
| 1978-1986 | GMC | C1500 Truck | GMC C1500 Truck Radiator Cap (8th Vin Digit L) V8 5.7L with 4 BBL Carburetor ACDelco RC27 |
| 1978-1981 | GMC | C1500 Truck | GMC C1500 Truck Radiator Cap V8 5.7L (8th Vin Digit Z) ACDelco RC27 |
| 1979 | GMC | C1500 Truck | GMC C1500 Truck Radiator Cap V8 5.7L (8th Vin Digit M) ACDelco RC27 |
| 1979-1984 | GMC | C1500 Truck | GMC C1500 Truck Radiator Cap (8th Vin Digit D) L6 4.1L with 2 BBL Carburetor ACDelco RC27 |
| 1980 | GMC | C1500 Truck | GMC C1500 Truck Radiator Cap (8th Vin Digit W) V8 7.4L with 4 BBL Carburetor ACDelco RC27 |
| 1980 | GMC | C1500 Truck | GMC C1500 Truck Radiator Cap V8 5.7L (8th Vin Digit P) ACDelco RC27 |
| 1980 | GMC | C1500 Truck | GMC C1500 Truck Radiator Cap (8th Vin Digit X) V8 6.6L with 4 BBL Carburetor ACDelco RC27 |
| 1980-1986 | GMC | C1500 Truck | GMC C1500 Truck Radiator Cap (8th Vin Digit M) V8 5.7L with 4 BBL Carburetor ACDelco RC27 |
| 1980-1981 | GMC | C1500 Truck | GMC C1500 Truck Radiator Cap V8 5.0L (8th Vin Digit G) with 2 BBL Carburetor ACDelco RC27 |
| 1981-1986 | GMC | C1500 Truck | GMC C1500 Truck Radiator Cap V8 5.0L (8th Vin Digit H) with 4 BBL Carburetor ACDelco RC27 |
| 1981-1986 | GMC | C1500 Truck | GMC C1500 Truck Radiator Cap V8 5.0L (8th Vin Digit F) with 4 BBL Carburetor ACDelco RC27 |
| 1982-1993 | GMC | C1500 Truck | GMC C1500 Truck Radiator Cap V8 6.2L (8th Vin Digit C) ACDelco RC27 |
| 1982-1986 | GMC | C1500 Truck | GMC C1500 Truck Radiator Cap V8 6.2L (8th Vin Digit J) ACDelco RC27 |
| 1985-1986 | GMC | C1500 Truck | GMC C1500 Truck Radiator Cap V6 4.3L (8th Vin Digit N) with 4 BBL Carburetor ACDelco RC27 |
| 1985 | GMC | C1500 Truck | GMC C1500 Truck Radiator Cap V8 5.0L (8th Vin Digit F) ACDelco RC27 |
| 1988-1995 | GMC | C1500 Truck | GMC C1500 Truck Radiator Cap V6 4.3L (8th Vin Digit Z) ACDelco RC27 |
| 1988-1995 | GMC | C1500 Truck | GMC C1500 Truck Radiator Cap V8 5.0L (8th Vin Digit H) ACDelco RC27 |
| 1988-1995 | GMC | C1500 Truck | GMC C1500 Truck Radiator Cap V8 5.7L (8th Vin Digit K) ACDelco RC27 |
| 1994-1996 | GMC | C1500 Truck | GMC C1500 Truck Radiator Cap V8 6.5L (8th Vin Digit S) ACDelco RC27 |
| 1994 | GMC | C1500 Truck | GMC C1500 Truck Radiator Cap V8 6.5L (8th Vin Digit P) ACDelco RC27 |
| 1996-1998 | GMC | C1500 Truck | GMC C1500 Truck Radiator Cap V6 4.3L (8th Vin Digit W) ACDelco RC27 |
| 1996-1998 | GMC | C1500 Truck | GMC C1500 Truck Radiator Cap V8 5.0L (8th Vin Digit M) ACDelco RC27 |
| 1996-1998 | GMC | C1500 Truck | GMC C1500 Truck Radiator Cap V8 5.7L (8th Vin Digit R) ACDelco RC27 |
| 1997 | GMC | C1500 Truck | GMC C1500 Truck Radiator Cap V8 6.5L (8th Vin Digit F) ACDelco RC27 |
| 1978 | GMC | C2500 Truck | GMC C2500 Truck Radiator Cap (8th Vin Digit D) L6 4.1L with 1 BBL Carburetor ACDelco RC27 |
| 1978-1979 | GMC | C2500 Truck | GMC C2500 Truck Radiator Cap (8th Vin Digit R) V8 6.6L with 4 BBL Carburetor ACDelco RC27 |
| 1978-1979 | GMC | C2500 Truck | GMC C2500 Truck Radiator Cap V8 5.0L (8th Vin Digit U) with 2 BBL Carburetor ACDelco RC27 |
| 1978-1980 | GMC | C2500 Truck | GMC C2500 Truck Radiator Cap V8 7.4L (8th Vin Digit S) with 4 BBL Carburetor ACDelco RC27 |
| 1978-1986 | GMC | C2500 Truck | GMC C2500 Truck Radiator Cap (8th Vin Digit T) L6 4.8L with 1 BBL Carburetor ACDelco RC27 |
| 1978-1986 | GMC | C2500 Truck | GMC C2500 Truck Radiator Cap (8th Vin Digit L) V8 5.7L with 4 BBL Carburetor ACDelco RC27 |
| 1979-1984 | GMC | C2500 Truck | GMC C2500 Truck Radiator Cap (8th Vin Digit D) L6 4.1L with 2 BBL Carburetor ACDelco RC27 |
| 1980 | GMC | C2500 Truck | GMC C2500 Truck Radiator Cap V8 5.0L (8th Vin Digit G) with 2 BBL Carburetor ACDelco RC27 |
| 1980 | GMC | C2500 Truck | GMC C2500 Truck Radiator Cap V8 5.7L (8th Vin Digit P) ACDelco RC27 |
| 1980-1986 | GMC | C2500 Truck | GMC C2500 Truck Radiator Cap (8th Vin Digit M) V8 5.7L with 4 BBL Carburetor ACDelco RC27 |
| 1980-1986 | GMC | C2500 Truck | GMC C2500 Truck Radiator Cap (8th Vin Digit W) V8 7.4L with 4 BBL Carburetor ACDelco RC27 |
| 1981-1986 | GMC | C2500 Truck | GMC C2500 Truck Radiator Cap V8 5.0L (8th Vin Digit H) with 4 BBL Carburetor ACDelco RC27 |
| 1982-1993 | GMC | C2500 Truck | GMC C2500 Truck Radiator Cap V8 6.2L (8th Vin Digit J) ACDelco RC27 |
| 1982-1993 | GMC | C2500 Truck | GMC C2500 Truck Radiator Cap V8 6.2L (8th Vin Digit C) ACDelco RC27 |
| 1985-1986 | GMC | C2500 Truck | GMC C2500 Truck Radiator Cap V6 4.3L (8th Vin Digit N) with 4 BBL Carburetor ACDelco RC27 |
| 1988-1995 | GMC | C2500 Truck | GMC C2500 Truck Radiator Cap V8 5.7L (8th Vin Digit K) ACDelco RC27 |
| 1988-1995 | GMC | C2500 Truck | GMC C2500 Truck Radiator Cap V6 4.3L (8th Vin Digit Z) ACDelco RC27 |
| 1988-1995 | GMC | C2500 Truck | GMC C2500 Truck Radiator Cap V8 5.0L (8th Vin Digit H) ACDelco RC27 |
| 1991-1995 | GMC | C2500 Truck | GMC C2500 Truck Radiator Cap V8 7.4L (8th Vin Digit N) ACDelco RC27 |
| 1992-1999 | GMC | C2500 Truck | GMC C2500 Truck Radiator Cap V8 6.5L (8th Vin Digit F) ACDelco RC27 |
| 1994 | GMC | C2500 Truck | GMC C2500 Truck Radiator Cap V8 6.5L (8th Vin Digit P) ACDelco RC27 |
| 1994-1998 | GMC | C2500 Truck | GMC C2500 Truck Radiator Cap V8 6.5L (8th Vin Digit S) ACDelco RC27 |
| 1996-1998 | GMC | C2500 Truck | GMC C2500 Truck Radiator Cap V8 5.0L (8th Vin Digit M) ACDelco RC27 |
| 1996-1999 | GMC | C2500 Truck | GMC C2500 Truck Radiator Cap V8 5.7L (8th Vin Digit R) ACDelco RC27 |
| 1996-1999 | GMC | C2500 Truck | GMC C2500 Truck Radiator Cap V8 7.4L (8th Vin Digit J) ACDelco RC27 |
| 1978 | GMC | C3500 Truck | GMC C3500 Truck Radiator Cap V8 5.0L (8th Vin Digit U) with 2 BBL Carburetor ACDelco RC27 |
| 1978 | GMC | C3500 Truck | GMC C3500 Truck Radiator Cap (8th Vin Digit D) L6 4.1L with 1 BBL Carburetor ACDelco RC27 |
| 1978-1979 | GMC | C3500 Truck | GMC C3500 Truck Radiator Cap (8th Vin Digit R) V8 6.6L with 4 BBL Carburetor ACDelco RC27 |
| 1978-1980 | GMC | C3500 Truck | GMC C3500 Truck Radiator Cap V8 7.4L (8th Vin Digit S) with 4 BBL Carburetor ACDelco RC27 |
| 1978-1980 | GMC | C3500 Truck | GMC C3500 Truck Radiator Cap (8th Vin Digit L) V8 5.7L with 4 BBL Carburetor ACDelco RC27 |
| 1978-1986 | GMC | C3500 Truck | GMC C3500 Truck Radiator Cap (8th Vin Digit T) L6 4.8L with 1 BBL Carburetor ACDelco RC27 |
| 1979 | GMC | C3500 Truck | GMC C3500 Truck Radiator Cap V8 5.7L (8th Vin Digit M) ACDelco RC27 |
| 1979-1980 | GMC | C3500 Truck | GMC C3500 Truck Radiator Cap (8th Vin Digit D) L6 4.1L with 2 BBL Carburetor ACDelco RC27 |
| 1980-1986 | GMC | C3500 Truck | GMC C3500 Truck Radiator Cap (8th Vin Digit M) V8 5.7L with 4 BBL Carburetor ACDelco RC27 |
| 1980-1986 | GMC | C3500 Truck | GMC C3500 Truck Radiator Cap (8th Vin Digit W) V8 7.4L with 4 BBL Carburetor ACDelco RC27 |
| 1982-1993 | GMC | C3500 Truck | GMC C3500 Truck Radiator Cap V8 6.2L (8th Vin Digit J) ACDelco RC27 |
| 1986 | GMC | C3500 Truck | GMC C3500 Truck Radiator Cap V8 5.0L (8th Vin Digit H) with 4 BBL Carburetor ACDelco RC27 |
| 1988-1995 | GMC | C3500 Truck | GMC C3500 Truck Radiator Cap V8 7.4L (8th Vin Digit N) ACDelco RC27 |
| 1988-1995 | GMC | C3500 Truck | GMC C3500 Truck Radiator Cap V8 5.7L (8th Vin Digit K) ACDelco RC27 |
| 1992-1999 | GMC | C3500 Truck | GMC C3500 Truck Radiator Cap V8 6.5L (8th Vin Digit F) ACDelco RC27 |
| 1996-1999 | GMC | C3500 Truck | GMC C3500 Truck Radiator Cap V8 7.4L (8th Vin Digit J) ACDelco RC27 |
| 1996-1999 | GMC | C3500 Truck | GMC C3500 Truck Radiator Cap V8 5.7L (8th Vin Digit R) ACDelco RC27 |
| 1998 | GMC | C3500 Truck | GMC C3500 Truck Radiator Cap V8 6.5L (8th Vin Digit S) ACDelco RC27 |
| 1978-1983 | GMC | Caballero | GMC Caballero Radiator Cap (8th Vin Digit A) V6 3.8L with 2 BBL Carburetor ACDelco RC27 |
| 1978-1979 | GMC | Caballero | GMC Caballero Radiator Cap V6 3.3L (8th Vin Digit M) with 2 BBL Carburetor ACDelco RC27 |
| 1978-1979 | GMC | Caballero | GMC Caballero Radiator Cap (8th Vin Digit L) V8 5.7L with 4 BBL Carburetor ACDelco RC27 |
| 1978 | GMC | Caballero | GMC Caballero Radiator Cap V8 5.0L (8th Vin Digit U) with 2 BBL Carburetor ACDelco RC27 |
| 1979 | GMC | Caballero | GMC Caballero Radiator Cap (8th Vin Digit 2) V6 3.8L with 2 BBL Carburetor ACDelco RC27 |
| 1979-1987 | GMC | Caballero | GMC Caballero Radiator Cap V8 5.0L (8th Vin Digit H) with 4 BBL Carburetor ACDelco RC27 |
| 1980-1982 | GMC | Caballero | GMC Caballero Radiator Cap V8 4.4L (8th Vin Digit J) with 2 BBL Carburetor ACDelco RC27 |
| 1980-1982 | GMC | Caballero | GMC Caballero Radiator Cap V6 3.8L (8th Vin Digit K) with 2 BBL Carburetor ACDelco RC27 |
| 1983 | GMC | Caballero | GMC Caballero Radiator Cap V8 5.7L (8th Vin Digit N) ACDelco RC27 |
| 1983 | GMC | Caballero | GMC Caballero Radiator Cap V6 3.8L (8th Vin Digit 9) with 2 BBL Carburetor ACDelco RC27 |
| 1985-1987 | GMC | Caballero | GMC Caballero Radiator Cap V6 4.3L (8th Vin Digit Z) ACDelco RC27 |
| 1979-1984 | GMC | G1500 | GMC G1500 Radiator Cap (8th Vin Digit D) L6 4.1L with 2 BBL Carburetor ACDelco RC27 |
| 1979-1986 | GMC | G1500 | GMC G1500 Radiator Cap (8th Vin Digit L) V8 5.7L with 4 BBL Carburetor ACDelco RC27 |
| 1979 | GMC | G1500 | GMC G1500 Radiator Cap V8 5.0L (8th Vin Digit U) with 2 BBL Carburetor ACDelco RC27 |
| 1979 | GMC | G1500 | GMC G1500 Radiator Cap (8th Vin Digit R) V8 6.6L with 4 BBL Carburetor ACDelco RC27 |
| 1980-1981 | GMC | G1500 | GMC G1500 Radiator Cap V8 5.0L (8th Vin Digit G) with 2 BBL Carburetor ACDelco RC27 |
| 1981-1986 | GMC | G1500 | GMC G1500 Radiator Cap V8 5.0L (8th Vin Digit H) with 4 BBL Carburetor ACDelco RC27 |
| 1981-1985 | GMC | G1500 | GMC G1500 Radiator Cap V8 5.0L (8th Vin Digit F) with 4 BBL Carburetor ACDelco RC27 |
| 1985-1986 | GMC | G1500 | GMC G1500 Radiator Cap V6 4.3L (8th Vin Digit N) with 4 BBL Carburetor ACDelco RC27 |
| 1986 | GMC | G1500 | GMC G1500 Radiator Cap V8 5.0L (8th Vin Digit F) ACDelco RC27 |
| 1987-1993 | GMC | G1500 | GMC G1500 Radiator Cap V8 5.7L (8th Vin Digit K) ACDelco RC27 |
| 1987-1995 | GMC | G1500 | GMC G1500 Radiator Cap V8 5.0L (8th Vin Digit H) ACDelco RC27 |
| 1987-1995 | GMC | G1500 | GMC G1500 Radiator Cap V6 4.3L (8th Vin Digit Z) ACDelco RC27 |
| 1979-1980 | GMC | G2500 | GMC G2500 Radiator Cap (8th Vin Digit R) V8 6.6L with 4 BBL Carburetor ACDelco RC27 |
| 1979-1984 | GMC | G2500 | GMC G2500 Radiator Cap (8th Vin Digit D) L6 4.1L with 2 BBL Carburetor ACDelco RC27 |
| 1979-1986 | GMC | G2500 | GMC G2500 Radiator Cap (8th Vin Digit L) V8 5.7L with 4 BBL Carburetor ACDelco RC27 |
| 1979 | GMC | G2500 | GMC G2500 Radiator Cap V8 5.0L (8th Vin Digit U) with 2 BBL Carburetor ACDelco RC27 |
| 1980-1986 | GMC | G2500 | GMC G2500 Radiator Cap (8th Vin Digit M) V8 5.7L with 4 BBL Carburetor ACDelco RC27 |
| 1980-1981 | GMC | G2500 | GMC G2500 Radiator Cap V8 5.0L (8th Vin Digit G) with 2 BBL Carburetor ACDelco RC27 |
| 1981-1985 | GMC | G2500 | GMC G2500 Radiator Cap V8 5.0L (8th Vin Digit F) with 4 BBL Carburetor ACDelco RC27 |
| 1981-1986 | GMC | G2500 | GMC G2500 Radiator Cap V8 5.0L (8th Vin Digit H) with 4 BBL Carburetor ACDelco RC27 |
| 1983-1993 | GMC | G2500 | GMC G2500 Radiator Cap V8 6.2L (8th Vin Digit C) ACDelco RC27 |
| 1985-1986 | GMC | G2500 | GMC G2500 Radiator Cap V6 4.3L (8th Vin Digit N) with 4 BBL Carburetor ACDelco RC27 |
| 1986 | GMC | G2500 | GMC G2500 Radiator Cap V8 5.0L (8th Vin Digit F) ACDelco RC27 |
| 1987-1995 | GMC | G2500 | GMC G2500 Radiator Cap V8 5.7L (8th Vin Digit K) ACDelco RC27 |
| 1987-1995 | GMC | G2500 | GMC G2500 Radiator Cap V8 5.0L (8th Vin Digit H) ACDelco RC27 |
| 1987-1995 | GMC | G2500 | GMC G2500 Radiator Cap V6 4.3L (8th Vin Digit Z) ACDelco RC27 |
| 1994-1995 | GMC | G2500 | GMC G2500 Radiator Cap V8 6.5L (8th Vin Digit P) ACDelco RC27 |
| 1979-1980 | GMC | G3500 | GMC G3500 Radiator Cap (8th Vin Digit R) V8 6.6L with 4 BBL Carburetor ACDelco RC27 |
| 1979-1984 | GMC | G3500 | GMC G3500 Radiator Cap (8th Vin Digit D) L6 4.1L with 2 BBL Carburetor ACDelco RC27 |
| 1979-1986 | GMC | G3500 | GMC G3500 Radiator Cap (8th Vin Digit L) V8 5.7L with 4 BBL Carburetor ACDelco RC27 |
| 1980-1988 | GMC | G3500 | GMC G3500 Radiator Cap (8th Vin Digit M) V8 5.7L with 4 BBL Carburetor ACDelco RC27 |
| 1981 | GMC | G3500 | GMC G3500 Radiator Cap V8 5.0L (8th Vin Digit H) with 4 BBL Carburetor ACDelco RC27 |
| 1983-1993 | GMC | G3500 | GMC G3500 Radiator Cap V8 6.2L (8th Vin Digit J) ACDelco RC27 |
| 1984 | GMC | G3500 | GMC G3500 Radiator Cap V8 5.7L (8th Vin Digit E) with 4 BBL Carburetor ACDelco RC27 |
| 1985-1986 | GMC | G3500 | GMC G3500 Radiator Cap V6 4.3L (8th Vin Digit N) with 4 BBL Carburetor ACDelco RC27 |
| 1987-1995 | GMC | G3500 | GMC G3500 Radiator Cap V8 5.7L (8th Vin Digit K) ACDelco RC27 |
| 1987-1995 | GMC | G3500 | GMC G3500 Radiator Cap V6 4.3L (8th Vin Digit Z) ACDelco RC27 |
| 1988-1995 | GMC | G3500 | GMC G3500 Radiator Cap V8 7.4L (8th Vin Digit N) ACDelco RC27 |
| 1992 | GMC | G3500 | GMC G3500 Radiator Cap V8 6.2L (8th Vin Digit C) ACDelco RC27 |
| 1994-1995 | GMC | G3500 | GMC G3500 Radiator Cap V8 6.5L (8th Vin Digit Y) ACDelco RC27 |
| 1978-1979 | GMC | Jimmy Full Size | GMC Jimmy Full Size Radiator Cap (8th Vin Digit R) V8 6.6L with 4 BBL Carburetor ACDelco RC27 |
| 1978-1979 | GMC | Jimmy Full Size | GMC Jimmy Full Size Radiator Cap V8 5.0L (8th Vin Digit U) with 2 BBL Carburetor ACDelco RC27 |
| 1978-1986 | GMC | Jimmy Full Size | GMC Jimmy Full Size Radiator Cap (8th Vin Digit L) V8 5.7L with 4 BBL Carburetor ACDelco RC27 |
| 1978 | GMC | Jimmy Full Size | GMC Jimmy Full Size Radiator Cap (8th Vin Digit D) L6 4.1L with 1 BBL Carburetor ACDelco RC27 |
| 1979-1982 | GMC | Jimmy Full Size | GMC Jimmy Full Size Radiator Cap (8th Vin Digit D) L6 4.1L with 2 BBL Carburetor ACDelco RC27 |
| 1980-1981 | GMC | Jimmy Full Size | GMC Jimmy Full Size Radiator Cap V8 5.0L (8th Vin Digit G) with 2 BBL Carburetor ACDelco RC27 |
| 1981-1982 | GMC | Jimmy Full Size | GMC Jimmy Full Size Radiator Cap V8 5.0L (8th Vin Digit F) with 4 BBL Carburetor ACDelco RC27 |
| 1981-1986 | GMC | Jimmy Full Size | GMC Jimmy Full Size Radiator Cap V8 5.0L (8th Vin Digit H) with 4 BBL Carburetor ACDelco RC27 |
| 1982-1991 | GMC | Jimmy Full Size | GMC Jimmy Full Size Radiator Cap V8 6.2L (8th Vin Digit C) ACDelco RC27 |
| 1987-1991 | GMC | Jimmy Full Size | GMC Jimmy Full Size Radiator Cap V8 5.7L (8th Vin Digit K) ACDelco RC27 |
| 1987 | GMC | Jimmy Full Size | GMC Jimmy Full Size Radiator Cap V8 5.0L (8th Vin Digit H) ACDelco RC27 |
| 1983-1985 | GMC | Jimmy S-15 | GMC Jimmy S-15 Radiator Cap V6 2.8L (8th Vin Digit B) with 2 BBL Carburetor ACDelco RC27 |
| 1983-1984 | GMC | Jimmy S-15 | GMC Jimmy S-15 Radiator Cap (8th Vin Digit A) L4 1.9L with 2 BBL Carburetor ACDelco RC27 |
| 1983-1984 | GMC | Jimmy S-15 | GMC Jimmy S-15 Radiator Cap L4 2.0L (8th Vin Digit Y) with 2 BBL Carburetor ACDelco RC27 |
| 1985-1988 | GMC | Jimmy S-15 | GMC Jimmy S-15 Radiator Cap L4 2.5L (8th Vin Digit E) ACDelco RC27 |
| 1986-1989 | GMC | Jimmy S-15 | GMC Jimmy S-15 Radiator Cap V6 2.8L (8th Vin Digit R) ACDelco RC27 |
| 1988-1994 | GMC | Jimmy S-15 | GMC Jimmy S-15 Radiator Cap V6 4.3L (8th Vin Digit Z) ACDelco RC27 |
| 1992-1994 | GMC | Jimmy S-15 | GMC Jimmy S-15 Radiator Cap V6 4.3L (8th Vin Digit W) ACDelco RC27 |
| 1978 | GMC | K1500 Truck | GMC K1500 Truck Radiator Cap (8th Vin Digit D) L6 4.1L with 1 BBL Carburetor ACDelco RC27 |
| 1978-1979 | GMC | K1500 Truck | GMC K1500 Truck Radiator Cap (8th Vin Digit R) V8 6.6L with 4 BBL Carburetor ACDelco RC27 |
| 1978-1979 | GMC | K1500 Truck | GMC K1500 Truck Radiator Cap V8 5.0L (8th Vin Digit U) with 2 BBL Carburetor ACDelco RC27 |
| 1978-1986 | GMC | K1500 Truck | GMC K1500 Truck Radiator Cap (8th Vin Digit L) V8 5.7L with 4 BBL Carburetor ACDelco RC27 |
| 1979-1980 | GMC | K1500 Truck | GMC K1500 Truck Radiator Cap V8 7.4L (8th Vin Digit S) with 4 BBL Carburetor ACDelco RC27 |
| 1979-1980 | GMC | K1500 Truck | GMC K1500 Truck Radiator Cap (8th Vin Digit T) L6 4.8L with 1 BBL Carburetor ACDelco RC27 |
| 1979-1984 | GMC | K1500 Truck | GMC K1500 Truck Radiator Cap (8th Vin Digit D) L6 4.1L with 2 BBL Carburetor ACDelco RC27 |
| 1980 | GMC | K1500 Truck | GMC K1500 Truck Radiator Cap (8th Vin Digit X) V8 6.6L with 4 BBL Carburetor ACDelco RC27 |
| 1980-1985 | GMC | K1500 Truck | GMC K1500 Truck Radiator Cap (8th Vin Digit M) V8 5.7L with 4 BBL Carburetor ACDelco RC27 |
| 1981-1986 | GMC | K1500 Truck | GMC K1500 Truck Radiator Cap V8 5.0L (8th Vin Digit H) with 4 BBL Carburetor ACDelco RC27 |
| 1982-1993 | GMC | K1500 Truck | GMC K1500 Truck Radiator Cap V8 6.2L (8th Vin Digit C) ACDelco RC27 |
| 1985-1986 | GMC | K1500 Truck | GMC K1500 Truck Radiator Cap V8 6.2L (8th Vin Digit J) ACDelco RC27 |
| 1985-1986 | GMC | K1500 Truck | GMC K1500 Truck Radiator Cap V6 4.3L (8th Vin Digit N) with 4 BBL Carburetor ACDelco RC27 |
| 1986 | GMC | K1500 Truck | GMC K1500 Truck Radiator Cap V8 5.7L (8th Vin Digit M) ACDelco RC27 |
| 1988-1995 | GMC | K1500 Truck | GMC K1500 Truck Radiator Cap V8 5.7L (8th Vin Digit K) ACDelco RC27 |
| 1988-1995 | GMC | K1500 Truck | GMC K1500 Truck Radiator Cap V6 4.3L (8th Vin Digit Z) ACDelco RC27 |
| 1988-1995 | GMC | K1500 Truck | GMC K1500 Truck Radiator Cap V8 5.0L (8th Vin Digit H) ACDelco RC27 |
| 1994-1998 | GMC | K1500 Truck | GMC K1500 Truck Radiator Cap V8 6.5L (8th Vin Digit S) ACDelco RC27 |
| 1994 | GMC | K1500 Truck | GMC K1500 Truck Radiator Cap V8 6.5L (8th Vin Digit P) ACDelco RC27 |
| 1996-1998 | GMC | K1500 Truck | GMC K1500 Truck Radiator Cap V8 5.7L (8th Vin Digit R) ACDelco RC27 |
| 1996-1998 | GMC | K1500 Truck | GMC K1500 Truck Radiator Cap V6 4.3L (8th Vin Digit W) ACDelco RC27 |
| 1996-1998 | GMC | K1500 Truck | GMC K1500 Truck Radiator Cap V8 5.0L (8th Vin Digit M) ACDelco RC27 |
| 1997 | GMC | K1500 Truck | GMC K1500 Truck Radiator Cap V8 6.5L (8th Vin Digit F) ACDelco RC27 |
| 1978 | GMC | K2500 Truck | GMC K2500 Truck Radiator Cap (8th Vin Digit D) L6 4.1L with 1 BBL Carburetor ACDelco RC27 |
| 1978 | GMC | K2500 Truck | GMC K2500 Truck Radiator Cap V8 7.4L (8th Vin Digit S) with 4 BBL Carburetor ACDelco RC27 |
| 1978 | GMC | K2500 Truck | GMC K2500 Truck Radiator Cap V8 5.0L (8th Vin Digit U) with 2 BBL Carburetor ACDelco RC27 |
| 1978-1979 | GMC | K2500 Truck | GMC K2500 Truck Radiator Cap (8th Vin Digit R) V8 6.6L with 4 BBL Carburetor ACDelco RC27 |
| 1978-1986 | GMC | K2500 Truck | GMC K2500 Truck Radiator Cap (8th Vin Digit T) L6 4.8L with 1 BBL Carburetor ACDelco RC27 |
| 1978-1986 | GMC | K2500 Truck | GMC K2500 Truck Radiator Cap (8th Vin Digit L) V8 5.7L with 4 BBL Carburetor ACDelco RC27 |
| 1979 | GMC | K2500 Truck | GMC K2500 Truck Radiator Cap V8 5.7L (8th Vin Digit M) ACDelco RC27 |
| 1980 | GMC | K2500 Truck | GMC K2500 Truck Radiator Cap (8th Vin Digit D) L6 4.1L with 2 BBL Carburetor ACDelco RC27 |
| 1980 | GMC | K2500 Truck | GMC K2500 Truck Radiator Cap (8th Vin Digit X) V8 6.6L with 4 BBL Carburetor ACDelco RC27 |
| 1980-1986 | GMC | K2500 Truck | GMC K2500 Truck Radiator Cap (8th Vin Digit M) V8 5.7L with 4 BBL Carburetor ACDelco RC27 |
| 1982-1993 | GMC | K2500 Truck | GMC K2500 Truck Radiator Cap V8 6.2L (8th Vin Digit C) ACDelco RC27 |
| 1982-1993 | GMC | K2500 Truck | GMC K2500 Truck Radiator Cap V8 6.2L (8th Vin Digit J) ACDelco RC27 |
| 1985 | GMC | K2500 Truck | GMC K2500 Truck Radiator Cap V6 4.3L (8th Vin Digit N) with 4 BBL Carburetor ACDelco RC27 |
| 1988-1995 | GMC | K2500 Truck | GMC K2500 Truck Radiator Cap V8 5.7L (8th Vin Digit K) ACDelco RC27 |
| 1988-1995 | GMC | K2500 Truck | GMC K2500 Truck Radiator Cap V6 4.3L (8th Vin Digit Z) ACDelco RC27 |
| 1988-1995 | GMC | K2500 Truck | GMC K2500 Truck Radiator Cap V8 5.0L (8th Vin Digit H) ACDelco RC27 |
| 1991-1995 | GMC | K2500 Truck | GMC K2500 Truck Radiator Cap V8 7.4L (8th Vin Digit N) ACDelco RC27 |
| 1992-1999 | GMC | K2500 Truck | GMC K2500 Truck Radiator Cap V8 6.5L (8th Vin Digit F) ACDelco RC27 |
| 1994-1998 | GMC | K2500 Truck | GMC K2500 Truck Radiator Cap V8 6.5L (8th Vin Digit S) ACDelco RC27 |
| 1994 | GMC | K2500 Truck | GMC K2500 Truck Radiator Cap V8 6.5L (8th Vin Digit P) ACDelco RC27 |
| 1996-1998 | GMC | K2500 Truck | GMC K2500 Truck Radiator Cap V8 5.0L (8th Vin Digit M) ACDelco RC27 |
| 1996-1999 | GMC | K2500 Truck | GMC K2500 Truck Radiator Cap V8 7.4L (8th Vin Digit J) ACDelco RC27 |
| 1996-1999 | GMC | K2500 Truck | GMC K2500 Truck Radiator Cap V8 5.7L (8th Vin Digit R) ACDelco RC27 |
| 1978-1980 | GMC | K3500 Truck | GMC K3500 Truck Radiator Cap (8th Vin Digit R) V8 6.6L with 4 BBL Carburetor ACDelco RC27 |
| 1978-1980 | GMC | K3500 Truck | GMC K3500 Truck Radiator Cap (8th Vin Digit L) V8 5.7L with 4 BBL Carburetor ACDelco RC27 |
| 1978-1986 | GMC | K3500 Truck | GMC K3500 Truck Radiator Cap (8th Vin Digit T) L6 4.8L with 1 BBL Carburetor ACDelco RC27 |
| 1979 | GMC | K3500 Truck | GMC K3500 Truck Radiator Cap V8 5.7L (8th Vin Digit M) ACDelco RC27 |
| 1979-1980 | GMC | K3500 Truck | GMC K3500 Truck Radiator Cap V8 7.4L (8th Vin Digit S) with 4 BBL Carburetor ACDelco RC27 |
| 1980-1986 | GMC | K3500 Truck | GMC K3500 Truck Radiator Cap (8th Vin Digit M) V8 5.7L with 4 BBL Carburetor ACDelco RC27 |
| 1981-1986 | GMC | K3500 Truck | GMC K3500 Truck Radiator Cap (8th Vin Digit W) V8 7.4L with 4 BBL Carburetor ACDelco RC27 |
| 1992-1999 | GMC | K3500 Truck | GMC K3500 Truck Radiator Cap V8 6.5L (8th Vin Digit F) ACDelco RC27 |
| 1992-1995 | GMC | K3500 Truck | GMC K3500 Truck Radiator Cap V8 5.7L (8th Vin Digit K) ACDelco RC27 |
| 1992-1995 | GMC | K3500 Truck | GMC K3500 Truck Radiator Cap V8 7.4L (8th Vin Digit N) ACDelco RC27 |
| 1992-1993 | GMC | K3500 Truck | GMC K3500 Truck Radiator Cap V8 6.2L (8th Vin Digit J) ACDelco RC27 |
| 1996-1999 | GMC | K3500 Truck | GMC K3500 Truck Radiator Cap V8 7.4L (8th Vin Digit J) ACDelco RC27 |
| 1996-1999 | GMC | K3500 Truck | GMC K3500 Truck Radiator Cap V8 5.7L (8th Vin Digit R) ACDelco RC27 |
| 1978 | GMC | P15 | GMC P15 Radiator Cap L6 4.8L (8th Vin Digit T) ACDelco RC27 |
| 1979-1980 | GMC | P1500 | GMC P1500 Radiator Cap L6 4.8L (8th Vin Digit T) ACDelco RC27 |
| 1979 | GMC | P1500 | GMC P1500 Radiator Cap V8 7.4L (8th Vin Digit S) ACDelco RC27 |
| 1978 | GMC | P25 | GMC P25 Radiator Cap V8 5.7L (8th Vin Digit L) ACDelco RC27 |
| 1978 | GMC | P25 | GMC P25 Radiator Cap L6 4.8L (8th Vin Digit T) ACDelco RC27 |
| 1978 | GMC | P25 | GMC P25 Radiator Cap L6 4.8L (8th Vin Digit T) ACDelco RC27 |
| 1979-1980 | GMC | P2500 | GMC P2500 Radiator Cap L6 4.8L (8th Vin Digit T) ACDelco RC27 |
| 1979 | GMC | P2500 | GMC P2500 Radiator Cap V8 7.4L (8th Vin Digit S) ACDelco RC27 |
| 1978 | GMC | P35 | GMC P35 Radiator Cap V8 7.4L (8th Vin Digit S) ACDelco RC27 |
| 1978 | GMC | P35 | GMC P35 Radiator Cap V8 5.7L (8th Vin Digit L) ACDelco RC27 |
| 1978 | GMC | P35 | GMC P35 Radiator Cap L6 4.8L (8th Vin Digit T) ACDelco RC27 |
| 1978 | GMC | P35 | GMC P35 Radiator Cap L6 4.8L (8th Vin Digit T) ACDelco RC27 |
| 1979-1980 | GMC | P3500 | GMC P3500 Radiator Cap L6 4.8L (8th Vin Digit T) ACDelco RC27 |
| 1979 | GMC | P3500 | GMC P3500 Radiator Cap V8 7.4L (8th Vin Digit S) ACDelco RC27 |
| 1987 | GMC | R1500 Truck | GMC R1500 Truck Radiator Cap V6 4.3L (8th Vin Digit Z) ACDelco RC27 |
| 1987 | GMC | R1500 Truck | GMC R1500 Truck Radiator Cap V8 6.2L (8th Vin Digit C) ACDelco RC27 |
| 1987 | GMC | R1500 Truck | GMC R1500 Truck Radiator Cap V8 5.0L (8th Vin Digit H) ACDelco RC27 |
| 1987 | GMC | R2500 Truck | GMC R2500 Truck Radiator Cap V6 4.3L (8th Vin Digit Z) ACDelco RC27 |
| 1987 | GMC | R2500 Truck | GMC R2500 Truck Radiator Cap L6 4.8L (8th Vin Digit T) ACDelco RC27 |
| 1987 | GMC | R2500 Truck | GMC R2500 Truck Radiator Cap V8 5.0L (8th Vin Digit H) ACDelco RC27 |
| 1987-1989 | GMC | R2500 Truck | GMC R2500 Truck Radiator Cap V8 5.7L (8th Vin Digit K) ACDelco RC27 |
| 1987 | GMC | R2500 Truck | GMC R2500 Truck Radiator Cap V8 6.2L (8th Vin Digit C) ACDelco RC27 |
| 1987-1989 | GMC | R2500 Truck | GMC R2500 Truck Radiator Cap V8 6.2L (8th Vin Digit J) ACDelco RC27 |
| 1987-1989 | GMC | R2500 Truck | GMC R2500 Truck Radiator Cap V8 7.4L (8th Vin Digit N) ACDelco RC27 |
| 1988 | GMC | R2500 Truck | GMC R2500 Truck Radiator Cap (8th Vin Digit T) L6 4.8L with 1 BBL Carburetor ACDelco RC27 |
| 1987-1991 | GMC | R3500 Truck | GMC R3500 Truck Radiator Cap V8 6.2L (8th Vin Digit J) ACDelco RC27 |
| 1987-1991 | GMC | R3500 Truck | GMC R3500 Truck Radiator Cap V8 5.7L (8th Vin Digit K) ACDelco RC27 |
| 1987 | GMC | R3500 Truck | GMC R3500 Truck Radiator Cap L6 4.8L (8th Vin Digit T) ACDelco RC27 |
| 1987-1991 | GMC | R3500 Truck | GMC R3500 Truck Radiator Cap V8 7.4L (8th Vin Digit N) ACDelco RC27 |
| 1987-1989 | GMC | R3500 Truck | GMC R3500 Truck Radiator Cap V8 7.4L (8th Vin Digit W) ACDelco RC27 |
| 1987-1988 | GMC | R3500 Truck | GMC R3500 Truck Radiator Cap (8th Vin Digit M) V8 5.7L with 4 BBL Carburetor ACDelco RC27 |
| 1988 | GMC | R3500 Truck | GMC R3500 Truck Radiator Cap (8th Vin Digit T) L6 4.8L with 1 BBL Carburetor ACDelco RC27 |
| 1988 | GMC | R3500 Truck | GMC R3500 Truck Radiator Cap (8th Vin Digit W) V8 7.4L with 4 BBL Carburetor ACDelco RC27 |
| 1982-1985 | GMC | S-15 Pickup | GMC S-15 Pickup Radiator Cap (8th Vin Digit A) L4 1.9L with 2 BBL Carburetor ACDelco RC27 |
| 1982-1985 | GMC | S-15 Pickup | GMC S-15 Pickup Radiator Cap V6 2.8L (8th Vin Digit B) with 2 BBL Carburetor ACDelco RC27 |
| 1983-1984 | GMC | S-15 Pickup | GMC S-15 Pickup Radiator Cap L4 2.0L (8th Vin Digit Y) with 2 BBL Carburetor ACDelco RC27 |
| 1984-1985 | GMC | S-15 Pickup | GMC S-15 Pickup Radiator Cap L4 2.2L (8th Vin Digit S) ACDelco RC27 |
| 1985-1990 | GMC | S-15 Pickup | GMC S-15 Pickup Radiator Cap L4 2.5L (8th Vin Digit E) ACDelco RC27 |
| 1986-1990 | GMC | S-15 Pickup | GMC S-15 Pickup Radiator Cap V6 2.8L (8th Vin Digit R) ACDelco RC27 |
| 1988-1990 | GMC | S-15 Pickup | GMC S-15 Pickup Radiator Cap V6 4.3L (8th Vin Digit Z) ACDelco RC27 |
| 1991-1994 | GMC | S-15 Sonoma | GMC S-15 Sonoma Radiator Cap V6 4.3L (8th Vin Digit Z) ACDelco RC27 |
| 1991 | GMC | S-15 Sonoma | GMC S-15 Sonoma Radiator Cap L4 2.5L (8th Vin Digit E) ACDelco RC27 |
| 1991-1993 | GMC | S-15 Sonoma | GMC S-15 Sonoma Radiator Cap (8th Vin Digit A) L4 2.5L ACDelco RC27 |
| 1991-1993 | GMC | S-15 Sonoma | GMC S-15 Sonoma Radiator Cap V6 2.8L (8th Vin Digit R) ACDelco RC27 |
| 1992-1994 | GMC | S-15 Sonoma | GMC S-15 Sonoma Radiator Cap V6 4.3L (8th Vin Digit W) ACDelco RC27 |
| 1994 | GMC | S-15 Sonoma | GMC S-15 Sonoma Radiator Cap L4 2.2L (8th Vin Digit 4) ACDelco RC27 |
| 1985-1990 | GMC | Safari | GMC Safari Radiator Cap L4 2.5L (8th Vin Digit E) ACDelco RC27 |
| 1985 | GMC | Safari | GMC Safari Radiator Cap V6 4.3L (8th Vin Digit N) with 4 BBL Carburetor ACDelco RC27 |
| 1986-1994 | GMC | Safari | GMC Safari Radiator Cap V6 4.3L (8th Vin Digit Z) ACDelco RC27 |
| 1990-1991 | GMC | Safari | GMC Safari Radiator Cap (8th Vin Digit B) V6 4.3L ACDelco RC27 |
| 1992-1994 | GMC | Safari | GMC Safari Radiator Cap V6 4.3L (8th Vin Digit W) ACDelco RC27 |
| 1996-1999 | GMC | Savana 1500 Van | GMC Savana 1500 Van Radiator Cap ACDelco RC27 |
| 1996-1999 | GMC | Savana 2500 Van | GMC Savana 2500 Van Radiator Cap ACDelco RC27 |
| 1996-1999 | GMC | Savana 3500 Van | GMC Savana 3500 Van Radiator Cap ACDelco RC27 |
| 1977 | GMC | Sprint | GMC Sprint Radiator Cap V8 5.0L (8th Vin Digit U) with 2 BBL Carburetor ACDelco RC27 |
| 1977 | GMC | Sprint | GMC Sprint Radiator Cap (8th Vin Digit D) L6 4.1L with 1 BBL Carburetor ACDelco RC27 |
| 1977 | GMC | Sprint | GMC Sprint Radiator Cap (8th Vin Digit L) V8 5.7L with 4 BBL Carburetor ACDelco RC27 |
| 1978-1979 | GMC | Suburban C1500 | GMC Suburban C1500 Radiator Cap V8 5.0L (8th Vin Digit U) with 2 BBL Carburetor ACDelco RC27 |
| 1978-1986 | GMC | Suburban C1500 | GMC Suburban C1500 Radiator Cap (8th Vin Digit L) V8 5.7L with 4 BBL Carburetor ACDelco RC27 |
| 1978 | GMC | Suburban C1500 | GMC Suburban C1500 Radiator Cap (8th Vin Digit D) L6 4.1L with 1 BBL Carburetor ACDelco RC27 |
| 1978-1980 | GMC | Suburban C1500 | GMC Suburban C1500 Radiator Cap V8 7.4L (8th Vin Digit S) with 4 BBL Carburetor ACDelco RC27 |
| 1978-1981 | GMC | Suburban C1500 | GMC Suburban C1500 Radiator Cap V8 5.7L (8th Vin Digit Z) ACDelco RC27 |
| 1979-1980 | GMC | Suburban C1500 | GMC Suburban C1500 Radiator Cap (8th Vin Digit D) L6 4.1L with 2 BBL Carburetor ACDelco RC27 |
| 1980-1981 | GMC | Suburban C1500 | GMC Suburban C1500 Radiator Cap V8 5.0L (8th Vin Digit G) with 2 BBL Carburetor ACDelco RC27 |
| 1980-1986 | GMC | Suburban C1500 | GMC Suburban C1500 Radiator Cap (8th Vin Digit M) V8 5.7L with 4 BBL Carburetor ACDelco RC27 |
| 1980 | GMC | Suburban C1500 | GMC Suburban C1500 Radiator Cap (8th Vin Digit W) V8 7.4L with 4 BBL Carburetor ACDelco RC27 |
| 1981-1986 | GMC | Suburban C1500 | GMC Suburban C1500 Radiator Cap V8 5.0L (8th Vin Digit H) with 4 BBL Carburetor ACDelco RC27 |
| 1981-1984 | GMC | Suburban C1500 | GMC Suburban C1500 Radiator Cap V8 5.0L (8th Vin Digit F) with 4 BBL Carburetor ACDelco RC27 |
| 1982-1986 | GMC | Suburban C1500 | GMC Suburban C1500 Radiator Cap V8 6.2L (8th Vin Digit C) ACDelco RC27 |
| 1985-1986 | GMC | Suburban C1500 | GMC Suburban C1500 Radiator Cap V8 5.0L (8th Vin Digit F) ACDelco RC27 |
| 1992-1995 | GMC | Suburban C1500 | GMC Suburban C1500 Radiator Cap V8 5.7L (8th Vin Digit K) ACDelco RC27 |
| 1995-1999 | GMC | Suburban C1500 | GMC Suburban C1500 Radiator Cap V8 6.5L (8th Vin Digit F) ACDelco RC27 |
| 1996-1999 | GMC | Suburban C1500 | GMC Suburban C1500 Radiator Cap V8 5.7L (8th Vin Digit R) ACDelco RC27 |
| 1978 | GMC | Suburban C2500 | GMC Suburban C2500 Radiator Cap V8 5.0L (8th Vin Digit U) with 2 BBL Carburetor ACDelco RC27 |
| 1978-1986 | GMC | Suburban C2500 | GMC Suburban C2500 Radiator Cap (8th Vin Digit L) V8 5.7L with 4 BBL Carburetor ACDelco RC27 |
| 1978 | GMC | Suburban C2500 | GMC Suburban C2500 Radiator Cap (8th Vin Digit R) V8 6.6L with 4 BBL Carburetor ACDelco RC27 |
| 1978-1980 | GMC | Suburban C2500 | GMC Suburban C2500 Radiator Cap V8 7.4L (8th Vin Digit S) with 4 BBL Carburetor ACDelco RC27 |
| 1978-1982 | GMC | Suburban C2500 | GMC Suburban C2500 Radiator Cap (8th Vin Digit T) L6 4.8L with 1 BBL Carburetor ACDelco RC27 |
| 1980-1986 | GMC | Suburban C2500 | GMC Suburban C2500 Radiator Cap (8th Vin Digit M) V8 5.7L with 4 BBL Carburetor ACDelco RC27 |
| 1980 | GMC | Suburban C2500 | GMC Suburban C2500 Radiator Cap V8 5.7L (8th Vin Digit Z) ACDelco RC27 |
| 1980 | GMC | Suburban C2500 | GMC Suburban C2500 Radiator Cap (8th Vin Digit X) V8 6.6L with 4 BBL Carburetor ACDelco RC27 |
| 1980-1986 | GMC | Suburban C2500 | GMC Suburban C2500 Radiator Cap (8th Vin Digit W) V8 7.4L with 4 BBL Carburetor ACDelco RC27 |
| 1982-1986 | GMC | Suburban C2500 | GMC Suburban C2500 Radiator Cap V8 6.2L (8th Vin Digit C) ACDelco RC27 |
| 1982-1986 | GMC | Suburban C2500 | GMC Suburban C2500 Radiator Cap V8 6.2L (8th Vin Digit J) ACDelco RC27 |
| 1982-1986 | GMC | Suburban C2500 | GMC Suburban C2500 Radiator Cap V8 5.0L (8th Vin Digit H) with 4 BBL Carburetor ACDelco RC27 |
| 1984-1986 | GMC | Suburban C2500 | GMC Suburban C2500 Radiator Cap L6 4.8L (8th Vin Digit T) ACDelco RC27 |
| 1992-1995 | GMC | Suburban C2500 | GMC Suburban C2500 Radiator Cap V8 5.7L (8th Vin Digit K) ACDelco RC27 |
| 1992-1995 | GMC | Suburban C2500 | GMC Suburban C2500 Radiator Cap V8 7.4L (8th Vin Digit N) ACDelco RC27 |
| 1994-1999 | GMC | Suburban C2500 | GMC Suburban C2500 Radiator Cap V8 6.5L (8th Vin Digit F) ACDelco RC27 |
| 1996-1999 | GMC | Suburban C2500 | GMC Suburban C2500 Radiator Cap V8 5.7L (8th Vin Digit R) ACDelco RC27 |
| 1996-1999 | GMC | Suburban C2500 | GMC Suburban C2500 Radiator Cap V8 7.4L (8th Vin Digit J) ACDelco RC27 |
| 1978-1979 | GMC | Suburban K1500 | GMC Suburban K1500 Radiator Cap V8 5.0L (8th Vin Digit U) with 2 BBL Carburetor ACDelco RC27 |
| 1978-1986 | GMC | Suburban K1500 | GMC Suburban K1500 Radiator Cap (8th Vin Digit L) V8 5.7L with 4 BBL Carburetor ACDelco RC27 |
| 1978 | GMC | Suburban K1500 | GMC Suburban K1500 Radiator Cap (8th Vin Digit D) L6 4.1L with 1 BBL Carburetor ACDelco RC27 |
| 1978-1979 | GMC | Suburban K1500 | GMC Suburban K1500 Radiator Cap (8th Vin Digit R) V8 6.6L with 4 BBL Carburetor ACDelco RC27 |
| 1979-1980 | GMC | Suburban K1500 | GMC Suburban K1500 Radiator Cap (8th Vin Digit D) L6 4.1L with 2 BBL Carburetor ACDelco RC27 |
| 1980-1981 | GMC | Suburban K1500 | GMC Suburban K1500 Radiator Cap (8th Vin Digit M) V8 5.7L with 4 BBL Carburetor ACDelco RC27 |
| 1982-1986 | GMC | Suburban K1500 | GMC Suburban K1500 Radiator Cap V8 6.2L (8th Vin Digit C) ACDelco RC27 |
| 1982 | GMC | Suburban K1500 | GMC Suburban K1500 Radiator Cap V8 5.0L (8th Vin Digit H) with 4 BBL Carburetor ACDelco RC27 |
| 1983-1985 | GMC | Suburban K1500 | GMC Suburban K1500 Radiator Cap V8 5.0L (8th Vin Digit F) with 4 BBL Carburetor ACDelco RC27 |
| 1992-1995 | GMC | Suburban K1500 | GMC Suburban K1500 Radiator Cap V8 5.7L (8th Vin Digit K) ACDelco RC27 |
| 1995-1999 | GMC | Suburban K1500 | GMC Suburban K1500 Radiator Cap V8 6.5L (8th Vin Digit F) ACDelco RC27 |
| 1996-1999 | GMC | Suburban K1500 | GMC Suburban K1500 Radiator Cap V8 5.7L (8th Vin Digit R) ACDelco RC27 |
| 1978 | GMC | Suburban K2500 | GMC Suburban K2500 Radiator Cap V8 5.0L (8th Vin Digit U) with 2 BBL Carburetor ACDelco RC27 |
| 1978-1981 | GMC | Suburban K2500 | GMC Suburban K2500 Radiator Cap (8th Vin Digit L) V8 5.7L with 4 BBL Carburetor ACDelco RC27 |
| 1978-1979 | GMC | Suburban K2500 | GMC Suburban K2500 Radiator Cap (8th Vin Digit R) V8 6.6L with 4 BBL Carburetor ACDelco RC27 |
| 1978-1982 | GMC | Suburban K2500 | GMC Suburban K2500 Radiator Cap (8th Vin Digit T) L6 4.8L with 1 BBL Carburetor ACDelco RC27 |
| 1980-1986 | GMC | Suburban K2500 | GMC Suburban K2500 Radiator Cap (8th Vin Digit M) V8 5.7L with 4 BBL Carburetor ACDelco RC27 |
| 1980 | GMC | Suburban K2500 | GMC Suburban K2500 Radiator Cap (8th Vin Digit X) V8 6.6L with 4 BBL Carburetor ACDelco RC27 |
| 1982-1985 | GMC | Suburban K2500 | GMC Suburban K2500 Radiator Cap V8 6.2L (8th Vin Digit J) ACDelco RC27 |
| 1984-1986 | GMC | Suburban K2500 | GMC Suburban K2500 Radiator Cap L6 4.8L (8th Vin Digit T) ACDelco RC27 |
| 1992-1995 | GMC | Suburban K2500 | GMC Suburban K2500 Radiator Cap V8 5.7L (8th Vin Digit K) ACDelco RC27 |
| 1992-1995 | GMC | Suburban K2500 | GMC Suburban K2500 Radiator Cap V8 7.4L (8th Vin Digit N) ACDelco RC27 |
| 1994-1999 | GMC | Suburban K2500 | GMC Suburban K2500 Radiator Cap V8 6.5L (8th Vin Digit F) ACDelco RC27 |
| 1996-1999 | GMC | Suburban K2500 | GMC Suburban K2500 Radiator Cap V8 5.7L (8th Vin Digit R) ACDelco RC27 |
| 1996-1999 | GMC | Suburban K2500 | GMC Suburban K2500 Radiator Cap V8 7.4L (8th Vin Digit J) ACDelco RC27 |
| 1987 | GMC | Suburban R1500 | GMC Suburban R1500 Radiator Cap V8 5.0L (8th Vin Digit H) ACDelco RC27 |
| 1987-1991 | GMC | Suburban R1500 | GMC Suburban R1500 Radiator Cap V8 5.7L (8th Vin Digit K) ACDelco RC27 |
| 1987-1991 | GMC | Suburban R1500 | GMC Suburban R1500 Radiator Cap V8 6.2L (8th Vin Digit C) ACDelco RC27 |
| 1987-1991 | GMC | Suburban R2500 | GMC Suburban R2500 Radiator Cap V8 5.7L (8th Vin Digit K) ACDelco RC27 |
| 1987-1991 | GMC | Suburban R2500 | GMC Suburban R2500 Radiator Cap V8 6.2L (8th Vin Digit J) ACDelco RC27 |
| 1987-1991 | GMC | Suburban R2500 | GMC Suburban R2500 Radiator Cap V8 7.4L (8th Vin Digit N) ACDelco RC27 |
| 1987-1991 | GMC | Suburban V1500 | GMC Suburban V1500 Radiator Cap V8 5.7L (8th Vin Digit K) ACDelco RC27 |
| 1987-1991 | GMC | Suburban V1500 | GMC Suburban V1500 Radiator Cap V8 6.2L (8th Vin Digit C) ACDelco RC27 |
| 1987-1991 | GMC | Suburban V2500 | GMC Suburban V2500 Radiator Cap V8 5.7L (8th Vin Digit K) ACDelco RC27 |
| 1987-1991 | GMC | Suburban V2500 | GMC Suburban V2500 Radiator Cap V8 6.2L (8th Vin Digit J) ACDelco RC27 |
| 1991 | GMC | Syclone | GMC Syclone Radiator Cap V6 4.3L (8th Vin Digit Z) ACDelco RC27 |
| 1992-1993 | GMC | Typhoon | GMC Typhoon Radiator Cap V6 4.3L (8th Vin Digit Z) ACDelco RC27 |
| 1987 | GMC | V1500 Truck | GMC V1500 Truck Radiator Cap V8 6.2L (8th Vin Digit C) ACDelco RC27 |
| 1987 | GMC | V1500 Truck | GMC V1500 Truck Radiator Cap V8 5.7L (8th Vin Digit K) ACDelco RC27 |
| 1987 | GMC | V1500 Truck | GMC V1500 Truck Radiator Cap V6 4.3L (8th Vin Digit Z) ACDelco RC27 |
| 1987 | GMC | V1500 Truck | GMC V1500 Truck Radiator Cap V8 5.0L (8th Vin Digit H) ACDelco RC27 |
| 1987 | GMC | V2500 Truck | GMC V2500 Truck Radiator Cap V8 5.7L (8th Vin Digit K) ACDelco RC27 |
| 1987 | GMC | V2500 Truck | GMC V2500 Truck Radiator Cap L6 4.8L (8th Vin Digit T) ACDelco RC27 |
| 1987 | GMC | V2500 Truck | GMC V2500 Truck Radiator Cap V8 6.2L (8th Vin Digit C) ACDelco RC27 |
| 1987 | GMC | V2500 Truck | GMC V2500 Truck Radiator Cap V8 6.2L (8th Vin Digit J) ACDelco RC27 |
| 1987-1991 | GMC | V3500 Truck | GMC V3500 Truck Radiator Cap V8 5.7L (8th Vin Digit K) ACDelco RC27 |
| 1987-1991 | GMC | V3500 Truck | GMC V3500 Truck Radiator Cap V8 6.2L (8th Vin Digit J) ACDelco RC27 |
| 1987-1991 | GMC | V3500 Truck | GMC V3500 Truck Radiator Cap V8 7.4L (8th Vin Digit N) ACDelco RC27 |
| 1987-1989 | GMC | V3500 Truck | GMC V3500 Truck Radiator Cap V8 7.4L (8th Vin Digit W) ACDelco RC27 |
| 1987 | GMC | V3500 Truck | GMC V3500 Truck Radiator Cap L6 4.8L (8th Vin Digit T) ACDelco RC27 |
| 1987-1988 | GMC | V3500 Truck | GMC V3500 Truck Radiator Cap (8th Vin Digit M) V8 5.7L with 4 BBL Carburetor ACDelco RC27 |
| 1988 | GMC | V3500 Truck | GMC V3500 Truck Radiator Cap (8th Vin Digit T) L6 4.8L with 1 BBL Carburetor ACDelco RC27 |
| 1992-1995 | GMC | Yukon | GMC Yukon Radiator Cap V8 5.7L (8th Vin Digit K) ACDelco RC27 |
| 1994-1997 | GMC | Yukon | GMC Yukon Radiator Cap V8 6.5L (8th Vin Digit S) ACDelco RC27 |
| 1996-1999 | GMC | Yukon | GMC Yukon Radiator Cap V8 5.7L (8th Vin Digit R) ACDelco RC27 |
| 1972-1978 | Jeep | CJ5 | Jeep CJ5 Radiator Cap V8 5.0L (8th Vin Digit H) with 2 BBL Carburetor ACDelco RC27 |
| 1972-1978 | Jeep | CJ5 | Jeep CJ5 Radiator Cap L6 3.8L (8th Vin Digit E) with 1 BBL Carburetor ACDelco RC27 |
| 1972-1978 | Jeep | CJ5 | Jeep CJ5 Radiator Cap L6 4.2L (8th Vin Digit A) with 1 BBL Carburetor ACDelco RC27 |
| 1972-1975 | Jeep | CJ6 | Jeep CJ6 Radiator Cap L6 3.8L (8th Vin Digit E) with 1 BBL Carburetor ACDelco RC27 |
| 1972-1975 | Jeep | CJ6 | Jeep CJ6 Radiator Cap L6 4.2L (8th Vin Digit A) with 1 BBL Carburetor ACDelco RC27 |
| 1972-1975 | Jeep | CJ6 | Jeep CJ6 Radiator Cap V8 5.0L (8th Vin Digit H) with 2 BBL Carburetor ACDelco RC27 |
| 1976-1978 | Jeep | CJ7 | Jeep CJ7 Radiator Cap V8 5.0L (8th Vin Digit H) with 2 BBL Carburetor ACDelco RC27 |
| 1976-1978 | Jeep | CJ7 | Jeep CJ7 Radiator Cap L6 4.2L (8th Vin Digit A) with 1 BBL Carburetor ACDelco RC27 |
| 1976-1978 | Jeep | CJ7 | Jeep CJ7 Radiator Cap L6 3.8L (8th Vin Digit E) with 1 BBL Carburetor ACDelco RC27 |
| 1974-1978 | Jeep | Cherokee | Jeep Cherokee Radiator Cap V8 6.6L (8th Vin Digit Z) with 4 BBL Carburetor ACDelco RC27 |
| 1974-1977 | Jeep | Cherokee | Jeep Cherokee Radiator Cap L6 4.2L (8th Vin Digit A) with 1 BBL Carburetor ACDelco RC27 |
| 1974-1980 | Jeep | Cherokee | Jeep Cherokee Radiator Cap V8 5.9L (8th Vin Digit N) with 2 BBL Carburetor ACDelco RC27 |
| 1974-1978 | Jeep | Cherokee | Jeep Cherokee Radiator Cap V8 5.9L with 4 BBL Carburetor (8th Vin Digit P) ACDelco RC27 |
| 1977-1980 | Jeep | Cherokee | Jeep Cherokee Radiator Cap L6 4.2L (8th Vin Digit C) with 2 BBL Carburetor ACDelco RC27 |
| 1991-1999 | Jeep | Cherokee | Jeep Cherokee Radiator Cap L4 2.5L (8th Vin Digit P) ACDelco RC27 |
| 1991-1999 | Jeep | Cherokee | Jeep Cherokee Radiator Cap L6 4.0L (8th Vin Digit S) ACDelco RC27 |
| 1991-1992 | Jeep | Comanche (MJ) | Jeep Comanche (MJ) Radiator Cap L6 4.0L (8th Vin Digit S) ACDelco RC27 |
| 1991-1992 | Jeep | Comanche (MJ) | Jeep Comanche (MJ) Radiator Cap L4 2.5L (8th Vin Digit P) ACDelco RC27 |
| 1972 | Jeep | Commando (C104) | Jeep Commando (C104) Radiator Cap V8 5.0L (8th Vin Digit H) with 2 BBL Carburetor ACDelco RC27 |
| 1972 | Jeep | Commando (C104) | Jeep Commando (C104) Radiator Cap L6 3.8L (8th Vin Digit E) with 1 BBL Carburetor ACDelco RC27 |
| 1972 | Jeep | Commando (C104) | Jeep Commando (C104) Radiator Cap L6 4.2L (8th Vin Digit A) with 1 BBL Carburetor ACDelco RC27 |
| 1972 | Jeep | DJ Series | Jeep DJ Series Radiator Cap L6 3.8L (8th Vin Digit E) with 1 BBL Carburetor ACDelco RC27 |
| 1973-1974 | Jeep | DJ Series | Jeep DJ Series Radiator Cap (8th Vin Digit A) L6 4.2L ACDelco RC27 |
| 1973-1974 | Jeep | DJ Series | Jeep DJ Series Radiator Cap (8th Vin Digit E) L6 3.8L ACDelco RC27 |
| 1974 | Jeep | DJ Series | Jeep DJ Series Radiator Cap V8 5.0L (8th Vin Digit H) ACDelco RC27 |
| 1993-1996 | Jeep | Grand Cherokee | Jeep Grand Cherokee Radiator Cap L6 4.0L (8th Vin Digit S) ACDelco RC27 |
| 1993-1996 | Jeep | Grand Cherokee | Jeep Grand Cherokee Radiator Cap V8 5.2L (8th Vin Digit Y) ACDelco RC27 |
| 1987-1988 | Jeep | Grand Wagoneer | Jeep Grand Wagoneer Radiator Cap V8 5.9L (8th Vin Digit N) with 2 BBL Carburetor ACDelco RC27 |
| 1989-1991 | Jeep | Grand Wagoneer | Jeep Grand Wagoneer Radiator Cap V8 5.9L (8th Vin Digit 7) with 2 BBL Carburetor ACDelco RC27 |
| 1972 | Jeep | J Series Pickup (SJ) | Jeep J Series Pickup (SJ) Radiator Cap V8 5.0L (8th Vin Digit H) with 2 BBL Carburetor ACDelco RC27 |
| 1972-1987 | Jeep | J Series Pickup (SJ) | Jeep J Series Pickup (SJ) Radiator Cap V8 5.9L (8th Vin Digit N) with 2 BBL Carburetor ACDelco RC27 |
| 1972-1976 | Jeep | J Series Pickup (SJ) | Jeep J Series Pickup (SJ) Radiator Cap L6 4.2L (8th Vin Digit A) with 1 BBL Carburetor ACDelco RC27 |
| 1972-1973 | Jeep | J Series Pickup (SJ) | Jeep J Series Pickup (SJ) Radiator Cap (8th Vin Digit A) L6 4.2L ACDelco RC27 |
| 1972 | Jeep | J Series Pickup (SJ) | Jeep J Series Pickup (SJ) Radiator Cap V8 5.0L (8th Vin Digit H) ACDelco RC27 |
| 1972-1973 | Jeep | J Series Pickup (SJ) | Jeep J Series Pickup (SJ) Radiator Cap V8 5.9L (8th Vin Digit N) ACDelco RC27 |
| 1973-1978 | Jeep | J Series Pickup (SJ) | Jeep J Series Pickup (SJ) Radiator Cap V8 5.9L with 4 BBL Carburetor (8th Vin Digit P) ACDelco RC27 |
| 1973 | Jeep | J Series Pickup (SJ) | Jeep J Series Pickup (SJ) Radiator Cap V8 5.9L (8th Vin Digit P) ACDelco RC27 |
| 1974-1978 | Jeep | J Series Pickup (SJ) | Jeep J Series Pickup (SJ) Radiator Cap V8 6.6L (8th Vin Digit Z) with 4 BBL Carburetor ACDelco RC27 |
| 1974-1978 | Jeep | J Series Pickup (SJ) | Jeep J Series Pickup (SJ) Radiator Cap V8 6.6L (8th Vin Digit Z) ACDelco RC27 |
| 1974-1987 | Jeep | J Series Pickup (SJ) | Jeep J Series Pickup (SJ) Radiator Cap V8 5.9L (8th Vin Digit N) ACDelco RC27 |
| 1974-1976 | Jeep | J Series Pickup (SJ) | Jeep J Series Pickup (SJ) Radiator Cap (8th Vin Digit A) L6 4.2L ACDelco RC27 |
| 1975-1978 | Jeep | J Series Pickup (SJ) | Jeep J Series Pickup (SJ) Radiator Cap V8 5.9L (8th Vin Digit P) ACDelco RC27 |
| 1977-1987 | Jeep | J Series Pickup (SJ) | Jeep J Series Pickup (SJ) Radiator Cap L6 4.2L (8th Vin Digit C) with 2 BBL Carburetor ACDelco RC27 |
| 1973 | Jeep | Jeepster (C101) | Jeep Jeepster (C101) Radiator Cap (8th Vin Digit A) L6 4.2L ACDelco RC27 |
| 1973 | Jeep | Jeepster (C101) | Jeep Jeepster (C101) Radiator Cap (8th Vin Digit E) L6 3.8L ACDelco RC27 |
| 1973 | Jeep | Jeepster (C101) | Jeep Jeepster (C101) Radiator Cap V8 5.0L (8th Vin Digit H) ACDelco RC27 |
| 1972-1983 | Jeep | Wagoneer | Jeep Wagoneer Radiator Cap V8 5.9L (8th Vin Digit N) with 2 BBL Carburetor ACDelco RC27 |
| 1972-1973 | Jeep | Wagoneer | Jeep Wagoneer Radiator Cap L6 4.2L (8th Vin Digit A) with 1 BBL Carburetor ACDelco RC27 |
| 1973-1978 | Jeep | Wagoneer | Jeep Wagoneer Radiator Cap V8 5.9L with 4 BBL Carburetor (8th Vin Digit P) ACDelco RC27 |
| 1974-1978 | Jeep | Wagoneer | Jeep Wagoneer Radiator Cap V8 6.6L (8th Vin Digit Z) with 4 BBL Carburetor ACDelco RC27 |
| 1980-1983 | Jeep | Wagoneer | Jeep Wagoneer Radiator Cap L6 4.2L (8th Vin Digit C) with 2 BBL Carburetor ACDelco RC27 |
| 1994-1995 | Jeep | Wrangler | Jeep Wrangler Radiator Cap L4 2.5L (8th Vin Digit P) ACDelco RC27 |
| 1994-1995 | Jeep | Wrangler | Jeep Wrangler Radiator Cap L6 4.0L (8th Vin Digit S) ACDelco RC27 |
| 1997-1999 | Jeep | Wrangler | Jeep Wrangler Radiator Cap L4 2.5L (8th Vin Digit P) ACDelco RC27 |
| 1997-1999 | Jeep | Wrangler | Jeep Wrangler Radiator Cap L6 4.0L (8th Vin Digit S) ACDelco RC27 |
| 1986-1987 | Lincoln | Continental | Lincoln Continental Radiator Cap V8 5.0L (8th Vin Digit F) ACDelco RC27 |
| 1988 | Lincoln | Continental | Lincoln Continental Radiator Cap V6 3.8L (8th Vin Digit 4) ACDelco RC27 |
| 1989-1990 | Lincoln | Mark VII | Lincoln Mark VII Radiator Cap V8 5.0L (8th Vin Digit E) ACDelco RC27 |
| 1986-1990 | Lincoln | Town Car | Lincoln Town Car Radiator Cap V8 5.0L (8th Vin Digit F) ACDelco RC27 |
| 1983 | Mercury | Capri | Mercury Capri Radiator Cap L4 2.3L (8th Vin Digit W) ACDelco RC27 |
| 1983 | Mercury | Capri | Mercury Capri Radiator Cap V8 5.0L (8th Vin Digit F) with 4 BBL Carburetor ACDelco RC27 |
| 1983-1986 | Mercury | Capri | Mercury Capri Radiator Cap L4 2.3L (8th Vin Digit A) with 1 BBL Carburetor ACDelco RC27 |
| 1983 | Mercury | Capri | Mercury Capri Radiator Cap V6 3.8L (8th Vin Digit 3) with 2 BBL Carburetor ACDelco RC27 |
| 1986 | Mercury | Capri | Mercury Capri Radiator Cap V8 5.0L (8th Vin Digit M) ACDelco RC27 |
| 1986 | Mercury | Capri | Mercury Capri Radiator Cap V6 3.8L (8th Vin Digit 3) ACDelco RC27 |
| 1986-1991 | Mercury | Colony Park | Mercury Colony Park Radiator Cap V8 5.0L (8th Vin Digit F) ACDelco RC27 |
| 1986-1987 | Mercury | Cougar | Mercury Cougar Radiator Cap V6 3.8L (8th Vin Digit 3) ACDelco RC27 |
| 1986 | Mercury | Cougar | Mercury Cougar Radiator Cap L4 2.3L (8th Vin Digit W) ACDelco RC27 |
| 1986-1988 | Mercury | Cougar | Mercury Cougar Radiator Cap V8 5.0L (8th Vin Digit F) ACDelco RC27 |
| 1987-1988 | Mercury | Cougar | Mercury Cougar Radiator Cap V6 3.8L (8th Vin Digit 4) ACDelco RC27 |
| 1986-1989 | Mercury | Grand Marquis | Mercury Grand Marquis Radiator Cap V8 5.8L (8th Vin Digit G) with 2 BBL Carburetor ACDelco RC27 |
| 1986-1991 | Mercury | Grand Marquis | Mercury Grand Marquis Radiator Cap V8 5.0L (8th Vin Digit F) ACDelco RC27 |
| 1986-1987 | Mercury | Lynx | Mercury Lynx Radiator Cap L4 2.0L (8th Vin Digit H) ACDelco RC27 |
| 1986-1987 | Mercury | Lynx | Mercury Lynx Radiator Cap L4 1.9L (8th Vin Digit J) ACDelco RC27 |
| 1986 | Mercury | Lynx | Mercury Lynx Radiator Cap L4 1.9L (8th Vin Digit 9) with 2 BBL Carburetor ACDelco RC27 |
| 1987 | Mercury | Lynx | Mercury Lynx Radiator Cap L4 1.9L (8th Vin Digit 9) ACDelco RC27 |
| 1986 | Mercury | Marquis | Mercury Marquis Radiator Cap L4 2.3L (8th Vin Digit A) with 1 BBL Carburetor ACDelco RC27 |
| 1986 | Mercury | Marquis | Mercury Marquis Radiator Cap V6 3.8L (8th Vin Digit 3) ACDelco RC27 |
| 1986-1991 | Mercury | Topaz | Mercury Topaz Radiator Cap L4 2.3L (8th Vin Digit X) ACDelco RC27 |
| 1986-1987 | Mercury | Topaz | Mercury Topaz Radiator Cap L4 2.3L (8th Vin Digit R) ACDelco RC27 |
| 1986-1991 | Mercury | Topaz | Mercury Topaz Radiator Cap L4 2.3L (8th Vin Digit S) ACDelco RC27 |
| 1986 | Mercury | Topaz | Mercury Topaz Radiator Cap L4 2.0L (8th Vin Digit H) ACDelco RC27 |
| 1987-1988 | Merkur | XR4Ti | Merkur XR4Ti Radiator Cap L4 2.3L (8th Vin Digit W) ACDelco RC27 |
| 1991 | Oldsmobile | 88 | Olds 88 Radiator Cap V6 3.8L (8th Vin Digit C) ACDelco RC27 |
| 1995-1996 | Oldsmobile | 88 | Olds 88 Radiator Cap V6 3.8L (8th Vin Digit 1) ACDelco RC27 |
| 1996-1998 | Oldsmobile | 88 | Olds 88 Radiator Cap V6 3.8L (8th Vin Digit K) ACDelco RC27 |
| 1973 | Oldsmobile | 98 | Olds 98 Radiator Cap V8 5.7L with 4 BBL Carburetor (8th Vin Digit K) ACDelco RC27 |
| 1973 | Oldsmobile | 98 | Olds 98 Radiator Cap (8th Vin Digit H) V8 5.7L with 2 BBL Carburetor ACDelco RC27 |
| 1973-1976 | Oldsmobile | 98 | Olds 98 Radiator Cap V8 7.5L (8th Vin Digit T) with 4 BBL Carburetor ACDelco RC27 |
| 1974 | Oldsmobile | 98 | Olds 98 Radiator Cap V8 7.5L with 4 BBL Carburetor (8th Vin Digit U) ACDelco RC27 |
| 1975 | Oldsmobile | 98 | Olds 98 Radiator Cap V8 6.6L with 4 BBL Carburetor (8th Vin Digit S) ACDelco RC27 |
| 1977-1980 | Oldsmobile | 98 | Olds 98 Radiator Cap (8th Vin Digit R) V8 5.7L with 4 BBL Carburetor ACDelco RC27 |
| 1977-1979 | Oldsmobile | 98 | Olds 98 Radiator Cap V8 6.6L (8th Vin Digit K) with 4 BBL Carburetor ACDelco RC27 |
| 1978-1983 | Oldsmobile | 98 | Olds 98 Radiator Cap V8 5.7L (8th Vin Digit N) ACDelco RC27 |
| 1980-1983 | Oldsmobile | 98 | Olds 98 Radiator Cap V8 5.0L (8th Vin Digit Y) with 4 BBL Carburetor ACDelco RC27 |
| 1981-1983 | Oldsmobile | 98 | Olds 98 Radiator Cap (8th Vin Digit 4) V6 4.1L with 4 BBL Carburetor ACDelco RC27 |
| 1991 | Oldsmobile | 98 | Olds 98 Radiator Cap V6 3.8L (8th Vin Digit L) ACDelco RC27 |
| 1992-1994 | Oldsmobile | 98-Regency | Olds 98-Regency Radiator Cap V6 3.8L (8th Vin Digit L) ACDelco RC27 |
| 1992-1995 | Oldsmobile | 98-Regency | Olds 98-Regency Radiator Cap V6 3.8L (8th Vin Digit 1) ACDelco RC27 |
| 1995-1996 | Oldsmobile | 98-Regency | Olds 98-Regency Radiator Cap V6 3.8L (8th Vin Digit K) ACDelco RC27 |
| 1991-1992 | Oldsmobile | Bravada | Olds Bravada Radiator Cap V6 4.3L (8th Vin Digit Z) ACDelco RC27 |
| 1992-1994 | Oldsmobile | Bravada | Olds Bravada Radiator Cap V6 4.3L (8th Vin Digit W) ACDelco RC27 |
| 1985-1987 | Oldsmobile | Calais | Olds Calais Radiator Cap V6 3.0L (8th Vin Digit L) ACDelco RC27 |
| 1985-1987 | Oldsmobile | Calais | Olds Calais Radiator Cap L4 2.5L (8th Vin Digit U) ACDelco RC27 |
| 1987 | Oldsmobile | Calais | Olds Calais Radiator Cap L4 2.3L (8th Vin Digit D) ACDelco RC27 |
| 1973-1976 | Oldsmobile | Custom Cruiser | Olds Custom Cruiser Radiator Cap V8 7.5L (8th Vin Digit T) with 4 BBL Carburetor ACDelco RC27 |
| 1973 | Oldsmobile | Custom Cruiser | Olds Custom Cruiser Radiator Cap V8 5.7L (8th Vin Digit K) ACDelco RC27 |
| 1975 | Oldsmobile | Custom Cruiser | Olds Custom Cruiser Radiator Cap V8 6.6L (8th Vin Digit S) ACDelco RC27 |
| 1975 | Oldsmobile | Custom Cruiser | Olds Custom Cruiser Radiator Cap V8 7.5L (8th Vin Digit T) ACDelco RC27 |
| 1975 | Oldsmobile | Custom Cruiser | Olds Custom Cruiser Radiator Cap V8 6.6L (8th Vin Digit R) ACDelco RC27 |
| 1977-1980 | Oldsmobile | Custom Cruiser | Olds Custom Cruiser Radiator Cap (8th Vin Digit R) V8 5.7L with 4 BBL Carburetor ACDelco RC27 |
| 1977 | Oldsmobile | Custom Cruiser | Olds Custom Cruiser Radiator Cap (8th Vin Digit L) V8 5.7L with 4 BBL Carburetor ACDelco RC27 |
| 1977-1979 | Oldsmobile | Custom Cruiser | Olds Custom Cruiser Radiator Cap V8 6.6L (8th Vin Digit K) with 4 BBL Carburetor ACDelco RC27 |
| 1978-1985 | Oldsmobile | Custom Cruiser | Olds Custom Cruiser Radiator Cap V8 5.7L (8th Vin Digit N) ACDelco RC27 |
| 1980-1990 | Oldsmobile | Custom Cruiser | Olds Custom Cruiser Radiator Cap V8 5.0L (8th Vin Digit Y) with 4 BBL Carburetor ACDelco RC27 |
| 1991-1992 | Oldsmobile | Custom Cruiser | Olds Custom Cruiser Radiator Cap V8 5.0L (8th Vin Digit E) ACDelco RC27 |
| 1992 | Oldsmobile | Custom Cruiser | Olds Custom Cruiser Radiator Cap (8th Vin Digit 7) V8 5.7L ACDelco RC27 |
| 1973-1975 | Oldsmobile | Cutlass | Olds Cutlass Radiator Cap V8 5.7L with 4 BBL Carburetor (8th Vin Digit K) ACDelco RC27 |
| 1973-1974 | Oldsmobile | Cutlass | Olds Cutlass Radiator Cap V8 7.5L with 4 BBL Carburetor (8th Vin Digit U) ACDelco RC27 |
| 1973 | Oldsmobile | Cutlass | Olds Cutlass Radiator Cap (8th Vin Digit H) V8 5.7L with 2 BBL Carburetor ACDelco RC27 |
| 1975-1976 | Oldsmobile | Cutlass | Olds Cutlass Radiator Cap V8 7.5L (8th Vin Digit T) with 4 BBL Carburetor ACDelco RC27 |
| 1975-1981 | Oldsmobile | Cutlass | Olds Cutlass Radiator Cap (8th Vin Digit F) V8 4.3L with 2 BBL Carburetor ACDelco RC27 |
| 1976-1980 | Oldsmobile | Cutlass | Olds Cutlass Radiator Cap (8th Vin Digit R) V8 5.7L with 4 BBL Carburetor ACDelco RC27 |
| 1977 | Oldsmobile | Cutlass | Olds Cutlass Radiator Cap V8 6.6L (8th Vin Digit K) with 4 BBL Carburetor ACDelco RC27 |
| 1977 | Oldsmobile | Cutlass | Olds Cutlass Radiator Cap V6 3.8L (8th Vin Digit C) with 2 BBL Carburetor ACDelco RC27 |
| 1978 | Oldsmobile | Cutlass | Olds Cutlass Radiator Cap V8 5.0L (8th Vin Digit U) ACDelco RC27 |
| 1978-1980 | Oldsmobile | Cutlass | Olds Cutlass Radiator Cap V8 5.0L (8th Vin Digit H) with 4 BBL Carburetor ACDelco RC27 |
| 1978 | Oldsmobile | Cutlass | Olds Cutlass Radiator Cap (8th Vin Digit L) V8 5.7L with 4 BBL Carburetor ACDelco RC27 |
| 1978 | Oldsmobile | Cutlass | Olds Cutlass Radiator Cap V8 5.0L (8th Vin Digit U) with 2 BBL Carburetor ACDelco RC27 |
| 1978-1981 | Oldsmobile | Cutlass | Olds Cutlass Radiator Cap (8th Vin Digit A) V6 3.8L with 2 BBL Carburetor ACDelco RC27 |
| 1978-1987 | Oldsmobile | Cutlass | Olds Cutlass Radiator Cap V8 5.0L (8th Vin Digit H) ACDelco RC27 |
| 1979 | Oldsmobile | Cutlass | Olds Cutlass Radiator Cap V8 4.3L (8th Vin Digit P) ACDelco RC27 |