1AEIP00001-Pulley
Replaces
Pulley - 1AEIP00001
1AEIP00001
Specifications:
Brand New Smooth Idler or Tensioner Pulley

Steel Construction
Direct replacement
Includes bearing
Replaces dealer part numbers: 4792581AB, 4854092, 4861643AB, 53010230, 53013324AA, 53032645AA, 1L2Z-6B209-AA, 1L5Z-6B209-AA, 1S7Z-8678-AC, 3C2Z-6B209-BA, 3M4Z-8678-AB, 4L8Z-6B209-AA, 6E5Z-8678-AA, E79Z-8678-A, E8DZ-6B209-C, E8DZ-6C348-A, E8TZ-6B217-A, F02Z-6B209-A, F1PY-8679-AA, F1VY-8678-A, F23Z-6B209-B, F2TZ-6B209-A, F3AZ-6B209-A, F4SZ-6B209-D, F70Z-6B209-AA, F87Z-6B209-CA, F8CZ-6B209-AA, F8KZ-8678-AA, F8RZ-6B209-AA, F8RZ-8678-AA, XR3Z-8678-BA, YS4Z-6B209-AA, 1L2Z6B209AA, 1L5Z6B209AA, 1S7Z8678AC, 3C2Z6B209BA, 3M4Z8678AB, 4L8Z6B209AA, 6E5Z8678AA, E79Z8678A, E8DZ6B209C, E8DZ6C348A, E8TZ6B217A, F02Z6B209A, F1PY8679AA, F1VY8678A, F23Z6B209B, F2TZ6B209A, F3AZ6B209A, F4SZ6B209D, F70Z6B209AA, F87Z6B209CA, F8CZ6B209AA, F8KZ8678AA, F8RZ6B209AA, F8RZ8678AA, XR3Z8678BA, YS4Z6B209AA, 10129560, 12557682, 12557838, 12563097, 12564401, 12564506, 12569736, 12582004, 12587295, 24501383, 24502735, 24504818, 24506756, 24508594, 24508595, 24577515
Outside Diameter: 76.3 mm
Item Condition: New

Lifetime Warranty
This item is backed by a Limited Lifetime Warranty. In the event this item should fail due to manufacturing defects during intended use, we will exchange the part free of charge (excludes shipping charges) for the original purchaser.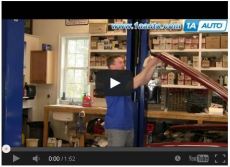 step : Remove the idler pulley (0:31)

Use an 18 mm wrench to release tension from the serpentine belt.
Move the serpentine belt off the idler pulley.
Use an 15 mm wrench to remove the pulley.

step : Install the new idler pulley (1:27)

Thread the bolt with the spacer and put it into the pulley and install the idler pulley.
Use your 15 mm wrench to tighten down the idler pulley.
Use your 18 mm wrench to release tension from the serpentine belt and loop the belt back around the idler pulley.
Tools needed for replacement:
Wrenches - Metric

18mm Wrench
15mm Wrench
This was the second part of my order and as well as the first part this part was a perfect fit. Big thanks to all involved for the videos and shipping of the parts to get them as soon as I did. Once again keep up the good work. Sincerely, Lawrence King
Worked perfect.
Idler pulley work great. Construction of pully is made very well.
Customer Q&A
Ask a question to 1A Auto customers who purchased the product
No questions have been asked about this item.
| Year | Make | Model | Description |
| --- | --- | --- | --- |
| 2008 | Buick | LaCrosse | Buick LaCrosse Lower Water Pump Mounted Pulley V8 5.3L (8th Vin Digit C) |
| 2008 | Buick | LaCrosse | Buick LaCrosse Passenger Side Engine Mounted Pulley V8 5.3L (8th Vin Digit C) |
| 1997-2000 | Buick | LeSabre | Buick LeSabre Pulley V6 3.8L (8th Vin Digit K) |
| 2006-2008 | Buick | Lucerne | Buick Lucerne Alternator Pulley V8 4.6L (8th Vin Digit Y) for |
| 2008 | Buick | Lucerne | Buick Lucerne Pulley V8 4.6L (8th Vin Digit 9) for Alternator |
| 1992-2000 | Buick | Park Avenue | Buick Park Avenue Alternator Pulley V6 3.8L (8th Vin Digit 1) for |
| 1992-1995 | Buick | Park Avenue | Buick Park Avenue Pulley V6 3.8L (8th Vin Digit 1) Supercharged |
| 1995-2000 | Buick | Park Avenue | Buick Park Avenue Pulley V6 3.8L (8th Vin Digit K) |
| 2004-2007 | Buick | Rainier | Buick Rainier Pulley L6 4.2L (8th Vin Digit S) |
| 1997-1999 | Buick | Regal | Buick Regal Alternator Pulley V6 3.8L (8th Vin Digit 1) for |
| 1997-2004 | Buick | Regal | Buick Regal Pulley V6 3.8L (8th Vin Digit 1) Supercharged |
| 1999 | Buick | Regal | Buick Regal Pulley V6 3.8L (8th Vin Digit K) |
| 2006-2007 | Buick | Rendezvous | Buick Rendezvous Pulley V6 3.5L (8th Vin Digit L) |
| 1995-1996 | Buick | Riviera | Buick Riviera Pulley V6 3.8L (8th Vin Digit 1) Supercharged |
| 1995-1998 | Buick | Riviera | Buick Riviera Alternator Pulley V6 3.8L (8th Vin Digit 1) for |
| 1997 | Buick | Riviera | Buick Riviera Pulley V6 3.8L (8th Vin Digit K) |
| 2005-2006 | Buick | Terraza | Buick Terraza Pulley V6 3.5L (8th Vin Digit L) |
| 1993 | Cadillac | Allante | Cadillac Allante Pulley V8 4.6L (8th Vin Digit 9) for Alternator |
| 2006-2008 | Cadillac | DTS | Cadillac DTS Alternator Pulley V8 4.6L (8th Vin Digit Y) for |
| 2006-2008 | Cadillac | DTS | Cadillac DTS Pulley V8 4.6L (8th Vin Digit 9) for Alternator |
| 1996-2005 | Cadillac | Deville | Cadillac Deville Alternator Pulley V8 4.6L (8th Vin Digit Y) for |
| 2000-2005 | Cadillac | Deville | Cadillac Deville Pulley V8 4.6L (8th Vin Digit 9) for Alternator |
| 1993-2002 | Cadillac | Eldorado | Cadillac Eldorado Pulley V8 4.6L (8th Vin Digit 9) for Alternator |
| 1993-2002 | Cadillac | Eldorado | Cadillac Eldorado Alternator Pulley V8 4.6L (8th Vin Digit Y) for |
| 1993-2003 | Cadillac | Seville | Cadillac Seville Pulley V8 4.6L (8th Vin Digit 9) for Alternator |
| 1994-2004 | Cadillac | Seville | Cadillac Seville Alternator Pulley V8 4.6L (8th Vin Digit Y) for |
| 1989-1994 | Chevy | Blazer Full Size | Chevy Blazer Full Size Pulley V8 5.7L (8th Vin Digit K) for Models with Air Conditioning |
| 1989-1994 | Chevy | Blazer S10 | Chevy Blazer S10 Pulley V6 4.3L (8th Vin Digit Z) for Models with Air Conditioning |
| 1992-1995 | Chevy | Blazer S10 | Chevy Blazer S10 Pulley V6 4.3L (8th Vin Digit W) for Models with Air Conditioning |
| 1988-1995 | Chevy | C1500 Truck | Chevy C1500 Truck Pulley V6 4.3L (8th Vin Digit Z) for Models with Air Conditioning |
| 1988-1995 | Chevy | C1500 Truck | Chevy C1500 Truck Pulley V8 5.7L (8th Vin Digit K) for Models with Air Conditioning |
| 1988-1995 | Chevy | C1500 Truck | Chevy C1500 Truck Pulley V8 5.0L (8th Vin Digit H) for Models with Air Conditioning |
| 1988-1995 | Chevy | C2500 Truck | Chevy C2500 Truck Pulley V8 5.7L (8th Vin Digit K) for Models with Air Conditioning |
| 1988-1995 | Chevy | C2500 Truck | Chevy C2500 Truck Pulley V8 5.0L (8th Vin Digit H) for Models with Air Conditioning |
| 1988-1995 | Chevy | C2500 Truck | Chevy C2500 Truck Pulley V6 4.3L (8th Vin Digit Z) for Models with Air Conditioning |
| 1988-1995 | Chevy | C3500 Truck | Chevy C3500 Truck Pulley V8 5.7L (8th Vin Digit K) for Models with Air Conditioning |
| 1995-2002 | Chevy | Camaro | Chevy Camaro Pulley V6 3.8L (8th Vin Digit K) |
| 1998-2000 | Chevy | Camaro | Chevy Camaro Pulley V8 5.7L (8th Vin Digit G) |
| 1990-1995 | Chevy | Corvette | Chevy Corvette Pulley V8 5.7L (8th Vin Digit J) |
| 1998 | Chevy | Corvette | Chevy Corvette Pulley V6 3.8L (8th Vin Digit K) |
| 1999-2004 | Chevy | Corvette | Chevy Corvette Pulley V8 5.7L (8th Vin Digit G) |
| 2001-2004 | Chevy | Corvette | Chevy Corvette Pulley V8 5.7L (8th Vin Digit S) |
| 2001-2002 | Chevy | Express 3500 Van | Chevy Express 3500 Van Pulley V8 8.1L (8th Vin Digit G) |
| 1988-1991 | Chevy | G30 | Chevy G30 Pulley V6 4.3L (8th Vin Digit Z) for Models with Air Conditioning |
| 1988 | Chevy | G30 | Chevy G30 Pulley V8 5.7L (8th Vin Digit M) for Models with Air Conditioning |
| 1988-1991 | Chevy | G30 | Chevy G30 Pulley V8 5.7L (8th Vin Digit K) for Models with Air Conditioning |
| 2000 | Chevy | Impala | Chevy Impala Pulley V6 3.8L (8th Vin Digit K) |
| 2004-2005 | Chevy | Impala | Chevy Impala Pulley V6 3.8L (8th Vin Digit 1) |
| 2006-2008 | Chevy | Impala | Chevy Impala Lower Water Pump Mounted Pulley V8 5.3L (8th Vin Digit C) |
| 2006-2008 | Chevy | Impala | Chevy Impala Passenger Side Engine Mounted Pulley V8 5.3L (8th Vin Digit C) |
| 1988-1995 | Chevy | K1500 Truck | Chevy K1500 Truck Pulley V8 5.0L (8th Vin Digit H) for Models with Air Conditioning |
| 1988-1995 | Chevy | K1500 Truck | Chevy K1500 Truck Pulley V8 5.7L (8th Vin Digit K) for Models with Air Conditioning |
| 1988-1995 | Chevy | K1500 Truck | Chevy K1500 Truck Pulley V6 4.3L (8th Vin Digit Z) for Models with Air Conditioning |
| 1988-1995 | Chevy | K2500 Truck | Chevy K2500 Truck Pulley V8 5.7L (8th Vin Digit K) for Models with Air Conditioning |
| 1988-1995 | Chevy | K2500 Truck | Chevy K2500 Truck Pulley V6 4.3L (8th Vin Digit Z) for Models with Air Conditioning |
| 1988-1995 | Chevy | K2500 Truck | Chevy K2500 Truck Pulley V8 5.0L (8th Vin Digit H) for Models with Air Conditioning |
| 1988-1995 | Chevy | K3500 Truck | Chevy K3500 Truck Pulley V8 5.7L (8th Vin Digit K) for Models with Air Conditioning |
| 1998-1999 | Chevy | Lumina | Chevy Lumina Pulley V6 3.8L (8th Vin Digit K) |
| 2004-2006 | Chevy | Malibu | Chevy Malibu Pulley V6 3.5L (8th Vin Digit 8) |
| 1998-2000 | Chevy | Monte Carlo | Chevy Monte Carlo Pulley V6 3.8L (8th Vin Digit K) |
| 2004-2005 | Chevy | Monte Carlo | Chevy Monte Carlo Pulley V6 3.8L (8th Vin Digit 1) |
| 2006-2007 | Chevy | Monte Carlo | Chevy Monte Carlo Lower Water Pump Mounted Pulley V8 5.3L (8th Vin Digit C) |
| 2006-2007 | Chevy | Monte Carlo | Chevy Monte Carlo Passenger Side Engine Mounted Pulley V8 5.3L (8th Vin Digit C) |
| 1989-1995 | Chevy | S10 Pickup | Chevy S10 Pickup Pulley V6 4.3L (8th Vin Digit Z) for Models with Air Conditioning |
| 1994-1995 | Chevy | S10 Pickup | Chevy S10 Pickup Pulley V6 4.3L (8th Vin Digit W) for Models with Air Conditioning |
| 1992-1995 | Chevy | Suburban C1500 | Chevy Suburban C1500 Pulley V8 5.7L (8th Vin Digit K) for Models with Air Conditioning |
| 1992-1995 | Chevy | Suburban C2500 | Chevy Suburban C2500 Pulley V8 5.7L (8th Vin Digit K) for Models with Air Conditioning |
| 1992-1995 | Chevy | Suburban K1500 | Chevy Suburban K1500 Pulley V8 5.7L (8th Vin Digit K) for Models with Air Conditioning |
| 1992-1995 | Chevy | Suburban K2500 | Chevy Suburban K2500 Pulley V8 5.7L (8th Vin Digit K) for Models with Air Conditioning |
| 1989-1991 | Chevy | Suburban R1500 | Chevy Suburban R1500 Pulley V8 5.7L (8th Vin Digit K) for Models with Air Conditioning |
| 1989-1991 | Chevy | Suburban R2500 | Chevy Suburban R2500 Pulley V8 5.7L (8th Vin Digit K) for Models with Air Conditioning |
| 1989-1991 | Chevy | Suburban V1500 | Chevy Suburban V1500 Pulley V8 5.7L (8th Vin Digit K) for Models with Air Conditioning |
| 1989-1991 | Chevy | Suburban V2500 | Chevy Suburban V2500 Pulley V8 5.7L (8th Vin Digit K) for Models with Air Conditioning |
| 1995 | Chevy | Tahoe | Chevy Tahoe Pulley V8 5.7L (8th Vin Digit K) for Models with Air Conditioning |
| 2002-2008 | Chevy | Trailblazer | Chevy Trailblazer Pulley L6 4.2L (8th Vin Digit S) |
| 2002-2006 | Chevy | Trailblazer EXT | Chevy Trailblazer EXT Pulley L6 4.2L (8th Vin Digit S) |
| 2005-2006 | Chevy | Uplander | Chevy Uplander Pulley V6 3.5L (8th Vin Digit L) |
| 1999-2005 | Chevy | Venture | Chevy Venture Pulley V6 3.4L (8th Vin Digit E) |
| 2007 | Chrysler | Aspen | Chrysler Aspen Pulley V8 5.7L (8th Vin Digit 2) |
| 1998 | Chrysler | Concorde | Chrysler Concorde Alternator Pulley V6 2.7L (8th Vin Digit R) for |
| 2005-2008 | Chrysler | Pacifica | Chrysler Pacifica Pulley V6 3.8L (8th Vin Digit L) |
| 2001-2007 | Chrysler | Town & Country | Chrysler Town & Country Pulley V6 3.8L (8th Vin Digit L) |
| 2001 | Chrysler | Town & Country | Chrysler Town & Country Pulley V6 3.3L (8th Vin Digit G) |
| 2001-2003 | Chrysler | Town & Country | Chrysler Town & Country Pulley V6 3.3L (8th Vin Digit 3) |
| 2001-2007 | Chrysler | Town & Country | Chrysler Town & Country Pulley V6 3.3L (8th Vin Digit R) |
| 2001-2003 | Chrysler | Voyager | Chrysler Voyager Pulley V6 3.3L (8th Vin Digit 3) |
| 2001-2003 | Chrysler | Voyager | Chrysler Voyager Pulley V6 3.3L (8th Vin Digit R) |
| 2001-2007 | Dodge | Caravan | Dodge Caravan Pulley V6 3.3L (8th Vin Digit R) |
| 2001-2007 | Dodge | Caravan | Dodge Caravan Pulley V6 3.3L (8th Vin Digit G) |
| 2002-2005 | Dodge | Caravan | Dodge Caravan Pulley V6 3.3L (8th Vin Digit 3) |
| 1996 | Dodge | Dakota | Dodge Dakota Pulley L4 2.5L (8th Vin Digit P) |
| 1997-2002 | Dodge | Dakota | Dodge Dakota Upper Pulley L4 2.5L (8th Vin Digit P) |
| 2004-2005 | Dodge | Durango | Dodge Durango Pulley V8 5.7L (8th Vin Digit D) |
| 2006-2007 | Dodge | Durango | Dodge Durango Pulley V8 5.7L (8th Vin Digit 2) |
| 2001-2007 | Dodge | Grand Caravan | Dodge Grand Caravan Pulley V6 3.3L (8th Vin Digit R) |
| 2001-2007 | Dodge | Grand Caravan | Dodge Grand Caravan Pulley V6 3.3L (8th Vin Digit G) |
| 2001-2005 | Dodge | Grand Caravan | Dodge Grand Caravan Pulley V6 3.3L (8th Vin Digit 3) |
| 2001-2007 | Dodge | Grand Caravan | Dodge Grand Caravan Pulley V6 3.8L (8th Vin Digit L) |
| 1998 | Dodge | Intrepid | Dodge Intrepid Alternator Pulley V6 2.7L (8th Vin Digit R) for |
| 2004-2006 | Dodge | Ram 1500 Truck | Dodge Ram 1500 Truck Pulley V10 8.3L (8th Vin Digit H) |
| 2004-2008 | Dodge | Ram 1500 Truck | Dodge Ram 1500 Truck Pulley V8 5.7L (8th Vin Digit D) |
| 2006-2008 | Dodge | Ram 1500 Truck | Dodge Ram 1500 Truck Pulley V8 5.7L (8th Vin Digit 2) |
| 2004-2008 | Dodge | Ram 2500 Truck | Dodge Ram 2500 Truck Pulley V8 5.7L (8th Vin Digit D) |
| 2004-2008 | Dodge | Ram 3500 Truck | Dodge Ram 3500 Truck Pulley V8 5.7L (8th Vin Digit D) |
| 2008-2009 | Dodge | Viper | Dodge Viper Pulley V10 8.4L (8th Vin Digit Z) |
| 1990-1994 | Ford | Aerostar | Ford Aerostar Pulley V6 3.0L (8th Vin Digit U) for Models with Air Conditioning |
| 1995-2000 | Ford | Contour | Ford Contour Pulley V6 2.5L (8th Vin Digit L) |
| 1998 | Ford | Contour | Ford Contour 76mm Outside Diameter Pulley L4 2.0L (8th Vin Digit 3) (Built Before 4/98 Production Date) |
| 1998 | Ford | Contour | Ford Contour 76mm Outside Diameter Pulley L4 2.0L (8th Vin Digit Z) (Built Before 4/98 Production Date) |
| 1998 | Ford | Contour | Ford Contour Pulley V6 2.5L (8th Vin Digit 6) |
| 1999-2000 | Ford | Contour | Ford Contour Pulley V6 2.5L (8th Vin Digit G) |
| 1992-1999 | Ford | Crown Victoria | Ford Crown Victoria Pulley V8 4.6L (8th Vin Digit W) |
| 1996 | Ford | Crown Victoria | Ford Crown Victoria Pulley V8 4.6L (8th Vin Digit 6) |
| 1996-1999 | Ford | Crown Victoria | Ford Crown Victoria Pulley V8 4.6L (8th Vin Digit 9) |
| 1997-2003 | Ford | E150 Van | Ford E150 Van Pulley V6 4.2L (8th Vin Digit 2) |
| 2002-2009 | Ford | E150 Van | Ford E150 Van Pulley V8 5.4L (8th Vin Digit L) for Models with Air Conditioning |
| 2005-2009 | Ford | E150 Van | Ford E150 Van Pulley V8 4.6L (8th Vin Digit W) for Models with Air Conditioning |
| 2002-2005 | Ford | E250 Van | Ford E250 Van Pulley V8 5.4L (8th Vin Digit M) for Models with Air Conditioning |
| 2002-2009 | Ford | E250 Van | Ford E250 Van Pulley V8 5.4L (8th Vin Digit L) for Models with Air Conditioning |
| 2005-2009 | Ford | E250 Van | Ford E250 Van Pulley V8 4.6L (8th Vin Digit W) for Models with Air Conditioning |
| 2002-2005 | Ford | E350 Van | Ford E350 Van Pulley V8 5.4L (8th Vin Digit M) for Models with Air Conditioning |
| 2002-2005 | Ford | E350 Van | Ford E350 Van Pulley V8 5.4L (8th Vin Digit L) for Models with Air Conditioning |
| 2004-2005 | Ford | E350 Van | Ford E350 Van Pulley V8 6.0L (8th Vin Digit P) for Secondary Alternator |
| 2005 | Ford | E350 Van | Ford E350 Van Pulley V10 6.8L (8th Vin Digit S) for Models with Air Conditioning |
| 2002-2009 | Ford | E350 Van Super Duty | Ford E350 Van Super Duty Pulley V8 5.4L (8th Vin Digit L) for Models with Air Conditioning |
| 2002-2005 | Ford | E350 Van Super Duty | Ford E350 Van Super Duty Pulley V8 5.4L (8th Vin Digit M) for Models with Air Conditioning |
| 2004-2009 | Ford | E350 Van Super Duty | Ford E350 Van Super Duty Pulley V8 6.0L (8th Vin Digit P) for Secondary Alternator |
| 2005-2009 | Ford | E350 Van Super Duty | Ford E350 Van Super Duty Pulley V10 6.8L (8th Vin Digit S) for Models with Air Conditioning |
| 2003-2009 | Ford | E450 Van | Ford E450 Van Pulley V8 5.4L (8th Vin Digit L) for Models with Air Conditioning |
| 2004-2007 | Ford | E450 Van | Ford E450 Van Pulley V8 6.0L (8th Vin Digit P) for Secondary Alternator |
| 2005-2009 | Ford | E450 Van | Ford E450 Van Pulley V10 6.8L (8th Vin Digit S) for Models with Air Conditioning |
| 2005-2008 | Ford | Escape | Ford Escape Pulley V6 3.0L (8th Vin Digit 1) |
| 2005-2007 | Ford | Escape | Ford Escape Pulley L4 2.3L (8th Vin Digit Z) |
| 1998-2002 | Ford | Escort | Ford Escort ZX2 Pulley L4 2.0L (8th Vin Digit 3) |
| 2003 | Ford | Escort | Ford Escort Pulley L4 2.0L (8th Vin Digit 3) |
| 2003-2004 | Ford | Expedition | Ford Expedition Pulley V8 4.6L (8th Vin Digit W) |
| 2003-2004 | Ford | Expedition | Ford Expedition Pulley V8 5.4L (8th Vin Digit L) |
| 2005-2009 | Ford | Expedition | Ford Expedition Pulley V8 5.4L (8th Vin Digit 5) |
| 2002-2005 | Ford | Explorer | Ford Explorer Pulley V8 4.6L (8th Vin Digit W) |
| 2006-2009 | Ford | Explorer | Ford Explorer Pulley V8 4.6L (8th Vin Digit 8) |
| 2004 | Ford | F150 Heritage Truck | Ford F150 Heritage Truck Alternator Pulley V8 5.4L (8th Vin Digit Z) for |
| 2004 | Ford | F150 Heritage Truck | Ford F150 Heritage Truck Alternator Pulley V8 5.4L (8th Vin Digit M) for |
| 2004 | Ford | F150 Heritage Truck | Ford F150 Heritage Truck Alternator Pulley V8 5.4L (8th Vin Digit 3) for |
| 2004 | Ford | F150 Heritage Truck | Ford F150 Heritage Truck Pulley V8 4.6L Romeo Engine (8th Vin Digit W) |
| 2002-2003 | Ford | F150 Truck | Ford F150 Truck Alternator Pulley V8 5.4L (8th Vin Digit L) for |
| 2002-2003 | Ford | F150 Truck | Ford F150 Truck Alternator Pulley V8 5.4L (8th Vin Digit Z) for |
| 2002-2003 | Ford | F150 Truck | Ford F150 Truck Alternator Pulley V8 5.4L (8th Vin Digit M) for |
| 2002-2003 | Ford | F150 Truck | Ford F150 Truck Alternator Pulley V8 5.4L (8th Vin Digit 3) for |
| 2003-2004 | Ford | F150 Truck | Ford F150 Truck Pulley V8 4.6L Romeo Engine (8th Vin Digit W) |
| 2004-2008 | Ford | F150 Truck | Ford F150 Truck Pulley V8 5.4L (8th Vin Digit 5) |
| 2005-2009 | Ford | F150 Truck | Ford F150 Truck Pulley V8 4.6L (8th Vin Digit W) for Models with Air Conditioning |
| 2006-2009 | Ford | F150 Truck | Ford F150 Truck Pulley V8 5.4L (8th Vin Digit V) |
| 2009 | Ford | F150 Truck | Ford F150 Truck Pulley V8 4.6L (8th Vin Digit 8) |
| 1999-2004 | Ford | F250 Super Duty Truck | Ford F250 Super Duty Truck Pulley V8 5.4L (8th Vin Digit L) for Models with Air Conditioning |
| 2003-2007 | Ford | F250 Super Duty Truck | Ford F250 Super Duty Truck Pulley V8 6.0L (8th Vin Digit P) for Secondary Alternator |
| 2005-2009 | Ford | F250 Super Duty Truck | Ford F250 Super Duty Truck Pulley V10 6.8L (8th Vin Digit Y) for Models with Air Conditioning |
| 2005-2009 | Ford | F250 Super Duty Truck | Ford F250 Super Duty Truck Pulley V8 5.4L (8th Vin Digit 5) for Models with Air Conditioning |
| 1999-2004 | Ford | F350 Super Duty Truck | Ford F350 Super Duty Truck Pulley V8 5.4L (8th Vin Digit L) for Models with Air Conditioning |
| 2003-2007 | Ford | F350 Super Duty Truck | Ford F350 Super Duty Truck Pulley V8 6.0L (8th Vin Digit P) for Secondary Alternator |
| 2005-2009 | Ford | F350 Super Duty Truck | Ford F350 Super Duty Truck Pulley V10 6.8L (8th Vin Digit Y) for Models with Air Conditioning |
| 2005-2009 | Ford | F350 Super Duty Truck | Ford F350 Super Duty Truck Pulley V8 5.4L (8th Vin Digit 5) for Models with Air Conditioning |
| 2003-2004 | Ford | F450 Truck | Ford F450 Truck Pulley V8 6.0L (8th Vin Digit T) for Secondary Alternator |
| 2005-2007 | Ford | F450 Truck | Ford F450 Truck Pulley V8 6.0L (8th Vin Digit P) for Secondary Alternator |
| 2005-2008 | Ford | F450 Truck | Ford F450 Truck Pulley V10 6.8L (8th Vin Digit Y) for Models with Air Conditioning |
| 2003-2004 | Ford | F550 Truck | Ford F550 Truck Pulley V8 6.0L (8th Vin Digit T) for Secondary Alternator |
| 2005-2007 | Ford | F550 Truck | Ford F550 Truck Pulley V10 6.8L (8th Vin Digit Y) for Models with Air Conditioning |
| 2005-2007 | Ford | F550 Truck | Ford F550 Truck Pulley V8 6.0L (8th Vin Digit P) for Secondary Alternator |
| 2005 | Ford | Five Hundred | Ford Five Hundred Pulley V6 3.0L (8th Vin Digit N) |
| 2006-2007 | Ford | Five Hundred | Ford Five Hundred Pulley V6 3.0L (8th Vin Digit 1) |
| 2000-2004 | Ford | Focus | Ford Focus Pulley L4 2.0L SOHC (8th Vin Digit P) |
| 2003-2007 | Ford | Focus | Ford Focus Pulley L4 2.3L (8th Vin Digit Z) |
| 2005-2007 | Ford | Focus | Ford Focus Pulley L4 2.0L (8th Vin Digit N) |
| 2005 | Ford | Freestyle | Ford Freestyle Pulley V6 3.0L (8th Vin Digit N) |
| 2006-2007 | Ford | Freestyle | Ford Freestyle Pulley V6 3.0L (8th Vin Digit 1) |
| 2006-2009 | Ford | Fusion | Ford Fusion Pulley L4 2.3L (8th Vin Digit Z) |
| 2006-2009 | Ford | Fusion | Ford Fusion Pulley V6 3.0L (8th Vin Digit 1) |
| 2005-2006 | Ford | GT | Ford GT Driver Side Pulley V8 5.4L (8th Vin Digit S) |
| 1996 | Ford | Mustang | Ford Mustang Pulley V8 4.6L (8th Vin Digit V) for Models with Air Conditioning |
| 1996 | Ford | Mustang | Ford Mustang Upper Pulley V8 4.6L (8th Vin Digit V) without Air Conditioning |
| 1996 | Ford | Mustang | Ford Mustang Pulley V8 4.6L (8th Vin Digit X) for Models with Air Conditioning |
| 1996 | Ford | Mustang | Ford Mustang Upper Pulley V8 4.6L (8th Vin Digit X) without Air Conditioning |
| 1997-2001 | Ford | Mustang | Ford Mustang Pulley V8 4.6L (8th Vin Digit V) |
| 1997-2001 | Ford | Mustang | Ford Mustang Pulley V8 4.6L (8th Vin Digit X) |
| 1999-2004 | Ford | Mustang | Ford Mustang Alternator Support Bracket Mounted Pulley V6 3.8L (8th Vin Digit 4) |
| 2002-2004 | Ford | Mustang | Ford Mustang Inner Pulley V8 4.6L (8th Vin Digit X) |
| 2004 | Ford | Mustang | Ford Mustang Inner Pulley V8 4.6L (8th Vin Digit R) |
| 2005 | Ford | Mustang | Ford Mustang Driver Side Pulley V8 4.6L (8th Vin Digit N) |
| 2006-2010 | Ford | Mustang | Ford Mustang Pulley V8 4.6L (8th Vin Digit H) |
| 2007-2010 | Ford | Mustang | Ford Mustang Pulley V8 5.4L (8th Vin Digit S) for Water Pump |
| 1990-1992 | Ford | Probe | Ford Probe Power Steering Pump Pulley V6 3.0L (8th Vin Digit U) |
| 1990-1992 | Ford | Probe | Ford Probe Pulley V6 3.0L (8th Vin Digit U) for Water Pump |
| 1990-1997 | Ford | Ranger | Ford Ranger Power Steering Pump Support Bracket Mounted Pulley L4 2.3L (8th Vin Digit A) for Models with Dealer Installed Air Conditioning |
| 1991 | Ford | Ranger | Ford Ranger Pulley V6 3.0L (8th Vin Digit U) |
| 1998-2001 | Ford | Ranger | Ford Ranger Pulley L4 2.5L (8th Vin Digit C) |
| 2001-2009 | Ford | Ranger | Ford Ranger Pulley L4 2.3L (8th Vin Digit D) |
| 1990 | Ford | Taurus | Ford Taurus Power Steering Pump Support Bracket Mounted Pulley V6 3.8L (8th Vin Digit 4) |
| 1990 | Ford | Taurus | Ford Taurus Pulley L4 2.5L (8th Vin Digit D) |
| 1991 | Ford | Taurus | Ford Taurus Power Steering Pump Support Bracket Mounted Pulley V6 3.8L (8th Vin Digit 4) |
| 1991 | Ford | Taurus | Ford Taurus Pulley L4 2.5L (8th Vin Digit N) |
| 1992-1994 | Ford | Tempo | Ford Tempo Power Steering Pump Support Bracket Mounted Pulley V6 3.0L (8th Vin Digit U) |
| 1990-1995 | Ford | Thunderbird | Ford Thunderbird Air Conditioning Support Bracket Mounted Pulley V6 3.8L (8th Vin Digit R) |
| 1994-1997 | Ford | Thunderbird | Ford Thunderbird Pulley V8 4.6L (8th Vin Digit W) |
| 2002-2005 | Ford | Thunderbird | Ford Thunderbird Pulley V8 3.9L (8th Vin Digit A) |
| 1988-1995 | GMC | C1500 Truck | GMC C1500 Truck Pulley V8 5.7L (8th Vin Digit K) for Models with Air Conditioning |
| 1988-1995 | GMC | C1500 Truck | GMC C1500 Truck Pulley V8 5.0L (8th Vin Digit H) for Models with Air Conditioning |
| 1988-1995 | GMC | C2500 Truck | GMC C2500 Truck Pulley V8 5.0L (8th Vin Digit H) for Models with Air Conditioning |
| 1988-1995 | GMC | C2500 Truck | GMC C2500 Truck Pulley V8 5.7L (8th Vin Digit K) for Models with Air Conditioning |
| 1988-1995 | GMC | C3500 Truck | GMC C3500 Truck Pulley V8 5.7L (8th Vin Digit K) for Models with Air Conditioning |
| 2003-2008 | GMC | Envoy | GMC Envoy Pulley L6 4.2L (8th Vin Digit S) |
| 2003-2006 | GMC | Envoy XL | GMC Envoy XL Pulley L6 4.2L (8th Vin Digit S) |
| 2004-2005 | GMC | Envoy XUV | GMC Envoy XUV Pulley L6 4.2L (8th Vin Digit S) |
| 1988-1991 | GMC | G1500 | GMC G1500 Pulley V8 5.7L (8th Vin Digit K) for Models with Air Conditioning |
| 1988-1991 | GMC | G1500 | GMC G1500 Pulley V8 5.0L (8th Vin Digit H) for Models with Air Conditioning |
| 1988-1991 | GMC | G1500 | GMC G1500 Pulley V6 4.3L (8th Vin Digit Z) for Models with Air Conditioning |
| 1988-1991 | GMC | G2500 | GMC G2500 Pulley V8 5.0L (8th Vin Digit H) for Models with Air Conditioning |
| 1988-1991 | GMC | G2500 | GMC G2500 Pulley V6 4.3L (8th Vin Digit Z) for Models with Air Conditioning |
| 1988-1991 | GMC | G3500 | GMC G3500 Pulley V8 5.7L (8th Vin Digit K) for Models with Air Conditioning |
| 1988-1991 | GMC | G3500 | GMC G3500 Pulley V6 4.3L (8th Vin Digit Z) for Models with Air Conditioning |
| 1989-1991 | GMC | Jimmy Full Size | GMC Jimmy Full Size Pulley V8 5.7L (8th Vin Digit K) for Models with Air Conditioning |
| 1988-1994 | GMC | Jimmy S-15 | GMC Jimmy S-15 Pulley V6 4.3L (8th Vin Digit Z) for Models with Air Conditioning |
| 1992-1995 | GMC | Jimmy S-15 | GMC Jimmy S-15 Pulley V6 4.3L (8th Vin Digit W) for Models with Air Conditioning |
| 1988-1995 | GMC | K1500 Truck | GMC K1500 Truck Pulley V6 4.3L (8th Vin Digit Z) for Models with Air Conditioning |
| 1988-1995 | GMC | K1500 Truck | GMC K1500 Truck Pulley V8 5.0L (8th Vin Digit H) for Models with Air Conditioning |
| 1988-1995 | GMC | K1500 Truck | GMC K1500 Truck Pulley V8 5.7L (8th Vin Digit K) for Models with Air Conditioning |
| 1988-1995 | GMC | K2500 Truck | GMC K2500 Truck Pulley V6 4.3L (8th Vin Digit Z) for Models with Air Conditioning |
| 1988-1995 | GMC | K2500 Truck | GMC K2500 Truck Pulley V8 5.0L (8th Vin Digit H) for Models with Air Conditioning |
| 1988-1995 | GMC | K2500 Truck | GMC K2500 Truck Pulley V8 5.7L (8th Vin Digit K) for Models with Air Conditioning |
| 1988-1995 | GMC | K3500 Truck | GMC K3500 Truck Pulley V8 5.7L (8th Vin Digit K) for Models with Air Conditioning |
| 1988-1990 | GMC | S-15 Pickup | GMC S-15 Pickup Pulley V6 4.3L (8th Vin Digit Z) for Models with Air Conditioning |
| 1991-1995 | GMC | S-15 Sonoma | GMC S-15 Sonoma Pulley V6 4.3L (8th Vin Digit Z) for Models with Air Conditioning |
| 1992-1995 | GMC | S-15 Sonoma | GMC S-15 Sonoma Pulley V6 4.3L (8th Vin Digit W) for Models with Air Conditioning |
| 1992-1995 | GMC | Suburban C1500 | GMC Suburban C1500 Pulley V8 5.7L (8th Vin Digit K) for Models with Air Conditioning |
| 1992-1995 | GMC | Suburban C2500 | GMC Suburban C2500 Pulley V8 5.7L (8th Vin Digit K) for Models with Air Conditioning |
| 1992-1995 | GMC | Suburban K1500 | GMC Suburban K1500 Pulley V8 5.7L (8th Vin Digit K) for Models with Air Conditioning |
| 1992-1995 | GMC | Suburban K2500 | GMC Suburban K2500 Pulley V8 5.7L (8th Vin Digit K) for Models with Air Conditioning |
| 1989-1991 | GMC | Suburban R1500 | GMC Suburban R1500 Pulley V8 5.7L (8th Vin Digit K) for Models with Air Conditioning |
| 1989-1991 | GMC | Suburban R2500 | GMC Suburban R2500 Pulley V8 5.7L (8th Vin Digit K) for Models with Air Conditioning |
| 1989-1991 | GMC | Suburban V1500 | GMC Suburban V1500 Pulley V8 5.7L (8th Vin Digit K) for Models with Air Conditioning |
| 1989-1991 | GMC | Suburban V2500 | GMC Suburban V2500 Pulley V8 5.7L (8th Vin Digit K) for Models with Air Conditioning |
| 1991 | GMC | Syclone | GMC Syclone Pulley V6 4.3L (8th Vin Digit Z) for Models with Air Conditioning |
| 1992-1993 | GMC | Typhoon | GMC Typhoon Pulley V6 4.3L (8th Vin Digit Z) for Models with Air Conditioning |
| 1992-1995 | GMC | Yukon | GMC Yukon Pulley V8 5.7L (8th Vin Digit K) for Models with Air Conditioning |
| 2002-2005 | Jeep | Liberty | Jeep Liberty L4 2.4L (8th Vin Digit 1) Pulley |
| 2003-2006 | Jeep | Wrangler | Jeep Wrangler Pulley L4 2.4L (8th Vin Digit 1) |
| 2003-2005 | Lincoln | Aviator | Lincoln Aviator Pulley V8 4.6L (8th Vin Digit H) |
| 1990 | Lincoln | Continental | Lincoln Continental Pulley V6 3.8L (8th Vin Digit 4) |
| 1995-2002 | Lincoln | Continental | Lincoln Continental Pulley V8 4.6L (8th Vin Digit V) |
| 2002-2006 | Lincoln | LS | Lincoln LS Pulley V8 3.9L (8th Vin Digit A) |
| 2002-2005 | Lincoln | LS | Lincoln LS Pulley V6 3.0L (8th Vin Digit S) |
| 2006-2008 | Lincoln | Mark LT | Lincoln Mark LT Pulley V8 5.4L (8th Vin Digit 5) |
| 1993-1998 | Lincoln | Mark VIII | Lincoln Mark VIII Pulley V8 4.6L (8th Vin Digit V) |
| 2003-2004 | Lincoln | Navigator | Lincoln Navigator Pulley V8 5.4L (8th Vin Digit R) |
| 2005-2009 | Lincoln | Navigator | Lincoln Navigator Pulley V8 5.4L (8th Vin Digit 5) |
| 1991-1999 | Lincoln | Town Car | Lincoln Town Car Pulley V8 4.6L (8th Vin Digit W) |
| 2007-2009 | Lincoln | Town Car | Lincoln Town Car Pulley V8 4.6L (8th Vin Digit V) |
| 2007-2008 | Lincoln | Town Car | Lincoln Town Car Pulley V8 4.6L (8th Vin Digit W) |
| 2006 | Lincoln | Zephyr | Lincoln Zephyr Pulley V6 3.0L (8th Vin Digit 1) |
| 1990 | Mercury | Cougar | Mercury Cougar XR-7 Air Conditioning Support Bracket Mounted Pulley V6 3.8L (8th Vin Digit R) |
| 1994-1997 | Mercury | Cougar | Mercury Cougar XR-7 Pulley V8 4.6L (8th Vin Digit W) |
| 1999-2000 | Mercury | Cougar | Mercury Cougar Pulley V6 2.5L (8th Vin Digit L) |
| 1992-1999 | Mercury | Grand Marquis | Mercury Grand Marquis Pulley V8 4.6L (8th Vin Digit W) |
| 1996 | Mercury | Grand Marquis | Mercury Grand Marquis Pulley V8 4.6L (8th Vin Digit 6) |
| 2005-2008 | Mercury | Mariner | Mercury Mariner Pulley V6 3.0L (8th Vin Digit 1) |
| 2005-2007 | Mercury | Mariner | Mercury Mariner Pulley L4 2.3L (8th Vin Digit Z) |
| 2006-2009 | Mercury | Milan | Mercury Milan Pulley V6 3.0L (8th Vin Digit 1) |
| 2006-2009 | Mercury | Milan | Mercury Milan Pulley L4 2.3L (8th Vin Digit Z) |
| 2005 | Mercury | Montego | Mercury Montego Pulley V6 3.0L (8th Vin Digit N) (Built After 1/12/09 Production Date) |
| 2006-2007 | Mercury | Montego | Mercury Montego Pulley V6 3.0L (8th Vin Digit 1) |
| 2002-2005 | Mercury | Mountaineer | Mercury Mountaineer Pulley V8 4.6L (8th Vin Digit W) |
| 2006-2009 | Mercury | Mountaineer | Mercury Mountaineer Pulley V8 4.6L (8th Vin Digit 8) |
| 1995-2000 | Mercury | Mystique | Mercury Mystique Pulley V6 2.5L (8th Vin Digit L) |
| 1998 | Mercury | Mystique | Mercury Mystique Pulley L4 2.0L (8th Vin Digit 3) (Built Before 4/98 Production Date) |
| 1990-1991 | Mercury | Sable | Mercury Sable Power Steering Pump Support Bracket Mounted Pulley V6 3.8L (8th Vin Digit 4) |
| 1992-1994 | Mercury | Topaz | Mercury Topaz Pulley V6 3.0L (8th Vin Digit U) |
| 1996-1999 | Oldsmobile | 88 | Olds 88 Pulley V6 3.8L (8th Vin Digit K) |
| 1992-1994 | Oldsmobile | 98 | Olds 98 Alternator Pulley V6 3.8L (8th Vin Digit 1) for |
| 1992-1994 | Oldsmobile | 98 | Olds 98 Pulley V6 3.8L (8th Vin Digit 1) Supercharged |
| 1996 | Oldsmobile | 98 | Olds 98 76mm Outside Diameter Pulley V6 3.8L (8th Vin Digit K) |
| 1999-2004 | Oldsmobile | Alero | Olds Alero Pulley V6 3.4L (8th Vin Digit E) |
| 1996-2003 | Oldsmobile | Aurora | Olds Aurora Alternator Pulley V8 4.0L (8th Vin Digit C) for |
| 1991-1992 | Oldsmobile | Bravada | Olds Bravada Pulley V6 4.3L (8th Vin Digit Z) for Models with Air Conditioning |
| 1992-1994 | Oldsmobile | Bravada | Olds Bravada Pulley V6 4.3L (8th Vin Digit W) for Models with Air Conditioning |
| 2002-2004 | Oldsmobile | Bravada | Olds Bravada Pulley L6 4.2L (8th Vin Digit S) |
| 1997-1999 | Oldsmobile | Cutlass | Olds Cutlass Pulley V6 3.1L (8th Vin Digit M) |
| 1999 | Oldsmobile | Cutlass | Olds Cutlass Pulley V6 3.1L (8th Vin Digit J) |
| 1998-1999 | Oldsmobile | Intrigue | Olds Intrigue Pulley V6 3.8L (8th Vin Digit K) |
| 1996-1999 | Oldsmobile | LSS | Olds LSS Pulley V6 3.8L (8th Vin Digit K) |
| 1996-1999 | Oldsmobile | LSS | Olds LSS Alternator Pulley V6 3.8L (8th Vin Digit 1) for |
| 1997-1998 | Oldsmobile | Regency | Olds Regency 76mm Outside Diameter Pulley V6 3.8L (8th Vin Digit K) |
| 1999-2004 | Oldsmobile | Silhouette | Olds Silhouette Pulley V6 3.4L (8th Vin Digit E) |
| 2001-2005 | Pontiac | Aztek | Pontiac Aztek Pulley V6 3.4L (8th Vin Digit E) |
| 1992-1994 | Pontiac | Bonneville | Pontiac Bonneville Pulley V6 3.8L (8th Vin Digit 1) Supercharged |
| 1992-2000 | Pontiac | Bonneville | Pontiac Bonneville Alternator Pulley V6 3.8L (8th Vin Digit 1) for |
| 1996-2000 | Pontiac | Bonneville | Pontiac Bonneville Pulley V6 3.8L (8th Vin Digit K) |
| 2004-2005 | Pontiac | Bonneville | Pontiac Bonneville Alternator Pulley V8 4.6L (8th Vin Digit Y) for |
| 1996-2002 | Pontiac | Firebird | Pontiac Firebird Pulley V6 3.8L (8th Vin Digit K) |
| 1998-2000 | Pontiac | Firebird | Pontiac Firebird Pulley V8 5.7L (8th Vin Digit G) |
| 2005-2006 | Pontiac | G6 | Pontiac G6 Pulley V6 3.5L (8th Vin Digit 8) |
| 1999-2005 | Pontiac | Grand Am | Pontiac Grand Am Pulley V6 3.4L (8th Vin Digit E) |
| 1998-2000 | Pontiac | Grand Prix | Pontiac Grand Prix Alternator Pulley V6 3.8L (8th Vin Digit 1) for |
| 1998-2000 | Pontiac | Grand Prix | Pontiac Grand Prix Alternator Pulley V6 3.8L (8th Vin Digit K) for |
| 2005-2008 | Pontiac | Grand Prix | Pontiac Grand Prix Lower Water Pump Mounted Pulley V8 5.3L (8th Vin Digit C) |
| 2005-2008 | Pontiac | Grand Prix | Pontiac Grand Prix Passenger Side Engine Mounted Pulley V8 5.3L (8th Vin Digit C) |
| 1999-2005 | Pontiac | Montana | Pontiac Montana Pulley V6 3.4L (8th Vin Digit E) |
| 2005-2006 | Pontiac | Montana SV6 | Pontiac Montana SV6 Pulley V6 3.5L (8th Vin Digit L) |
| 2005-2006 | Saturn | Relay | Saturn Relay Pulley V6 3.5L (8th Vin Digit L) |
| 2004-2005 | Saturn | Vue | Saturn Vue Pulley V6 3.5L (8th Vin Digit N) |
| 2004-2006 | Saturn | Vue | Saturn Vue Pulley V6 3.5L (8th Vin Digit 4) |
Part #: 1AEIP00001
Order must be placed by 4pm ET
Get it in: 2 - 4 Business Days
Want it sooner? Choose Next Day Air at Checkout