1AEOS01029-O2 Oxygen Sensor
Replaces
O2 Oxygen Sensor - 1AEOS01029
1AEOS01029
Frequently bought together
Specifications:
Correct 4 Wire Connector No cutting or splicing
Correct wire length (17.6 Inches)
Install note:
You may be required to reset the vehicle computer after installation of this part.
Our electrical and electronic parts are subject to strict quality testing.
Parts cannot be returned after they have been installed. Contact us with any questions before installing the parts.
What is Upstream vs. Downstream?
Upstream location is between the catalytic converter and the engine
Downstream location is between the catalytic converter and the tailpipe
Item Condition: New

Attention California Customers:
WARNING: Cancer and Reproductive Harm - www.P65Warnings.ca.gov.
Lifetime Warranty
This item is backed by a Limited Lifetime Warranty. In the event this item should fail due to manufacturing defects during intended use, we will exchange the part free of charge (excludes shipping charges) for the original purchaser.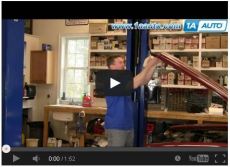 step : Removing the Oxygen (O2) Sensor (0:37)

Unclip the O2 sensor wiring harness from its bracket
Disconnect the oxygen sensor wiring harness
Remove the O2 sensor with an O2 sensor socket and a ratchet

step : Installing the New O2 Sensor (1:56)

Twist the new O2 sensor into place
Tighten the O2 sensor with an O2 sensor socket and a ratchet
Connect the O2 sensor wiring harness
Clip the O2 sensor wiring harness into its bracket
Tools needed for replacement:
Ratchets & Related

Ratchet
Swivel

Specialty Tools

O2 Sensor Socket
Oxygen Sensor Excellence
Best price I could find, fits perfectly as the original did, shipped quickly. I would definitely recommend this product and I always check A1 Auto first when looking for OEM replacement parts.
Oxygen sensors
They fit and worked perfectly , easy and fast ordering and quick delivery
O2 sensor replacement
Quick & easy, worked without issue! Delivery was fast!
failed product
The service was excellent -got the product in good time put it on -worked great for ten days then the rpms went down then back up the down and died. The comp. read out is upstream ox censor -how do I proceed from here Bill
Issue with part resolved quickly
The original part received was faulty. I believe it had a bad connection at one end of one of the wires. A replacement was shipped out after customer service was convinced it was faulty. the 2 part shipped quickly and resolved the car problem. I will buy from 1A Auto again but cautiously since the parts appear made in China as long as their support remains top notch .
o2 sensor
shipping was fast (no cost) thanks to video installation was easy would recomend a1 auto
I Would recommend this product to anyone who has this problem with upstream 02 sensor. It was easy to remove replace product .After I removed negative battery terminal rest check engine light it did not come back on and am extremely satisfied.
Perfect part
Arrived on time and cleared my trouble code. Installation video was a big help.
Great parts!!
This part was an exact fit very easy to install and I would recommend this part. I bought other parts A1Auto that fit perfectly .
Purchase & install 4 O2 sensor, 03 silveroda 5.3
I installed all them in my home garage less then two hours. Disconnected the battery for two hours. Took the truck for a drive. The check engine light went out in about ten miles. Everything is alright so far. (I am a DIY person.)
Good deal
Price was much better than what they offers locally. It arrived on time and well packaged. Plugged right up to my truck, no problems installing. No more check engine light. I would recommend this product to anyone needing it. But I would add make sure its your sensor first and not something else causeing it.
Great product
Went to the auto parts store to get the check engine light looked at, all codes pointed toward the Oxygen sensor but the store couldnt tell me which one. The cost at the store was almost twice what I paid for on 1A Auto for a single sensor. I purchased all 4 and replaced them on my truck in about 1.5 hours. Parts fit exactly without an issue, check engine light is off now, truck is running a lot better as well. I would definitely recommend and purchase from them again!
Great product
Sensor arrived quick, other than the fact that Chevrolet gives you NO room to fit a normal size hand to get to the connector, this was easy to install.
Great value and quality
I was impresseed with the quality, price and the speed that my product arrived. Keep the great work going.
Product was exactly what I ordered and was easy to replace
As ordered and as easy as video to install
Not a professional mechanic but I followed the instructions on the A1 video to remove the old sensor and install the new one and it took me less than 15 minutes. I added an extra zip-tie. Would highly recommend.
greta service
Great service, good product and fast delivery! Good Job, I will order again
Perfect fit
The part arrived right on time, it fit perfectly in my car.
Great service
I appreciate your low prices, great customer service, and your company stands behind its warranties.
A bit smaller than stock
And what I mean by that, is the sensor shaft that goes in the exhaust pipe is a bit smaller than stock. Im not sure if this will pose any problems. Above that, it installed easily with the proper sensor socket and plugs in to the old fitting. . Unfortunately after installing the sensor I found the wire upstream of the sensor had been rubbing on the front drive shaft and had worn through the wires; thus setting off the "check engine" light. Make sure you check this first and dont just go by the reader like I did. Installed on a 2004 Avalanche Z71 4x4.
Works great
Very easy to install, works great MUCH cheaper than buying from anywhere else
Great O2 sensor
Fast shipping. Part fit and took care of my problem. Quality and price are great! Highly recommend.
Awesome
Happy with my purchase. Will order from again. Very reasonable prices and I love that it automatically added the tool to replace part in my cart. Made things so much easier. I recommend totally. The videos showing how to replace parts was awesome
Customer Q&A
Ask a question to 1A Auto customers who purchased the product
How do you tell which sensor is bad?
Proper diagnostics from a repair facility/shop. Not something you can ID in your driveway
Brian F
February 29, 2016
The auto repair place put a computer hook up to the car, it identified a error number (code), that code identified the item. while the engine light did go out for a period of time the engine light did come back on. hope this helps d
I cannot answer that. But the cost of doing it myself vs. Paying a garage to replace, it was worth changing 2 at least
Which sensor is bank 1 sensor2?
Bank 1 Sensor 2 - Is the Drivers side; after converter; Bank 1 Sensor 1 - is the Drivers side; before converter;
Is this one the bank 2 sensor 1 ?
This part is specific to vehicles with a particular set of options. We will need more information about your vehicle to confirm the fit. If you can provide your VIN we would be more than happy to assist you further.
Engine light comes on have it checked out says its 02 oxygen sensor chang that within10 miles the engine light back on check it out and say it needs another 02 oxygen sensor is bad car.runs great is there something else it could be?
There could be multiple reasons why youre having this particular problem. We suggest taking your vehicle to a nearby reputable shop to identify the cause. Once you know the cause, well be happy to see if we carry the parts and how-to videos needed for your repair.
| Year | Make | Model | Description |
| --- | --- | --- | --- |
| 2008 | Buick | Enclave | Buick Enclave Upstream O2 Oxygen Sensor |
| 2005-2009 | Buick | LaCrosse | Buick LaCrosse V6 3.8L California Emissions Upstream O2 Oxygen Sensor |
| 2007-2008 | Buick | Lucerne | Buick Lucerne V6 3.8L Partial Zero Emissions Vehicle (PZEV) Upstream O2 Oxygen Sensor |
| 2009-2011 | Buick | Lucerne | Buick Lucerne V6 3.9L Upstream O2 Oxygen Sensor |
| 2005 | Buick | Rainier | Buick Rainier V8 5.3L Upstream O2 Oxygen Sensor |
| 2006-2007 | Buick | Rendezvous | Buick Rendezvous V6 3.5L Upstream O2 Oxygen Sensor |
| 2005-2006 | Buick | Terraza | Buick Terraza V6 3.5L Upstream O2 Oxygen Sensor |
| 2006-2007 | Buick | Terraza | Buick Terraza V6 3.9L Upstream O2 Oxygen Sensor |
| 2004-2005 | Cadillac | CTS | Cadillac CTS V Upstream O2 Oxygen Sensor |
| 2009-2015 | Cadillac | CTS | Cadillac CTS V Upstream O2 Oxygen Sensor |
| 2005 | Cadillac | Deville | Cadillac Deville Upstream O2 Oxygen Sensor |
| 2003-2005 | Cadillac | Escalade | Cadillac Escalade V8 5.3L Upstream O2 Oxygen Sensor |
| 2003-2005 | Cadillac | Escalade | Cadillac Escalade V8 5.3L Downstream O2 Oxygen Sensor |
| 2008-2014 | Cadillac | Escalade | Cadillac Escalade V8 6.2L Upstream O2 Oxygen Sensor |
| 2003-2005 | Cadillac | Escalade ESV | Cadillac Escalade ESV V8 5.3L Upstream O2 Oxygen Sensor |
| 2003-2005 | Cadillac | Escalade ESV | Cadillac Escalade ESV V8 5.3L Downstream O2 Oxygen Sensor |
| 2008-2014 | Cadillac | Escalade ESV | Cadillac Escalade ESV V8 6.2L Upstream O2 Oxygen Sensor |
| 2003-2005 | Cadillac | Escalade EXT | Cadillac Escalade EXT V8 5.3L Upstream O2 Oxygen Sensor |
| 2003-2005 | Cadillac | Escalade EXT | Cadillac Escalade EXT V8 5.3L Downstream O2 Oxygen Sensor |
| 2008-2013 | Cadillac | Escalade EXT | Cadillac Escalade EXT V8 6.2L Upstream O2 Oxygen Sensor |
| 2004 | Cadillac | Seville | Cadillac Seville Upstream O2 Oxygen Sensor |
| 2008-2013 | Chevy | Avalanche | Chevy Avalanche V8 5.3L Upstream O2 Oxygen Sensor |
| 2008-2009 | Chevy | Avalanche | Chevy Avalanche V8 6.0L Upstream O2 Oxygen Sensor |
| 2003-2005 | Chevy | Avalanche 1500 | Chevy Avalanche 1500 V8 5.3L Upstream O2 Oxygen Sensor |
| 2003-2005 | Chevy | Avalanche 1500 | Chevy Avalanche 1500 V8 5.3L Downstream O2 Oxygen Sensor |
| 2011-2013 | Chevy | Caprice | Chevy Caprice V8 6.0L Upstream O2 Oxygen Sensor |
| 2005-2010 | Chevy | Cobalt | Chevy Cobalt L4 2.2L Upstream O2 Oxygen Sensor |
| 2006-2008 | Chevy | Cobalt | Chevy Cobalt L4 2.4L Upstream O2 Oxygen Sensor |
| 2004 | Chevy | Corvette | Chevy Corvette Upstream O2 Oxygen Sensor |
| 2004 | Chevy | Corvette | Chevy Corvette Z06 Upstream O2 Oxygen Sensor |
| 2005-2009 | Chevy | Equinox | Chevy Equinox V6 3.4L Upstream O2 Oxygen Sensor |
| 2006-2011 | Chevy | HHR | Chevy HHR L4 2.2L Upstream O2 Oxygen Sensor |
| 2009-2011 | Chevy | HHR | Chevy HHR L4 2.4L Upstream O2 Oxygen Sensor |
| 2006-2011 | Chevy | Impala | Chevy Impala V6 3.9L Upstream O2 Oxygen Sensor |
| 2007-2011 | Chevy | Impala | Chevy Impala V6 3.5L Upstream O2 Oxygen Sensor |
| 2004-2010 | Chevy | Malibu | Chevy Malibu V6 3.5L Upstream O2 Oxygen Sensor |
| 2006-2007 | Chevy | Malibu | Chevy Malibu V6 3.9L Upstream O2 Oxygen Sensor |
| 2008-2012 | Chevy | Malibu | Chevy Malibu V6 3.6L Upstream O2 Oxygen Sensor |
| 2006 | Chevy | Monte Carlo | Chevy Monte Carlo V6 3.9L Upstream O2 Oxygen Sensor |
| 2006-2007 | Chevy | Monte Carlo | Chevy Monte Carlo V6 3.5L Upstream O2 Oxygen Sensor |
| 2005 | Chevy | SSR | Chevy SSR Upstream O2 Oxygen Sensor |
| 2003-2005 | Chevy | Silverado 1500 | Chevy Silverado 1500 V8 5.3L Upstream O2 Oxygen Sensor |
| 2003-2005 | Chevy | Silverado 1500 | Chevy Silverado 1500 V8 5.3L Downstream O2 Oxygen Sensor |
| 2007 | Chevy | Silverado 1500 | Chevy Silverado 1500 New Body Style V8 4.8L Upstream O2 Oxygen Sensor |
| 2007 | Chevy | Silverado 1500 | Chevy Silverado 1500 New Body Style V8 5.3L Flex Fuel Upstream O2 Oxygen Sensor |
| 2007 | Chevy | Silverado 1500 | Chevy Silverado 1500 New Body Style V8 6.0L Upstream O2 Oxygen Sensor |
| 2008-2013 | Chevy | Silverado 1500 | Chevy Silverado 1500 V8 5.3L Upstream O2 Oxygen Sensor |
| 2008-2013 | Chevy | Silverado 1500 | Chevy Silverado 1500 V8 4.8L Upstream O2 Oxygen Sensor |
| 2008-2013 | Chevy | Silverado 1500 | Chevy Silverado 1500 V8 6.0L Upstream O2 Oxygen Sensor |
| 2009-2013 | Chevy | Silverado 1500 | Chevy Silverado 1500 V8 6.2L Upstream O2 Oxygen Sensor |
| 2007 | Chevy | Silverado 2500 HD | Chevy Silverado 2500 HD (excluding Cab & Chassis) New Body Style V8 6.0L Upstream O2 Oxygen Sensor |
| 2008-2010 | Chevy | Silverado 2500 HD | Chevy Silverado 2500 HD (excluding Cab & Chassis) V8 6.0L Upstream O2 Oxygen Sensor |
| 2007 | Chevy | Silverado 3500 HD | Chevy Silverado 3500 HD (excluding Cab & Chassis) New Body Style V8 6.0L Upstream O2 Oxygen Sensor |
| 2008-2010 | Chevy | Silverado 3500 HD | Chevy Silverado 3500 HD (excluding Cab & Chassis) V8 6.0L Upstream O2 Oxygen Sensor |
| 2013-2015 | Chevy | Spark | Chevy Spark Upstream O2 Oxygen Sensor |
| 2003-2005 | Chevy | Suburban 1500 | Chevy Suburban 1500 V8 5.3L Upstream O2 Oxygen Sensor |
| 2003-2005 | Chevy | Suburban 1500 | Chevy Suburban 1500 V8 5.3L Downstream O2 Oxygen Sensor |
| 2008-2009 | Chevy | Suburban 1500 | Chevy Suburban 1500 V8 6.0L Upstream O2 Oxygen Sensor |
| 2008-2014 | Chevy | Suburban 1500 | Chevy Suburban 1500 V8 5.3L Upstream O2 Oxygen Sensor |
| 2008-2013 | Chevy | Suburban 2500 | Chevy Suburban 2500 V8 6.0L Upstream O2 Oxygen Sensor |
| 2003-2005 | Chevy | Tahoe | Chevy Tahoe V8 5.3L Upstream O2 Oxygen Sensor |
| 2003-2005 | Chevy | Tahoe | Chevy Tahoe V8 5.3L Downstream O2 Oxygen Sensor |
| 2008-2013 | Chevy | Tahoe | Chevy Tahoe V8 6.0L Upstream O2 Oxygen Sensor |
| 2008-2009 | Chevy | Tahoe | Chevy Tahoe V8 4.8L Upstream O2 Oxygen Sensor |
| 2008-2014 | Chevy | Tahoe | Chevy Tahoe V8 5.3L Upstream O2 Oxygen Sensor |
| 2009 | Chevy | Tahoe | Chevy Tahoe V8 6.2L Upstream O2 Oxygen Sensor |
| 2005 | Chevy | Trailblazer | Chevy Trailblazer V8 5.3L Upstream O2 Oxygen Sensor |
| 2005 | Chevy | Trailblazer EXT | Chevy Trailblazer EXT V8 5.3L Upstream O2 Oxygen Sensor |
| 2005-2006 | Chevy | Uplander | Chevy Uplander V6 3.5L Upstream O2 Oxygen Sensor |
| 2006-2008 | Chevy | Uplander | Chevy Uplander V6 3.9L Upstream O2 Oxygen Sensor |
| 2007-2008 | GMC | Acadia | GMC Acadia Upstream O2 Oxygen Sensor |
| 2005 | GMC | Envoy | GMC Envoy V8 5.3L Upstream O2 Oxygen Sensor |
| 2005 | GMC | Envoy XL | GMC Envoy XL V8 5.3L Upstream O2 Oxygen Sensor |
| 2005 | GMC | Envoy XUV | GMC Envoy XUV V8 5.3L Upstream O2 Oxygen Sensor |
| 2003-2005 | GMC | Sierra 1500 | GMC Sierra 1500 V8 5.3L Upstream O2 Oxygen Sensor |
| 2003-2005 | GMC | Sierra 1500 | GMC Sierra 1500 V8 5.3L Downstream O2 Oxygen Sensor |
| 2007 | GMC | Sierra 1500 | GMC Sierra 1500 New Body Style V8 4.8L Upstream O2 Oxygen Sensor |
| 2007 | GMC | Sierra 1500 | GMC Sierra 1500 New Body Style V8 5.3L Upstream O2 Oxygen Sensor |
| 2007 | GMC | Sierra 1500 | GMC Sierra 1500 New Body Style V8 6.0L Upstream O2 Oxygen Sensor |
| 2008-2013 | GMC | Sierra 1500 | GMC Sierra 1500 V8 4.8L Upstream O2 Oxygen Sensor |
| 2008-2013 | GMC | Sierra 1500 | GMC Sierra 1500 V8 6.0L Upstream O2 Oxygen Sensor |
| 2008-2014 | GMC | Sierra 1500 | GMC Sierra 1500 V8 5.3L Upstream O2 Oxygen Sensor |
| 2009-2013 | GMC | Sierra 1500 | GMC Sierra 1500 V8 6.2L Upstream O2 Oxygen Sensor |
| 2007 | GMC | Sierra 1500 Classic | GMC Sierra 1500 Classic Hybrid V8 5.3L Upstream O2 Oxygen Sensor |
| 2007 | GMC | Sierra 2500 HD | GMC Sierra 2500 HD (excluding Cab & Chassis) New Body Style V8 6.0L Upstream O2 Oxygen Sensor |
| 2008-2010 | GMC | Sierra 2500 HD | GMC Sierra 2500 HD (excluding Cab & Chassis) V8 6.0L Upstream O2 Oxygen Sensor |
| 2007 | GMC | Sierra 3500 HD | GMC Sierra 3500 HD (excluding Cab & Chassis) New Body Style V8 6.0L Upstream O2 Oxygen Sensor |
| 2008-2010 | GMC | Sierra 3500 HD | GMC Sierra 3500 HD (excluding Cab & Chassis) V8 6.0L Upstream O2 Oxygen Sensor |
| 2003-2005 | GMC | Yukon | GMC Yukon V8 5.3L Upstream O2 Oxygen Sensor |
| 2003-2005 | GMC | Yukon | GMC Yukon V8 5.3L Downstream O2 Oxygen Sensor |
| 2008-2013 | GMC | Yukon | GMC Yukon V8 6.2L Upstream O2 Oxygen Sensor |
| 2008-2009 | GMC | Yukon | GMC Yukon V8 4.8L Upstream O2 Oxygen Sensor |
| 2008-2013 | GMC | Yukon | GMC Yukon V8 6.0L Upstream O2 Oxygen Sensor |
| 2008-2013 | GMC | Yukon | GMC Yukon V8 5.3L Upstream O2 Oxygen Sensor |
| 2003-2005 | GMC | Yukon XL 1500 | GMC Yukon XL 1500 V8 5.3L Upstream O2 Oxygen Sensor |
| 2003-2005 | GMC | Yukon XL 1500 | GMC Yukon XL 1500 V8 5.3L Downstream O2 Oxygen Sensor |
| 2008-2013 | GMC | Yukon XL 1500 | GMC Yukon XL 1500 V8 5.3L Upstream O2 Oxygen Sensor |
| 2008-2013 | GMC | Yukon XL 1500 | GMC Yukon XL 1500 V8 6.2L Upstream O2 Oxygen Sensor |
| 2008-2009 | GMC | Yukon XL 1500 | GMC Yukon XL 1500 V8 6.0L Upstream O2 Oxygen Sensor |
| 2008-2013 | GMC | Yukon XL 2500 | GMC Yukon XL 2500 V8 6.0L Upstream O2 Oxygen Sensor |
| 2005 | Isuzu | Ascender | Isuzu Ascender V8 5.3L Upstream O2 Oxygen Sensor |
| 2005 | Isuzu | Ascender | Isuzu Ascender V8 5.3L Downstream O2 Oxygen Sensor |
| 2004-2005 | Pontiac | Bonneville | Pontiac Bonneville V8 4.6L Upstream O2 Oxygen Sensor |
| 2007-2009 | Pontiac | G5 | Pontiac G5 L4 2.2L Upstream O2 Oxygen Sensor |
| 2007 | Pontiac | G5 | Pontiac G5 L4 2.4L Upstream O2 Oxygen Sensor |
| 2006-2010 | Pontiac | G6 | Pontiac G6 V6 3.5L Upstream O2 Oxygen Sensor |
| 2006-2009 | Pontiac | G6 | Pontiac G6 V6 3.9L Upstream O2 Oxygen Sensor |
| 2006-2007 | Pontiac | G6 | Pontiac G6 L4 2.4L Upstream O2 Oxygen Sensor |
| 2008-2009 | Pontiac | G6 | Pontiac G6 V6 3.6L Upstream O2 Oxygen Sensor |
| 2008-2009 | Pontiac | G8 | Pontiac G8 V8 6.0L Upstream O2 Oxygen Sensor |
| 2009 | Pontiac | G8 | Pontiac G8 V8 6.2L Upstream O2 Oxygen Sensor |
| 2004 | Pontiac | GTO | Pontiac GTO Upstream O2 Oxygen Sensor |
| 2005-2006 | Pontiac | GTO | Pontiac GTO Upstream O2 Oxygen Sensor |
| 2005 | Pontiac | Grand Prix | Pontiac Grand Prix V8 5.3L California Emissions Upstream O2 Oxygen Sensor |
| 2005-2006 | Pontiac | Grand Prix | Pontiac Grand Prix V6 3.8L California Emissions Upstream O2 Oxygen Sensor |
| 2007-2008 | Pontiac | Grand Prix | Pontiac Grand Prix V6 3.8L Partial Zero Emissions Vehicle (PZEV) Upstream O2 Oxygen Sensor |
| 2005 | Pontiac | Montana | Pontiac Montana V6 3.5L Upstream O2 Oxygen Sensor |
| 2006 | Pontiac | Montana SV6 | Pontiac Montana SV6 Upstream O2 Oxygen Sensor |
| 2006-2007 | Pontiac | Solstice | Pontiac Solstice L4 2.4L Upstream O2 Oxygen Sensor |
| 2006-2007 | Pontiac | Torrent | Pontiac Torrent V6 3.4L Upstream O2 Oxygen Sensor |
| 2005 | Saab | 9-7X | Saab 9-7X V8 5.3L Upstream O2 Oxygen Sensor |
| 2007-2009 | Saturn | Aura | Saturn Aura V6 3.6L Upstream O2 Oxygen Sensor |
| 2007-2008 | Saturn | Aura | Saturn Aura V6 3.5L Upstream O2 Oxygen Sensor |
| 2005-2007 | Saturn | Ion | Saturn Ion L4 2.2L Upstream O2 Oxygen Sensor |
| 2006-2007 | Saturn | Ion | Saturn Ion L4 2.4L Upstream O2 Oxygen Sensor |
| 2007-2008 | Saturn | Outlook | Saturn Outlook Upstream O2 Oxygen Sensor |
| 2005-2006 | Saturn | Relay | Saturn Relay V6 3.5L Upstream O2 Oxygen Sensor |
| 2006-2007 | Saturn | Relay | Saturn Relay V6 3.9L Upstream O2 Oxygen Sensor |
| 2007 | Saturn | Sky | Saturn Sky L4 2.4L Upstream O2 Oxygen Sensor |
| 2006-2007 | Saturn | Vue | Saturn Vue L4 2.2L Upstream O2 Oxygen Sensor |
| 2008-2009 | Saturn | Vue | Saturn Vue V6 3.5L Upstream O2 Oxygen Sensor |
| 2008-2010 | Saturn | Vue | Saturn Vue V6 3.6L Upstream O2 Oxygen Sensor |