1AEOS01001-O2 Oxygen Sensor
Replaces
O2 Oxygen Sensor - 1AEOS01001
1AEOS01001
This Oxygen O2 Sensor is a new, aftermarket replacement part that has the following specifications:
Single wire O2 sensor
Direct Fit

-Correct 15.7" harness length
-Correct Connector
-No cutting or splicing

Stainless steel used for alloy components
Built and tested to strict quality control standards

A direct replacement. If you have a bad O2 sensor causing your vehicle to idle poorly, or fail an emission test, this is the part for you.
Returns Note:
Our electrical and electronic parts are subject to strict quality control testing. Once the item has been installed or plugged in, it is no longer eligible for a refund. The item may be eligible for replacement, only if it is found to have a manufacturing defect. Before purchasing, please ensure proper diagnosis of the failed original part is performed.
Note: You may be required to reset the vehicle's computer after installation of this part.
Lifetime Warranty
This item is backed by a Limited Lifetime Warranty. In the event this item should fail due to manufacturing defects during intended use, we will exchange the part free of charge (excludes shipping charges) for the original purchaser.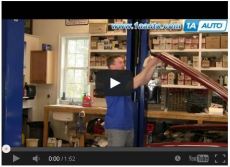 step : Identifying your Oxygen Sensors (0:57)

Upstream oxygen sensors are located in between the engine and the catalytic converter
Downstream oxygen sensors are located in the catalytic converter or farther away from the engine than the catalytic converter
Locate your vehicle's firing order diagram
The bank that contains cylinder one is bank one
The bank that does not contain cylinder one is bank two, even if it does not contain cylinder two
Tools needed for replacement:
1A - No Tools Needed

No Tools Needed
Vehicle Fit
| Year | Make | Model | Description |
| --- | --- | --- | --- |
| 1982-1992 | Buick | Century | Buick Century L4 2.5L O2 Oxygen Sensor |
| 1982-1985 | Buick | Century | Buick Century V6 3.0L O2 Oxygen Sensor |
| 1985-1988 | Buick | Century | Buick Century V6 3.8L O2 Oxygen Sensor |
| 1990-1993 | Buick | Century | Buick Century V6 3.3L O2 Oxygen Sensor |
| 1993-1996 | Buick | Century | Buick Century L4 2.2L Upstream O2 Oxygen Sensor |
| 1982-1989 | Buick | Electra | Buick Electra V8 5.0L O2 Oxygen Sensor |
| 1982-1984 | Buick | Electra | Buick Electra L6 4.1L O2 Oxygen Sensor |
| 1985-1990 | Buick | Electra | Buick Electra V6 3.8L O2 Oxygen Sensor |
| 1985-1990 | Buick | Estate Wagon | Buick Estate Wagon V8 5.0L O2 Oxygen Sensor |
| 1982-1987 | Buick | Grand National | Buick Grand National V6 3.8L Turbo O2 Oxygen Sensor |
| 1982-1984 | Buick | LeSabre | Buick LeSabre L6 4.1L O2 Oxygen Sensor |
| 1982-1993 | Buick | LeSabre | Buick LeSabre V6 3.8L O2 Oxygen Sensor |
| 1982-1989 | Buick | LeSabre | Buick LeSabre V8 5.0L O2 Oxygen Sensor |
| 1991-1992 | Buick | Park Avenue | Buick Park Avenue V6 3.8L O2 Oxygen Sensor |
| 1993 | Buick | Park Avenue | Buick Park Avenue V6 3.8L 1 Wire Sensor O2 Oxygen Sensor |
| 1988-1991 | Buick | Reatta | Buick Reatta V6 3.8L O2 Oxygen Sensor |
| 1982-1987 | Buick | Regal | Buick Regal V6 3.8L O2 Oxygen Sensor |
| 1982-1984 | Buick | Regal | Buick Regal L6 4.1L O2 Oxygen Sensor |
| 1982-1987 | Buick | Regal | Buick Regal V6 3.8L Turbo O2 Oxygen Sensor |
| 1988-1989 | Buick | Regal | Buick Regal V6 2.8L O2 Oxygen Sensor |
| 1989-1993 | Buick | Regal | Buick Regal V6 3.1L (excluding California Emissions) O2 Oxygen Sensor |
| 1990-1992 | Buick | Regal | Buick Regal V6 3.8L O2 Oxygen Sensor |
| 1982-1985 | Buick | Riviera | Buick Riviera V6 3.8L Turbo O2 Oxygen Sensor |
| 1982-1984 | Buick | Riviera | Buick Riviera L6 4.1L O2 Oxygen Sensor |
| 1982-1985 | Buick | Riviera | Buick Riviera V8 5.0L O2 Oxygen Sensor |
| 1986-1993 | Buick | Riviera | Buick Riviera V6 3.8L O2 Oxygen Sensor |
| 1991 | Buick | Roadmaster | Buick Roadmaster V8 5.0L O2 Oxygen Sensor |
| 1992-1993 | Buick | Roadmaster | Buick Roadmaster V8 5.7L O2 Oxygen Sensor |
| 1983-1989 | Buick | Skyhawk | Buick Skyhawk L4 2.0L O2 Oxygen Sensor |
| 1983-1986 | Buick | Skyhawk | Buick Skyhawk L4 1.8L O2 Oxygen Sensor |
| 1982-1991 | Buick | Skylark | Buick Skylark L4 2.5L O2 Oxygen Sensor |
| 1982-1985 | Buick | Skylark | Buick Skylark V6 2.8L O2 Oxygen Sensor |
| 1986-1987 | Buick | Skylark | Buick Skylark V6 3.0L O2 Oxygen Sensor |
| 1988-1993 | Buick | Skylark | Buick Skylark L4 2.3L O2 Oxygen Sensor |
| 1996-1997 | Buick | Skylark | Buick Skylark L4 2.4L Upstream O2 Oxygen Sensor |
| 1985-1987 | Buick | Somerset | Buick Somerset L4 2.5L O2 Oxygen Sensor |
| 1985-1987 | Buick | Somerset | Buick Somerset V6 3.0L O2 Oxygen Sensor |
| 1990-1992 | Cadillac | Brougham | Cadillac Brougham V8 5.7L O2 Oxygen Sensor |
| 1990-1992 | Cadillac | Brougham | Cadillac Brougham V8 5.0L O2 Oxygen Sensor |
| 1982 | Cadillac | Cimarron | Cadillac Cimarron L4 1.8L O2 Oxygen Sensor |
| 1983-1986 | Cadillac | Cimarron | Cadillac Cimarron L4 2.0L O2 Oxygen Sensor |
| 1985-1988 | Cadillac | Cimarron | Cadillac Cimarron V6 2.8L O2 Oxygen Sensor |
| 1982 | Cadillac | Deville | Cadillac Deville L6 4.1L 1 Wire Sensor O2 Oxygen Sensor |
| 1985-1987 | Cadillac | Deville | Cadillac Deville L6 4.1L O2 Oxygen Sensor |
| 1982 | Cadillac | Eldorado | Cadillac Eldorado L6 4.1L 1 Wire Sensor O2 Oxygen Sensor |
| 1985-1987 | Cadillac | Eldorado | Cadillac Eldorado L6 4.1L O2 Oxygen Sensor |
| 1982 | Cadillac | Fleetwood | Cadillac Fleetwood L6 4.1L 1 Wire Sensor O2 Oxygen Sensor |
| 1985 | Cadillac | Fleetwood | Cadillac Fleetwood L6 4.1L O2 Oxygen Sensor |
| 1986-1990 | Cadillac | Fleetwood | Cadillac Fleetwood V8 5.0L O2 Oxygen Sensor |
| 1982 | Cadillac | Seville | Cadillac Seville L6 4.1L 1 Wire Sensor O2 Oxygen Sensor |
| 1985-1987 | Cadillac | Seville | Cadillac Seville L6 4.1L O2 Oxygen Sensor |
| 1985-1991 | Chevy | Astro | Chevy Astro V6 4.3L O2 Oxygen Sensor |
| 1985-1990 | Chevy | Astro | Chevy Astro L4 2.5L O2 Oxygen Sensor |
| 1987-1989 | Chevy | Beretta | Chevy Beretta V6 2.8L O2 Oxygen Sensor |
| 1987-1989 | Chevy | Beretta | Chevy Beretta L4 2.0L O2 Oxygen Sensor |
| 1990-1994 | Chevy | Beretta | Chevy Beretta L4 2.3L O2 Oxygen Sensor |
| 1990-1993 | Chevy | Beretta | Chevy Beretta V6 3.1L O2 Oxygen Sensor |
| 1990-1996 | Chevy | Beretta | Chevy Beretta L4 2.2L Upstream O2 Oxygen Sensor |
| 1986-1987 | Chevy | Blazer Full Size | Chevy Blazer Full Size V8 5.0L O2 Oxygen Sensor |
| 1987-1994 | Chevy | Blazer Full Size | Chevy Blazer Full Size V8 5.7L O2 Oxygen Sensor |
| 1983-1984 | Chevy | Blazer S10 | Chevy Blazer S10 L4 1.9L O2 Oxygen Sensor |
| 1983-1989 | Chevy | Blazer S10 | Chevy Blazer S10 V6 2.8L O2 Oxygen Sensor |
| 1985-1988 | Chevy | Blazer S10 | Chevy Blazer S10 L4 2.5L O2 Oxygen Sensor |
| 1988-1991 | Chevy | Blazer S10 | Chevy Blazer S10 V6 4.3L O2 Oxygen Sensor |
| 1983-1984 | Chevy | C10 Truck | Chevy C10 Truck L6 4.1L O2 Oxygen Sensor |
| 1983-1986 | Chevy | C10 Truck | Chevy C10 Truck V8 5.7L O2 Oxygen Sensor |
| 1983-1986 | Chevy | C10 Truck | Chevy C10 Truck V8 5.0L O2 Oxygen Sensor |
| 1985-1986 | Chevy | C10 Truck | Chevy C10 Truck V6 4.3L O2 Oxygen Sensor |
| 1988-1993 | Chevy | C1500 Truck | Chevy C1500 Truck V8 5.0L O2 Oxygen Sensor |
| 1988-1993 | Chevy | C1500 Truck | Chevy C1500 Truck V8 5.7L O2 Oxygen Sensor |
| 1988-1993 | Chevy | C1500 Truck | Chevy C1500 Truck V6 4.3L O2 Oxygen Sensor |
| 1990-1993 | Chevy | C1500 Truck | Chevy C1500 Truck V8 7.4L O2 Oxygen Sensor |
| 1994-1995 | Chevy | C1500 Truck | Chevy C1500 Truck V8 5.7L (excluding 4L60E 4 Speed Automatic Transmission) O2 Oxygen Sensor |
| 1994-1995 | Chevy | C1500 Truck | Chevy C1500 Truck V8 5.0L (excluding 4L60E 4 Speed Automatic Transmission) O2 Oxygen Sensor |
| 1983-1986 | Chevy | C20 Truck | Chevy C20 Truck V8 5.7L O2 Oxygen Sensor |
| 1983-1984 | Chevy | C20 Truck | Chevy C20 Truck L6 4.1L O2 Oxygen Sensor |
| 1985-1986 | Chevy | C20 Truck | Chevy C20 Truck V6 4.3L O2 Oxygen Sensor |
| 1985-1986 | Chevy | C20 Truck | Chevy C20 Truck V8 5.0L O2 Oxygen Sensor |
| 1985-1986 | Chevy | C20 Truck | Chevy C20 Truck V6 4.3L O2 Oxygen Sensor |
| 1988-1993 | Chevy | C2500 Truck | Chevy C2500 Truck V8 5.0L O2 Oxygen Sensor |
| 1988-1993 | Chevy | C2500 Truck | Chevy C2500 Truck V8 5.7L O2 Oxygen Sensor |
| 1991-1995 | Chevy | C2500 Truck | Chevy C2500 Truck V8 7.4L O2 Oxygen Sensor |
| 1994-1995 | Chevy | C2500 Truck | Chevy C2500 Truck V8 5.7L (excluding 4L60E 4 Speed Automatic Transmission) O2 Oxygen Sensor |
| 1994-1995 | Chevy | C2500 Truck | Chevy C2500 Truck V8 5.0L (excluding 4L60E 4 Speed Automatic Transmission) O2 Oxygen Sensor |
| 1988-1995 | Chevy | C3500 Truck | Chevy C3500 Truck V8 5.7L O2 Oxygen Sensor |
| 1988-1995 | Chevy | C3500 Truck | Chevy C3500 Truck V8 7.4L O2 Oxygen Sensor |
| 1982-1992 | Chevy | Camaro | Chevy Camaro V8 5.0L O2 Oxygen Sensor |
| 1982-1989 | Chevy | Camaro | Chevy Camaro V6 2.8L O2 Oxygen Sensor |
| 1987-1992 | Chevy | Camaro | Chevy Camaro V8 5.7L O2 Oxygen Sensor |
| 1990-1992 | Chevy | Camaro | Chevy Camaro V6 3.1L O2 Oxygen Sensor |
| 1982-1993 | Chevy | Caprice | Chevy Caprice V8 5.0L O2 Oxygen Sensor |
| 1982-1984 | Chevy | Caprice | Chevy Caprice V6 2.8L O2 Oxygen Sensor |
| 1985-1993 | Chevy | Caprice | Chevy Caprice V8 5.7L O2 Oxygen Sensor |
| 1986-1990 | Chevy | Caprice | Chevy Caprice V6 4.3L O2 Oxygen Sensor |
| 1982 | Chevy | Cavalier | Chevy Cavalier L4 1.8L O2 Oxygen Sensor |
| 1983-1989 | Chevy | Cavalier | Chevy Cavalier L4 2.0L O2 Oxygen Sensor |
| 1985-1989 | Chevy | Cavalier | Chevy Cavalier V6 2.8L O2 Oxygen Sensor |
| 1990-1994 | Chevy | Cavalier | Chevy Cavalier V6 3.1L O2 Oxygen Sensor |
| 1990-1995 | Chevy | Cavalier | Chevy Cavalier L4 2.2L O2 Oxygen Sensor |
| 1995 | Chevy | Cavalier | Chevy Cavalier L4 2.3L O2 Oxygen Sensor |
| 1996-1998 | Chevy | Cavalier | Chevy Cavalier L4 2.2L Upstream O2 Oxygen Sensor |
| 1996-1998 | Chevy | Cavalier | Chevy Cavalier L4 2.4L Upstream O2 Oxygen Sensor |
| 1982-1990 | Chevy | Celebrity | Chevy Celebrity L4 2.5L O2 Oxygen Sensor |
| 1982-1989 | Chevy | Celebrity | Chevy Celebrity V6 2.8L O2 Oxygen Sensor |
| 1990 | Chevy | Celebrity | Chevy Celebrity V6 3.1L O2 Oxygen Sensor |
| 1980-1987 | Chevy | Chevette | Chevy Chevette L4 1.6L O2 Oxygen Sensor |
| 1982-1985 | Chevy | Citation | Chevy Citation V6 2.8L O2 Oxygen Sensor |
| 1984-1985 | Chevy | Citation II | Chevy Citation II L4 2.5L O2 Oxygen Sensor |
| 1984-1985 | Chevy | Citation II | Chevy Citation II V6 2.8L O2 Oxygen Sensor |
| 1987-1989 | Chevy | Corsica | Chevy Corsica V6 2.8L O2 Oxygen Sensor |
| 1987-1989 | Chevy | Corsica | Chevy Corsica L4 2.0L O2 Oxygen Sensor |
| 1990-1996 | Chevy | Corsica | Chevy Corsica L4 2.2L O2 Oxygen Sensor |
| 1990-1993 | Chevy | Corsica | Chevy Corsica V6 3.1L O2 Oxygen Sensor |
| 1982 | Chevy | Corvette | Chevy Corvette V8 5.7L O2 Oxygen Sensor |
| 1984-1993 | Chevy | Corvette | Chevy Corvette V8 5.7L O2 Oxygen Sensor |
| 1982-1987 | Chevy | El Camino | Chevy El Camino V8 5.0L O2 Oxygen Sensor |
| 1986-1987 | Chevy | El Camino | Chevy El Camino V6 4.3L O2 Oxygen Sensor |
| 1982-1985 | Chevy | Impala | Chevy Impala V8 5.0L O2 Oxygen Sensor |
| 1982-1984 | Chevy | Impala | Chevy Impala V6 3.8L O2 Oxygen Sensor |
| 1982-1985 | Chevy | Impala | Chevy Impala V8 5.7L O2 Oxygen Sensor |
| 1983-1986 | Chevy | K10 Truck | Chevy K10 Truck V8 5.7L O2 Oxygen Sensor |
| 1983-1984 | Chevy | K10 Truck | Chevy K10 Truck L6 4.1L O2 Oxygen Sensor |
| 1985-1986 | Chevy | K10 Truck | Chevy K10 Truck V8 5.0L O2 Oxygen Sensor |
| 1985-1986 | Chevy | K10 Truck | Chevy K10 Truck V6 4.3L O2 Oxygen Sensor |
| 1988-1993 | Chevy | K1500 Truck | Chevy K1500 Truck V8 5.0L O2 Oxygen Sensor |
| 1988-1993 | Chevy | K1500 Truck | Chevy K1500 Truck V6 4.3L O2 Oxygen Sensor |
| 1994-1995 | Chevy | K1500 Truck | Chevy K1500 Truck V8 5.0L (excluding 4L60E 4 Speed Automatic Transmission) O2 Oxygen Sensor |
| 1994-1995 | Chevy | K1500 Truck | Chevy K1500 Truck V8 5.7L (excluding 4L60E 4 Speed Automatic Transmission) O2 Oxygen Sensor |
| 1983-1986 | Chevy | K20 Truck | Chevy K20 Truck V8 5.7L O2 Oxygen Sensor |
| 1985 | Chevy | K20 Truck | Chevy K20 Truck V6 4.3L O2 Oxygen Sensor |
| 1988-1993 | Chevy | K2500 Truck | Chevy K2500 Truck V8 5.7L O2 Oxygen Sensor |
| 1988-1993 | Chevy | K2500 Truck | Chevy K2500 Truck V8 5.0L O2 Oxygen Sensor |
| 1988-1993 | Chevy | K2500 Truck | Chevy K2500 Truck V6 4.3L O2 Oxygen Sensor |
| 1991-1995 | Chevy | K2500 Truck | Chevy K2500 Truck V8 7.4L O2 Oxygen Sensor |
| 1994-1995 | Chevy | K2500 Truck | Chevy K2500 Truck V8 5.7L (excluding 4L60E 4 Speed Automatic Transmission) O2 Oxygen Sensor |
| 1994-1995 | Chevy | K2500 Truck | Chevy K2500 Truck V8 5.0L (excluding 4L60E 4 Speed Automatic Transmission) O2 Oxygen Sensor |
| 1988-1995 | Chevy | K3500 Truck | Chevy K3500 Truck V8 7.4L O2 Oxygen Sensor |
| 1988-1995 | Chevy | K3500 Truck | Chevy K3500 Truck V8 5.7L O2 Oxygen Sensor |
| 1987-1993 | Chevy | LLV (Postal Truck) | Chevy LLV (Postal Truck) L4 2.5L O2 Oxygen Sensor |
| 1994-1995 | Chevy | LLV (Postal Truck) | Chevy LLV (Postal Truck) L4 2.2L O2 Oxygen Sensor |
| 1990-1992 | Chevy | Lumina | Chevy Lumina V6 3.1L O2 Oxygen Sensor |
| 1990-1992 | Chevy | Lumina | Chevy Lumina L4 2.5L O2 Oxygen Sensor |
| 1991-1993 | Chevy | Lumina | Chevy Lumina V6 3.4L O2 Oxygen Sensor |
| 1993-1994 | Chevy | Lumina | Chevy Lumina V6 3.1L (excluding California Emissions) O2 Oxygen Sensor |
| 1990-1995 | Chevy | Lumina APV | Chevy Lumina APV V6 3.1L O2 Oxygen Sensor |
| 1992 | Chevy | Lumina APV | Chevy Lumina APV V6 3.8L O2 Oxygen Sensor |
| 1982-1983 | Chevy | Malibu | Chevy Malibu V8 5.0L O2 Oxygen Sensor |
| 1982-1983 | Chevy | Malibu | Chevy Malibu V6 3.8L O2 Oxygen Sensor |
| 1997-1998 | Chevy | Malibu | Chevy Malibu L4 2.4L Upstream O2 Oxygen Sensor |
| 1982-1984 | Chevy | Monte Carlo | Chevy Monte Carlo V6 3.8L O2 Oxygen Sensor |
| 1982-1988 | Chevy | Monte Carlo | Chevy Monte Carlo V8 5.0L O2 Oxygen Sensor |
| 1986-1988 | Chevy | Monte Carlo | Chevy Monte Carlo V6 4.3L O2 Oxygen Sensor |
| 1987 | Chevy | R1500 Truck | Chevy R1500 Truck V8 7.4L O2 Oxygen Sensor |
| 1987 | Chevy | R1500 Truck | Chevy R1500 Truck V6 4.3L O2 Oxygen Sensor |
| 1987 | Chevy | R1500 Truck | Chevy R1500 Truck V8 5.7L O2 Oxygen Sensor |
| 1987 | Chevy | R2500 Truck | Chevy R2500 Truck V8 5.0L O2 Oxygen Sensor |
| 1987 | Chevy | R2500 Truck | Chevy R2500 Truck V6 4.3L O2 Oxygen Sensor |
| 1987-1988 | Chevy | R2500 Truck | Chevy R2500 Truck V8 5.7L O2 Oxygen Sensor |
| 1987-1989 | Chevy | R2500 Truck | Chevy R2500 Truck V8 7.4L O2 Oxygen Sensor |
| 1989-1991 | Chevy | R3500 Truck | Chevy R3500 Truck V8 7.4L O2 Oxygen Sensor |
| 1989-1991 | Chevy | R3500 Truck | Chevy R3500 Truck V8 5.7L O2 Oxygen Sensor |
| 1982-1985 | Chevy | S10 Pickup | Chevy S10 Pickup L4 1.9L O2 Oxygen Sensor |
| 1982-1993 | Chevy | S10 Pickup | Chevy S10 Pickup V6 2.8L O2 Oxygen Sensor |
| 1985-1993 | Chevy | S10 Pickup | Chevy S10 Pickup L4 2.5L O2 Oxygen Sensor |
| 1988-1991 | Chevy | S10 Pickup | Chevy S10 Pickup V6 4.3L O2 Oxygen Sensor |
| 1985-1988 | Chevy | Spectrum | Chevy Spectrum L4 1.5L O2 Oxygen Sensor |
| 1987-1988 | Chevy | Sprint | Chevy Sprint L3 1.0L O2 Oxygen Sensor |
| 1983-1986 | Chevy | Suburban C10 | Chevy Suburban C10 V8 5.0L O2 Oxygen Sensor |
| 1983-1986 | Chevy | Suburban C10 | Chevy Suburban C10 V8 5.7L O2 Oxygen Sensor |
| 1992-1993 | Chevy | Suburban C1500 | Chevy Suburban C1500 V8 5.7L O2 Oxygen Sensor |
| 1994-1995 | Chevy | Suburban C1500 | Chevy Suburban C1500 V8 5.7L (excluding 4L60E 4 Speed Automatic Transmission) O2 Oxygen Sensor |
| 1983-1986 | Chevy | Suburban C20 | Chevy Suburban C20 V8 5.0L O2 Oxygen Sensor |
| 1983-1986 | Chevy | Suburban C20 | Chevy Suburban C20 V8 5.7L O2 Oxygen Sensor |
| 1992-1993 | Chevy | Suburban C2500 | Chevy Suburban C2500 V8 5.7L O2 Oxygen Sensor |
| 1992-1995 | Chevy | Suburban C2500 | Chevy Suburban C2500 V8 7.4L O2 Oxygen Sensor |
| 1994-1995 | Chevy | Suburban C2500 | Chevy Suburban C2500 V8 5.7L (excluding 4L60E 4 Speed Automatic Transmission) O2 Oxygen Sensor |
| 1983-1986 | Chevy | Suburban K10 | Chevy Suburban K10 V8 5.0L O2 Oxygen Sensor |
| 1983-1986 | Chevy | Suburban K10 | Chevy Suburban K10 V8 5.7L O2 Oxygen Sensor |
| 1992-1993 | Chevy | Suburban K1500 | Chevy Suburban K1500 V8 5.7L O2 Oxygen Sensor |
| 1994-1995 | Chevy | Suburban K1500 | Chevy Suburban K1500 V8 5.7L (excluding 4L60E 4 Speed Automatic Transmission) O2 Oxygen Sensor |
| 1983-1986 | Chevy | Suburban K20 | Chevy Suburban K20 V8 5.7L O2 Oxygen Sensor |
| 1992-1993 | Chevy | Suburban K2500 | Chevy Suburban K2500 V8 5.7L O2 Oxygen Sensor |
| 1992-1995 | Chevy | Suburban K2500 | Chevy Suburban K2500 V8 7.4L O2 Oxygen Sensor |
| 1994-1995 | Chevy | Suburban K2500 | Chevy Suburban K2500 V8 5.7L (excluding 4L60E 4 Speed Automatic Transmission) O2 Oxygen Sensor |
| 1987 | Chevy | Suburban R10 | Chevy Suburban R10 V8 5.0L O2 Oxygen Sensor |
| 1987-1988 | Chevy | Suburban R10 | Chevy Suburban R10 V8 5.7L O2 Oxygen Sensor |
| 1989-1991 | Chevy | Suburban R1500 | Chevy Suburban R1500 V8 5.7L O2 Oxygen Sensor |
| 1987-1988 | Chevy | Suburban R20 | Chevy Suburban R20 V8 5.7L O2 Oxygen Sensor |
| 1987-1988 | Chevy | Suburban R20 | Chevy Suburban R20 V8 7.4L O2 Oxygen Sensor |
| 1988-1991 | Chevy | Suburban R2500 | Chevy Suburban R2500 V8 5.7L O2 Oxygen Sensor |
| 1988-1991 | Chevy | Suburban R2500 | Chevy Suburban R2500 V8 7.4L O2 Oxygen Sensor |
| 1987-1988 | Chevy | Suburban V10 | Chevy Suburban V10 V8 5.7L O2 Oxygen Sensor |
| 1987-1988 | Chevy | Suburban V10 | Chevy Suburban V10 V8 7.4L O2 Oxygen Sensor |
| 1989-1991 | Chevy | Suburban V1500 | Chevy Suburban V1500 V8 5.7L O2 Oxygen Sensor |
| 1987-1988 | Chevy | Suburban V20 | Chevy Suburban V20 V8 5.7L O2 Oxygen Sensor |
| 1987-1988 | Chevy | Suburban V20 | Chevy Suburban V20 V8 7.4L O2 Oxygen Sensor |
| 1989-1991 | Chevy | Suburban V2500 | Chevy Suburban V2500 V8 5.7L O2 Oxygen Sensor |
| 1989-1991 | Chevy | Suburban V2500 | Chevy Suburban V2500 V8 7.4L O2 Oxygen Sensor |
| 1995 | Chevy | Tahoe | Chevy Tahoe V8 5.7L 1 Wire Sensor O2 Oxygen Sensor |
| 1987 | Chevy | V1500 Truck | Chevy V1500 Truck V8 5.7L O2 Oxygen Sensor |
| 1987 | Chevy | V1500 Truck | Chevy V1500 Truck V8 5.0L O2 Oxygen Sensor |
| 1987 | Chevy | V1500 Truck | Chevy V1500 Truck V6 4.3L O2 Oxygen Sensor |
| 1987 | Chevy | V2500 Truck | Chevy V2500 Truck V8 5.7L O2 Oxygen Sensor |
| 1989-1991 | Chevy | V3500 Truck | Chevy V3500 Truck V8 5.7L O2 Oxygen Sensor |
| 1989-1991 | Chevy | V3500 Truck | Chevy V3500 Truck V8 7.4L O2 Oxygen Sensor |
| 1987-1996 | Chevy | Van - P Series Forward Control | Chevy Van - P Series Forward Control V8 5.7L O2 Oxygen Sensor |
| 1990-1992 | Chevy | Van - P Series Forward Control | Chevy Van - P Series Forward Control V6 4.3L O2 Oxygen Sensor |
| 1982-1995 | Chevy | Van G-Series | Chevy Van G-Series V8 5.7L O2 Oxygen Sensor |
| 1982-1995 | Chevy | Van G-Series | Chevy Van G-Series V8 5.0L O2 Oxygen Sensor |
| 1983-1984 | Chevy | Van G-Series | Chevy Van G-Series L6 4.1L O2 Oxygen Sensor |
| 1985-1991 | Chevy | Van G-Series | Chevy Van G-Series V6 4.3L O2 Oxygen Sensor |
| 1983-1986 | GMC | C1500 Truck | GMC C1500 Truck V8 5.7L O2 Oxygen Sensor |
| 1983-1984 | GMC | C1500 Truck | GMC C1500 Truck L6 4.1L O2 Oxygen Sensor |
| 1985-1986 | GMC | C1500 Truck | GMC C1500 Truck V6 4.3L O2 Oxygen Sensor |
| 1985-1986 | GMC | C1500 Truck | GMC C1500 Truck V8 5.0L O2 Oxygen Sensor |
| 1988-1993 | GMC | C1500 Truck | GMC C1500 Truck V8 5.7L O2 Oxygen Sensor |
| 1988-1993 | GMC | C1500 Truck | GMC C1500 Truck V6 4.3L O2 Oxygen Sensor |
| 1988-1993 | GMC | C1500 Truck | GMC C1500 Truck V8 5.0L O2 Oxygen Sensor |
| 1994-1995 | GMC | C1500 Truck | GMC C1500 Truck V8 5.7L (excluding 4L60E 4 Speed Automatic Transmission) O2 Oxygen Sensor |
| 1994-1995 | GMC | C1500 Truck | GMC C1500 Truck V8 5.0L (excluding 4L60E 4 Speed Automatic Transmission) O2 Oxygen Sensor |
| 1983-1986 | GMC | C2500 Truck | GMC C2500 Truck V8 5.0L O2 Oxygen Sensor |
| 1983-1986 | GMC | C2500 Truck | GMC C2500 Truck V8 5.7L O2 Oxygen Sensor |
| 1983-1984 | GMC | C2500 Truck | GMC C2500 Truck L6 4.1L O2 Oxygen Sensor |
| 1985-1986 | GMC | C2500 Truck | GMC C2500 Truck V6 4.3L O2 Oxygen Sensor |
| 1988-1993 | GMC | C2500 Truck | GMC C2500 Truck V8 5.0L O2 Oxygen Sensor |
| 1988-1993 | GMC | C2500 Truck | GMC C2500 Truck V8 5.7L O2 Oxygen Sensor |
| 1988-1993 | GMC | C2500 Truck | GMC C2500 Truck V6 4.3L O2 Oxygen Sensor |
| 1991-1995 | GMC | C2500 Truck | GMC C2500 Truck V8 7.4L O2 Oxygen Sensor |
| 1994-1995 | GMC | C2500 Truck | GMC C2500 Truck V8 5.0L (excluding 4L60E 4 Speed Automatic Transmission) O2 Oxygen Sensor |
| 1994-1995 | GMC | C2500 Truck | GMC C2500 Truck V8 5.7L (excluding 4L60E 4 Speed Automatic Transmission) O2 Oxygen Sensor |
| 1988-1995 | GMC | C3500 Truck | GMC C3500 Truck V8 5.7L O2 Oxygen Sensor |
| 1988-1995 | GMC | C3500 Truck | GMC C3500 Truck V8 7.4L O2 Oxygen Sensor |
| 1982-1987 | GMC | Caballero | GMC Caballero V8 5.0L O2 Oxygen Sensor |
| 1982-1984 | GMC | Caballero | GMC Caballero V6 3.8L O2 Oxygen Sensor |
| 1986-1987 | GMC | Caballero | GMC Caballero V6 4.3L O2 Oxygen Sensor |
| 1983-1991 | GMC | Jimmy Full Size | GMC Jimmy Full Size V8 5.7L O2 Oxygen Sensor |
| 1985-1987 | GMC | Jimmy Full Size | GMC Jimmy Full Size V8 5.0L O2 Oxygen Sensor |
| 1983 | GMC | Jimmy S-15 | GMC Jimmy S-15 L4 1.9L O2 Oxygen Sensor |
| 1983-1989 | GMC | Jimmy S-15 | GMC Jimmy S-15 V6 2.8L O2 Oxygen Sensor |
| 1983-1988 | GMC | Jimmy S-15 | GMC Jimmy S-15 L4 2.5L O2 Oxygen Sensor |
| 1988-1991 | GMC | Jimmy S-15 | GMC Jimmy S-15 V6 4.3L O2 Oxygen Sensor |
| 1983-1986 | GMC | K1500 Truck | GMC K1500 Truck V8 5.7L O2 Oxygen Sensor |
| 1983-1984 | GMC | K1500 Truck | GMC K1500 Truck L6 4.1L O2 Oxygen Sensor |
| 1985-1986 | GMC | K1500 Truck | GMC K1500 Truck V8 5.0L O2 Oxygen Sensor |
| 1988-1993 | GMC | K1500 Truck | GMC K1500 Truck V8 5.7L O2 Oxygen Sensor |
| 1988-1993 | GMC | K1500 Truck | GMC K1500 Truck V8 5.0L O2 Oxygen Sensor |
| 1988-1993 | GMC | K1500 Truck | GMC K1500 Truck V6 4.3L O2 Oxygen Sensor |
| 1994-1995 | GMC | K1500 Truck | GMC K1500 Truck V8 5.0L (excluding 4L60E 4 Speed Automatic Transmission) O2 Oxygen Sensor |
| 1994-1995 | GMC | K1500 Truck | GMC K1500 Truck L4 1.9L V8 5.7L (excluding 4L60E 4 Speed Automatic Transmission) O2 Oxygen Sensor |
| 1983-1986 | GMC | K2500 Truck | GMC K2500 Truck V8 5.7L O2 Oxygen Sensor |
| 1985-1986 | GMC | K2500 Truck | GMC K2500 Truck V8 5.0L O2 Oxygen Sensor |
| 1988-1993 | GMC | K2500 Truck | GMC K2500 Truck V8 5.7L O2 Oxygen Sensor |
| 1988-1993 | GMC | K2500 Truck | GMC K2500 Truck V8 5.0L O2 Oxygen Sensor |
| 1988-1993 | GMC | K2500 Truck | GMC K2500 Truck V6 4.3L O2 Oxygen Sensor |
| 1991-1995 | GMC | K2500 Truck | GMC K2500 Truck V8 7.4L O2 Oxygen Sensor |
| 1994-1995 | GMC | K2500 Truck | GMC K2500 Truck V8 5.7L (excluding 4L60E 4 Speed Automatic Transmission) O2 Oxygen Sensor |
| 1994-1995 | GMC | K2500 Truck | GMC K2500 Truck V8 5.0L (excluding 4L60E 4 Speed Automatic Transmission) O2 Oxygen Sensor |
| 1988-1995 | GMC | K3500 Truck | GMC K3500 Truck V8 7.4L O2 Oxygen Sensor |
| 1988-1995 | GMC | K3500 Truck | GMC K3500 Truck V8 5.7L O2 Oxygen Sensor |
| 1987 | GMC | R1500 Truck | GMC R1500 Truck V6 4.3L O2 Oxygen Sensor |
| 1987 | GMC | R1500 Truck | GMC R1500 Truck V8 5.7L O2 Oxygen Sensor |
| 1987 | GMC | R1500 Truck | GMC R1500 Truck V8 5.0L O2 Oxygen Sensor |
| 1987 | GMC | R2500 Truck | GMC R2500 Truck V8 5.0L O2 Oxygen Sensor |
| 1987-1989 | GMC | R2500 Truck | GMC R2500 Truck V8 7.4L O2 Oxygen Sensor |
| 1987-1989 | GMC | R2500 Truck | GMC R2500 Truck V8 5.7L O2 Oxygen Sensor |
| 1987-1991 | GMC | R3500 Truck | GMC R3500 Truck V8 5.7L O2 Oxygen Sensor |
| 1987-1991 | GMC | R3500 Truck | GMC R3500 Truck V8 7.4L O2 Oxygen Sensor |
| 1982-1990 | GMC | S-15 Pickup | GMC S-15 Pickup V6 2.8L O2 Oxygen Sensor |
| 1982-1985 | GMC | S-15 Pickup | GMC S-15 Pickup L4 1.9L O2 Oxygen Sensor |
| 1985-1990 | GMC | S-15 Pickup | GMC S-15 Pickup L4 2.5L O2 Oxygen Sensor |
| 1988-1990 | GMC | S-15 Pickup | GMC S-15 Pickup V6 4.3L O2 Oxygen Sensor |
| 1991 | GMC | S-15 Sonoma | GMC S-15 Sonoma V6 4.3L O2 Oxygen Sensor |
| 1991-1993 | GMC | S-15 Sonoma | GMC S-15 Sonoma V6 2.8L O2 Oxygen Sensor |
| 1994-1998 | GMC | S-15 Sonoma | GMC S-15 Sonoma L4 2.2L Upstream O2 Oxygen Sensor |
| 1985-1990 | GMC | Safari | GMC Safari L4 2.5L O2 Oxygen Sensor |
| 1985-1991 | GMC | Safari | GMC Safari V6 4.3L O2 Oxygen Sensor |
| 1983-1986 | GMC | Suburban C1500 | GMC Suburban C1500 V8 5.7L O2 Oxygen Sensor |
| 1983-1986 | GMC | Suburban C1500 | GMC Suburban C1500 V8 5.0L O2 Oxygen Sensor |
| 1992-1993 | GMC | Suburban C1500 | GMC Suburban C1500 V8 5.7L O2 Oxygen Sensor |
| 1994-1995 | GMC | Suburban C1500 | GMC Suburban C1500 V8 5.7L (excluding 4L60E 4 Speed Automatic Transmission) O2 Oxygen Sensor |
| 1983-1986 | GMC | Suburban C2500 | GMC Suburban C2500 V8 5.7L O2 Oxygen Sensor |
| 1992-1993 | GMC | Suburban C2500 | GMC Suburban C2500 V8 5.7L O2 Oxygen Sensor |
| 1992-1995 | GMC | Suburban C2500 | GMC Suburban C2500 V8 7.4L O2 Oxygen Sensor |
| 1994-1995 | GMC | Suburban C2500 | GMC Suburban C2500 V8 5.7L (excluding 4L60E 4 Speed Automatic Transmission) O2 Oxygen Sensor |
| 1983-1986 | GMC | Suburban K1500 | GMC Suburban K1500 V8 5.7L O2 Oxygen Sensor |
| 1983-1986 | GMC | Suburban K1500 | GMC Suburban K1500 V8 5.0L O2 Oxygen Sensor |
| 1992-1993 | GMC | Suburban K1500 | GMC Suburban K1500 V8 5.7L O2 Oxygen Sensor |
| 1994-1995 | GMC | Suburban K1500 | GMC Suburban K1500 V8 5.7L (excluding 4L60E 4 Speed Automatic Transmission) O2 Oxygen Sensor |
| 1983-1986 | GMC | Suburban K2500 | GMC Suburban K2500 V8 5.7L O2 Oxygen Sensor |
| 1992-1993 | GMC | Suburban K2500 | GMC Suburban K2500 V8 5.7L O2 Oxygen Sensor |
| 1992-1995 | GMC | Suburban K2500 | GMC Suburban K2500 V8 7.4L O2 Oxygen Sensor |
| 1994-1995 | GMC | Suburban K2500 | GMC Suburban K2500 V8 5.7L (excluding 4L60E 4 Speed Automatic Transmission) O2 Oxygen Sensor |
| 1987 | GMC | V1500 Truck | GMC V1500 Truck V6 4.3L O2 Oxygen Sensor |
| 1987 | GMC | V1500 Truck | GMC V1500 Truck V8 5.7L O2 Oxygen Sensor |
| 1987 | GMC | V1500 Truck | GMC V1500 Truck V8 5.0L O2 Oxygen Sensor |
| 1987 | GMC | V2500 Truck | GMC V2500 Truck V8 5.0L O2 Oxygen Sensor |
| 1982-1995 | GMC | Van | GMC Van V8 5.0L O2 Oxygen Sensor |
| 1983-1995 | GMC | Van | GMC Van V8 5.7L O2 Oxygen Sensor |
| 1983-1984 | GMC | Van | GMC Van 1500 L6 4.1L O2 Oxygen Sensor |
| 1985-1991 | GMC | Van | GMC Van V6 4.3L O2 Oxygen Sensor |
| 1988-1996 | GMC | Van | GMC Van V8 7.4L O2 Oxygen Sensor |
| 1987-1995 | GMC | Van - P Series Forward Control | GMC Van - P Series Forward Control V8 5.7L O2 Oxygen Sensor |
| 1990-1995 | GMC | Van - P Series Forward Control | GMC Van - P Series Forward Control V8 7.4L O2 Oxygen Sensor |
| 1990-1992 | GMC | Van - P Series Forward Control | GMC Van - P Series Forward Control V6 4.3L O2 Oxygen Sensor |
| 1992-1995 | GMC | Yukon | GMC Yukon V8 5.7L 1 Wire Sensor O2 Oxygen Sensor |
| 1989-1994 | Geo | Metro | Geo Metro L3 1.0L O2 Oxygen Sensor |
| 1989 | Geo | Spectrum | Geo Spectrum L4 1.5L O2 Oxygen Sensor |
| 1990-1993 | Geo | Storm | Geo Storm L4 1.5L O2 Oxygen Sensor |
| 1995-1996 | Hummer | H1 | Hummer H1 V8 5.7L Upstream O2 Oxygen Sensor |
| 1989-1992 | Isuzu | Amigo | Isuzu Amigo L4 2.6L O2 Oxygen Sensor |
| 1989-1993 | Isuzu | Amigo | Isuzu Amigo L4 2.3L O2 Oxygen Sensor |
| 1996-1998 | Isuzu | Hombre | Isuzu Hombre L4 2.2L Upstream O2 Oxygen Sensor |
| 1982-1984 | Isuzu | I-Mark | Isuzu I-Mark L4 1.8L O2 Oxygen Sensor |
| 1985-1989 | Isuzu | I-Mark | Isuzu I-Mark L4 1.5L O2 Oxygen Sensor |
| 1989 | Isuzu | I-Mark | Isuzu I-Mark L4 1.6L O2 Oxygen Sensor |
| 1983-1987 | Isuzu | Impulse | Isuzu Impulse L4 1.9L O2 Oxygen Sensor |
| 1985-1989 | Isuzu | Impulse | Isuzu Impulse L4 2.0L O2 Oxygen Sensor |
| 1988-1989 | Isuzu | Impulse | Isuzu Impulse L4 2.3L O2 Oxygen Sensor |
| 1982 | Isuzu | Pup Pickup | Isuzu Pup Pickup L4 1.8L O2 Oxygen Sensor |
| 1983-1987 | Isuzu | Pup Pickup | Isuzu Pup Pickup L4 1.9L O2 Oxygen Sensor |
| 1986-1987 | Isuzu | Pup Pickup | Isuzu Pup Pickup L4 2.3L O2 Oxygen Sensor |
| 1988-1992 | Isuzu | Pup Pickup | Isuzu Pup Pickup L4 2.6L O2 Oxygen Sensor |
| 1988-1994 | Isuzu | Pup Pickup | Isuzu Pup Pickup L4 2.3L O2 Oxygen Sensor |
| 1991-1994 | Isuzu | Pup Pickup | Isuzu Pup Pickup V6 3.1L O2 Oxygen Sensor |
| 1993 | Isuzu | Pup Pickup | Isuzu Pup Pickup L4 2.6L 1 Wire Sensor O2 Oxygen Sensor |
| 1991-1992 | Isuzu | Rodeo | Isuzu Rodeo L4 2.6L O2 Oxygen Sensor |
| 1991-1992 | Isuzu | Rodeo | Isuzu Rodeo V6 3.1L O2 Oxygen Sensor |
| 1993 | Isuzu | Rodeo | Isuzu Rodeo L4 2.6L 1 Wire Sensor O2 Oxygen Sensor |
| 1991-1993 | Isuzu | Stylus | Isuzu Stylus L4 1.6L O2 Oxygen Sensor |
| 1984-1985 | Isuzu | Trooper | Isuzu Trooper L4 1.9L O2 Oxygen Sensor |
| 1986-1987 | Isuzu | Trooper | Isuzu Trooper L4 2.3L O2 Oxygen Sensor |
| 1988-1991 | Isuzu | Trooper | Isuzu Trooper L4 2.6L O2 Oxygen Sensor |
| 1989-1991 | Isuzu | Trooper | Isuzu Trooper V6 2.8L O2 Oxygen Sensor |
| 1984-1986 | Jeep | Cherokee | Jeep Cherokee V6 2.8L O2 Oxygen Sensor |
| 1986 | Jeep | Comanche (MJ) | Jeep Comanche (MJ) V6 2.8L O2 Oxygen Sensor |
| 1987 | Jeep | J Series Pickup (SJ) | Jeep J Series Pickup (SJ) L6 4.2L O2 Oxygen Sensor |
| 1984-1986 | Jeep | Wagoneer | Jeep Wagoneer V6 2.8L O2 Oxygen Sensor |
| 1987 | Jeep | Wagoneer | Jeep Wagoneer L6 4.0L O2 Oxygen Sensor |
| 1987-1990 | Jeep | Wrangler | Jeep Wrangler L6 4.2L O2 Oxygen Sensor |
| 1982-1993 | Oldsmobile | 88 | Olds 88 V6 3.8L O2 Oxygen Sensor |
| 1982-1984 | Oldsmobile | 98 | Olds 98 V8 5.0L O2 Oxygen Sensor |
| 1985-1992 | Oldsmobile | 98 | Olds 98 V6 3.8L O2 Oxygen Sensor |
| 1992-1995 | Oldsmobile | Achieva | Olds Achieva L4 2.3L O2 Oxygen Sensor |
| 1992-1993 | Oldsmobile | Achieva | Olds Achieva V6 3.3L O2 Oxygen Sensor |
| 1996-1998 | Oldsmobile | Achieva | Olds Achieva L4 2.4L Upstream O2 Oxygen Sensor |
| 1991 | Oldsmobile | Bravada | Olds Bravada V6 4.3L O2 Oxygen Sensor |
| 1985-1987 | Oldsmobile | Calais | Olds Calais L4 2.5L O2 Oxygen Sensor |
| 1985-1987 | Oldsmobile | Calais | Olds Calais V6 3.0L O2 Oxygen Sensor |
| 1987 | Oldsmobile | Calais | Olds Calais L4 2.3L O2 Oxygen Sensor |
| 1982-1992 | Oldsmobile | Custom Cruiser | Olds Custom Cruiser V8 5.0L O2 Oxygen Sensor |
| 1992 | Oldsmobile | Custom Cruiser | Olds Custom Cruiser V8 5.7L O2 Oxygen Sensor |
| 1982-1984 | Oldsmobile | Cutlass Calais | Olds Cutlass Calais V6 3.8L O2 Oxygen Sensor |
| 1982-1984 | Oldsmobile | Cutlass Calais | Olds Cutlass Calais V8 5.0L O2 Oxygen Sensor |
| 1988-1991 | Oldsmobile | Cutlass Calais | Olds Cutlass Calais L4 2.3L O2 Oxygen Sensor |
| 1988-1991 | Oldsmobile | Cutlass Calais | Olds Cutlass Calais L4 2.5L O2 Oxygen Sensor |
| 1989-1991 | Oldsmobile | Cutlass Calais | Olds Cutlass Calais V6 3.3L O2 Oxygen Sensor |
| 1982-1985 | Oldsmobile | Cutlass Ciera | Olds Cutlass Ciera V6 3.0L O2 Oxygen Sensor |
| 1982-1992 | Oldsmobile | Cutlass Ciera | Olds Cutlass Ciera L4 2.5L O2 Oxygen Sensor |
| 1984-1988 | Oldsmobile | Cutlass Ciera | Olds Cutlass Ciera V6 3.8L O2 Oxygen Sensor |
| 1986-1989 | Oldsmobile | Cutlass Ciera | Olds Cutlass Ciera V6 2.8L O2 Oxygen Sensor |
| 1989-1993 | Oldsmobile | Cutlass Ciera | Olds Cutlass Ciera V6 3.3L O2 Oxygen Sensor |
| 1993-1995 | Oldsmobile | Cutlass Ciera | Olds Cutlass Ciera L4 2.2L O2 Oxygen Sensor |
| 1996 | Oldsmobile | Cutlass Ciera | Olds Cutlass Ciera L4 2.2L Upstream O2 Oxygen Sensor |
| 1982-1983 | Oldsmobile | Cutlass Cruiser | Olds Cutlass Cruiser V6 3.8L O2 Oxygen Sensor |
| 1982-1983 | Oldsmobile | Cutlass Cruiser | Olds Cutlass Cruiser V8 5.0L O2 Oxygen Sensor |
| 1988-1989 | Oldsmobile | Cutlass Supreme FWD | Olds Cutlass Supreme V6 2.8L O2 Oxygen Sensor |
| 1989-1992 | Oldsmobile | Cutlass Supreme FWD | Olds Cutlass Supreme V6 3.1L O2 Oxygen Sensor |
| 1990-1991 | Oldsmobile | Cutlass Supreme FWD | Olds Cutlass Supreme L4 2.3L O2 Oxygen Sensor |
| 1991-1992 | Oldsmobile | Cutlass Supreme FWD | Olds Cutlass Supreme V6 3.4L O2 Oxygen Sensor |
| 1993 | Oldsmobile | Cutlass Supreme FWD | Olds Cutlass Supreme V6 3.1L (excluding California Emissions) O2 Oxygen Sensor |
| 1982-1988 | Oldsmobile | Cutlass Supreme RWD | Olds Cutlass Supreme RWD V8 5.0L O2 Oxygen Sensor |
| 1982-1987 | Oldsmobile | Cutlass Supreme RWD | Olds Cutlass Supreme RWD V6 3.8L O2 Oxygen Sensor |
| 1982-1991 | Oldsmobile | Delta 88 | Olds Delta 88 V6 3.8L O2 Oxygen Sensor |
| 1982-1985 | Oldsmobile | Delta 88 | Olds Delta 88 V8 5.0L O2 Oxygen Sensor |
| 1992-1993 | Oldsmobile | Delta 88-Royale | Olds Delta 88-Royale V6 3.8L O2 Oxygen Sensor |
| 1983-1986 | Oldsmobile | Firenza | Olds Firenza L4 1.8L O2 Oxygen Sensor |
| 1983-1988 | Oldsmobile | Firenza | Olds Firenza L4 2.0L O2 Oxygen Sensor |
| 1985-1987 | Oldsmobile | Firenza | Olds Firenza V6 2.8L O2 Oxygen Sensor |
| 1982-1984 | Oldsmobile | Omega | Olds Omega L4 2.5L O2 Oxygen Sensor |
| 1982-1984 | Oldsmobile | Omega | Olds Omega V6 2.8L O2 Oxygen Sensor |
| 1990-1994 | Oldsmobile | Silhouette | Olds Silhouette V6 3.1L O2 Oxygen Sensor |
| 1992 | Oldsmobile | Silhouette | Olds Silhouette V6 3.8L O2 Oxygen Sensor |
| 1982-1984 | Oldsmobile | Toronado | Olds Toronado V8 5.0L O2 Oxygen Sensor |
| 1982-1985 | Oldsmobile | Toronado | Olds Toronado V8 5.0L O2 Oxygen Sensor |
| 1982-1984 | Oldsmobile | Toronado | Olds Toronado V6 4.1L O2 Oxygen Sensor |
| 1986-1992 | Oldsmobile | Toronado | Olds Toronado V6 3.8L O2 Oxygen Sensor |
| 1983-1987 | Pontiac | 1000 | Pontiac 1000 L4 1.6L O2 Oxygen Sensor |
| 1983-1984 | Pontiac | 2000 | Pontiac 2000 L4 1.8L O2 Oxygen Sensor |
| 1982-1989 | Pontiac | 6000 | Pontiac 6000 V6 2.8L O2 Oxygen Sensor |
| 1982-1991 | Pontiac | 6000 | Pontiac 6000 L4 2.5L O2 Oxygen Sensor |
| 1988-1991 | Pontiac | 6000 | Pontiac 6000 V6 3.1L O2 Oxygen Sensor |
| 1982-1991 | Pontiac | Bonneville | Pontiac Bonneville V6 3.8L O2 Oxygen Sensor |
| 1983-1986 | Pontiac | Bonneville | Pontiac Bonneville V8 5.0L O2 Oxygen Sensor |
| 1984-1988 | Pontiac | Fiero | Pontiac Fiero L4 2.5L O2 Oxygen Sensor |
| 1985-1988 | Pontiac | Fiero | Pontiac Fiero V6 2.8L O2 Oxygen Sensor |
| 1980-1992 | Pontiac | Firebird | Pontiac Firebird V8 5.0L O2 Oxygen Sensor |
| 1982-1989 | Pontiac | Firebird | Pontiac Firebird V6 2.8L O2 Oxygen Sensor |
| 1987-1992 | Pontiac | Firebird | Pontiac Firebird V8 5.7L O2 Oxygen Sensor |
| 1989 | Pontiac | Firebird | Pontiac Firebird V6 3.8L Turbo O2 Oxygen Sensor |
| 1990-1992 | Pontiac | Firebird | Pontiac Firebird V6 3.1L O2 Oxygen Sensor |
| 1993-1995 | Pontiac | Firebird | Pontiac Firebird V6 3.4L O2 Oxygen Sensor |
| 1985-1987 | Pontiac | Grand Am | Pontiac Grand Am V6 3.0L O2 Oxygen Sensor |
| 1985-1991 | Pontiac | Grand Am | Pontiac Grand Am L4 2.5L O2 Oxygen Sensor |
| 1987-1989 | Pontiac | Grand Am | Pontiac Grand Am L4 2.0L O2 Oxygen Sensor |
| 1988-1995 | Pontiac | Grand Am | Pontiac Grand Am L4 2.3L O2 Oxygen Sensor |
| 1992-1993 | Pontiac | Grand Am | Pontiac Grand Am V6 3.3L O2 Oxygen Sensor |
| 1999 | Pontiac | Grand Am | Pontiac Grand Am L4 2.4L without EGR Valve Upstream O2 Oxygen Sensor |
| 1982-1987 | Pontiac | Grand Prix | Pontiac Grand Prix V6 3.8L O2 Oxygen Sensor |
| 1983-1987 | Pontiac | Grand Prix | Pontiac Grand Prix V8 5.0L O2 Oxygen Sensor |
| 1986-1987 | Pontiac | Grand Prix | Pontiac Grand Prix V6 4.3L O2 Oxygen Sensor |
| 1988-1989 | Pontiac | Grand Prix | Pontiac Grand Prix V6 2.8L O2 Oxygen Sensor |
| 1989-1992 | Pontiac | Grand Prix | Pontiac Grand Prix V6 3.1L O2 Oxygen Sensor |
| 1990-1991 | Pontiac | Grand Prix | Pontiac Grand Prix L4 2.3L O2 Oxygen Sensor |
| 1991-1993 | Pontiac | Grand Prix | Pontiac Grand Prix V6 3.4L O2 Oxygen Sensor |
| 1993 | Pontiac | Grand Prix | Pontiac Grand Prix V6 3.1L (excluding California Emissions) O2 Oxygen Sensor |
| 1982-1984 | Pontiac | J2000 | Pontiac J2000 L4 1.8L O2 Oxygen Sensor |
| 1983-1985 | Pontiac | J2000 | Pontiac J2000 V6 3.0L O2 Oxygen Sensor |
| 1988-1993 | Pontiac | LeMans | Pontiac LeMans L4 1.6L O2 Oxygen Sensor |
| 1989-1990 | Pontiac | LeMans | Pontiac LeMans L4 2.0L O2 Oxygen Sensor |
| 1983-1986 | Pontiac | Parisienne | Pontiac Parisienne V8 5.0L O2 Oxygen Sensor |
| 1986 | Pontiac | Parisienne | Pontiac Parisienne V6 4.3L O2 Oxygen Sensor |
| 1982-1984 | Pontiac | Phoenix | Pontiac Phoenix V6 2.8L O2 Oxygen Sensor |
| 1982-1984 | Pontiac | Phoenix | Pontiac Phoenix L4 2.5L O2 Oxygen Sensor |
| 1987-1989 | Pontiac | Safari | Pontiac Safari V8 5.0L O2 Oxygen Sensor |
| 1985-1994 | Pontiac | Sunbird | Pontiac Sunbird L4 2.0L O2 Oxygen Sensor |
| 1985-1986 | Pontiac | Sunbird | Pontiac Sunbird L4 1.8L O2 Oxygen Sensor |
| 1991-1994 | Pontiac | Sunbird | Pontiac Sunbird V6 3.1L O2 Oxygen Sensor |
| 1995 | Pontiac | Sunfire | Pontiac Sunfire L4 2.3L Upstream O2 Oxygen Sensor |
| 1995-1998 | Pontiac | Sunfire | Pontiac Sunfire L4 2.2L Upstream O2 Oxygen Sensor |
| 1996-1998 | Pontiac | Sunfire | Pontiac Sunfire L4 2.4L Upstream O2 Oxygen Sensor |
| 1990-1995 | Pontiac | Trans Sport | Pontiac Trans Sport V6 3.1L O2 Oxygen Sensor |
| 1992 | Pontiac | Trans Sport | Pontiac Trans Sport V6 3.8L O2 Oxygen Sensor |
| 1986-1987 | Renault | Alliance | Renault Alliance L4 1.4L O2 Oxygen Sensor |
| 1986-1987 | Renault | Alliance | Renault Alliance L4 1.7L O2 Oxygen Sensor |
| 1986 | Renault | Encore | Renault Encore L4 1.4L O2 Oxygen Sensor |
| 1986 | Renault | Encore | Renault Encore L4 1.7L O2 Oxygen Sensor |
| 1990-1992 | Suzuki | Swift | Suzuki Swift L4 1.3L O2 Oxygen Sensor |
This part replaces:
Standard Motor Products SG5T
Part #: 1AEOS01001
Order must be placed by 4pm ET
Get it in: 2 - 4 Business Days
Want it sooner? Choose Next Day Air at Checkout