1AACD00052-O2 Oxygen Sensor
Replaces
O2 Oxygen Sensor ACDelco AFS75 - 1AACD00052
1AACD00052
Frequently bought together
AC DELCO AFS75 [HEATED OXYGEN SENSOR
]
This AC DELCO oxygen Sensor is a new part. It is the same piece that you would receive if you purchased it from your local GM dealer.
This Oxygen O2 Sensor has the following Specifications
Rectangular, Four pin, 4 wire connector
Replaces one of many dealer part numbers including: 25315809, 8-25325-266-0, 8253252660, 25133504, 19178930, 25165313, 25312184, AFS105
Direct Fit
Correct Connector No cutting or splicing
Built and tested to strict quality control standards
Some applications use (2) of the same Oxygen Sensors Upstream
Note: For clarification purposes:
Upstream location is between the catalytic converter and the engine
Downstream location is between the catalytic converter and the tailpipe
A direct replacement. If you have a bad O2 sensor causing your vehicle to idle poorly or fail an emission test then this is the part for you.
Install note:
You may be required to reset the vehicle computer after installation of this part.
Our electrical and electronic parts are subject to strict quality testing.
Parts cannot be returned after they have been installed. Contact us with any questions before installing the parts.
Item Condition: New

Lifetime Warranty
This item is backed by a Limited Lifetime Warranty. In the event this item should fail due to manufacturing defects during intended use, we will exchange the part free of charge (excludes shipping charges) for the original purchaser.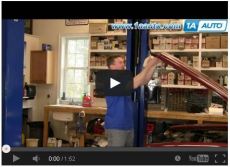 step : Removing the Oxygen (O2) Sensor (0:33)

Pry the grey safety clip off the oxygen sensor wiring harness with a flat blade screwdriver
Disconnect the O2 sensor wiring harness
Remove the O2 sensor with an O2 sensor socket and ratchet

step : Installing the New Oxygen Sensor (1:40)

Thread the new O2 sensor into the exhaust manifold
Tighen the O2 sensor with an O2 sensor socket and ratchet
Connect the O2 sensor wiring harness
Push the wiring harness safety clip into place
Tools needed for replacement:
Ratchets & Related

A Piece of Pipe (for leverage)
Ratchet
Socket Extensions

Sockets - SAE

7/8 Inch Socket

Specialty Tools

O2 Sensor Socket
There are no reviews for this item.
Customer Q&A
Ask a question to 1A Auto customers who purchased the product
Will a bad o2 sensor cause a slight hesitation when accelerating?
| Year | Make | Model | Description |
| --- | --- | --- | --- |
| 1996-1999 | Acura | SLX | Acura SLX L6 3.2L Upstream O2 Oxygen Sensor |
| 1996-1999 | Acura | SLX | Acura SLX L6 3.2L Downstream O2 Oxygen Sensor |
| 1994-1996 | Buick | Century | Buick Century V6 3.1L (8th Vin Digit M) Upstream O2 Oxygen Sensor |
| 1994-1996 | Buick | LeSabre | Buick LeSabre V6 3.8L Upstream O2 Oxygen Sensor |
| 1994-1996 | Buick | Park Avenue | Buick Park Avenue V6 3.8L Upstream O2 Oxygen Sensor |
| 1993 | Buick | Regal | Buick Regal V6 3.8L Upstream O2 Oxygen Sensor |
| 1994-1996 | Buick | Regal | Buick Regal V6 3.1L (8th Vin Digit M) Upstream O2 Oxygen Sensor |
| 1995 | Buick | Regal | Buick Regal V6 3.8L Downstream O2 Oxygen Sensor |
| 1995-1996 | Buick | Regal | Buick Regal V6 3.8L Upstream O2 Oxygen Sensor |
| 1995-1996 | Buick | Riviera | Buick Riviera V6 3.8L Upstream O2 Oxygen Sensor |
| 1994-1996 | Buick | Roadmaster | Buick Roadmaster V8 5.7L Upstream O2 Oxygen Sensor |
| 1996 | Buick | Roadmaster | Buick Roadmaster V8 5.7L Downstream O2 Oxygen Sensor |
| 1994-1996 | Buick | Skylark | Buick Skylark V6 3.1L (8th Vin Digit M) Upstream O2 Oxygen Sensor |
| 1994-1996 | Cadillac | Brougham | Cadillac Brougham V8 5.7L Upstream O2 Oxygen Sensor |
| 1999-2000 | Cadillac | Escalade | Cadillac Escalade V8 5.7L Upstream O2 Oxygen Sensor |
| 1994-1996 | Cadillac | Fleetwood | Cadillac Fleetwood V8 5.7L Upstream O2 Oxygen Sensor |
| 1994 | Chevy | Astro | Chevy Astro V6 4.3L Upstream O2 Oxygen Sensor |
| 1996-1997 | Chevy | Astro | Chevy Astro V6 4.3L Upstream O2 Oxygen Sensor |
| 2002 | Chevy | Avalanche 1500 | Chevy Avalanche 1500 V8 5.3L Upstream O2 Oxygen Sensor |
| 1994-1996 | Chevy | Beretta | Chevy Beretta V6 3.1L (8th Vin Digit M) Upstream O2 Oxygen Sensor |
| 1994 | Chevy | Blazer S10 | Chevy Blazer S10 V6 4.3L Upstream O2 Oxygen Sensor |
| 1995-2001 | Chevy | Blazer S10 | Chevy Blazer S10 V6 4.3L Upstream O2 Oxygen Sensor |
| 1996-2001 | Chevy | Blazer S10 | Chevy Blazer S10 V6 4.3L (8th Vin Digit W) Downstream O2 Oxygen Sensor |
| 1996-1999 | Chevy | C1500 Truck | Chevy C1500 Truck V8 5.7L with 4L60E 4 Speed Automatic Transmission Upstream O2 Oxygen Sensor |
| 1996-1999 | Chevy | C1500 Truck | Chevy C1500 Truck V8 5.0L Upstream O2 Oxygen Sensor |
| 1996-1998 | Chevy | C1500 Truck | Chevy C1500 Truck V6 4.3L Upstream O2 Oxygen Sensor |
| 1996-1999 | Chevy | C2500 Truck | Chevy C2500 Truck V8 5.7L with 4L60E 4 Speed Automatic Transmission Upstream O2 Oxygen Sensor |
| 1996-1998 | Chevy | C2500 Truck | Chevy C2500 Truck V8 5.0L Upstream O2 Oxygen Sensor |
| 1996-1999 | Chevy | C3500 Truck | Chevy C3500 Truck V8 5.7L with 4L60E 4 Speed Automatic Transmission Upstream O2 Oxygen Sensor |
| 1994-1997 | Chevy | Camaro | Chevy Camaro V8 5.7L Upstream O2 Oxygen Sensor |
| 1995 | Chevy | Camaro | Chevy Camaro V6 3.8L Downstream O2 Oxygen Sensor |
| 1995-1996 | Chevy | Camaro | Chevy Camaro V6 3.8L (8th Vin Digit K) Upstream O2 Oxygen Sensor |
| 1994-1996 | Chevy | Caprice | Chevy Caprice V8 4.3L Upstream O2 Oxygen Sensor |
| 1994-1996 | Chevy | Caprice | Chevy Caprice V8 5.7L Upstream O2 Oxygen Sensor |
| 1996 | Chevy | Caprice | Chevy Caprice V8 4.3L (8th Vin Digit W) Downstream O2 Oxygen Sensor |
| 1996 | Chevy | Caprice | Chevy Caprice V8 5.7L Downstream O2 Oxygen Sensor |
| 1994-1996 | Chevy | Corsica | Chevy Corsica V6 3.1L (8th Vin Digit M) Upstream O2 Oxygen Sensor |
| 1994-1996 | Chevy | Corvette | Chevy Corvette V8 5.7L Upstream O2 Oxygen Sensor |
| 1996 | Chevy | Corvette | Chevy Corvette V8 5.7L Upstream O2 Oxygen Sensor |
| 1996 | Chevy | Corvette | Chevy Corvette V8 5.7L Downstream O2 Oxygen Sensor |
| 1997-2003 | Chevy | Corvette | Chevy Corvette V8 5.7L Upstream O2 Oxygen Sensor |
| 2001-2003 | Chevy | Corvette | Chevy Corvette Z06 V8 5.7L Upstream O2 Oxygen Sensor |
| 1996-1997 | Chevy | Express 1500 Van | Chevy Express 1500 Van V8 5.7L (8th Vin Digit R) Under 8500LB GVW Upstream O2 Oxygen Sensor |
| 1996-1997 | Chevy | Express 1500 Van | Chevy Express 1500 Van V6 4.3L Upstream O2 Oxygen Sensor |
| 1996-1997 | Chevy | Express 1500 Van | Chevy Express 1500 Van V8 5.0L Upstream O2 Oxygen Sensor |
| 1999-2002 | Chevy | Express 1500 Van | Chevy Express 1500 Van V8 5.0L Upstream O2 Oxygen Sensor |
| 1999 | Chevy | Express 1500 Van | Chevy Express 1500 Van V6 4.3L Upstream O2 Oxygen Sensor |
| 1999-2000 | Chevy | Express 1500 Van | Chevy Express 1500 Van V8 5.7L (8th Vin Digit R) Under 8500LB GVW Upstream O2 Oxygen Sensor |
| 2000-2002 | Chevy | Express 1500 Van | Chevy Express 1500 Van V6 4.3L Upstream O2 Oxygen Sensor |
| 2001 | Chevy | Express 1500 Van | Chevy Express 1500 Van V8 5.7L (8th Vin Digit R) Upstream O2 Oxygen Sensor |
| 2002 | Chevy | Express 1500 Van | Chevy Express 1500 Van V8 5.7L (8th Vin Digit R) Under 8500LB GVW Upstream O2 Oxygen Sensor |
| 1996-1997 | Chevy | Express 2500 Van | Chevy Express 2500 Van V8 5.0L Upstream O2 Oxygen Sensor |
| 1996-1997 | Chevy | Express 2500 Van | Chevy Express 2500 Van V6 4.3L Under 8500LB GVW Upstream O2 Oxygen Sensor |
| 1996-1997 | Chevy | Express 2500 Van | Chevy Express 2500 Van V8 5.7L Under 8500LB GVW Upstream O2 Oxygen Sensor |
| 1999-2002 | Chevy | Express 2500 Van | Chevy Express 2500 Van V8 5.0L Upstream O2 Oxygen Sensor |
| 1999 | Chevy | Express 2500 Van | Chevy Express 2500 Van V6 4.3L Under 8500LB GVW Upstream O2 Oxygen Sensor |
| 1999-2000 | Chevy | Express 2500 Van | Chevy Express 2500 Van V8 5.7L Under 8500LB GVW Upstream O2 Oxygen Sensor |
| 2000-2002 | Chevy | Express 2500 Van | Chevy Express 2500 Van V6 4.3L Under 8500LB GVW Upstream O2 Oxygen Sensor |
| 2001 | Chevy | Express 2500 Van | Chevy Express 2500 Van V8 5.7L Upstream O2 Oxygen Sensor |
| 2002 | Chevy | Express 2500 Van | Chevy Express 2500 Van V8 5.7L Under 8500LB GVW Upstream O2 Oxygen Sensor |
| 1996-1997 | Chevy | Express 3500 Van | Chevy Express 3500 Van V8 5.7L Under 8500LB GVW Upstream O2 Oxygen Sensor |
| 1999-2000 | Chevy | Express 3500 Van | Chevy Express 3500 Van V8 5.7L Under 8500LB GVW Upstream O2 Oxygen Sensor |
| 2001 | Chevy | Express 3500 Van | Chevy Express 3500 Van V8 5.7L Upstream O2 Oxygen Sensor |
| 2002 | Chevy | Express 3500 Van | Chevy Express 3500 Van V8 5.7L Under 8500LB GVW Upstream O2 Oxygen Sensor |
| 1994 | Chevy | G10 | Chevy G10 V6 4.3L (8th Vin Digit Z) 4 Wire Sensor Upstream O2 Oxygen Sensor |
| 1994 | Chevy | G20 | Chevy G20 V6 4.3L (8th Vin Digit Z) 4 Wire Sensor Upstream O2 Oxygen Sensor |
| 1994 | Chevy | G30 | Chevy G30 V6 4.3L (8th Vin Digit Z) 4 Wire Sensor Upstream O2 Oxygen Sensor |
| 1996 | Chevy | G30 | Chevy G30 V6 4.3L (8th Vin Digit Z) Under 8500LB GVW Upstream O2 Oxygen Sensor |
| 1996 | Chevy | G30 | Chevy G30 V8 5.7L (8th Vin Digit K) Under 8500LB GVW Upstream O2 Oxygen Sensor |
| 1994-1996 | Chevy | Impala | Chevy Impala SS V8 5.7L Upstream O2 Oxygen Sensor |
| 1996-1999 | Chevy | K1500 Truck | Chevy K1500 Truck V8 5.0L Upstream O2 Oxygen Sensor |
| 1996-1999 | Chevy | K1500 Truck | Chevy K1500 Truck V8 5.7L Upstream O2 Oxygen Sensor |
| 1996-1998 | Chevy | K1500 Truck | Chevy K1500 Truck V6 4.3L Upstream O2 Oxygen Sensor |
| 1996-1999 | Chevy | K2500 Truck | Chevy K2500 Truck V8 5.7L Upstream O2 Oxygen Sensor |
| 1996-1998 | Chevy | K2500 Truck | Chevy K2500 Truck V8 5.0L Upstream O2 Oxygen Sensor |
| 1996-1999 | Chevy | K3500 Truck | Chevy K3500 Truck V8 5.7L Upstream O2 Oxygen Sensor |
| 1994-1996 | Chevy | Lumina | Chevy Lumina V6 3.4L Upstream O2 Oxygen Sensor |
| 1995-1996 | Chevy | Lumina | Chevy Lumina V6 3.1L (8th Vin Digit M) Upstream O2 Oxygen Sensor |
| 1994-1995 | Chevy | Lumina APV | Chevy Lumina APV V6 3.8L Upstream O2 Oxygen Sensor |
| 1996 | Chevy | Lumina APV | Chevy Lumina APV V6 3.4L (8th Vin Digit E) Upstream O2 Oxygen Sensor |
| 1995-1996 | Chevy | Monte Carlo | Chevy Monte Carlo V6 3.1L (8th Vin Digit M) Upstream O2 Oxygen Sensor |
| 1995-1996 | Chevy | Monte Carlo | Chevy Monte Carlo V6 3.4L Upstream O2 Oxygen Sensor |
| 1995 | Chevy | P30 | Chevy P30 V6 4.3L Upstream O2 Oxygen Sensor |
| 1994 | Chevy | S10 Pickup | Chevy S10 Pickup V6 4.3L Upstream O2 Oxygen Sensor |
| 1995 | Chevy | S10 Pickup | Chevy S10 Pickup V6 4.3L Upstream O2 Oxygen Sensor |
| 1996-2001 | Chevy | S10 Pickup | Chevy S10 Pickup V6 4.3L (8th Vin Digit W) Downstream O2 Oxygen Sensor |
| 1996-1999 | Chevy | S10 Pickup | Chevy S10 Pickup V6 4.3L Upstream O2 Oxygen Sensor |
| 1996-2001 | Chevy | S10 Pickup | Chevy S10 Pickup V6 4.3L Upstream O2 Oxygen Sensor |
| 1999-2002 | Chevy | Silverado 1500 | Chevy Silverado 1500 V8 5.3L Upstream O2 Oxygen Sensor |
| 1999-2002 | Chevy | Silverado 1500 | Chevy Silverado 1500 V8 4.8L Upstream O2 Oxygen Sensor |
| 2000-2002 | Chevy | Silverado 1500 | Chevy Silverado 1500 V6 4.3L Upstream O2 Oxygen Sensor |
| 2002 | Chevy | Silverado 1500 | Chevy Silverado 1500 V6 4.3L Upstream O2 Oxygen Sensor |
| 1999-2000 | Chevy | Silverado 2500 | Chevy Silverado 2500 V8 5.3L Upstream O2 Oxygen Sensor |
| 2000-2002 | Chevy | Suburban 1500 | Chevy Suburban 1500 V8 5.3L Upstream O2 Oxygen Sensor |
| 2002 | Chevy | Suburban 1500 | Chevy Suburban 1500 V8 5.3L Upstream O2 Oxygen Sensor |
| 1996-1999 | Chevy | Tahoe | Chevy Tahoe V8 5.7L with 4L60E 4 Speed Automatic Transmission Upstream O2 Oxygen Sensor |
| 2000 | Chevy | Tahoe | Chevy Tahoe V8 5.7L with 16 Bolt Oil Pan Option Upstream O2 Oxygen Sensor |
| 2000-2002 | Chevy | Tahoe | Chevy Tahoe V8 5.3L Upstream O2 Oxygen Sensor |
| 2000-2002 | Chevy | Tahoe | Chevy Tahoe V8 4.8L Upstream O2 Oxygen Sensor |
| 2002 | Chevy | Tahoe | Chevy Tahoe V8 5.3L Upstream O2 Oxygen Sensor |
| 1999-2002 | Daewoo | Lanos | Daewoo Lanos L4 1.6L (8th Vin Digit 6) Downstream O2 Oxygen Sensor |
| 1999-2002 | Daewoo | Leganza | Daewoo Leganza L4 2.2L (8th Vin Digit 2) Downstream O2 Oxygen Sensor |
| 1994 | GMC | C1500 Truck | GMC C1500 Truck V6 4.3L (8th Vin Digit Z) 4 Wire Sensor Upstream O2 Oxygen Sensor |
| 1996-1999 | GMC | C1500 Truck | GMC C1500 Truck V8 5.0L (8th Vin Digit M) Upstream O2 Oxygen Sensor |
| 1996-1999 | GMC | C1500 Truck | GMC C1500 Truck V6 4.3L (8th Vin Digit W) Upstream O2 Oxygen Sensor |
| 1996 | GMC | C1500 Truck | GMC C1500 Truck V8 5.7L (8th Vin Digit R) Upstream O2 Oxygen Sensor |
| 1998-1999 | GMC | C1500 Truck | GMC C1500 Truck V8 5.7L (8th Vin Digit R) Upstream O2 Oxygen Sensor |
| 1994 | GMC | C2500 Truck | GMC C2500 Truck V8 5.7L (8th Vin Digit R) 4 Wire Sensor Upstream O2 Oxygen Sensor |
| 1996-1998 | GMC | C2500 Truck | GMC C2500 Truck V8 5.0L (8th Vin Digit M) Upstream O2 Oxygen Sensor |
| 1996 | GMC | C2500 Truck | GMC C2500 Truck V8 5.7L (8th Vin Digit R) Upstream O2 Oxygen Sensor |
| 1998-1999 | GMC | C2500 Truck | GMC C2500 Truck V8 5.7L (8th Vin Digit R) Upstream O2 Oxygen Sensor |
| 1996 | GMC | C3500 Truck | GMC C3500 Truck V8 5.7L (8th Vin Digit R) Upstream O2 Oxygen Sensor |
| 1998-1999 | GMC | C3500 Truck | GMC C3500 Truck V8 5.7L (8th Vin Digit R) Upstream O2 Oxygen Sensor |
| 1998-2000 | GMC | Envoy | GMC Envoy V6 4.3L (8th Vin Digit W) Upstream O2 Oxygen Sensor |
| 1998-2000 | GMC | Envoy | GMC Envoy V6 4.3L (8th Vin Digit W) Downstream O2 Oxygen Sensor |
| 1994 | GMC | G1500 | GMC G1500 V6 4.3L (8th Vin Digit Z) 4 Wire Sensor Upstream O2 Oxygen Sensor |
| 1994 | GMC | G2500 | GMC G2500 V6 4.3L (8th Vin Digit Z) 4 Wire Sensor Upstream O2 Oxygen Sensor |
| 1994 | GMC | G3500 | GMC G3500 V6 4.3L (8th Vin Digit Z) 4 Wire Sensor Upstream O2 Oxygen Sensor |
| 1996 | GMC | G3500 | GMC G3500 V6 4.3L (8th Vin Digit Z) Under 8500LB GVW Upstream O2 Oxygen Sensor |
| 1996 | GMC | G3500 | GMC G3500 V8 5.7L (8th Vin Digit K) Under 8500LB GVW Upstream O2 Oxygen Sensor |
| 1994 | GMC | Jimmy S-15 | GMC Jimmy S-15 V6 4.3L (8th Vin Digit Z) 4 Wire Sensor Upstream O2 Oxygen Sensor |
| 1994 | GMC | Jimmy S-15 | GMC Jimmy S-15 V6 4.3L (8th Vin Digit W) 4 Wire Sensor Upstream O2 Oxygen Sensor |
| 1995 | GMC | Jimmy S-15 | GMC Jimmy S-15 V6 4.3L (8th Vin Digit W) 4 Wire Sensor Upstream O2 Oxygen Sensor |
| 1995 | GMC | Jimmy S-15 | GMC Jimmy S-15 V6 4.3L (8th Vin Digit W) 4 Wire Sensor Downstream O2 Oxygen Sensor |
| 1996-2001 | GMC | Jimmy S-15 | GMC Jimmy S-15 V6 4.3L (8th Vin Digit W) Upstream O2 Oxygen Sensor |
| 1996-2001 | GMC | Jimmy S-15 | GMC Jimmy S-15 V6 4.3L (8th Vin Digit W) Downstream O2 Oxygen Sensor |
| 1994 | GMC | K1500 Truck | GMC K1500 Truck V6 4.3L (8th Vin Digit Z) 4 Wire Sensor Upstream O2 Oxygen Sensor |
| 1996-1999 | GMC | K1500 Truck | GMC K1500 Truck V8 5.0L (8th Vin Digit M) Upstream O2 Oxygen Sensor |
| 1996-1999 | GMC | K1500 Truck | GMC K1500 Truck V6 4.3L (8th Vin Digit W) Upstream O2 Oxygen Sensor |
| 1996 | GMC | K1500 Truck | GMC K1500 Truck V8 5.7L (8th Vin Digit R) Upstream O2 Oxygen Sensor |
| 1998-1999 | GMC | K1500 Truck | GMC K1500 Truck V8 5.7L (8th Vin Digit R) Upstream O2 Oxygen Sensor |
| 1994 | GMC | K2500 Truck | GMC K2500 Truck V6 4.3L (8th Vin Digit Z) 4 Wire Sensor Upstream O2 Oxygen Sensor |
| 1996-1998 | GMC | K2500 Truck | GMC K2500 Truck V8 5.0L (8th Vin Digit M) Upstream O2 Oxygen Sensor |
| 1996 | GMC | K2500 Truck | GMC K2500 Truck V8 5.7L (8th Vin Digit R) Upstream O2 Oxygen Sensor |
| 1998-1999 | GMC | K2500 Truck | GMC K2500 Truck V8 5.7L (8th Vin Digit R) Upstream O2 Oxygen Sensor |
| 1996 | GMC | K3500 Truck | GMC K3500 Truck V8 5.7L (8th Vin Digit R) Upstream O2 Oxygen Sensor |
| 1998-1999 | GMC | K3500 Truck | GMC K3500 Truck V8 5.7L (8th Vin Digit R) Upstream O2 Oxygen Sensor |
| 1994 | GMC | S-15 Sonoma | GMC S-15 Sonoma V6 4.3L (8th Vin Digit Z) 4 Wire Sensor Upstream O2 Oxygen Sensor |
| 1994-1995 | GMC | S-15 Sonoma | GMC S-15 Sonoma V6 4.3L (8th Vin Digit W) 4 Wire Sensor Upstream O2 Oxygen Sensor |
| 1996 | GMC | S-15 Sonoma | GMC S-15 Sonoma L4 2.2L (8th Vin Digit 4) Downstream O2 Oxygen Sensor |
| 1996-2001 | GMC | S-15 Sonoma | GMC S-15 Sonoma V6 4.3L (8th Vin Digit W) Upstream O2 Oxygen Sensor |
| 1996-1999 | GMC | S-15 Sonoma | GMC S-15 Sonoma V6 4.3L (8th Vin Digit X) Upstream O2 Oxygen Sensor |
| 1996-2001 | GMC | S-15 Sonoma | GMC S-15 Sonoma V6 4.3L (8th Vin Digit W) Downstream O2 Oxygen Sensor |
| 1997-1999 | GMC | S-15 Sonoma | GMC S-15 Sonoma V6 4.3L (8th Vin Digit X) Downstream O2 Oxygen Sensor |
| 1994 | GMC | Safari | GMC Safari V6 4.3L (8th Vin Digit Z) 4 Wire Sensor Upstream O2 Oxygen Sensor |
| 1994 | GMC | Safari | GMC Safari V6 4.3L (8th Vin Digit W) 4 Wire Sensor Upstream O2 Oxygen Sensor |
| 1996-1997 | GMC | Safari | GMC Safari V6 4.3L (8th Vin Digit W) Upstream O2 Oxygen Sensor |
| 1996-1997 | GMC | Savana 1500 Van | GMC Savana 1500 Van V8 5.0L (8th Vin Digit M) Upstream O2 Oxygen Sensor |
| 1996-1997 | GMC | Savana 1500 Van | GMC Savana 1500 Van V8 5.7L (8th Vin Digit R) Under 8500LB GVW Upstream O2 Oxygen Sensor |
| 1996-1997 | GMC | Savana 1500 Van | GMC Savana 1500 Van V6 4.3L (8th Vin Digit W) Under 8500LB GVW Upstream O2 Oxygen Sensor |
| 1999-2002 | GMC | Savana 1500 Van | GMC Savana 1500 Van V8 5.0L (8th Vin Digit M) Upstream O2 Oxygen Sensor |
| 1999-2002 | GMC | Savana 1500 Van | GMC Savana 1500 Van V6 4.3L (8th Vin Digit W) Under 8500LB GVW Upstream O2 Oxygen Sensor |
| 1999-2000 | GMC | Savana 1500 Van | GMC Savana 1500 Van V8 5.7L (8th Vin Digit R) Under 8500LB GVW Upstream O2 Oxygen Sensor |
| 2001 | GMC | Savana 1500 Van | GMC Savana 1500 Van V8 5.7L (8th Vin Digit R) Upstream O2 Oxygen Sensor |
| 2002 | GMC | Savana 1500 Van | GMC Savana 1500 Van V8 5.7L (8th Vin Digit R) Under 8500LB GVW Upstream O2 Oxygen Sensor |
| 1996-1997 | GMC | Savana 2500 Van | GMC Savana 2500 Van V8 5.0L (8th Vin Digit M) Upstream O2 Oxygen Sensor |
| 1996-1997 | GMC | Savana 2500 Van | GMC Savana 2500 Van V6 4.3L (8th Vin Digit W) Under 8500LB GVW Upstream O2 Oxygen Sensor |
| 1996-1997 | GMC | Savana 2500 Van | GMC Savana 2500 Van V8 5.7L (8th Vin Digit R) Under 8500LB GVW Upstream O2 Oxygen Sensor |
| 1999-2002 | GMC | Savana 2500 Van | GMC Savana 2500 Van V8 5.0L (8th Vin Digit M) Upstream O2 Oxygen Sensor |
| 1999-2000 | GMC | Savana 2500 Van | GMC Savana 2500 Van V8 5.7L (8th Vin Digit R) Under 8500LB GVW Upstream O2 Oxygen Sensor |
| 1999-2002 | GMC | Savana 2500 Van | GMC Savana 2500 Van V6 4.3L (8th Vin Digit W) Under 8500LB GVW Upstream O2 Oxygen Sensor |
| 2001 | GMC | Savana 2500 Van | GMC Savana 2500 Van V8 5.7L (8th Vin Digit R) Upstream O2 Oxygen Sensor |
| 2002 | GMC | Savana 2500 Van | GMC Savana 2500 Van V8 5.7L (8th Vin Digit R) Under 8500LB GVW Upstream O2 Oxygen Sensor |
| 2001 | GMC | Savana 3500 Van | GMC Savana 3500 Van V8 5.7L (8th Vin Digit R) Upstream O2 Oxygen Sensor |
| 1996 | GMC | Suburban C1500 | GMC Suburban C1500 V8 5.7L (8th Vin Digit R) Upstream O2 Oxygen Sensor |
| 1998-1999 | GMC | Suburban C1500 | GMC Suburban C1500 V8 5.7L (8th Vin Digit R) Upstream O2 Oxygen Sensor |
| 1996 | GMC | Suburban C2500 | GMC Suburban C2500 V8 5.7L (8th Vin Digit R) Upstream O2 Oxygen Sensor |
| 1998-1999 | GMC | Suburban C2500 | GMC Suburban C2500 V8 5.7L (8th Vin Digit R) Upstream O2 Oxygen Sensor |
| 1996 | GMC | Suburban K1500 | GMC Suburban K1500 V8 5.7L (8th Vin Digit R) Upstream O2 Oxygen Sensor |
| 1998-1999 | GMC | Suburban K1500 | GMC Suburban K1500 V8 5.7L (8th Vin Digit R) Upstream O2 Oxygen Sensor |
| 1996 | GMC | Suburban K2500 | GMC Suburban K2500 V8 5.7L (8th Vin Digit R) Upstream O2 Oxygen Sensor |
| 1998-1999 | GMC | Suburban K2500 | GMC Suburban K2500 V8 5.7L (8th Vin Digit R) Upstream O2 Oxygen Sensor |
| 1996-1999 | GMC | Yukon | GMC Yukon V8 5.7L with 4L60E 4 Speed Automatic Transmission (8th Vin Digit R) Upstream O2 Oxygen Sensor |
| 2000-2002 | GMC | Yukon | GMC Yukon V8 4.8L (8th Vin Digit V) Upstream O2 Oxygen Sensor |
| 2001-2002 | GMC | Yukon | GMC Yukon V8 5.3L (8th Vin Digit T) Upstream O2 Oxygen Sensor |
| 2002 | GMC | Yukon | GMC Yukon V8 5.3L (8th Vin Digit Z) Upstream O2 Oxygen Sensor |
| 1996-1997 | Honda | Passport | Honda Passport V6 3.2L (8th Vin Digit V) Upstream O2 Oxygen Sensor |
| 1996 | Honda | Passport | Honda Passport L4 2.6L (8th Vin Digit E) Downstream O2 Oxygen Sensor |
| 1996-1997 | Honda | Passport | Honda Passport V6 3.2L (8th Vin Digit V) Downstream O2 Oxygen Sensor |
| 1998-2001 | Honda | Passport | Honda Passport V6 3.2L (8th Vin Digit W) Upstream O2 Oxygen Sensor |
| 1998-2001 | Honda | Passport | Honda Passport V6 3.2L (8th Vin Digit W) Downstream O2 Oxygen Sensor |
| 1998-2000 | Isuzu | Amigo | Isuzu Amigo L4 2.2L (8th Vin Digit D) Downstream O2 Oxygen Sensor |
| 1998-2000 | Isuzu | Amigo | Isuzu Amigo V6 3.2L (8th Vin Digit W) Upstream O2 Oxygen Sensor |
| 1998-2000 | Isuzu | Amigo | Isuzu Amigo L4 2.2L (8th Vin Digit D) Upstream O2 Oxygen Sensor |
| 1998-2000 | Isuzu | Amigo | Isuzu Amigo V6 3.2L (8th Vin Digit W) Downstream O2 Oxygen Sensor |
| 2002-2003 | Isuzu | Axiom | Isuzu Axiom V6 3.5L (8th Vin Digit X) Downstream O2 Oxygen Sensor |
| 2002-2003 | Isuzu | Axiom | Isuzu Axiom V6 3.5L (8th Vin Digit X) Upstream O2 Oxygen Sensor |
| 1997-1999 | Isuzu | Hombre | Isuzu Hombre V6 4.3L (8th Vin Digit X) Downstream O2 Oxygen Sensor |
| 1997-1999 | Isuzu | Hombre | Isuzu Hombre V6 4.3L (8th Vin Digit X) Upstream O2 Oxygen Sensor |
| 1996-1997 | Isuzu | Rodeo | Isuzu Rodeo V6 3.2L (8th Vin Digit V) Upstream O2 Oxygen Sensor |
| 1996-1997 | Isuzu | Rodeo | Isuzu Rodeo L4 2.6L with Multi-Port Fuel Injection (8th Vin Digit E) Downstream O2 Oxygen Sensor |
| 1996-1997 | Isuzu | Rodeo | Isuzu Rodeo L4 2.6L with Multi-Port Fuel Injection (8th Vin Digit E) Upstream O2 Oxygen Sensor |
| 1996-1997 | Isuzu | Rodeo | Isuzu Rodeo V6 3.2L (8th Vin Digit V) Downstream O2 Oxygen Sensor |
| 1998-2001 | Isuzu | Rodeo | Isuzu Rodeo V6 3.2L (8th Vin Digit W) Upstream O2 Oxygen Sensor |
| 1998-2001 | Isuzu | Rodeo | Isuzu Rodeo V6 3.2L (8th Vin Digit W) Downstream O2 Oxygen Sensor |
| 1998-2000 | Isuzu | Rodeo | Isuzu Rodeo L4 2.2L (8th Vin Digit D) Downstream O2 Oxygen Sensor |
| 1998-2000 | Isuzu | Rodeo | Isuzu Rodeo L4 2.2L (8th Vin Digit D) Upstream O2 Oxygen Sensor |
| 2002-2003 | Isuzu | Rodeo | Isuzu Rodeo L4 2.2L (8th Vin Digit D) Downstream O2 Oxygen Sensor |
| 2002 | Isuzu | Rodeo | Isuzu Rodeo L4 2.2L (8th Vin Digit D) Upstream O2 Oxygen Sensor |
| 2001 | Isuzu | Rodeo Sport | Isuzu Rodeo Sport L4 2.2L (8th Vin Digit D) Downstream O2 Oxygen Sensor |
| 2001 | Isuzu | Rodeo Sport | Isuzu Rodeo Sport V6 3.2L (8th Vin Digit W) Downstream O2 Oxygen Sensor |
| 2001 | Isuzu | Rodeo Sport | Isuzu Rodeo Sport V6 3.2L (8th Vin Digit W) Upstream O2 Oxygen Sensor |
| 1996-1997 | Isuzu | Trooper | Isuzu Trooper V6 3.2L (8th Vin Digit V) Upstream O2 Oxygen Sensor |
| 1996-1997 | Isuzu | Trooper | Isuzu Trooper V6 3.2L (8th Vin Digit V) Downstream O2 Oxygen Sensor |
| 1998-2002 | Isuzu | Trooper | Isuzu Trooper V6 3.5L (8th Vin Digit X) Upstream O2 Oxygen Sensor |
| 1998-2002 | Isuzu | Trooper | Isuzu Trooper V6 3.5L (8th Vin Digit X) Downstream O2 Oxygen Sensor |
| 1999-2001 | Isuzu | VehiCROSS | Isuzu VehiCROSS V6 3.5L (8th Vin Digit X) Upstream O2 Oxygen Sensor |
| 1999-2001 | Isuzu | VehiCROSS | Isuzu VehiCROSS V6 3.5L (8th Vin Digit X) Downstream O2 Oxygen Sensor |
| 1994 | Oldsmobile | 88 | Olds 88 V6 3.8L (8th Vin Digit L) Upstream O2 Oxygen Sensor |
| 1995 | Oldsmobile | 88 | Olds 88 V6 3.8L (8th Vin Digit 1) Upstream O2 Oxygen Sensor |
| 1995-1996 | Oldsmobile | 88 | Olds 88 V6 3.8L (8th Vin Digit K) Upstream O2 Oxygen Sensor |
| 1994-1995 | Oldsmobile | 98 | Olds 98 V6 3.8L (8th Vin Digit 1) Upstream O2 Oxygen Sensor |
| 1994 | Oldsmobile | 98 | Olds 98 V6 3.8L (8th Vin Digit L) Upstream O2 Oxygen Sensor |
| 1995-1996 | Oldsmobile | 98 | Olds 98 V6 3.8L (8th Vin Digit K) Upstream O2 Oxygen Sensor |
| 1994-1995 | Oldsmobile | 98-Regency | Olds 98-Regency V6 3.8L (8th Vin Digit 1) Upstream O2 Oxygen Sensor |
| 1994 | Oldsmobile | 98-Regency | Olds 98-Regency V6 3.8L (8th Vin Digit L) Upstream O2 Oxygen Sensor |
| 1995-1996 | Oldsmobile | 98-Regency | Olds 98-Regency V6 3.8L (8th Vin Digit K) Upstream O2 Oxygen Sensor |
| 1994-1996 | Oldsmobile | Achieva | Olds Achieva V6 3.1L (8th Vin Digit M) Upstream O2 Oxygen Sensor |
| 2000-2001 | Oldsmobile | Alero | Olds Alero L4 2.4L (8th Vin Digit T) Upstream O2 Oxygen Sensor |
| 1994 | Oldsmobile | Bravada | Olds Bravada V6 4.3L (8th Vin Digit W) 4 Wire Sensor Upstream O2 Oxygen Sensor |
| 1996-2001 | Oldsmobile | Bravada | Olds Bravada V6 4.3L (8th Vin Digit W) Downstream O2 Oxygen Sensor |
| 1996-2001 | Oldsmobile | Bravada | Olds Bravada V6 4.3L (8th Vin Digit W) Upstream O2 Oxygen Sensor |
| 1994-1996 | Oldsmobile | Ciera | Olds Ciera V6 3.1L (8th Vin Digit M) Upstream O2 Oxygen Sensor |
| 1994-1996 | Oldsmobile | Cutlass Ciera | Olds Cutlass Ciera V6 3.1L (8th Vin Digit M) Upstream O2 Oxygen Sensor |
| 1993-1996 | Oldsmobile | Cutlass Supreme | Olds Cutlass Supreme V6 3.1L (8th Vin Digit M) Upstream O2 Oxygen Sensor |
| 1994-1996 | Oldsmobile | Cutlass Supreme | Olds Cutlass Supreme V6 3.4L (8th Vin Digit X) Upstream O2 Oxygen Sensor |
| 1994 | Oldsmobile | Delta 88 | Olds Delta 88 V6 3.8L (8th Vin Digit L) Upstream O2 Oxygen Sensor |
| 1995 | Oldsmobile | Delta 88 | Olds Delta 88 V6 3.8L (8th Vin Digit 1) Upstream O2 Oxygen Sensor |
| 1995-1996 | Oldsmobile | Delta 88 | Olds Delta 88 V6 3.8L (8th Vin Digit K) Upstream O2 Oxygen Sensor |
| 1994 | Oldsmobile | Delta 88-Royale | Olds Delta 88-Royale V6 3.8L (8th Vin Digit L) Upstream O2 Oxygen Sensor |
| 1995 | Oldsmobile | Delta 88-Royale | Olds Delta 88-Royale V6 3.8L (8th Vin Digit 1) Upstream O2 Oxygen Sensor |
| 1995-1996 | Oldsmobile | Delta 88-Royale | Olds Delta 88-Royale V6 3.8L (8th Vin Digit K) Upstream O2 Oxygen Sensor |
| 1996 | Oldsmobile | LSS | Olds LSS V6 3.8L (8th Vin Digit K or 1) Upstream O2 Oxygen Sensor |
| 1995 | Oldsmobile | Silhouette | Olds Silhouette V6 3.8L (8th Vin Digit L) Upstream O2 Oxygen Sensor |
| 1996 | Oldsmobile | Silhouette | Olds Silhouette V6 3.4L (8th Vin Digit E) Upstream O2 Oxygen Sensor |
| 1994-1996 | Pontiac | Bonneville | Pontiac Bonneville V6 3.8L (8th Vin Digit 1) Upstream O2 Oxygen Sensor |
| 1994 | Pontiac | Bonneville | Pontiac Bonneville V6 3.8L (8th Vin Digit L) Upstream O2 Oxygen Sensor |
| 1995-1996 | Pontiac | Bonneville | Pontiac Bonneville V6 3.8L (8th Vin Digit K) Upstream O2 Oxygen Sensor |
| 1994-1997 | Pontiac | Firebird | Pontiac Firebird Formula V8 5.7L (8th Vin Digit P) Upstream O2 Oxygen Sensor |
| 1995-1996 | Pontiac | Firebird | Pontiac Firebird V6 3.8L (8th Vin Digit K) Upstream O2 Oxygen Sensor |
| 1995 | Pontiac | Firebird | Pontiac Firebird V6 3.8L (8th Vin Digit K) Downstream O2 Oxygen Sensor |
| 1994-1996 | Pontiac | Grand Am | Pontiac Grand Am V6 3.1L (8th Vin Digit M) Upstream O2 Oxygen Sensor |
| 2000-2001 | Pontiac | Grand Am | Pontiac Grand Am L4 2.4L (8th Vin Digit T) Upstream O2 Oxygen Sensor |
| 1994-1996 | Pontiac | Grand Prix | Pontiac Grand Prix V6 3.1L (8th Vin Digit M) Upstream O2 Oxygen Sensor |
| 1994-1996 | Pontiac | Grand Prix | Pontiac Grand Prix V6 3.4L (8th Vin Digit X) Upstream O2 Oxygen Sensor |
| 2000-2002 | Pontiac | Sunfire | Pontiac Sunfire L4 2.4L (8th Vin Digit T) Upstream O2 Oxygen Sensor |
| 1994-1995 | Pontiac | Trans Sport | Pontiac Trans Sport V6 3.8L (8th Vin Digit L) Upstream O2 Oxygen Sensor |
| 1996 | Pontiac | Trans Sport | Pontiac Trans Sport V6 3.4L (8th Vin Digit E) Upstream O2 Oxygen Sensor |