NASCAR Driver Spencer Boyd makes official visit to 1A Auto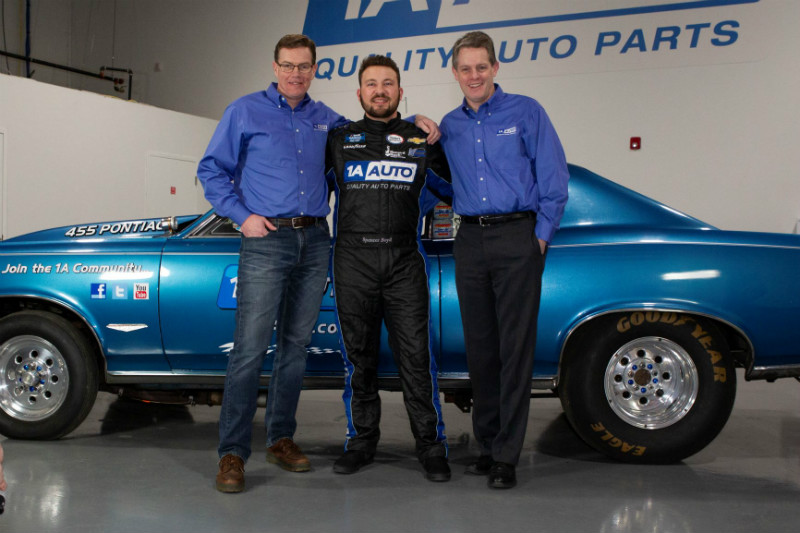 Pepperell, MA, 3/25/19 - 1A Auto employees were excited for the chance to meet NASCAR driver Spencer Boyd when he recently visited the company's R&D center. The R&D center is where the online auto parts retailer develops and tests its products for quality and films its how-to auto repair videos.
The company proudly announced its sponsorship of Boyd for the 2019 NASCAR Gander Outdoors Truck Series in January. It's the only series in NASCAR to race modified production pickup trucks.
During his exciting visit last week, Boyd spent time with 1A Auto founders President Mike Green and CEO Rick Green.
Mike Green was thrilled to see employees meet, talk with and ask Boyd questions about his not-so-everyday job.
"We're so happy to have Spencer visit us on-site and take part in our how-to videos. He'll be an excellent guest on the Engine Noise podcast we sponsor," Mike Green said.
Rick Green said, "Spencer is the type of NASCAR driver we are proud to sponsor—energetic, enthusiastic and highly motivated, just like our team here at 1A Auto!"
Boyd will appear in some upcoming 1A Auto videos and is a guest on the April 1st episode of Engine Noise, the top-rated auto enthusiast podcast sponsored by 1A Auto.