DEEAF00003-Mass Air Flow Sensor with Housing
Replaces
Mass Air Flow Sensor with Housing Delphi AF10057 - DEEAF00003
DEEAF00003
Specifications:
Brand New Delphi Mass Air Flow Sensor
Direct replacement
Built to strict quality control standards
Our electrical and electronic parts are subject to strict quality control testing. Please ensure proper diagnosis of this item before purchasing as the item cannot be returned once installed or plugged in.
Note: You may be required to reset the vehicle's computer after installation of this part.
Item Condition: New

Lifetime Warranty
This item is backed by a Limited Lifetime Warranty. In the event this item should fail due to manufacturing defects during intended use, we will exchange the part free of charge (excludes shipping charges) for the original purchaser.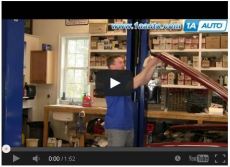 step : Removing the MAF Sensor (0:56)

Disconnect the wiring harnesss
Loosen the two hose clamps with a flat blade screwdriver
Remove the intake tube from the sensor
Remove the MAF sensor

step : Installing the MAF Sensor (3:30)

The arrow shows the direction of air flow
Connect the adapter to the new sensor
Insert the sensor into place, with the arrow faced towards the throttle body
Tighten the hose clamps
Connect the wiring harness
Tools needed for replacement:
Screwdrivers & Related

Flat Blade Screwdriver
There are no reviews for this item.
Customer Q&A
Ask a question to 1A Auto customers who purchased the product
No questions have been asked about this item.
| Year | Make | Model | Description |
| --- | --- | --- | --- |
| 1999-2000 | Cadillac | Escalade | Cadillac Escalade Mass Air Flow Sensor with Housing Delphi AF10057 |
| 1996-1998 | Chevy | C1500 Truck | Chevy C1500 Truck Mass Air Flow Sensor with Housing V6 4.3L Delphi AF10057 |
| 1996-1999 | Chevy | C1500 Truck | Chevy C1500 Truck Mass Air Flow Sensor with Housing V8 5.0L Delphi AF10057 |
| 1996-1999 | Chevy | C1500 Truck | Chevy C1500 Truck Mass Air Flow Sensor with Housing V8 5.7L Delphi AF10057 |
| 1996-2000 | Chevy | C2500 Truck | Chevy C2500 Truck Mass Air Flow Sensor with Housing V8 5.7L Delphi AF10057 |
| 1996-1998 | Chevy | C2500 Truck | Chevy C2500 Truck Mass Air Flow Sensor with Housing V8 5.0L Delphi AF10057 |
| 1996-2000 | Chevy | C2500 Truck | Chevy C2500 Truck Mass Air Flow Sensor with Housing V8 7.4L Delphi AF10057 |
| 1998 | Chevy | C2500 Truck | Chevy C2500 Truck Mass Air Flow Sensor with Housing V8 6.5L Turbo Diesel Delphi AF10057 |
| 1996-2000 | Chevy | C3500 Truck | Chevy C3500 Truck Mass Air Flow Sensor with Housing V8 7.4L Delphi AF10057 |
| 1996-2000 | Chevy | C3500 Truck | Chevy C3500 Truck Mass Air Flow Sensor with Housing V8 5.7L Delphi AF10057 |
| 1998-2000 | Chevy | Express 1500 Van | Chevy Express 1500 Van Mass Air Flow Sensor with Housing Delphi AF10057 |
| 1998-2000 | Chevy | Express 2500 Van | Chevy Express 2500 Van Mass Air Flow Sensor with Housing V8 5.7L Delphi AF10057 |
| 1998-2000 | Chevy | Express 2500 Van | Chevy Express 2500 Van Mass Air Flow Sensor with Housing V6 4.3L Delphi AF10057 |
| 1998-2000 | Chevy | Express 2500 Van | Chevy Express 2500 Van Mass Air Flow Sensor with Housing V8 5.0L Delphi AF10057 |
| 1998-2000 | Chevy | Express 3500 Van | Chevy Express 3500 Van Mass Air Flow Sensor with Housing V8 7.4L Delphi AF10057 |
| 1998-2000 | Chevy | Express 3500 Van | Chevy Express 3500 Van Mass Air Flow Sensor with Housing V8 5.7L Delphi AF10057 |
| 1996-1999 | Chevy | K1500 Truck | Chevy K1500 Truck Mass Air Flow Sensor with Housing V8 5.0L Delphi AF10057 |
| 1996-1999 | Chevy | K1500 Truck | Chevy K1500 Truck Mass Air Flow Sensor with Housing V8 5.7L Delphi AF10057 |
| 1996-1998 | Chevy | K1500 Truck | Chevy K1500 Truck Mass Air Flow Sensor with Housing V6 4.3L Delphi AF10057 |
| 1997-1998 | Chevy | K1500 Truck | Chevy K1500 Truck Mass Air Flow Sensor with Housing V8 6.5L Turbo Diesel Delphi AF10057 |
| 1996-1998 | Chevy | K2500 Truck | Chevy K2500 Truck Mass Air Flow Sensor with Housing V8 5.0L Delphi AF10057 |
| 1996-2000 | Chevy | K2500 Truck | Chevy K2500 Truck Mass Air Flow Sensor with Housing V8 7.4L Delphi AF10057 |
| 1996-2000 | Chevy | K2500 Truck | Chevy K2500 Truck Mass Air Flow Sensor with Housing V8 5.7L Delphi AF10057 |
| 1997-1998 | Chevy | K2500 Truck | Chevy K2500 Truck Mass Air Flow Sensor with Housing V8 6.5L Turbo Diesel Delphi AF10057 |
| 1996-2000 | Chevy | K3500 Truck | Chevy K3500 Truck Mass Air Flow Sensor with Housing V8 7.4L Delphi AF10057 |
| 1996-2000 | Chevy | K3500 Truck | Chevy K3500 Truck Mass Air Flow Sensor with Housing V8 5.7L Delphi AF10057 |
| 1996-1999 | Chevy | P30 | Chevy P30 Mass Air Flow Sensor with Housing V8 5.7L Delphi AF10057 |
| 1996-1999 | Chevy | P30 | Chevy P30 Mass Air Flow Sensor with Housing V8 7.4L Delphi AF10057 |
| 1996-1999 | Chevy | P30 | Chevy P30 Mass Air Flow Sensor with Housing V6 4.3L Delphi AF10057 |
| 1996-1999 | Chevy | Suburban C1500 | Chevy Suburban C1500 Mass Air Flow Sensor with Housing V8 5.7L Delphi AF10057 |
| 1996-1999 | Chevy | Suburban C2500 | Chevy Suburban C2500 Mass Air Flow Sensor with Housing V8 7.4L Delphi AF10057 |
| 1996-1999 | Chevy | Suburban C2500 | Chevy Suburban C2500 Mass Air Flow Sensor with Housing V8 5.7L Delphi AF10057 |
| 1996-1999 | Chevy | Suburban K1500 | Chevy Suburban K1500 Mass Air Flow Sensor with Housing V8 5.7L Delphi AF10057 |
| 1996-1999 | Chevy | Suburban K2500 | Chevy Suburban K2500 Mass Air Flow Sensor with Housing V8 5.7L Delphi AF10057 |
| 1996-1999 | Chevy | Suburban K2500 | Chevy Suburban K2500 Mass Air Flow Sensor with Housing V8 7.4L Delphi AF10057 |
| 1997 | Chevy | Tahoe | Chevy Tahoe Mass Air Flow Sensor with Housing V8 6.5L Turbo Diesel Delphi AF10057 |
| 1997-2000 | Chevy | Tahoe | Chevy Tahoe Mass Air Flow Sensor with Housing V8 5.7L Delphi AF10057 |
| 1996-1999 | GMC | C1500 Truck | GMC C1500 Truck Mass Air Flow Sensor with Housing V8 5.7L Delphi AF10057 |
| 1996-1998 | GMC | C1500 Truck | GMC C1500 Truck Mass Air Flow Sensor with Housing V6 4.3L Delphi AF10057 |
| 1996-1999 | GMC | C1500 Truck | GMC C1500 Truck Mass Air Flow Sensor with Housing V8 5.0L Delphi AF10057 |
| 1996-2000 | GMC | C2500 Truck | GMC C2500 Truck Mass Air Flow Sensor with Housing V8 5.7L Delphi AF10057 |
| 1996-2000 | GMC | C2500 Truck | GMC C2500 Truck Mass Air Flow Sensor with Housing V8 7.4L Delphi AF10057 |
| 1997-1998 | GMC | C2500 Truck | GMC C2500 Truck Mass Air Flow Sensor with Housing V8 5.0L Delphi AF10057 |
| 1997 | GMC | C2500 Truck | GMC C2500 Truck Mass Air Flow Sensor with Housing V8 6.5L Turbo Diesel Delphi AF10057 |
| 1996-2000 | GMC | C3500 Truck | GMC C3500 Truck Mass Air Flow Sensor with Housing V8 5.7L Delphi AF10057 |
| 1996-2000 | GMC | C3500 Truck | GMC C3500 Truck Mass Air Flow Sensor with Housing V8 7.4L Delphi AF10057 |
| 1998 | GMC | C3500 Truck | GMC C3500 Truck Mass Air Flow Sensor with Housing V8 6.5L Turbo Diesel Delphi AF10057 |
| 1996-1999 | GMC | K1500 Truck | GMC K1500 Truck Mass Air Flow Sensor with Housing V8 5.0L Delphi AF10057 |
| 1996-1999 | GMC | K1500 Truck | GMC K1500 Truck Mass Air Flow Sensor with Housing V8 5.7L Delphi AF10057 |
| 1996-1998 | GMC | K1500 Truck | GMC K1500 Truck Mass Air Flow Sensor with Housing V6 4.3L Delphi AF10057 |
| 1997-1998 | GMC | K1500 Truck | GMC K1500 Truck Mass Air Flow Sensor with Housing V8 6.5L Turbo Diesel Delphi AF10057 |
| 1996-2000 | GMC | K2500 Truck | GMC K2500 Truck Mass Air Flow Sensor with Housing V8 5.7L Delphi AF10057 |
| 1996-2000 | GMC | K2500 Truck | GMC K2500 Truck Mass Air Flow Sensor with Housing V8 7.4L Delphi AF10057 |
| 1997 | GMC | K2500 Truck | GMC K2500 Truck Mass Air Flow Sensor with Housing V8 6.5L Turbo Diesel Delphi AF10057 |
| 1996-2000 | GMC | K3500 Truck | GMC K3500 Truck Mass Air Flow Sensor with Housing V8 5.7L Delphi AF10057 |
| 1996-2000 | GMC | K3500 Truck | GMC K3500 Truck Mass Air Flow Sensor with Housing V8 7.4L Delphi AF10057 |
| 1998-2000 | GMC | Savana 1500 Van | GMC Savana 1500 Van Mass Air Flow Sensor with Housing Delphi AF10057 |
| 1998-2000 | GMC | Savana 2500 Van | GMC Savana 2500 Van Mass Air Flow Sensor with Housing V8 5.0L Delphi AF10057 |
| 1998-2000 | GMC | Savana 2500 Van | GMC Savana 2500 Van Mass Air Flow Sensor with Housing V8 5.7L Delphi AF10057 |
| 1998-2000 | GMC | Savana 2500 Van | GMC Savana 2500 Van Mass Air Flow Sensor with Housing V6 4.3L Delphi AF10057 |
| 1998-2000 | GMC | Savana 3500 Van | GMC Savana 3500 Van Mass Air Flow Sensor with Housing V8 7.4L Delphi AF10057 |
| 1998-2000 | GMC | Savana 3500 Van | GMC Savana 3500 Van Mass Air Flow Sensor with Housing V8 5.7L Delphi AF10057 |
| 1996-1999 | GMC | Suburban C1500 | GMC Suburban C1500 Mass Air Flow Sensor with Housing V8 5.7L Delphi AF10057 |
| 1996-1999 | GMC | Suburban C2500 | GMC Suburban C2500 Mass Air Flow Sensor with Housing V8 7.4L Delphi AF10057 |
| 1996-1999 | GMC | Suburban C2500 | GMC Suburban C2500 Mass Air Flow Sensor with Housing V8 5.7L Delphi AF10057 |
| 1996-1999 | GMC | Suburban K1500 | GMC Suburban K1500 Mass Air Flow Sensor with Housing V8 5.7L Delphi AF10057 |
| 1996-1999 | GMC | Suburban K2500 | GMC Suburban K2500 Mass Air Flow Sensor with Housing V8 5.7L Delphi AF10057 |
| 1996-1999 | GMC | Suburban K2500 | GMC Suburban K2500 Mass Air Flow Sensor with Housing V8 7.4L Delphi AF10057 |
| 1997-2000 | GMC | Yukon | GMC Yukon Mass Air Flow Sensor with Housing V8 5.7L Delphi AF10057 |
| 1997 | GMC | Yukon | GMC Yukon Mass Air Flow Sensor with Housing V8 6.5L Turbo Diesel Delphi AF10057 |
Part #: DEEAF00003
Order must be placed by 4pm ET
Get it in: 2 - 4 Business Days
Want it sooner? Choose Next Day Air at Checkout

Brand #: AF10057