1AACD00048-MAP Sensor
Replaces
MAP Sensor ACDelco 213-1545 - 1AACD00048
1AACD00048
AC DELCO 213-1545 [MAP SENSOR
]
This AC DELCO MAP Sensor is a new part. It is the same piece that you would receive if you purchased it from your local GM dealer.
How this part works is that it measures the intake manifold pressure and relays this information to the vehicles ECM or main computer. The ECM then uses this data to calculate air density and determine the engine's air mass flow rate, which in turn determines the required fuel metering optimum combustion.
A bad or malfunctioning MAP sensor will often cause a service engine light error code, and or cause a no start condition, or rough running due to inaccurate ignition and fuel timing.
This MAP sensor features:
Brand New AC Delco part
Mounts near the intake manifold
Replaces dealer part numbers: 12569240, 213-1545
Direct replacement
Built to strict quality control standards
100% factory tested
3 Pin Connector
Our electrical and electronic parts are subject to strict quality control testing. Please ensure proper diagnosis of this item before purchasing as the item cannot be returned once installed or plugged in.
Item Condition: New

Lifetime Warranty
This item is backed by a Limited Lifetime Warranty. In the event this item should fail due to manufacturing defects during intended use, we will exchange the part free of charge (excludes shipping charges) for the original purchaser.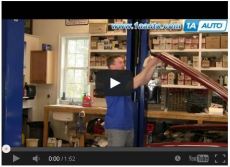 step : Removing the MAP Sensor (0:32)

Remove the 7mm bolts from the MAP Sensor
Push down the tab on the MAP Sensor harness
Pull the MAP sensor up and off the vacuum hose

step : Installing the New MAP Sensor (1:13)

Push the harness halfway back into the MAP sensor
Push the MAP sensor onto the vacuum hose
Push the harness on
Replace the two 7mm bolts to the MAP sensor
Clip the harness into the bracket
Tools needed for replacement:
Ratchets & Related

Ratchet

Sockets - Metric

7mm Socket
There are no reviews for this item.
Customer Q&A
Ask a question to 1A Auto customers who purchased the product
will the map sensor cause a no crank?
Yes, this could cause a no crank symptom.
| Year | Make | Model | Description |
| --- | --- | --- | --- |
| 1982-1992 | Buick | Century | Buick Century MAP Sensor L4 2.5L (8th Vin Digit R) ACDelco 213-1545 |
| 1987-1989 | Buick | Century | Buick Century MAP Sensor V6 2.8L (8th Vin Digit W) ACDelco 213-1545 |
| 1993-1996 | Buick | Century | Buick Century MAP Sensor L4 2.2L (8th Vin Digit 4) ACDelco 213-1545 |
| 1996-1999 | Buick | Century | Buick Century MAP Sensor V6 3.1L (8th Vin Digit M) ACDelco 213-1545 |
| 2000-2004 | Buick | Century | Buick Century MAP Sensor V6 3.1L (8th Vin Digit J) ACDelco 213-1545 |
| 1985 | Buick | Electra | Buick Electra MAP Sensor V6 4.3L (8th Vin Digit T) ACDelco 213-1545 |
| 1988-1990 | Buick | Estate Wagon | Buick Estate Wagon MAP Sensor V8 5.0L (8th Vin Digit Y) with 4 BBL Carburetor ACDelco 213-1545 |
| 1985 | Buick | Regal | Buick Regal MAP Sensor V8 5.7L (8th Vin Digit N) ACDelco 213-1545 |
| 1988-1989 | Buick | Regal | Buick Regal MAP Sensor V6 2.8L (8th Vin Digit W) ACDelco 213-1545 |
| 1989-1993 | Buick | Regal | Buick Regal MAP Sensor V6 3.1L (8th Vin Digit T) ACDelco 213-1545 |
| 1994-1996 | Buick | Regal | Buick Regal MAP Sensor V6 3.1L (8th Vin Digit M) ACDelco 213-1545 |
| 2002-2003 | Buick | Rendezvous | Buick Rendezvous MAP Sensor V6 3.4L (8th Vin Digit E) ACDelco 213-1545 |
| 1985 | Buick | Riviera | Buick Riviera MAP Sensor V8 5.7L (8th Vin Digit N) ACDelco 213-1545 |
| 1991 | Buick | Roadmaster | Buick Roadmaster MAP Sensor V8 5.0L (8th Vin Digit E) ACDelco 213-1545 |
| 1992-1993 | Buick | Roadmaster | Buick Roadmaster MAP Sensor (8th Vin Digit 7) V8 5.7L ACDelco 213-1545 |
| 1994-1996 | Buick | Roadmaster | Buick Roadmaster MAP Sensor V8 5.7L (8th Vin Digit P) ACDelco 213-1545 |
| 1982-1986 | Buick | Skyhawk | Buick Skyhawk MAP Sensor L4 1.8L (8th Vin Digit 0) ACDelco 213-1545 |
| 1983-1986 | Buick | Skyhawk | Buick Skyhawk MAP Sensor L4 2.0L (8th Vin Digit P) ACDelco 213-1545 |
| 1983-1984 | Buick | Skyhawk | Buick Skyhawk MAP Sensor (8th Vin Digit B) L4 2.0L ACDelco 213-1545 |
| 1987-1988 | Buick | Skyhawk | Buick Skyhawk MAP Sensor L4 2.0L (8th Vin Digit K) ACDelco 213-1545 |
| 1987-1989 | Buick | Skyhawk | Buick Skyhawk MAP Sensor L4 2.0L (8th Vin Digit 1) ACDelco 213-1545 |
| 1982-1985 | Buick | Skylark | Buick Skylark MAP Sensor L4 2.5L (8th Vin Digit R) ACDelco 213-1545 |
| 1986-1991 | Buick | Skylark | Buick Skylark MAP Sensor L4 2.5L (8th Vin Digit U) ACDelco 213-1545 |
| 1988-1991 | Buick | Skylark | Buick Skylark MAP Sensor L4 2.3L (8th Vin Digit D) ACDelco 213-1545 |
| 1992-1993 | Buick | Skylark | Buick Skylark MAP Sensor L4 2.3L (8th Vin Digit 3) ACDelco 213-1545 |
| 1994-1998 | Buick | Skylark | Buick Skylark MAP Sensor V6 3.1L (8th Vin Digit M) ACDelco 213-1545 |
| 1985-1986 | Buick | Somerset | Buick Somerset MAP Sensor L4 2.5L (8th Vin Digit U) ACDelco 213-1545 |
| 1987 | Buick | Somerset | Buick Somerset MAP Sensor L4 2.5L (8th Vin Digit U) ACDelco 213-1545 |
| 1990 | Cadillac | Brougham | Cadillac Brougham MAP Sensor V8 5.0L (8th Vin Digit 9) with 4 BBL Carburetor ACDelco 213-1545 |
| 1990-1992 | Cadillac | Brougham | Cadillac Brougham MAP Sensor (8th Vin Digit 7) V8 5.7L ACDelco 213-1545 |
| 1991-1992 | Cadillac | Brougham | Cadillac Brougham MAP Sensor V8 5.0L (8th Vin Digit E) ACDelco 213-1545 |
| 1983-1986 | Cadillac | Cimarron | Cadillac Cimarron MAP Sensor L4 2.0L (8th Vin Digit P) ACDelco 213-1545 |
| 1985-1988 | Cadillac | Cimarron | Cadillac Cimarron MAP Sensor V6 2.8L (8th Vin Digit W) ACDelco 213-1545 |
| 1985 | Cadillac | Deville | Cadillac Deville MAP Sensor V6 4.3L (8th Vin Digit T) ACDelco 213-1545 |
| 1985 | Cadillac | Eldorado | Cadillac Eldorado MAP Sensor V8 5.7L (8th Vin Digit N) ACDelco 213-1545 |
| 1985 | Cadillac | Fleetwood | Cadillac Fleetwood MAP Sensor V6 4.3L (8th Vin Digit T) ACDelco 213-1545 |
| 1985 | Cadillac | Fleetwood | Cadillac Fleetwood MAP Sensor V8 5.7L (8th Vin Digit N) ACDelco 213-1545 |
| 1988-1990 | Cadillac | Fleetwood | Cadillac Fleetwood MAP Sensor V8 5.0L (8th Vin Digit Y) with 4 BBL Carburetor ACDelco 213-1545 |
| 1989 | Cadillac | Fleetwood | Cadillac Fleetwood MAP Sensor V8 5.0L (8th Vin Digit 9) with 4 BBL Carburetor ACDelco 213-1545 |
| 1993 | Cadillac | Fleetwood | Cadillac Fleetwood MAP Sensor (8th Vin Digit 7) V8 5.7L ACDelco 213-1545 |
| 1994-1996 | Cadillac | Fleetwood | Cadillac Fleetwood MAP Sensor V8 5.7L (8th Vin Digit P) ACDelco 213-1545 |
| 1985 | Cadillac | Seville | Cadillac Seville MAP Sensor V8 5.7L (8th Vin Digit N) ACDelco 213-1545 |
| 1985 | Chevy | Astro | Chevy Astro MAP Sensor V6 4.3L (8th Vin Digit N) with 4 BBL Carburetor ACDelco 213-1545 |
| 1985-1990 | Chevy | Astro | Chevy Astro MAP Sensor L4 2.5L (8th Vin Digit E) ACDelco 213-1545 |
| 1986-1994 | Chevy | Astro | Chevy Astro MAP Sensor V6 4.3L (8th Vin Digit Z) ACDelco 213-1545 |
| 1990 | Chevy | Astro | Chevy Astro MAP Sensor (8th Vin Digit B) V6 4.3L ACDelco 213-1545 |
| 1987-1989 | Chevy | Beretta | Chevy Beretta MAP Sensor L4 2.0L (8th Vin Digit 1) ACDelco 213-1545 |
| 1987-1989 | Chevy | Beretta | Chevy Beretta MAP Sensor V6 2.8L (8th Vin Digit W) ACDelco 213-1545 |
| 1990-1993 | Chevy | Beretta | Chevy Beretta MAP Sensor V6 3.1L (8th Vin Digit T) ACDelco 213-1545 |
| 1990-1991 | Chevy | Beretta | Chevy Beretta MAP Sensor L4 2.2L (8th Vin Digit G) ACDelco 213-1545 |
| 1990-1992 | Chevy | Beretta | Chevy Beretta MAP Sensor L4 2.3L (8th Vin Digit A) ACDelco 213-1545 |
| 1992-1996 | Chevy | Beretta | Chevy Beretta MAP Sensor L4 2.2L (8th Vin Digit 4) ACDelco 213-1545 |
| 1993 | Chevy | Beretta | Chevy Beretta MAP Sensor L4 2.3L (8th Vin Digit A) ACDelco 213-1545 |
| 1994-1996 | Chevy | Beretta | Chevy Beretta MAP Sensor V6 3.1L (8th Vin Digit M) ACDelco 213-1545 |
| 1987 | Chevy | Blazer Full Size | Chevy Blazer Full Size MAP Sensor V8 5.7L (8th Vin Digit K) ACDelco 213-1545 |
| 1987 | Chevy | Blazer Full Size | Chevy Blazer Full Size MAP Sensor V8 6.2L (8th Vin Digit C) ACDelco 213-1545 |
| 1987 | Chevy | Blazer Full Size | Chevy Blazer Full Size MAP Sensor V8 5.0L (8th Vin Digit H) ACDelco 213-1545 |
| 1988-1991 | Chevy | Blazer Full Size | Chevy Blazer Full Size MAP Sensor V8 6.2L (8th Vin Digit C) ACDelco 213-1545 |
| 1988-1994 | Chevy | Blazer Full Size | Chevy Blazer Full Size MAP Sensor V8 5.7L (8th Vin Digit K) ACDelco 213-1545 |
| 1994 | Chevy | Blazer Full Size | Chevy Blazer Full Size MAP Sensor V8 6.5L (8th Vin Digit S) ACDelco 213-1545 |
| 1985-1988 | Chevy | Blazer S10 | Chevy Blazer S10 MAP Sensor L4 2.5L (8th Vin Digit E) ACDelco 213-1545 |
| 1986-1990 | Chevy | Blazer S10 | Chevy Blazer S10 MAP Sensor V6 2.8L (8th Vin Digit R) ACDelco 213-1545 |
| 1988-1994 | Chevy | Blazer S10 | Chevy Blazer S10 MAP Sensor V6 4.3L (8th Vin Digit Z) ACDelco 213-1545 |
| 1988-1995 | Chevy | C1500 Truck | Chevy C1500 Truck MAP Sensor V6 4.3L (8th Vin Digit Z) ACDelco 213-1545 |
| 1988-1995 | Chevy | C1500 Truck | Chevy C1500 Truck MAP Sensor V8 5.0L (8th Vin Digit H) ACDelco 213-1545 |
| 1988-1995 | Chevy | C1500 Truck | Chevy C1500 Truck MAP Sensor V8 5.7L (8th Vin Digit K) ACDelco 213-1545 |
| 1988-1993 | Chevy | C1500 Truck | Chevy C1500 Truck MAP Sensor V8 6.2L (8th Vin Digit C) ACDelco 213-1545 |
| 1990 | Chevy | C1500 Truck | Chevy C1500 Truck MAP Sensor V8 7.4L (8th Vin Digit N) ACDelco 213-1545 |
| 1991-1993 | Chevy | C1500 Truck | Chevy C1500 Truck MAP Sensor V8 7.4L (8th Vin Digit N) ACDelco 213-1545 |
| 1994-1996 | Chevy | C1500 Truck | Chevy C1500 Truck MAP Sensor V8 6.5L (8th Vin Digit S) ACDelco 213-1545 |
| 1994-1995 | Chevy | C1500 Truck | Chevy C1500 Truck MAP Sensor V8 6.5L (8th Vin Digit P) ACDelco 213-1545 |
| 1988-1993 | Chevy | C2500 Truck | Chevy C2500 Truck MAP Sensor V8 6.2L (8th Vin Digit C) ACDelco 213-1545 |
| 1988-1995 | Chevy | C2500 Truck | Chevy C2500 Truck MAP Sensor V8 5.7L (8th Vin Digit K) ACDelco 213-1545 |
| 1988-1995 | Chevy | C2500 Truck | Chevy C2500 Truck MAP Sensor V6 4.3L (8th Vin Digit Z) ACDelco 213-1545 |
| 1988-1995 | Chevy | C2500 Truck | Chevy C2500 Truck MAP Sensor V8 5.0L (8th Vin Digit H) ACDelco 213-1545 |
| 1989-1991 | Chevy | C2500 Truck | Chevy C2500 Truck MAP Sensor V8 6.2L (8th Vin Digit J) ACDelco 213-1545 |
| 1991-1995 | Chevy | C2500 Truck | Chevy C2500 Truck MAP Sensor V8 7.4L (8th Vin Digit N) ACDelco 213-1545 |
| 1994-1998 | Chevy | C2500 Truck | Chevy C2500 Truck MAP Sensor V8 6.5L (8th Vin Digit S) ACDelco 213-1545 |
| 1994-1995 | Chevy | C2500 Truck | Chevy C2500 Truck MAP Sensor V8 6.5L (8th Vin Digit P) ACDelco 213-1545 |
| 1994-1995 | Chevy | C2500 Truck | Chevy C2500 Truck MAP Sensor V8 6.5L (8th Vin Digit F) ACDelco 213-1545 |
| 1992-1995 | Chevy | C3500 Truck | Chevy C3500 Truck MAP Sensor V8 5.7L (8th Vin Digit K) ACDelco 213-1545 |
| 1992-1995 | Chevy | C3500 Truck | Chevy C3500 Truck MAP Sensor V8 7.4L (8th Vin Digit N) ACDelco 213-1545 |
| 1994-1995 | Chevy | C3500 Truck | Chevy C3500 Truck MAP Sensor V8 6.5L (8th Vin Digit F) ACDelco 213-1545 |
| 1982-1983 | Chevy | Camaro | Chevy Camaro MAP Sensor V8 5.0L (8th Vin Digit H) with 4 BBL Carburetor ACDelco 213-1545 |
| 1982 | Chevy | Camaro | Chevy Camaro MAP Sensor V8 5.0L (8th Vin Digit 7) ACDelco 213-1545 |
| 1982-1986 | Chevy | Camaro | Chevy Camaro MAP Sensor L4 2.5L (8th Vin Digit 2) ACDelco 213-1545 |
| 1983 | Chevy | Camaro | Chevy Camaro MAP Sensor V8 5.0L (8th Vin Digit S) ACDelco 213-1545 |
| 1988-1989 | Chevy | Camaro | Chevy Camaro MAP Sensor V8 5.0L (8th Vin Digit F) ACDelco 213-1545 |
| 1988-1991 | Chevy | Camaro | Chevy Camaro MAP Sensor V8 5.0L (8th Vin Digit E) ACDelco 213-1545 |
| 1990-1992 | Chevy | Camaro | Chevy Camaro MAP Sensor V8 5.0L (8th Vin Digit F) ACDelco 213-1545 |
| 1990-1992 | Chevy | Camaro | Chevy Camaro MAP Sensor V8 5.7L (8th Vin Digit 8) ACDelco 213-1545 |
| 1990-1991 | Chevy | Camaro | Chevy Camaro MAP Sensor V6 3.1L (8th Vin Digit T) ACDelco 213-1545 |
| 1992 | Chevy | Camaro | Chevy Camaro MAP Sensor V8 5.0L (8th Vin Digit E) ACDelco 213-1545 |
| 1992 | Chevy | Camaro | Chevy Camaro MAP Sensor V6 3.1L (8th Vin Digit T) ACDelco 213-1545 |
| 1993-1997 | Chevy | Camaro | Chevy Camaro MAP Sensor V8 5.7L (8th Vin Digit P) ACDelco 213-1545 |
| 1993 | Chevy | Camaro | Chevy Camaro MAP Sensor V6 3.4L (8th Vin Digit S) ACDelco 213-1545 |
| 1994-1995 | Chevy | Camaro | Chevy Camaro MAP Sensor V6 3.4L (8th Vin Digit S) ACDelco 213-1545 |
| 1983-1986 | Chevy | Cavalier | Chevy Cavalier MAP Sensor L4 2.0L (8th Vin Digit P) ACDelco 213-1545 |
| 1983 | Chevy | Cavalier | Chevy Cavalier MAP Sensor L4 2.0L (8th Vin Digit B) with 2 BBL Carburetor ACDelco 213-1545 |
| 1984 | Chevy | Cavalier | Chevy Cavalier MAP Sensor (8th Vin Digit B) L4 2.0L ACDelco 213-1545 |
| 1985-1989 | Chevy | Cavalier | Chevy Cavalier MAP Sensor V6 2.8L (8th Vin Digit W) ACDelco 213-1545 |
| 1987-1989 | Chevy | Cavalier | Chevy Cavalier MAP Sensor L4 2.0L (8th Vin Digit 1) ACDelco 213-1545 |
| 1990-1991 | Chevy | Cavalier | Chevy Cavalier MAP Sensor L4 2.2L (8th Vin Digit G) ACDelco 213-1545 |
| 1990-1994 | Chevy | Cavalier | Chevy Cavalier MAP Sensor V6 3.1L (8th Vin Digit T) ACDelco 213-1545 |
| 1992-1997 | Chevy | Cavalier | Chevy Cavalier MAP Sensor L4 2.2L (8th Vin Digit 4) ACDelco 213-1545 |
| 1982-1990 | Chevy | Celebrity | Chevy Celebrity MAP Sensor L4 2.5L (8th Vin Digit R) ACDelco 213-1545 |
| 1989 | Chevy | Celebrity | Chevy Celebrity MAP Sensor V6 2.8L (8th Vin Digit W) ACDelco 213-1545 |
| 1990 | Chevy | Celebrity | Chevy Celebrity MAP Sensor V6 3.1L (8th Vin Digit T) ACDelco 213-1545 |
| 1982-1983 | Chevy | Citation | Chevy Citation MAP Sensor L4 2.5L (8th Vin Digit R) ACDelco 213-1545 |
| 1984-1985 | Chevy | Citation II | Chevy Citation II MAP Sensor L4 2.5L (8th Vin Digit R) ACDelco 213-1545 |
| 1987-1989 | Chevy | Corsica | Chevy Corsica MAP Sensor L4 2.0L (8th Vin Digit 1) ACDelco 213-1545 |
| 1987-1989 | Chevy | Corsica | Chevy Corsica MAP Sensor V6 2.8L (8th Vin Digit W) ACDelco 213-1545 |
| 1990-1991 | Chevy | Corsica | Chevy Corsica MAP Sensor L4 2.2L (8th Vin Digit G) ACDelco 213-1545 |
| 1990-1993 | Chevy | Corsica | Chevy Corsica MAP Sensor V6 3.1L (8th Vin Digit T) ACDelco 213-1545 |
| 1992-1996 | Chevy | Corsica | Chevy Corsica MAP Sensor L4 2.2L (8th Vin Digit 4) ACDelco 213-1545 |
| 1994-1996 | Chevy | Corsica | Chevy Corsica MAP Sensor V6 3.1L (8th Vin Digit M) ACDelco 213-1545 |
| 1982-1991 | Chevy | Corvette | Chevy Corvette MAP Sensor V8 5.7L (8th Vin Digit 8) ACDelco 213-1545 |
| 1990-1995 | Chevy | Corvette | Chevy Corvette MAP Sensor (8th Vin Digit J) V8 5.7L ACDelco 213-1545 |
| 1992 | Chevy | Corvette | Chevy Corvette MAP Sensor V8 5.7L (8th Vin Digit P) ACDelco 213-1545 |
| 1993-1996 | Chevy | Corvette | Chevy Corvette MAP Sensor V8 5.7L (8th Vin Digit P) ACDelco 213-1545 |
| 1996 | Chevy | Corvette | Chevy Corvette MAP Sensor V8 5.7L (8th Vin Digit 5) ACDelco 213-1545 |
| 1985-1987 | Chevy | El Camino | Chevy El Camino MAP Sensor V6 4.3L (8th Vin Digit Z) ACDelco 213-1545 |
| 1996 | Chevy | Express 3500 Van | Chevy Express 3500 Van MAP Sensor V6 4.3L (8th Vin Digit Z) ACDelco 213-1545 |
| 1987-1995 | Chevy | G10 | Chevy G10 MAP Sensor V6 4.3L (8th Vin Digit Z) ACDelco 213-1545 |
| 1987-1995 | Chevy | G10 | Chevy G10 MAP Sensor V8 5.0L (8th Vin Digit H) ACDelco 213-1545 |
| 1987-1993 | Chevy | G10 | Chevy G10 MAP Sensor V8 5.7L (8th Vin Digit K) ACDelco 213-1545 |
| 1984-1993 | Chevy | G20 | Chevy G20 MAP Sensor V8 6.2L (8th Vin Digit C) ACDelco 213-1545 |
| 1987-1995 | Chevy | G20 | Chevy G20 MAP Sensor V6 4.3L (8th Vin Digit Z) ACDelco 213-1545 |
| 1987-1995 | Chevy | G20 | Chevy G20 MAP Sensor V8 5.0L (8th Vin Digit H) ACDelco 213-1545 |
| 1987-1995 | Chevy | G20 | Chevy G20 MAP Sensor V8 5.7L (8th Vin Digit K) ACDelco 213-1545 |
| 1994-1995 | Chevy | G20 | Chevy G20 MAP Sensor V8 6.5L (8th Vin Digit P) ACDelco 213-1545 |
| 1987-1995 | Chevy | G30 | Chevy G30 MAP Sensor V6 4.3L (8th Vin Digit Z) ACDelco 213-1545 |
| 1987-1996 | Chevy | G30 | Chevy G30 MAP Sensor V8 5.7L (8th Vin Digit K) ACDelco 213-1545 |
| 1988-1996 | Chevy | G30 | Chevy G30 MAP Sensor V8 7.4L (8th Vin Digit N) ACDelco 213-1545 |
| 1994-1995 | Chevy | G30 | Chevy G30 MAP Sensor V8 6.5L (8th Vin Digit Y) ACDelco 213-1545 |
| 2000-2004 | Chevy | Impala | Chevy Impala MAP Sensor V6 3.4L (8th Vin Digit E) ACDelco 213-1545 |
| 1988-1993 | Chevy | K1500 Truck | Chevy K1500 Truck MAP Sensor V8 6.2L (8th Vin Digit C) ACDelco 213-1545 |
| 1988-1995 | Chevy | K1500 Truck | Chevy K1500 Truck MAP Sensor V8 5.0L (8th Vin Digit H) ACDelco 213-1545 |
| 1988-1995 | Chevy | K1500 Truck | Chevy K1500 Truck MAP Sensor V8 5.7L (8th Vin Digit K) ACDelco 213-1545 |
| 1988-1995 | Chevy | K1500 Truck | Chevy K1500 Truck MAP Sensor V6 4.3L (8th Vin Digit Z) ACDelco 213-1545 |
| 1994-1998 | Chevy | K1500 Truck | Chevy K1500 Truck MAP Sensor V8 6.5L (8th Vin Digit S) ACDelco 213-1545 |
| 1994-1995 | Chevy | K1500 Truck | Chevy K1500 Truck MAP Sensor V8 6.5L (8th Vin Digit P) ACDelco 213-1545 |
| 1988-1993 | Chevy | K2500 Truck | Chevy K2500 Truck MAP Sensor V8 6.2L (8th Vin Digit C) ACDelco 213-1545 |
| 1988-1995 | Chevy | K2500 Truck | Chevy K2500 Truck MAP Sensor V6 4.3L (8th Vin Digit Z) ACDelco 213-1545 |
| 1988-1995 | Chevy | K2500 Truck | Chevy K2500 Truck MAP Sensor V8 5.7L (8th Vin Digit K) ACDelco 213-1545 |
| 1988-1995 | Chevy | K2500 Truck | Chevy K2500 Truck MAP Sensor V8 5.0L (8th Vin Digit H) ACDelco 213-1545 |
| 1989-1991 | Chevy | K2500 Truck | Chevy K2500 Truck MAP Sensor V8 6.2L (8th Vin Digit J) ACDelco 213-1545 |
| 1991-1995 | Chevy | K2500 Truck | Chevy K2500 Truck MAP Sensor V8 7.4L (8th Vin Digit N) ACDelco 213-1545 |
| 1994-1998 | Chevy | K2500 Truck | Chevy K2500 Truck MAP Sensor V8 6.5L (8th Vin Digit S) ACDelco 213-1545 |
| 1994-1995 | Chevy | K2500 Truck | Chevy K2500 Truck MAP Sensor V8 6.5L (8th Vin Digit F) ACDelco 213-1545 |
| 1994-1995 | Chevy | K2500 Truck | Chevy K2500 Truck MAP Sensor V8 6.5L (8th Vin Digit P) ACDelco 213-1545 |
| 1992-1995 | Chevy | K3500 Truck | Chevy K3500 Truck MAP Sensor V8 5.7L (8th Vin Digit K) ACDelco 213-1545 |
| 1992-1995 | Chevy | K3500 Truck | Chevy K3500 Truck MAP Sensor V8 7.4L (8th Vin Digit N) ACDelco 213-1545 |
| 1994-1995 | Chevy | K3500 Truck | Chevy K3500 Truck MAP Sensor V8 6.5L (8th Vin Digit F) ACDelco 213-1545 |
| 1987-1991 | Chevy | LLV (Postal Truck) | Chevy LLV (Postal Truck) MAP Sensor L4 2.5L (8th Vin Digit E) ACDelco 213-1545 |
| 1991-1993 | Chevy | LLV (Postal Truck) | Chevy LLV (Postal Truck) MAP Sensor (8th Vin Digit A) L4 2.5L ACDelco 213-1545 |
| 1994-1995 | Chevy | LLV (Postal Truck) | Chevy LLV (Postal Truck) MAP Sensor L4 2.2L (8th Vin Digit 4) ACDelco 213-1545 |
| 1990-1994 | Chevy | Lumina | Chevy Lumina MAP Sensor V6 3.1L (8th Vin Digit T) ACDelco 213-1545 |
| 1990-1992 | Chevy | Lumina | Chevy Lumina MAP Sensor L4 2.5L (8th Vin Digit R) ACDelco 213-1545 |
| 1991-1994 | Chevy | Lumina | Chevy Lumina MAP Sensor V6 3.4L (8th Vin Digit X) ACDelco 213-1545 |
| 1993 | Chevy | Lumina | Chevy Lumina MAP Sensor V6 3.1L (8th Vin Digit W) ACDelco 213-1545 |
| 1995 | Chevy | Lumina | Chevy Lumina MAP Sensor V6 3.4L (8th Vin Digit X) ACDelco 213-1545 |
| 1995-1999 | Chevy | Lumina | Chevy Lumina MAP Sensor V6 3.1L (8th Vin Digit M) ACDelco 213-1545 |
| 2000-2001 | Chevy | Lumina | Chevy Lumina MAP Sensor V6 3.1L (8th Vin Digit J) ACDelco 213-1545 |
| 1990-1995 | Chevy | Lumina APV | Chevy Lumina APV MAP Sensor (8th Vin Digit D) V6 3.1L ACDelco 213-1545 |
| 1996 | Chevy | Lumina APV | Chevy Lumina APV MAP Sensor V6 3.4L (8th Vin Digit E) ACDelco 213-1545 |
| 1997-1999 | Chevy | Malibu | Chevy Malibu MAP Sensor V6 3.1L (8th Vin Digit M) ACDelco 213-1545 |
| 1999-2003 | Chevy | Malibu | Chevy Malibu MAP Sensor V6 3.1L (8th Vin Digit J) ACDelco 213-1545 |
| 1985-1988 | Chevy | Monte Carlo | Chevy Monte Carlo MAP Sensor V6 4.3L (8th Vin Digit Z) ACDelco 213-1545 |
| 1995 | Chevy | Monte Carlo | Chevy Monte Carlo MAP Sensor V6 3.4L (8th Vin Digit X) ACDelco 213-1545 |
| 1995-1999 | Chevy | Monte Carlo | Chevy Monte Carlo MAP Sensor V6 3.1L (8th Vin Digit M) ACDelco 213-1545 |
| 2000-2004 | Chevy | Monte Carlo | Chevy Monte Carlo MAP Sensor V6 3.4L (8th Vin Digit E) ACDelco 213-1545 |
| 1987-1989 | Chevy | P20 | Chevy P20 MAP Sensor V8 5.7L (8th Vin Digit K) ACDelco 213-1545 |
| 1987-1996 | Chevy | P30 | Chevy P30 MAP Sensor V8 5.7L (8th Vin Digit K) ACDelco 213-1545 |
| 1990-1997 | Chevy | P30 | Chevy P30 MAP Sensor V8 7.4L (8th Vin Digit N) ACDelco 213-1545 |
| 1990-1995 | Chevy | P30 | Chevy P30 MAP Sensor V6 4.3L (8th Vin Digit Z) ACDelco 213-1545 |
| 1994-1996 | Chevy | P30 | Chevy P30 MAP Sensor V8 6.5L (8th Vin Digit Y) ACDelco 213-1545 |
| 1995-1996 | Chevy | P30 | Chevy P30 MAP Sensor V8 6.5L (8th Vin Digit F) ACDelco 213-1545 |
| 1996 | Chevy | P30 | Chevy P30 MAP Sensor V8 7.4L (8th Vin Digit J) ACDelco 213-1545 |
| 1996 | Chevy | P30 | Chevy P30 MAP Sensor V8 5.7L (8th Vin Digit R) ACDelco 213-1545 |
| 1996 | Chevy | P30 | Chevy P30 MAP Sensor V6 4.3L (8th Vin Digit W) ACDelco 213-1545 |
| 1987 | Chevy | R1500 Truck | Chevy R1500 Truck MAP Sensor V8 6.2L (8th Vin Digit C) ACDelco 213-1545 |
| 1987 | Chevy | R1500 Truck | Chevy R1500 Truck MAP Sensor V8 5.7L (8th Vin Digit K) ACDelco 213-1545 |
| 1987 | Chevy | R1500 Truck | Chevy R1500 Truck MAP Sensor V8 5.0L (8th Vin Digit H) ACDelco 213-1545 |
| 1987 | Chevy | R1500 Truck | Chevy R1500 Truck MAP Sensor V6 4.3L (8th Vin Digit Z) ACDelco 213-1545 |
| 1987-1988 | Chevy | R2500 Truck | Chevy R2500 Truck MAP Sensor V8 7.4L (8th Vin Digit N) ACDelco 213-1545 |
| 1987-1988 | Chevy | R2500 Truck | Chevy R2500 Truck MAP Sensor V8 5.7L (8th Vin Digit K) ACDelco 213-1545 |
| 1987 | Chevy | R2500 Truck | Chevy R2500 Truck MAP Sensor V8 6.2L (8th Vin Digit C) ACDelco 213-1545 |
| 1987 | Chevy | R2500 Truck | Chevy R2500 Truck MAP Sensor V8 5.0L (8th Vin Digit H) ACDelco 213-1545 |
| 1987 | Chevy | R2500 Truck | Chevy R2500 Truck MAP Sensor V6 4.3L (8th Vin Digit Z) ACDelco 213-1545 |
| 1989 | Chevy | R2500 Truck | Chevy R2500 Truck MAP Sensor V8 7.4L (8th Vin Digit N) ACDelco 213-1545 |
| 1987-1988 | Chevy | R3500 Truck | Chevy R3500 Truck MAP Sensor V8 7.4L (8th Vin Digit N) ACDelco 213-1545 |
| 1987-1988 | Chevy | R3500 Truck | Chevy R3500 Truck MAP Sensor V8 5.7L (8th Vin Digit K) ACDelco 213-1545 |
| 1989-1991 | Chevy | R3500 Truck | Chevy R3500 Truck MAP Sensor V8 7.4L (8th Vin Digit N) ACDelco 213-1545 |
| 1989-1991 | Chevy | R3500 Truck | Chevy R3500 Truck MAP Sensor V8 5.7L (8th Vin Digit K) ACDelco 213-1545 |
| 1985-1991 | Chevy | S10 Pickup | Chevy S10 Pickup MAP Sensor L4 2.5L (8th Vin Digit E) ACDelco 213-1545 |
| 1986-1993 | Chevy | S10 Pickup | Chevy S10 Pickup MAP Sensor V6 2.8L (8th Vin Digit R) ACDelco 213-1545 |
| 1988-1995 | Chevy | S10 Pickup | Chevy S10 Pickup MAP Sensor V6 4.3L (8th Vin Digit Z) ACDelco 213-1545 |
| 1991-1993 | Chevy | S10 Pickup | Chevy S10 Pickup MAP Sensor (8th Vin Digit A) L4 2.5L ACDelco 213-1545 |
| 1994-1997 | Chevy | S10 Pickup | Chevy S10 Pickup MAP Sensor L4 2.2L (8th Vin Digit 4) ACDelco 213-1545 |
| 1992-1995 | Chevy | Suburban C1500 | Chevy Suburban C1500 MAP Sensor V8 5.7L (8th Vin Digit K) ACDelco 213-1545 |
| 1995 | Chevy | Suburban C1500 | Chevy Suburban C1500 MAP Sensor V8 6.5L (8th Vin Digit F) ACDelco 213-1545 |
| 1992-1995 | Chevy | Suburban C2500 | Chevy Suburban C2500 MAP Sensor V8 5.7L (8th Vin Digit K) ACDelco 213-1545 |
| 1992-1995 | Chevy | Suburban C2500 | Chevy Suburban C2500 MAP Sensor V8 7.4L (8th Vin Digit N) ACDelco 213-1545 |
| 1994-1995 | Chevy | Suburban C2500 | Chevy Suburban C2500 MAP Sensor V8 6.5L (8th Vin Digit F) ACDelco 213-1545 |
| 1992-1995 | Chevy | Suburban K1500 | Chevy Suburban K1500 MAP Sensor V8 5.7L (8th Vin Digit K) ACDelco 213-1545 |
| 1995 | Chevy | Suburban K1500 | Chevy Suburban K1500 MAP Sensor V8 6.5L (8th Vin Digit F) ACDelco 213-1545 |
| 1992-1995 | Chevy | Suburban K2500 | Chevy Suburban K2500 MAP Sensor V8 5.7L (8th Vin Digit K) ACDelco 213-1545 |
| 1992-1995 | Chevy | Suburban K2500 | Chevy Suburban K2500 MAP Sensor V8 7.4L (8th Vin Digit N) ACDelco 213-1545 |
| 1994-1995 | Chevy | Suburban K2500 | Chevy Suburban K2500 MAP Sensor V8 6.5L (8th Vin Digit F) ACDelco 213-1545 |
| 1987 | Chevy | Suburban R10 | Chevy Suburban R10 MAP Sensor V8 5.0L (8th Vin Digit H) ACDelco 213-1545 |
| 1987-1988 | Chevy | Suburban R10 | Chevy Suburban R10 MAP Sensor V8 5.7L (8th Vin Digit K) ACDelco 213-1545 |
| 1987-1988 | Chevy | Suburban R10 | Chevy Suburban R10 MAP Sensor V8 6.2L (8th Vin Digit C) ACDelco 213-1545 |
| 1989-1991 | Chevy | Suburban R1500 | Chevy Suburban R1500 MAP Sensor V8 5.7L (8th Vin Digit K) ACDelco 213-1545 |
| 1989-1991 | Chevy | Suburban R1500 | Chevy Suburban R1500 MAP Sensor V8 6.2L (8th Vin Digit C) ACDelco 213-1545 |
| 1987-1988 | Chevy | Suburban R20 | Chevy Suburban R20 MAP Sensor V8 5.7L (8th Vin Digit K) ACDelco 213-1545 |
| 1987-1988 | Chevy | Suburban R20 | Chevy Suburban R20 MAP Sensor V8 7.4L (8th Vin Digit N) ACDelco 213-1545 |
| 1989-1991 | Chevy | Suburban R2500 | Chevy Suburban R2500 MAP Sensor V8 5.7L (8th Vin Digit K) ACDelco 213-1545 |
| 1989-1991 | Chevy | Suburban R2500 | Chevy Suburban R2500 MAP Sensor V8 7.4L (8th Vin Digit N) ACDelco 213-1545 |
| 1987-1988 | Chevy | Suburban V10 | Chevy Suburban V10 MAP Sensor V8 5.7L (8th Vin Digit K) ACDelco 213-1545 |
| 1987-1988 | Chevy | Suburban V10 | Chevy Suburban V10 MAP Sensor V8 6.2L (8th Vin Digit C) ACDelco 213-1545 |
| 1989-1991 | Chevy | Suburban V1500 | Chevy Suburban V1500 MAP Sensor V8 5.7L (8th Vin Digit K) ACDelco 213-1545 |
| 1989-1991 | Chevy | Suburban V1500 | Chevy Suburban V1500 MAP Sensor V8 6.2L (8th Vin Digit C) ACDelco 213-1545 |
| 1987-1988 | Chevy | Suburban V20 | Chevy Suburban V20 MAP Sensor V8 5.7L (8th Vin Digit K) ACDelco 213-1545 |
| 1987 | Chevy | Suburban V20 | Chevy Suburban V20 MAP Sensor V8 7.4L (8th Vin Digit N) ACDelco 213-1545 |
| 1989-1991 | Chevy | Suburban V2500 | Chevy Suburban V2500 MAP Sensor V8 5.7L (8th Vin Digit K) ACDelco 213-1545 |
| 1990 | Chevy | Suburban V2500 | Chevy Suburban V2500 MAP Sensor V8 7.4L (8th Vin Digit N) ACDelco 213-1545 |
| 1995 | Chevy | Tahoe | Chevy Tahoe MAP Sensor V8 5.7L (8th Vin Digit K) ACDelco 213-1545 |
| 1995-1998 | Chevy | Tahoe | Chevy Tahoe MAP Sensor V8 6.5L (8th Vin Digit S) ACDelco 213-1545 |
| 1987 | Chevy | V1500 Truck | Chevy V1500 Truck MAP Sensor V6 4.3L (8th Vin Digit Z) ACDelco 213-1545 |
| 1987 | Chevy | V1500 Truck | Chevy V1500 Truck MAP Sensor V8 5.7L (8th Vin Digit K) ACDelco 213-1545 |
| 1987 | Chevy | V1500 Truck | Chevy V1500 Truck MAP Sensor V8 5.0L (8th Vin Digit H) ACDelco 213-1545 |
| 1987 | Chevy | V1500 Truck | Chevy V1500 Truck MAP Sensor V8 6.2L (8th Vin Digit C) ACDelco 213-1545 |
| 1987 | Chevy | V2500 Truck | Chevy V2500 Truck MAP Sensor V8 5.7L (8th Vin Digit K) ACDelco 213-1545 |
| 1987 | Chevy | V2500 Truck | Chevy V2500 Truck MAP Sensor V8 6.2L (8th Vin Digit C) ACDelco 213-1545 |
| 1987-1988 | Chevy | V3500 Truck | Chevy V3500 Truck MAP Sensor V8 7.4L (8th Vin Digit N) ACDelco 213-1545 |
| 1987-1988 | Chevy | V3500 Truck | Chevy V3500 Truck MAP Sensor V8 5.7L (8th Vin Digit K) ACDelco 213-1545 |
| 1989-1991 | Chevy | V3500 Truck | Chevy V3500 Truck MAP Sensor V8 5.7L (8th Vin Digit K) ACDelco 213-1545 |
| 1989-1991 | Chevy | V3500 Truck | Chevy V3500 Truck MAP Sensor V8 7.4L (8th Vin Digit N) ACDelco 213-1545 |
| 1997-2004 | Chevy | Venture | Chevy Venture MAP Sensor V6 3.4L (8th Vin Digit E) ACDelco 213-1545 |
| 1988-1995 | GMC | C1500 Truck | GMC C1500 Truck MAP Sensor V6 4.3L (8th Vin Digit Z) ACDelco 213-1545 |
| 1988-1995 | GMC | C1500 Truck | GMC C1500 Truck MAP Sensor V8 5.7L (8th Vin Digit K) ACDelco 213-1545 |
| 1988-1995 | GMC | C1500 Truck | GMC C1500 Truck MAP Sensor V8 5.0L (8th Vin Digit H) ACDelco 213-1545 |
| 1988-1993 | GMC | C1500 Truck | GMC C1500 Truck MAP Sensor V8 6.2L (8th Vin Digit C) ACDelco 213-1545 |
| 1994-1996 | GMC | C1500 Truck | GMC C1500 Truck MAP Sensor V8 6.5L (8th Vin Digit S) ACDelco 213-1545 |
| 1994 | GMC | C1500 Truck | GMC C1500 Truck MAP Sensor V8 6.5L (8th Vin Digit P) ACDelco 213-1545 |
| 1988-1995 | GMC | C2500 Truck | GMC C2500 Truck MAP Sensor V8 5.7L (8th Vin Digit K) ACDelco 213-1545 |
| 1988-1995 | GMC | C2500 Truck | GMC C2500 Truck MAP Sensor V6 4.3L (8th Vin Digit Z) ACDelco 213-1545 |
| 1988-1995 | GMC | C2500 Truck | GMC C2500 Truck MAP Sensor V8 5.0L (8th Vin Digit H) ACDelco 213-1545 |
| 1988-1993 | GMC | C2500 Truck | GMC C2500 Truck MAP Sensor V8 6.2L (8th Vin Digit C) ACDelco 213-1545 |
| 1989-1991 | GMC | C2500 Truck | GMC C2500 Truck MAP Sensor V8 6.2L (8th Vin Digit J) ACDelco 213-1545 |
| 1991-1995 | GMC | C2500 Truck | GMC C2500 Truck MAP Sensor V8 7.4L (8th Vin Digit N) ACDelco 213-1545 |
| 1994-1995 | GMC | C2500 Truck | GMC C2500 Truck MAP Sensor V8 6.5L (8th Vin Digit F) ACDelco 213-1545 |
| 1994 | GMC | C2500 Truck | GMC C2500 Truck MAP Sensor V8 6.5L (8th Vin Digit P) ACDelco 213-1545 |
| 1994-1998 | GMC | C2500 Truck | GMC C2500 Truck MAP Sensor V8 6.5L (8th Vin Digit S) ACDelco 213-1545 |
| 1992-1995 | GMC | C3500 Truck | GMC C3500 Truck MAP Sensor V8 5.7L (8th Vin Digit K) ACDelco 213-1545 |
| 1992-1995 | GMC | C3500 Truck | GMC C3500 Truck MAP Sensor V8 7.4L (8th Vin Digit N) ACDelco 213-1545 |
| 1994-1995 | GMC | C3500 Truck | GMC C3500 Truck MAP Sensor V8 6.5L (8th Vin Digit F) ACDelco 213-1545 |
| 1985-1987 | GMC | Caballero | GMC Caballero MAP Sensor V6 4.3L (8th Vin Digit Z) ACDelco 213-1545 |
| 1987-1995 | GMC | G1500 | GMC G1500 MAP Sensor V8 5.0L (8th Vin Digit H) ACDelco 213-1545 |
| 1987-1995 | GMC | G1500 | GMC G1500 MAP Sensor V6 4.3L (8th Vin Digit Z) ACDelco 213-1545 |
| 1987-1993 | GMC | G1500 | GMC G1500 MAP Sensor V8 5.7L (8th Vin Digit K) ACDelco 213-1545 |
| 1984-1993 | GMC | G2500 | GMC G2500 MAP Sensor V8 6.2L (8th Vin Digit C) ACDelco 213-1545 |
| 1987-1995 | GMC | G2500 | GMC G2500 MAP Sensor V6 4.3L (8th Vin Digit Z) ACDelco 213-1545 |
| 1987-1995 | GMC | G2500 | GMC G2500 MAP Sensor V8 5.7L (8th Vin Digit K) ACDelco 213-1545 |
| 1987-1995 | GMC | G2500 | GMC G2500 MAP Sensor V8 5.0L (8th Vin Digit H) ACDelco 213-1545 |
| 1994-1995 | GMC | G2500 | GMC G2500 MAP Sensor V8 6.5L (8th Vin Digit P) ACDelco 213-1545 |
| 1987-1996 | GMC | G3500 | GMC G3500 MAP Sensor V6 4.3L (8th Vin Digit Z) ACDelco 213-1545 |
| 1987-1996 | GMC | G3500 | GMC G3500 MAP Sensor V8 5.7L (8th Vin Digit K) ACDelco 213-1545 |
| 1988-1996 | GMC | G3500 | GMC G3500 MAP Sensor V8 7.4L (8th Vin Digit N) ACDelco 213-1545 |
| 1994-1995 | GMC | G3500 | GMC G3500 MAP Sensor V8 6.5L (8th Vin Digit Y) ACDelco 213-1545 |
| 1987 | GMC | Jimmy Full Size | GMC Jimmy Full Size MAP Sensor V8 5.0L (8th Vin Digit H) ACDelco 213-1545 |
| 1987-1991 | GMC | Jimmy Full Size | GMC Jimmy Full Size MAP Sensor V8 6.2L (8th Vin Digit C) ACDelco 213-1545 |
| 1987-1991 | GMC | Jimmy Full Size | GMC Jimmy Full Size MAP Sensor V8 5.7L (8th Vin Digit K) ACDelco 213-1545 |
| 1985-1988 | GMC | Jimmy S-15 | GMC Jimmy S-15 MAP Sensor L4 2.5L (8th Vin Digit E) ACDelco 213-1545 |
| 1986-1989 | GMC | Jimmy S-15 | GMC Jimmy S-15 MAP Sensor V6 2.8L (8th Vin Digit R) ACDelco 213-1545 |
| 1988-1994 | GMC | Jimmy S-15 | GMC Jimmy S-15 MAP Sensor V6 4.3L (8th Vin Digit Z) ACDelco 213-1545 |
| 1988-1993 | GMC | K1500 Truck | GMC K1500 Truck MAP Sensor V8 6.2L (8th Vin Digit C) ACDelco 213-1545 |
| 1988-1995 | GMC | K1500 Truck | GMC K1500 Truck MAP Sensor V8 5.7L (8th Vin Digit K) ACDelco 213-1545 |
| 1988-1995 | GMC | K1500 Truck | GMC K1500 Truck MAP Sensor V6 4.3L (8th Vin Digit Z) ACDelco 213-1545 |
| 1988-1995 | GMC | K1500 Truck | GMC K1500 Truck MAP Sensor V8 5.0L (8th Vin Digit H) ACDelco 213-1545 |
| 1994-1998 | GMC | K1500 Truck | GMC K1500 Truck MAP Sensor V8 6.5L (8th Vin Digit S) ACDelco 213-1545 |
| 1994 | GMC | K1500 Truck | GMC K1500 Truck MAP Sensor V8 6.5L (8th Vin Digit P) ACDelco 213-1545 |
| 1988-1995 | GMC | K2500 Truck | GMC K2500 Truck MAP Sensor V8 5.7L (8th Vin Digit K) ACDelco 213-1545 |
| 1988-1995 | GMC | K2500 Truck | GMC K2500 Truck MAP Sensor V6 4.3L (8th Vin Digit Z) ACDelco 213-1545 |
| 1988-1995 | GMC | K2500 Truck | GMC K2500 Truck MAP Sensor V8 5.0L (8th Vin Digit H) ACDelco 213-1545 |
| 1988-1993 | GMC | K2500 Truck | GMC K2500 Truck MAP Sensor V8 6.2L (8th Vin Digit C) ACDelco 213-1545 |
| 1989-1991 | GMC | K2500 Truck | GMC K2500 Truck MAP Sensor V8 6.2L (8th Vin Digit J) ACDelco 213-1545 |
| 1991-1995 | GMC | K2500 Truck | GMC K2500 Truck MAP Sensor V8 7.4L (8th Vin Digit N) ACDelco 213-1545 |
| 1994-1998 | GMC | K2500 Truck | GMC K2500 Truck MAP Sensor V8 6.5L (8th Vin Digit S) ACDelco 213-1545 |
| 1994 | GMC | K2500 Truck | GMC K2500 Truck MAP Sensor V8 6.5L (8th Vin Digit P) ACDelco 213-1545 |
| 1994-1995 | GMC | K2500 Truck | GMC K2500 Truck MAP Sensor V8 6.5L (8th Vin Digit F) ACDelco 213-1545 |
| 1992-1995 | GMC | K3500 Truck | GMC K3500 Truck MAP Sensor V8 5.7L (8th Vin Digit K) ACDelco 213-1545 |
| 1992-1995 | GMC | K3500 Truck | GMC K3500 Truck MAP Sensor V8 7.4L (8th Vin Digit N) ACDelco 213-1545 |
| 1994-1995 | GMC | K3500 Truck | GMC K3500 Truck MAP Sensor V8 6.5L (8th Vin Digit F) ACDelco 213-1545 |
| 1987 | GMC | R1500 Truck | GMC R1500 Truck MAP Sensor V8 6.2L (8th Vin Digit C) ACDelco 213-1545 |
| 1987 | GMC | R1500 Truck | GMC R1500 Truck MAP Sensor V8 5.7L (8th Vin Digit K) ACDelco 213-1545 |
| 1987 | GMC | R1500 Truck | GMC R1500 Truck MAP Sensor V8 5.0L (8th Vin Digit H) ACDelco 213-1545 |
| 1987 | GMC | R1500 Truck | GMC R1500 Truck MAP Sensor V6 4.3L (8th Vin Digit Z) ACDelco 213-1545 |
| 1987-1989 | GMC | R2500 Truck | GMC R2500 Truck MAP Sensor V8 7.4L (8th Vin Digit N) ACDelco 213-1545 |
| 1987-1989 | GMC | R2500 Truck | GMC R2500 Truck MAP Sensor V8 5.7L (8th Vin Digit K) ACDelco 213-1545 |
| 1987 | GMC | R2500 Truck | GMC R2500 Truck MAP Sensor V8 6.2L (8th Vin Digit C) ACDelco 213-1545 |
| 1987 | GMC | R2500 Truck | GMC R2500 Truck MAP Sensor V8 5.0L (8th Vin Digit H) ACDelco 213-1545 |
| 1987 | GMC | R2500 Truck | GMC R2500 Truck MAP Sensor V6 4.3L (8th Vin Digit Z) ACDelco 213-1545 |
| 1987-1991 | GMC | R3500 Truck | GMC R3500 Truck MAP Sensor V8 7.4L (8th Vin Digit N) ACDelco 213-1545 |
| 1987-1991 | GMC | R3500 Truck | GMC R3500 Truck MAP Sensor V8 5.7L (8th Vin Digit K) ACDelco 213-1545 |
| 1985-1990 | GMC | S-15 Pickup | GMC S-15 Pickup MAP Sensor L4 2.5L (8th Vin Digit E) ACDelco 213-1545 |
| 1986-1990 | GMC | S-15 Pickup | GMC S-15 Pickup MAP Sensor V6 2.8L (8th Vin Digit R) ACDelco 213-1545 |
| 1988-1990 | GMC | S-15 Pickup | GMC S-15 Pickup MAP Sensor V6 4.3L (8th Vin Digit Z) ACDelco 213-1545 |
| 1991-1993 | GMC | S-15 Sonoma | GMC S-15 Sonoma MAP Sensor (8th Vin Digit A) L4 2.5L ACDelco 213-1545 |
| 1991 | GMC | S-15 Sonoma | GMC S-15 Sonoma MAP Sensor L4 2.5L (8th Vin Digit E) ACDelco 213-1545 |
| 1991-1993 | GMC | S-15 Sonoma | GMC S-15 Sonoma MAP Sensor V6 2.8L (8th Vin Digit R) ACDelco 213-1545 |
| 1991-1995 | GMC | S-15 Sonoma | GMC S-15 Sonoma MAP Sensor V6 4.3L (8th Vin Digit Z) ACDelco 213-1545 |
| 1994-1997 | GMC | S-15 Sonoma | GMC S-15 Sonoma MAP Sensor L4 2.2L (8th Vin Digit 4) ACDelco 213-1545 |
| 1985 | GMC | Safari | GMC Safari MAP Sensor V6 4.3L (8th Vin Digit N) with 4 BBL Carburetor ACDelco 213-1545 |
| 1985-1990 | GMC | Safari | GMC Safari MAP Sensor L4 2.5L (8th Vin Digit E) ACDelco 213-1545 |
| 1986-1994 | GMC | Safari | GMC Safari MAP Sensor V6 4.3L (8th Vin Digit Z) ACDelco 213-1545 |
| 1990 | GMC | Safari | GMC Safari MAP Sensor (8th Vin Digit B) V6 4.3L ACDelco 213-1545 |
| 1992-1995 | GMC | Suburban C1500 | GMC Suburban C1500 MAP Sensor V8 5.7L (8th Vin Digit K) ACDelco 213-1545 |
| 1995 | GMC | Suburban C1500 | GMC Suburban C1500 MAP Sensor V8 6.5L (8th Vin Digit F) ACDelco 213-1545 |
| 1992-1995 | GMC | Suburban C2500 | GMC Suburban C2500 MAP Sensor V8 5.7L (8th Vin Digit K) ACDelco 213-1545 |
| 1992-1995 | GMC | Suburban C2500 | GMC Suburban C2500 MAP Sensor V8 7.4L (8th Vin Digit N) ACDelco 213-1545 |
| 1994-1995 | GMC | Suburban C2500 | GMC Suburban C2500 MAP Sensor V8 6.5L (8th Vin Digit F) ACDelco 213-1545 |
| 1992-1995 | GMC | Suburban K1500 | GMC Suburban K1500 MAP Sensor V8 5.7L (8th Vin Digit K) ACDelco 213-1545 |
| 1995 | GMC | Suburban K1500 | GMC Suburban K1500 MAP Sensor V8 6.5L (8th Vin Digit F) ACDelco 213-1545 |
| 1992-1995 | GMC | Suburban K2500 | GMC Suburban K2500 MAP Sensor V8 5.7L (8th Vin Digit K) ACDelco 213-1545 |
| 1992-1995 | GMC | Suburban K2500 | GMC Suburban K2500 MAP Sensor V8 7.4L (8th Vin Digit N) ACDelco 213-1545 |
| 1994-1995 | GMC | Suburban K2500 | GMC Suburban K2500 MAP Sensor V8 6.5L (8th Vin Digit F) ACDelco 213-1545 |
| 1987 | GMC | Suburban R1500 | GMC Suburban R1500 MAP Sensor V8 5.0L (8th Vin Digit H) ACDelco 213-1545 |
| 1987-1991 | GMC | Suburban R1500 | GMC Suburban R1500 MAP Sensor V8 5.7L (8th Vin Digit K) ACDelco 213-1545 |
| 1987-1991 | GMC | Suburban R1500 | GMC Suburban R1500 MAP Sensor V8 6.2L (8th Vin Digit C) ACDelco 213-1545 |
| 1987-1991 | GMC | Suburban R2500 | GMC Suburban R2500 MAP Sensor V8 5.7L (8th Vin Digit K) ACDelco 213-1545 |
| 1987-1991 | GMC | Suburban R2500 | GMC Suburban R2500 MAP Sensor V8 7.4L (8th Vin Digit N) ACDelco 213-1545 |
| 1987-1991 | GMC | Suburban V1500 | GMC Suburban V1500 MAP Sensor V8 5.7L (8th Vin Digit K) ACDelco 213-1545 |
| 1987-1991 | GMC | Suburban V1500 | GMC Suburban V1500 MAP Sensor V8 6.2L (8th Vin Digit C) ACDelco 213-1545 |
| 1987-1991 | GMC | Suburban V2500 | GMC Suburban V2500 MAP Sensor V8 5.7L (8th Vin Digit K) ACDelco 213-1545 |
| 1991 | GMC | Syclone | GMC Syclone MAP Sensor V6 4.3L (8th Vin Digit Z) ACDelco 213-1545 |
| 1992-1993 | GMC | Typhoon | GMC Typhoon MAP Sensor V6 4.3L (8th Vin Digit Z) ACDelco 213-1545 |
| 1987 | GMC | V1500 Truck | GMC V1500 Truck MAP Sensor V8 6.2L (8th Vin Digit C) ACDelco 213-1545 |
| 1987 | GMC | V1500 Truck | GMC V1500 Truck MAP Sensor V8 5.7L (8th Vin Digit K) ACDelco 213-1545 |
| 1987 | GMC | V1500 Truck | GMC V1500 Truck MAP Sensor V8 5.0L (8th Vin Digit H) ACDelco 213-1545 |
| 1987 | GMC | V1500 Truck | GMC V1500 Truck MAP Sensor V6 4.3L (8th Vin Digit Z) ACDelco 213-1545 |
| 1987 | GMC | V2500 Truck | GMC V2500 Truck MAP Sensor V8 6.2L (8th Vin Digit C) ACDelco 213-1545 |
| 1987 | GMC | V2500 Truck | GMC V2500 Truck MAP Sensor V8 5.7L (8th Vin Digit K) ACDelco 213-1545 |
| 1987-1991 | GMC | V3500 Truck | GMC V3500 Truck MAP Sensor V8 5.7L (8th Vin Digit K) ACDelco 213-1545 |
| 1987-1991 | GMC | V3500 Truck | GMC V3500 Truck MAP Sensor V8 7.4L (8th Vin Digit N) ACDelco 213-1545 |
| 1992-1995 | GMC | Yukon | GMC Yukon MAP Sensor V8 5.7L (8th Vin Digit K) ACDelco 213-1545 |
| 1994-1997 | GMC | Yukon | GMC Yukon MAP Sensor V8 6.5L (8th Vin Digit S) ACDelco 213-1545 |
| 1990 | Geo | Storm | Geo Storm MAP Sensor L4 1.6L (8th Vin Digit 5) ACDelco 213-1545 |
| 1990-1993 | Geo | Storm | Geo Storm MAP Sensor L4 1.6L (8th Vin Digit 6) ACDelco 213-1545 |
| 1991 | Geo | Storm | Geo Storm MAP Sensor L4 1.6L (8th Vin Digit 5) ACDelco 213-1545 |
| 1992-1993 | Geo | Storm | Geo Storm MAP Sensor L4 1.8L (8th Vin Digit 8) ACDelco 213-1545 |
| 1996-1997 | Isuzu | Hombre | Isuzu Hombre MAP Sensor L4 2.2L (8th Vin Digit 4) ACDelco 213-1545 |
| 1997 | Isuzu | Hombre | Isuzu Hombre MAP Sensor V6 4.3L (8th Vin Digit X) ACDelco 213-1545 |
| 1987 | Isuzu | Pup Pickup | Isuzu Pup Pickup MAP Sensor L4 2.2L (8th Vin Digit C) ACDelco 213-1545 |
| 1987-1994 | Isuzu | Pup Pickup | Isuzu Pup Pickup MAP Sensor L4 2.3L with 2 BBL Carburetor (8th Vin Digit L) ACDelco 213-1545 |
| 1987 | Isuzu | Pup Pickup | Isuzu Pup Pickup MAP Sensor L4 1.9L with 2 BBL Carburetor (8th Vin Digit G) ACDelco 213-1545 |
| 1988-1992 | Isuzu | Pup Pickup | Isuzu Pup Pickup MAP Sensor L4 2.6L (8th Vin Digit R) ACDelco 213-1545 |
| 1991-1994 | Isuzu | Pup Pickup | Isuzu Pup Pickup MAP Sensor V6 3.1L (8th Vin Digit Z) ACDelco 213-1545 |
| 1993-1994 | Isuzu | Pup Pickup | Isuzu Pup Pickup MAP Sensor L4 2.6L (8th Vin Digit 4) ACDelco 213-1545 |
| 1995 | Isuzu | Pup Pickup | Isuzu Pup Pickup MAP Sensor L4 2.3L (8th Vin Digit L) ACDelco 213-1545 |
| 1991-1992 | Isuzu | Rodeo | Isuzu Rodeo MAP Sensor V6 3.1L (8th Vin Digit Z) ACDelco 213-1545 |
| 1991-1992 | Isuzu | Rodeo | Isuzu Rodeo MAP Sensor L4 2.6L (8th Vin Digit R) ACDelco 213-1545 |
| 1993-1996 | Isuzu | Rodeo | Isuzu Rodeo MAP Sensor V6 3.2L (8th Vin Digit V) ACDelco 213-1545 |
| 1993-1997 | Isuzu | Rodeo | Isuzu Rodeo MAP Sensor L4 2.6L (8th Vin Digit 4) ACDelco 213-1545 |
| 1997 | Isuzu | Rodeo | Isuzu Rodeo MAP Sensor V6 3.2L (8th Vin Digit 6) ACDelco 213-1545 |
| 1991 | Isuzu | Stylus | Isuzu Stylus MAP Sensor L4 1.6L (8th Vin Digit 6) ACDelco 213-1545 |
| 1992-1996 | Isuzu | Trooper | Isuzu Trooper MAP Sensor V6 3.2L (8th Vin Digit V) ACDelco 213-1545 |
| 1992 | Isuzu | Trooper | Isuzu Trooper MAP Sensor V6 3.2L (8th Vin Digit W) ACDelco 213-1545 |
| 1993-1995 | Isuzu | Trooper | Isuzu Trooper MAP Sensor V6 3.2L (8th Vin Digit W) ACDelco 213-1545 |
| 1997 | Isuzu | Trooper | Isuzu Trooper MAP Sensor V6 3.2L (8th Vin Digit 6) ACDelco 213-1545 |
| 1987 | Isuzu | Trooper II | Isuzu Trooper II MAP Sensor L4 2.3L with 2 BBL Carburetor (8th Vin Digit L) ACDelco 213-1545 |
| 1987 | Isuzu | Trooper II | Isuzu Trooper II MAP Sensor L4 2.2L (8th Vin Digit C) ACDelco 213-1545 |
| 1988-1991 | Isuzu | Trooper II | Isuzu Trooper II MAP Sensor L4 2.6L (8th Vin Digit R) ACDelco 213-1545 |
| 1989-1991 | Isuzu | Trooper II | Isuzu Trooper II MAP Sensor V6 2.8L (8th Vin Digit R) ACDelco 213-1545 |
| 1985 | Oldsmobile | 88 | Olds 88 MAP Sensor V6 4.3L (8th Vin Digit T) ACDelco 213-1545 |
| 1992-1993 | Oldsmobile | Achieva | Olds Achieva MAP Sensor L4 2.3L (8th Vin Digit D) ACDelco 213-1545 |
| 1992-1993 | Oldsmobile | Achieva | Olds Achieva MAP Sensor L4 2.3L (8th Vin Digit 3) ACDelco 213-1545 |
| 1992-1993 | Oldsmobile | Achieva | Olds Achieva MAP Sensor L4 2.3L (8th Vin Digit A) ACDelco 213-1545 |
| 1994-1998 | Oldsmobile | Achieva | Olds Achieva MAP Sensor V6 3.1L (8th Vin Digit M) ACDelco 213-1545 |
| 1999-2004 | Oldsmobile | Alero | Olds Alero MAP Sensor V6 3.4L (8th Vin Digit E) ACDelco 213-1545 |
| 1991-1992 | Oldsmobile | Bravada | Olds Bravada MAP Sensor V6 4.3L (8th Vin Digit Z) ACDelco 213-1545 |
| 1985-1987 | Oldsmobile | Calais | Olds Calais MAP Sensor L4 2.5L (8th Vin Digit U) ACDelco 213-1545 |
| 1987 | Oldsmobile | Calais | Olds Calais MAP Sensor L4 2.3L (8th Vin Digit D) ACDelco 213-1545 |
| 1988-1990 | Oldsmobile | Custom Cruiser | Olds Custom Cruiser MAP Sensor V8 5.0L (8th Vin Digit Y) with 4 BBL Carburetor ACDelco 213-1545 |
| 1991-1992 | Oldsmobile | Custom Cruiser | Olds Custom Cruiser MAP Sensor V8 5.0L (8th Vin Digit E) ACDelco 213-1545 |
| 1992 | Oldsmobile | Custom Cruiser | Olds Custom Cruiser MAP Sensor (8th Vin Digit 7) V8 5.7L ACDelco 213-1545 |
| 1985 | Oldsmobile | Cutlass | Olds Cutlass MAP Sensor V8 5.7L (8th Vin Digit N) ACDelco 213-1545 |
| 1997-1999 | Oldsmobile | Cutlass | Olds Cutlass MAP Sensor V6 3.1L (8th Vin Digit M) ACDelco 213-1545 |
| 1999 | Oldsmobile | Cutlass | Olds Cutlass MAP Sensor V6 3.1L (8th Vin Digit J) ACDelco 213-1545 |
| 1988-1991 | Oldsmobile | Cutlass Calais | Olds Cutlass Calais MAP Sensor L4 2.3L (8th Vin Digit D) ACDelco 213-1545 |
| 1988-1991 | Oldsmobile | Cutlass Calais | Olds Cutlass Calais MAP Sensor L4 2.5L (8th Vin Digit U) ACDelco 213-1545 |
| 1982-1992 | Oldsmobile | Cutlass Ciera | Olds Cutlass Ciera MAP Sensor L4 2.5L (8th Vin Digit R) ACDelco 213-1545 |
| 1987-1989 | Oldsmobile | Cutlass Ciera | Olds Cutlass Ciera MAP Sensor V6 2.8L (8th Vin Digit W) ACDelco 213-1545 |
| 1993-1996 | Oldsmobile | Cutlass Ciera | Olds Cutlass Ciera MAP Sensor L4 2.2L (8th Vin Digit 4) ACDelco 213-1545 |
| 1996 | Oldsmobile | Cutlass Ciera | Olds Cutlass Ciera MAP Sensor V6 3.1L (8th Vin Digit M) ACDelco 213-1545 |
| 1985 | Oldsmobile | Cutlass Salon | Olds Cutlass Salon MAP Sensor V8 5.7L (8th Vin Digit N) ACDelco 213-1545 |
| 1985 | Oldsmobile | Cutlass Supreme | Olds Cutlass Supreme MAP Sensor V8 5.7L (8th Vin Digit N) ACDelco 213-1545 |
| 1988-1989 | Oldsmobile | Cutlass Supreme | Olds Cutlass Supreme MAP Sensor V6 2.8L (8th Vin Digit W) ACDelco 213-1545 |
| 1989-1993 | Oldsmobile | Cutlass Supreme | Olds Cutlass Supreme MAP Sensor V6 3.1L (8th Vin Digit T) ACDelco 213-1545 |
| 1990 | Oldsmobile | Cutlass Supreme | Olds Cutlass Supreme MAP Sensor L4 2.3L (8th Vin Digit A) ACDelco 213-1545 |
| 1990-1991 | Oldsmobile | Cutlass Supreme | Olds Cutlass Supreme MAP Sensor L4 2.3L (8th Vin Digit D) ACDelco 213-1545 |
| 1991-1995 | Oldsmobile | Cutlass Supreme | Olds Cutlass Supreme MAP Sensor V6 3.4L (8th Vin Digit X) ACDelco 213-1545 |
| 1993-1997 | Oldsmobile | Cutlass Supreme | Olds Cutlass Supreme MAP Sensor V6 3.1L (8th Vin Digit M) ACDelco 213-1545 |
| 1982-1986 | Oldsmobile | Firenza | Olds Firenza MAP Sensor L4 1.8L (8th Vin Digit 0) ACDelco 213-1545 |
| 1982 | Oldsmobile | Firenza | Olds Firenza MAP Sensor L4 1.8L (8th Vin Digit G) with 2 BBL Carburetor ACDelco 213-1545 |
| 1983-1984 | Oldsmobile | Firenza | Olds Firenza MAP Sensor (8th Vin Digit B) L4 2.0L ACDelco 213-1545 |
| 1983-1986 | Oldsmobile | Firenza | Olds Firenza MAP Sensor L4 2.0L (8th Vin Digit P) ACDelco 213-1545 |
| 1985-1986 | Oldsmobile | Firenza | Olds Firenza MAP Sensor V6 2.8L (8th Vin Digit W) ACDelco 213-1545 |
| 1988 | Oldsmobile | Firenza | Olds Firenza MAP Sensor L4 2.0L (8th Vin Digit K) ACDelco 213-1545 |
| 1982-1984 | Oldsmobile | Omega | Olds Omega MAP Sensor L4 2.5L (8th Vin Digit R) ACDelco 213-1545 |
| 1990-1994 | Oldsmobile | Silhouette | Olds Silhouette MAP Sensor (8th Vin Digit D) V6 3.1L ACDelco 213-1545 |
| 1996-2004 | Oldsmobile | Silhouette | Olds Silhouette MAP Sensor V6 3.4L (8th Vin Digit E) ACDelco 213-1545 |
| 1985 | Oldsmobile | Toronado | Olds Toronado MAP Sensor V8 5.7L (8th Vin Digit N) ACDelco 213-1545 |
| 1983-1984 | Pontiac | 2000 | Pontiac 2000 MAP Sensor L4 1.8L (8th Vin Digit 0) ACDelco 213-1545 |
| 1984 | Pontiac | 2000 | Pontiac 2000 MAP Sensor L4 2.0L (8th Vin Digit P) ACDelco 213-1545 |
| 1982-1991 | Pontiac | 6000 | Pontiac 6000 MAP Sensor L4 2.5L (8th Vin Digit R) ACDelco 213-1545 |
| 1987-1989 | Pontiac | 6000 | Pontiac 6000 MAP Sensor V6 2.8L (8th Vin Digit W) ACDelco 213-1545 |
| 1989 | Pontiac | 6000 | Pontiac 6000 MAP Sensor V6 3.1L (8th Vin Digit T) ACDelco 213-1545 |
| 1990-1991 | Pontiac | 6000 | Pontiac 6000 MAP Sensor V6 3.1L (8th Vin Digit T) ACDelco 213-1545 |
| 2001-2003 | Pontiac | Aztek | Pontiac Aztek MAP Sensor V6 3.4L (8th Vin Digit E) ACDelco 213-1545 |
| 1986 | Pontiac | Bonneville | Pontiac Bonneville MAP Sensor V6 4.3L (8th Vin Digit Z) ACDelco 213-1545 |
| 1984-1988 | Pontiac | Fiero | Pontiac Fiero MAP Sensor L4 2.5L (8th Vin Digit R) ACDelco 213-1545 |
| 1985-1988 | Pontiac | Fiero | Pontiac Fiero MAP Sensor V6 2.8L (8th Vin Digit 9) ACDelco 213-1545 |
| 1982 | Pontiac | Firebird | Pontiac Firebird MAP Sensor V8 5.0L (8th Vin Digit 7) ACDelco 213-1545 |
| 1982-1986 | Pontiac | Firebird | Pontiac Firebird MAP Sensor L4 2.5L (8th Vin Digit 2) ACDelco 213-1545 |
| 1982-1983 | Pontiac | Firebird | Pontiac Firebird MAP Sensor V8 5.0L (8th Vin Digit H) with 4 BBL Carburetor ACDelco 213-1545 |
| 1983 | Pontiac | Firebird | Pontiac Firebird MAP Sensor V8 5.0L (8th Vin Digit S) ACDelco 213-1545 |
| 1988-1992 | Pontiac | Firebird | Pontiac Firebird MAP Sensor V8 5.0L (8th Vin Digit E) ACDelco 213-1545 |
| 1988-1992 | Pontiac | Firebird | Pontiac Firebird MAP Sensor V8 5.0L (8th Vin Digit F) ACDelco 213-1545 |
| 1990-1992 | Pontiac | Firebird | Pontiac Firebird MAP Sensor V6 3.1L (8th Vin Digit T) ACDelco 213-1545 |
| 1991 | Pontiac | Firebird | Pontiac Firebird MAP Sensor V8 5.7L (8th Vin Digit 8) ACDelco 213-1545 |
| 1993-1996 | Pontiac | Firebird | Pontiac Firebird MAP Sensor V8 5.7L (8th Vin Digit P) ACDelco 213-1545 |
| 1993-1995 | Pontiac | Firebird | Pontiac Firebird MAP Sensor V6 3.4L (8th Vin Digit S) ACDelco 213-1545 |
| 1994-1997 | Pontiac | Firebird | Pontiac Firebird MAP Sensor V8 5.7L (8th Vin Digit P) ACDelco 213-1545 |
| 1985-1991 | Pontiac | Grand Am | Pontiac Grand Am MAP Sensor L4 2.5L (8th Vin Digit U) ACDelco 213-1545 |
| 1988-1993 | Pontiac | Grand Am | Pontiac Grand Am MAP Sensor L4 2.3L (8th Vin Digit D) ACDelco 213-1545 |
| 1992-1993 | Pontiac | Grand Am | Pontiac Grand Am MAP Sensor L4 2.3L (8th Vin Digit A) ACDelco 213-1545 |
| 1992-1993 | Pontiac | Grand Am | Pontiac Grand Am MAP Sensor L4 2.3L (8th Vin Digit 3) ACDelco 213-1545 |
| 1994-1998 | Pontiac | Grand Am | Pontiac Grand Am MAP Sensor V6 3.1L (8th Vin Digit M) ACDelco 213-1545 |
| 1999-2004 | Pontiac | Grand Am | Pontiac Grand Am MAP Sensor V6 3.4L (8th Vin Digit E) ACDelco 213-1545 |
| 1986-1987 | Pontiac | Grand Prix | Pontiac Grand Prix MAP Sensor V6 4.3L (8th Vin Digit Z) ACDelco 213-1545 |
| 1988-1989 | Pontiac | Grand Prix | Pontiac Grand Prix MAP Sensor V6 2.8L (8th Vin Digit W) ACDelco 213-1545 |
| 1989-1993 | Pontiac | Grand Prix | Pontiac Grand Prix MAP Sensor V6 3.1L (8th Vin Digit T) ACDelco 213-1545 |
| 1990-1991 | Pontiac | Grand Prix | Pontiac Grand Prix MAP Sensor L4 2.3L (8th Vin Digit D) ACDelco 213-1545 |
| 1991-1995 | Pontiac | Grand Prix | Pontiac Grand Prix MAP Sensor V6 3.4L (8th Vin Digit X) ACDelco 213-1545 |
| 1994-1999 | Pontiac | Grand Prix | Pontiac Grand Prix MAP Sensor V6 3.1L (8th Vin Digit M) ACDelco 213-1545 |
| 2000-2003 | Pontiac | Grand Prix | Pontiac Grand Prix MAP Sensor V6 3.1L (8th Vin Digit J) ACDelco 213-1545 |
| 1982 | Pontiac | J2000 | Pontiac J2000 MAP Sensor L4 1.8L (8th Vin Digit 0) ACDelco 213-1545 |
| 1983-1984 | Pontiac | J2000 | Pontiac J2000 MAP Sensor (8th Vin Digit B) L4 2.0L ACDelco 213-1545 |
| 1983 | Pontiac | J2000 | Pontiac J2000 MAP Sensor L4 2.0L (8th Vin Digit P) ACDelco 213-1545 |
| 1988-1993 | Pontiac | LeMans | Pontiac LeMans MAP Sensor L4 1.6L (8th Vin Digit 6) ACDelco 213-1545 |
| 1989-1990 | Pontiac | LeMans | Pontiac LeMans MAP Sensor L4 2.0L (8th Vin Digit K) ACDelco 213-1545 |
| 1999-2004 | Pontiac | Montana | Pontiac Montana MAP Sensor V6 3.4L (8th Vin Digit E) ACDelco 213-1545 |
| 1985-1986 | Pontiac | Parisienne | Pontiac Parisienne MAP Sensor V6 4.3L (8th Vin Digit Z) ACDelco 213-1545 |
| 1982-1984 | Pontiac | Phoenix | Pontiac Phoenix MAP Sensor L4 2.5L (8th Vin Digit R) ACDelco 213-1545 |
| 1988-1989 | Pontiac | Safari | Pontiac Safari MAP Sensor V8 5.0L (8th Vin Digit Y) with 4 BBL Carburetor ACDelco 213-1545 |
| 1985-1986 | Pontiac | Sunbird | Pontiac Sunbird MAP Sensor L4 1.8L (8th Vin Digit 0) ACDelco 213-1545 |
| 1985-1986 | Pontiac | Sunbird | Pontiac Sunbird MAP Sensor L4 2.0L (8th Vin Digit P) ACDelco 213-1545 |
| 1987-1991 | Pontiac | Sunbird | Pontiac Sunbird MAP Sensor L4 2.0L (8th Vin Digit K) ACDelco 213-1545 |
| 1991-1994 | Pontiac | Sunbird | Pontiac Sunbird MAP Sensor V6 3.1L (8th Vin Digit T) ACDelco 213-1545 |
| 1992-1994 | Pontiac | Sunbird | Pontiac Sunbird MAP Sensor L4 2.0L (8th Vin Digit H) ACDelco 213-1545 |
| 1995-1997 | Pontiac | Sunfire | Pontiac Sunfire MAP Sensor L4 2.2L (8th Vin Digit 4) ACDelco 213-1545 |
| 1987-1989 | Pontiac | Tempest | Pontiac Tempest MAP Sensor L4 2.0L (8th Vin Digit 1) ACDelco 213-1545 |
| 1987-1989 | Pontiac | Tempest | Pontiac Tempest MAP Sensor V6 2.8L (8th Vin Digit W) ACDelco 213-1545 |
| 1990-1991 | Pontiac | Tempest | Pontiac Tempest MAP Sensor L4 2.2L (8th Vin Digit G) ACDelco 213-1545 |
| 1990-1991 | Pontiac | Tempest | Pontiac Tempest MAP Sensor V6 3.1L (8th Vin Digit T) ACDelco 213-1545 |
| 1990-1995 | Pontiac | Trans Sport | Pontiac Trans Sport MAP Sensor (8th Vin Digit D) V6 3.1L ACDelco 213-1545 |
| 1996-1998 | Pontiac | Trans Sport | Pontiac Trans Sport MAP Sensor V6 3.4L (8th Vin Digit E) ACDelco 213-1545 |
Part #: 1AACD00048
Order must be placed by 4pm ET
Get it in: 2 - 4 Business Days
Want it sooner? Choose Next Day Air at Checkout

Brand #: 213-1545