1AEIM00012-Intake Manifold
Replaces
Intake Manifold - 1AEIM00012
1AEIM00012
Specifications:
Reinforced aluminum coolant crossover - eliminates failure due to corrosion or vibration
Re-engineered reinforced plastic
Intake gaskets molded into the intake manifold
Not correct for models with coolant-heated PCV
Kit includes:
Complete improved intake manifold with new aluminum crossover
New thermostat, o-ring, and screws
Brackets for installing alternator
Spacers to install original thermostat housing - making it not necessary to replace the hose and thermostat housing
Installation instructions with torque specifications and tightening sequence
Everything needed to do the job right the 1st time!!
Item Condition: New

Attention California Customers:
WARNING: Cancer and Reproductive Harm - www.P65Warnings.ca.gov.
Lifetime Warranty
This item is backed by a Limited Lifetime Warranty. In the event this item should fail due to manufacturing defects during intended use, we will exchange the part free of charge (excludes shipping charges) for the original purchaser.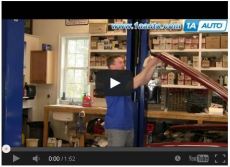 Tools needed for replacement:
General Tools

Jack Stands
Drain Pan
Wire Brush
Funnel
Floor Jack

Materials, Fluids, and Supplies

Rust Penetrant
Paper Towels
Anti-Seize Grease
Dust Mask
Safety Glasses
Gloves

Pliers, Cutters & misc Wrenches

Channel-Lock Pliers

Ratchets & Related

Torque Wrench
Socket Extensions
3/8 Inch Drive Ratchet
1/4 Inch Ratchet

Screwdrivers & Related

Flat Blade Screwdriver

Sockets - Metric

Complete Metric Socket Set

Specialty Tools

Fuel Line Disconnect Tool

Wrenches - Metric

Complete Metric Wrench Set
Great
This part not only fixed my leaking anti freeze problem but fixed my a/c which is a necessity in texas. I recommend this especially if you have a LS model mercury grand marquis.
Working great
2006 Crown Victoria LX FFV. Fairly straightforward install. Spent a lot of time cleaning the mating surfaces on the heads. My kit only came with 1 plug instead of 2 as listed on the parts included. I needed both so a trip to Home Depot was necessary. Got 2 plugs from the pipe parts section and added some pipe compound to the threads. They worked great. Mine was found to be definitely leaking from the deformed original gasket beneath the metal thermostat housing and the same area on the opposite bank. Didnt find any obvious cracks. Car has 160,000+ miles. Also replaced all 8 coils and both spark plugs where antifreeze leaked into the spark plug holes on both banks along with the injector o-rings in the fuel rails on both sides. No leaks yet. Fan motor went out two days later and the car overheated. Had to get a new assembly from Autozone for that due to time constraints. Lots of city driving and a 120 mile road trip yesterday. So far all is well.
iaauto always has the correct part at the best price. I am a happy repeat customer. Thanks!
Not trouble free
While i am happy with the manifold in general, I had a problem with the lack of new manifold bolts, to replace the rusted and rounded off heads on some that where hard to remove.. Also at the rear of the manifold has a rubber cap on a riser for auxiliary heater. The cap blew off while test driving and i lost a lot of coolant. plus the engine overheated leaving me stranded for a while.. i had to make up my own method to cap off this riser. Other wise i cant complain for the price.
Great Price
Found this manifold to be reasonably priced.Like the Lifetime warranty. Think its alot better than most out there. No names mentioned.lol. I recommend this manifold before alot others.
Well constructed replacement part Sort Of.
Product arrived in xlnt condition and on time. Thanks you UPS. The installation instructions are not as good as they could be, However The 1 A Auto Video was excellent. After bolting everything up one of the last steps was to install the thermostat into the housing. Thats where it went to S--- The T Stat didnt fit. Out comes Mr Dremel Tool a grinding wheel, drum sander , and polishing cloth , think overcome and improvise. mission accomplished. Finished the job Car runs perfect with no leaks. Word to the wise. It s a really good time to install new spark plugs and fuel injector nozzle O rings.
Very good quality intake manifold!!!
I would very much so recommend this intake to anyone.....its very good quality plastic...actually better then original......and awesome new gaskets are Molded into the part its self......i would buy again
Why the intake manifold leaves a lot to be desired.
The manifold came several days before it was estimated to arrive which was great The manifold went in well. However, when I started to replace the spark plugs I noticed that I had more trouble putting in the spark plug then in the original. I discovered that the cutouts in the manifold were angled differently then my original causing manifold to slightly cover the spark plug hole in the heads. The problem caused my spark plug socket not to go into the hole easily to remove or replace the spark plugs. My 3/8 inch socket barely went into the hole and my 1/2 inch socket didnt go in the hole at all. My 3/8 inch socket went into number 8 cylinder and I couldnt get it out of the hole with the extension so I had to pull up the socket as far as I could than grab it with a pair of needle nose pliers to finally get the socket out. The manufacturer should make the cutouts in the manifold closer to the original manifold cutouts. I would have taken the manifold out and sent it back, but it was too much work to remove all the items that were needed to uninstall the manifold. The spark plug are the kind that are located on the top of the engine and use a ignition coil boot on each spark plug.
Decent
My mechanic called me to let me know that the quality of it is not that great. He had problems with the installation, some issues with putting injectors back and couple other small things. He said he had to use some tricks to get it done. Original clamps where not holding tight enough he said. Other than that , car runs good, I didnt notice any difference in performance so far
Intake manifold
I'm really happy with my Purchase it was on time and works great 1aauto thanks for your help
Intake manifold
The part fits perfect and it was delivered at the right time for me to use it. I love the way my car runs now. I will order more parts (if needed) from you and tell all of my friends about it.
Excellent product, great service
The product was great, service was great, even the YouTube video explaining how to install it was great. I do need to balance this review though. I wish that 1As website would have mentioned something about "do you want to order a new sound deadening part"... that would have been nice as I forgot about this and it would have been nice to put a new one in. Beyond that, as I said, I highly recommend this company.
Mustang GT Intake Manifold
This product is a great .The quality and value are hard to beat.
Worked perfect
After viewing an instruction video by "1A" I decided to to install myself. Im glade I did because everything worked perfect and I saved 100s of dollars. Thank you "1A"!
2007 crown Vic intake manifold
The part was excellent condition and went right on with no issue came with everything in the box the service was also excellent came quick and fast I will be shopping at A1 auto again when I need something else thanks keep up the good price and great parts
intake
thank you the intake manifold work great.had no probleing. the priceis the best out there. thank you roger patterson. and plese tell the young man that host the video done a great job.
Great product
Got part earlier than expected. Came with all necessary parts and accessories. Since i have done the job before then intake made it that much easier. Thank you and yes j am a repeat customer.
Positive
I ordered the piece it was delivered ahead of projeected time! Watched the video from 1A and was simple and easy to help install item. Quality item fixed my problem and car is running fjne
How to video saved me $600
I couldnt afford to take my car to the mechanic.I was quoted over $ 750 to have new intake installed on my 2003 Grand Marquis.I was to afraid to tackle the job myself. But came across the install video from A-1. The video was so detailed I felt confidant I could dothe job.Bought the part+free shipping saved me money compared to Autozone. Replaced the intake in one day. Followed the video through the entire installation. It was a breeze. Awesome video Guys. Much appreciation for your detailed help. Ill be back!
Excellent product, plus THANK YOU for making a video guide!
This was my first purchase from 1A auto. I had a cracked manifold on my 04 Crown Victoria, and the shop quoted me over $1500.00 to install a replacement, so I decided to take matters into my own hands. I have done some basic maintainence in the past, oil changes, brakes, shocks, but never anything like this. The YouTube video instructions that accompany this part were an enormous help. I was able to follow along step by step, and successfully install this part! I have been driving the Crown Vic every day for about 2 weeks now after the repair, and no more coolant leak! Thank you 1A!
Great service, outstanding price.
Ordering was a pleasant experience. The rep on the phone was courteous, professional and American. The part came fast and went in easy. The 1A how-to video library is top notch and extremely helpful. Back on the road fast, easy, and at a reasonable price. 1A Auto made it happen. We'll be doing business again. Thanks guys!!
Your the greatest.
The part I received was exactly what I needed and the video of your mechanic installing this intake was by far, one of the best videos I have ever seen. The intake was top quality and shipping was very fast. I have to say again that I am floored on the time and detail of your video. Great work and thank you for caring enough to send this follow up after the order
Happy costumer
The intake manifold i purchase from 1aauto fits great and the how to video was extremely helpful I have ordered auto parts from 1aauto in the past and been completely satisfied with service price availability and shipping would and do recommend 1aauto to everyone keep up the great work.
Excellent replacement part
This kit comes with everything needed to do the job, including the needed screws and miscellaneous other hardware. I would highly recommend this kit!
Better than oem
This manifold is great because it includes everything you need and the quality is great! Install is not too difficult. I definitely recommend this to others.
Good fit
The installation went like it should. Video and instructions are very helpfull
good fit but the hardware sucked
About about 75% of the bolts I used to put the new manifold on my car and the bolts I used to install the intake assembly were not the original because the original bolts were too long for the new assembly. I took the old intake manifold and stripped it of every bolt on it. The old intake assembly has very short bolts that hold the aluminum crossover in place I use those short bolts to bought my throttle body to the top I also use those bolts to attach my alternator. Very disappointed very disappointed that 1aauto did not supply me with the right Hardware but the God damn thing works it does not leak I made it function properly by bastardizing the old parts to get the replacement working and satisfied customer just be where youre going to strip every bolt off the old assembly
NIce product
You get a quality product priced Much lower than others charge for for the same exact thing. Awesome Deal for sure!
Intake manifold
The part did the job, and was much less expensive than others. Has the orings pre installed which is nice. Unfortunately neither of the alternator brackets fit correctly. The one that was supposed to fit needed to be re bent and have the holes drilled larger. Just a slight manufacturing defect. Also the coolant crossover is not all aluminum as I thought it would be. Most of it is aluminum, but it is still plastic where it meets the cylinder heads.
Intake manifold
I got my part in a timely manner and the price was very good. The web site needs a retool i dont want to look at parts i dont need or want
JUST AS ADVERTISED
WENT RIGHT IN. NO ISSUES. CHEAPER THEN MY LOCAL AUTO STORE AND SEEMS BETTER BUILT.LOVED THE YOUTUBE VIDEO THAT IS AVAILABLE WITH STEP BY STEP INSTRUCTIONS MADE IT VERY EASY.
Intake manifold
Iam other happy consumer part was delivered on time and it fitted like a glove also love the videos it helps a lot thanks
Great Service
Worked wonderful and was delivered on time. I highly recommend
Product was terrible, Customer service was Great!
The intake manifold intake ports did not line up with the intake ports on the heads. However a quick phone call and customer service resolved the issue with no hassle.
Customer Q&A
Ask a question to 1A Auto customers who purchased the product
Can I purchase the aluminum crossover speperatley?
To the best of my recollection, the aluminum crossover and polymer (?) water channels are all fused as one piece, and all torqued down together. So, the short answer is "no."
Richard M
January 14, 2016
It depends on the year of your vehicle. The new manifold upgrade came about in 2007. After that year the manifold comes with the cross over already attached.
Curtis F
January 14, 2016
No,it is an integral part of the manifold.
No I dont think you can. That is what the problem is from factory. The silver part used to be plastic over time it would crack. Got to replace whole manifold. Hope that info helps. Good luck. About a 6 hr job.
THOMAS D
January 15, 2016
We only carry it as this kit. This will also come with a lifetime warranty, so if any part failed it would all be covered. Thank you and have a great day!
No it is molded to intake as part of the newer improved design.
FYI the metal crossover is not entirely metal. The base of each side is still plastic.
How does the intake manifold compare to Dorman?
I installed that very intake and am very pleased with the performance
The fit was great everything need for the installation was provided. Only took a couple hours to install
Our intakes will perform the same, if not better than Dormans and appear the same.
The two are comparable in quality. The Dorman was about five buck less expensive.
Will this fit a 1999 Ford Crown Victoria PI?
This part will not fit on a 1999 model. Please check out part number 1AEIM00010 for one that will fit your model!
Police models have performance improved cylinder heads and intake. A stock intake will not fit.
Do I need to buy a gasket separately or does it come with it?
The gasket in already included. You wont need to purchase a separate one.
Bradley L
December 26, 2017
All gaskets are already on the manifold. No gaskets needed. This is actually a very simple install.
Dennis W
December 26, 2017
Mine came with gaskets
Raymond S
December 26, 2017
The gaskets are integrated onto the intake manifold, and there is no need to purchase separately.
No it comes with built in individual gaskets
Walter B
December 28, 2017
I is a complete kit, the only issue is with the bypass plug on the back. Replace it with a piece of heater hose and a solid plug and two good hose clamps.
Brian B
December 29, 2017
Comes with o rings on each port
Who is the manufacturer ?
I dont remember. I put this on my 03 Mustang GT and it fit just as the OEM. No issues even almost two years later
We have a few different aftermarket companies build these parts specifically for us, as our 1A Auto house brand. They are manufactured to the same OEM specifications as the original part that came with your vehicle. If you have any further questions, please dont hesitate to ask.
I have the heated pvc so this part will not work? Or dose it matter i have been told it wont.
This kit may work for you, but it may be missing required openings or fittings to function properly in your vehicle. It would be best to replace the part with one that is listed for your specific vehicle. Thank you!
not a problem ,its a lot of work,do you have the skills/
Do I need to use RTV or other gasket maker to install this manifold?
No. Just clean the mating surfaces very thoroughly
The RTV or a gasket maker is not needed for the installation.
Will this fit a 2007 police interceptor ?
If you are able to provide us with your vehicle information we would be more than happy to check for you.
How's the quality compared to original manifold ?
The parts will carry a five year warranty and are built to the same quality control standards as the original manifold.
Who manufactured this intake manifold?
1A Autos house brand parts are manufactured by various aftermarket companies specifically for us and built to your vehicles exact OEM specifications.
Dorman I put one on my 03 P71 it worked great
Jason B
November 24, 2018
| Year | Make | Model | Description |
| --- | --- | --- | --- |
| 2001-2005 | Ford | Crown Victoria | Ford Crown Victoria V8 4.6L (8th Vin Digit 9) Intake Manifold |
| 2001-2008 | Ford | Crown Victoria | Ford Crown Victoria V8 4.6L (8th Vin Digit W) Intake Manifold |
| 2006-2011 | Ford | Crown Victoria | Ford Crown Victoria V8 4.6L (8th Vin Digit V) Intake Manifold |
| 2002 | Ford | Explorer | Ford Explorer V8 4.6L (8th Vin Digit W) Intake Manifold |
| 1999-2004 | Ford | Mustang | Ford Mustang V8 4.6L (8th Vin Digit X) Intake Manifold |
| 2001-2008 | Lincoln | Town Car | Lincoln Town Car V8 4.6L (8th Vin Digit W) Intake Manifold |
| 2007-2011 | Lincoln | Town Car | Lincoln Town Car V8 4.6L (8th Vin Digit V) Intake Manifold |
| 2001-2008 | Mercury | Grand Marquis | Mercury Grand Marquis V8 4.6L (8th Vin Digit W) Intake Manifold |
| 2006-2011 | Mercury | Grand Marquis | Mercury Grand Marquis V8 4.6L (8th Vin Digit V) Intake Manifold |
| 2002 | Mercury | Mountaineer | Mercury Mountaineer V8 4.6L (8th Vin Digit W) Intake Manifold |
Part #: 1AEIM00012
Order must be placed by 4pm ET
Get it in: 2 - 4 Business Days
Want it sooner? Choose Next Day Air at Checkout