1AIMX00167-Ignition Lock Cylinder Case with Passlock Sensor
Replaces
Ignition Lock Cylinder Case with Passlock Sensor Dorman 924-713 - 1AIMX00167
1AIMX00167
This ignition housing or Passlock ignition sensor is a new aftermarket part. It is the piece that your ignition lock cylinder fits into inside your dash or steering column.
Specifications:
Ignition Lock Cylinder Case with Passlock Sensor
Replaces dealer part numbers: 88965342
Direct replacement
Built to strict quality control standards
This part makes a great replacement and has substantial cost savings over a dealer part.
Lifetime Warranty
This item is backed by a Limited Lifetime Warranty. In the event this item should fail due to manufacturing defects during intended use, we will exchange the part free of charge (excludes shipping charges) for the original purchaser.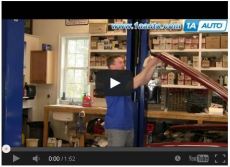 Tools needed for replacement:
Torx Drivers & Sockets

T15 Torx Driver
T30 Torx Driver

Wrenches - Metric

15mm Wrench
It came on time and it was delivered and processed very fast.
Browse 1 question
Browse 1 question and 3 answers
BEST ANSWER:
No this is only the lock cylinder housing with pass lock sensor. To get a new key you must buy a lock cylinder with this housing which I highly recommend.
Justin P

on May 15, 2017

Purchased on Jun 20, 2016
Vehicle Fit
| Year | Make | Model | Description |
| --- | --- | --- | --- |
| 2004-2007 | Buick | Rainier | Buick Rainier Ignition Lock Cylinder Case with Passlock Sensor L6 4.2L (8th Vin Digit S) Dorman 924-713 |
| 2004 | Buick | Rainier | Buick Rainier Ignition Lock Cylinder Case with Passlock Sensor V8 5.3L (8th Vin Digit P) Dorman 924-713 |
| 2005-2007 | Buick | Rainier | Buick Rainier Ignition Lock Cylinder Case with Passlock Sensor V8 5.3L (8th Vin Digit M) Dorman 924-713 |
| 2002-2005 | Cadillac | Escalade | Cadillac Escalade Ignition Lock Cylinder Case with Passlock Sensor V8 5.3L (8th Vin Digit T) Dorman 924-713 |
| 2002-2006 | Cadillac | Escalade | Cadillac Escalade Ignition Lock Cylinder Case with Passlock Sensor V8 6.0L (8th Vin Digit N) Dorman 924-713 |
| 2003-2006 | Cadillac | Escalade ESV | Cadillac Escalade ESV Ignition Lock Cylinder Case with Passlock Sensor V8 6.0L (8th Vin Digit N) Dorman 924-713 |
| 2002-2006 | Cadillac | Escalade EXT | Cadillac Escalade EXT Ignition Lock Cylinder Case with Passlock Sensor V8 6.0L (8th Vin Digit N) Dorman 924-713 |
| 2002-2004 | Chevy | Avalanche 1500 | Chevy Avalanche 1500 Ignition Lock Cylinder Case with Passlock Sensor V8 5.3L (8th Vin Digit T) Dorman 924-713 |
| 2005-2006 | Chevy | Avalanche 1500 | Chevy Avalanche 1500 Ignition Lock Cylinder Case with Passlock Sensor V8 5.3L (8th Vin Digit Z) Dorman 924-713 |
| 2002-2006 | Chevy | Avalanche 2500 | Chevy Avalanche 2500 Ignition Lock Cylinder Case with Passlock Sensor V8 8.1L (8th Vin Digit G) Dorman 924-713 |
| 2000-2002 | Chevy | Blazer S10 | Chevy Blazer S10 Ignition Lock Cylinder Case with Passlock Sensor V6 4.3L (8th Vin Digit W) Dorman 924-713 |
| 2003-2005 | Chevy | Blazer S10 | Chevy Blazer S10 Ignition Lock Cylinder Case with Passlock Sensor V6 4.3L (8th Vin Digit X) Dorman 924-713 |
| 2000 | Chevy | S10 Pickup | Chevy S10 Pickup Ignition Lock Cylinder Case with Passlock Sensor L4 2.2L (8th Vin Digit 4) Dorman 924-713 |
| 2000-2002 | Chevy | S10 Pickup | Chevy S10 Pickup Ignition Lock Cylinder Case with Passlock Sensor V6 4.3L (8th Vin Digit W) Dorman 924-713 |
| 2000-2002 | Chevy | S10 Pickup | Chevy S10 Pickup Ignition Lock Cylinder Case with Passlock Sensor L4 2.2L (8th Vin Digit 5) Dorman 924-713 |
| 2003 | Chevy | S10 Pickup | Chevy S10 Pickup Ignition Lock Cylinder Case with Passlock Sensor L4 2.2L (8th Vin Digit H) Dorman 924-713 |
| 2003-2004 | Chevy | S10 Pickup | Chevy S10 Pickup Ignition Lock Cylinder Case with Passlock Sensor V6 4.3L (8th Vin Digit X) Dorman 924-713 |
| 2003-2004 | Chevy | SSR | Chevy SSR Ignition Lock Cylinder Case with Passlock Sensor V8 5.3L (8th Vin Digit P) Dorman 924-713 |
| 2005 | Chevy | SSR | Chevy SSR Ignition Lock Cylinder Case with Passlock Sensor V8 6.0L (8th Vin Digit H) Dorman 924-713 |
| 2000-2002 | Chevy | Silverado 1500 | Chevy Silverado 1500 Ignition Lock Cylinder Case with Passlock Sensor V6 4.3L (8th Vin Digit W) Dorman 924-713 |
| 2000-2007 | Chevy | Silverado 1500 | Chevy Silverado 1500 Ignition Lock Cylinder Case with Passlock Sensor V8 5.3L (8th Vin Digit T) Dorman 924-713 |
| 2000-2007 | Chevy | Silverado 1500 | Chevy Silverado 1500 Ignition Lock Cylinder Case with Passlock Sensor V8 4.8L (8th Vin Digit V) Dorman 924-713 |
| 2002-2007 | Chevy | Silverado 1500 | Chevy Silverado 1500 Ignition Lock Cylinder Case with Passlock Sensor V8 5.3L (8th Vin Digit Z) Dorman 924-713 |
| 2002-2007 | Chevy | Silverado 1500 | Chevy Silverado 1500 Ignition Lock Cylinder Case with Passlock Sensor V6 4.3L (8th Vin Digit X) Dorman 924-713 |
| 2003-2006 | Chevy | Silverado 1500 | Chevy Silverado 1500 SS Ignition Lock Cylinder Case with Passlock Sensor V8 6.0L (8th Vin Digit N) Dorman 924-713 |
| 2005-2006 | Chevy | Silverado 1500 | Chevy Silverado 1500 Ignition Lock Cylinder Case with Passlock Sensor V8 5.3L (8th Vin Digit B) Dorman 924-713 |
| 2005-2006 | Chevy | Silverado 1500 | Chevy Silverado 1500 Ignition Lock Cylinder Case with Passlock Sensor V8 6.0L (8th Vin Digit N) Dorman 924-713 |
| 2007 | Chevy | Silverado 1500 Classic | Chevy Silverado 1500 Classic Ignition Lock Cylinder Case with Passlock Sensor V8 6.0L (8th Vin Digit N) Dorman 924-713 |
| 2007 | Chevy | Silverado 1500 Classic | Chevy Silverado 1500 Classic Ignition Lock Cylinder Case with Passlock Sensor V8 5.3L (8th Vin Digit T) Dorman 924-713 |
| 2007 | Chevy | Silverado 1500 Classic | Chevy Silverado 1500 Classic Ignition Lock Cylinder Case with Passlock Sensor V8 4.8L (8th Vin Digit V) Dorman 924-713 |
| 2007 | Chevy | Silverado 1500 Classic | Chevy Silverado 1500 Classic Ignition Lock Cylinder Case with Passlock Sensor V6 4.3L (8th Vin Digit X) Dorman 924-713 |
| 2007 | Chevy | Silverado 1500 Classic | Chevy Silverado 1500 Classic Ignition Lock Cylinder Case with Passlock Sensor V8 5.3L (8th Vin Digit Z) Dorman 924-713 |
| 2007 | Chevy | Silverado 1500 Classic | Chevy Silverado 1500 Classic Ignition Lock Cylinder Case with Passlock Sensor V8 5.3L (8th Vin Digit B) Dorman 924-713 |
| 2001-2003 | Chevy | Silverado 1500 HD | Chevy Silverado 1500 HD Ignition Lock Cylinder Case with Passlock Sensor Dorman 924-713 |
| 2005-2006 | Chevy | Silverado 1500 HD | Chevy Silverado 1500 HD Ignition Lock Cylinder Case with Passlock Sensor Dorman 924-713 |
| 2007 | Chevy | Silverado 1500 HD Classic | Chevy Silverado 1500 HD Classic Ignition Lock Cylinder Case with Passlock Sensor Dorman 924-713 |
| 2000-2004 | Chevy | Silverado 2500 | Chevy Silverado 2500 Ignition Lock Cylinder Case with Passlock Sensor V8 6.0L (8th Vin Digit U) Dorman 924-713 |
| 2000 | Chevy | Silverado 2500 | Chevy Silverado 2500 Ignition Lock Cylinder Case with Passlock Sensor V8 5.3L (8th Vin Digit T) Dorman 924-713 |
| 2001-2004 | Chevy | Silverado 2500 HD | Chevy Silverado 2500 HD Ignition Lock Cylinder Case with Passlock Sensor V8 6.0L (8th Vin Digit U) Dorman 924-713 |
| 2001-2004 | Chevy | Silverado 2500 HD | Chevy Silverado 2500 HD Ignition Lock Cylinder Case with Passlock Sensor V8 6.6L Turbo Diesel (8th Vin Digit 1) Dorman 924-713 |
| 2001-2006 | Chevy | Silverado 2500 HD | Chevy Silverado 2500 HD Ignition Lock Cylinder Case with Passlock Sensor V8 6.0L (8th Vin Digit U) Dorman 924-713 |
| 2001-2006 | Chevy | Silverado 2500 HD | Chevy Silverado 2500 HD Ignition Lock Cylinder Case with Passlock Sensor V8 8.1L (8th Vin Digit G) Dorman 924-713 |
| 2004-2006 | Chevy | Silverado 2500 HD | Chevy Silverado 2500 HD Ignition Lock Cylinder Case with Passlock Sensor V8 6.6L Turbo Diesel (8th Vin Digit 2) Dorman 924-713 |
| 2006 | Chevy | Silverado 2500 HD | Chevy Silverado 2500 HD Ignition Lock Cylinder Case with Passlock Sensor V8 6.6L Turbo Diesel (8th Vin Digit D) Dorman 924-713 |
| 2007 | Chevy | Silverado 2500 HD Classic | Chevy Silverado 2500 HD Classic Ignition Lock Cylinder Case with Passlock Sensor V8 8.1L (8th Vin Digit G) Dorman 924-713 |
| 2007 | Chevy | Silverado 2500 HD Classic | Chevy Silverado 2500 HD Classic Ignition Lock Cylinder Case with Passlock Sensor V8 6.0L (8th Vin Digit U) Dorman 924-713 |
| 2007 | Chevy | Silverado 2500 HD Classic | Chevy Silverado 2500 HD Classic Ignition Lock Cylinder Case with Passlock Sensor V8 6.6L Turbo Diesel (8th Vin Digit D) Dorman 924-713 |
| 2001-2004 | Chevy | Silverado 3500 | Chevy Silverado 3500 Ignition Lock Cylinder Case with Passlock Sensor V8 6.6L Turbo Diesel (8th Vin Digit 1) Dorman 924-713 |
| 2001-2006 | Chevy | Silverado 3500 | Chevy Silverado 3500 Ignition Lock Cylinder Case with Passlock Sensor V8 6.0L (8th Vin Digit U) Dorman 924-713 |
| 2001-2006 | Chevy | Silverado 3500 | Chevy Silverado 3500 Ignition Lock Cylinder Case with Passlock Sensor V8 8.1L (8th Vin Digit G) Dorman 924-713 |
| 2004-2006 | Chevy | Silverado 3500 | Chevy Silverado 3500 Ignition Lock Cylinder Case with Passlock Sensor V8 6.6L Turbo Diesel (8th Vin Digit 2) Dorman 924-713 |
| 2006 | Chevy | Silverado 3500 | Chevy Silverado 3500 Ignition Lock Cylinder Case with Passlock Sensor V8 6.6L Turbo Diesel (8th Vin Digit D) Dorman 924-713 |
| 2007 | Chevy | Silverado 3500 Classic | Chevy Silverado 3500 Classic Ignition Lock Cylinder Case with Passlock Sensor V8 8.1L (8th Vin Digit G) Dorman 924-713 |
| 2007 | Chevy | Silverado 3500 Classic | Chevy Silverado 3500 Classic Ignition Lock Cylinder Case with Passlock Sensor V8 6.0L (8th Vin Digit U) Dorman 924-713 |
| 2007 | Chevy | Silverado 3500 Classic | Chevy Silverado 3500 Classic Ignition Lock Cylinder Case with Passlock Sensor V8 6.6L Turbo Diesel (8th Vin Digit D) Dorman 924-713 |
| 2000-2005 | Chevy | Suburban 1500 | Chevy Suburban 1500 Ignition Lock Cylinder Case with Passlock Sensor V8 5.3L (8th Vin Digit T) Dorman 924-713 |
| 2002-2006 | Chevy | Suburban 1500 | Chevy Suburban 1500 Ignition Lock Cylinder Case with Passlock Sensor V8 5.3L (8th Vin Digit Z) Dorman 924-713 |
| 2000-2005 | Chevy | Suburban 2500 | Chevy Suburban 2500 Ignition Lock Cylinder Case with Passlock Sensor V8 6.0L (8th Vin Digit U) Dorman 924-713 |
| 2001-2006 | Chevy | Suburban 2500 | Chevy Suburban 2500 Ignition Lock Cylinder Case with Passlock Sensor V8 8.1L (8th Vin Digit G) Dorman 924-713 |
| 2006 | Chevy | Suburban 2500 | Chevy Suburban 2500 Ignition Lock Cylinder Case with Passlock Sensor V8 6.0L (8th Vin Digit U) Dorman 924-713 |
| 2000 | Chevy | Tahoe | Chevy Tahoe Ignition Lock Cylinder Case with Passlock Sensor V8 5.7L (8th Vin Digit R) Dorman 924-713 |
| 2000-2006 | Chevy | Tahoe | Chevy Tahoe Ignition Lock Cylinder Case with Passlock Sensor V8 4.8L (8th Vin Digit V) Dorman 924-713 |
| 2000-2006 | Chevy | Tahoe | Chevy Tahoe Ignition Lock Cylinder Case with Passlock Sensor V8 5.3L (8th Vin Digit T) Dorman 924-713 |
| 2002-2006 | Chevy | Tahoe | Chevy Tahoe Ignition Lock Cylinder Case with Passlock Sensor V8 5.3L (8th Vin Digit Z) Dorman 924-713 |
| 2002-2009 | Chevy | Trailblazer | Chevy Trailblazer Ignition Lock Cylinder Case with Passlock Sensor L6 4.2L (8th Vin Digit S) Dorman 924-713 |
| 2006-2007 | Chevy | Trailblazer | Chevy Trailblazer SS Ignition Lock Cylinder Case with Passlock Sensor V8 6.0L (8th Vin Digit H) Dorman 924-713 |
| 2006-2008 | Chevy | Trailblazer | Chevy Trailblazer Ignition Lock Cylinder Case with Passlock Sensor V8 5.3L (8th Vin Digit M) Dorman 924-713 |
| 2008-2009 | Chevy | Trailblazer | Chevy Trailblazer SS Ignition Lock Cylinder Case with Passlock Sensor V8 6.0L (8th Vin Digit H) Dorman 924-713 |
| 2003-2004 | Chevy | Trailblazer EXT | Chevy Trailblazer EXT Ignition Lock Cylinder Case with Passlock Sensor V8 5.3L (8th Vin Digit P) Dorman 924-713 |
| 2005 | Chevy | Trailblazer EXT | Chevy Trailblazer EXT Ignition Lock Cylinder Case with Passlock Sensor V8 5.3L (8th Vin Digit M) Dorman 924-713 |
| 2002-2009 | GMC | Envoy | GMC Envoy Ignition Lock Cylinder Case with Passlock Sensor L6 4.2L (8th Vin Digit S) Dorman 924-713 |
| 2005-2009 | GMC | Envoy | GMC Envoy Ignition Lock Cylinder Case with Passlock Sensor V8 5.3L (8th Vin Digit M) Denali Dorman 924-713 |
| 2007-2009 | GMC | Envoy | GMC Envoy Ignition Lock Cylinder Case with Passlock Sensor V8 5.3L (8th Vin Digit M) Dorman 924-713 |
| 2003-2004 | GMC | Envoy XL | GMC Envoy XL Ignition Lock Cylinder Case with Passlock Sensor V8 5.3L (8th Vin Digit P) Dorman 924-713 |
| 2000-2001 | GMC | Jimmy S-15 | GMC Jimmy S-15 Ignition Lock Cylinder Case with Passlock Sensor V6 4.3L (8th Vin Digit W) Dorman 924-713 |
| 2000-2002 | GMC | S-15 Sonoma | GMC S-15 Sonoma Ignition Lock Cylinder Case with Passlock Sensor V6 4.3L (8th Vin Digit W) Dorman 924-713 |
| 2000-2002 | GMC | S-15 Sonoma | GMC S-15 Sonoma Ignition Lock Cylinder Case with Passlock Sensor L4 2.2L (8th Vin Digit 5) Dorman 924-713 |
| 2000 | GMC | S-15 Sonoma | GMC S-15 Sonoma Ignition Lock Cylinder Case with Passlock Sensor L4 2.2L (8th Vin Digit 4) Dorman 924-713 |
| 2003 | GMC | S-15 Sonoma | GMC S-15 Sonoma Ignition Lock Cylinder Case with Passlock Sensor L4 2.2L (8th Vin Digit H) Dorman 924-713 |
| 2003-2004 | GMC | S-15 Sonoma | GMC S-15 Sonoma Ignition Lock Cylinder Case with Passlock Sensor V6 4.3L (8th Vin Digit X) Dorman 924-713 |
| 2000-2002 | GMC | Sierra 1500 | GMC Sierra 1500 Ignition Lock Cylinder Case with Passlock Sensor V6 4.3L (8th Vin Digit W) Dorman 924-713 |
| 2000-2006 | GMC | Sierra 1500 | GMC Sierra 1500 Ignition Lock Cylinder Case with Passlock Sensor V8 4.8L (8th Vin Digit V) Dorman 924-713 |
| 2000-2006 | GMC | Sierra 1500 | GMC Sierra 1500 Ignition Lock Cylinder Case with Passlock Sensor V8 5.3L (8th Vin Digit T) Dorman 924-713 |
| 2001 | GMC | Sierra 1500 | GMC Sierra 1500 C3 Ignition Lock Cylinder Case with Passlock Sensor V8 6.0L (8th Vin Digit U) Dorman 924-713 |
| 2002-2006 | GMC | Sierra 1500 | GMC Sierra 1500 Ignition Lock Cylinder Case with Passlock Sensor V6 4.3L (8th Vin Digit X) Dorman 924-713 |
| 2002-2006 | GMC | Sierra 1500 | GMC Sierra 1500 Ignition Lock Cylinder Case with Passlock Sensor V8 5.3L (8th Vin Digit Z) Dorman 924-713 |
| 2005-2006 | GMC | Sierra 1500 | GMC Sierra 1500 Ignition Lock Cylinder Case with Passlock Sensor V8 5.3L (8th Vin Digit B) Dorman 924-713 |
| 2006 | GMC | Sierra 1500 | GMC Sierra 1500 Ignition Lock Cylinder Case with Passlock Sensor V8 6.0L (8th Vin Digit N) Dorman 924-713 |
| 2007 | GMC | Sierra 1500 Classic | GMC Sierra 1500 Classic Ignition Lock Cylinder Case with Passlock Sensor V8 5.3L (8th Vin Digit T) Dorman 924-713 |
| 2007 | GMC | Sierra 1500 Classic | GMC Sierra 1500 Classic Ignition Lock Cylinder Case with Passlock Sensor V8 4.8L (8th Vin Digit V) Dorman 924-713 |
| 2007 | GMC | Sierra 1500 Classic | GMC Sierra 1500 Classic Ignition Lock Cylinder Case with Passlock Sensor V8 6.0L (8th Vin Digit N) Dorman 924-713 |
| 2007 | GMC | Sierra 1500 Classic | GMC Sierra 1500 Classic Ignition Lock Cylinder Case with Passlock Sensor V8 5.3L (8th Vin Digit Z) Dorman 924-713 |
| 2007 | GMC | Sierra 1500 Classic | GMC Sierra 1500 Classic Ignition Lock Cylinder Case with Passlock Sensor V6 4.3L (8th Vin Digit X) Dorman 924-713 |
| 2007 | GMC | Sierra 1500 Classic | GMC Sierra 1500 Classic Ignition Lock Cylinder Case with Passlock Sensor V8 5.3L (8th Vin Digit B) Dorman 924-713 |
| 2001-2003 | GMC | Sierra 1500 HD | GMC Sierra 1500 HD Ignition Lock Cylinder Case with Passlock Sensor Dorman 924-713 |
| 2005-2006 | GMC | Sierra 1500 HD | GMC Sierra 1500 HD Ignition Lock Cylinder Case with Passlock Sensor Dorman 924-713 |
| 2007 | GMC | Sierra 1500 HD Classic | GMC Sierra 1500 HD Classic Ignition Lock Cylinder Case with Passlock Sensor Dorman 924-713 |
| 2000-2004 | GMC | Sierra 2500 | GMC Sierra 2500 Ignition Lock Cylinder Case with Passlock Sensor V8 6.0L (8th Vin Digit U) Dorman 924-713 |
| 2000 | GMC | Sierra 2500 | GMC Sierra 2500 Ignition Lock Cylinder Case with Passlock Sensor V8 5.3L (8th Vin Digit T) Dorman 924-713 |
| 2001-2004 | GMC | Sierra 2500 HD | GMC Sierra 2500 HD Ignition Lock Cylinder Case with Passlock Sensor V8 6.0L (8th Vin Digit U) Dorman 924-713 |
| 2001-2004 | GMC | Sierra 2500 HD | GMC Sierra 2500 HD Ignition Lock Cylinder Case with Passlock Sensor V8 6.6L Turbo Diesel (8th Vin Digit 1) Dorman 924-713 |
| 2001-2006 | GMC | Sierra 2500 HD | GMC Sierra 2500 HD Ignition Lock Cylinder Case with Passlock Sensor V8 6.0L (8th Vin Digit U) Dorman 924-713 |
| 2001-2006 | GMC | Sierra 2500 HD | GMC Sierra 2500 HD Ignition Lock Cylinder Case with Passlock Sensor V8 8.1L (8th Vin Digit G) Dorman 924-713 |
| 2004-2006 | GMC | Sierra 2500 HD | GMC Sierra 2500 HD Ignition Lock Cylinder Case with Passlock Sensor V8 6.6L Turbo Diesel (8th Vin Digit 2) Dorman 924-713 |
| 2006 | GMC | Sierra 2500 HD | GMC Sierra 2500 HD Ignition Lock Cylinder Case with Passlock Sensor V8 6.6L Turbo Diesel (8th Vin Digit D) Dorman 924-713 |
| 2007 | GMC | Sierra 2500 HD Classic | GMC Sierra 2500 HD Classic Ignition Lock Cylinder Case with Passlock Sensor V8 6.6L Turbo Diesel (8th Vin Digit D) Dorman 924-713 |
| 2007 | GMC | Sierra 2500 HD Classic | GMC Sierra 2500 HD Classic Ignition Lock Cylinder Case with Passlock Sensor V8 8.1L (8th Vin Digit G) Dorman 924-713 |
| 2007 | GMC | Sierra 2500 HD Classic | GMC Sierra 2500 HD Classic Ignition Lock Cylinder Case with Passlock Sensor V8 6.0L (8th Vin Digit U) Dorman 924-713 |
| 2001-2004 | GMC | Sierra 3500 | GMC Sierra 3500 Ignition Lock Cylinder Case with Passlock Sensor V8 6.6L Turbo Diesel (8th Vin Digit 1) Dorman 924-713 |
| 2001-2006 | GMC | Sierra 3500 | GMC Sierra 3500 Ignition Lock Cylinder Case with Passlock Sensor V8 8.1L (8th Vin Digit G) Dorman 924-713 |
| 2001-2006 | GMC | Sierra 3500 | GMC Sierra 3500 Ignition Lock Cylinder Case with Passlock Sensor V8 6.0L (8th Vin Digit U) Dorman 924-713 |
| 2004-2006 | GMC | Sierra 3500 | GMC Sierra 3500 Ignition Lock Cylinder Case with Passlock Sensor V8 6.6L Turbo Diesel (8th Vin Digit 2) Dorman 924-713 |
| 2006 | GMC | Sierra 3500 | GMC Sierra 3500 Ignition Lock Cylinder Case with Passlock Sensor V8 6.6L Turbo Diesel (8th Vin Digit D) Dorman 924-713 |
| 2007 | GMC | Sierra 3500 Classic | GMC Sierra 3500 Classic Ignition Lock Cylinder Case with Passlock Sensor V8 8.1L (8th Vin Digit G) Dorman 924-713 |
| 2007 | GMC | Sierra 3500 Classic | GMC Sierra 3500 Classic Ignition Lock Cylinder Case with Passlock Sensor V8 6.0L (8th Vin Digit U) Dorman 924-713 |
| 2007 | GMC | Sierra 3500 Classic | GMC Sierra 3500 Classic Ignition Lock Cylinder Case with Passlock Sensor V8 6.6L Turbo Diesel (8th Vin Digit D) Dorman 924-713 |
| 2000-2006 | GMC | Yukon | GMC Yukon Ignition Lock Cylinder Case with Passlock Sensor V8 4.8L (8th Vin Digit V) Dorman 924-713 |
| 2000 | GMC | Yukon | GMC Yukon Ignition Lock Cylinder Case with Passlock Sensor V8 5.7L (8th Vin Digit R) Dorman 924-713 |
| 2000-2006 | GMC | Yukon | GMC Yukon Ignition Lock Cylinder Case with Passlock Sensor V8 5.3L (8th Vin Digit T) Dorman 924-713 |
| 2002-2006 | GMC | Yukon | GMC Yukon Ignition Lock Cylinder Case with Passlock Sensor V8 5.3L (8th Vin Digit Z) Dorman 924-713 |
| 2004 | GMC | Yukon | GMC Yukon Ignition Lock Cylinder Case with Passlock Sensor V8 6.0L (8th Vin Digit U) Denali Dorman 924-713 |
| 2005-2006 | GMC | Yukon | GMC Yukon Ignition Lock Cylinder Case with Passlock Sensor V8 6.0L (8th Vin Digit U) Denali Dorman 924-713 |
| 2000-2005 | GMC | Yukon XL 1500 | GMC Yukon XL 1500 Ignition Lock Cylinder Case with Passlock Sensor V8 5.3L (8th Vin Digit T) Dorman 924-713 |
| 2002-2006 | GMC | Yukon XL 1500 | GMC Yukon XL 1500 Ignition Lock Cylinder Case with Passlock Sensor V8 5.3L (8th Vin Digit Z) Dorman 924-713 |
| 2000-2006 | GMC | Yukon XL 2500 | GMC Yukon XL 2500 Ignition Lock Cylinder Case with Passlock Sensor V8 6.0L (8th Vin Digit U) Dorman 924-713 |
| 2001-2006 | GMC | Yukon XL 2500 | GMC Yukon XL 2500 Ignition Lock Cylinder Case with Passlock Sensor V8 8.1L (8th Vin Digit G) Dorman 924-713 |
| 2003-2007 | Hummer | H2 | Hummer H2 Ignition Lock Cylinder Case with Passlock Sensor V8 6.0L (8th Vin Digit U) Dorman 924-713 |
| 2000-2001 | Oldsmobile | Bravada | Olds Bravada Ignition Lock Cylinder Case with Passlock Sensor V6 4.3L (8th Vin Digit W) Dorman 924-713 |
| 2002-2004 | Oldsmobile | Bravada | Olds Bravada Ignition Lock Cylinder Case with Passlock Sensor L6 4.2L (8th Vin Digit S) Dorman 924-713 |
This part replaces:
OE # 88965342
Dorman 924-713

Brand #: 924-713