1AERK00009-Ignition Coil
Replaces
Ignition Coil - 1AERK00009
1AERK00009
Frequently bought together
Specifications:
Comes as a SET of 8
Brand New
Replaces dealer part numbers: 3L3E-12A366-CA, 3L3E12A366CA, 3L3U-12A366-BB, 3L3U12A366BB, 3L3Z-12029-BA, 3L3Z12029BA, DG 511, DG511
Built to strict quality control standard
Direct replacements
100% factory tested
Our electrical and electronic parts are subject to strict quality testing.
Parts cannot be returned after they have been installed. Contact us with any questions before installing the parts.
Direct Fit Replacement
Guaranteed to fit and function properly for your specific application.
Optimum Performance
Meets or exceeds requirements of the vehicle. Provides the correct primary and secondary resistance, voltage output, and spark energy needed to restore original operating condition.
Premium Quality
Manufactured with quality materials to meet highest quality control standards in the industry.
Item Condition: New

Attention California Customers:
WARNING: This product can expose you to chemicals including Lead and Lead Compounds, which are known to the State of California to cause cancer, and birth defects or other reproductive harm. For more information, go to www.P65Warnings.ca.gov.
Lifetime Warranty
This item is backed by a Limited Lifetime Warranty. In the event this item should fail due to manufacturing defects during intended use, we will exchange the part free of charge (excludes shipping charges) for the original purchaser.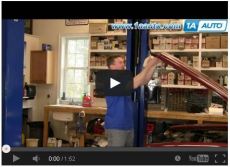 step : Removing the Ignition Coil (0:31)

Disconnect the ignition coil wiring harness
Remove the two 8mm bolts from the ignition coil
Pull the ignition coil up and out

step : Installing the New Ignition Coil (1:53)

Push the new ignition coil into place with the wiring connector facing the rear of the vehicle
Insert the two 8mm bolts into the ignition coil
Connect the ignition coil wiring harness
Repeat Steps 1 and 2 for the remaining coils
Tools needed for replacement:
Ratchets & Related

Ratchet
Socket Extensions

Sockets - Metric

8mm Socket
Great Product
My vehicle was jerking under light acceleration at 40 + mph and the new ignition coil packs solved the problem! I replaced all 8 as its cheaper in bulk.
Great value
Truck was bucking under light acceleration around 45-50 so bad coils replaced all 8 and so far no bucking and no engine lights. Great price considering 1 coil alone can range from $45 to $90. Will update on how long they last.
Ignition coil
Could be happier it fixed my problem and paid alot less than any retail automotive store ! Thank you
Great product
These are ignition coils that have been working great for my truck at a price I could not pass up.
Ignition coils
Worked out great. Quick delivery and excellent price.
2005 Ford F-150 Crewcab FX4 ignition coils
I have installed the ignitions coils and they are a perfect fit. I have used your instructional videos whether I buy parts or not from 1a Auto. I really appreciate the videos and how instructive they are. Thanks for such an easy to use system of instruction and available parts to complete the job!
Good parts
I like getting parts from yall cause yall always have the lowest prices but good quality parts.
Top quality and easy install
Thes coils were as sturdy as OEM. Installation was under an hour for 8 coils.
Awesome product
Awesome product solved my problem in my Lincoln navigator I would recommend this to anyone
Fixed my issue
Great product for the price runs better than it was before Thanks A1auto
So far So good.
06 F250 5.4L developed a bad hesitation under minimal load. Knew it was either plugs or coilpacks. went with the easier and option of CP as the plugs have a reputation of snapping off in the head. Considerably cheaper through 1A Auto than anywhere else. Problem solved and at a fraction of the price.
Great transaction and product
Great transaction. Fast shipping. Will shop from them again!
Thumbs up
Im always hesitant about buying things online because you never know what youre buying but I can say Im very please with the ignition coils my husband and I purchased from this website. I will definitely be making another purchase in the near future.
COILS FROM A=1
I have now purchased coils from A-1 twice, my local supplier in Springfield Mo was bought out and now they ship freight from a warehouse in TN now having 2 purchase $300 to get free freight. Thanks A-1 will be stocking more coils soon.... we do a coil, plug tune for 59.95 a hole with A-1 coils,, thanks agin
Finally fixed my truck!
I have been dealing with my 2005 F150 engine having a skip or miss for about 4 months. I thought it was my transmission but when I started reading about others having the same issue online, I saw where the ignition coil was the problem with most of the F150s. Most of the sets of 8 coils were $200+. I saw these at 1/3 the price of others and decided to try them. I watched 1As "how to" video. My son and I installed them on Saturday morning in less than 1 hour and WOW!....no more hesitation in my engine! I have about 100 miles on these coils and it runs like new. 100% satisfied!
Coils
These coils were perfect. Direct fit and performed as advertised. Good price and fast shipping. Thanks
Work great
They work great 3 weeks and 1000 miles roughly later no problems at all.
4.7 l v8 ignition coils 2006 model ford
Not name brand but so far so good. Great price and installation videos. Quick delivery. Itd be 5 stars if it was a name brand. ????????
Nice Deal!
Thank you for this product! Amazing quality for an amazing price! Your saying is true: "the best service on the internet". Recommend it.
Great service and outstanding value
Replaced all coils on my 2004 F150 triton. Worked as advertised. Recommend this distributor, great service, great price with free shipping. Will use for any additional needs.
Great product
I have a 2006 F150 and it was running bad. The rear was shacking bad when I went up hills, my mpg was at 11. There was no power in my truck. I replaced the the coils and the truck runs great. I recommend 1aauto to all my friends and family. I will be buying from them again. And the best part was the price, no auto part store could come close to the price.
Done for my truck just what I wanted it too .. easy to install great price.. great company to buy from
Made a big difference!
Truck had periodic power loss, intermittent engine light occasionally flashing. Hasn't happened since replacing all the coils. Running great
my husband finally got to put them on his truck, had to wait for the weather to break, he drove it today and it seems to be better, he will know more tonight,
Worked perfectly
Worked for my 2004 f50 5.4. I was concerned because they were not the motorcraft coils. But they work great so far.
Very fast shipping
I am very happy to say it was shipped fast i just did not need them at this Time so i will keep them i had a Bad spark plug so changed all my plugs will hold on to the coils just in case !
Cheapest price
The price was cheaper than I found anywhere else. The installation video gave me the confidence to do it myself and it fixed the problem. I have only driven about 300 miles since replacing them or I would rate them higher.
Just what I needed
Perfect fit for my 2006 ford Explorer. Shipped fast and fit perfectly. Took about 1/2 Hour to remove the old ones and install the new. Fixed the stuttering issue I had. Shop rate was over $300.00. My mechanic said, order them online and install your self and save a bunch of money. I love that he is honest. I would recommend these to anyone.
2005 f150
Had bucking and jerking at 40-50mph replaced all and truck runs great so far .
So far meet requirements, just installed coils and plugs
Already combining 8 new coils and plugs have improved gas mileage. The error P0301, P0303, P0356 codes are now gone and fixed. I am happy with purchase.
Perfect
This has been in my truck for 3 weeks now and no problems and has lots of power again would definitely recommend it to everyone
They working great so far
Yes I would they are working great my truck is running a lot better and use less fuel thank you so much
Great quality perfect fit.
Great quality perfect Bitt Fast shipping Great price
Reliable parts without breaking the wallet
Ive used 1A Auto for more than a year now and have never been let down. There parts are excellent quality at truly affordable pricing. The ignition coils Im writing a review about are working perfectly. And Ive paid half the "stealerships" and chain auto parts store price. So what you have to wait for shipping. A1 ships fast and reliable. They will continue to get my business. My coils are a direct fit and my wallet remains somewhat full. Thanks again A1 Auto Parts
Working Great!
I had no idea just how bad the original coils had gotten. When you drive with less power and the occasional misfire and surging on hills you get used to it after a while. I replaced them a few weeks back and it runs like a new vehicle again. I am also getting 3 more MPG. Very impressed. TIP: get a 1/4" socket set and a good u-joint socket extension for getting out the coils on the passenger side.
Ford Expedition xlt el
My truck was hesitating whenever I accelerate. Advance auto diagnosed it and told me that it was my coil pack Number four. Then he explained Not to just replaced that one, replace all eight. He actually referred me to A1 on the low. The rating was great. So I gave it a try. My truck is driving smoother than before and haven't had any problems within a whole month of getting them replaced
Big change in pulling power.
Easy to install and makes a huge difference. Would recommend this product to anyone.
Excellent Product!
Product was just as described. Shipping was fast, but most importantly it fixed my problem for a fraction of the cost that a shop would have charged! Would definitely recommend to others and most certainly will use A1 for future purchases.
Ignition coils..
First of all I can't believe I got in this site so late! This site is freaking awesome, great selection and prices. Coils I ordered where the perfect match to originals. Easy to install w exception to coils in the back end of engine (hard to reach) but that's just the way expedition is. Car running like new after coils were replaced! All of my autos are old so this website was godsend to get great parts at decent price! Will definitely order from here again
2007 Ford F150 5.4L
These are 3 times cheaper than OEM and just a bit more pricier than used, but these are new and they fit well. Check engine light for cylinder misfire is now fixed, would recommend.
Fixed my truck and didn't break the bank
My truck was running bad and the engine light would flash if I accelerated on the freeway. I ordered the parts which were a fraction of the cost had I got them at the local auto parts store. It fixed the problem and if they last a good while then it was a great success. I'm happy with the results AND the prices. In addition to that it was free shipping. Can't beat it.
Unbeatable deal to fix your shuttering 5.4
The dreaded 5.4 coil and plug replacement is smoothed over Big time time when you pay a fraction of the price for the 1aauto coil pack, rather than from the local parts store. Great quality and performance from these coils!! Gas milage is through the roof and the restored horse power makes my truck feel brand new!
Ford Ignition Coils did the trick
Code showed random miss fire for three cylinders on 2006 V8 Ford F 150 Lariat. Changed those three Ignition Coils and test drove. Result. Smooth as silk. What a relief!. Replaced others and test drove again. Smooth again.
Looks good
Was a good fit and seemed to be good quality worth getting these to save money verse motorcraft ones.
Got the coils in 2 days after I ordered them which was great, and of course the instal was easy. They seem to be working great so far! And you cant beat the price compared to the other parts stores that want 250$+
Perfect!
I was leary because they were so much cheaper than the motorcraft coils, but they look identical and so far they make the truck run like new again. Shipping was very fast as well.
OEM fit.
Customer had a Random misfire on his 2007 F-150. I ordered these and the Random misfire code went away. Eight of these coil packs for the price of one. Customer is very happy and so am I. "Ed".
Inexpensive ...But, work!
I purchased these coils for my 06 Ford F-150 Super Crew FX4 that was having sluggish performance problems. These coils (the cheapest I could find) coupled with new E3 spark plugs and a VVT solenoid repair kit completely fixed the problem. The coils may be inexpensive compared to other brands, but they work! Drove the truck home from the repair shop and it was like driving a vehicle with 100k fewer miles on it. I highly recommend to others.
Factory Quality
I bought these over a year ago. Since the installation and numerous trips, stop and go traffic, and countries start ups I havent had a single issue. The price comparison alone is worth more than the second thought of should I buy this. You should buy these.
ignition coils
I wanted to thank you for your great service and timely delivery of my coils. A rep double checked to make sure that I had the correct coils and everything worked great. I will surely order from you again. Thanks again, Mack
Sent the wrong part but took care of it quickly.
Ordered these ignition coils in a pack of 8. I got through installing of the and grabbed the last two from the box and they were the incorrect parts. I called on a Sunday night and they sent me the correct ones by Wednesday. So it was taken care of easily and quickly. Just an inconvenience. The parts were less than half the price of autozone so we will see how they last. So far so good.
Great product
Great product worked very well. Installed product very quickly with no issues at all. Parts come in very quickly I would highly recommend these products. Very pleased with my purchase I would definitely buy these parts again
Ignition Coil
Very please with product, solved are problems. Fast and prompt delivery. Would suggest this company and will be using for future purchases.
so far so good
Ive only had them installed about a month now but so far so good.
work perfect
Changed all 8 for less than 1 oem. Started truck up and ran like a new one. Shudder and misfire gone. I did change all 8 plugs and went with Motorcraft..
Ignition couls
Got a good deal on my purchase for all the coils I ordered.
Coils
Coils were perfect and for such a low low price!! I will most definitely continue to buy my auto parts from this company!
Five stars
Everything fit and worked as it should. Fast shipping. Great product.
Excellent product
Can't beat the price for the product. Not only did they fit perfectly but with videos to help made installation even easier. Totally recommend and will purchase more parts for my vehicles.
Its good
Its good...............................................
F150 coils
Seems to be good quality for the price, Perfect fit and eliminated my misfire. Would be 5 stars but too soon to judge longevity.
Rodney
Excellent product. I would definitely order from 1a auto again,thats the way to go. You cant go wrong
Great parts, great price!
I ordered a pack of ignition coils for my F150 because it was running rough. Got a great price at 1a auto on them! I popped in the new coils and the truck was back to running like a champ!
Very unimpressed all around
I baught this coil pack kit and installed it into my pickup as I had a slight mis under acceleration. After installing I went to take vehicle for a drive and it went from a slight mis to skipping and barely enough power to move itself out of its own way. Took them all back out to put my old ones back in and truck runs like it did originally. Right out of the box they were junk. Call customer service to get a guy telling me I installed them incorrectly. Not my idea of great service or a product.
Quick and easy.
Great price and fast shipping! $200+ at a parts store they had the same coil packs less then $80 and a direct fit. They shipped my order in a few days and I got my truck back on the road.
Perfect fit, engine runs like new!
Hardest part of installing these new coils was removing the old, original ford ones and pulling out the pieces of the insulator boot that had deteriorated. Truck has 185,000 miles and with these new coils, its firing again on all 8 cylinders. Seems to run better than when she was new.
Excellent ignition coils work perfect will be shopping with 1A Auto again
Ignition coil
I have an 05 f-150 that sputtered until I reached a level speed. So I looked up trouble shooting on this and searched for coils for my truck. This products works great and I received them quickly. I recommend 1A Auto for your replacement parts, they have the best prices
Perfect fit, excellent service!
Had a question about the part I wanted to order and they contacted me promptly with the answer. I ordered the part, installed it and it works like a champ! Thanks!
Great, inexpensive coils
Coils fit fine, no issues.
worked great
Right part easy install. Fit perfectly. Motor now runs smooth as a top just like it should.
Very Quick Service
Installed the coils in less then an hour,perfect fit....1A Auto is number 1
New coil packs did the job!
Well built, oem quality or better!
Very Satisfied!
I received this set of coil packs and installed them a couple of months ago, I had been having a misfire for quite sometime. My truck has been running great every since. Excellent price and quality seems great as well.
Customer Q&A
Ask a question to 1A Auto customers who purchased the product
Do I need to replace spark plug cable too?
This item goes right into the spark plug , the coil packs do away with the cables
Charles A
September 9, 2015
No, these coils go directly onto the spark plug, there is no cable.
Jonathan C
September 9, 2015
Each ignition coil is a complete unit that fits directly on to the spark plug, no cable is required.
Peter C
September 9, 2015
No. The cable is a six inch long boot that comes with the coil, already attached, and ready to install.
There is no spark plug cable. This is electronic ignition. The coil packs replace the distribuator that used to be on old systems.
Are these for the 5.4 three valve?
I had a 2006 f-150 8cyl. 5.4 lt And they worked fine
Yes. And have worked very well. Highly recommend. Just put a little diaode greese on electrical hook ups.
Fit my 2008 5.4L navigator, they worked great at half the price of OEM.
2006 Lincoln Navigator was a perfect fit. All 8 cost the price for 1 OEM factory coil.
Who is the product manufacturer of these coils?
Unfortunately I dont remember
These are our 1A Auto brand parts, built to meet or exceed OE specifications and backed by a lifetime warranty.
where will the parts be coming from?
We ship these parts from one of our warehouses. It will either be Kansas or Massachusetts subject to stock and your location.
Are these coils for a 2v or 3v?
these coils were for a 2005 ford expedition 5.4 2V
Whats the voltage and primary resistance?
Actual measurements and specifications are not listed or available. Our parts are exact replacements for your vehicles OEM parts.As long as your year, make, and model match up with our listing, these parts will directly fit and function like the originals.
| Year | Make | Model | Description |
| --- | --- | --- | --- |
| 2005-2007 | Ford | Expedition | Ford Expedition Ignition Coil 8 Piece Set |
| 2008 | Ford | Expedition | Ford Expedition Ignition Coil 8 Piece Set for Models with Black Ignition Coil Boot |
| 2006-2007 | Ford | Explorer | Ford Explorer V8 4.6L Ignition Coil 8 Piece Set |
| 2008 | Ford | Explorer | Ford Explorer V8 4.6L Ignition Coil 8 Piece Set for Models with Black Ignition Coil Boot |
| 2007 | Ford | Explorer Sport Trac | Ford Explorer Sport Trac V8 4.6L Ignition Coil 8 Piece Set |
| 2008 | Ford | Explorer Sport Trac | Ford Explorer Sport Trac V8 4.6L Ignition Coil 8 Piece Set for Models with Black Ignition Coil Boot |
| 2004-2007 | Ford | F150 Truck | Ford F150 Truck V8 5.4L Ignition Coil 8 Piece Set |
| 2008 | Ford | F150 Truck | Ford F150 Truck V8 5.4L Ignition Coil 8 Piece Set for Models with Black Ignition Coil Boot |
| 2005-2007 | Ford | F250 Super Duty Truck | Ford F250 Super Duty Truck V8 5.4L Ignition Coil 8 Piece Set |
| 2008 | Ford | F250 Super Duty Truck | Ford F250 Super Duty Truck V8 5.4L Ignition Coil 8 Piece Set for Models with Black Ignition Coil Boot |
| 2005-2007 | Ford | F350 Super Duty Truck | Ford F350 Super Duty Truck V8 5.4L Ignition Coil 8 Piece Set |
| 2008 | Ford | F350 Super Duty Truck | Ford F350 Super Duty Truck V8 5.4L Ignition Coil 8 Piece Set for Models with Black Ignition Coil Boot |
| 2005-2007 | Ford | Mustang | Ford Mustang V8 4.6L Ignition Coil 8 Piece Set |
| 2008 | Ford | Mustang | Ford Mustang V8 4.6L Ignition Coil 8 Piece Set for Models with Black Ignition Coil Boot |
| 2006-2007 | Lincoln | Mark LT | Lincoln Mark LT Ignition Coil 8 Piece Set |
| 2008 | Lincoln | Mark LT | Lincoln Mark LT Ignition Coil 8 Piece Set for Models with Black Ignition Coil Boot |
| 2005-2007 | Lincoln | Navigator | Lincoln Navigator Ignition Coil 8 Piece Set |
| 2008 | Lincoln | Navigator | Lincoln Navigator Ignition Coil 8 Piece Set for Models with Black Ignition Coil Boot |
| 2006-2007 | Mercury | Mountaineer | Mercury Mountaineer V8 4.6L Ignition Coil 8 Piece Set |
| 2008 | Mercury | Mountaineer | Mercury Mountaineer V8 4.6L Ignition Coil 8 Piece Set for Models with Black Ignition Coil Boot |
Part #: 1AERK00009
Order must be placed by 4pm ET
Get it in: 2 - 4 Business Days
Want it sooner? Choose Next Day Air at Checkout