DEECI00048-Ignition Coil
Replaces
Ignition Coil Delphi GN10123 - DEECI00048
DEECI00048
Specifications:
Brand New Delphi Ignition Coil
Direct replacement
Built to strict quality control standards
Our electrical and electronic parts are subject to strict quality control testing. Please ensure proper diagnosis of this item before purchasing as the item cannot be returned once installed or plugged in.
Item Condition: New

Lifetime Warranty
This item is backed by a Limited Lifetime Warranty. In the event this item should fail due to manufacturing defects during intended use, we will exchange the part free of charge (excludes shipping charges) for the original purchaser.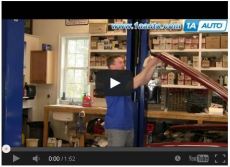 step : Remove the ignition coil (1:31)

Use an 8 mm wrench to disconnect your negative battery terminal
Unbolt the ignition coil with your 7/32 inch socket, ratchet and extension.
Unplug the spark plug wire.

step : Install the new ignition coil (5:20)

Bolt the ignition coil down with your 7/32 inch socket.
Reconnect the spark plug wire.

step : Service the rest of the ignition coils. (7:55)

Repeat steps 2 and 3 until you have serviced all the coils.
Do this one at a time so you don't accidentally mix up your spark plug wires.
Reconnect your negative battery terminal with your 8 mm wrench.
Tools needed for replacement:
Ratchets & Related

Ratchet
Socket Extensions

Sockets - SAE

7/32 Inch Socket

Wrenches - Metric

8mm Wrench
There are no reviews for this item.
Customer Q&A
Ask a question to 1A Auto customers who purchased the product
No questions have been asked about this item.
| Year | Make | Model | Description |
| --- | --- | --- | --- |
| 1986-1988 | Buick | Century | Buick Century Ignition Coil V6 3.8L Delphi GN10123 |
| 1987-1989 | Buick | Century | Buick Century Ignition Coil V6 2.8L Delphi GN10123 |
| 1987-1992 | Buick | Century | Buick Century Ignition Coil L4 2.5L Delphi GN10123 |
| 1989-1993 | Buick | Century | Buick Century Ignition Coil V6 3.3L Delphi GN10123 |
| 1993-1996 | Buick | Century | Buick Century Ignition Coil L4 2.2L Delphi GN10123 |
| 1994-2005 | Buick | Century | Buick Century Ignition Coil V6 3.1L Delphi GN10123 |
| 1986-1987 | Buick | Electra | Buick Electra Ignition Coil V6 3.8L Delphi GN10123 |
| 2005-2009 | Buick | LaCrosse | Buick LaCrosse Ignition Coil V6 3.8L Delphi GN10123 |
| 1986-1988 | Buick | LeSabre | Buick LeSabre Ignition Coil V6 3.8L Delphi GN10123 |
| 1992-2004 | Buick | LeSabre | Buick LeSabre Ignition Coil Delphi GN10123 |
| 2006-2008 | Buick | Lucerne | Buick Lucerne Ignition Coil V6 3.8L Delphi GN10123 |
| 1991-2005 | Buick | Park Avenue | Buick Park Avenue Ignition Coil Delphi GN10123 |
| 1991 | Buick | Reatta | Buick Reatta Ignition Coil Delphi GN10123 |
| 1988-1989 | Buick | Regal | Buick Regal Ignition Coil V6 2.8L Delphi GN10123 |
| 1989-1996 | Buick | Regal | Buick Regal Ignition Coil V6 3.1L Delphi GN10123 |
| 1990-2004 | Buick | Regal | Buick Regal Ignition Coil V6 3.8L Delphi GN10123 |
| 2002-2005 | Buick | Rendezvous | Buick Rendezvous Ignition Coil V6 3.4L Delphi GN10123 |
| 1986-1993 | Buick | Riviera | Buick Riviera Ignition Coil Delphi GN10123 |
| 1995-1999 | Buick | Riviera | Buick Riviera Ignition Coil Delphi GN10123 |
| 1987-1989 | Buick | Skyhawk | Buick Skyhawk Ignition Coil Delphi GN10123 |
| 1987-1991 | Buick | Skylark | Buick Skylark Ignition Coil L4 2.5L Delphi GN10123 |
| 1989-1993 | Buick | Skylark | Buick Skylark Ignition Coil V6 3.3L Delphi GN10123 |
| 1994-1998 | Buick | Skylark | Buick Skylark Ignition Coil V6 3.1L Delphi GN10123 |
| 1987 | Buick | Somerset | Buick Somerset Ignition Coil L4 2.5L Delphi GN10123 |
| 1993 | Cadillac | Allante | Cadillac Allante Ignition Coil Delphi GN10123 |
| 1987-1988 | Cadillac | Cimarron | Cadillac Cimarron Ignition Coil Delphi GN10123 |
| 1994-1999 | Cadillac | Deville | Cadillac Deville Ignition Coil V8 4.6L Delphi GN10123 |
| 1993-1999 | Cadillac | Eldorado | Cadillac Eldorado Ignition Coil V8 4.6L Delphi GN10123 |
| 1993-1999 | Cadillac | Seville | Cadillac Seville Ignition Coil V8 4.6L Delphi GN10123 |
| 1987-1989 | Chevy | Beretta | Chevy Beretta Ignition Coil V6 2.8L Delphi GN10123 |
| 1987-1989 | Chevy | Beretta | Chevy Beretta Ignition Coil L4 2.0L Delphi GN10123 |
| 1990-1996 | Chevy | Beretta | Chevy Beretta Ignition Coil L4 2.2L Delphi GN10123 |
| 1990-1996 | Chevy | Beretta | Chevy Beretta Ignition Coil V6 3.1L Delphi GN10123 |
| 1993-1995 | Chevy | Camaro | Chevy Camaro Ignition Coil V6 3.4L Delphi GN10123 |
| 1995-2002 | Chevy | Camaro | Chevy Camaro Ignition Coil V6 3.8L Delphi GN10123 |
| 1987-1989 | Chevy | Cavalier | Chevy Cavalier Ignition Coil Delphi GN10123 |
| 1990-1994 | Chevy | Cavalier | Chevy Cavalier Ignition Coil V6 3.1L Delphi GN10123 |
| 1990-2002 | Chevy | Cavalier | Chevy Cavalier Ignition Coil L4 2.2L (8th Vin Digit 4) Delphi GN10123 |
| 1987-1989 | Chevy | Celebrity | Chevy Celebrity Ignition Coil V6 2.8L Delphi GN10123 |
| 1987-1990 | Chevy | Celebrity | Chevy Celebrity Ignition Coil L4 2.5L Delphi GN10123 |
| 1990 | Chevy | Celebrity | Chevy Celebrity Ignition Coil V6 3.1L Delphi GN10123 |
| 1987-1996 | Chevy | Corsica | Chevy Corsica Ignition Coil Delphi GN10123 |
| 1990-1995 | Chevy | Corvette | Chevy Corvette Ignition Coil Delphi GN10123 |
| 2000-2005 | Chevy | Impala | Chevy Impala Ignition Coil Delphi GN10123 |
| 1990-2001 | Chevy | Lumina | Chevy Lumina Ignition Coil Delphi GN10123 |
| 1992-1995 | Chevy | Lumina APV | Chevy Lumina APV Ignition Coil V6 3.8L Delphi GN10123 |
| 1996 | Chevy | Lumina APV | Chevy Lumina APV Ignition Coil Delphi GN10123 |
| 1997-2003 | Chevy | Malibu | Chevy Malibu Ignition Coil V6 3.1L Delphi GN10123 |
| 1995-2005 | Chevy | Monte Carlo | Chevy Monte Carlo Ignition Coil Delphi GN10123 |
| 1994-2003 | Chevy | S10 Pickup | Chevy S10 Pickup Ignition Coil L4 2.2L Delphi GN10123 |
| 1997-2005 | Chevy | Venture | Chevy Venture Ignition Coil V6 3.4L Delphi GN10123 |
| 1994-2003 | GMC | S-15 Sonoma | GMC S-15 Sonoma Ignition Coil L4 2.2L Delphi GN10123 |
| 1994-1995 | Honda | Passport | Honda Passport Ignition Coil V6 3.2L Delphi GN10123 |
| 1997-2000 | Isuzu | Hombre | Isuzu Hombre Ignition Coil L4 2.2L Delphi GN10123 |
| 1993-1996 | Isuzu | Rodeo | Isuzu Rodeo Ignition Coil V6 3.2L Delphi GN10123 |
| 1992-1995 | Isuzu | Trooper | Isuzu Trooper Ignition Coil Delphi GN10123 |
| 1993-1999 | Oldsmobile | 88 | Olds 88 Ignition Coil Delphi GN10123 |
| 1986-1987 | Oldsmobile | 98 | Olds 98 Ignition Coil Delphi GN10123 |
| 1992-1996 | Oldsmobile | 98-Regency | Olds 98-Regency Ignition Coil Delphi GN10123 |
| 1992-1993 | Oldsmobile | Achieva | Olds Achieva Ignition Coil V6 3.3L Delphi GN10123 |
| 1994-1998 | Oldsmobile | Achieva | Olds Achieva Ignition Coil V6 3.1L Delphi GN10123 |
| 1999-2004 | Oldsmobile | Alero | Olds Alero Ignition Coil V6 3.4L Delphi GN10123 |
| 1995-1999 | Oldsmobile | Aurora | Olds Aurora Ignition Coil Delphi GN10123 |
| 1997-1999 | Oldsmobile | Cutlass | Olds Cutlass Ignition Coil Delphi GN10123 |
| 1989-1991 | Oldsmobile | Cutlass Calais | Olds Cutlass Calais Ignition Coil V6 3.3L Delphi GN10123 |
| 1989-1991 | Oldsmobile | Cutlass Calais | Olds Cutlass Calais Ignition Coil L4 2.5L Delphi GN10123 |
| 1986-1988 | Oldsmobile | Cutlass Ciera | Olds Cutlass Ciera Ignition Coil V6 3.8L Delphi GN10123 |
| 1987-1989 | Oldsmobile | Cutlass Ciera | Olds Cutlass Ciera Ignition Coil V6 2.8L Delphi GN10123 |
| 1987-1992 | Oldsmobile | Cutlass Ciera | Olds Cutlass Ciera Ignition Coil L4 2.5L Delphi GN10123 |
| 1989-1993 | Oldsmobile | Cutlass Ciera | Olds Cutlass Ciera Ignition Coil V6 3.3L Delphi GN10123 |
| 1993-1996 | Oldsmobile | Cutlass Ciera | Olds Cutlass Ciera Ignition Coil L4 2.2L Delphi GN10123 |
| 1994-1996 | Oldsmobile | Cutlass Ciera | Olds Cutlass Ciera Ignition Coil V6 3.1L Delphi GN10123 |
| 1987-1988 | Oldsmobile | Cutlass Cruiser FWD | Olds Cutlass Cruiser Ignition Coil V6 3.8L Delphi GN10123 |
| 1987-1990 | Oldsmobile | Cutlass Cruiser FWD | Olds Cutlass Cruiser Ignition Coil L4 2.5L Delphi GN10123 |
| 1987-1989 | Oldsmobile | Cutlass Cruiser FWD | Olds Cutlass Cruiser Ignition Coil V6 2.8L Delphi GN10123 |
| 1990-1993 | Oldsmobile | Cutlass Cruiser FWD | Olds Cutlass Cruiser Ignition Coil V6 3.3L Delphi GN10123 |
| 1994 | Oldsmobile | Cutlass Cruiser FWD | Olds Cutlass Cruiser Ignition Coil Delphi GN10123 |
| 1988-1989 | Oldsmobile | Cutlass Supreme | Olds Cutlass Supreme Ignition Coil V6 2.8L Delphi GN10123 |
| 1989-1997 | Oldsmobile | Cutlass Supreme | Olds Cutlass Supreme Ignition Coil V6 3.1L Delphi GN10123 |
| 1991-1996 | Oldsmobile | Cutlass Supreme | Olds Cutlass Supreme Ignition Coil V6 3.4L Delphi GN10123 |
| 1986-1988 | Oldsmobile | Delta 88 | Olds Delta 88 Ignition Coil Delphi GN10123 |
| 1987 | Oldsmobile | Firenza | Olds Firenza Ignition Coil V6 2.8L Delphi GN10123 |
| 1987-1988 | Oldsmobile | Firenza | Olds Firenza Ignition Coil L4 2.0L Delphi GN10123 |
| 1998-1999 | Oldsmobile | Intrigue | Olds Intrigue Ignition Coil V6 3.8L Delphi GN10123 |
| 1996-1999 | Oldsmobile | LSS | Olds LSS Ignition Coil Delphi GN10123 |
| 1992-1995 | Oldsmobile | Silhouette | Olds Silhouette Ignition Coil V6 3.8L Delphi GN10123 |
| 1996-2004 | Oldsmobile | Silhouette | Olds Silhouette Ignition Coil Delphi GN10123 |
| 1986-1987 | Oldsmobile | Toronado | Olds Toronado Ignition Coil Delphi GN10123 |
| 1991-1992 | Oldsmobile | Toronado | Olds Toronado Ignition Coil Delphi GN10123 |
| 1987-1991 | Pontiac | 6000 | Pontiac 6000 Ignition Coil Delphi GN10123 |
| 2001-2005 | Pontiac | Aztek | Pontiac Aztek Ignition Coil Delphi GN10123 |
| 1987-2005 | Pontiac | Bonneville | Pontiac Bonneville Ignition Coil V6 3.8L Delphi GN10123 |
| 1992-2005 | Pontiac | Bonneville | Pontiac Bonneville Ignition Coil V6 3.8L Supercharged Delphi GN10123 |
| 1987-1988 | Pontiac | Fiero | Pontiac Fiero Ignition Coil L4 2.5L Delphi GN10123 |
| 1993-1995 | Pontiac | Firebird | Pontiac Firebird Ignition Coil V6 3.4L Delphi GN10123 |
| 1995-2002 | Pontiac | Firebird | Pontiac Firebird Ignition Coil V6 3.8L Delphi GN10123 |
| 1987-1991 | Pontiac | Grand Am | Pontiac Grand Am Ignition Coil L4 2.5L Delphi GN10123 |
| 1992-1993 | Pontiac | Grand Am | Pontiac Grand Am Ignition Coil V6 3.3L Delphi GN10123 |
| 1994-1998 | Pontiac | Grand Am | Pontiac Grand Am Ignition Coil V6 3.1L Delphi GN10123 |
| 1999-2005 | Pontiac | Grand Am | Pontiac Grand Am Ignition Coil V6 3.4L Delphi GN10123 |
| 1988-1989 | Pontiac | Grand Prix | Pontiac Grand Prix Ignition Coil V6 2.8L Delphi GN10123 |
| 1988-1989 | Pontiac | Grand Prix | Pontiac Grand Prix Ignition Coil V6 2.8L Delphi GN10123 |
| 1989-2003 | Pontiac | Grand Prix | Pontiac Grand Prix Ignition Coil V6 3.1L Delphi GN10123 |
| 1991-1996 | Pontiac | Grand Prix | Pontiac Grand Prix Ignition Coil V6 3.4L Delphi GN10123 |
| 1997-2008 | Pontiac | Grand Prix | Pontiac Grand Prix Ignition Coil V6 3.8L Delphi GN10123 |
| 2004-2008 | Pontiac | Grand Prix | Pontiac Grand Prix Ignition Coil V6 3.8L Supercharged Delphi GN10123 |
| 1999-2005 | Pontiac | Montana | Pontiac Montana Ignition Coil Delphi GN10123 |
| 1991-1994 | Pontiac | Sunbird | Pontiac Sunbird Ignition Coil V6 3.1L Delphi GN10123 |
| 1995-2002 | Pontiac | Sunfire | Pontiac Sunfire Ignition Coil L4 2.2L (8th Vin Digit 4) Delphi GN10123 |
| 1992-1995 | Pontiac | Trans Sport | Pontiac Trans Sport Ignition Coil V6 3.8L Delphi GN10123 |
| 1996-1998 | Pontiac | Trans Sport | Pontiac Trans Sport Ignition Coil Delphi GN10123 |
Part #: DEECI00048
Order must be placed by 4pm ET
Get it in: 2 - 4 Business Days
Want it sooner? Choose Next Day Air at Checkout

Brand #: GN10123