1AZHS00001-Headlight Switch
Replaces
Headlight Switch - 1AZHS00001
1AZHS00001
This headlight switch is a new, aftermarket replacement part. It is designed to REPLACE original GM head light switches that are failure prone. It's just what you need to get your vehicle in good working order again! This head light switch has the following specifications:
7 terminal configuration
Plunger Style (pull out, push in)
Proper rheostat for internal light dimming
Dash Board mount
Exact fit
No cutting or splicing necessary
Built to strict quality control standards
Direct replacement
Does not fit vehicles with hideaway headlights
Replaces one of many GM part numbers including:

1995154
1995155
1995159
1995170
1995180
1995182
1995183
1995188
1995192
1995193
1995195
1995198
1995199
1995203
1995216
1995217
1995222
1995276
If your vehicle lighting system is having problems because of a defective headlight switch, then this is the part for you!
WARNING: This product can expose you to chemicals including Lead and Lead Compounds, which are known to the State of California to cause cancer, and birth defects or other reproductive harm. For more information, go to www.P65Warnings.ca.gov.
Returns Note:
Our electrical and electronic parts are subject to strict quality control testing. Once the item has been installed or plugged in, it is no longer eligible for a refund. The item may be eligible for replacement, only if it is found to have a manufacturing defect. Before purchasing, please ensure proper diagnosis of the failed original part is performed.
Lifetime Warranty
This item is backed by a Limited Lifetime Warranty. In the event this item should fail due to manufacturing defects during intended use, we will exchange the part free of charge (excludes shipping charges) for the original purchaser.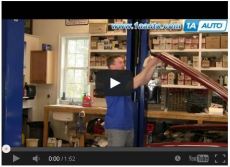 step : Disconnect your battery (1:08)

Disconnect your negative battery terminal

step : Remove the headlight switch (1:10)

Reach up under the dash and press the button on the switch to pull the plunger out.
Pull down the AC duct and remove all the screws in the dash trim.
Remove the threaded washer over the switch.
Unplug the switch.

step : Install the new headlight switch (5:00)

Plug in the new headlight switch.
Replace the threaded washer.
Replace the dash trim and the duct work under the dash.
Put the headlight switch plunger back into place.
Tools needed for replacement:
Screwdrivers & Related

Phillips Head Screwdriver
Flat Blade Screwdriver
Great and fast service
Excellent product great and responsable seller super fast shipping!!
September 29, 2017
Purchased
11 months ago
Vehicle Fit
| Year | Make | Model | Description |
| --- | --- | --- | --- |
| 1973-1975 | Buick | Apollo | Buick Apollo Headlight Switch 7 Terminal |
| 1971-1973 | Buick | Centurion | Buick Centurion Headlight Switch 7 Terminal |
| 1968-1977 | Buick | Electra | Buick Electra Headlight Switch 7 Terminal |
| 1970-1977 | Buick | Estate Wagon | Buick Estate Wagon Headlight Switch 7 Terminal |
| 1968-1972 | Buick | Gran Sport | Buick Gran Sport Headlight Switch 7 Terminal |
| 1968-1977 | Buick | LeSabre | Buick LeSabre Headlight Switch 7 Terminal |
| 1974-1977 | Buick | Regal | Buick Regal Headlight Switch 7 Terminal |
| 1968-1978 | Buick | Riviera | Buick Riviera Headlight Switch 7 Terminal |
| 1971 | Buick | Riviera | Buick Riviera GS Headlight Switch 7 Terminal |
| 1975-1985 | Buick | Skyhawk | Buick Skyhawk Headlight Switch 7 Terminal |
| 1968-1979 | Buick | Skylark | Buick Skylark Headlight Switch 7 Terminal |
| 1968-1969 | Buick | Special | Buick Special Headlight Switch 7 Terminal |
| 1968-1972 | Buick | Sport Wagon | Buick Sport Wagon Headlight Switch 7 Terminal |
| 1968-1970 | Buick | Wildcat | Buick Wildcat Headlight Switch 7 Terminal |
| 1982-1988 | Cadillac | Cimarron | Cadillac Cimarron Headlight Switch 7 Terminal |
| 1969-1975 | Chevy | Bel-Air | Chevy Bel-Air Headlight Switch 7 Terminal |
| 1981 | Chevy | Bel-Air | Chevy Bel-Air Headlight Switch 7 Terminal |
| 1969-1972 | Chevy | Biscayne | Chevy Biscayne Headlight Switch 7 Terminal |
| 1972-1991 | Chevy | Blazer Full Size | Chevy Blazer Full Size Headlight Switch 7 Terminal |
| 1983-1984 | Chevy | Blazer S10 | Chevy Blazer S10 Headlight Switch 7 Terminal |
| 1971 | Chevy | Brookwood | Chevy Brookwood Headlight Switch 7 Terminal |
| 1970-1986 | Chevy | C10 Truck | Chevy C10 Truck Headlight Switch 7 Terminal |
| 1970-1986 | Chevy | C20 Truck | Chevy C20 Truck Headlight Switch 7 Terminal |
| 1970-1986 | Chevy | C30 Truck | Chevy C30 Truck Headlight Switch 7 Terminal |
| 1969-1985 | Chevy | Camaro | Chevy Camaro Headlight Switch 7 Terminal |
| 1969-1984 | Chevy | Caprice | Chevy Caprice Headlight Switch 7 Terminal |
| 1983-1984 | Chevy | Cavalier | Chevy Cavalier Headlight Switch 7 Terminal |
| 1986-1989 | Chevy | Cavalier | Chevy Cavalier Z24 Headlight Switch 7 Terminal |
| 1982-1988 | Chevy | Celebrity | Chevy Celebrity Headlight Switch 7 Terminal |
| 1969-1977 | Chevy | Chevelle | Chevy Chevelle Headlight Switch 7 Terminal |
| 1970-1971 | Chevy | Chevelle | Chevy Chevelle SS Headlight Switch 396ci 7 Terminal |
| 1971 | Chevy | Chevelle | Chevy Chevelle SS Headlight Switch 454ci 7 Terminal |
| 1979-1987 | Chevy | Chevette | Chevy Chevette Headlight Switch 7 Terminal |
| 1983 | Chevy | Citation | Chevy Citation Headlight Switch 7 Terminal |
| 1984 | Chevy | Citation II | Chevy Citation II Headlight Switch 7 Terminal |
| 1969 | Chevy | Corvair | Chevy Corvair Headlight Switch 7 Terminal |
| 1969-1987 | Chevy | El Camino | Chevy El Camino Headlight Switch 7 Terminal |
| 1969 | Chevy | Impala | Chevy Impala Headlight Switch 7 Terminal |
| 1981 | Chevy | Impala | Chevy Impala Headlight Switch 7 Terminal |
| 1970-1986 | Chevy | K10 Truck | Chevy K10 Truck Headlight Switch 7 Terminal |
| 1970-1986 | Chevy | K20 Truck | Chevy K20 Truck Headlight Switch 7 Terminal |
| 1970-1986 | Chevy | K30 Truck | Chevy K30 Truck Headlight Switch 7 Terminal |
| 1972 | Chevy | Kingswood | Chevy Kingswood Headlight Switch 7 Terminal |
| 1980-1982 | Chevy | LUV Pickup | Chevy LUV Pickup Headlight Switch 7 Terminal |
| 1978-1983 | Chevy | Malibu | Chevy Malibu Headlight Switch 7 Terminal |
| 1970-1971 | Chevy | Monte Carlo | Chevy Monte Carlo SS Headlight Switch 454ci 7 Terminal |
| 1970-1987 | Chevy | Monte Carlo | Chevy Monte Carlo Headlight Switch 7 Terminal |
| 1975-1980 | Chevy | Monza | Chevy Monza Headlight Switch 7 Terminal |
| 1970 | Chevy | Nova | Chevy Nova SS Headlight Switch 396ci 7 Terminal |
| 1970-1979 | Chevy | Nova | Chevy Nova Headlight Switch 7 Terminal |
| 1987 | Chevy | R1500 Truck | Chevy R1500 Truck Headlight Switch 7 Terminal |
| 1987-1989 | Chevy | R2500 Truck | Chevy R2500 Truck Headlight Switch 7 Terminal |
| 1987-1991 | Chevy | R3500 Truck | Chevy R3500 Truck Headlight Switch 7 Terminal |
| 1982-1984 | Chevy | S10 Pickup | Chevy S10 Pickup Headlight Switch 7 Terminal |
| 1985-1987 | Chevy | Sprint | Chevy Sprint Headlight Switch 7 Terminal |
| 1970-1986 | Chevy | Suburban C10 | Chevy Suburban C10 Headlight Switch 7 Terminal |
| 1970-1986 | Chevy | Suburban C20 | Chevy Suburban C20 Headlight Switch 7 Terminal |
| 1970-1986 | Chevy | Suburban K10 | Chevy Suburban K10 Headlight Switch 7 Terminal |
| 1970-1986 | Chevy | Suburban K20 | Chevy Suburban K20 Headlight Switch 7 Terminal |
| 1987-1988 | Chevy | Suburban R10 | Chevy Suburban R10 Headlight Switch 7 Terminal |
| 1989-1991 | Chevy | Suburban R1500 | Chevy Suburban R1500 Headlight Switch 7 Terminal |
| 1987-1988 | Chevy | Suburban R20 | Chevy Suburban R20 Headlight Switch 7 Terminal |
| 1988-1991 | Chevy | Suburban R2500 | Chevy Suburban R2500 Headlight Switch 7 Terminal |
| 1987-1988 | Chevy | Suburban V10 | Chevy Suburban V10 Headlight Switch 7 Terminal |
| 1989-1991 | Chevy | Suburban V1500 | Chevy Suburban V1500 Headlight Switch 7 Terminal |
| 1987-1988 | Chevy | Suburban V20 | Chevy Suburban V20 Headlight Switch 7 Terminal |
| 1989-1991 | Chevy | Suburban V2500 | Chevy Suburban V2500 Headlight Switch 7 Terminal |
| 1987 | Chevy | V1500 Truck | Chevy V1500 Truck Headlight Switch 7 Terminal |
| 1987-1989 | Chevy | V2500 Truck | Chevy V2500 Truck Headlight Switch 7 Terminal |
| 1987-1991 | Chevy | V3500 Truck | Chevy V3500 Truck Headlight Switch 7 Terminal |
| 1975-1980 | Chevy | Van - P Series Forward Control | Chevy Van - P Series Forward Control P10 Headlight Switch 7 Terminal |
| 1975-1989 | Chevy | Van - P Series Forward Control | Chevy Van - P Series Forward Control P20 Headlight Switch 7 Terminal |
| 1975-1996 | Chevy | Van - P Series Forward Control | Chevy Van - P Series Forward Control P30 Headlight Switch 7 Terminal |
| 1970-1995 | Chevy | Van G-Series | Chevy Van G-Series G10 G20 Headlight Switch 7 Terminal |
| 1971-1995 | Chevy | Van G-Series | Chevy Van G-Series G30 Headlight Switch 7 Terminal |
| 1971 | Chevy | Vega | Chevy Vega Wagon Headlight Switch 7 Terminal |
| 1971-1977 | Chevy | Vega | Chevy Vega Headlight Switch 7 Terminal |
| 1975 | Dodge | Coronet | Dodge Coronet Headlight Switch 7 Terminal |
| 1970-1986 | GMC | C1500 Truck | GMC C1500 Truck Headlight Switch 7 Terminal |
| 1970-1986 | GMC | C2500 Truck | GMC C2500 Truck Headlight Switch 7 Terminal |
| 1970-1986 | GMC | C3500 Truck | GMC C3500 Truck Headlight Switch 7 Terminal |
| 1978-1987 | GMC | Caballero | GMC Caballero Headlight Switch 7 Terminal |
| 1970-1991 | GMC | Jimmy Full Size | GMC Jimmy Full Size Headlight Switch 7 Terminal |
| 1983-1985 | GMC | Jimmy S-15 | GMC Jimmy S-15 Headlight Switch 7 Terminal |
| 1970-1986 | GMC | K1500 Truck | GMC K1500 Truck Headlight Switch 7 Terminal |
| 1970-1986 | GMC | K2500 Truck | GMC K2500 Truck Headlight Switch 7 Terminal |
| 1970-1986 | GMC | K3500 Truck | GMC K3500 Truck Headlight Switch 7 Terminal |
| 1987 | GMC | R1500 Truck | GMC R1500 Truck Headlight Switch 7 Terminal |
| 1987-1989 | GMC | R2500 Truck | GMC R2500 Truck Headlight Switch 7 Terminal |
| 1987-1991 | GMC | R3500 Truck | GMC R3500 Truck Headlight Switch 7 Terminal |
| 1982-1985 | GMC | S-15 Pickup | GMC S-15 Pickup Headlight Switch 7 Terminal |
| 1985 | GMC | Safari | GMC Safari Headlight Switch 7 Terminal |
| 1996 | GMC | Savana 1500 Van | GMC Savana 1500 Van Headlight Switch 7 Terminal |
| 1996 | GMC | Savana 2500 Van | GMC Savana 2500 Van Headlight Switch 7 Terminal |
| 1996 | GMC | Savana 3500 Van | GMC Savana 3500 Van Headlight Switch 7 Terminal |
| 1973-1977 | GMC | Sprint | GMC Sprint Headlight Switch 7 Terminal |
| 1970-1986 | GMC | Suburban C1500 | GMC Suburban C1500 Headlight Switch 7 Terminal |
| 1973-1986 | GMC | Suburban C1500 | GMC Suburban C1500 Headlight Switch 7 Terminal |
| 1970-1986 | GMC | Suburban C2500 | GMC Suburban C2500 Headlight Switch 7 Terminal |
| 1973-1986 | GMC | Suburban C2500 | GMC Suburban C2500 Headlight Switch 7 Terminal |
| 1970-1986 | GMC | Suburban K1500 | GMC Suburban K1500 Headlight Switch 7 Terminal |
| 1973-1986 | GMC | Suburban K1500 | GMC Suburban K1500 Headlight Switch 7 Terminal |
| 1970-1986 | GMC | Suburban K2500 | GMC Suburban K2500 Headlight Switch 7 Terminal |
| 1973-1986 | GMC | Suburban K2500 | GMC Suburban K2500 Headlight Switch 7 Terminal |
| 1987 | GMC | V1500 Truck | GMC V1500 Truck Headlight Switch 7 Terminal |
| 1987-1989 | GMC | V2500 Truck | GMC V2500 Truck Headlight Switch 7 Terminal |
| 1987-1991 | GMC | V3500 Truck | GMC V3500 Truck Headlight Switch 7 Terminal |
| 1973-1996 | GMC | Van | GMC Van G3500 Headlight Switch 7 Terminal |
| 1973-1995 | GMC | Van | GMC Van G1500 G2500 Headlight Switch 7 Terminal |
| 1973-1980 | GMC | Van - P Series Forward Control | GMC Van - P Series Forward Control P15 P1500 Headlight Switch 7 Terminal |
| 1973-1989 | GMC | Van - P Series Forward Control | GMC Van - P Series Forward Control P25 P2500 Headlight Switch 7 Terminal |
| 1973-1996 | GMC | Van - P Series Forward Control | GMC Van - P Series Forward Control P35 P3500 Headlight Switch 7 Terminal |
| 1967-1971 | Oldsmobile | 442 | Olds 442 Headlight Switch 7 Terminal |
| 1967-1984 | Oldsmobile | 98 | Olds 98 Headlight Switch 7 Terminal |
| 1985 | Oldsmobile | Calais | Olds Calais Headlight Switch 7 Terminal |
| 1971-1990 | Oldsmobile | Custom Cruiser | Olds Custom Cruiser Headlight Switch 7 Terminal |
| 1967-1977 | Oldsmobile | Cutlass | Olds Cutlass Headlight Switch 7 Terminal |
| 1968-1969 | Oldsmobile | Cutlass | Olds Cutlass Hurst / Olds Headlight Switch 7 Terminal |
| 1985 | Oldsmobile | Cutlass Calais | Olds Cutlass Calais Headlight Switch 7 Terminal |
| 1967-1968 | Oldsmobile | Delmont | Olds Delmont Headlight Switch 7 Terminal |
| 1967 | Oldsmobile | Delmont 88 | Olds Delmont 88 Headlight Switch 7 Terminal |
| 1967-1985 | Oldsmobile | Delta 88 | Olds Delta 88 Headlight Switch 7 Terminal |
| 1967-1972 | Oldsmobile | F85 | Olds F85 Headlight Switch 7 Terminal |
| 1973-1979 | Oldsmobile | Omega | Olds Omega Headlight Switch 7 Terminal |
| 1975-1980 | Oldsmobile | Starfire | Olds Starfire Headlight Switch 7 Terminal |
| 1967-1978 | Oldsmobile | Toronado | Olds Toronado Headlight Switch 7 Terminal |
| 1967 | Oldsmobile | Turnpike Cruiser | Olds Turnpike Cruiser Headlight Switch 7 Terminal |
| 1967-1977 | Oldsmobile | Vista Cruiser | Olds Vista Cruiser Headlight Switch 7 Terminal |
| 1975 | Opel | 1900 | Opel 1900 Headlight Switch 7 Terminal |
| 1975 | Opel | Manta | Opel Manta Headlight Switch 7 Terminal |
| 1983-1987 | Pontiac | 1000 | Pontiac 1000 Headlight Switch 7 Terminal |
| 1983-1984 | Pontiac | 2000 | Pontiac 2000 Headlight Switch 7 Terminal |
| 1976-1986 | Pontiac | Acadian | Pontiac Acadian Headlight Switch 7 Terminal |
| 1975-1977 | Pontiac | Astre | Pontiac Astre Headlight Switch 7 Terminal |
| 1972-1981 | Pontiac | Bonneville | Pontiac Bonneville Headlight Switch 7 Terminal |
| 1975-1981 | Pontiac | Catalina | Pontiac Catalina Headlight Switch 7 Terminal |
| 1968-1981 | Pontiac | Firebird | Pontiac Firebird Headlight Switch 7 Terminal |
| 1968-1969 | Pontiac | GTO | Pontiac GTO Headlight Switch 7 Terminal |
| 1974-1977 | Pontiac | Grand Am | Pontiac Grand Am Headlight Switch 7 Terminal |
| 1976-1981 | Pontiac | Grand LeMans | Pontiac Grand LeMans Headlight Switch 7 Terminal |
| 1968-1981 | Pontiac | Grand Prix | Pontiac Grand Prix Headlight Switch 7 Terminal |
| 1975 | Pontiac | Grandville | Pontiac Grandville Headlight Switch 7 Terminal |
| 1982-1984 | Pontiac | J2000 | Pontiac J2000 Headlight Switch 7 Terminal |
| 1976-1981 | Pontiac | Laurentian | Pontiac Laurentian Headlight Switch 7 Terminal |
| 1968-1981 | Pontiac | LeMans | Pontiac LeMans Headlight Switch 7 Terminal |
| 1976-1986 | Pontiac | Parisienne | Pontiac Parisienne Headlight Switch 7 Terminal |
| 1977-1984 | Pontiac | Phoenix | Pontiac Phoenix Headlight Switch 7 Terminal |
| 1987-1989 | Pontiac | Safari | Pontiac Safari Wagon Headlight Switch 7 Terminal |
| 1976-1988 | Pontiac | Sunbird | Pontiac Sunbird Headlight Switch 7 Terminal |
| 1981-1982 | Pontiac | T1000 | Pontiac T1000 Headlight Switch 7 Terminal |
| 1968-1970 | Pontiac | Tempest | Pontiac Tempest Headlight Switch 7 Terminal |
| 1975-1977 | Pontiac | Ventura | Pontiac Ventura Headlight Switch 7 Terminal |
This part replaces:
Standard Motor Products DS-177T
Part #: 1AZHS00001
Order must be placed by 4pm ET
Get it in: 2 - 4 Business Days
Want it sooner? Choose Next Day Air at Checkout