1AACD00031-Fuel Filter
Replaces
Fuel Filter ACDelco GF578 - 1AACD00031
1AACD00031
AC DELCO GF578 - [FUEL FILTER
]
This AC DELCO fuel filter is a new part. It is the same piece that you would receive if you purchased it from your local GM dealer.
This gas filter features the following Specifications
Brand new AC Delco part
Replaces dealer part numbers: 25121293, 25121942, 88915468, 88915471, GF578
Item Condition: New

Wear and Tear
This item is backed by a 60-day warranty against defects in materials and workmanship under its intended use. The warranty does not cover normal wear and tear.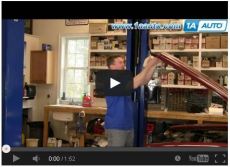 step : Remove the fuel filter (1:00)

Spray the nut with penetrating oil.
Use a 16mm wrench and an adjustable wrench to secure the filter and remove the nut.
Have a catch pan to collect any fuel spillage.
Unplug the filter from the other hose.

step : Install the new filter (3:40)

Connect the filter to the hose and clip the filter into the clamp style mount.
Use your wrenches to tighten the nut.
Tools needed for replacement:
Materials, Fluids, and Supplies

Rust Penetrant

Pliers, Cutters & misc Wrenches

Adjustable Wrench

Wrenches - Metric

16mm Wrench
There are no reviews for this item.
Customer Q&A
Ask a question to 1A Auto customers who purchased the product
No questions have been asked about this item.
| Year | Make | Model | Description |
| --- | --- | --- | --- |
| 1997-1999 | Buick | Century | Buick Century Fuel Filter V6 3.1L (8th Vin Digit M) ACDelco GF578 |
| 2000-2005 | Buick | Century | Buick Century Fuel Filter for V6 3.1L (8th Vin Digit J) ACDelco GF578 |
| 1994-1995 | Buick | LeSabre | Buick LeSabre Fuel Filter for V6 3.8L (8th Vin Digit L) ACDelco GF578 |
| 1996-2005 | Buick | LeSabre | Buick LeSabre Fuel Filter V6 3.8L (8th Vin Digit K) ACDelco GF578 |
| 1994-2005 | Buick | Park Avenue | Buick Park Avenue Fuel Filter for V6 3.8L (8th Vin Digit 1) ACDelco GF578 |
| 1994 | Buick | Park Avenue | Buick Park Avenue Fuel Filter for V6 3.8L (8th Vin Digit L) ACDelco GF578 |
| 1995-2005 | Buick | Park Avenue | Buick Park Avenue Fuel Filter V6 3.8L (8th Vin Digit K) ACDelco GF578 |
| 1992-1995 | Buick | Regal | Buick Regal Fuel Filter for V6 3.8L (8th Vin Digit L) ACDelco GF578 |
| 1992-1993 | Buick | Regal | Buick Regal Fuel Filter V6 3.1L (8th Vin Digit T) ACDelco GF578 |
| 1994-1996 | Buick | Regal | Buick Regal Fuel Filter V6 3.1L (8th Vin Digit M) ACDelco GF578 |
| 1996-2004 | Buick | Regal | Buick Regal Fuel Filter V6 3.8L (8th Vin Digit K) ACDelco GF578 |
| 1997-2004 | Buick | Regal | Buick Regal Fuel Filter for V6 3.8L (8th Vin Digit 1) ACDelco GF578 |
| 1995-1999 | Buick | Riviera | Buick Riviera Fuel Filter for V6 3.8L (8th Vin Digit 1) ACDelco GF578 |
| 1995-1997 | Buick | Riviera | Buick Riviera Fuel Filter V6 3.8L (8th Vin Digit K) ACDelco GF578 |
| 1979-1994 | Buick | Skylark | Buick Skylark Fuel Filter L4 2.3L (8th Vin Digit 3) ACDelco GF578 |
| 1992-1993 | Buick | Skylark | Buick Skylark Fuel Filter for V6 3.3L (8th Vin Digit N) ACDelco GF578 |
| 1994-1997 | Buick | Skylark | Buick Skylark Fuel Filter V6 3.1L (8th Vin Digit M) ACDelco GF578 |
| 1995 | Buick | Skylark | Buick Skylark Fuel Filter for L4 2.3L (8th Vin Digit D) ACDelco GF578 |
| 1996-1997 | Buick | Skylark | Buick Skylark Fuel Filter for L4 2.4L (8th Vin Digit T) ACDelco GF578 |
| 2003-2004 | Cadillac | CTS | Cadillac CTS Fuel Filter V6 3.2L (8th Vin Digit N) ACDelco GF578 |
| 2000-2005 | Cadillac | Deville | Cadillac Deville Fuel Filter for V8 4.6L (8th Vin Digit Y) ACDelco GF578 |
| 2000-2005 | Cadillac | Deville | Cadillac Deville Fuel Filter for V8 4.6L (8th Vin Digit 9) ACDelco GF578 |
| 1998-2004 | Cadillac | Seville | Cadillac Seville Fuel Filter for V8 4.6L (8th Vin Digit Y) ACDelco GF578 |
| 1998-2003 | Cadillac | Seville | Cadillac Seville Fuel Filter for V8 4.6L (8th Vin Digit 9) ACDelco GF578 |
| 2004 | Cadillac | XLR | Cadillac XLR Fuel Filter V8 4.6L (8th Vin Digit A) ACDelco GF578 |
| 1993 | Chevy | Beretta | Chevy Beretta Fuel Filter V6 3.1L (8th Vin Digit T) ACDelco GF578 |
| 1993-1994 | Chevy | Beretta | Chevy Beretta Fuel Filter for L4 2.3L (8th Vin Digit A) ACDelco GF578 |
| 1993-1996 | Chevy | Beretta | Chevy Beretta Fuel Filter for L4 2.2L (8th Vin Digit 4) ACDelco GF578 |
| 1994-1996 | Chevy | Beretta | Chevy Beretta Fuel Filter V6 3.1L (8th Vin Digit M) ACDelco GF578 |
| 1993-1997 | Chevy | Camaro | Chevy Camaro Fuel Filter for V8 5.7L (8th Vin Digit P) ACDelco GF578 |
| 1993-1995 | Chevy | Camaro | Chevy Camaro Fuel Filter V6 3.4L (8th Vin Digit S) ACDelco GF578 |
| 1995-2002 | Chevy | Camaro | Chevy Camaro Fuel Filter V6 3.8L (8th Vin Digit K) ACDelco GF578 |
| 1998-2002 | Chevy | Camaro | Chevy Camaro Fuel Filter for V8 5.7L (8th Vin Digit G) ACDelco GF578 |
| 1992-2002 | Chevy | Cavalier | Chevy Cavalier Fuel Filter for L4 2.2L (8th Vin Digit 4) ACDelco GF578 |
| 1992-1994 | Chevy | Cavalier | Chevy Cavalier Fuel Filter V6 3.1L (8th Vin Digit T) ACDelco GF578 |
| 1995 | Chevy | Cavalier | Chevy Cavalier Fuel Filter for L4 2.3L (8th Vin Digit D) ACDelco GF578 |
| 1996-2002 | Chevy | Cavalier | Chevy Cavalier Fuel Filter for L4 2.4L (8th Vin Digit T) ACDelco GF578 |
| 2002-2005 | Chevy | Cavalier | Chevy Cavalier Fuel Filter for L4 2.2L (8th Vin Digit F) ACDelco GF578 |
| 2003-2004 | Chevy | Cavalier | Chevy Cavalier Fuel Filter L4 2.2L (8th Vin Digit 6) ACDelco GF578 |
| 2004-2005 | Chevy | Classic | Chevy Classic Fuel Filter L4 2.2L ACDelco GF578 |
| 1993 | Chevy | Corsica | Chevy Corsica Fuel Filter V6 3.1L (8th Vin Digit T) ACDelco GF578 |
| 1993-1996 | Chevy | Corsica | Chevy Corsica Fuel Filter for L4 2.2L (8th Vin Digit 4) ACDelco GF578 |
| 1994-1996 | Chevy | Corsica | Chevy Corsica Fuel Filter V6 3.1L (8th Vin Digit M) ACDelco GF578 |
| 2003 | Chevy | Express 2500 Van | Chevy Express 2500 Van Fuel Filter V8 6.0L (8th Vin Digit U) ACDelco GF578 |
| 2000-2005 | Chevy | Impala | Chevy Impala Fuel Filter V6 3.8L (8th Vin Digit K) ACDelco GF578 |
| 2000-2005 | Chevy | Impala | Chevy Impala Fuel Filter V6 3.4L (8th Vin Digit E) ACDelco GF578 |
| 2004-2005 | Chevy | Impala | Chevy Impala Fuel Filter for V6 3.8L (8th Vin Digit 1) ACDelco GF578 |
| 1992-1994 | Chevy | Lumina | Chevy Lumina Fuel Filter V6 3.1L (8th Vin Digit T) ACDelco GF578 |
| 1992-1997 | Chevy | Lumina | Chevy Lumina Fuel Filter for V6 3.4L (8th Vin Digit X) ACDelco GF578 |
| 1992 | Chevy | Lumina | Chevy Lumina Fuel Filter for L4 2.5L (8th Vin Digit R) ACDelco GF578 |
| 1995-1999 | Chevy | Lumina | Chevy Lumina Fuel Filter V6 3.1L (8th Vin Digit M) ACDelco GF578 |
| 1998-1999 | Chevy | Lumina | Chevy Lumina Fuel Filter V6 3.8L (8th Vin Digit K) ACDelco GF578 |
| 2000-2001 | Chevy | Lumina | Chevy Lumina Fuel Filter for V6 3.1L (8th Vin Digit J) ACDelco GF578 |
| 1997-1999 | Chevy | Malibu | Chevy Malibu Fuel Filter V6 3.1L (8th Vin Digit M) ACDelco GF578 |
| 1997-1999 | Chevy | Malibu | Chevy Malibu Fuel Filter for L4 2.4L (8th Vin Digit T) ACDelco GF578 |
| 1999-2003 | Chevy | Malibu | Chevy Malibu Fuel Filter for V6 3.1L (8th Vin Digit J) ACDelco GF578 |
| 1995-1997 | Chevy | Monte Carlo | Chevy Monte Carlo Fuel Filter for V6 3.4L (8th Vin Digit X) ACDelco GF578 |
| 1995-1999 | Chevy | Monte Carlo | Chevy Monte Carlo Fuel Filter V6 3.1L (8th Vin Digit M) ACDelco GF578 |
| 1998-2005 | Chevy | Monte Carlo | Chevy Monte Carlo Fuel Filter V6 3.8L (8th Vin Digit K) ACDelco GF578 |
| 2000-2005 | Chevy | Monte Carlo | Chevy Monte Carlo Fuel Filter V6 3.4L (8th Vin Digit E) ACDelco GF578 |
| 2004-2005 | Chevy | Monte Carlo | Chevy Monte Carlo Fuel Filter for V6 3.8L (8th Vin Digit 1) ACDelco GF578 |
| 2003 | GMC | Savana 2500 Van | GMC Savana 2500 Van Fuel Filter V8 6.0L (8th Vin Digit U) ACDelco GF578 |
| 1995-1996 | Oldsmobile | 88 | Olds 88 Fuel Filter for V6 3.8L (8th Vin Digit 1) ACDelco GF578 |
| 1996-1998 | Oldsmobile | 88 | Olds 88 Fuel Filter V6 3.8L (8th Vin Digit K) ACDelco GF578 |
| 1992-1994 | Oldsmobile | Achieva | Olds Achieva Fuel Filter L4 2.3L (8th Vin Digit 3) ACDelco GF578 |
| 1992-1995 | Oldsmobile | Achieva | Olds Achieva Fuel Filter for L4 2.3L (8th Vin Digit D) ACDelco GF578 |
| 1992-1994 | Oldsmobile | Achieva | Olds Achieva Fuel Filter for L4 2.3L (8th Vin Digit A) ACDelco GF578 |
| 1992-1993 | Oldsmobile | Achieva | Olds Achieva Fuel Filter for V6 3.3L (8th Vin Digit N) ACDelco GF578 |
| 1994-1998 | Oldsmobile | Achieva | Olds Achieva Fuel Filter V6 3.1L (8th Vin Digit M) ACDelco GF578 |
| 1996-1998 | Oldsmobile | Achieva | Olds Achieva Fuel Filter for L4 2.4L (8th Vin Digit T) ACDelco GF578 |
| 1999-2004 | Oldsmobile | Alero | Olds Alero Fuel Filter V6 3.4L (8th Vin Digit E) ACDelco GF578 |
| 1999-2001 | Oldsmobile | Alero | Olds Alero Fuel Filter for L4 2.4L (8th Vin Digit T) ACDelco GF578 |
| 2002-2004 | Oldsmobile | Alero | Olds Alero Fuel Filter for L4 2.2L (8th Vin Digit F) ACDelco GF578 |
| 1995-2003 | Oldsmobile | Aurora | Olds Aurora Fuel Filter V8 4.0L (8th Vin Digit C) ACDelco GF578 |
| 2001-2002 | Oldsmobile | Aurora | Olds Aurora Fuel Filter (8th Vin Digit H) V6 3.5L ACDelco GF578 |
| 1997-1999 | Oldsmobile | Cutlass | Olds Cutlass Fuel Filter V6 3.1L (8th Vin Digit M) ACDelco GF578 |
| 1999 | Oldsmobile | Cutlass | Olds Cutlass Fuel Filter for V6 3.1L (8th Vin Digit J) ACDelco GF578 |
| 1992-1993 | Oldsmobile | Cutlass Supreme | Olds Cutlass Supreme Fuel Filter V6 3.1L (8th Vin Digit T) ACDelco GF578 |
| 1992-1996 | Oldsmobile | Cutlass Supreme | Olds Cutlass Supreme Fuel Filter for (8th Vin Digit X) V6 3.4L ACDelco GF578 |
| 1993-1997 | Oldsmobile | Cutlass Supreme | Olds Cutlass Supreme Fuel Filter V6 3.1L (8th Vin Digit M) ACDelco GF578 |
| 1999 | Oldsmobile | Delta 88 | Olds Delta 88 Fuel Filter V6 3.8L (8th Vin Digit K) ACDelco GF578 |
| 1994 | Oldsmobile | Delta 88-Royale | Olds Delta 88-Royale Fuel Filter for V6 3.8L (8th Vin Digit L) ACDelco GF578 |
| 1995 | Oldsmobile | Delta 88-Royale | Olds Delta 88-Royale Fuel Filter V6 3.8L (8th Vin Digit K) ACDelco GF578 |
| 1998-1999 | Oldsmobile | Intrigue | Olds Intrigue Fuel Filter V6 3.8L (8th Vin Digit K) ACDelco GF578 |
| 1999-2002 | Oldsmobile | Intrigue | Olds Intrigue Fuel Filter (8th Vin Digit H) V6 3.5L ACDelco GF578 |
| 1997-1999 | Oldsmobile | LSS | Olds LSS Fuel Filter V6 3.8L (8th Vin Digit K) ACDelco GF578 |
| 1997-1999 | Oldsmobile | LSS | Olds LSS Fuel Filter for V6 3.8L (8th Vin Digit 1) ACDelco GF578 |
| 1994-1995 | Oldsmobile | Regency | Olds Regency Fuel Filter for V6 3.8L (8th Vin Digit 1) ACDelco GF578 |
| 1994 | Oldsmobile | Regency | Olds Regency Fuel Filter for V6 3.8L (8th Vin Digit L) ACDelco GF578 |
| 1995-1998 | Oldsmobile | Regency | Olds Regency Fuel Filter V6 3.8L (8th Vin Digit K) ACDelco GF578 |
| 1994-2003 | Pontiac | Bonneville | Pontiac Bonneville Fuel Filter for V6 3.8L (8th Vin Digit 1) ACDelco GF578 |
| 1994 | Pontiac | Bonneville | Pontiac Bonneville Fuel Filter for V6 3.8L (8th Vin Digit L) ACDelco GF578 |
| 1995-2005 | Pontiac | Bonneville | Pontiac Bonneville Fuel Filter V6 3.8L (8th Vin Digit K) ACDelco GF578 |
| 2004-2005 | Pontiac | Bonneville | Pontiac Bonneville Fuel Filter for V8 4.6L (8th Vin Digit Y) ACDelco GF578 |
| 1993-1995 | Pontiac | Firebird | Pontiac Firebird Fuel Filter V6 3.4L (8th Vin Digit S) ACDelco GF578 |
| 1993-1997 | Pontiac | Firebird | Pontiac Firebird Fuel Filter for V8 5.7L (8th Vin Digit P) ACDelco GF578 |
| 1995-2002 | Pontiac | Firebird | Pontiac Firebird Fuel Filter V6 3.8L (8th Vin Digit K) ACDelco GF578 |
| 1998-2002 | Pontiac | Firebird | Pontiac Firebird Fuel Filter for V8 5.7L (8th Vin Digit G) ACDelco GF578 |
| 1992-1994 | Pontiac | Grand Am | Pontiac Grand Am Fuel Filter L4 2.3L (8th Vin Digit 3) ACDelco GF578 |
| 1992-1993 | Pontiac | Grand Am | Pontiac Grand Am Fuel Filter for V6 3.3L (8th Vin Digit N) ACDelco GF578 |
| 1992-1994 | Pontiac | Grand Am | Pontiac Grand Am Fuel Filter for L4 2.3L (8th Vin Digit A) ACDelco GF578 |
| 1992-1995 | Pontiac | Grand Am | Pontiac Grand Am Fuel Filter for L4 2.3L (8th Vin Digit D) ACDelco GF578 |
| 1994-1998 | Pontiac | Grand Am | Pontiac Grand Am Fuel Filter V6 3.1L (8th Vin Digit M) ACDelco GF578 |
| 1996-2001 | Pontiac | Grand Am | Pontiac Grand Am Fuel Filter for L4 2.4L (8th Vin Digit T) ACDelco GF578 |
| 1999-2005 | Pontiac | Grand Am | Pontiac Grand Am Fuel Filter V6 3.4L (8th Vin Digit E) ACDelco GF578 |
| 2002-2005 | Pontiac | Grand Am | Pontiac Grand Am Fuel Filter for L4 2.2L (8th Vin Digit F) ACDelco GF578 |
| 1992-1993 | Pontiac | Grand Prix | Pontiac Grand Prix Fuel Filter V6 3.1L (8th Vin Digit T) ACDelco GF578 |
| 1992-1996 | Pontiac | Grand Prix | Pontiac Grand Prix Fuel Filter for V6 3.4L (8th Vin Digit X) ACDelco GF578 |
| 1994-1999 | Pontiac | Grand Prix | Pontiac Grand Prix Fuel Filter V6 3.1L (8th Vin Digit M) ACDelco GF578 |
| 1997-2003 | Pontiac | Grand Prix | Pontiac Grand Prix Fuel Filter for V6 3.8L (8th Vin Digit 1) ACDelco GF578 |
| 1997-2003 | Pontiac | Grand Prix | Pontiac Grand Prix Fuel Filter V6 3.8L (8th Vin Digit K) ACDelco GF578 |
| 2000-2003 | Pontiac | Grand Prix | Pontiac Grand Prix Fuel Filter for V6 3.1L (8th Vin Digit J) ACDelco GF578 |
| 1994 | Pontiac | SunRunner | Pontiac SunRunner Fuel Filter L4 1.6L (8th Vin Digit U) ACDelco GF578 |
| 1992-1994 | Pontiac | Sunbird | Pontiac Sunbird Fuel Filter L4 2.0L (8th Vin Digit H) ACDelco GF578 |
| 1992-1994 | Pontiac | Sunbird | Pontiac Sunbird Fuel Filter V6 3.1L (8th Vin Digit T) ACDelco GF578 |
| 1995 | Pontiac | Sunfire | Pontiac Sunfire Fuel Filter for L4 2.3L (8th Vin Digit D) ACDelco GF578 |
| 1995-2002 | Pontiac | Sunfire | Pontiac Sunfire Fuel Filter for L4 2.2L (8th Vin Digit 4) ACDelco GF578 |
| 1996-2002 | Pontiac | Sunfire | Pontiac Sunfire Fuel Filter for L4 2.4L (8th Vin Digit T) ACDelco GF578 |
| 2002-2005 | Pontiac | Sunfire | Pontiac Sunfire Fuel Filter for L4 2.2L (8th Vin Digit F) ACDelco GF578 |
Part #: 1AACD00031
Order must be placed by 4pm ET
Get it in: 2 - 4 Business Days
Want it sooner? Choose Next Day Air at Checkout

Brand #: GF578