1AEOS01502-Ford Mazda Lincoln Mercury Jaguar O2 Oxygen Sensor
Replaces
Ford Mazda Lincoln Mercury Jaguar O2 Oxygen Sensor - 1AEOS01502
1AEOS01502
Frequently bought together
This Oxygen O2 Sensor is a new, aftermarket replacement part that has the following specifications:
Four wire, four pin O2 sensor
Correct wire length (8 Inches)
Upstream Sensor
Direct Fit

-Correct Connector
-No cutting or splicing

Replaces dealer part numbers: 5C5Z9F472AA, 5C5Z-9F472-AA, 5C5Z9F472BA, 5C5Z-9F472-BA, 9L17, XC2Z9F472AA, XC2Z-9F472-AA, XC2Z9F472BA, XC2Z-9F472-BA, XZ2Z9F472AA, XZ2Z-9F472-AA
Anti-Sieze coating on thread
Built and tested to strict quality control standards
Some applications use (2) of the same Oxygen Sensors Upstream and Downstream
Note: For clarification purposes:
Upstream location is between the catalytic converter and the engine
Downstream location is between the catalytic converter and the tailpipe
A direct replacement. If you have a bad O2 sensor causing your vehicle to idle poorly or fail an emission test then this is the part for you.
Install note:
You may be required to reset the vehicle computer after installation of this part.
Our electrical and electronic parts are subject to strict quality testing.
Parts cannot be returned after they have been installed. Contact us with any questions before installing the parts.
Item Condition: New

Attention California Customers:
WARNING: Cancer and Reproductive Harm - www.P65Warnings.ca.gov.
Lifetime Warranty
This item is backed by a Limited Lifetime Warranty. In the event this item should fail due to manufacturing defects during intended use, we will exchange the part free of charge (excludes shipping charges) for the original purchaser.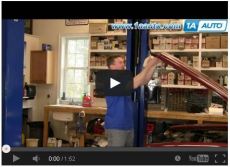 step : Identifying your Oxygen Sensors (0:57)

Upstream oxygen sensors are located in between the engine and the catalytic converter
Downstream oxygen sensors are located in the catalytic converter or farther away from the engine than the catalytic converter
Locate your vehicle's firing order diagram
The bank that contains cylinder one is bank one
The bank that does not contain cylinder one is bank two, even if it does not contain cylinder two
Tools needed for replacement:
1A - No Tools Needed

No Tools Needed
Works like the factory version for a reasonable price.
The part was just what I needed for my Mustang 2000 convertible. Jack fit perfectly with the old factory jack. No strings attached.
I ordered all four o2 oxygen sensors upstream and downstream for my F150 (2001) they worked great. Also ordered inner and outer tie rods for both sides. They were the correct ones. My orders were on time. I would highly recommend A1 a arts. I talked to a lady about my order very knowledgeable person. I didnt talked to a person . Not a computer. I thank you. DannyWrite
Amazing
Got what I ordered and earlier then I exspected. Diffently order from there again
Very nice for the money .
Have had very good results to date .price point will beat most box stores but its quality I believe exceeds the box store
Customer Q&A
Ask a question to 1A Auto customers who purchased the product
Is the wired longer than a normal stocks o2 sensor wire?
Hello and thank you for your inquiry. This will be a factory replacement. This might be slightly longer then the original, but will not come shorter. Thank you and have a great day.
Side by side with the old one that I took off theyre exactly the same length.
| Year | Make | Model | Description |
| --- | --- | --- | --- |
| 1990-1993 | Ford | Bronco | Ford Bronco L6 4.9L Upstream O2 Oxygen Sensor |
| 1990-1995 | Ford | Bronco | Ford Bronco V8 5.8L Upstream O2 Oxygen Sensor |
| 1999 | Ford | Contour | Ford Contour L4 2.0L Round Plug Upstream O2 Oxygen Sensor |
| 2000 | Ford | Contour | Ford Contour L4 2.0L Upstream O2 Oxygen Sensor |
| 2000 | Ford | Contour | Ford Contour V6 2.5L Upstream O2 Oxygen Sensor |
| 2000 | Ford | Contour | Ford Contour SVT V6 2.5L Upstream O2 Oxygen Sensor |
| 1992-1994 | Ford | Crown Victoria | Ford Crown Victoria V8 4.6L Upstream O2 Oxygen Sensor |
| 1998-2005 | Ford | Crown Victoria | Ford Crown Victoria V8 4.6L Upstream O2 Oxygen Sensor |
| 2006 | Ford | Crown Victoria | Ford Crown Victoria V8 4.6L (Built Before 12/05/05 Production Date) Upstream O2 Oxygen Sensor |
| 2000-2001 | Ford | E150 Van | Ford E150 Van V6 4.2L California Emissions Upstream O2 Oxygen Sensor |
| 2000-2004 | Ford | E150 Van | Ford E150 Van V8 4.6L Upstream O2 Oxygen Sensor |
| 2000-2004 | Ford | E150 Van | Ford E150 Van V8 5.4L Upstream O2 Oxygen Sensor |
| 2002-2003 | Ford | E150 Van | Ford E150 Van V6 4.2L Upstream O2 Oxygen Sensor |
| 2000-2001 | Ford | E250 Van | Ford E250 Van V6 4.2L California Emissions Upstream O2 Oxygen Sensor |
| 2000-2004 | Ford | E250 Van | Ford E250 Van V8 4.6L Upstream O2 Oxygen Sensor |
| 2000-2004 | Ford | E250 Van | Ford E250 Van V8 5.4L Upstream O2 Oxygen Sensor |
| 2002-2003 | Ford | E250 Van | Ford E250 Van V6 4.2L Upstream O2 Oxygen Sensor |
| 2000-2004 | Ford | E350 Van | Ford E350 Van V8 5.4L Upstream O2 Oxygen Sensor |
| 2000-2004 | Ford | E350 Van | Ford E350 Van V10 6.8L Upstream O2 Oxygen Sensor |
| 2000-2004 | Ford | E350 Van Super Duty | Ford E350 Van Super Duty V8 5.4L Upstream O2 Oxygen Sensor |
| 2000-2004 | Ford | E350 Van Super Duty | Ford E350 Van Super Duty V10 6.8L Upstream O2 Oxygen Sensor |
| 2001-2007 | Ford | Escape | Ford Escape V6 3.0L Rear Bank Upstream O2 Oxygen Sensor |
| 2001-2002 | Ford | Escort | Ford Escort ZX2 Coupe L4 2.0L Upstream O2 Oxygen Sensor |
| 2003 | Ford | Escort | Ford Escort L4 2.0L Upstream O2 Oxygen Sensor |
| 2000-2005 | Ford | Excursion | Ford Excursion V10 6.8L Upstream O2 Oxygen Sensor |
| 2000-2005 | Ford | Excursion | Ford Excursion V8 5.4L Upstream O2 Oxygen Sensor |
| 1999-2000 | Ford | Expedition | Ford Expedition V8 5.4L Upstream O2 Oxygen Sensor |
| 1999-2004 | Ford | Expedition | Ford Expedition V8 4.6L Upstream O2 Oxygen Sensor |
| 2003-2004 | Ford | Expedition | Ford Expedition V8 5.4L Upstream O2 Oxygen Sensor |
| 2002-2003 | Ford | Explorer | Ford Explorer V8 4.6L Upstream O2 Oxygen Sensor |
| 2003 | Ford | Explorer | Ford Explorer V6 4.0L Upstream O2 Oxygen Sensor |
| 2004 | Ford | F150 Heritage Truck | Ford F150 Heritage Truck V8 4.6L Upstream O2 Oxygen Sensor |
| 1990-1994 | Ford | F150 Truck | Ford F150 Truck V8 5.8L O2 Oxygen Sensor |
| 1999 | Ford | F150 Truck | Ford F150 Truck V8 5.4L California Emissions Upstream O2 Oxygen Sensor |
| 1999 | Ford | F150 Truck | Ford F150 Truck V8 4.6L California Emissions Upstream O2 Oxygen Sensor |
| 1999 | Ford | F150 Truck | Ford F150 Truck V8 4.6L California Emissions Upstream O2 Oxygen Sensor |
| 1999 | Ford | F150 Truck | Ford F150 Truck V6 4.2L California Emissions Upstream O2 Oxygen Sensor |
| 2000-2001 | Ford | F150 Truck | Ford F150 Truck V8 5.4L Upstream O2 Oxygen Sensor |
| 2000-2001 | Ford | F150 Truck | Ford F150 Truck V8 5.4L California Emissions Upstream O2 Oxygen Sensor |
| 2000-2001 | Ford | F150 Truck | Ford F150 Truck V8 5.4L California Emissions Upstream O2 Oxygen Sensor |
| 2000 | Ford | F150 Truck | Ford F150 Truck V8 5.4L Upstream O2 Oxygen Sensor |
| 2000-2004 | Ford | F150 Truck | Ford F150 Truck V8 4.6L Upstream O2 Oxygen Sensor |
| 2001 | Ford | F150 Truck | Ford F150 Truck V8 5.4L California Emissions Upstream O2 Oxygen Sensor |
| 1999 | Ford | F250 Super Duty Truck | Ford F250 Super Duty Truck V8 5.4L California Emissions Upstream O2 Oxygen Sensor |
| 1999 | Ford | F250 Super Duty Truck | Ford F250 Super Duty Truck V8 5.4L California Emissions Upstream O2 Oxygen Sensor |
| 2000-2003 | Ford | F250 Super Duty Truck | Ford F250 Super Duty Truck V8 5.4L Upstream O2 Oxygen Sensor |
| 2000-2001 | Ford | F250 Super Duty Truck | Ford F250 Super Duty Truck V10 6.8L Upstream O2 Oxygen Sensor |
| 2002 | Ford | F250 Super Duty Truck | Ford F250 Super Duty Truck V10 6.8L California Emissions Upstream O2 Oxygen Sensor |
| 2003-2005 | Ford | F250 Super Duty Truck | Ford F250 Super Duty Truck V10 6.8L Upstream O2 Oxygen Sensor |
| 1990-1994 | Ford | F250 Truck | Ford F250 Truck V8 5.8L O2 Oxygen Sensor |
| 1999 | Ford | F350 Super Duty Truck | Ford F350 Super Duty Truck V8 5.4L California Emissions Upstream O2 Oxygen Sensor |
| 2000-2003 | Ford | F350 Super Duty Truck | Ford F350 Super Duty Truck V8 5.4L Upstream O2 Oxygen Sensor |
| 2000-2001 | Ford | F350 Super Duty Truck | Ford F350 Super Duty Truck V10 6.8L Upstream O2 Oxygen Sensor |
| 2002 | Ford | F350 Super Duty Truck | Ford F350 Super Duty Truck V10 6.8L California Emissions Upstream O2 Oxygen Sensor |
| 2003-2005 | Ford | F350 Super Duty Truck | Ford F350 Super Duty Truck V10 6.8L Upstream O2 Oxygen Sensor |
| 1990-1994 | Ford | F350 Truck | Ford F350 Truck V8 5.8L O2 Oxygen Sensor |
| 2005-2007 | Ford | Five Hundred | Ford Five Hundred V6 3.0L Upstream O2 Oxygen Sensor |
| 2000 | Ford | Focus | Ford Focus L4 2.0L Upstream O2 Oxygen Sensor |
| 2005-2006 | Ford | Freestyle | Ford Freestyle V6 3.0L Upstream Driver Side O2 Oxygen Sensor |
| 2005-2006 | Ford | Freestyle | Ford Freestyle V6 3.0L Upstream Passenger Side O2 Oxygen Sensor |
| 2005-2006 | Ford | GT | Ford GT V8 5.4L Upstream O2 Oxygen Sensor |
| 1990-1994 | Ford | Mustang | Ford Mustang L4 2.3L Upstream O2 Oxygen Sensor |
| 1994 | Ford | Mustang | Ford Mustang V8 5.0L Upstream O2 Oxygen Sensor |
| 1999-2004 | Ford | Mustang | Ford Mustang V6 3.8L Upstream O2 Oxygen Sensor |
| 1999-2004 | Ford | Mustang | Ford Mustang GT V8 4.6L Upstream O2 Oxygen Sensor |
| 1999 | Ford | Mustang | Ford Mustang Cobra V8 4.6L Upstream O2 Oxygen Sensor |
| 2001 | Ford | Mustang | Ford Mustang V8 4.6L Bullitt Edition Upstream O2 Oxygen Sensor |
| 2001 | Ford | Mustang | Ford Mustang Cobra V8 4.6L Upstream O2 Oxygen Sensor |
| 2003-2004 | Ford | Mustang | Ford Mustang Mach 1 V8 4.6L Upstream O2 Oxygen Sensor |
| 2003-2004 | Ford | Mustang | Ford Mustang Cobra V8 4.6L Upstream O2 Oxygen Sensor |
| 2004 | Ford | Mustang | Ford Mustang V6 3.9L Upstream O2 Oxygen Sensor |
| 2005-2007 | Ford | Mustang | Ford Mustang V6 4.0L Upstream O2 Oxygen Sensor |
| 2005-2007 | Ford | Mustang | Ford Mustang GT V8 4.6L Upstream O2 Oxygen Sensor |
| 2007 | Ford | Mustang | Ford Mustang Shelby V8 4.6L Upstream O2 Oxygen Sensor |
| 2007 | Ford | Mustang | Ford Mustang Shelby GT500 V8 5.4L Upstream O2 Oxygen Sensor |
| 1990-1994 | Ford | Ranger | Ford Ranger L4 2.3L Upstream O2 Oxygen Sensor |
| 1991 | Ford | Taurus | Ford Taurus V6 3.8L Upstream O2 Oxygen Sensor |
| 1991-1995 | Ford | Taurus | Ford Taurus V6 3.0L (8th Vin Digit U) Upstream O2 Oxygen Sensor |
| 1993-1995 | Ford | Taurus | Ford Taurus V6 3.2L Upstream O2 Oxygen Sensor |
| 1993-1995 | Ford | Taurus | Ford Taurus V6 3.8L Upstream O2 Oxygen Sensor |
| 2000-2007 | Ford | Taurus | Ford Taurus V6 3.0L Upstream O2 Oxygen Sensor |
| 2002-2005 | Ford | Thunderbird | Ford Thunderbird V8 3.9L Upstream O2 Oxygen Sensor |
| 2000-2002 | Jaguar | S-Type | Jaguar S-Type V6 3.0L Upstream O2 Oxygen Sensor |
| 2000-2002 | Jaguar | S-Type | Jaguar S-Type V8 4.0L Upstream O2 Oxygen Sensor |
| 2003-2005 | Lincoln | Aviator | Lincoln Aviator V8 4.6L Upstream O2 Oxygen Sensor |
| 2002 | Lincoln | Blackwood | Lincoln Blackwood V8 5.4L Upstream O2 Oxygen Sensor |
| 1998-2002 | Lincoln | Continental | Lincoln Continental V8 4.6L Upstream O2 Oxygen Sensor |
| 2000-2006 | Lincoln | LS | Lincoln LS V8 3.9L Upstream O2 Oxygen Sensor |
| 2000-2005 | Lincoln | LS | Lincoln LS V6 3.0L Upstream O2 Oxygen Sensor |
| 1999-2001 | Lincoln | Navigator | Lincoln Navigator V8 5.4L Upstream O2 Oxygen Sensor |
| 2003-2005 | Lincoln | Navigator | Lincoln Navigator V8 5.4L Upstream O2 Oxygen Sensor |
| 1998-1999 | Lincoln | Town Car | Lincoln Town Car V8 4.6L Upstream O2 Oxygen Sensor |
| 2000-2005 | Lincoln | Town Car | Lincoln Town Car V8 4.6L Upstream O2 Oxygen Sensor |
| 2006 | Lincoln | Town Car | Lincoln Town Car V8 4.6L (Built Before 12/05/05 Production Date) Upstream O2 Oxygen Sensor |
| 2001-2004 | Mazda | Tribute | Mazda Tribute V6 3.0L Rear Bank Upstream O2 Oxygen Sensor |
| 2000-2002 | Mercury | Cougar | Mercury Cougar L4 2.0L Upstream O2 Oxygen Sensor |
| 2000-2002 | Mercury | Cougar | Mercury Cougar V6 2.5L Upstream O2 Oxygen Sensor |
| 1998-2005 | Mercury | Grand Marquis | Mercury Grand Marquis V8 4.6L Upstream O2 Oxygen Sensor |
| 2006 | Mercury | Grand Marquis | Mercury Grand Marquis V8 4.6L (Built Before 12/05/05 Production Date) Upstream O2 Oxygen Sensor |
| 2003-2004 | Mercury | Marauder | Mercury Marauder V8 4.6L Upstream O2 Oxygen Sensor |
| 2005-2007 | Mercury | Mariner | Mercury Mariner V6 3.0L Upstream O2 Oxygen Sensor |
| 2005-2007 | Mercury | Montego | Mercury Montego V6 3.0L Upstream O2 Oxygen Sensor |
| 2002-2003 | Mercury | Mountaineer | Mercury Mountaineer V8 4.6L Upstream O2 Oxygen Sensor |
| 2002-2003 | Mercury | Mountaineer | Mercury Mountaineer V6 4.0L Upstream O2 Oxygen Sensor |
| 2000 | Mercury | Mystique | Mercury Mystique V6 2.5L Upstream O2 Oxygen Sensor |
| 2000 | Mercury | Mystique | Mercury Mystique L4 2.0L Upstream O2 Oxygen Sensor |
| 2000-2005 | Mercury | Sable | Mercury Sable V6 3.0L Upstream O2 Oxygen Sensor |