1AHCK00019-Engine Water Pump
Replaces
Engine Water Pump - 1AHCK00019
1AHCK00019
Specifications:
Brand New Water Pump

Not remanufactured or rebuilt

No core charge
Includes 2.02" Diameter Thermostat
Gaskets included as shown
Built to strict quality control standards
Part Details
Includes: Thermostat & Housing
Lifetime Warranty
This item is backed by a Limited Lifetime Warranty. In the event this item should fail due to manufacturing defects during intended use, we will exchange the part free of charge (excludes shipping charges) for the original purchaser.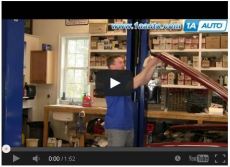 Tools needed for replacement:
General Tools

Drain Pan
Razor Blade / Gasket Scraper

Ratchets & Related

Ratchet

Screwdrivers & Related

Flat Blade Screwdriver

Sockets - Metric

10mm Socket
15mm Socket
8mm Socket
Browse 2 questions
Browse 2 questions and 6 answers
so if the pump starts leaking over its lifetime, is it covered?
BEST ANSWER:
That's what the warranty says I've never had any issues. I purchased this pump for my truck because coolant was disappearing. After pulling the pump I noticed the gasket was gummed up and out of shape so I just replaced the gasket and have the pump set aside I case mine or one of my many friends that have Chevy trucks goes out. Haven't lost any coolant since gasket replacement (40,000) mi ago. So I can't speak for this pumps reliability all I can say is if you're replacing due to coolant loss make sure it's not just the gasket that could save you a 100 bill. Good luck it's a pretty easy job maybe an hour but I used gasket sealer on both sides of the new gasket so I let that set up overnight before refilling coolant. Hope this helps.
Eric C

on Jun 13, 2016

Purchased on Mar 10, 2015
whats the temp rating for the supplied thermostat?
Vehicle Fit
| Year | Make | Model | Description |
| --- | --- | --- | --- |
| 2004-2005 | Buick | Rainier | Buick Rainier Engine Water Pump with Thermostat & Housing V8 5.3L (8th Vin Digit P) |
| 2002-2005 | Cadillac | Escalade | Cadillac Escalade Engine Water Pump with Thermostat & Housing V8 5.3L (8th Vin Digit T) |
| 2002-2003 | Cadillac | Escalade | Cadillac Escalade Engine Water Pump with Thermostat & Housing V8 6.0L (8th Vin Digit N) |
| 2003 | Cadillac | Escalade ESV | Cadillac Escalade ESV Engine Water Pump with Thermostat & Housing V8 6.0L (8th Vin Digit N) |
| 2002-2003 | Cadillac | Escalade EXT | Cadillac Escalade EXT Engine Water Pump with Thermostat & Housing V8 6.0L (8th Vin Digit N) |
| 2002-2006 | Chevy | Avalanche 1500 | Chevy Avalanche 1500 Engine Water Pump with Thermostat & Housing V8 5.3L (8th Vin Digit T) |
| 2005-2006 | Chevy | Avalanche 1500 | Chevy Avalanche 1500 Engine Water Pump V8 5.3L (8th Vin Digit Z) with Thermostat & Housing |
| 2003 | Chevy | Express 1500 Van | Chevy Express 1500 Van Engine Water Pump with Thermostat & Housing V8 5.3L (8th Vin Digit T) |
| 2003-2005 | Chevy | Express 1500 Van | Chevy Express 1500 Van Engine Water Pump with Thermostat & Housing V8 5.3L (8th Vin Digit T) |
| 2003 | Chevy | Express 2500 Van | Chevy Express 2500 Van Engine Water Pump with Thermostat & Housing V8 6.0L (8th Vin Digit U) |
| 2003 | Chevy | Express 2500 Van | Chevy Express 2500 Van Engine Water Pump with Thermostat & Housing V8 5.3L (8th Vin Digit T) |
| 2003-2005 | Chevy | Express 2500 Van | Chevy Express 2500 Van Engine Water Pump with Thermostat & Housing V8 5.3L (8th Vin Digit T) |
| 2003-2005 | Chevy | Express 2500 Van | Chevy Express 2500 Van Engine Water Pump with Thermostat & Housing V8 6.0L (8th Vin Digit U) |
| 2003-2005 | Chevy | Express 2500 Van | Chevy Express 2500 Van Engine Water Pump with Thermostat & Housing V8 4.8L (8th Vin Digit V) |
| 2003 | Chevy | Express 3500 Van | Chevy Express 3500 Van Engine Water Pump with Thermostat & Housing V8 6.0L (8th Vin Digit U) |
| 1999-2003 | Chevy | Silverado 1500 | Chevy Silverado 1500 Engine Water Pump with Thermostat & Housing V8 5.3L (8th Vin Digit T) |
| 1999-2003 | Chevy | Silverado 1500 | Chevy Silverado 1500 Engine Water Pump with Thermostat & Housing V8 4.8L (8th Vin Digit V) |
| 2001-2003 | Chevy | Silverado 1500 | Chevy Silverado 1500 Engine Water Pump with Thermostat & Housing V8 6.0L (8th Vin Digit U) |
| 2002-2003 | Chevy | Silverado 1500 | Chevy Silverado 1500 Engine Water Pump with Thermostat & Housing V8 5.3L (8th Vin Digit Z) |
| 2003 | Chevy | Silverado 1500 | Chevy Silverado 1500 Engine Water Pump with Thermostat & Housing V8 6.0L (8th Vin Digit N) |
| 2001-2003 | Chevy | Silverado 1500 HD | Chevy Silverado 1500 HD Engine Water Pump with Thermostat & Housing V8 6.0L (8th Vin Digit U) |
| 2003 | Chevy | Silverado 1500 HD | Chevy Silverado 1500 HD Engine Water Pump with Thermostat & Housing V8 6.0L (8th Vin Digit N) |
| 1999-2000 | Chevy | Silverado 2500 | Chevy Silverado 2500 Engine Water Pump with Thermostat & Housing V8 5.3L (8th Vin Digit T) |
| 1999-2003 | Chevy | Silverado 2500 | Chevy Silverado 2500 Engine Water Pump with Thermostat & Housing V8 6.0L (8th Vin Digit U) |
| 2001-2003 | Chevy | Silverado 2500 | Chevy Silverado 2500 Engine Water Pump with Thermostat & Housing V8 6.0L (8th Vin Digit U) |
| 2001-2003 | Chevy | Silverado 2500 HD | Chevy Silverado 2500 HD Engine Water Pump with Thermostat & Housing V8 6.0L (8th Vin Digit U) |
| 2001-2003 | Chevy | Silverado 2500 HD | Chevy Silverado 2500 HD Engine Water Pump with Thermostat & Housing V8 6.0L (8th Vin Digit U) |
| 2001-2005 | Chevy | Silverado 3500 | Chevy Silverado 3500 Engine Water Pump with Thermostat & Housing V8 6.0L (8th Vin Digit U) |
| 2000-2003 | Chevy | Suburban 1500 | Chevy Suburban 1500 Engine Water Pump with Thermostat & Housing V8 5.3L (8th Vin Digit T) |
| 2002-2003 | Chevy | Suburban 1500 | Chevy Suburban 1500 Engine Water Pump with Thermostat & Housing V8 5.3L (8th Vin Digit Z) |
| 2000-2003 | Chevy | Suburban 2500 | Chevy Suburban 2500 Engine Water Pump with Thermostat & Housing V8 6.0L (8th Vin Digit U) |
| 2000-2003 | Chevy | Tahoe | Chevy Tahoe Engine Water Pump with Thermostat & Housing V8 5.3L (8th Vin Digit T) |
| 2000-2003 | Chevy | Tahoe | Chevy Tahoe Engine Water Pump with Thermostat & Housing V8 4.8L (8th Vin Digit V) |
| 2002-2003 | Chevy | Tahoe | Chevy Tahoe Engine Water Pump with Thermostat & Housing V8 5.3L (8th Vin Digit Z) |
| 2003 | GMC | Envoy XL | GMC Envoy XL Engine Water Pump with Thermostat & Housing V8 5.3L (8th Vin Digit P) |
| 2003 | GMC | Savana 1500 Van | GMC Savana 1500 Van Engine Water Pump with Thermostat & Housing V8 5.3L (8th Vin Digit T) |
| 2003-2005 | GMC | Savana 2500 Van | GMC Savana 2500 Van Engine Water Pump with Thermostat & Housing V8 5.3L (8th Vin Digit T) |
| 2003-2005 | GMC | Savana 2500 Van | GMC Savana 2500 Van Engine Water Pump with Thermostat & Housing V8 6.0L (8th Vin Digit U) |
| 2003-2005 | GMC | Savana 2500 Van | GMC Savana 2500 Van Engine Water Pump with Thermostat & Housing V8 4.8L (8th Vin Digit V) |
| 2003 | GMC | Savana 3500 Van | GMC Savana 3500 Van Engine Water Pump with Thermostat & Housing V8 6.0L (8th Vin Digit U) |
| 1999-2003 | GMC | Sierra 1500 | GMC Sierra 1500 Engine Water Pump with Thermostat & Housing V8 5.3L (8th Vin Digit T) |
| 1999-2003 | GMC | Sierra 1500 | GMC Sierra 1500 Engine Water Pump with Thermostat & Housing V8 4.8L (8th Vin Digit V) |
| 2001-2003 | GMC | Sierra 1500 | GMC Sierra 1500 Engine Water Pump with Thermostat & Housing V8 6.0L (8th Vin Digit U) |
| 2002-2003 | GMC | Sierra 1500 | GMC Sierra 1500 Engine Water Pump with Thermostat & Housing V8 5.3L (8th Vin Digit Z) |
| 2001-2003 | GMC | Sierra 1500 HD | GMC Sierra 1500 HD Engine Water Pump with Thermostat & Housing V8 6.0L (8th Vin Digit U) |
| 1999-2000 | GMC | Sierra 2500 | GMC Sierra 2500 Engine Water Pump with Thermostat & Housing V8 5.3L (8th Vin Digit T) |
| 1999-2003 | GMC | Sierra 2500 | GMC Sierra 2500 Engine Water Pump with Thermostat & Housing V8 6.0L (8th Vin Digit U) |
| 2001-2003 | GMC | Sierra 2500 | GMC Sierra 2500 Engine Water Pump with Thermostat & Housing V8 6.0L (8th Vin Digit U) |
| 2001-2003 | GMC | Sierra 2500 HD | GMC Sierra 2500 HD Engine Water Pump with Thermostat & Housing V8 6.0L (8th Vin Digit U) |
| 2001-2003 | GMC | Sierra 2500 HD | GMC Sierra 2500 HD Engine Water Pump with Thermostat & Housing V8 6.0L (8th Vin Digit U) |
| 2001-2003 | GMC | Sierra 3500 | GMC Sierra 3500 Engine Water Pump with Thermostat & Housing V8 6.0L (8th Vin Digit U) |
| 2000-2003 | GMC | Yukon | GMC Yukon Engine Water Pump with Thermostat & Housing V8 5.3L (8th Vin Digit T) |
| 2001-2003 | GMC | Yukon | GMC Yukon Engine Water Pump with Thermostat & Housing V8 4.8L (8th Vin Digit V) |
| 2002-2003 | GMC | Yukon | GMC Yukon Engine Water Pump with Thermostat & Housing V8 5.3L (8th Vin Digit Z) |
| 2000-2003 | GMC | Yukon XL 1500 | GMC Yukon XL 1500 Engine Water Pump with Thermostat & Housing V8 5.3L (8th Vin Digit T) |
| 2002-2003 | GMC | Yukon XL 1500 | GMC Yukon XL 1500 Engine Water Pump with Thermostat & Housing V8 5.3L (8th Vin Digit Z) |
| 2000-2003 | GMC | Yukon XL 2500 | GMC Yukon XL 2500 Engine Water Pump with Thermostat & Housing V8 6.0L (8th Vin Digit U) |
| 2003 | Hummer | H2 | Hummer H2 Engine Water Pump with Thermostat & Housing V8 6.0L (8th Vin Digit U) |
| 2003-2004 | Isuzu | Ascender | Isuzu Ascender Engine Water Pump with Thermostat & Housing V8 5.3L (8th Vin Digit P) |
| 2005-2006 | Saab | 9-7X | Saab 9-7X Engine Water Pump with Thermostat & Housing V8 5.3L (8th Vin Digit M) |
This part replaces:
Airtex AW5087
OE # 12456113
OE # 12458935
OE # 12556449
OE # 88894290
OE # 89017439
OE # 8888942900
OE # 8890174390
OE # 12562740
OE # 12571261
Part #: 1AHCK00019
Order must be placed by 4pm ET
Get it in: 2 - 4 Business Days
Want it sooner? Choose Next Day Air at Checkout