1AEKS00012-Engine Knock Sensor
Replaces
Engine Knock Sensor - 1AEKS00012
1AEKS00012
This replacement Engine Knock (Detonation) Sensor is just what you need to get your vehicle in good running order again!
A knock sensor is like a small electronic microphone that is usually attached to the engine block and listens for a couple of things that a engine might do. One thing it listens for is pre-ignition or knocking inside the engine usually caused by a few issues including dirty gas, wrong engine timing low octane fuel, wrong air / fuel mixture, and also by the wrong spark plugs. It also listens for engine run on which happens when the vehicle is turned off, but tries to keep running until it stalls. Once a noise is detected, the knock sensor sends a signal to the cars computer which in turn will retard the timing at 2 degree intervals until it corrects the issue. If the knock sensor fails, it can seriously damage the engine, as continuous pre-ignition could cause melting or fractures in the pistons just to name a few.
This knock sensor features the following specifications:
100% New not remanufactured
Replaces dealer part numbers: 10456018, 1997699, 8104562880, 10456288, 1997699
Mounts to engine block
Built to strict quality control standards
Mounting type: Screw in
Number of Terminals: (1)
This Engine Knock Sensor makes a great replacement and has good cost savings over a dealer unit.
Our electrical and electronic parts are subject to strict quality control testing. Please ensure proper diagnosis of this item before purchasing as the item cannot be returned once installed or plugged in.
Item Condition: New

Attention California Customers:
WARNING: Cancer and Reproductive Harm - www.P65Warnings.ca.gov.
Lifetime Warranty
This item is backed by a Limited Lifetime Warranty. In the event this item should fail due to manufacturing defects during intended use, we will exchange the part free of charge (excludes shipping charges) for the original purchaser.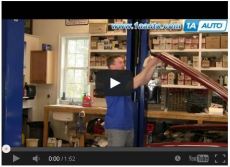 Tools needed for replacement:
Materials, Fluids, and Supplies

Electrical Tape

Pliers, Cutters & misc Wrenches

Wire Cutters
Needle nose pliers

Wrenches - SAE

3/4 Inch Wrench
7/8 Inch Wrench
Bad or wrong sensor for my engine.
I received either a bad or wrong sensor for my 454. I went to the local NAPA and got one that works. A total waste of $25.00.. lesson learned.... I wont be using 1A auto parts again nor will I recommend them!
still have obd1 code 43
while removing old knock sensor, the head stripped right off, tryed vice grips to remove the stripped bolt and theres no sign of it coming out. with the new sensor from 1aauto i had to locate a new hole in the block to secure it in. after doing so, the obd1 code 43 was still showing. faulty sensor? bad location on block? not sure, what i do know is i have both obd1 code 42 and 43, which points to the EST. time to search the web for information on that.
Knock censor
This will work perfect. Well packaged came in one piece.
Wrong parts great service
I purchased this knock sensor on the phone. Made a comment about two being listed and they assured me this was the correct one. I installed the sensor and the truck still threw codes. I did some research and found that this was the wrong part for my application. The black sensor is for a manual transmission and the white sensor is for a 4l80e auto. I bought the right sensor local and it solved the problem as expected. The service was good and they were helpful in getting the cost of the part refunded. They were all friendly and great to deal with if the knowledge was there it would have been a great transaction. I will try them again at some point but will be sure to do my research before ordering.
Customer Q&A
Ask a question to 1A Auto customers who purchased the product
No questions have been asked about this item.
| Year | Make | Model | Description |
| --- | --- | --- | --- |
| 1992-1993 | Buick | Roadmaster | Buick Roadmaster Engine Knock Sensor V8 5.7L |
| 1990-1992 | Cadillac | Brougham | Cadillac Brougham Engine Knock Sensor V8 5.7L |
| 1999-2000 | Cadillac | Escalade | Cadillac Escalade Engine Knock Sensor V8 5.7L |
| 1986-1995 | Chevy | Astro | Chevy Astro Engine Knock Sensor V6 4.3L |
| 1987-1994 | Chevy | Blazer Full Size | Chevy Blazer Full Size Engine Knock Sensor V8 5.7L |
| 1988-1993 | Chevy | Blazer S10 | Chevy Blazer S10 Engine Knock Sensor V6 4.3L |
| 1985-1986 | Chevy | C10 Truck | Chevy C10 Truck Engine Knock Sensor V6 4.3L |
| 1988-1999 | Chevy | C1500 Truck | Chevy C1500 Truck Engine Knock Sensor V8 5.7L |
| 1988-1993 | Chevy | C1500 Truck | Chevy C1500 Truck Engine Knock Sensor V6 4.3L |
| 1991-1993 | Chevy | C1500 Truck | Chevy C1500 Truck SS Engine Knock Sensor V8 7.4L |
| 1985-1986 | Chevy | C20 Truck | Chevy C20 Truck Engine Knock Sensor V6 4.3L |
| 1988-2000 | Chevy | C2500 Truck | Chevy C2500 Truck Engine Knock Sensor V8 5.7L |
| 1988-1992 | Chevy | C2500 Truck | Chevy C2500 Truck Engine Knock Sensor V6 4.3L |
| 1991-1995 | Chevy | C2500 Truck | Chevy C2500 Truck Engine Knock Sensor V8 7.4L |
| 1988-1990 | Chevy | C3500 Truck | Chevy C3500 Truck Engine Knock Sensor V8 5.7L |
| 1988-1990 | Chevy | C3500 Truck | Chevy C3500 Truck Engine Knock Sensor V8 7.4L |
| 1991-1995 | Chevy | C3500 Truck | Chevy C3500 Truck Engine Knock Sensor V8 7.4L Manual Transmission |
| 1991-1995 | Chevy | C3500 Truck | Chevy C3500 Truck Engine Knock Sensor V8 5.7L Manual Transmission |
| 1996-2000 | Chevy | C3500 Truck | Chevy C3500 Truck Engine Knock Sensor V8 5.7L |
| 1987-1989 | Chevy | Camaro | Chevy Camaro Engine Knock Sensor V8 5.7L |
| 1985-1993 | Chevy | Caprice | Chevy Caprice Engine Knock Sensor V6 4.3L |
| 1989-1993 | Chevy | Caprice | Chevy Caprice Engine Knock Sensor V8 5.7L |
| 1987-1989 | Chevy | Corvette | Chevy Corvette Engine Knock Sensor V8 5.7L |
| 1985-1987 | Chevy | El Camino | Chevy El Camino Engine Knock Sensor V6 4.3L |
| 1996-2002 | Chevy | Express 1500 Van | Chevy Express 1500 Van Engine Knock Sensor V8 5.7L |
| 1996-2002 | Chevy | Express 2500 Van | Chevy Express 2500 Van Engine Knock Sensor V8 5.7L |
| 1996-2002 | Chevy | Express 3500 Van | Chevy Express 3500 Van Engine Knock Sensor V8 5.7L |
| 1985 | Chevy | Impala | Chevy Impala Engine Knock Sensor V6 4.3L |
| 1985-1986 | Chevy | K10 Truck | Chevy K10 Truck Engine Knock Sensor V6 4.3L |
| 1988-1999 | Chevy | K1500 Truck | Chevy K1500 Truck Engine Knock Sensor V8 5.7L |
| 1988-1993 | Chevy | K1500 Truck | Chevy K1500 Truck Engine Knock Sensor V6 4.3L |
| 1985 | Chevy | K20 Truck | Chevy K20 Truck Engine Knock Sensor V6 4.3L |
| 1988-1993 | Chevy | K2500 Truck | Chevy K2500 Truck Engine Knock Sensor V6 4.3L |
| 1988-2000 | Chevy | K2500 Truck | Chevy K2500 Truck Engine Knock Sensor V8 5.7L |
| 1991-1995 | Chevy | K2500 Truck | Chevy K2500 Truck Engine Knock Sensor V8 7.4L |
| 1988-1990 | Chevy | K3500 Truck | Chevy K3500 Truck Engine Knock Sensor V8 7.4L |
| 1988-1990 | Chevy | K3500 Truck | Chevy K3500 Truck Engine Knock Sensor V8 5.7L |
| 1991-1995 | Chevy | K3500 Truck | Chevy K3500 Truck Engine Knock Sensor V8 5.7L Manual Transmission |
| 1991-1995 | Chevy | K3500 Truck | Chevy K3500 Truck Engine Knock Sensor V8 7.4L Manual Transmission |
| 1996-2000 | Chevy | K3500 Truck | Chevy K3500 Truck Engine Knock Sensor V8 5.7L |
| 1985-1988 | Chevy | Monte Carlo | Chevy Monte Carlo Engine Knock Sensor V6 4.3L |
| 1987-1989 | Chevy | P20 | Chevy P20 Engine Knock Sensor V8 5.7L |
| 1988-1989 | Chevy | P20 | Chevy P20 Engine Knock Sensor V8 7.4L |
| 1987-1999 | Chevy | P30 | Chevy P30 Engine Knock Sensor V8 5.7L |
| 1988-1992 | Chevy | P30 | Chevy P30 Engine Knock Sensor V8 7.4L |
| 1990-1994 | Chevy | P30 | Chevy P30 Engine Knock Sensor V6 4.3L |
| 1987 | Chevy | R1500 Truck | Chevy R1500 Truck Engine Knock Sensor V6 4.3L |
| 1987 | Chevy | R1500 Truck | Chevy R1500 Truck Engine Knock Sensor V8 5.7L |
| 1987 | Chevy | R2500 Truck | Chevy R2500 Truck Engine Knock Sensor V6 4.3L |
| 1987-1988 | Chevy | R2500 Truck | Chevy R2500 Truck Engine Knock Sensor V8 5.7L |
| 1987-1989 | Chevy | R2500 Truck | Chevy R2500 Truck Engine Knock Sensor V8 7.4L |
| 1987-1991 | Chevy | R3500 Truck | Chevy R3500 Truck Engine Knock Sensor V8 7.4L |
| 1987-1991 | Chevy | R3500 Truck | Chevy R3500 Truck Engine Knock Sensor V8 5.7L |
| 1988-1993 | Chevy | S10 Pickup | Chevy S10 Pickup Engine Knock Sensor V6 4.3L |
| 1992-1996 | Chevy | Suburban C1500 | Chevy Suburban C1500 Engine Knock Sensor V8 5.7L |
| 1992-1996 | Chevy | Suburban C2500 | Chevy Suburban C2500 Engine Knock Sensor V8 5.7L |
| 1992-1996 | Chevy | Suburban C2500 | Chevy Suburban C2500 Engine Knock Sensor V8 7.4L |
| 1992-1996 | Chevy | Suburban K1500 | Chevy Suburban K1500 Engine Knock Sensor V8 5.7L |
| 1992-1996 | Chevy | Suburban K2500 | Chevy Suburban K2500 Engine Knock Sensor V8 5.7L |
| 1992-1996 | Chevy | Suburban K2500 | Chevy Suburban K2500 Engine Knock Sensor V8 7.4L |
| 1989-1991 | Chevy | Suburban R1500 | Chevy Suburban R1500 Engine Knock Sensor V8 5.7L |
| 1989-1991 | Chevy | Suburban R2500 | Chevy Suburban R2500 Engine Knock Sensor V8 5.7L |
| 1989-1991 | Chevy | Suburban R2500 | Chevy Suburban R2500 Engine Knock Sensor V8 7.4L |
| 1989-1991 | Chevy | Suburban V1500 | Chevy Suburban V1500 Engine Knock Sensor V8 5.7L |
| 1989-1991 | Chevy | Suburban V2500 | Chevy Suburban V2500 Engine Knock Sensor V8 5.7L |
| 1989-1991 | Chevy | Suburban V2500 | Chevy Suburban V2500 Engine Knock Sensor V8 7.4L |
| 1995-2000 | Chevy | Tahoe | Chevy Tahoe Engine Knock Sensor V8 5.7L |
| 1987 | Chevy | V1500 Truck | Chevy V1500 Truck Engine Knock Sensor V8 5.7L |
| 1987 | Chevy | V1500 Truck | Chevy V1500 Truck Engine Knock Sensor V6 4.3L |
| 1987-1991 | Chevy | V3500 Truck | Chevy V3500 Truck Engine Knock Sensor V8 7.4L |
| 1987-1991 | Chevy | V3500 Truck | Chevy V3500 Truck Engine Knock Sensor V8 5.7L |
| 1985-1993 | GMC | C1500 Truck | GMC C1500 Truck Engine Knock Sensor V6 4.3L |
| 1985-1993 | GMC | C1500 Truck | GMC C1500 Truck Engine Knock Sensor V6 4.3L |
| 1988-1999 | GMC | C1500 Truck | GMC C1500 Truck Engine Knock Sensor V8 5.7L |
| 1988-2000 | GMC | C2500 Truck | GMC C2500 Truck Engine Knock Sensor V8 5.7L |
| 1992-1995 | GMC | C2500 Truck | GMC C2500 Truck Engine Knock Sensor V8 7.4L |
| 1988-1990 | GMC | C3500 Truck | GMC C3500 Truck Engine Knock Sensor V8 5.7L |
| 1988-1990 | GMC | C3500 Truck | GMC C3500 Truck Engine Knock Sensor V8 7.4L |
| 1991-1995 | GMC | C3500 Truck | GMC C3500 Truck Engine Knock Sensor V8 5.7L Manual Transmission |
| 1991-1995 | GMC | C3500 Truck | GMC C3500 Truck Engine Knock Sensor V8 7.4L Manual Transmission |
| 1996-2000 | GMC | C3500 Truck | GMC C3500 Truck Engine Knock Sensor V8 5.7L |
| 1985-1987 | GMC | Caballero | GMC Caballero Engine Knock Sensor V6 4.3L |
| 1985-1992 | GMC | G1500 | GMC G1500 Engine Knock Sensor V8 5.7L |
| 1985-1992 | GMC | G1500 | GMC G1500 Engine Knock Sensor V6 4.3L |
| 1985-1992 | GMC | G2500 | GMC G2500 Engine Knock Sensor V8 5.7L |
| 1985-1991 | GMC | G2500 | GMC G2500 Engine Knock Sensor V6 4.3L |
| 1985-1992 | GMC | G3500 | GMC G3500 Engine Knock Sensor V8 5.7L |
| 1985-1991 | GMC | G3500 | GMC G3500 Engine Knock Sensor V6 4.3L |
| 1987-1991 | GMC | Jimmy Full Size | GMC Jimmy Full Size Engine Knock Sensor V8 5.7L |
| 1988-1992 | GMC | Jimmy S-15 | GMC Jimmy S-15 Engine Knock Sensor V6 4.3L |
| 1985-1993 | GMC | K1500 Truck | GMC K1500 Truck Engine Knock Sensor V6 4.3L |
| 1988-1999 | GMC | K1500 Truck | GMC K1500 Truck Engine Knock Sensor V8 5.7L |
| 1985-1993 | GMC | K2500 Truck | GMC K2500 Truck Engine Knock Sensor V6 4.3L |
| 1988-2000 | GMC | K2500 Truck | GMC K2500 Truck Engine Knock Sensor V8 5.7L |
| 1992-1995 | GMC | K2500 Truck | GMC K2500 Truck Engine Knock Sensor V8 7.4L |
| 1988-1990 | GMC | K3500 Truck | GMC K3500 Truck Engine Knock Sensor V8 7.4L |
| 1988-1990 | GMC | K3500 Truck | GMC K3500 Truck Engine Knock Sensor V8 5.7L |
| 1991-1995 | GMC | K3500 Truck | GMC K3500 Truck Engine Knock Sensor V8 5.7L Manual Transmission |
| 1991-1995 | GMC | K3500 Truck | GMC K3500 Truck Engine Knock Sensor V8 7.4L Manual Transmission |
| 1996-2000 | GMC | K3500 Truck | GMC K3500 Truck Engine Knock Sensor V8 5.7L |
| 1987-1989 | GMC | P2500 | GMC P2500 Engine Knock Sensor V8 5.7L |
| 1988-1989 | GMC | P2500 | GMC P2500 Engine Knock Sensor V8 7.4L |
| 1987-1999 | GMC | P3500 | GMC P3500 Engine Knock Sensor V8 5.7L |
| 1988-1992 | GMC | P3500 | GMC P3500 Engine Knock Sensor V8 7.4L |
| 1990-1994 | GMC | P3500 | GMC P3500 Engine Knock Sensor V6 4.3L |
| 1987 | GMC | R1500 Truck | GMC R1500 Truck Engine Knock Sensor V8 5.7L |
| 1987 | GMC | R1500 Truck | GMC R1500 Truck Engine Knock Sensor V6 4.3L |
| 1987-1989 | GMC | R2500 Truck | GMC R2500 Truck Engine Knock Sensor V6 4.3L |
| 1987-1989 | GMC | R2500 Truck | GMC R2500 Truck Engine Knock Sensor V8 5.7L |
| 1987-1989 | GMC | R2500 Truck | GMC R2500 Truck Engine Knock Sensor V8 7.4L |
| 1987 | GMC | R2500 Truck | GMC R2500 Truck Engine Knock Sensor V6 4.3L |
| 1987-1991 | GMC | R3500 Truck | GMC R3500 Truck Engine Knock Sensor V8 5.7L |
| 1987-1991 | GMC | R3500 Truck | GMC R3500 Truck Engine Knock Sensor V8 7.4L |
| 1988-1990 | GMC | S-15 Pickup | GMC S-15 Pickup Engine Knock Sensor V6 4.3L |
| 1991-1993 | GMC | S-15 Sonoma | GMC S-15 Sonoma Engine Knock Sensor V6 4.3L |
| 1996-2002 | GMC | Savana 1500 Van | GMC Savana 1500 Van Engine Knock Sensor V8 5.7L |
| 1996-2002 | GMC | Savana 2500 Van | GMC Savana 2500 Van Engine Knock Sensor V8 5.7L |
| 1996-2002 | GMC | Savana 3500 Van | GMC Savana 3500 Van Engine Knock Sensor V8 5.7L |
| 1992-1999 | GMC | Suburban C1500 | GMC Suburban C1500 Engine Knock Sensor V8 5.7L |
| 1992-1999 | GMC | Suburban C2500 | GMC Suburban C2500 Engine Knock Sensor V8 5.7L |
| 1992-1993 | GMC | Suburban C2500 | GMC Suburban C2500 Engine Knock Sensor V8 7.4L |
| 1992-1999 | GMC | Suburban K1500 | GMC Suburban K1500 Engine Knock Sensor V8 5.7L |
| 1992-1999 | GMC | Suburban K2500 | GMC Suburban K2500 Engine Knock Sensor V8 5.7L |
| 1992-1993 | GMC | Suburban K2500 | GMC Suburban K2500 Engine Knock Sensor V8 7.4L |
| 1987-1991 | GMC | Suburban R2500 | GMC Suburban R2500 Engine Knock Sensor V8 7.4L |
| 1987-1991 | GMC | Suburban V2500 | GMC Suburban V2500 Engine Knock Sensor V8 7.4L |
| 1992-1993 | GMC | Typhoon | GMC Typhoon Engine Knock Sensor V6 4.3L Turbo |
| 1987 | GMC | V1500 Truck | GMC V1500 Truck Engine Knock Sensor V6 4.3L |
| 1987 | GMC | V1500 Truck | GMC V1500 Truck Engine Knock Sensor V8 5.7L |
| 1987 | GMC | V1500 Truck | GMC V1500 Truck Engine Knock Sensor V6 4.3L |
| 1987 | GMC | V2500 Truck | GMC V2500 Truck Engine Knock Sensor V6 4.3L |
| 1987 | GMC | V2500 Truck | GMC V2500 Truck Engine Knock Sensor V8 5.7L |
| 1987-1991 | GMC | V3500 Truck | GMC V3500 Truck Engine Knock Sensor V8 5.7L |
| 1987-1991 | GMC | V3500 Truck | GMC V3500 Truck Engine Knock Sensor V8 7.4L |
| 1992-2000 | GMC | Yukon | GMC Yukon Engine Knock Sensor V8 5.7L |
| 1992 | Oldsmobile | Custom Cruiser | Olds Custom Cruiser Engine Knock Sensor V8 5.7L |
| 1987-1989 | Pontiac | Firebird | Pontiac Firebird Engine Knock Sensor V8 5.7L |
| 1986-1987 | Pontiac | Grand Prix | Pontiac Grand Prix Engine Knock Sensor V6 4.3L |
| 1985-1986 | Pontiac | Parisienne | Pontiac Parisienne Engine Knock Sensor V6 4.3L |
Part #: 1AEKS00012
Order must be placed by 4pm ET
Get it in: 2 - 4 Business Days
Want it sooner? Choose Next Day Air at Checkout