1AEKS00012-Engine Knock Sensor
Replaces
Engine Knock Sensor - 1AEKS00012
1AEKS00012
This replacement Engine Knock (Detonation) Sensor is just what you need to get your vehicle in good running order again!
A knock sensor is like a small electronic microphone that is usually attached to the engine block and listens for a couple of things that a engine might do. One thing it listens for is pre-ignition or knocking inside the engine usually caused by a few issues including dirty gas, wrong engine timing low octane fuel, wrong air / fuel mixture, and also by the wrong spark plugs. It also listens for engine run on which happens when the vehicle is turned off, but tries to keep running until it stalls. Once a noise is detected, the knock sensor sends a signal to the cars computer which in turn will retard the timing at 2 degree intervals until it corrects the issue. If the knock sensor fails, it can seriously damage the engine, as continuous pre-ignition could cause melting or fractures in the pistons just to name a few.
This knock sensor features the following specifications:
100% New not remanufactured
Replaces dealer part numbers: 10456018, 1997699, 8104562880, 10456288, 1997699
Mounts to engine block
Built to strict quality control standards
Mounting type: Screw in
Number of Terminals: (1)
This Engine Knock Sensor makes a great replacement and has good cost savings over a dealer unit.
Our electrical and electronic parts are subject to strict quality control testing. Once the item has been installed or plugged in, it is no longer eligible for a refund. The item may be eligible for replacement, only if it is found to have a manufacturing defect. Before purchasing, please ensure proper diagnosis of the failed original part is performed
Lifetime Warranty
This item is backed by a Limited Lifetime Warranty. In the event this item should fail due to manufacturing defects during intended use, we will exchange the part free of charge (excludes shipping charges) for the original purchaser.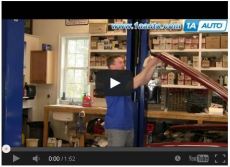 Tools needed for replacement:
Materials, Fluids, and Supplies

Electrical Tape

Pliers, Cutters & misc Wrenches

Wire Cutters
Needle nose pliers

Wrenches - SAE

3/4 Inch Wrench
7/8 Inch Wrench
Knock censor
This will work perfect. Well packaged came in one piece.
August 14, 2017
Purchased
11 months ago
still have obd1 code 43
while removing old knock sensor, the head stripped right off, tryed vice grips to remove the stripped bolt and theres no sign of it coming out. with the new sensor from 1aauto i had to locate a new hole in the block to secure it in. after doing so, the obd1 code 43 was still showing. faulty sensor? bad location on block? not sure, what i do know is i have both obd1 code 42 and 43, which points to the EST. time to search the web for information on that.
May 1, 2017
Purchased
1 year ago
Bad or wrong sensor for my engine.
I received either a bad or wrong sensor for my 454. I went to the local NAPA and got one that works. A total waste of $25.00.. lesson learned.... I won't be using 1A auto parts again nor will I recommend them!
February 19, 2017
Purchased
1 year ago
Response from 1A Auto
Thank you for leaving feedback with us. If you are at all unsatisfied with the products you received please contact us right away at 888-844-3393. We take great pride in our parts being as good as, or better than, the OE parts. If you believe you've received parts to the contrary of that sentiment we'd like to fix it right away. We look forward to hearing from you. Thank you, and have a good day!
Vehicle Fit
1992-1993 Buick Roadmaster Engine Knock Sensor V8 5.7L
1990-1992 Cadillac Brougham Engine Knock Sensor V8 5.7L
1999-2000 Cadillac Escalade Engine Knock Sensor V8 5.7L
1986-1995 Chevy Astro Engine Knock Sensor V6 4.3L
1987-1994 Chevy Blazer Full Size Engine Knock Sensor V8 5.7L
1988-1993 Chevy Blazer S10 Engine Knock Sensor V6 4.3L
1985-1986 Chevy C10 Truck Engine Knock Sensor V6 4.3L
1988-1999 Chevy C1500 Truck Engine Knock Sensor V8 5.7L
1988-1993 Chevy C1500 Truck Engine Knock Sensor V6 4.3L
1991-1993 Chevy C1500 Truck SS Engine Knock Sensor V8 7.4L
1985-1986 Chevy C20 Truck Engine Knock Sensor V6 4.3L
1988-2000 Chevy C2500 Truck Engine Knock Sensor V8 5.7L
1988-1992 Chevy C2500 Truck Engine Knock Sensor V6 4.3L
1991-1995 Chevy C2500 Truck Engine Knock Sensor V8 7.4L
1988-1995 Chevy C3500 Truck Engine Knock Sensor V8 7.4L
1988-2000 Chevy C3500 Truck Engine Knock Sensor V8 5.7L
1987-1989 Chevy Camaro Engine Knock Sensor V8 5.7L
1985-1993 Chevy Caprice Engine Knock Sensor V6 4.3L
1989-1993 Chevy Caprice Engine Knock Sensor V8 5.7L
1987-1989 Chevy Corvette Engine Knock Sensor V8 5.7L
1985-1987 Chevy El Camino Engine Knock Sensor V6 4.3L
1996-2002 Chevy Express 1500 Van Engine Knock Sensor V8 5.7L
1996-2002 Chevy Express 2500 Van Engine Knock Sensor V8 5.7L
1996-2002 Chevy Express 3500 Van Engine Knock Sensor V8 5.7L
1985 Chevy Impala Engine Knock Sensor V6 4.3L
1985-1986 Chevy K10 Truck Engine Knock Sensor V6 4.3L
1988-1999 Chevy K1500 Truck Engine Knock Sensor V8 5.7L
1988-1993 Chevy K1500 Truck Engine Knock Sensor V6 4.3L
1985 Chevy K20 Truck Engine Knock Sensor V6 4.3L
1988-1993 Chevy K2500 Truck Engine Knock Sensor V6 4.3L
1988-2000 Chevy K2500 Truck Engine Knock Sensor V8 5.7L
1991-1995 Chevy K2500 Truck Engine Knock Sensor V8 7.4L
1988-1995 Chevy K3500 Truck Engine Knock Sensor V8 7.4L
1988-2000 Chevy K3500 Truck Engine Knock Sensor V8 5.7L
1985-1988 Chevy Monte Carlo Engine Knock Sensor V6 4.3L
1987 Chevy R1500 Truck Engine Knock Sensor V6 4.3L
1987 Chevy R1500 Truck Engine Knock Sensor V8 5.7L
1987 Chevy R2500 Truck Engine Knock Sensor V6 4.3L
1987-1988 Chevy R2500 Truck Engine Knock Sensor V8 5.7L
1987-1989 Chevy R2500 Truck Engine Knock Sensor V8 7.4L
1987-1991 Chevy R3500 Truck Engine Knock Sensor V8 7.4L
1987-1991 Chevy R3500 Truck Engine Knock Sensor V8 5.7L
1988-1993 Chevy S10 Pickup Engine Knock Sensor V6 4.3L
1992-1996 Chevy Suburban C1500 Engine Knock Sensor V8 5.7L
1992-1996 Chevy Suburban C2500 Engine Knock Sensor V8 5.7L
1992-1996 Chevy Suburban C2500 Engine Knock Sensor V8 7.4L
1992-1996 Chevy Suburban K1500 Engine Knock Sensor V8 5.7L
1992-1996 Chevy Suburban K2500 Engine Knock Sensor V8 5.7L
1992-1996 Chevy Suburban K2500 Engine Knock Sensor V8 7.4L
1989-1991 Chevy Suburban R1500 Engine Knock Sensor V8 5.7L
1989-1991 Chevy Suburban R2500 Engine Knock Sensor V8 5.7L
1989-1991 Chevy Suburban R2500 Engine Knock Sensor V8 7.4L
1989-1991 Chevy Suburban V1500 Engine Knock Sensor V8 5.7L
1989-1991 Chevy Suburban V2500 Engine Knock Sensor V8 5.7L
1989-1991 Chevy Suburban V2500 Engine Knock Sensor V8 7.4L
1995-2000 Chevy Tahoe Engine Knock Sensor V8 5.7L
1987 Chevy V1500 Truck Engine Knock Sensor V8 5.7L
1987 Chevy V1500 Truck Engine Knock Sensor V6 4.3L
1987-1991 Chevy V3500 Truck Engine Knock Sensor V8 7.4L
1987-1991 Chevy V3500 Truck Engine Knock Sensor V8 5.7L
1987-1999 Chevy Van - P Series Forward Control Engine Knock Sensor V8 5.7L
1988-1992 Chevy Van - P Series Forward Control Engine Knock Sensor V8 7.4L
1990-1994 Chevy Van - P Series Forward Control Engine Knock Sensor V6 4.3L
1985-1992 Chevy Van G-Series 3500 Engine Knock Sensor V8 5.7L
1985-1992 Chevy Van G-Series 1500 Engine Knock Sensor V8 5.7L
1985-1992 Chevy Van G-Series 1500 Engine Knock Sensor V6 4.3L
1985-1991 Chevy Van G-Series 2500 Engine Knock Sensor V6 4.3L
1985-1992 Chevy Van G-Series 2500 Engine Knock Sensor V8 5.7L
1985-1991 Chevy Van G-Series 3500 Engine Knock Sensor V6 4.3L
1985-1993 GMC C1500 Truck Engine Knock Sensor V6 4.3L
1988-1999 GMC C1500 Truck Engine Knock Sensor V8 5.7L
1988-2000 GMC C2500 Truck Engine Knock Sensor V8 5.7L
1992-1995 GMC C2500 Truck Engine Knock Sensor V8 7.4L
1988-1995 GMC C3500 Truck Engine Knock Sensor V8 7.4L
1988-2000 GMC C3500 Truck Engine Knock Sensor V8 5.7L
1985-1987 GMC Caballero Engine Knock Sensor V6 4.3L
1987-1991 GMC Jimmy Full Size Engine Knock Sensor V8 5.7L
1988-1992 GMC Jimmy S-15 Engine Knock Sensor V6 4.3L
1985-1993 GMC K1500 Truck Engine Knock Sensor V6 4.3L
1988-1999 GMC K1500 Truck Engine Knock Sensor V8 5.7L
1985-1993 GMC K2500 Truck Engine Knock Sensor V6 4.3L
1988-2000 GMC K2500 Truck Engine Knock Sensor V8 5.7L
1992-1995 GMC K2500 Truck Engine Knock Sensor V8 7.4L
1988-2000 GMC K3500 Truck Engine Knock Sensor V8 5.7L
1988-1995 GMC K3500 Truck Engine Knock Sensor V8 7.4L
1987 GMC R1500 Truck Engine Knock Sensor V8 5.7L
1987 GMC R1500 Truck Engine Knock Sensor V6 4.3L
1987-1989 GMC R2500 Truck Engine Knock Sensor V6 4.3L
1987-1989 GMC R2500 Truck Engine Knock Sensor V8 5.7L
1987-1989 GMC R2500 Truck Engine Knock Sensor V8 7.4L
1987 GMC R2500 Truck Engine Knock Sensor V6 4.3L
1987-1991 GMC R3500 Truck Engine Knock Sensor V8 5.7L
1987-1991 GMC R3500 Truck Engine Knock Sensor V8 7.4L
1988-1990 GMC S-15 Pickup Engine Knock Sensor V6 4.3L
1991-1993 GMC S-15 Sonoma Engine Knock Sensor V6 4.3L
1996-2002 GMC Savana 1500 Van Engine Knock Sensor V8 5.7L
1996-2002 GMC Savana 2500 Van Engine Knock Sensor V8 5.7L
1996-2002 GMC Savana 3500 Van Engine Knock Sensor V8 5.7L
1992-1999 GMC Suburban C1500 Engine Knock Sensor V8 5.7L
1992-1999 GMC Suburban C2500 Engine Knock Sensor V8 5.7L
1992-1993 GMC Suburban C2500 Engine Knock Sensor V8 7.4L
1992-1999 GMC Suburban K1500 Engine Knock Sensor V8 5.7L
1992-1999 GMC Suburban K2500 Engine Knock Sensor V8 5.7L
1992-1993 GMC Suburban K2500 Engine Knock Sensor V8 7.4L
1987-1991 GMC Suburban R2500 Engine Knock Sensor V8 7.4L
1987-1991 GMC Suburban V2500 Engine Knock Sensor V8 7.4L
1992-1993 GMC Typhoon Engine Knock Sensor V6 4.3L Turbo
1987 GMC V1500 Truck Engine Knock Sensor V6 4.3L
1987 GMC V1500 Truck Engine Knock Sensor V8 5.7L
1987 GMC V2500 Truck Engine Knock Sensor V6 4.3L
1987 GMC V2500 Truck Engine Knock Sensor V8 5.7L
1987-1991 GMC V3500 Truck Engine Knock Sensor V8 5.7L
1987-1991 GMC V3500 Truck Engine Knock Sensor V8 7.4L
1985-1991 GMC Van 3500 Engine Knock Sensor V6 4.3L
1985-1992 GMC Van 3500 Engine Knock Sensor V8 5.7L
1985-1992 GMC Van 2500 Engine Knock Sensor V8 5.7L
1985-1991 GMC Van 2500 Engine Knock Sensor V6 4.3L
1985-1992 GMC Van 1500 Engine Knock Sensor V6 4.3L
1985-1992 GMC Van 1500 Engine Knock Sensor V8 5.7L
1987-1999 GMC Van - P Series Forward Control Engine Knock Sensor V8 5.7L
1988-1992 GMC Van - P Series Forward Control Engine Knock Sensor V8 7.4L
1990-1994 GMC Van - P Series Forward Control Engine Knock Sensor V6 4.3L
1992-2000 GMC Yukon Engine Knock Sensor V8 5.7L
1992 Olds Custom Cruiser Engine Knock Sensor V8 5.7L
1987-1989 Pontiac Firebird Engine Knock Sensor V8 5.7L
1986-1987 Pontiac Grand Prix Engine Knock Sensor V6 4.3L
1985-1986 Pontiac Parisienne Engine Knock Sensor V6 4.3L
This part replaces:
OE # 10456018
OE # 10456288
OE # 1997699
Standard Motor Products KS7T