1AACD00047-Engine Knock Sensor
Replaces
Engine Knock Sensor ACDelco 213-3521 - 1AACD00047
1AACD00047
AC DELCO 213-3521 [KNOCK (DETONATION) SENSOR
]
This AC DELCO knock or detonation sensor is a new part. It is the same piece that you would receive if you purchased it from your local GM dealer.
A knock sensor is like a very small electric microphone that is placed on the engine. It listens for pre ignition knocks and then sends a signal to the ECM. The ECM then will make adjustments to the engines timing. If the knock sensor fails, it possibly can cause serious engine damage as continuous pre ignition can cause a fracture in the pistons!
This knock sensor features the following specifications:
Brand New AC Delco part
Replaces dealer part number: 12589867, 213-3521
Built to strict quality control standards
Direct replacement
100% factory tested
Mounts in either the engine block, cylinder head, or intake manifold
(1) Wire Style
Our electrical and electronic parts are subject to strict quality control testing. Once the item has been installed or plugged in, it is no longer eligible for a refund. The item may be eligible for replacement, only if it is found to have a manufacturing defect. Before purchasing, please ensure proper diagnosis of the failed original part is performed
Lifetime Warranty
This item is backed by a Limited Lifetime Warranty. In the event this item should fail due to manufacturing defects during intended use, we will exchange the part free of charge (excludes shipping charges) for the original purchaser.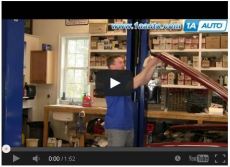 Tools needed for replacement:
Materials, Fluids, and Supplies

Rust Penetrant

Pliers, Cutters & misc Wrenches

Bent Nose Pliers

Ratchets & Related

Ratchet
Socket Extensions
Torque Wrench

Screwdrivers & Related

Flat Blade Screwdriver

Sockets - Metric

10mm Socket
22mm Socket
8mm Socket

Specialty Tools

Fuel Line Disconnect Tool
Vehicle Fit
2004 Buick Rainier Engine Knock Sensor V8 5.3L (8th Vin Digit P) ACDelco 213-3521
2004-2005 Cadillac CTS-V Engine Knock Sensor V8 5.7L (8th Vin Digit S) ACDelco 213-3521
2002-2005 Cadillac Escalade Engine Knock Sensor V8 5.3L (8th Vin Digit T) ACDelco 213-3521
2002-2006 Cadillac Escalade Engine Knock Sensor V8 6.0L (8th Vin Digit N) ACDelco 213-3521
2003-2006 Cadillac Escalade ESV Engine Knock Sensor V8 6.0L (8th Vin Digit N) ACDelco 213-3521
2002-2006 Cadillac Escalade EXT Engine Knock Sensor V8 6.0L (8th Vin Digit N) ACDelco 213-3521
2002-2004 Chevy Avalanche 1500 Engine Knock Sensor V8 5.3L (8th Vin Digit T) ACDelco 213-3521
2005-2006 Chevy Avalanche 1500 Engine Knock Sensor V8 5.3L (8th Vin Digit Z) ACDelco 213-3521
1998-2002 Chevy Camaro Engine Knock Sensor V8 5.7L (8th Vin Digit G) ACDelco 213-3521
1998-2004 Chevy Corvette Engine Knock Sensor V8 5.7L (8th Vin Digit G) ACDelco 213-3521
2001-2004 Chevy Corvette Engine Knock Sensor V8 5.7L (8th Vin Digit S) ACDelco 213-3521
2003-2007 Chevy Express 1500 Van Engine Knock Sensor V8 5.3L (8th Vin Digit T) ACDelco 213-3521
2007 Chevy Express 1500 Van Engine Knock Sensor V8 5.3L (8th Vin Digit Z) ACDelco 213-3521
2003-2007 Chevy Express 2500 Van Engine Knock Sensor V8 4.8L (8th Vin Digit V) ACDelco 213-3521
2003-2007 Chevy Express 2500 Van Engine Knock Sensor V8 6.0L (8th Vin Digit U) ACDelco 213-3521
2003-2005 Chevy Express 2500 Van Engine Knock Sensor V8 5.3L (8th Vin Digit T) ACDelco 213-3521
2003-2007 Chevy Express 3500 Van Engine Knock Sensor V8 6.0L (8th Vin Digit U) ACDelco 213-3521
2005-2007 Chevy Express 3500 Van Engine Knock Sensor V8 4.8L (8th Vin Digit V) ACDelco 213-3521
2003-2004 Chevy SSR Engine Knock Sensor V8 5.3L (8th Vin Digit P) ACDelco 213-3521
1999-2007 Chevy Silverado 1500 Engine Knock Sensor V8 4.8L (8th Vin Digit V) ACDelco 213-3521
1999-2007 Chevy Silverado 1500 Engine Knock Sensor V8 5.3L (8th Vin Digit T) ACDelco 213-3521
2002-2007 Chevy Silverado 1500 Engine Knock Sensor V8 5.3L (8th Vin Digit Z) ACDelco 213-3521
2003-2006 Chevy Silverado 1500 Engine Knock Sensor V8 6.0L (8th Vin Digit N) ACDelco 213-3521
2005 Chevy Silverado 1500 Engine Knock Sensor V8 5.3L (8th Vin Digit B) ACDelco 213-3521
2007 Chevy Silverado 1500 Classic Engine Knock Sensor V8 4.8L (8th Vin Digit V) ACDelco 213-3521
2007 Chevy Silverado 1500 Classic Engine Knock Sensor V8 6.0L (8th Vin Digit N) ACDelco 213-3521
2007 Chevy Silverado 1500 Classic Engine Knock Sensor V8 5.3L (8th Vin Digit Z) ACDelco 213-3521
2007 Chevy Silverado 1500 Classic Engine Knock Sensor V8 5.3L ACDelco 213-3521
2001-2003 Chevy Silverado 1500 HD Engine Knock Sensor V8 6.0L ACDelco 213-3521
2005-2006 Chevy Silverado 1500 HD Engine Knock Sensor V8 6.0L ACDelco 213-3521
2007 Chevy Silverado 1500 HD Classic Engine Knock Sensor V8 6.0L ACDelco 213-3521
1999-2004 Chevy Silverado 2500 Engine Knock Sensor V8 6.0L (8th Vin Digit U) ACDelco 213-3521
1999-2000 Chevy Silverado 2500 Engine Knock Sensor V8 5.3L (8th Vin Digit T) ACDelco 213-3521
2001-2004 Chevy Silverado 2500 HD Engine Knock Sensor V8 6.0L (8th Vin Digit U) ACDelco 213-3521
2001-2006 Chevy Silverado 2500 HD Engine Knock Sensor V8 6.0L (8th Vin Digit U) ACDelco 213-3521
2007 Chevy Silverado 2500 HD Classic Engine Knock Sensor V8 6.0L (8th Vin Digit U) ACDelco 213-3521
2001-2006 Chevy Silverado 3500 Engine Knock Sensor V8 6.0L (8th Vin Digit U) ACDelco 213-3521
2007 Chevy Silverado 3500 Classic Engine Knock Sensor V8 6.0L (8th Vin Digit U) ACDelco 213-3521
2000-2005 Chevy Suburban 1500 Engine Knock Sensor V8 5.3L (8th Vin Digit T) ACDelco 213-3521
2002-2006 Chevy Suburban 1500 Engine Knock Sensor V8 5.3L (8th Vin Digit Z) ACDelco 213-3521
2006 Chevy Suburban 1500 Engine Knock Sensor V8 6.0L (8th Vin Digit U) ACDelco 213-3521
2000-2006 Chevy Suburban 2500 Engine Knock Sensor V8 6.0L (8th Vin Digit U) ACDelco 213-3521
2000-2006 Chevy Tahoe Engine Knock Sensor V8 4.8L (8th Vin Digit V) ACDelco 213-3521
2000-2006 Chevy Tahoe Engine Knock Sensor V8 5.3L (8th Vin Digit T) ACDelco 213-3521
2002-2006 Chevy Tahoe Engine Knock Sensor V8 5.3L (8th Vin Digit Z) ACDelco 213-3521
2003-2004 Chevy Trailblazer EXT Engine Knock Sensor V8 5.3L (8th Vin Digit P) ACDelco 213-3521
2003-2004 GMC Envoy XL Engine Knock Sensor V8 5.3L (8th Vin Digit P) ACDelco 213-3521
2003-2007 GMC Savana 1500 Van Engine Knock Sensor V8 5.3L (8th Vin Digit T) ACDelco 213-3521
2007 GMC Savana 1500 Van Engine Knock Sensor V8 5.3L (8th Vin Digit Z) ACDelco 213-3521
2003-2007 GMC Savana 2500 Van Engine Knock Sensor V8 6.0L (8th Vin Digit U) ACDelco 213-3521
2003-2007 GMC Savana 2500 Van Engine Knock Sensor V8 4.8L (8th Vin Digit V) ACDelco 213-3521
2003-2005 GMC Savana 2500 Van Engine Knock Sensor V8 5.3L (8th Vin Digit T) ACDelco 213-3521
2003-2007 GMC Savana 3500 Van Engine Knock Sensor V8 6.0L (8th Vin Digit U) ACDelco 213-3521
2004-2007 GMC Savana 3500 Van Engine Knock Sensor V8 4.8L (8th Vin Digit V) ACDelco 213-3521
1999-2006 GMC Sierra 1500 Engine Knock Sensor V8 4.8L (8th Vin Digit V) ACDelco 213-3521
1999-2006 GMC Sierra 1500 Engine Knock Sensor V8 5.3L (8th Vin Digit T) ACDelco 213-3521
2001-2006 GMC Sierra 1500 Engine Knock Sensor V8 6.0L (8th Vin Digit U) ACDelco 213-3521
2002-2006 GMC Sierra 1500 Engine Knock Sensor V8 5.3L (8th Vin Digit Z) ACDelco 213-3521
2005 GMC Sierra 1500 Engine Knock Sensor V8 5.3L (8th Vin Digit B) ACDelco 213-3521
2006 GMC Sierra 1500 Engine Knock Sensor V8 6.0L (8th Vin Digit N) ACDelco 213-3521
2007 GMC Sierra 1500 Classic Engine Knock Sensor V8 4.8L (8th Vin Digit V) ACDelco 213-3521
2007 GMC Sierra 1500 Classic Engine Knock Sensor V8 5.3L (8th Vin Digit Z) ACDelco 213-3521
2007 GMC Sierra 1500 Classic Engine Knock Sensor V8 5.3L ACDelco 213-3521
2007 GMC Sierra 1500 Classic Engine Knock Sensor V8 6.0L (8th Vin Digit N) ACDelco 213-3521
2007 GMC Sierra 1500 Classic Engine Knock Sensor V8 6.0L (8th Vin Digit U) ACDelco 213-3521
2001-2003 GMC Sierra 1500 HD Engine Knock Sensor V8 6.0L ACDelco 213-3521
2005-2006 GMC Sierra 1500 HD Engine Knock Sensor V8 6.0L ACDelco 213-3521
2007 GMC Sierra 1500 HD Classic Engine Knock Sensor V8 6.0L ACDelco 213-3521
1999-2004 GMC Sierra 2500 Engine Knock Sensor V8 6.0L (8th Vin Digit U) ACDelco 213-3521
1999-2000 GMC Sierra 2500 Engine Knock Sensor V8 5.3L (8th Vin Digit T) ACDelco 213-3521
2001-2004 GMC Sierra 2500 Engine Knock Sensor V8 6.0L (8th Vin Digit U) ACDelco 213-3521
2001-2004 GMC Sierra 2500 HD Engine Knock Sensor V8 6.0L (8th Vin Digit U) ACDelco 213-3521
2001-2006 GMC Sierra 2500 HD Engine Knock Sensor V8 6.0L (8th Vin Digit U) ACDelco 213-3521
2007 GMC Sierra 2500 HD Classic Engine Knock Sensor V8 6.0L (8th Vin Digit U) ACDelco 213-3521
2001-2006 GMC Sierra 3500 Engine Knock Sensor V8 6.0L (8th Vin Digit U) ACDelco 213-3521
2007 GMC Sierra 3500 Classic Engine Knock Sensor V8 6.0L (8th Vin Digit U) ACDelco 213-3521
2000-2006 GMC Yukon Engine Knock Sensor V8 4.8L (8th Vin Digit V) ACDelco 213-3521
2000-2006 GMC Yukon Engine Knock Sensor V8 5.3L (8th Vin Digit T) ACDelco 213-3521
2002-2006 GMC Yukon Engine Knock Sensor V8 5.3L (8th Vin Digit Z) ACDelco 213-3521
2004-2006 GMC Yukon Engine Knock Sensor V8 6.0L (8th Vin Digit U) ACDelco 213-3521
2000-2005 GMC Yukon XL 1500 Engine Knock Sensor V8 5.3L (8th Vin Digit T) ACDelco 213-3521
2002-2006 GMC Yukon XL 1500 Engine Knock Sensor V8 5.3L (8th Vin Digit Z) ACDelco 213-3521
2000-2005 GMC Yukon XL 2500 Engine Knock Sensor V8 6.0L (8th Vin Digit U) ACDelco 213-3521
2003-2007 Hummer H2 Engine Knock Sensor V8 6.0L (8th Vin Digit U) ACDelco 213-3521
2003-2004 Isuzu Ascender Engine Knock Sensor V8 5.3L (8th Vin Digit P) ACDelco 213-3521
1998-2002 Pontiac Firebird Engine Knock Sensor V8 5.7L (8th Vin Digit G) ACDelco 213-3521
2004 Pontiac GTO Engine Knock Sensor V8 5.7L (8th Vin Digit G) ACDelco 213-3521
This part replaces:
ACDelco 213-3521
OE # 12589867

Brand #: 213-3521