1ADMX00107-Door Striker Bolt Kit
Replaces
Door Striker Bolt Kit - 1ADMX00107
1ADMX00107
This replacement door striker bolt is just what you need to get your door in good working order again!
Specifications:
Kit Contains:

(1) - Door Striker Bolt
(1) - Door Striker Bolt Washer


Fits either LH (Driver Side) or RH (Passenger Side)
Replaces dealer part numbers: 15013147, 20151274, 20151275
Direct replacement
Built to strict quality control standards
Replace your worn or broken door striker bolt with this great fitting part!
Lifetime Warranty
This item is backed by a Limited Lifetime Warranty. In the event this item should fail due to manufacturing defects during intended use, we will exchange the part free of charge (excludes shipping charges) for the original purchaser.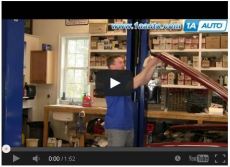 step : Removing the Striker (0:40)

Remove the striker with a T50 Torx
Remove the cubby behind the door

step : Installing the Striker (1:19)

Insert the striker into place while holding the nut from the inside
Tighten the striker with a T50 Torx driver
Tools needed for replacement:
Ratchets & Related

Ratchet

Torx Drivers & Sockets

T50 Torx Socket
Vehicle Fit
| Year | Make | Model | Description |
| --- | --- | --- | --- |
| 1973-1975 | Buick | Apollo | Buick Apollo Door Striker Bolt Kit |
| 1976-1996 | Buick | Century | Buick Century Door Striker Bolt Kit |
| 1968-1984 | Buick | Electra | Buick Electra Door Striker Bolt Kit |
| 1985-1989 | Buick | Estate Wagon | Buick Estate Wagon Door Striker Bolt Kit |
| 1965-1985 | Buick | LeSabre | Buick LeSabre Door Striker Bolt Kit |
| 1978-1987 | Buick | Regal | Buick Regal Door Striker Bolt Kit |
| 1965-1985 | Buick | Riviera | Buick Riviera Door Striker Bolt Kit |
| 1975-1980 | Buick | Skyhawk | Buick Skyhawk Door Striker Bolt Kit |
| 1965-1985 | Buick | Skylark | Buick Skylark Door Striker Bolt Kit |
| 1965-1969 | Buick | Special | Buick Special Door Striker Bolt Kit |
| 1969-1972 | Buick | Sport Wagon | Buick Sport Wagon Door Striker Bolt Kit |
| 1965-1970 | Buick | Wildcat | Buick Wildcat Door Striker Bolt Kit |
| 1967-1989 | Cadillac | Brougham | Cadillac Brougham Door Striker Bolt Kit |
| 1967-1970 | Cadillac | Calais | Cadillac Calais Door Striker Bolt Kit |
| 1967-1970 | Cadillac | Deville | Cadillac Deville Door Striker Bolt Kit |
| 1980-1984 | Cadillac | Deville | Cadillac Deville Door Striker Bolt Kit |
| 1967-1985 | Cadillac | Eldorado | Cadillac Eldorado Door Striker Bolt Kit |
| 1999-2000 | Cadillac | Escalade | Cadillac Escalade Door Striker Bolt Kit |
| 1984 | Cadillac | Fleetwood | Cadillac Fleetwood Door Striker Bolt Kit |
| 1976-1985 | Cadillac | Seville | Cadillac Seville Door Striker Bolt Kit |
| 1985-1989 | Chevy | Astro | Chevy Astro Door Striker Bolt Kit |
| 1967-1970 | Chevy | Bel-Air | Chevy Bel-Air Door Striker Bolt Kit |
| 1967-1970 | Chevy | Biscayne | Chevy Biscayne Door Striker Bolt Kit |
| 1992-1994 | Chevy | Blazer Full Size | Chevy Blazer Full Size 4 Wheel Drive Door Striker Bolt Kit |
| 1983-1994 | Chevy | Blazer S10 | Chevy Blazer S10 Door Striker Bolt Kit |
| 1969-1970 | Chevy | Brookwood | Chevy Brookwood Door Striker Bolt Kit |
| 1992-1999 | Chevy | C1500 Truck | Chevy C1500 Truck Door Striker Bolt Kit |
| 1992-2000 | Chevy | C2500 Truck | Chevy C2500 Truck Door Striker Bolt Kit |
| 1992-2002 | Chevy | C3500 Truck | Chevy C3500 Truck Door Striker Bolt Kit |
| 1967-1981 | Chevy | Camaro | Chevy Camaro Door Striker Bolt Kit |
| 1967-1990 | Chevy | Caprice | Chevy Caprice Door Striker Bolt Kit |
| 1982-1990 | Chevy | Celebrity | Chevy Celebrity Door Striker Bolt Kit |
| 1965-1977 | Chevy | Chevelle | Chevy Chevelle Door Striker Bolt Kit |
| 1976-1987 | Chevy | Chevette | Chevy Chevette Door Striker Bolt Kit |
| 1965-1968 | Chevy | Chevy II | Chevy Chevy II Door Striker Bolt Kit |
| 1980-1984 | Chevy | Citation | Chevy Citation Door Striker Bolt Kit |
| 1984-1985 | Chevy | Citation II | Chevy Citation II Door Striker Bolt Kit |
| 1968-1982 | Chevy | Corvette | Chevy Corvette Door Striker Bolt Kit |
| 1965-1987 | Chevy | El Camino | Chevy El Camino Door Striker Bolt Kit |
| 1967-1985 | Chevy | Impala | Chevy Impala Door Striker Bolt Kit |
| 1992-1999 | Chevy | K1500 Truck | Chevy K1500 Truck Door Striker Bolt Kit |
| 1992-2000 | Chevy | K2500 Truck | Chevy K2500 Truck Door Striker Bolt Kit |
| 1992-2000 | Chevy | K3500 Truck | Chevy K3500 Truck Door Striker Bolt Kit |
| 1969-1970 | Chevy | Kingswood | Chevy Kingswood Door Striker Bolt Kit |
| 1978-1983 | Chevy | Malibu | Chevy Malibu Door Striker Bolt Kit |
| 1970-1988 | Chevy | Monte Carlo | Chevy Monte Carlo Door Striker Bolt Kit |
| 1975-1980 | Chevy | Monza | Chevy Monza Door Striker Bolt Kit |
| 1965-1979 | Chevy | Nova | Chevy Nova Door Striker Bolt Kit |
| 1982-1994 | Chevy | S10 Pickup | Chevy S10 Pickup Door Striker Bolt Kit |
| 1992-1999 | Chevy | Suburban C1500 | Chevy Suburban C1500 Door Striker Bolt Kit |
| 1992-1999 | Chevy | Suburban C2500 | Chevy Suburban C2500 Door Striker Bolt Kit |
| 1992-1999 | Chevy | Suburban K1500 | Chevy Suburban K1500 Door Striker Bolt Kit |
| 1992-1999 | Chevy | Suburban K2500 | Chevy Suburban K2500 Door Striker Bolt Kit |
| 1995-2000 | Chevy | Tahoe | Chevy Tahoe Door Striker Bolt Kit |
| 1969-1970 | Chevy | Townsman | Chevy Townsman Door Striker Bolt Kit |
| 1985-1989 | Chevy | Van - P Series Forward Control | Chevy Van - P Series Forward Control P20 Door Striker Bolt Kit |
| 1985-1990 | Chevy | Van - P Series Forward Control | Chevy Van - P Series Forward Control P30 Door Striker Bolt Kit |
| 1985-1990 | Chevy | Van G-Series | Chevy Van G-Series Door Striker Bolt Kit |
| 1971-1977 | Chevy | Vega | Chevy Vega Door Striker Bolt Kit |
| 1992-1999 | GMC | C1500 Truck | GMC C1500 Truck Door Striker Bolt Kit |
| 1992-2000 | GMC | C2500 Truck | GMC C2500 Truck Door Striker Bolt Kit |
| 1992-2002 | GMC | C3500 Truck | GMC C3500 Truck Door Striker Bolt Kit |
| 1978-1987 | GMC | Caballero | GMC Caballero Door Striker Bolt Kit |
| 1983-1994 | GMC | Jimmy S-15 | GMC Jimmy S-15 Door Striker Bolt Kit |
| 1992-1999 | GMC | K1500 Truck | GMC K1500 Truck Door Striker Bolt Kit |
| 1992-2000 | GMC | K2500 Truck | GMC K2500 Truck Door Striker Bolt Kit |
| 1992-2000 | GMC | K3500 Truck | GMC K3500 Truck Door Striker Bolt Kit |
| 1982-1990 | GMC | S-15 Pickup | GMC S-15 Pickup Door Striker Bolt Kit |
| 1991-1994 | GMC | S-15 Sonoma | GMC S-15 Sonoma Door Striker Bolt Kit |
| 1985-1989 | GMC | Safari | GMC Safari Door Striker Bolt Kit |
| 1992-1999 | GMC | Suburban C1500 | GMC Suburban C1500 Door Striker Bolt Kit |
| 1992-1999 | GMC | Suburban C2500 | GMC Suburban C2500 Door Striker Bolt Kit |
| 1992-1999 | GMC | Suburban K1500 | GMC Suburban K1500 Door Striker Bolt Kit |
| 1992-1999 | GMC | Suburban K2500 | GMC Suburban K2500 Door Striker Bolt Kit |
| 1991 | GMC | Syclone | GMC Syclone Door Striker Bolt Kit |
| 1992-1993 | GMC | Typhoon | GMC Typhoon Door Striker Bolt Kit |
| 1985-1990 | GMC | Van | GMC Van Door Striker Bolt Kit |
| 1985-1990 | GMC | Van - P Series Forward Control | GMC Van - P Series Forward Control P3500 Door Striker Bolt Kit |
| 1985-1989 | GMC | Van - P Series Forward Control | GMC Van - P Series Forward Control P2500 Door Striker Bolt Kit |
| 1992-2000 | GMC | Yukon | GMC Yukon Door Striker Bolt Kit |
| 2000 | GMC | Yukon XL 1500 | GMC Yukon XL 1500 Door Striker Bolt Kit |
| 2000 | GMC | Yukon XL 2500 | GMC Yukon XL 2500 Door Striker Bolt Kit |
| 1968-1970 | Oldsmobile | 442 | Olds 442 Door Striker Bolt Kit |
| 1965 | Oldsmobile | 88 | Olds 88 Door Striker Bolt Kit |
| 1965-1984 | Oldsmobile | 98 | Olds 98 Door Striker Bolt Kit |
| 1991-1994 | Oldsmobile | Bravada | Olds Bravada Door Striker Bolt Kit |
| 1980-1990 | Oldsmobile | Custom Cruiser | Olds Custom Cruiser Door Striker Bolt Kit |
| 1968-1987 | Oldsmobile | Cutlass | Olds Cutlass Door Striker Bolt Kit |
| 1978-1984 | Oldsmobile | Cutlass Calais | Olds Cutlass Calais Door Striker Bolt Kit |
| 1982-1996 | Oldsmobile | Cutlass Ciera | Olds Cutlass Ciera Door Striker Bolt Kit |
| 1978-1983 | Oldsmobile | Cutlass Cruiser | Olds Cutlass Cruiser Door Striker Bolt Kit |
| 1978-1988 | Oldsmobile | Cutlass Supreme RWD | Olds Cutlass Supreme RWD Door Striker Bolt Kit |
| 1968 | Oldsmobile | Delmont | Olds Delmont Door Striker Bolt Kit |
| 1967 | Oldsmobile | Delmont 88 | Olds Delmont 88 Door Striker Bolt Kit |
| 1966-1985 | Oldsmobile | Delta 88 | Olds Delta 88 Door Striker Bolt Kit |
| 1965-1972 | Oldsmobile | F85 | Olds F85 Door Striker Bolt Kit |
| 1965 | Oldsmobile | Jetstar 88 | Olds Jetstar 88 Door Striker Bolt Kit |
| 1976-1984 | Oldsmobile | Omega | Olds Omega Door Striker Bolt Kit |
| 1965-1980 | Oldsmobile | Starfire | Olds Starfire Door Striker Bolt Kit |
| 1967-1985 | Oldsmobile | Toronado | Olds Toronado Door Striker Bolt Kit |
| 1966 | Oldsmobile | Trofeo | Olds Trofeo Door Striker Bolt Kit |
| 1965-1977 | Oldsmobile | Vista Cruiser | Olds Vista Cruiser Door Striker Bolt Kit |
| 1983-1987 | Pontiac | 1000 | Pontiac 1000 Door Striker Bolt Kit |
| 1982-1991 | Pontiac | 6000 | Pontiac 6000 Door Striker Bolt Kit |
| 1975-1977 | Pontiac | Astre | Pontiac Astre Door Striker Bolt Kit |
| 1967-1986 | Pontiac | Bonneville | Pontiac Bonneville Door Striker Bolt Kit |
| 1967-1981 | Pontiac | Catalina | Pontiac Catalina Door Striker Bolt Kit |
| 1968-1970 | Pontiac | Executive | Pontiac Executive Door Striker Bolt Kit |
| 1967-1981 | Pontiac | Firebird | Pontiac Firebird Door Striker Bolt Kit |
| 1965-1971 | Pontiac | GTO | Pontiac GTO Door Striker Bolt Kit |
| 1978-1980 | Pontiac | Grand Am | Pontiac Grand Am Door Striker Bolt Kit |
| 1976-1981 | Pontiac | Grand LeMans | Pontiac Grand LeMans Door Striker Bolt Kit |
| 1967-1987 | Pontiac | Grand Prix | Pontiac Grand Prix Door Striker Bolt Kit |
| 1967-1981 | Pontiac | LeMans | Pontiac LeMans Door Striker Bolt Kit |
| 1983-1986 | Pontiac | Parisienne | Pontiac Parisienne Door Striker Bolt Kit |
| 1977-1984 | Pontiac | Phoenix | Pontiac Phoenix Door Striker Bolt Kit |
| 1968-1989 | Pontiac | Safari | Pontiac Safari Door Striker Bolt Kit |
| 1976-1980 | Pontiac | Sunbird | Pontiac Sunbird Door Striker Bolt Kit |
| 1981-1982 | Pontiac | T1000 | Pontiac T1000 Door Striker Bolt Kit |
| 1965-1970 | Pontiac | Tempest | Pontiac Tempest Door Striker Bolt Kit |
| 1971-1977 | Pontiac | Ventura | Pontiac Ventura Door Striker Bolt Kit |
This part replaces:
OE # 15013147
OE # 20151274
OE # 20151275
Dorman 38428
Part #: 1ADMX00107
Order must be placed by 4pm ET
Get it in: 2 - 4 Business Days
Want it sooner? Choose Next Day Air at Checkout