Why Are My Headlights Dim?
Headlights help us see the road and the surrounding area while driving. They can work in fog, rain, snow, and other kinds of inclement weather, the darker hours of the day, and they also allow other drivers to see your vehicle in heavy traffic, dusk, dawn, and at night. They make driving safer for everyone and allow us to drive at times we otherwise could not.
With brighter headlights, it's easier to see and be seen. If your headlights are dim and look yellow or don't shine bright enough, there are a few areas you can check to improve them.
Foggy or Cloudy Headlights
What causes them:
Since fluctuating air pressure can crack the headlight bulbs and headlight housing, headlights are vented at the top and bottom. This also means air and water can get inside. When the lenses cool, condensation can occur. Moisture will build inside the headlights, and this can cause them to dim and fade them over time. A cracked headlight can also fade faster, as water can leak inside the housing.
What you can do:
In most cases, headlights are a doable repair for an inexperienced DIYer. Replacing old, cloudy or cracked headlights with new ones shouldn't take long and will make your vehicle look clean and brand new. New headlights will emit a brighter light than those with gray, dim or foggy lenses.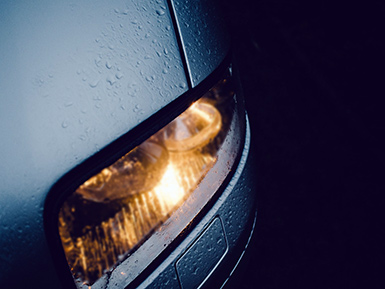 Faded Headlight Bulbs
What causes them:
As bulbs age, they burn out over time as the filament inside wears from use. If the bulbs are old and aren't as bright, they may need to be changed. Wearing gloves during installation will prevent the oil on your skin from warping the bulbs over time, which can break the bulb and lead to an early repair.
What you can do:
On many headlights, you can simply reach behind the headlight, turn the bulb socket counterclockwise, and replace the bulb while wearing gloves. Changing the headlight bulbs will likely only take a few minutes. This is also a good opportunity to inspect the electrical connectors.
Corroded Electrical Connectors or Bad Wires
What causes them:
Sometimes high resistance occurs in an electrical circuit, which means something is "resisting" the flow of electrical current. This causes friction, which creates heat. If this occurs within the electrical connectors, it can damage them, sending less power to the headlight bulbs. Corrosion on the connector ends can also occur from a loose or bad electrical connector.
What you can do:
Check the connection of your electrical connectors. If they are loose, disconnect them and inspect the metal connectors for green, blue, or rainbow colors. Clean off the connectors with a wire brush or sandpaper, apply a little dielectric grease to the connectors, and reconnect them.
If the electrical connector is melted or fried, a replacement can be purchased. The old connector will need to be removed, and its end wires will need to be spliced and twisted. A new connector can be installed by heat-shrinking wire connectors and sealing them with electrical tape.
Also, check the wiring for splits and cracks that may be short-circuiting or affecting the headlight bulbs.
(Video: How to Repair Replace Electrical Connector on Your Vehicle)
(Video: How to Fix Stuck Bulb Connector)
Bad Headlight Ground
What causes it:
Sometimes grounds are placed in areas where buildup can occur, weakening the electrical current in the circuit and resulting in a lower voltage in the dim headlight.
What you can do:
Trace the headlight wiring to the ground and inspect it for corrosion. If the ground has corrosion, clean it with a wire brush. The mating surface should also be cleared of any dirt or rust. Remove any corrosion from the bolt, apply dielectric grease to protect from future corrosion, and reinstall the ground.
Need New Quality Headlights?