When Should Brake Pads Be Replaced?
Replacing worn out brakes and their components is imperative to maintaining a vehicle's safety. Generally, there isn't one set time or mileage at which brake pads need to be replaced. Rather, there are certain signs that will indicate it's time for a brake pad replacement, and a number of factors that can impact how long brake pads could last.
Signs it's time to replace your brake pads
Is there a squeaking or squealing sound coming from the area of one of your wheels? Hearing a "metal on metal" noise when you apply your brakes is a sign that your brake pads have worn. That squealing sound could be coming from brake pad indicators, which are metal tabs that contact the brake rotor as the pads reach their wear limit, signaling that it's time for service.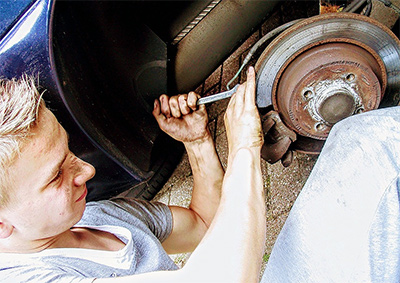 Newer vehicles may also have electronic brake pad wear sensors. The service light will illuminate when brake pads in these vehicles are worn.
According to 1A Auto President Mike Green, new brake pads are typically between 3/8 and 1/2 of an inch thick. This guide can also help you determine whether your brake pads need to be replaced.
Factors that affect brake pad life
How long your brake pads last depends on your driving style, condition and frequency.
For example, brake pads on vehicles that drive more on a highway than in city traffic will last longer than those that experience more "stop-and-go" driving.
Road conditions and vehicle weight and purpose can also impact how long brake pads will last. Depending on the quality of the roads on which you drive, you may have to brake more frequently. If you drive a larger vehicle, more force is likely needed to stop a vehicle.
Install new brake pads with replacements from 1A Auto
Replace your worn brake pads with quality pads from 1A Auto and install them yourself with step-by-step help from our mechanics. Search for repair videos specific to your year, make and model in our how-to video library.